ROTARY Newton Abbot (RCNA) founded in 1922 still has a thriving membership of over 70 men and women from a wide range of professions, businesses and organisations who all share a common interest in helping others. Each member enjoys business as well as social networking opportunities, whilst giving something back to those less fortunate, learning new skills and joining in on social evenings with partners. In nearly 100 years of serving the local community, the club has raised and donated many thousands of pounds, shared skills and knowledge to charities and social organisations.
SOCIAL MEDIA LINKS
ROTARY AUTUMN CHARITY GOLF DAY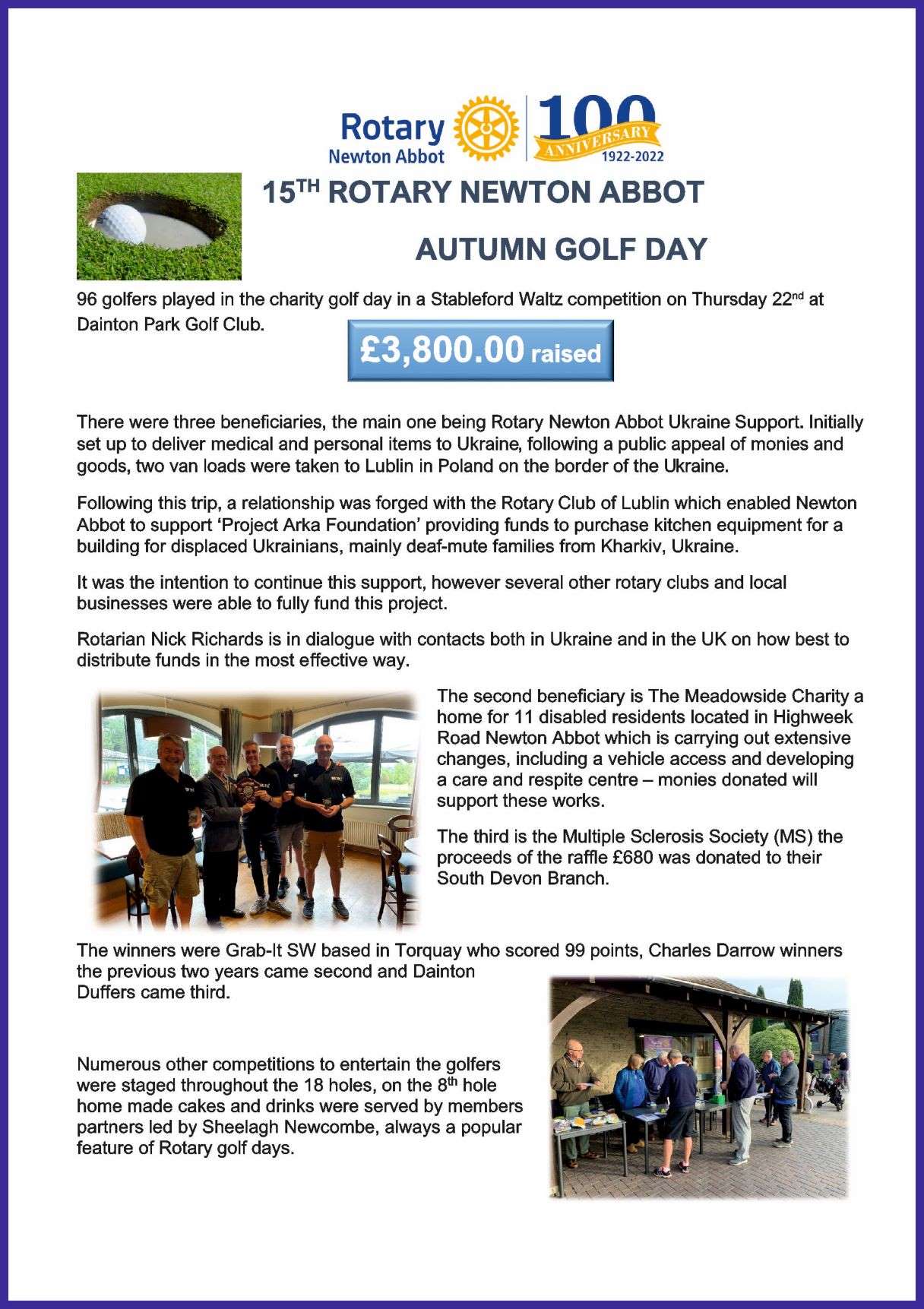 An evening of Tudor entertainment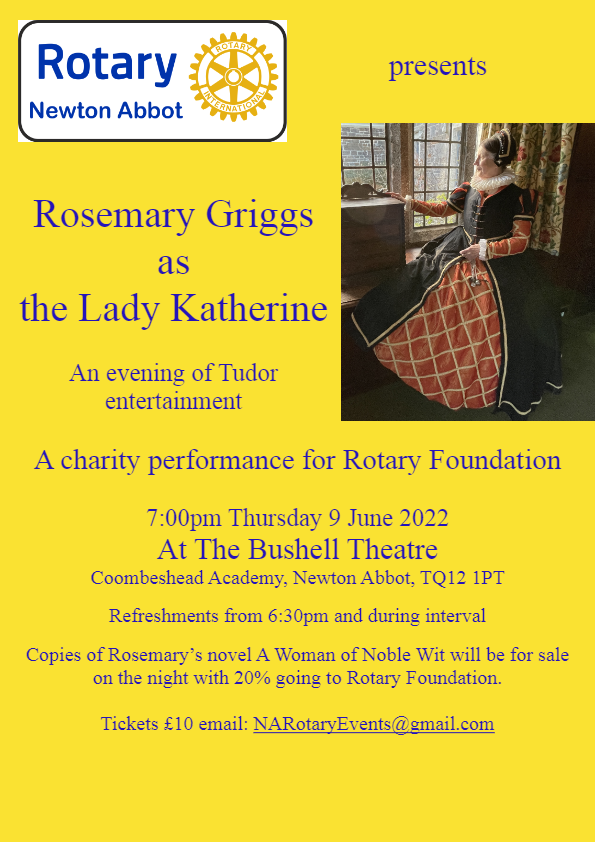 Rotary NA Ukraine Appeal - Final Update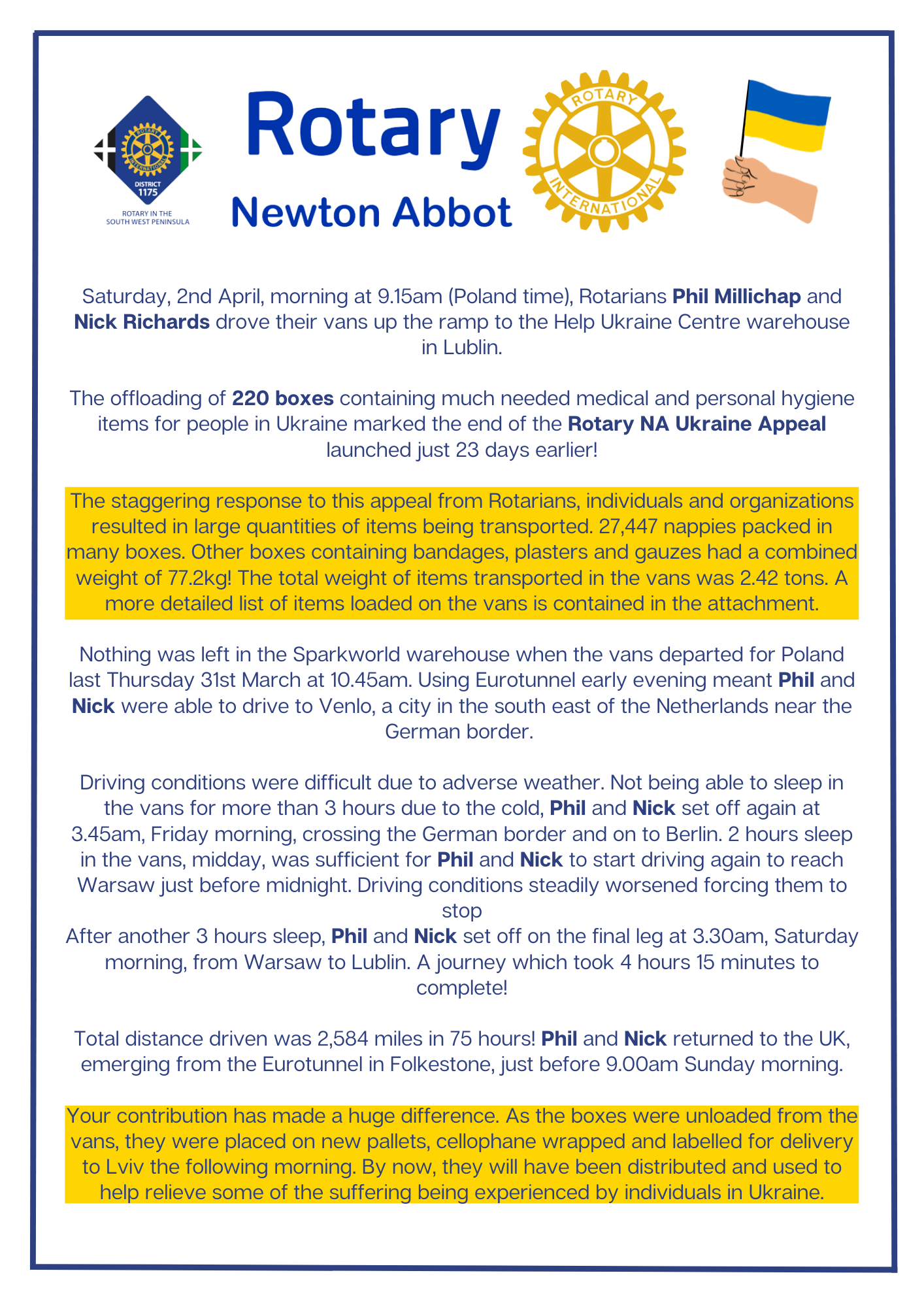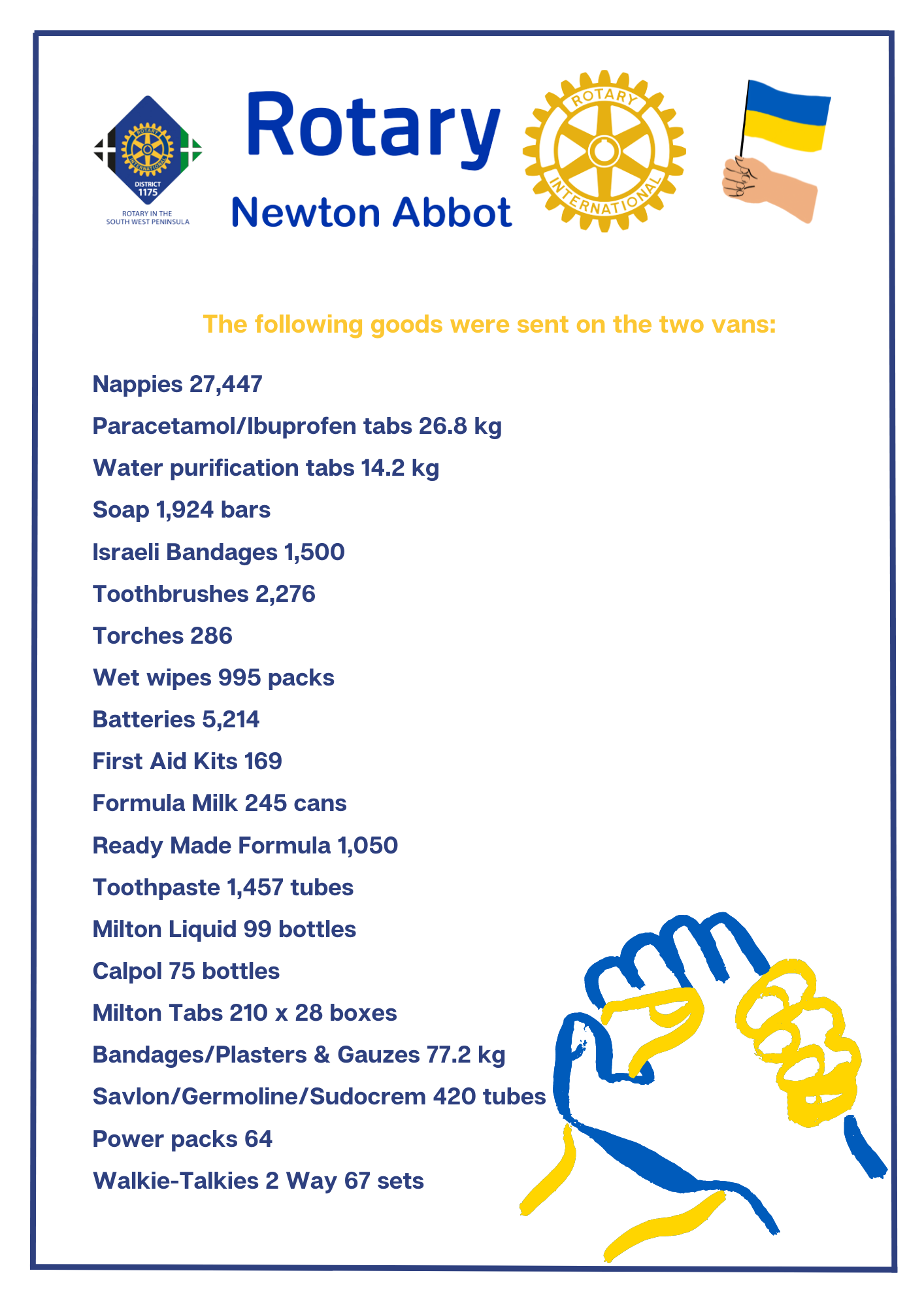 Thank you from Shelter Box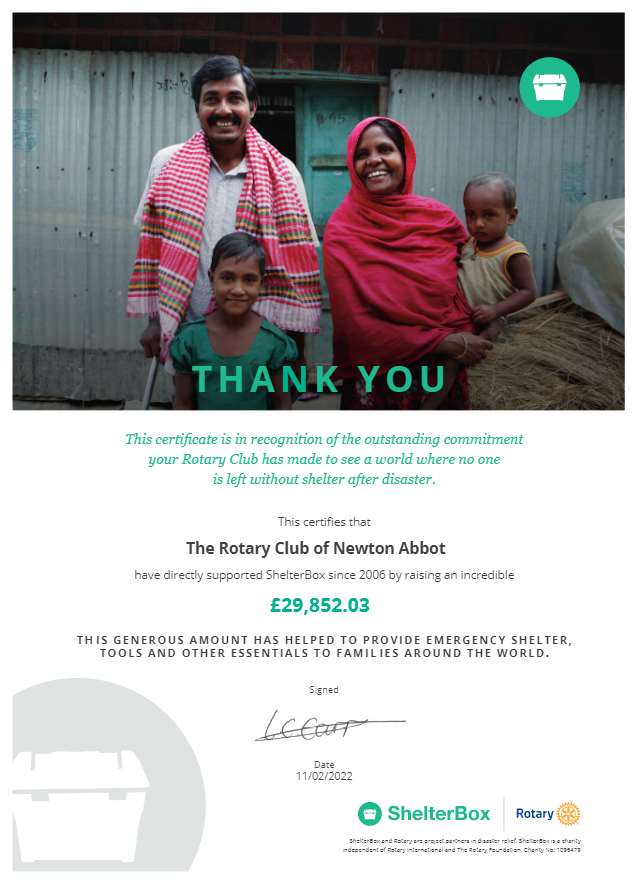 The RCNA Centennial approaches
As we look towards celebrating the 100 year anniversary of the founding of the Rotary Club of Newton Abbot in 2022 we are keen to hear from anyone who knows or knew past or deceased members to add some contents to our planned '
Centennial Book
'.
Hugely successful Christmas 'Victorian Evening'
A big THANK YOU to everyone who provided goodies and gifts for the Rotary stall in Newton Abbot market.
We're pleased to report that we raised £175.50 from all manner of cooked and baked goods, gifts and other donations and the Kingscare stall next to us raised £240 with their "Pull a straw Tombola".
The (small amount!) of cakes left over were donated for the residents of Meadowside to enjoy.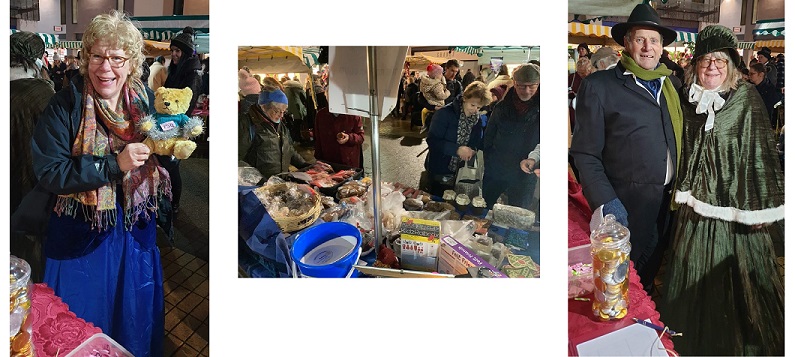 Sad passing of RCNA's longest serving rotarian
Colin Power, the Club's longest serving member, sadly passed at 95 at the beginning of December.
He joined Newton Abbot Rotary in 1963 and was President of the Club in 1978-79. He was an active member for most of those 58 years and became an Honorary member only when he was no longer able to attend the weekly meetings.
Colin was a very well respected, accountant who succeeded Wally Reynolds, also a Club member, in the firm of WG Reynolds & Co operating from offices in Market Street, Newton Abbot.
One of his many achievements was to propose the successful motion for the introduction of women members into the Club. He was both forward thinking and community minded and together with other Rotarians he was responsible for the building and then running the Newton Abbot Community Centre, now known as The Courtney Centre, for which he served as treasurer until relatively recently.
He will be remembered by some of our older Rotarians for the musical evenings he and his wife hosted in their home - those attending required to bring a musical piece of their choice, which made for a very interesting and varied evening!
Colin's measured advice and thoughtful presentations on all matters will be sadly missed. He was well known for being able to recite the Rotary Valediction and he truly embodied the Rotary moto of 'service above self'.
A celebration of his life will take place later next year when COVID restrictions are more relaxed.
Meadowside redevelopment progress
RCNA organised the securing and payment of a replacement fence at the bottom of the garden at Meadowside Residential home as the original was destroyed during the winter bad weather.
The fence is essential for the security and privacy for the home. Rotarians Philip Bearne and Keith Smith led the project supported by a number of Rotarians. Despite the challenges of the pandemic as soon as rules on social distancing were relaxed the Rotarians sprung into action!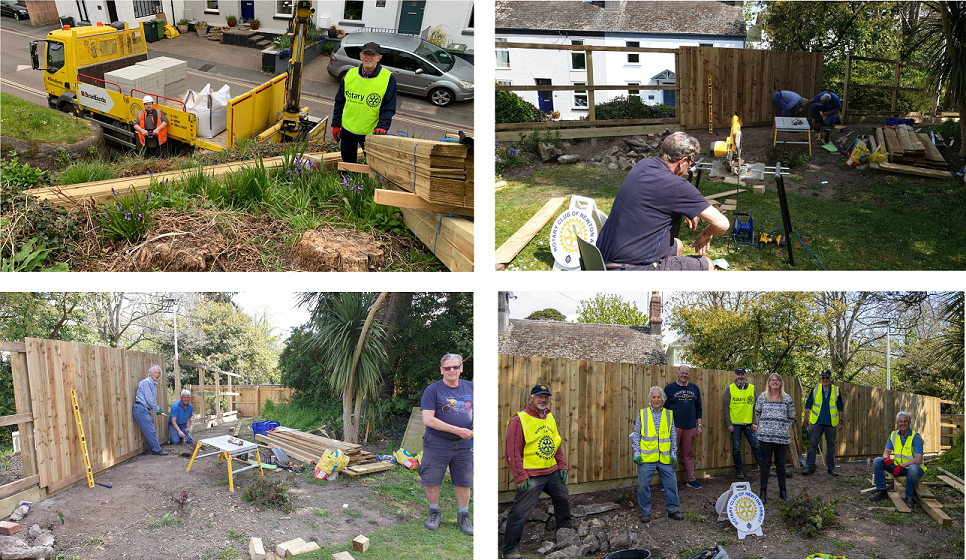 The Rotary Club were helped by Vicky Wilkinson of Bradfords Building supplies who supplied and delivered the materials at cost price.
Become a friend of our friend!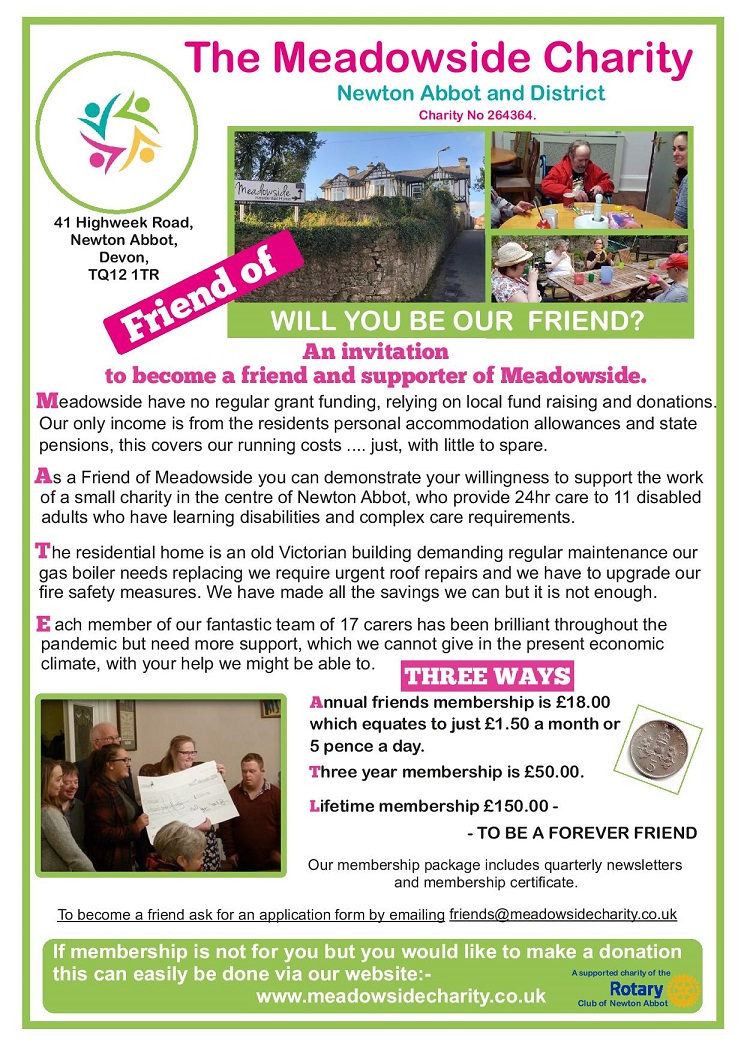 .
RCNA signs 'Plastic Free Pledge'
Plastics are durable, strong and long-lasting; great qualities until you realise they will last approximately 600 years in our oceans!
The Plastic Free Pledge aims to "put an end to the senseless waste that is single-use plastic ... through campaigning, education and political lobbying ... to create institutional change and put an end to this growing problem".
In both Club duties and personal responsibility our members will help to support these aims by using the following mandate developed by the PFP:
1) Remove at least three single-use plastic items from our day-to-day activities
2) Commit to include our stance on single-use plastic in communications and publicity
3) Raise awareness and support plastic-free initiatives in our community
We (and you!) can do this by:
having milk delivered in reusable glass bottles (especially useful during lockdown)
supporting local plastic-free committed businesses e.g. Riverford Farm (www.riverford.co.uk)
re-using your own bottle / giving up bottled water
saying 'no thanks' to plastic cutlery
avoiding use of plastic straws - they suck!
ditching the cling wrap (perhaps use beeswax or re-sealable alternatives)
reducing use of teabags (loose tea or some producers are plastic free – but most are not)
giving up chewing gum
abandoning glitter - the one member of the party that NEVER leaves!
not replacing Christmas wrapping – choose paper or re-usable alternatives, get creative without sticky tape
shopping locally and avoiding packaged produce where safe and available e.g. fresh bread and greengrocery in paper bags
ensuring you utilise re-usable items whenever possible:
coffee mugs (once allowed again)
shopping bags
upcycling e.g. re-using bread bags for bathroom bin liners
Gardening volunteers return to Meadowside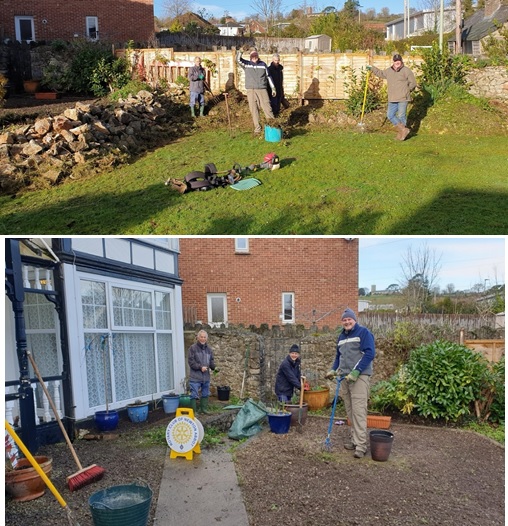 Rotary Clubs' walks in support of DevonMind to go ahead
Thanks to the end of lockdown and our move into the new Covid Tier System, Rotary clubs from across Devon are able to meet up (still socialy distanced of course!) to maintain a schedule of coastal walks in support of www.devonmind.com.
The first walk is on the 11th December from Brixham to Torquay Harbour (8.5 miles). There will be a few ups and downs as well as lovely coves and beaches and with plenty of chances for coffee and cake breaks!
If you are interested in joining contact your local Club or if you simply want to donate you can visit: cafonline.org/15037.
RCNA thanked for local support
Animals in Distress
We were extremely grateful to receive a donation of £150 from Newton Abbot Rotary Club to fund a 12 month subscription to Sendinblue – an email marketing system.
Sendinblue allows us to easily and professionally email 5000 supporters with charity news, upcoming virtual events, animal stories and appeals.
The donation has allowed us to continue to communicate with our supporters in a professional way over what has been an extremely difficult few months. It was invaluable when we had to appeal to our supporters for financial assistance, following the pandemic and subsequent closure of our shops and postponement of fundraising events.
As a result we have been able to continue looking after the animals in our care including the lovely Ollie the Collie and going forward will play a vital role in ensuring we are able to look after thousands more in the future. We would say it is £150 very well spent and are so grateful to Newton Abbot Rotary Club.
Newton's Place
(Twitter: @NewtonsPlace, Facebook: @Newton.Abbot.Museum)
The donation from the Rotary Club means that anyone can visit our wonderful town and museum, safe in the knowledge that we have a toilet that meets their needs. As well as the elements of a standard accessible toilet like handles and wheelchair turning-space; we can now offer a full-sized changing table and electronic hoist to our visitors. Huge thanks again to the Rotary Club
The project was a response to visitors to our social media mentioning that day trips to the museum, and even the town itself, were impossible as members of their family could not access a suitable toilet. Standard toileting facilities only offer changing facilities for babies, forcing older children and adults to either keep visits to places very short so that a toilet visit isn't needed or face being changed on the floor of a public toilet- this is uncomfortable, unhygienic and dangerous.
It's estimated that over two hundred thousand people in the UK need assistance to use the toilet that isn't fully served by standard accessible toilets, this is not just those with mobility difficulties but also intellectual/developmental disabilities.
Extended toileting facilities gives people more freedom as they are able to visit not just the museum, but also our town for longer periods because they know that they can visit a safe bathroom that meets their needs. Meeting the needs of disabled people is not only the right thing to do but also financially adept: if people can spend longer in Newton Abbot the more chance they have to enjoy our shops cafes and other services, fuelling the local economy to help us make Newton Abbot even better for the future.
President praises members for Newton Abbot gardening 'team effort'
RCNA President Phil Millichap thanked members Jacky, Nick, Nick, Kieth, Tony and Ron for using a very seasonable day to spend time cleaning up and gardening at the Newton Abbot Quay.
He said; "This hardworking Team of volunteers have transformed the place and there was lots of fantastic support from the many people enjoying the good weather and the Quay" adding that Rotary had been promoted by these volunteers in a "fantastically positive way".


There are some fantastic pictures of their efforts but of course, you can always go and see for yourself!