Rotary Club of Newton Abbot (RCNA) founded in 1922 still has a thriving membership of over 70 men and women from a wide range of professions, businesses and organisations who all share a common interest in helping others. Each member enjoys business as well as social networking opportunities, whilst giving something back to those less fortunate, learning new skills and joining in on social evenings with partners. In nearly 100 years of serving the local community, the club has raised and donated many thousands of pounds, shared skills and knowledge to charities and social organisations.
SOCIAL MEDIA LINKS
The RCNA Centennial approaches
As we look towards celebrating the 100 year anniversary of the founding of the Rotary Club of Newton Abbot in 2022 we are keen to hear from anyone who knows or knew past or deceased members to add some contents to our planned 'Centennial Book'.
Plans for rotary 'Environmental Weekend'
Members of the club are meeting on Teignmouth sea front on Saturday 18th September to take to the beach for a great plastic clean up. 10:30am at the East Cliff car park.
If you'd like to join us to do what we can to improve the state of our bit of coastline and raise awareness of the plastic pollution problem feel free to get in touch or come along with a hi-viz and 'grabber' of your own!
Meadowside redevelopment progress
RCNA organised the securing and payment of a replacement fence at the bottom of the garden at Meadowside Residential home as the original was destroyed during the winter bad weather.
The fence is essential for the security and privacy for the home. Rotarians Philip Bearne and Keith Smith led the project supported by a number of Rotarians. Despite the challenges of the pandemic as soon as rules on social distancing were relaxed the Rotarians sprung into action!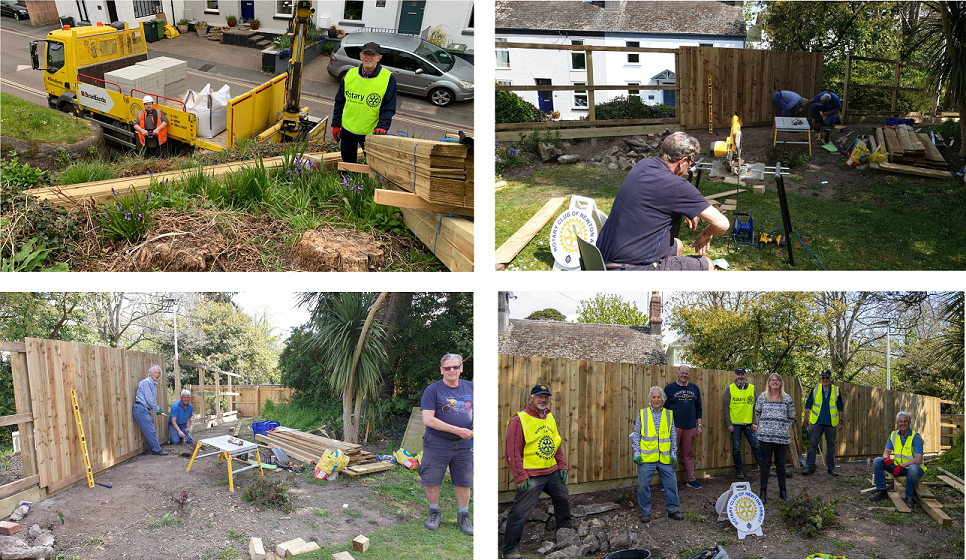 The Rotary Club were helped by Vicky Wilkinson of Bradfords Building supplies who supplied and delivered the materials at cost price.
Become a friend of our friend!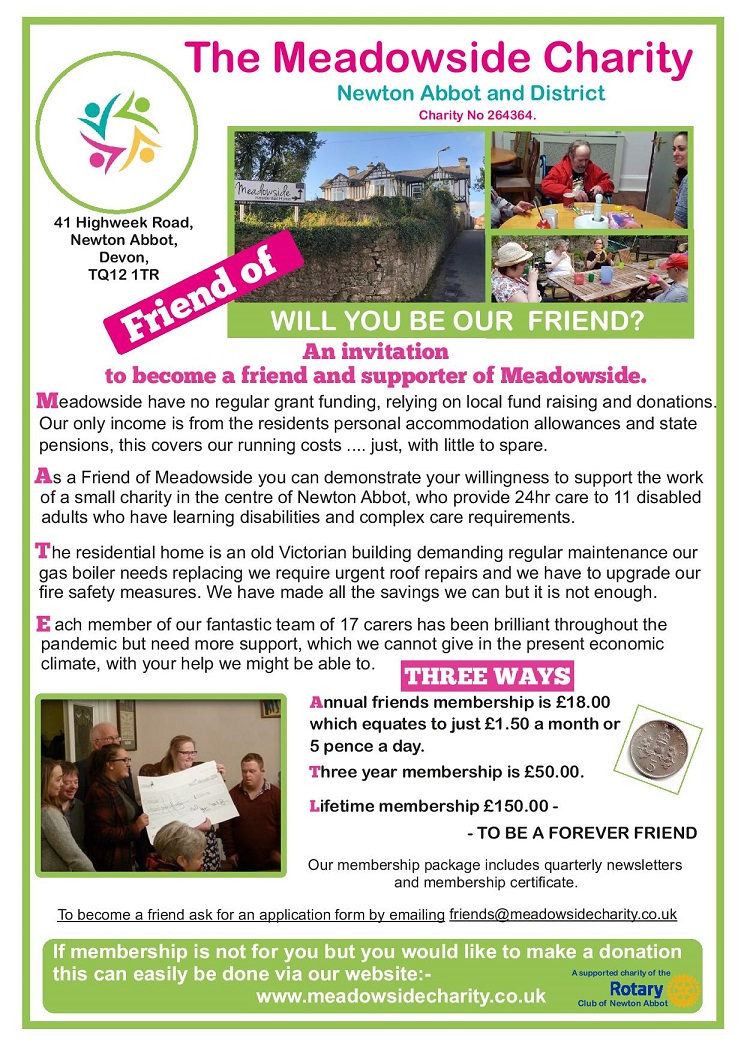 .
Club treated to adorable presentation
Our thanks to Elaine Dyer - a volunteer involved with Brownies, a local youth club and hedgehog protection - for her informative, inspiring (and cute!) presentation about the latter.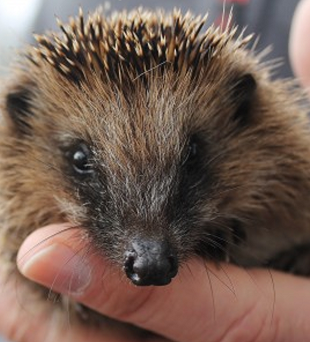 The British hedgehog now officially classified as vulnerable to extinction; the humble hedgehog is now in the Red List for British Mammals. The population levels of 36m+ in the 1950's have reduced to less than one million currently. Building, badgers, pesticides and curling up the road all are not helping!
They can travel up to 3km a night and generally nest in hedges. They are quite solitary creatures who leave home at between 4 to 7 weeks. Their diet is generally beetles and caterpillars but they will also eat slugs and snails. They enjoy cat and dog wet food in jelly rather than gravy. They are nocturnal and if you see one 'sunbathing' it's probably because it's sick.
If you want to handle please always use gloves to protect hands and also transferring human scent to the mammal.

You can refer any injured or distressed hedgehogs you find to local organisations such as:
ELM Wildlife Hedgehog Rescue & Rehabilitation - Tel: 07971 276658
South Devon Hedgehog Hospital - Tel: 07716 768618
For loads of information about how you can help with the protection and encouragement of the Hedgehog:
The British Hedgehog Preservation Society
https://www.britishhedgehogs.org.uk/
Hedgehog Street
https://www.hedgehogstreet.org/
For a copy of Elaine's slides you can contact RCNA webmaster Ben at tague.84@live.co.uk
RCNA signs 'Plastic Free Pledge'
Plastics are durable, strong and long-lasting; great qualities until you realise they will last approximately 600 years in our oceans!
The Plastic Free Pledge aims to "put an end to the senseless waste that is single-use plastic ... through campaigning, education and political lobbying ... to create institutional change and put an end to this growing problem".
In both Club duties and personal responsibility our members will help to support these aims by using the following mandate developed by the PFP:
1) Remove at least three single-use plastic items from our day-to-day activities
2) Commit to include our stance on single-use plastic in communications and publicity
3) Raise awareness and support plastic-free initiatives in our community
We (and you!) can do this by:
having milk delivered in reusable glass bottles (especially useful during lockdown)
supporting local plastic-free committed businesses e.g. Riverford Farm (www.riverford.co.uk)
re-using your own bottle / giving up bottled water
saying 'no thanks' to plastic cutlery
avoiding use of plastic straws - they suck!
ditching the cling wrap (perhaps use beeswax or re-sealable alternatives)
reducing use of teabags (loose tea or some producers are plastic free – but most are not)
giving up chewing gum
abandoning glitter - the one member of the party that NEVER leaves!
not replacing Christmas wrapping – choose paper or re-usable alternatives, get creative without sticky tape
shopping locally and avoiding packaged produce where safe and available e.g. fresh bread and greengrocery in paper bags
ensuring you utilise re-usable items whenever possible:
coffee mugs (once allowed again)
shopping bags
upcycling e.g. re-using bread bags for bathroom bin liners
Fermoy's holiday collections
Many thanks to all who have donated to our collection at Fermoy's and for making the time of our volunteers worthwhile. Much of the proceeds will be used to support the special Meadowside project.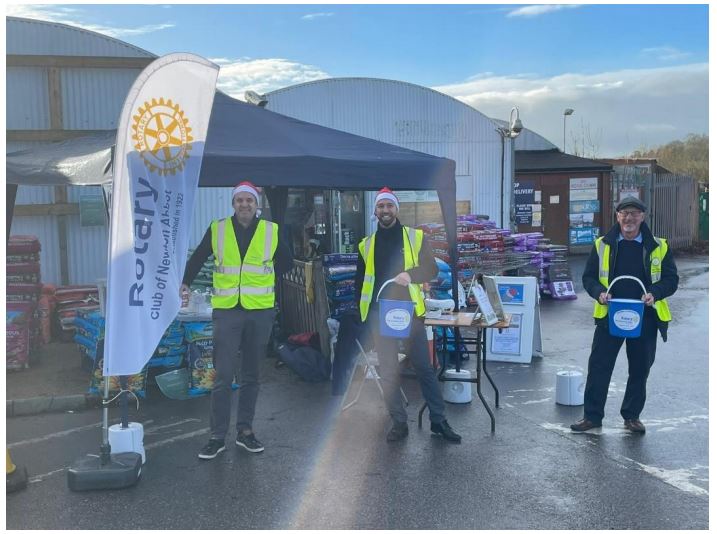 Kevin Wiltshire, Jamie Bonner and Jeremy Newcombe braving the elements!

A visit from the Newton Abbot Musical Comedy Society who collected a Rotary donation from Nick James (Left) and Kevin Sherwood (Santa)
Gardening volunteers return to Meadowside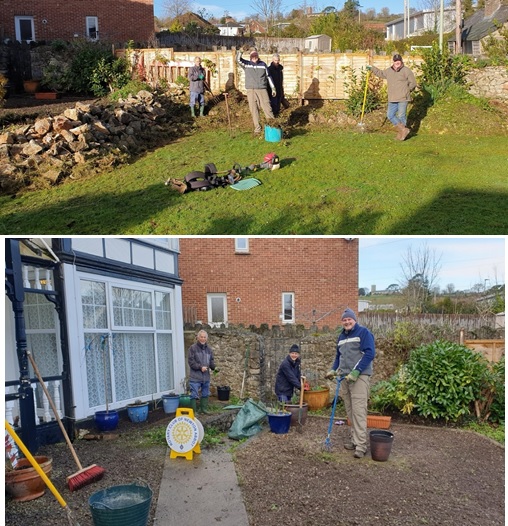 Huge scope of local Christmas donations
We are aiming to support more good causes than ever this Christmas after what has been a trying year for so many people in so many ways.
The current plan lays out nearly £3,000 in local donations to charities covering mental health, people living alone, young people, families, carers, homlessness and disabilities; notably:
#DoItForDeaks
DevonMind
Meadowside
Kings Care
HITS food bank
Home Start and
Newton Abbot and District Musical Comedy Society
Rotary Clubs' walks in support of DevonMind to go ahead
Thanks to the end of lockdown and our move into the new Covid Tier System, Rotary clubs from across Devon are able to meet up (still socialy distanced of course!) to maintain a schedule of coastal walks in support of www.devonmind.com.
The first walk is on the 11th December from Brixham to Torquay Harbour (8.5 miles). There will be a few ups and downs as well as lovely coves and beaches and with plenty of chances for coffee and cake breaks!
If you are interested in joining contact your local Club or if you simply want to donate you can visit: cafonline.org/15037.
RCNA thanked for local support
Animals in Distress
We were extremely grateful to receive a donation of £150 from Newton Abbot Rotary Club to fund a 12 month subscription to Sendinblue – an email marketing system.
Sendinblue allows us to easily and professionally email 5000 supporters with charity news, upcoming virtual events, animal stories and appeals.
The donation has allowed us to continue to communicate with our supporters in a professional way over what has been an extremely difficult few months. It was invaluable when we had to appeal to our supporters for financial assistance, following the pandemic and subsequent closure of our shops and postponement of fundraising events.
As a result we have been able to continue looking after the animals in our care including the lovely Ollie the Collie and going forward will play a vital role in ensuring we are able to look after thousands more in the future. We would say it is £150 very well spent and are so grateful to Newton Abbot Rotary Club.
Newton's Place
(Twitter: @NewtonsPlace, Facebook: @Newton.Abbot.Museum)
The donation from the Rotary Club means that anyone can visit our wonderful town and museum, safe in the knowledge that we have a toilet that meets their needs. As well as the elements of a standard accessible toilet like handles and wheelchair turning-space; we can now offer a full-sized changing table and electronic hoist to our visitors. Huge thanks again to the Rotary Club
The project was a response to visitors to our social media mentioning that day trips to the museum, and even the town itself, were impossible as members of their family could not access a suitable toilet. Standard toileting facilities only offer changing facilities for babies, forcing older children and adults to either keep visits to places very short so that a toilet visit isn't needed or face being changed on the floor of a public toilet- this is uncomfortable, unhygienic and dangerous.
It's estimated that over two hundred thousand people in the UK need assistance to use the toilet that isn't fully served by standard accessible toilets, this is not just those with mobility difficulties but also intellectual/developmental disabilities.
Extended toileting facilities gives people more freedom as they are able to visit not just the museum, but also our town for longer periods because they know that they can visit a safe bathroom that meets their needs. Meeting the needs of disabled people is not only the right thing to do but also financially adept: if people can spend longer in Newton Abbot the more chance they have to enjoy our shops cafes and other services, fuelling the local economy to help us make Newton Abbot even better for the future.
President praises members for Newton Abbot gardening 'team effort'
RCNA President Phil Millichap thanked members Jacky, Nick, Nick, Kieth, Tony and Ron for using a very seasonable day to spend time cleaning up and gardening at the Newton Abbot Quay.
He said; "This hardworking Team of volunteers have transformed the place and there was lots of fantastic support from the many people enjoying the good weather and the Quay" adding that Rotary had been promoted by these volunteers in a "fantastically positive way".


There are some fantastic pictures of their efforts but of course, you can always go and see for yourself!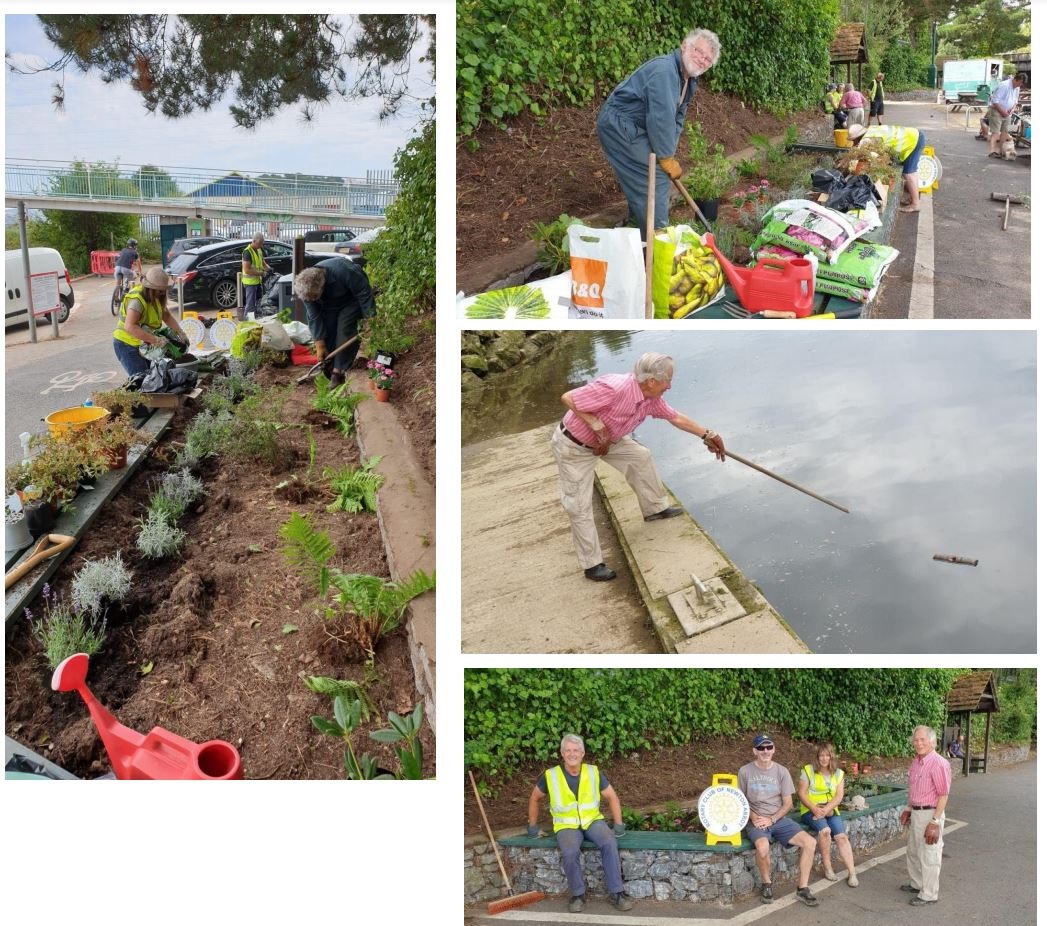 The RCNA Centennial approaches
As we look towards celebrating the 100 year anniversary of the founding of the Rotary Club of Newton Abbot in 2022 we are keen to hear from anyone who knows or knew past or deceased members to add some contents to our planned 'Centennial Book'.
The Rotary Club of Newton Abbot [RCNA] was formed at a meeting on 14th March 1922 and was chartered on the 1st July 1922 . It is fifth In seniority in Devon & Cornwall behind Torquay & Plymouth founded in 1920, Truro 1921 and Exeter also in 1922.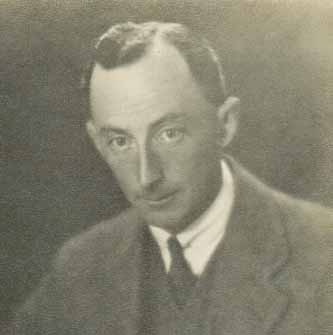 The inaugural meeting gathered under the chairmanship of Mr. Charles Lane Vicary, a prominent businessman and personality in the Town and the biggest employer apart from the Great Western Railway. Bradley Mills was the family business. 8 local businessmen attended the first meeting which was held at The Courtenay Restaurant, Courtenay Street (where Boots and Smiths now stand).
RCNA Presidential Handover
As the new rotary year comes around from July, outgoing president Martin Smith and incoming president Phil Millichap found a novel way to accomplish the official (and socially distanced!) handover: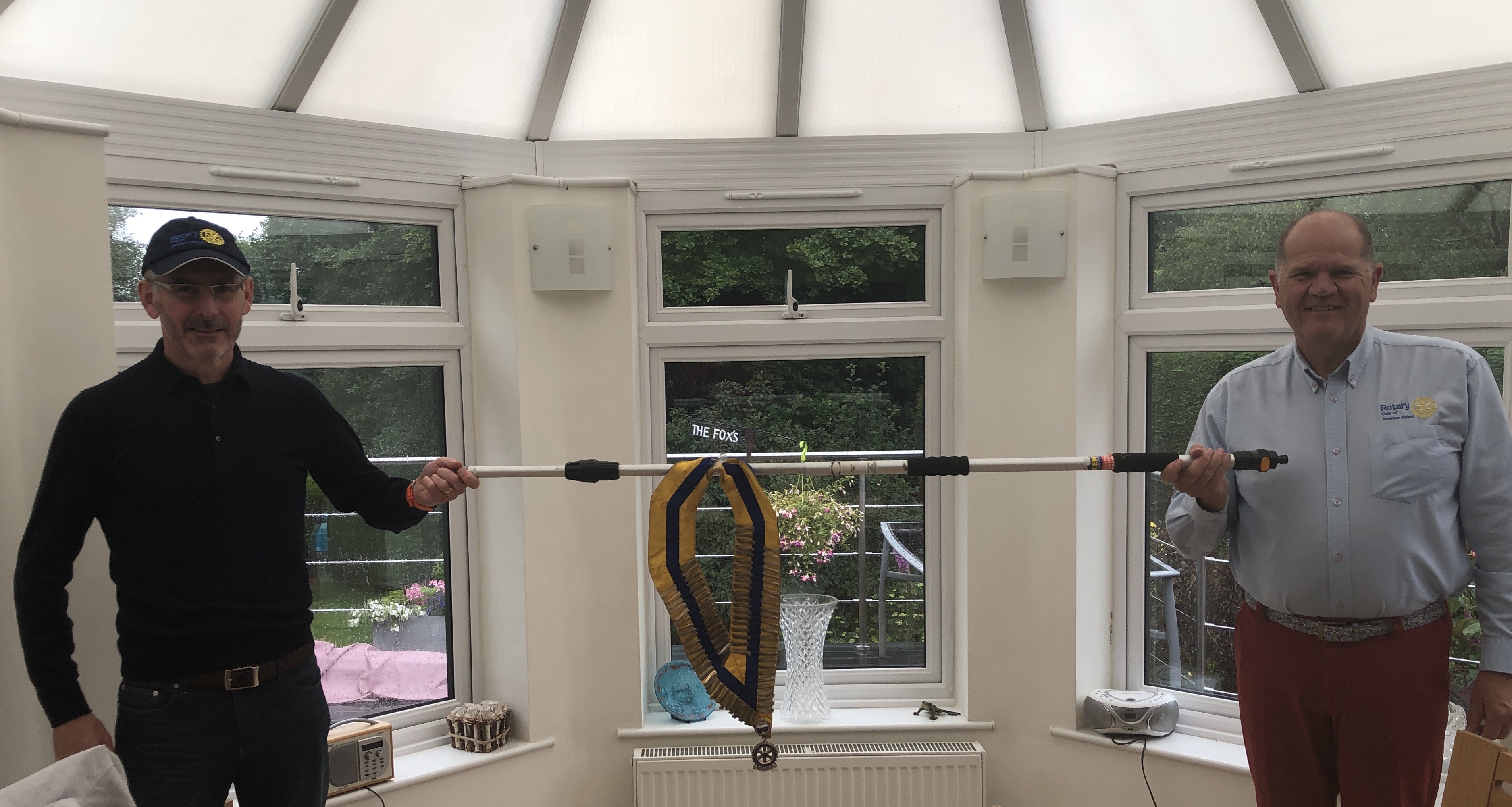 Martin addressed the online meeting, highlighting the club's achievements over the previous 12 months. Since July 2019 up until the end of last month the club distributed £22,500 to 43 Individuals, organisations, and charities, 81% of this locally.
Martin Smith said "There has been so much accomplished despite the challenges, members have dug deep into their own pockets giving over £4000 in personal donations to fill the gap of cancelled Rotary fund-raising events. As a club we have not only maintained membership but grown to over 60 members. Our district leading corporate membership scheme is going from strength to strength and our average age is much lower than the national average. The clubs age range is 16 years to 91 years young with a quarter of the membership female, there has never been a more open and diverse Rotary in Newton Abbot".
He went on to say before handing over to Phil Millichap the incoming President.
"I am particularly delighted with our purchase of Rory a Portuguese Water Dog who will be a Therapy dog for Glendinning House a special needs school opening at Buckland in the Autumn. It has been a significant and ongoing financial commitment for the club, but the benefits will be worthwhile.
We have supported the THAT foodbank throughout the pandemic and made donations to many innovative people dealing with the crisis , such as David Dayman in Kingsteignton making face visors in his front room and paying for ZOOM licences so organisations can stay in touch. The Covid Camera competition in the Mid Devon Advertiser a new initiative was popular, a donation of £3,850 to pay for the disabled toilet in the eagerly awaited Newtons Place and we have not given up in assisting Meadowside Residential Home with its access issues and are actively looking to see it through.
President Phil Millichap and the membership are keen to continue this work, we are all hoping that when this crisis is over , Newton Abbot will be a more caring place and I hope those who have found that volunteering in whatever form has been fulfilling may consider joining Rotary or other voluntary organisations.
"