Featured pages
WELCOME TO RCNA - ROTARY CLUB of NEWTON ABBOT!
The Rotary Effect - Our Story
---
AN INTRODUCTION TO THE ROTARY CLUB OF NEWTON ABBOT -- Together, we can see a world where people unite and act to create lasting change; across the globe, in our communities, and in ourselves.
details
Rotary Legacy Fund
---
Leaving a legacy to the Rotary Club of Newton Abbot. Doing good in Newton Abbot beyond your lifetime…
details
RCNA "Covid-Camera" - Isolation photography competition
---
***********DEADLINE EXTENDED*********** A picture and photo competition in conjunction with the Mid Devon Advertiser
details
---
About us
Rotary Club of Newton Abbot (RCNA) founded in 1922 still has a thriving membership of over 60 men and women from a wide range of professions, businesses and organisations who all share a common interest in helping others. Each member enjoys business as well as social networking opportunities, whilst giving something back to those less fortunate, learning new skills and joining in on social evenings with partners. In nearly 100 years of serving the local community, the club has raised and donated many thousands of pounds, shared skills and knowledge to charities and social organisations.
PHF Alan Partridge's shares his memories and thoughts in light of VE Day anniversary celebrations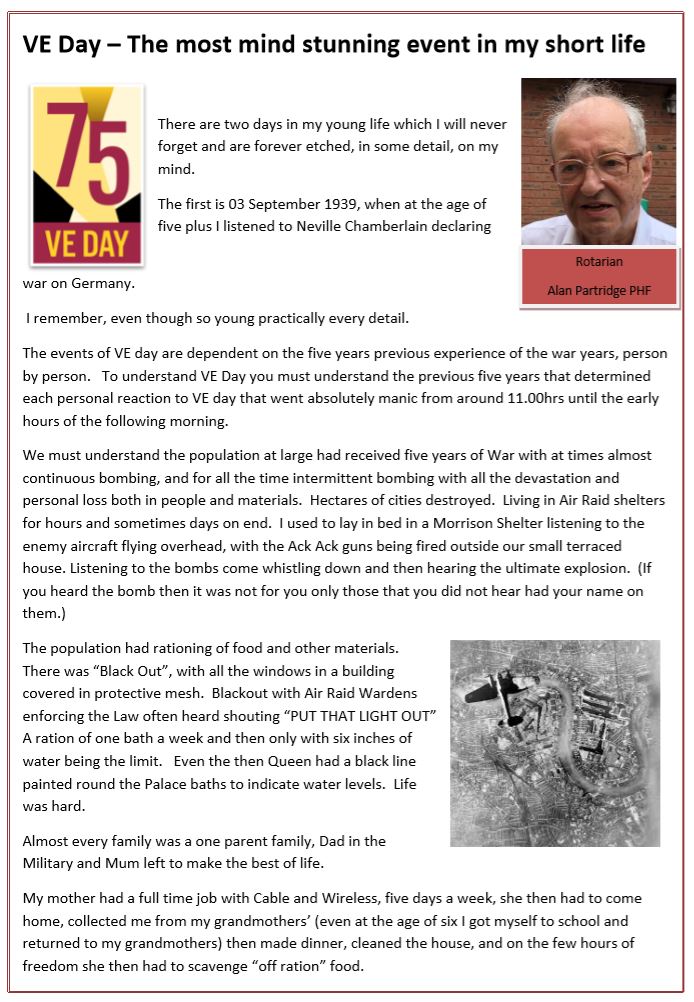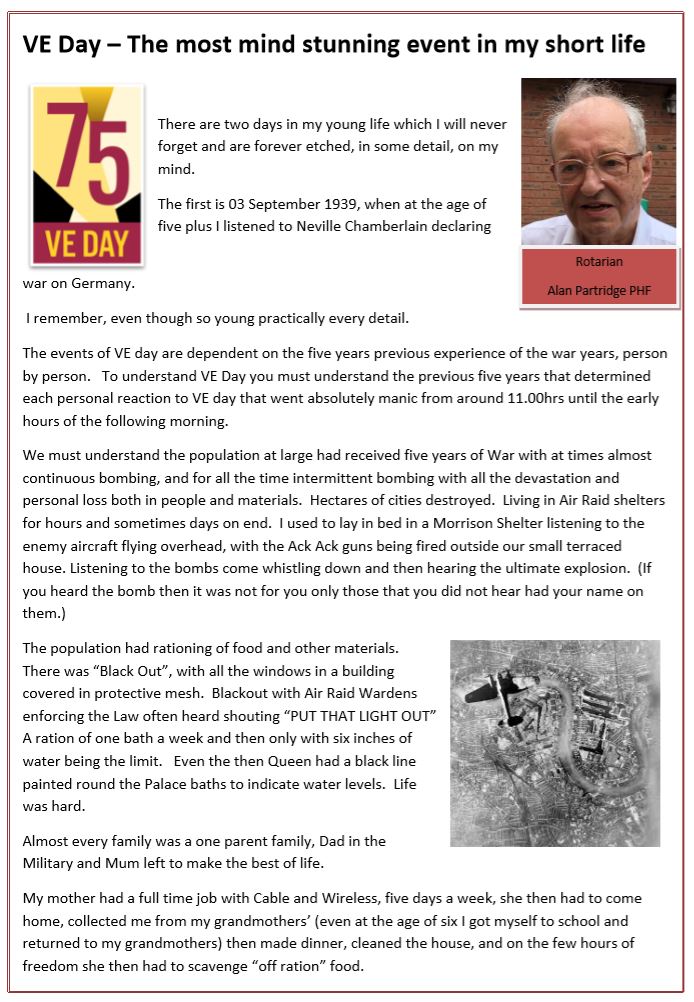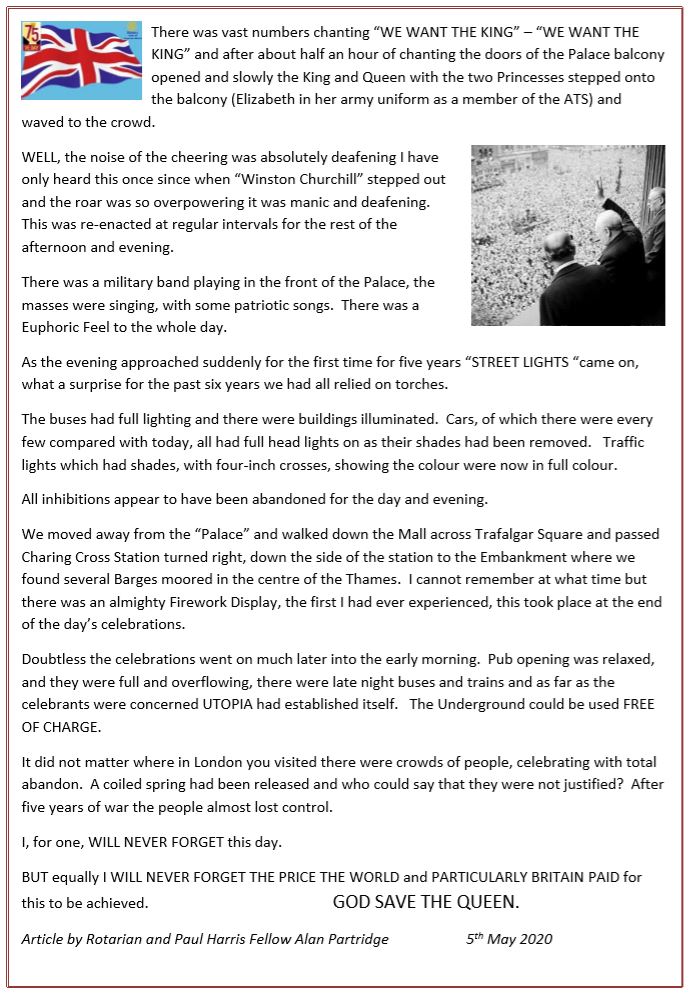 .
RCNA activity updates
For nearly a century the Rotary Club of Newton Abbot has connected with the community and the world through fellowship and service. The COVID-19 pandemic has altered our daily routines and forced the cancellation of the weekly Rotary club meetings. Members have still found lots of ways to stay engaged, connect with one another, and serve their communities. Many Rotarians individually work with local charities as volunteers or trustees , organising support networks in their neighbourhoods.
Staying in touch
The RC of Newton Abbot still meet on a Tuesday, but online using Zoom and have added another meeting a Quiz every Friday both are opportunities to stay connected see a friendly face and for many learn a new skill. Having seen the benefits of keeping our club together and functioning we have decided to fund three month ZOOM subscriptions for any TQ12 or TQ13 based charities, all they need to do is contact President Martin Smith by email martrcna@outlook.com One charity Kingscare has already taken the offer up and it is helping them with the fantastic work they do.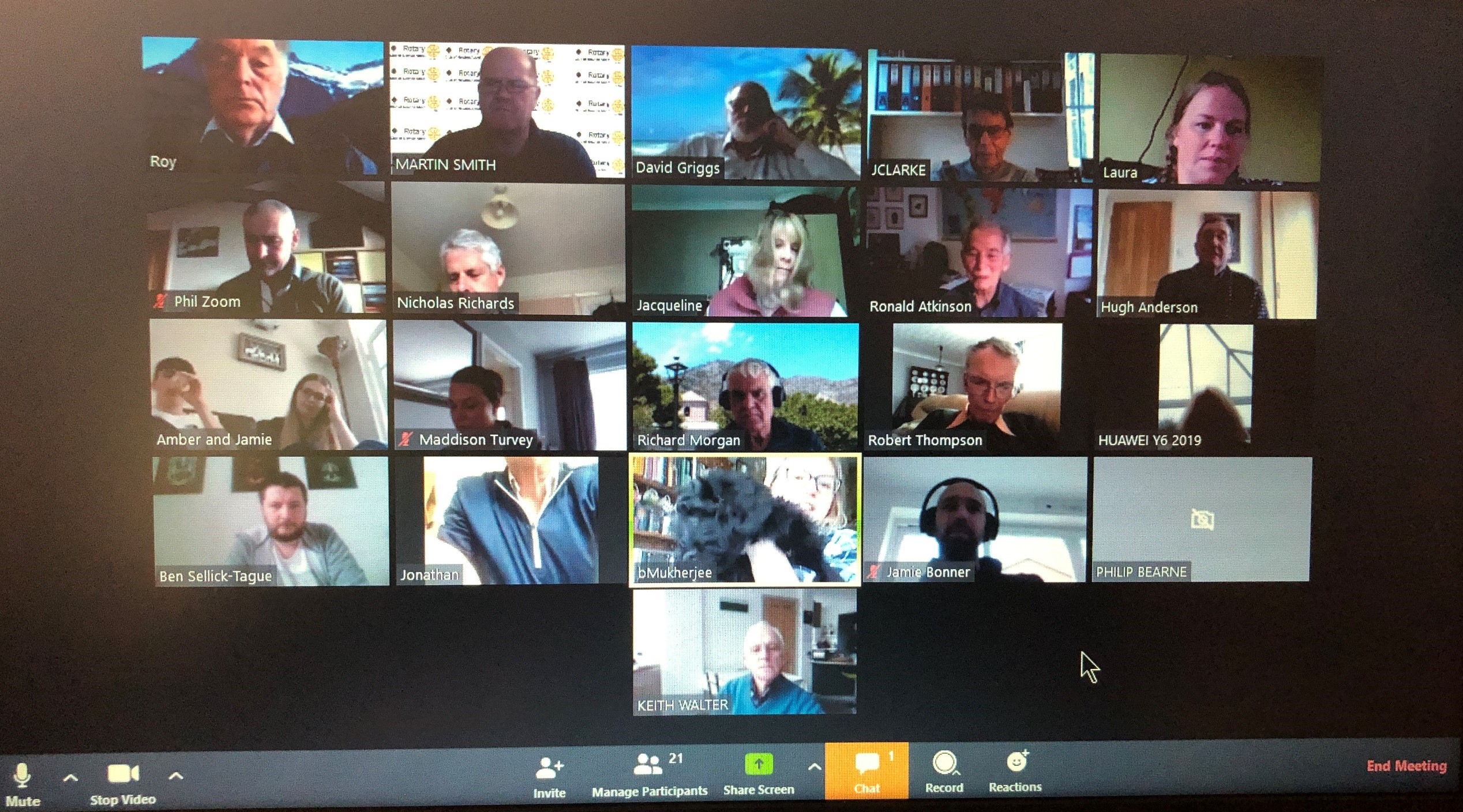 Charity updates
We are giving ongoing support to local charities such as THAT food bank, providing food item shortages, helped the Newton Abbot Covid -19 Mutual Aid Group supplying cool boxes and sponsoring food parcels and have just agreed to fund additional hours for a specialist researcher for Citizens Advice Teignbridge – monitoring their COVID-19 enquiries to help plan for services when the current restrictions are lifted.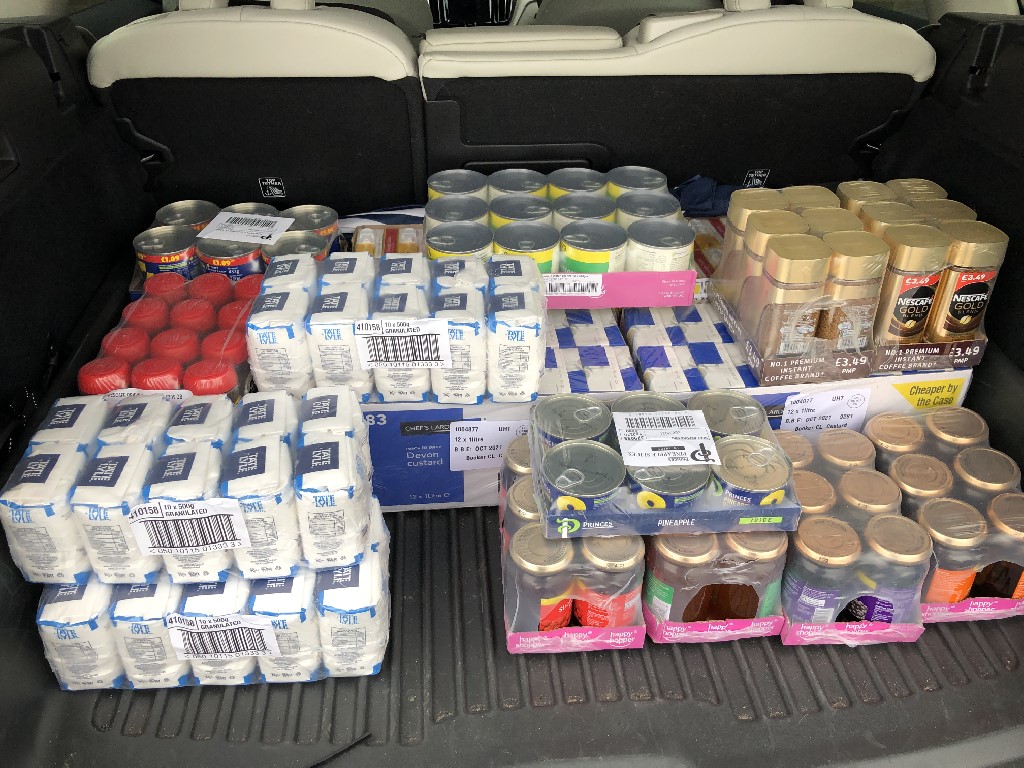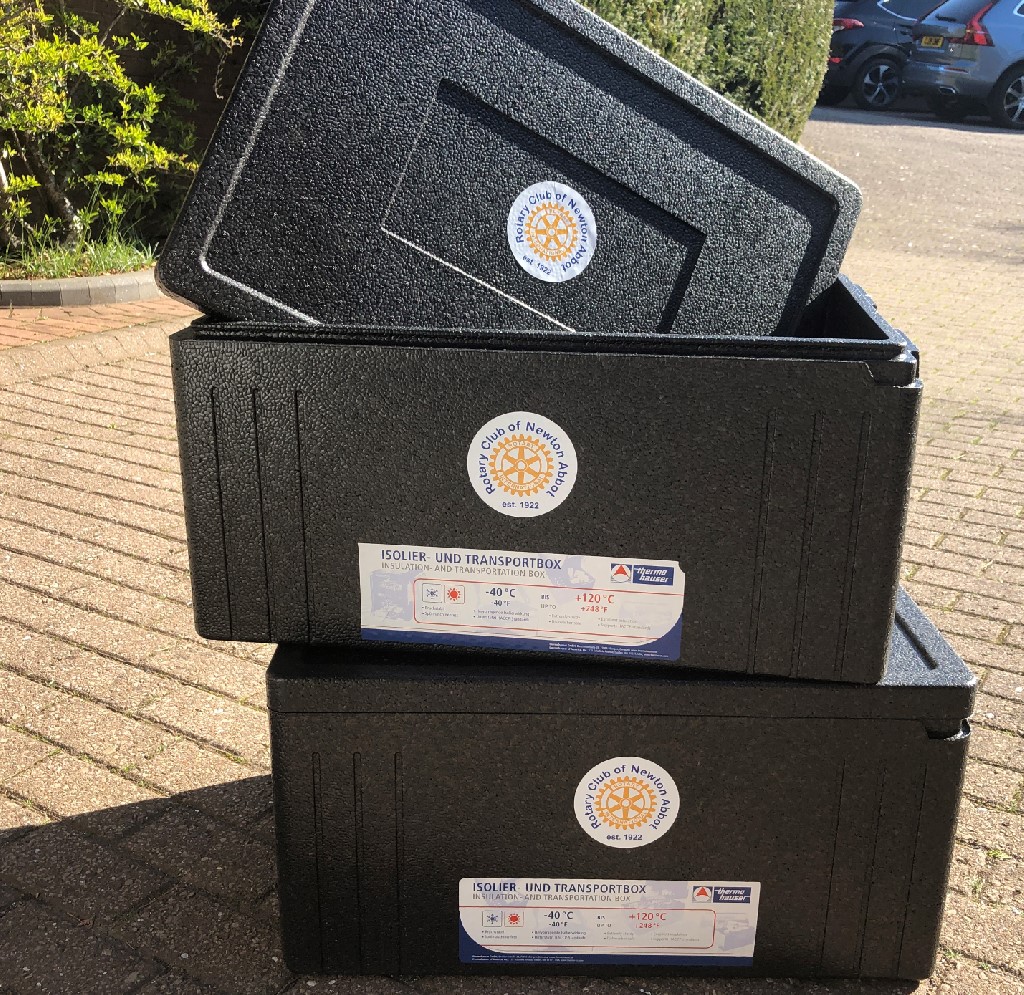 Our charity funds have taken a hit and with several fundraising events such as the Firewalk, Wheelbarrow Race and Spring Golf Day either cancelled or postponed – Rotarians are digging deep into their pockets and making additional personal donations to bolster club funds.
A charity very special to members of the Rotary Club of Newton Abbot is the Meadowside Residential Home for disabled adults, we were hoping to raise the £37,000 this year to create a vehicle access to the home, so desperately needed. The residents currently must negotiate a very narrow road to get into transport and the medical staff must park 250mts away. Unfortunately, our plans have taken backstage while we assist other charities, but it will remain a priority for the future unless a benefactor comes forward.
Another priority of the club is the sponsorship of a therapy dog for the new special needs school – Glendinning House under construction at the Buckland Estate. RORY a Portuguese Water Dog has been purchased and the initial cost of £2,500 has been donated by the club to the trainers Bales Buddies, based in Newton Abbot. The club must raise another £5,000 to cover the next two years of training. Local vets Amity veterinary have also become a sponsor, helping with vaccinations and the general wellbeing of the dog. Bea Mukherjee, project leader for the school is looking after Rory on behalf of the school, until some of the restrictions are lifted. Rory's story covering his training and interaction with the children will become part of the life of the school, already some local businesses want to be part of his story others are welcome.
President Martin Smith says 'Maintaining a sense of connection in whatever form is crucial right now, whether it's a phone call or using one of the many forms of social media. Many individuals, businesses and charities are doing amazing things for their communities, Rotary is just one of them, a scheme we were already in the process of setting up has had to change its focus, President Elect Phil Millichap explains.
"With social isolation, stress, anxiety and loss impacting more community members than ever the Rotary Clubs of Newton Abbot and Dartmoor Vale have teamed up with Dartmoor Centre for Counselling and Psychotherapy (DCCP) to provide up to six free counselling sessions for individuals struggling currently. Now the vouchers are being made available through the following local charities:
Action to Prevent Suicide
Andy's Man Club
Devon Carers
Homestart Teignbridge
Kingscare / #DoItForDeaks
Women's Wellbeing Club
Clearly face to face sessions are not possible but video or audio sessions are going ahead. If you are interested, please contact one of the Charities directly or Rotary."
Social Distancing
Social distancing is the right thing to do right now, full stop. But the worry is that if everyone stays home, we won't just shut down Covid-19, we'll shut down small businesses as well. Rotary is the original business networking organisation and many local businesses are members and supporters. Businesses have already lost massive amounts of revenue as people self-quarantine. With potentially weeks' worth of lost income, the local businesses that are so integral to the fabric and character of our communities may not have the margin to survive. Here's how to support the small businesses that need your help right now — without risking your health.
GET A DELIVERY. Luckily, most restaurants and shops have stepped up options like delivery or kerb side pickup so you can minimize contact with humans. If you can afford it, commit to ordering in a few meals this week.
SHOP LOCAL ONLINE. Check out the list on the RCNA website: - www.rotarynewtonabbot.co.uk of just some of the local suppliers who will take orders on the phone and can deliver.
KEEP PAYING THE PEOPLE WHO WORK FOR YOU. If you're taking self-quarantine seriously, you've cancelled the piano lessons, hairdresser and sent the tutor away. Possibly you are their only income, pay them for future visits or services on account, they have bills to pay as well.
SKIP THE REFUND. If you missed a local show that you had tickets for, consider writing it off as a donation instead of asking for your money back. Now's also a great time to sign up for that membership to your local non-profit arts association or subscribe to the summer theatre, pay your membership dues early.
SCHEDULE A SERVICE FOR LATER. Coronavirus has created the ultimate cancel culture, but all those missed reservations and skipped services are stressing out local workers. If you can, schedule work with a cleaner, a painter, a plumber, a contractor or a salon. Knowing when to schedule is of course the $64,000 question now, but simply knowing that work is coming their way can alleviate some anxiety and make a big difference in helping them weather this difficult time.
GIVE A SHOUT-OUT To your favourite local businesses by leaving them a stellar review on, Google, or Facebook — that thing you always meant to do but never had time for. (Thanks, coronavirus!) While you're at it, follow all your favourite businesses and artists online and share their social media posts. Tell your friends about businesses that may interest them, praise good service and products.
SAY THANKS. All of us are mega-stressed right now, but local business owners worried about their livelihood have a special level of anxiety. Send a thank you note or an email to let them know that you see them and you're thinking of them. A little compassion and connection right now go a long way.
Martin ads "I strongly believe that if anything good eventually comes out of this pandemic is that our town, county, country and even the world will be a kinder more compassionate place to live. Rotary will continue its work in the community doing what it does best 'Making a Difference' "
RCNA Celebrates Legacy Night
38 members and guests attended the inaugural legacy meeting, a new event in the RC Newton Abbot Diary, created to celebrate the club and its members. Guests included District Governor Simon Woods and his wife and Rotarian Jane.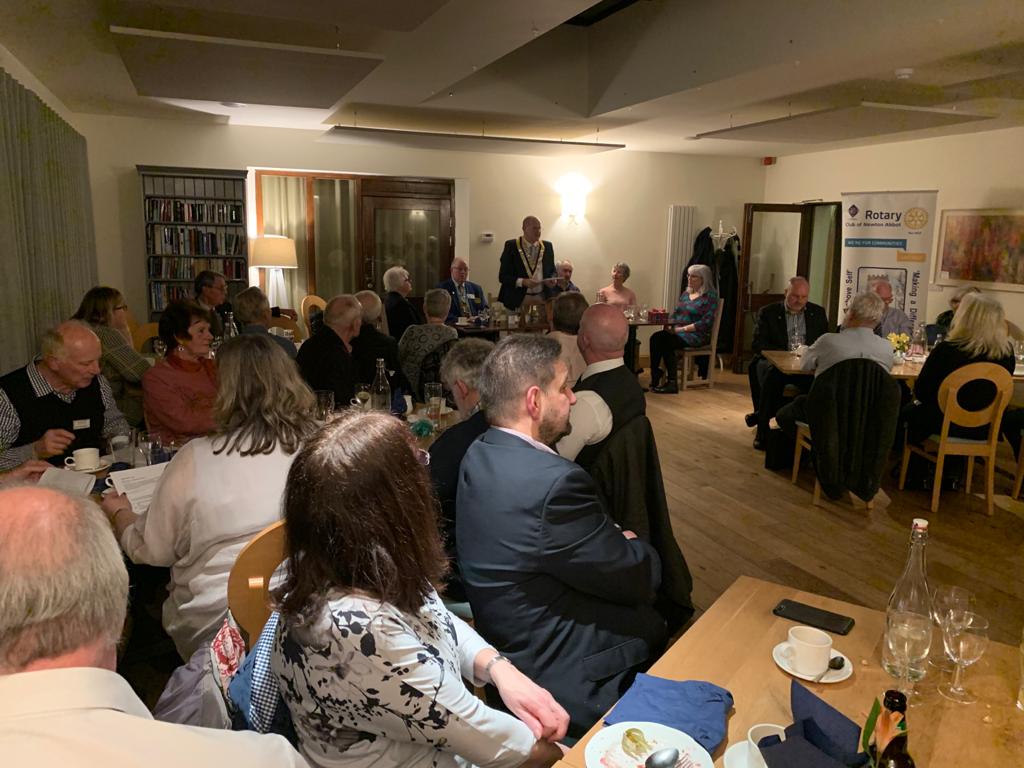 RCNA first met on the 14th March 1922(!), and to celebrate the clubs longevity and success, our club will in future mark Legacy Night each year on the second Tuesday of March. The event follows on from the launch of the Legacy Fund last year (https://www.rotary-ribi.org/clubs/page.php?PgID=742586&ClubID=1047). This fund stands at £7,835 – sourced from individual members, gift aid, and incorporating the Arthur Newcombe Memorial Fund. Contributions always welcome and gratefully recieved, just speak to Martin Smith or David Griggs.
Our club is prospering with many new members (17) over the last two or three years, however many of these new members may not be aware of what has been achieved throughout nearly 100 years by the Rotary Club of Newton Abbot. Whilst we believe we are a forward-thinking and innovative club; it is equally very important we do not forget the history behind it, as well as acknowledge the contribution of long-serving Rotarians and what has been achieved.
What a night...
Avid club historian Tony Brooks-Daw gave a summary about the history of the club, with Jeremy Newcombe explaining the origins of the twinning with Vitré (of which this year is the 60th anniversary). It is hoped that a centennial booklet detailing as much of the history of the club as possible will be compiled for our 100th anniversary year.
Phil Millichap gave an insight on the counselling project the club have put together with Dartmoor Vale which, supported by a grant from District, will benefit upwards of 65 individuals.
Richard Morgan detailed the club's International involvement over recent years, including supporting the End Polio campaign, Shelterbox and Sand Dams.
It was hoped the club would get the opportunity to officially say farewell to Kerry Larbalestier as she and Andrew relocate to the Shetland Isles but unfortunately, with the collapse of Flybe, she was unable to travel to the meeting – Andrew did attend however, and was presented with sme unique Harriet Wooley knitted hats and a cheque from RCNA for the Shetland Isles MRI scanner appeal. Kerry was going to talk about her and female involvement in the club and thankfully Catherine Stringer filled in very well on her behalf.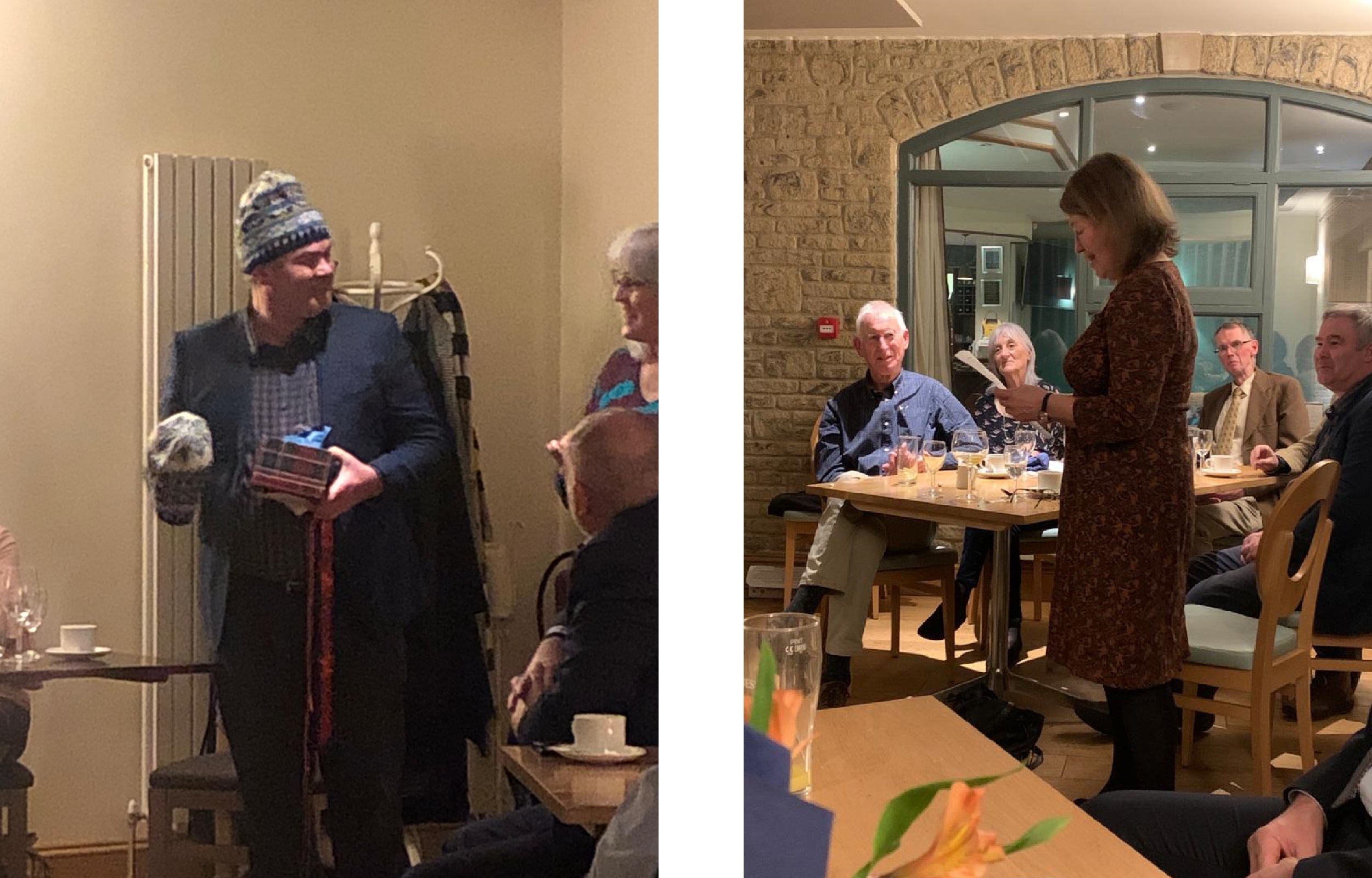 Left: Andrew and the hats, Right: Catherine Stringer
Tracey Cunningham was delighted to introduce a new project for 2020 – a shoebox scheme – with details on distribution of boxes coming soon.
Celebrating our members...
The RCNA Council recognise that there are several long-serving and active members of the club who perhaps do not get the recognition they deserve – and after much discussion, it was decided that the benchmark should be 15 years for the receipt of a Charles Vicary award.
In that spirit, District Governor Simon was asked to present a certificate and newly styled club badge to Tony Brooks-Daw, Jeremy Newcombe and Keith Walter (who have between them over 100 years of club service!) and specific acknowledgement was given to Jennifer Michelmore, John Born & Roy Simmonds who will be presented with their certificates when they and the club meet next. The intention is to have more of these presentations each year at the Legacy Night.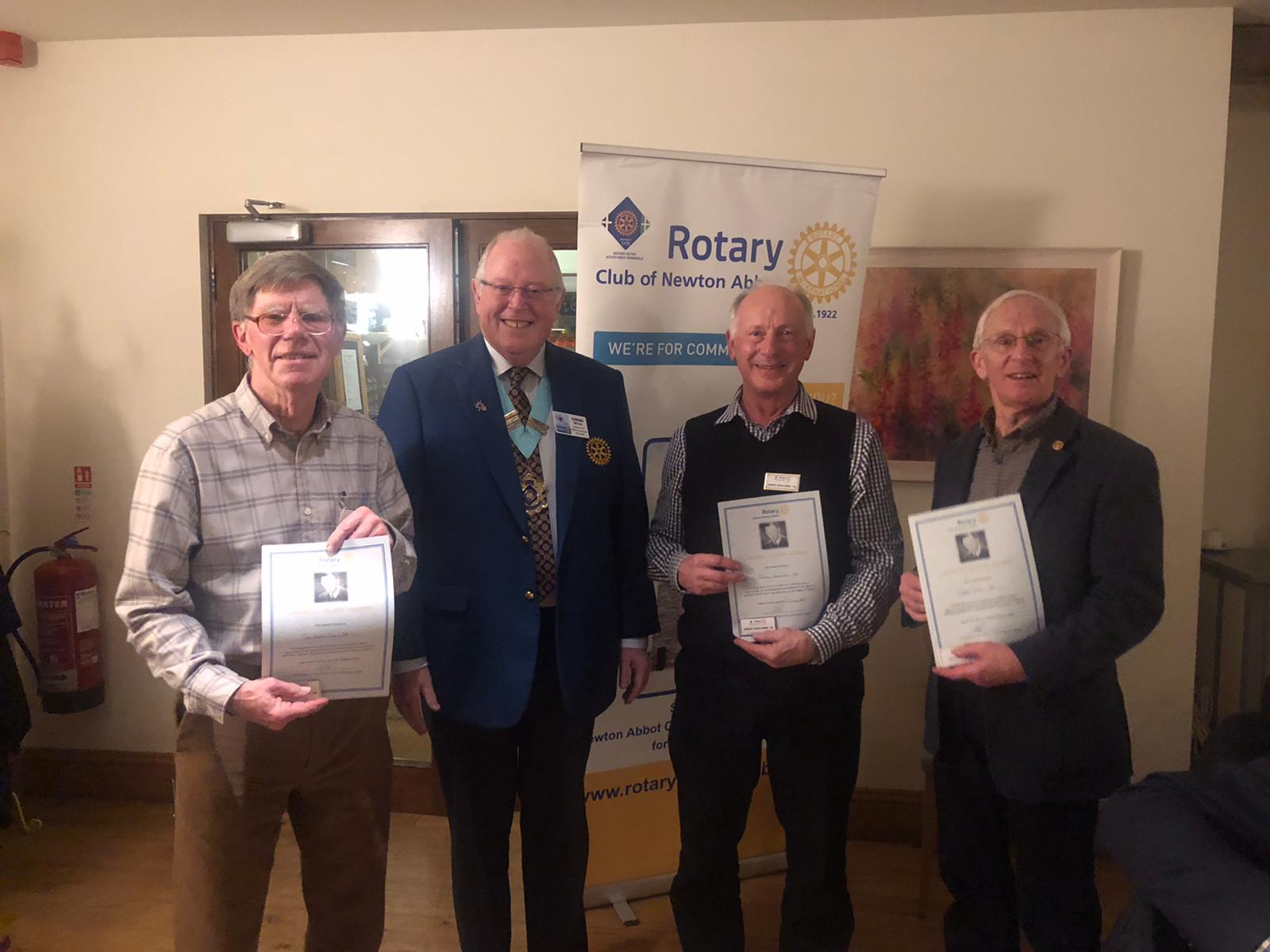 Charles Vicary recipients Tony Brooks-Daw, Jeremy Newcombe and Keith Walter with DG Simon Woods
Simon later spoke on how impressed he is with our club and how he believed, given our different membership categories – Regular, Corporate, Student and Associate, that the membership of 63 members is likely the largest in the district of 84 clubs. Remarkable too is not only the size, but the make-up of age and gender in being a likely a benchmark for the future of Rotary – something we all should be proud of.
He was also very impressed with our venue and how well we are looked after – so a big additional 'Thank You' to Daniel and all the team at Dainton.
The close of the meeting was a heartfelt toast and rememberence for a special Rotarian who left us last year – Ken Hicks PHF - and one final presentation of the prestigious Paul Harris Fellowship to Richard Morgan, recognising his great contribution to our club and various other charities and the local community. Congratulations Richard!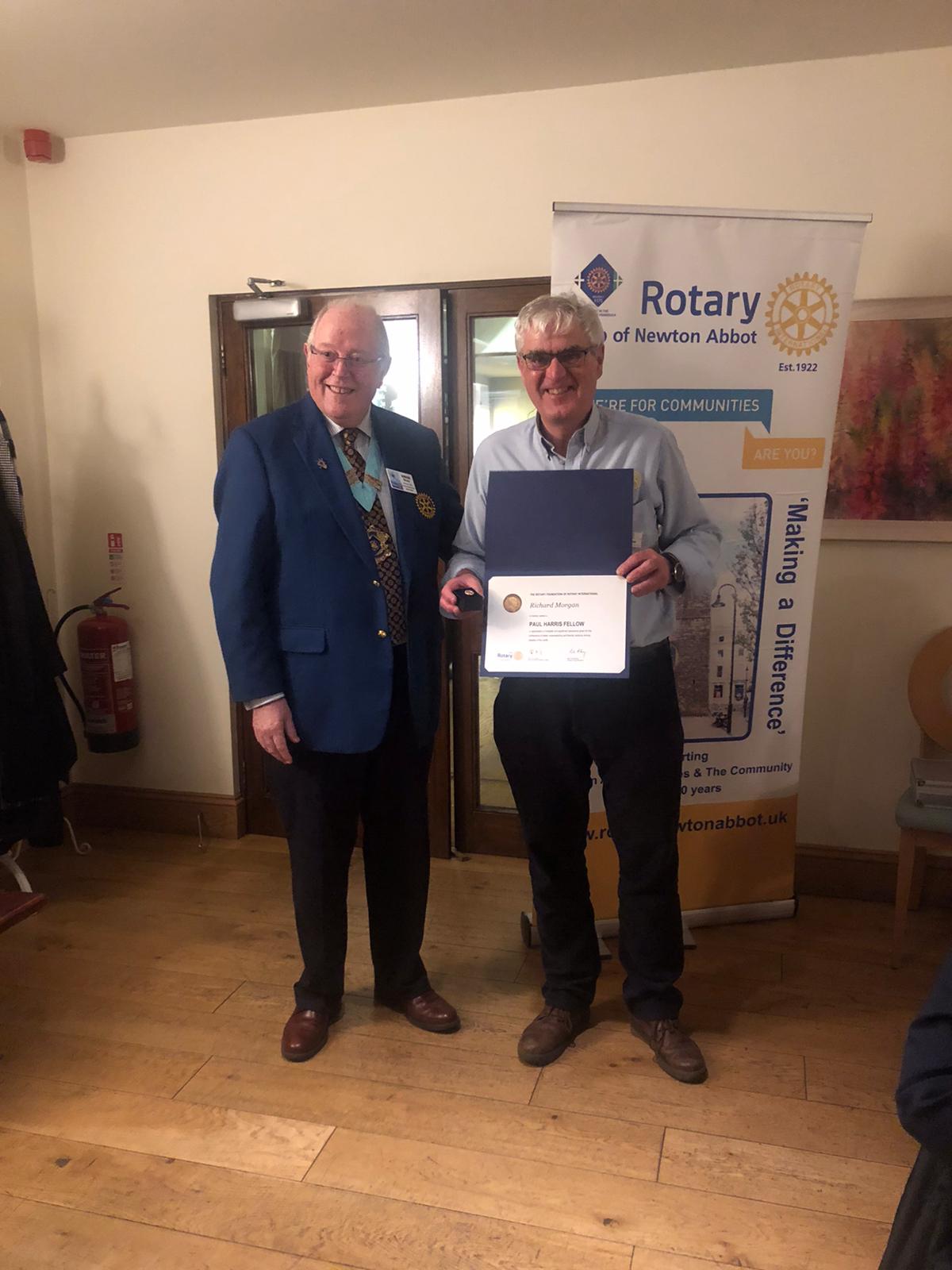 Supporting Glendinning Therapy Dog!

The Rotary Club of Newton Abbot are partnering with Glendinning House, the new school for children with special needs, where President Martin Smith is going to be a Governor.
Given the challenges that will undoubtedly be faced integrating new students into a brand new school, the Rotary Club are raising money to give the new school a Therapy dog and local specialised trainers Bales Buddies have sourced a suitable Portuguese Water Dog puppy.
PWD's are excellent for providing support to those with learning difficulties, mental health problems, to children with low self-esteem who won't read a book to a human but will to an empathetic dog.
They are a medium-sized dog with a soft and fluffy single layer coat that does not shed significantly, making them a preferred breed among those who suffer from allergies. By starting now the Therapy Dog should be ready to meet the new students at Glendinning on their first day at the new school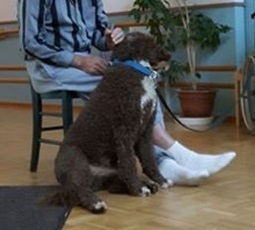 Areas in which the dogs can help.....
With Safety
Behaviour Intervention
Interrupting Repetitive Behaviours
Calming and Preventing Meltdowns
Assisting with transitions
Sleeping
Meal times
Best friend/loving companion
Other potential benefits from having a trained dog include Responsibility, Communication, Independence & Social comfort.
To purchase the dog and to fund its training for two years costs £7,400; of which RCNA have contributed £2,500 from club funds and will now fundraise for the balance.
To start off the fundraising Martin Smith will be hoping to get local people to sponsor him at the Rotary Firewalk in April at Dainton Park GC.
Cheque presentation for Asperations, Devon Aspergers group

RCNA were pleased to be able to present £200 to Asperations, a South Devon Asperger's Group formed during 2003 to provide a missing link for parents of children suffering from ADHD, Asperger's and Autism. It is a place where parents can come, talk and discuss problems with likeminded people, sharing ideas and experiences, whilst offering children with any of the aforementioned conditions the freedom to express themselves through play and play worker sessions, and of course not forgetting activities laid on for siblings to have some fun!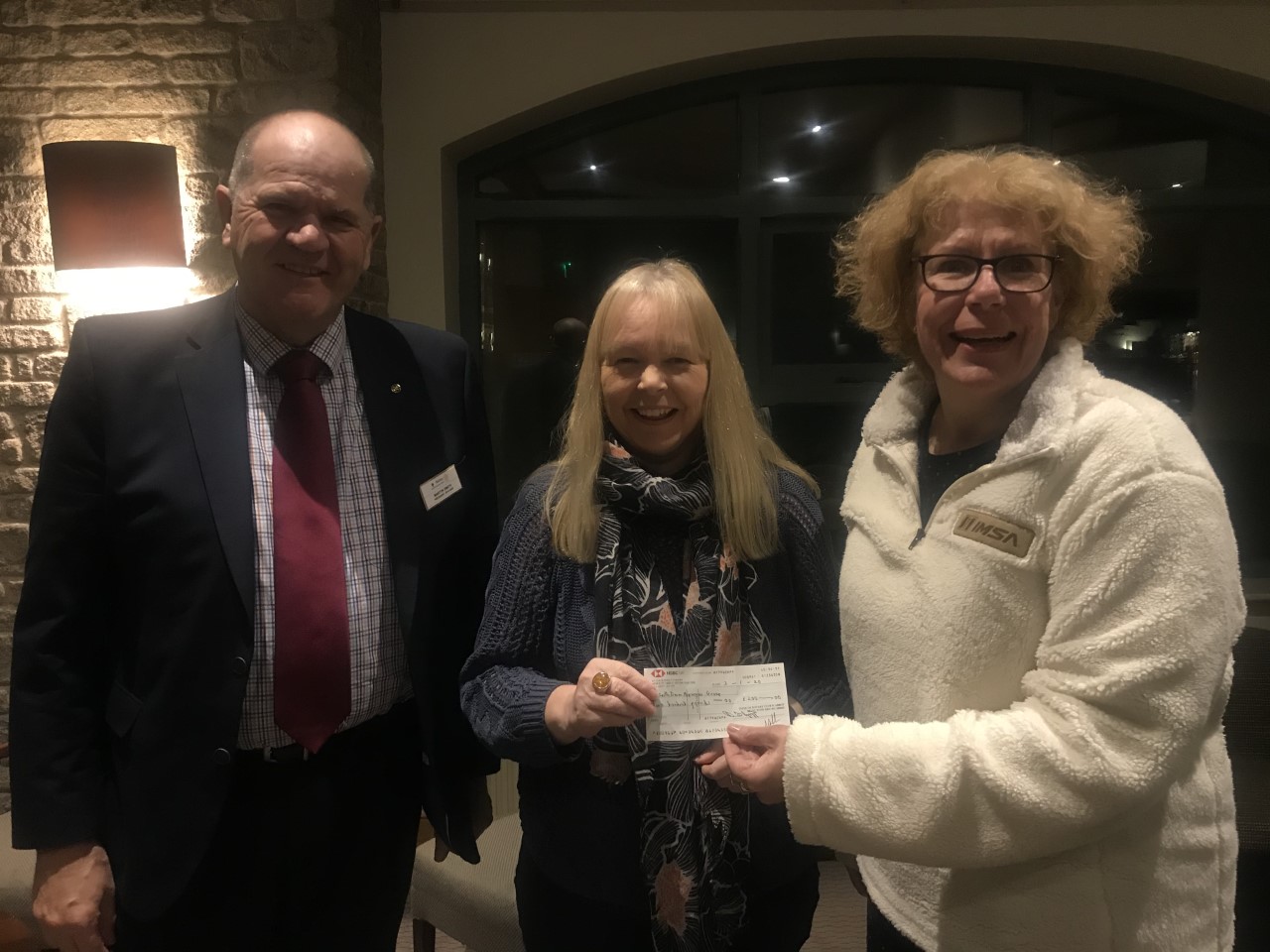 President Martin Smith, Asperations' Lisa Hasluck and Community chair Tracey Cunningham.
"As a support group, we should not be portrayed as the answer to all the complexities parents and children deal with coping with Autistic Spectrum Disorders, but as a way of obtaining helpful information, support and sharing experiences."
Mor einformation can be found at: asperations.co.uk
Christmas collections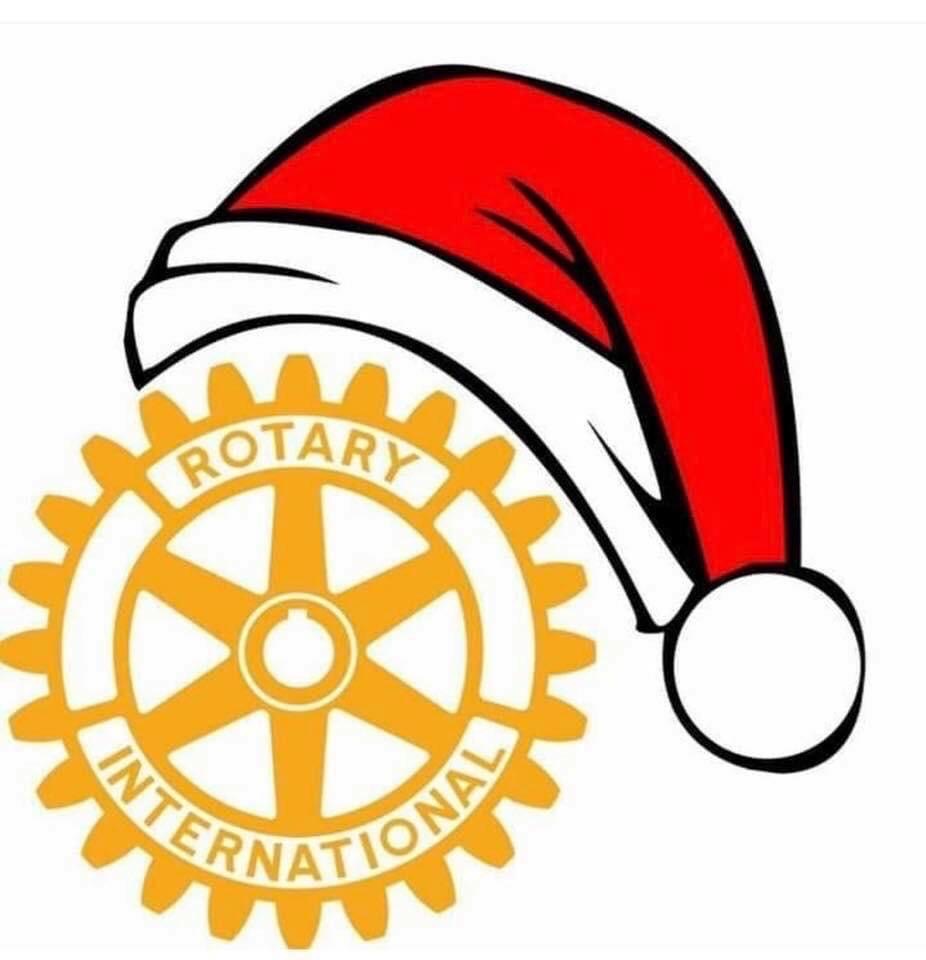 Despite some wet weather, Santa and his helpers raised over £360 over two days in Newton Abbot Town centre - which was bolstered further with the £360 raised from the previous weekend's collecting at Fermoy's garden centre.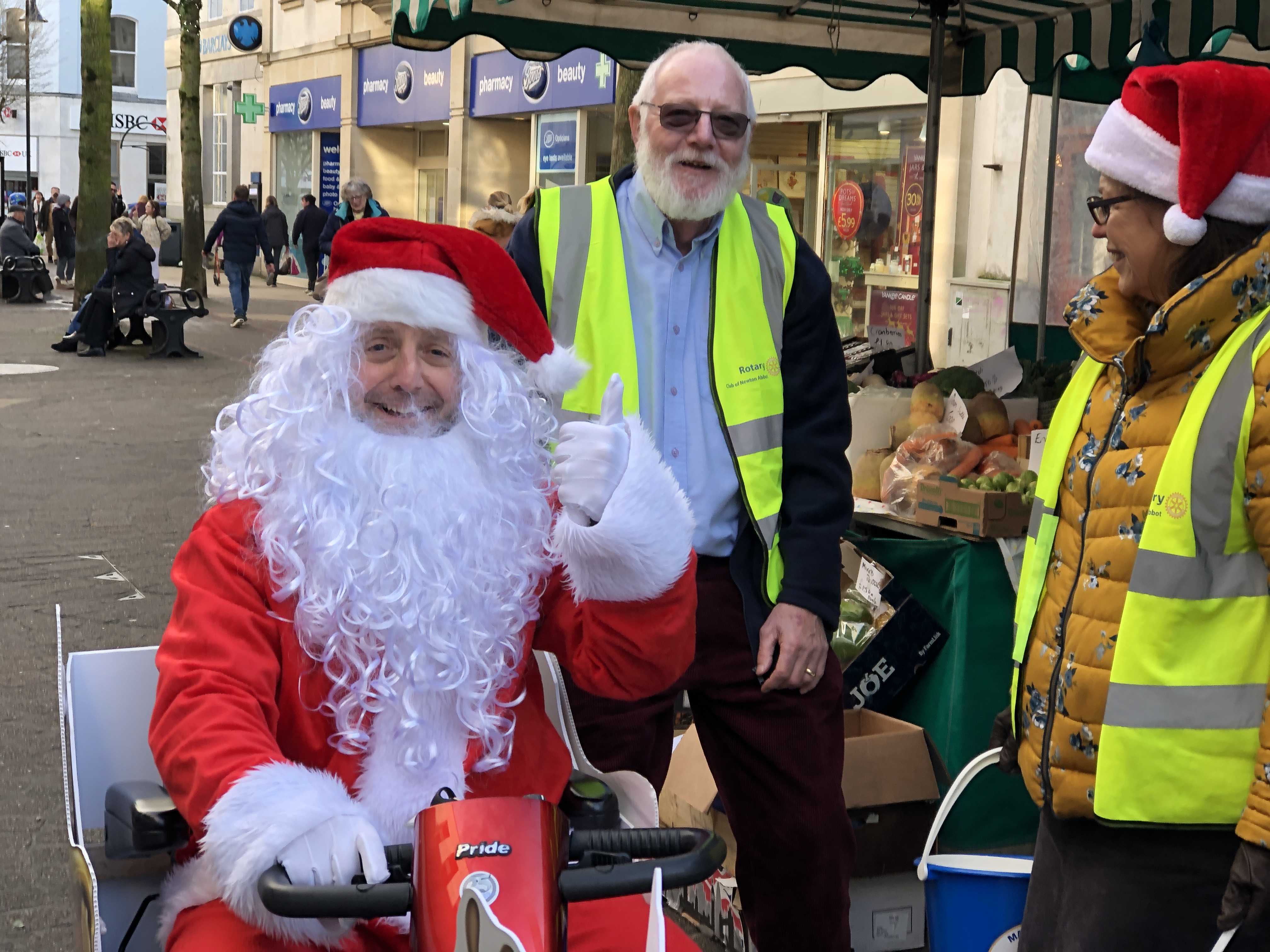 RCNA Christmas meal
70 Rotarians, partners and guests enjoyed the Christmas meal at Dainton Park.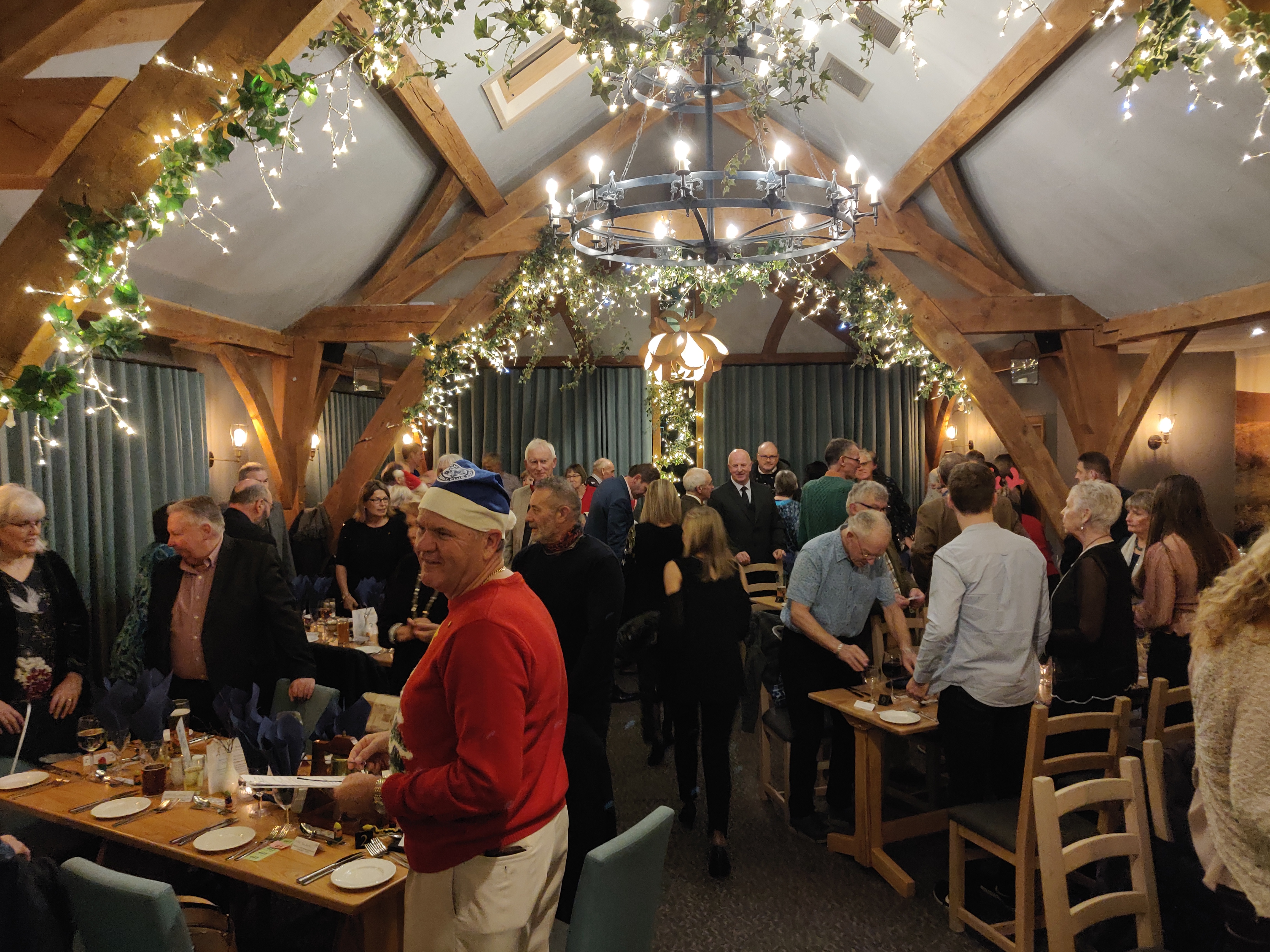 A fun evening, including searching for the missing ELF and various other questionable games dreamed up by the President.
The evening raised £499 for club funds.
Inter-Club 'Teignbridge Challenge' update and look ahead
Teignmouth were our hosts for the second leg of the Teignbridge Rotary Challenge, only five of the six clubs were able to take part and Dartmoor Vale were very much missed.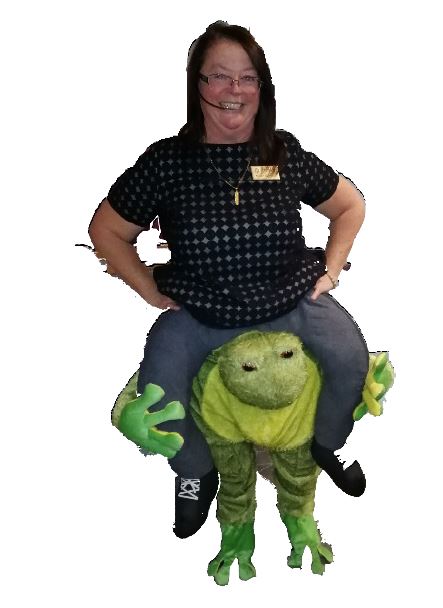 With apt greeting from a young lady in a 'riding-a-frog' costume and themed room and table decorations, competitors and guests took their seats for an excellent carvery provided by Teignmouth Golf Club - with many adding the desserts as a bonus.
In the Frog Racing arena, Peter Taylor and his wife had clearly organised the racing element well. Each Rotary Team had 4 competitors and there were 5 races in the Teignbridge Challenge with the last race featuring the "best racer" from each Club.
Frogs were noisily coaxed across the dance floor and, while some people found it hard to get a grip, patience prevailed with Dawlish Water wining the first race of the evening with Newton Abbot in their wake. After the second race there was now a three-way tie for the lead with Teignmouth, Newton Abbot and Ashburton all heading the field. By the end of the third race the hosts Teignmouth had taken a narrow lead over Newton Abbot and Dawlish Water. The last member of each team fought out the fourth race with Teignmouth strengthening their lead and Ashburton coming up to an outright second. The final race of the "best racers" was for double points and Teignmouth romped home.
A great evening was had by all and thanks must go to the organisers from the Teignmouth Club, who in addition to providing and training the frogs, ran the Tote for the evening and set the convivial tone! So after 2 of the 5 Teignbridge Rotary Challenges the positions in the league are as follows:


The next legs of the challenge are:
Wed 22nd January - Indoor Bowls hosted by Dawlish Water
Tue 31st March - Darts hosted by Ashbuck
Mon 6th April - Cars/Games (tbc) hosted by Dawlish
date tbc in May - 'Games Night' at Dartmoor Vale
Crocus Planting for End Polio campagin
RCNA's annual purple crocus planting at the end of September along the Avenue hit record numbers of bulbs planted by the committed (and well-dressed!) team - as many as 8,000 were planted this year.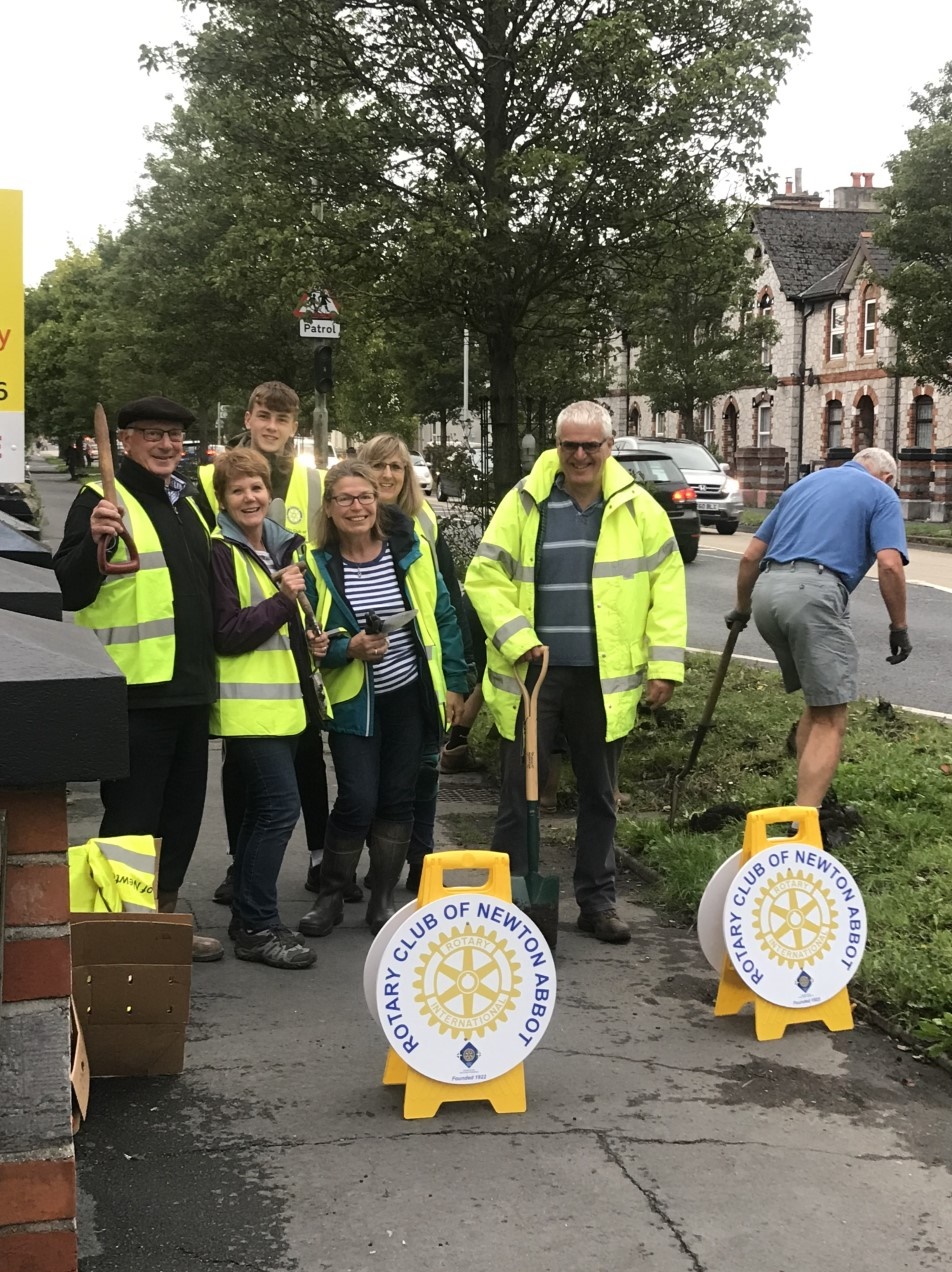 Latest updates on the End Polio Now project (as of 19th Sept) indicate that there are just 2 polio endemic countries - Afghanistan and Pakistan, with just 16 and 62 cases this year respectively. Fantastic news also comes from Nigeria, with no reported cases for 3 years - the entire continent of Africa is now confirmed polio-free!
Inter-Club 'Teignbridge Challenge' kicks off
Beginning with a thrilling encounter of Golf Croquet, 5 local clubs are taking on a variety of sporting challenges over the next few months.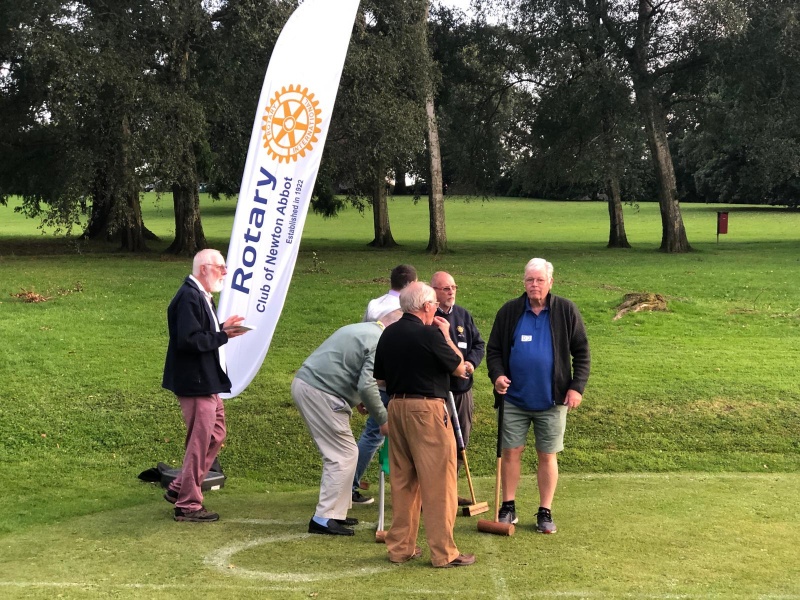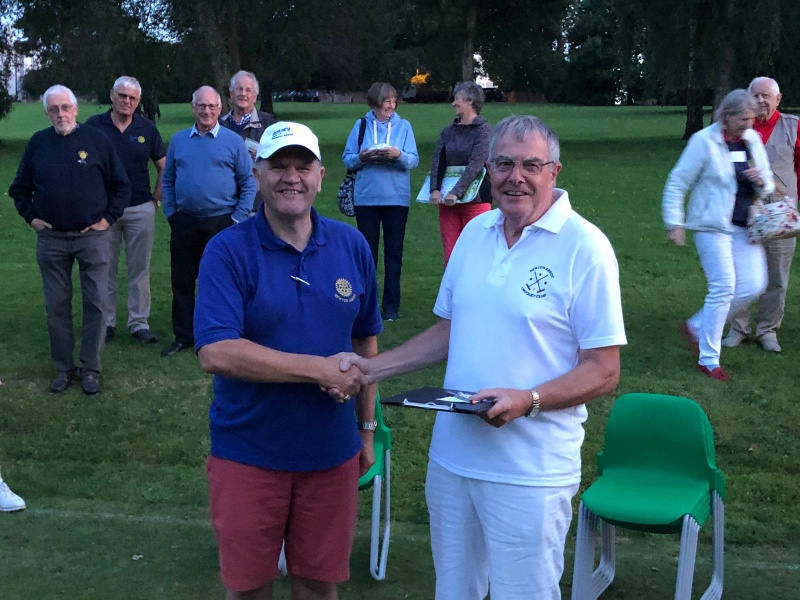 Golf Croquet is a somewhat simplified version of Croquet and for many it was a first foray into the sport.
Mixed teams of 4 competed 2-on-2 against each other club over the course of an enjoyable evening hosted warmly by Newton Abbot Croquet Club (http://www.newtonabbotcroquet.org.uk/). NARC members provided refreshments and raised funds with a successful raffle.
Dawlish Water were eventual winners, with Newton Abbot a close second.
Look out for updates on the next Teign Challenge event, to be hosted by Teignmouth Golf Club – Frog Racing!!
Presentation to Army Cadets
RCNA are pleased to be able to help the local Army Cadets by purchasing a laptop compter to assist in cadet training.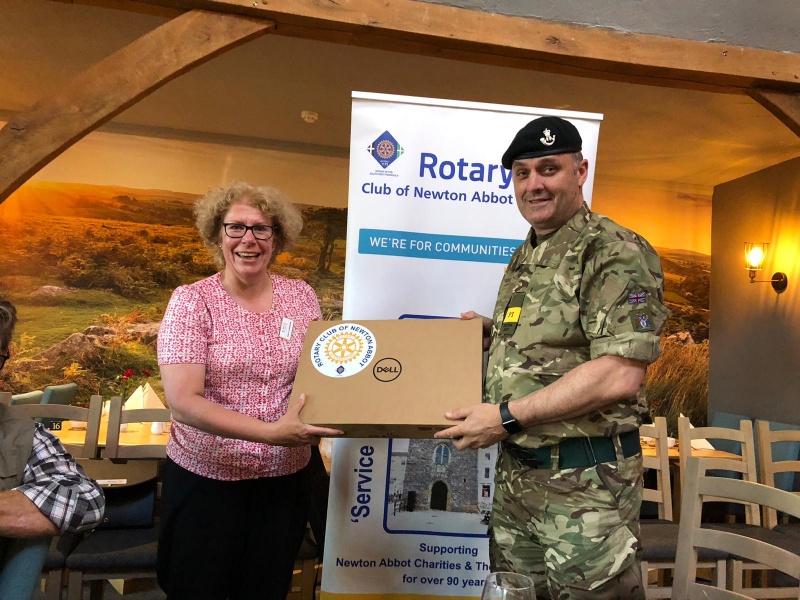 Community Chair of RCNA Tracey Cunningham made the presentation before the club meeting to Volunteer Trainer Roy Blunt.
Peter Harris Fellow honoured at summer event
New President Martin Smith PHF and his wife Jill, welcomed over 30 Rotarians and partners along to his house on a sunny Sunday afternoon as his first event of the Rotary Year.
They enjoyed Homemade Scones with copious amounts of clotted and fresh cream with plenty of debate on the long-standing dispute cream or jam first.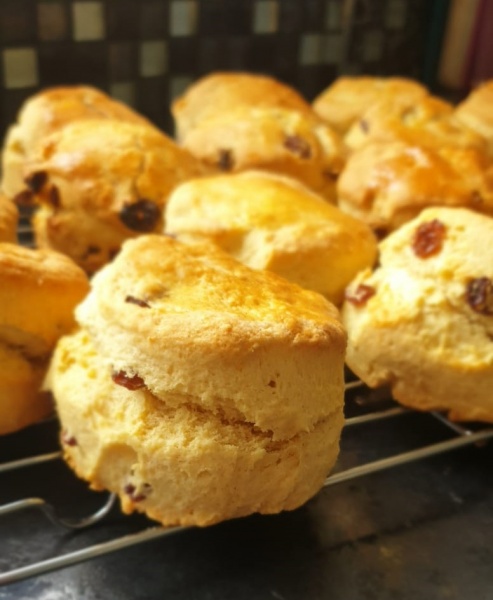 The highlight of the afternoon was being able surprise Club stalwart Alan Partridge PHF with a certificate of Honorary Club Membership. Alan has been a member for over 46 years serving the club in many roles more recently as Sergeant-At-Arms, keeping the meetings on time and advisor on club etiquette and procedure.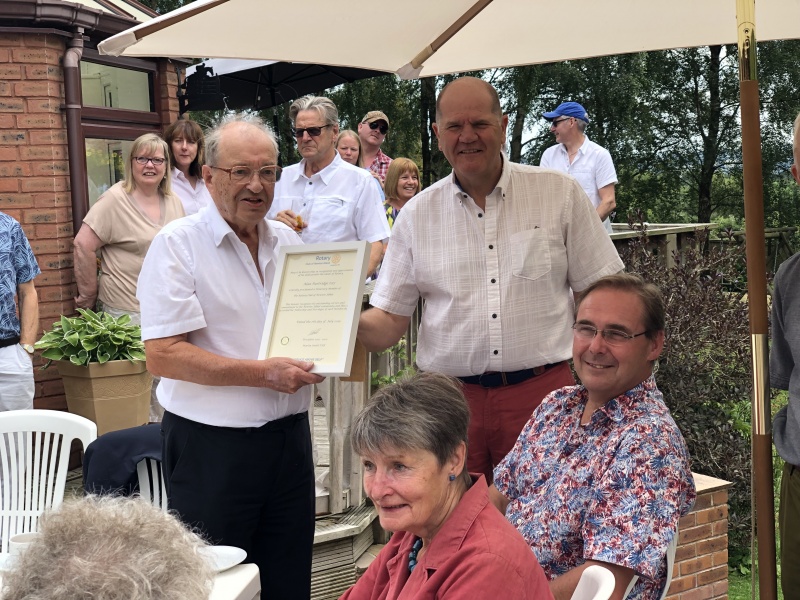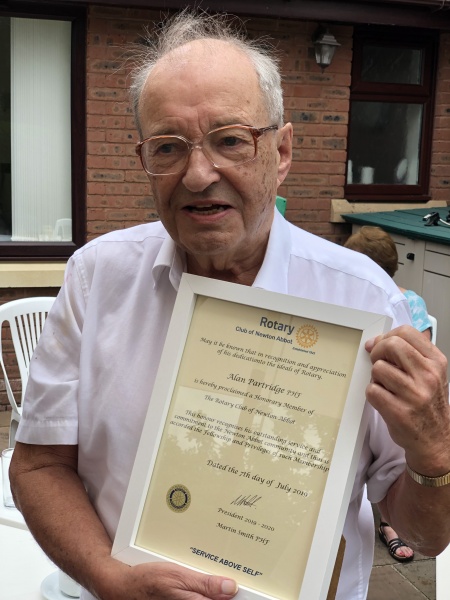 2019 Presidential handover
The Rotary year begins in July and at the old year's final weekly meeting Club President Richard Morgan reported on the Club's continued success. With the support of the Town, he was pleased to report that they had raised almost £20,000 which had enabled the Club to help and support charities, organisations and individuals across the local community. We had made a number of larger donations, he reported, though he was especially pleased that smaller donations to smaller organisations had proved so valuable, making for them a huge difference.
He also reported on the success of increased Club membership now standing at 42 with 1/3 women members. And it was just not adult membership. His final duty as President was to induct a further student member, extending across the age groups the Rotary ideal of "Service in the Community".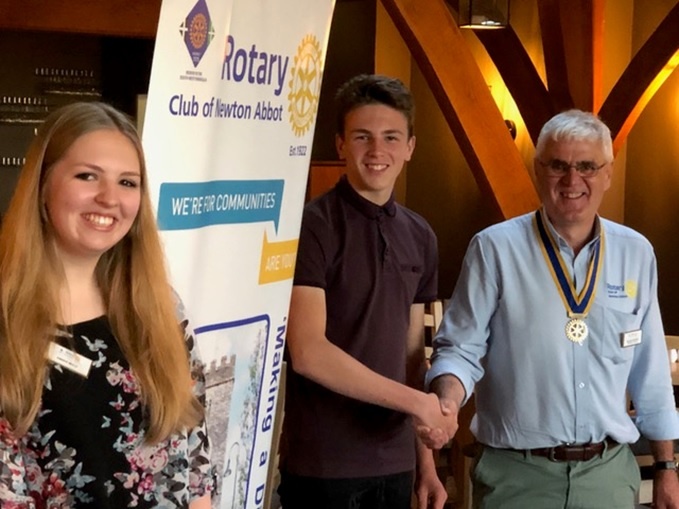 Saying that the Club would be in very good hands in the coming year, he handed over the chain of office to the incoming President, Martin Smith – taking up the reins for the second time; Rotarian Phil Millichap becomes President Elect and Tracey Cunningham President Nominee.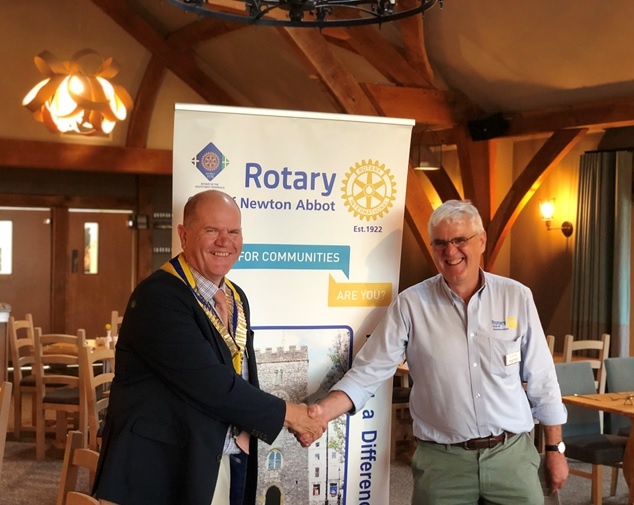 Martin said that he hoped to build on the successes of earlier years and this year also extending the Club's links with young people through schools, youth groups and organisations in order to investigate providing Rotary Club support. He hoped that Club membership would continue to rise not only through individuals joining but also with the number of companies and organisations wishing to become involved through the Club's Corporate Membership scheme.
Rotary Twinning is Winning
It was the Newton Abbot club's year to make the annual exchange visit our to Vitré our twin club in Brittany. The twinning is now in its 60th year and the exchange visits take place in May each year.

This year the party of 16 Rotarians and partners crossed the channel to meet Rotarian friends and families for a busy but all too short weekend. At the formal lunchtime meeting both Club Presidents gave speeches outlining their Club's activities over the previous year which, this year also meant the 60th year of the Vitrè club's existence.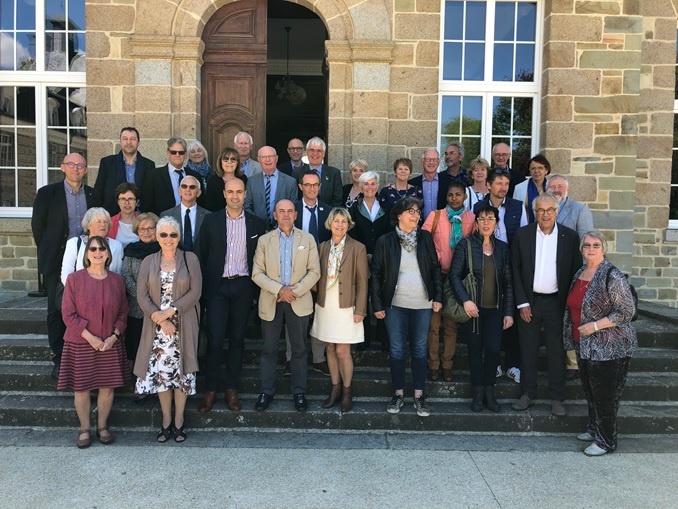 Rotary Golf Day donations to local charities
In May, the Rotary Club played host at Stover Golf Club to just over 100 golfers from across the County for the Club's annual Spring Golf Competition. So popular is the well-organised golf competition that it is now in its 23 year.
Prizes were presented at the end of the day covering the various events during the day, but it's also run to raise funds for Rotary charities and this year two were chosen to receive a cheque for £1,000 each.
The two local charities were Home Start Newton Abbot part of one of the UK's leading family support charities especially aimed at the support of young families. Andy's Man Club was the second charity and they are there to support especially young men and is aimed at halving the number of suicides in men under 45 – suicide being the main cause of death of men in that age group.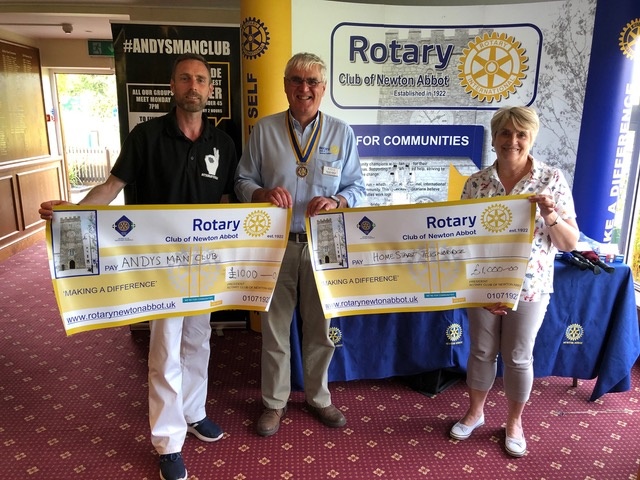 The club also held a raffle for the golfers and they were generous in buying tickets, and as a result, a smaller donation of £500 was handed to Newton Crisis Aid, aimed at providing relief for refugees and those suffering as a result of natural or other disasters.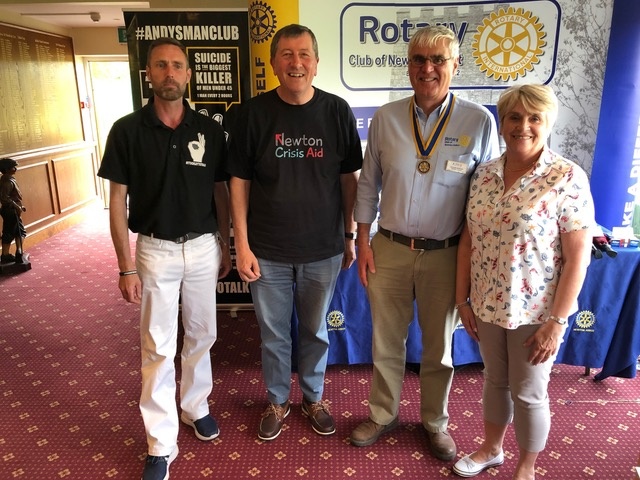 Winding up the busy day, Club President, Richard Morgan, said that these charities provided valuable support in our community and running such a golf day was the perfect win / win situation; the golfers had a great day and the charities gained so much in order to help fund their important work.
Walking Rugby a rousing success
20 Rotarian would-be rugby players gathered at the Newton Abbot Rugby ground to see a demonstration on walking rugby. A new tri- initiative between Devon Rugby Union, Active Devon and the Newton Abbot Rugby club.
The goal is to get the over 55's back into exercise, not limited to male only players and some leeway on the age is allowed.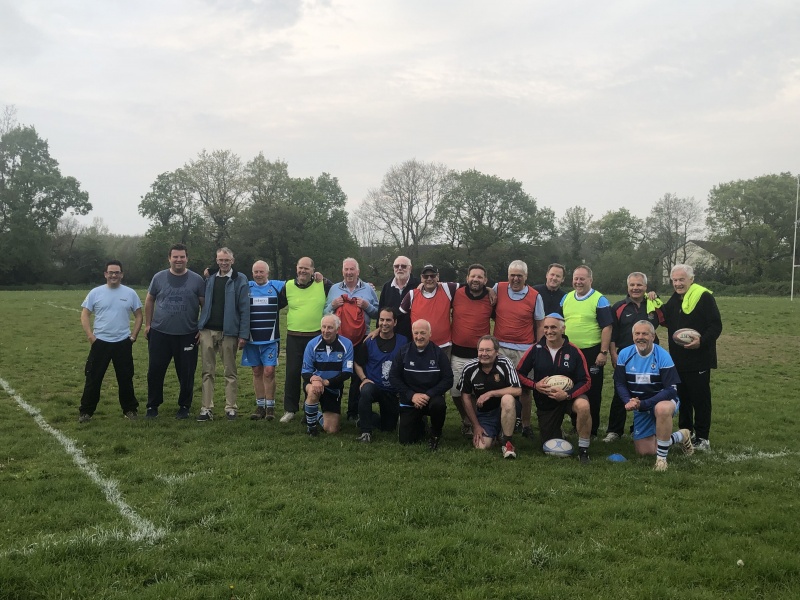 After a demonstration by Exeter based 'Fossils' walking rugby team and a short warm up, 4 teams were formed and a half hour of fun and exercise took place. It took a while for the players to understand the 'no tackling or running' element, offside rules etc. but by the end of the session everybody understood what it was all about, and much hilarity ensued.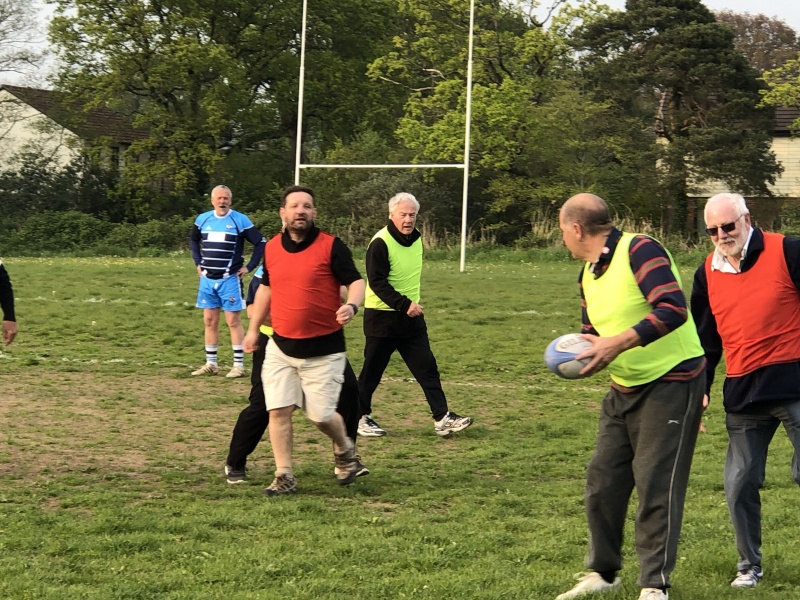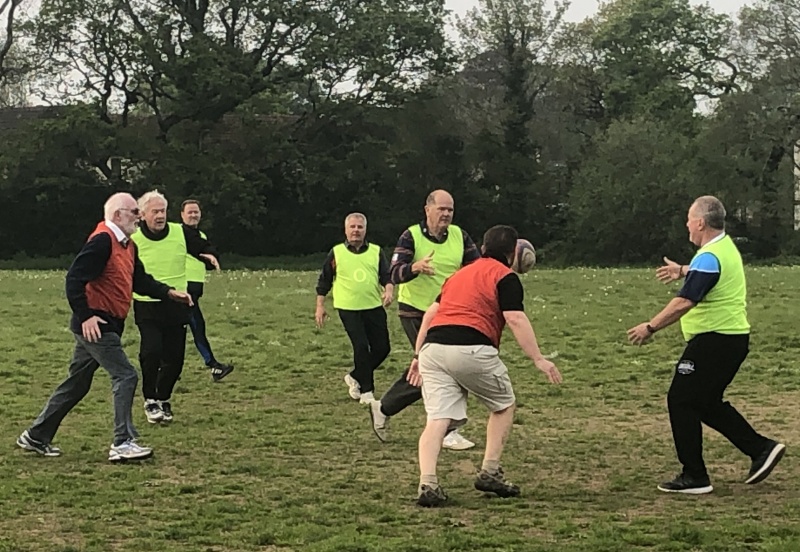 The players retiring to an excellent buffet and a social drink in the clubhouse with some partners and friends, told tales off spectacular tries and mis-haps. Everybody agreed that it was good fun and the hope for another go later in the year. Three of the local Rotary clubs took part Totnes, Dartmoor Vale and Newton Abbot.
President-Elect of Newton Abbot Martin Smith commentated " It was around 50 years since I last played rugby – the more sedate speed did not dilute my memories of the enjoyment of playing the game, I can certainly recommend walking rugby, my main activity is now golf, so it was great to do something different – albeit I found some long forgotten muscles the following morning!"
Rotary Club President Richard Morgan, thanked the Fossils team from the Topsham RFC, Brian Smith of NARFC and Rob Masters for organising the event.
More details about Walking Rugby can be found on the Devon Rugby website or contact local co-ordinator Mike Brook.
www.devonrfu.com/walking_rugby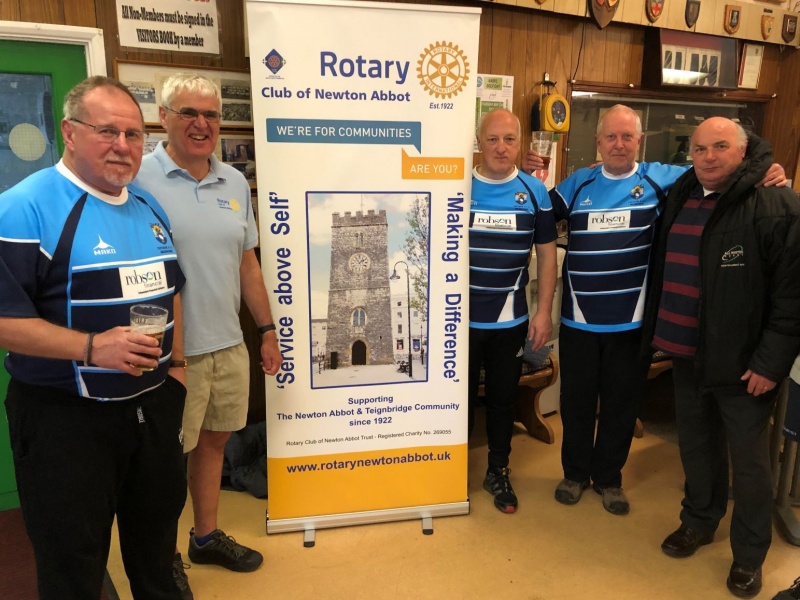 Members of the Fossil Team with Richard Morgan (RCNA) and Brian Smith (NARFC)
Happening soon...
Meetings and events happening soon
Tuesday 9th June 18.00
We are meeting via ZOOM , visitors welcome via invitation.
---
Members are meeting to discuss assisting the community during the pandemic and for fellowship.
Tuesday 16th June 18.00 - 19.00 Tuesday 9th June
We are meeting via ZOOM , visitors welcome via invitation.
---
We have two speakers :-
Mark Clarvis updating club on Pavillion in the Park Project.
Sally Henley Newton Abbot town centre manager
Tuesday 16th June 18.00
We are meeting via ZOOM , visitors welcome via invitation.
---
We have a speaker
Rotarian Kevin Needham
Tuesday 23rd June 18.00
We are meeting via ZOOM , visitors welcome via invitation.
---
Members are meeting to discuss assisting the community during the pandemic and for fellowship.
Tuesday 30th June 18.00
We are meeting via ZOOM , visitors welcome via invitation.
---
President Handover
President Martin Smith hands over to Phil Millichap
future events Past Events calendar district events local events
---
---
---
Rotary News
Be part of a global network of volunteers, trying to make the world a better place. Please also see the 'links & news' page for information from the local district and live feeds from Rotary International and Rotary International in GB&I.
Flexibility creating new opportunities for new members
---
RotaKids supporting their local community
---
---
Meetings & Venue
Where and when: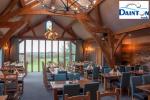 We meet on Tuesdays at Meet for 18:00 - Meal 18:30
(
On the 5th Tuesday in a month we sometimes "scatter" and visit other clubs. We also meet on the 4th Thursday for a breakfast meeting - check the club diary for venue and times. [TO CONTACT CLUB - email: martrcna@outlook.com / lauraevansrcna@gmail.com]
)
Dainton Park Golf Club
Totnes Rd
Dainton
Newton Abbot
TQ12 5TN
01803 815000