Why not join your local Rotary Club?
The Rotary Club of Prestatyn is a friendly group of local business people and professionals who meet at the Beaches Hotel in Prestatyn every Monday at 6. 30pm.
We are part of Rotary International which is a global network of service volunteers. It is the world's largest service organisation for business and professional people, with some 1,180,000 members operating in 167 countries world- wide. There are some 58,000 Rotarians in Great Britain and Ireland in 1,845 Clubs, helping those in need and working towards world understanding and peace.
For details about joining our Club, please use the contact facility at the top of the page.
Our latest beach clean
It was the turn of Central beach to be cleaned in August by a group of Prestatyn Rotarians and other volunteers. 7 bags of rubbish were removed from the beach making it a little cleaner for all to enjoy.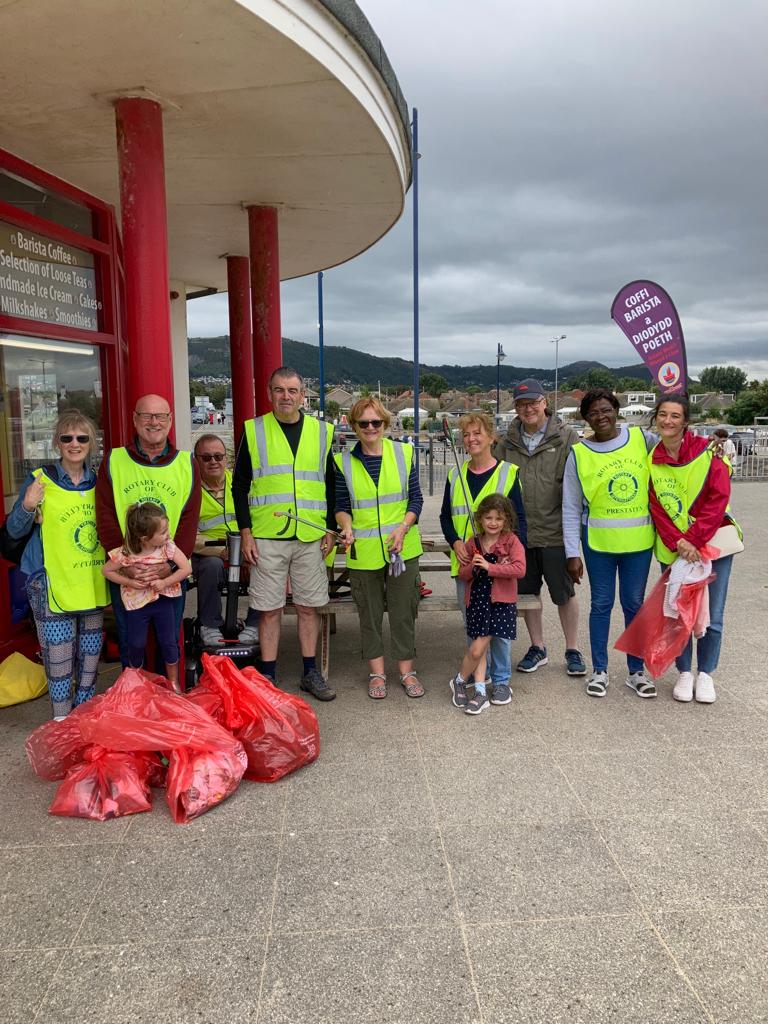 Thanks to all those who took part in the August beach clean, and to Red Boat cafe for their support.
We have a town or beach clean on the 3rd Thursday of every month. Litter pickers, gloves, and hoops are provided, so why not come along and join us.
September beach clean cancelled during period of national mourning.
Prestatyn Rotary Club brings water to West African school
Our speaker at tonight's Prestatyn Rotary meeting was Past President Jean Smith. Members enjoyed a slide show of the opening ceremony of the borehole at Brikama Lower Basic School in The Gambia. The entire school with their parents turned out, the pupils looking very smart in their pale blue uniforms. This was a project funded by Prestatyn Rotary Club during Jean's year in the President's Chair. Jean thanked all involved in raising the funds, with special mention to Torello Lounge who donated the proceeds from 2 quiz nights and to Rotarians Alan Booth, Amie Dop and Pete Dop. The project was also funded from a donation from our Christmas Float collection 2022 and a sponsored walk along the Prestatyn to Dyserth walkway.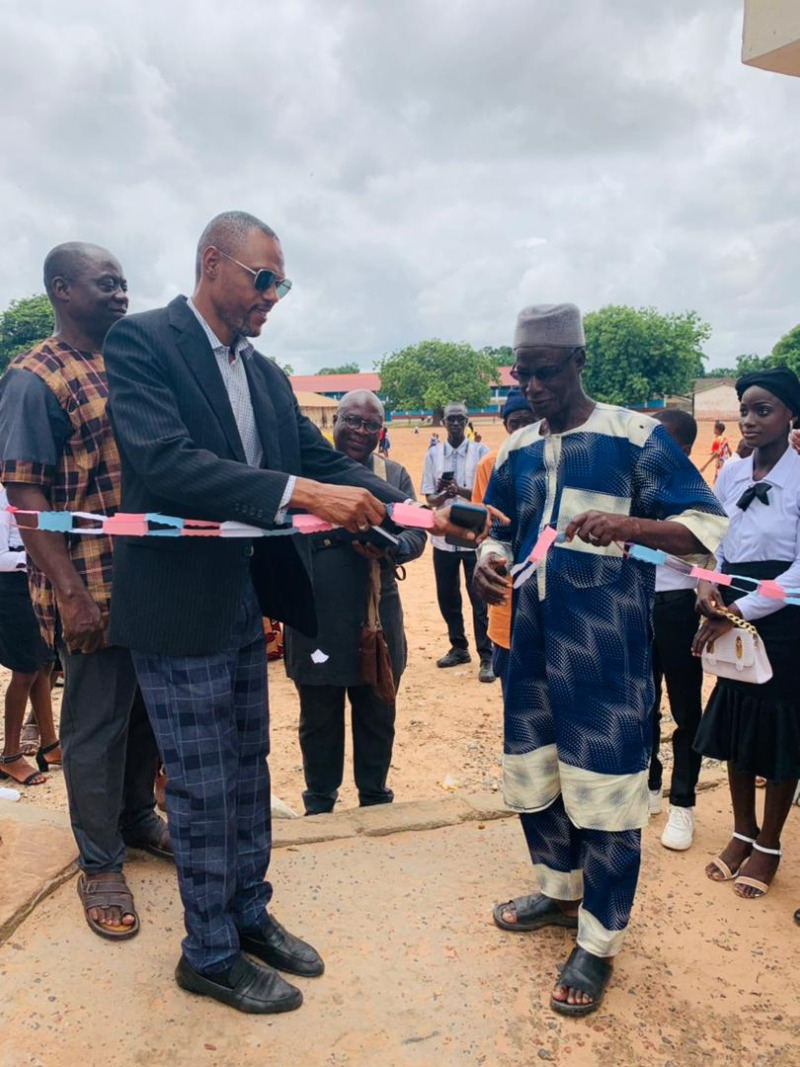 Brusubi Rotary Club President, Mr Alpha Omar Jallow (left) formally hands over the new borehole to Brikama Lower Basic School Headteacher, Mr Mustapha Jarju (right).
The borehole pump is electrically powered, feeding a large header tank which ensures a regular supply to eight taps throughout the school even during power cuts. Prior to the borehole the school, with 3200 pupils, had only one water tap.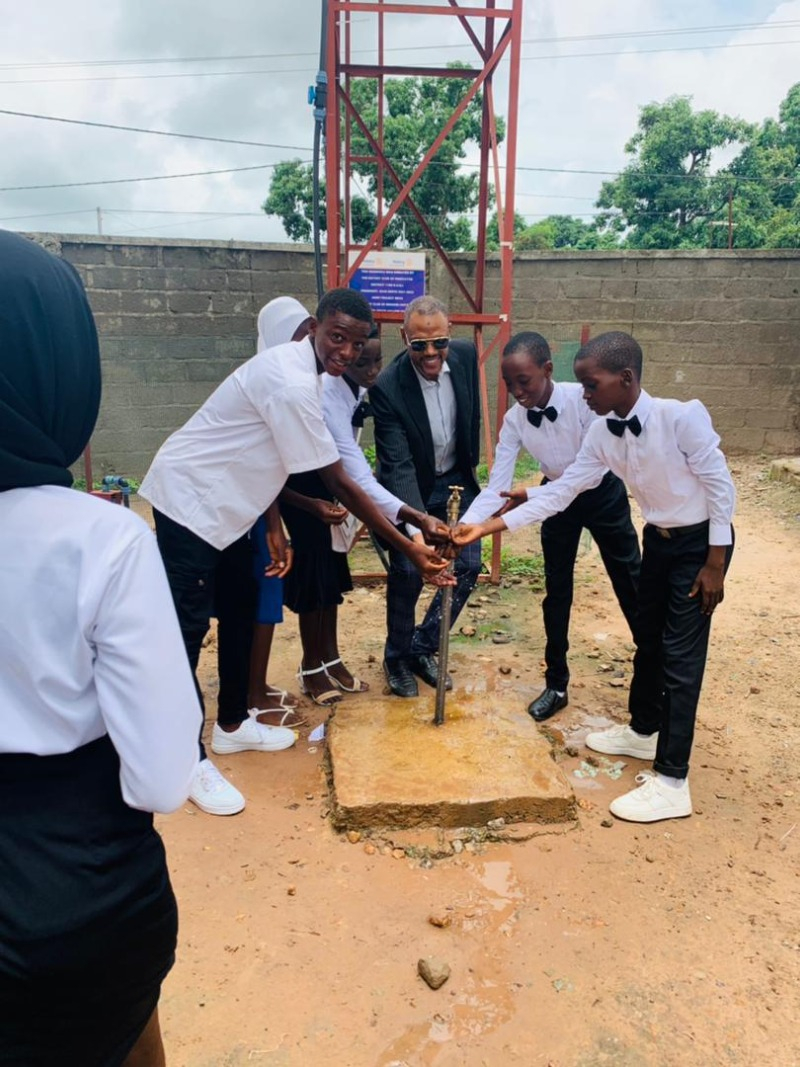 Brusubi Rotary President and children from Brikama Lower Basic School at one of the 8 taps.
Rotary Club award for high achievers

Two Prestatyn High School students were each presented with the Prestatyn Rotary Charles Hilton Jones Achievement Award at a club dinner this week.The award is named in memory of a past Rotary President and presented each year in recognition of the recipients' academic achievement, as well as their contribution to school and community life. Rotarian Brian Huw Jones said "It was a unanimous decision by our committee, that of the eight students shortlisted by the school there were two clear winners, both having achieved ten A* (A star) GCSE results". Charlotte Parr hopes to study maths and physics and has already completed courses in maths and cryptography at Cambridge University and a physics course at Oxford. Lois Hughes would like to study engineering, at a University to be decided. She is a lifeguard in her spare time. Prestatyn Rotary President Jean Smith was delighted to present Charlotte and Lois with their certificates and tokens. Summarising, High School head teacher Neil Foley thanked Rotarians for their continued support, and said "There are so many excellent pupils at our school but tonight's winners have achieved their results whilst studying under exceptional circumstances as well as being polite, mature, pro-active and resilient".
Ukraine support from Prestatyn Rotarians
Prestatyn Rotarians have donated £500 from their charity fund to the Disaster Emergencies Committee Ukraine Humanitarian Appeal.