Why not join your local Rotary Club?
The Rotary Club of Prestatyn is a friendly group of local business people and professionals who meet online every Monday at 6pm during the current pandemic.
We are part of Rotary International which is a global network of service volunteers. It is the world's largest service organisation for business and professional people, with some 1,180,000 members operating in 167 countries world- wide. There are some 58,000 Rotarians in Great Britain and Ireland in 1,845 Clubs, helping those in need and working towards world understanding and peace.
For details about joining our Club, please use the contact facility at the top of the page.
Rotary Club award for high achievers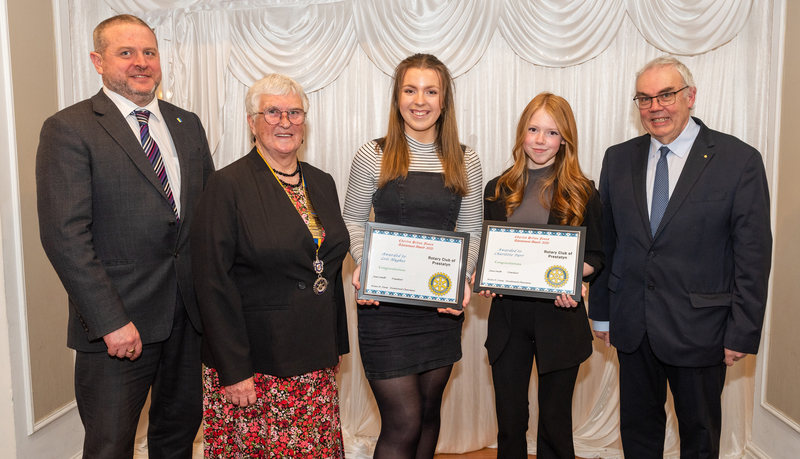 Two Prestatyn High School students were each presented with the Prestatyn
Rotary Charles Hilton Jones Achievement Award at a club dinner this week.
The award is named in memory of a past Rotary President and presented each
year in recognition of the recipients' academic achievement, as well as
their contribution to school and community life.
Rotarian Brian Huw Jones said "It was a unanimous decision by our committee,
that of the eight students shortlisted by the school there were two clear
winners, both having achieved ten A* (A star) GCSE results".
Charlotte Parr hopes to study maths and physics and has already completed
courses in maths and cryptography at Cambridge University and a physics
course at Oxford.
Lois Hughes would like to study engineering, at a University to be decided.
She is a lifeguard in her spare time. Prestatyn Rotary President Jean Smith
was delighted to present Charlotte and Lois with their certificates and
tokens.
Summarising, High School head teacher Neil Foley thanked Rotarians for their
continued support, and said "There are so many excellent pupils at our
school but tonight's winners have achieved their results whilst studying
under exceptional circumstances as well as being polite, mature, pro-active
and resilient".
Christmas 2021
Members of Prestatyn Rotary Club were delighted but not surprised by the response from the public when their Christmas Float travelled around the area in December.
Rotary President Jean Smith said "Despite the pandemic and the many other uncertainties affecting us all, the collection amounts were just as good as in previous years. That's testament to the amazing generosity of people in Prestatyn, Gronant, Dyserth and Rhuddlan".

The first donations from the float collection are now being made.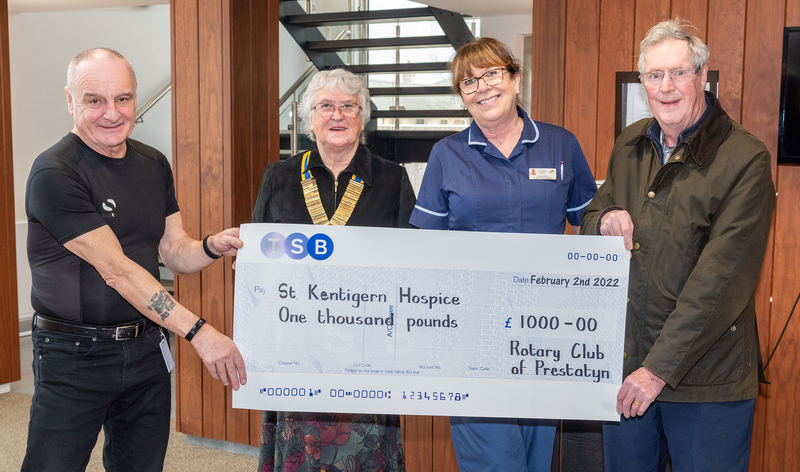 £1,000 to the St Kentigern Hospice. Rotary Treasurer Tony England said "Our Rotary Club started fund raising for the St Kentigern Hospice even before it opened in 1995 and we are very lucky to have such a marvellous facility in our community. Not only are we delighted to support the hospice now but I'm sure we will continue to do so in the future." Pictured are St Kentigern CEO Ian Mitchell, Rotary Club President Jean Smith, Clinical Services Manager Jane McGrath, and Rotary Treasurer Tony England.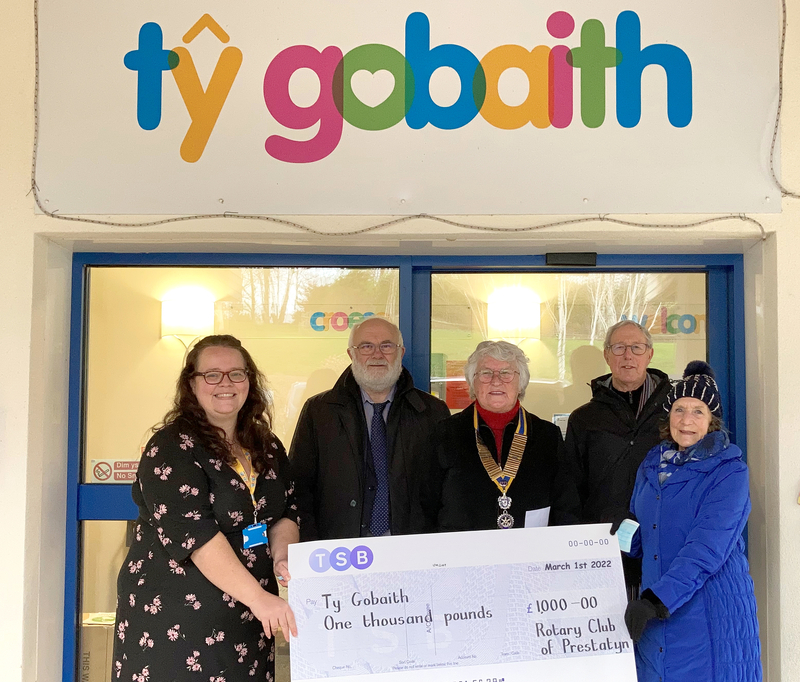 £1,000 has also been donated to Ty Gobaith/Hope House Children's Hospice. In the photo are Ty Gobaith's Vanessa Thomas, with Rotarian Dave Smith (Secretary), Jean Smith (Rotary President), Rotarian Alan Booth and Mrs Fay Booth. At any one time Ty Gobaith may be supporting more than 750 local families who are either caring for a terminally ill child, or whose child has died. It costs £7.5 million every year to run the services and 86% of this is spent on care. Approximately two month's income comes from statutory sources and for the other 10 months of the year we are dependent on public support.
Sonia Penlington joined our weekly Rotary meeting on March 7th to receive a cheque for £500 for WCD Young Carers, which is a voluntary organisation and charity supporting Young Carers in our area. Sonia's team give support where there is a young carer between 8-18 years old in a household looking after an adult in a voluntary capacity. Support can be in a variety of ways including life skills, fun sessions, short respite breaks, signposting to other agencies, and individual crisis support. One of the young carers, Charlotte, also joined us on Zoom and gave Rotarians an insight into how important WCD is in supporting her.
Ukraine support from Prestatyn Rotarians
Prestatyn Rotarians have donated £500 from their charity fund to the Disaster Emergencies Committee Ukraine Humanitarian Appeal.
Weird Fish books for local schools
Prestatyn Rotarian John Sharman was impressed when scientist and author Gloria Barnett gave a talk to his Rotary club. In fact he was so impressed that he decided, on behalf of Rotary, to donate a selection of her children's books to junior schools in the area.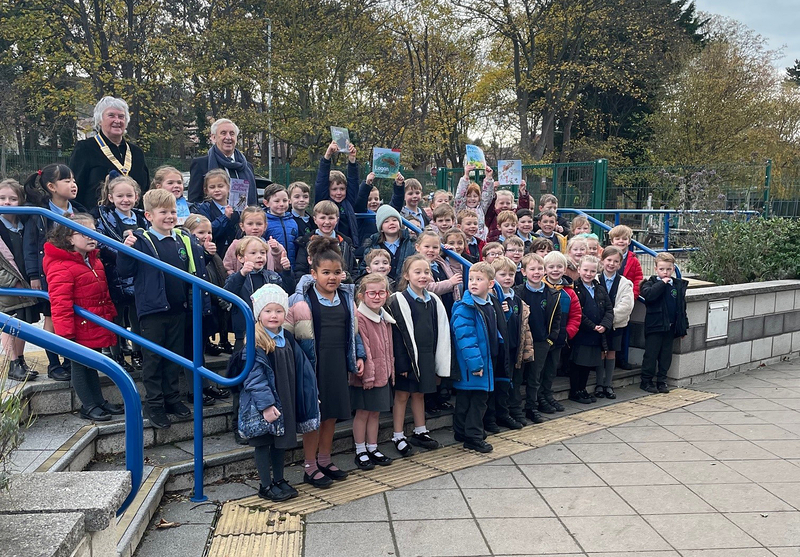 The author, who has become known as "The Weird Fish Lady", is passionate about diving in the world's oceans. Her work aims to help people, both adults and children, to understand how incredibly fantastic the oceans are.
Two of the books in the series, "Logan the Lobster" and "Prickle the Puffer Fish", are suitable for the 3-6 age group. Others for children up to age 12 are about three young people exploring their coastline and determined to protect marine creatures and their habitat.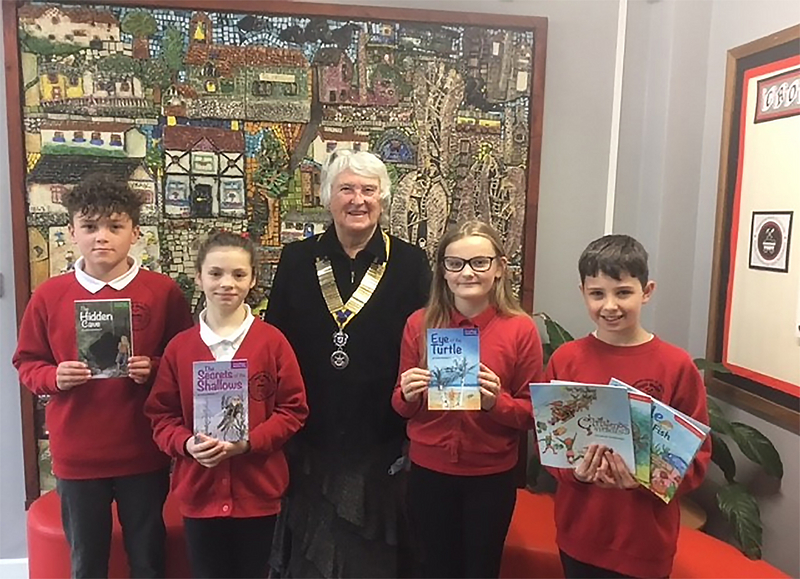 Rotarian John said "These books explain about problems in the marine environment worldwide in stories and pictures. As we live near the sea, these books may help to spark an interest in our local environment."
It was decided to donate a set of six books to each of nine local schools and Rotarian John accompanied by Prestatyn Rotary President Jean Smith delivered these to Ysgol Bodnant, Ysgol y Llys, Ysgol Melyd, Ysgol Clawdd Offa, Ysgol Hiraddug, Ysgol y Castell, Ysgol Gronant, Ysgol Trelawnyd and Ysgol Penmorfa.

Dyfan Phillips, headteacher at Ysgol y Llys said "Our children love reading books and they are very keen on our environment, especially protecting our world. These books sound wonderful. Diolch yn fawr".
For more information about the author, click here.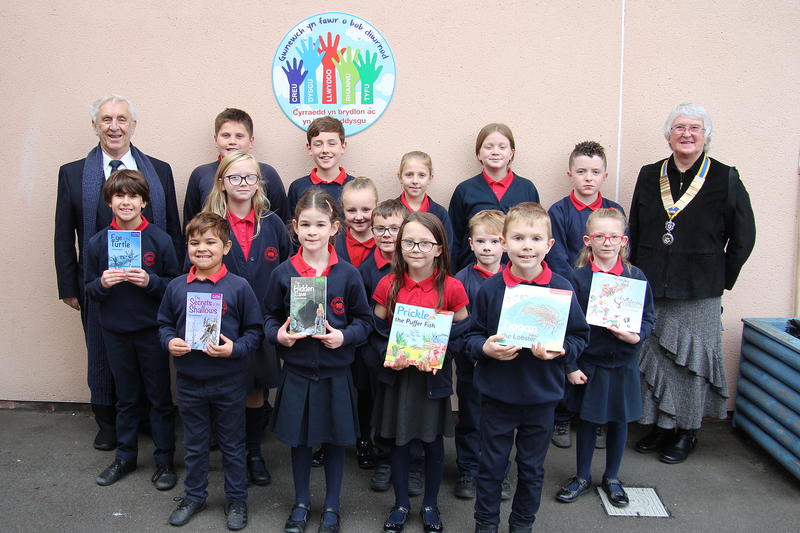 Our latest international project
The Rotary Club of Prestatyn, working with the Rotary Club of Brusubi, has provided much needed support to a school in the Gambia which teaches nearly 3200 pupils. In a truly international collaboration, RC Prestatyn raised £500 which was matched by a District grant. Then Past President HRH Oba Moshood Abolade of RC Banjul, who is a member of the Nigerian royal family, added a personal donation of over £600. This was used to purchase much needed supplies for the school.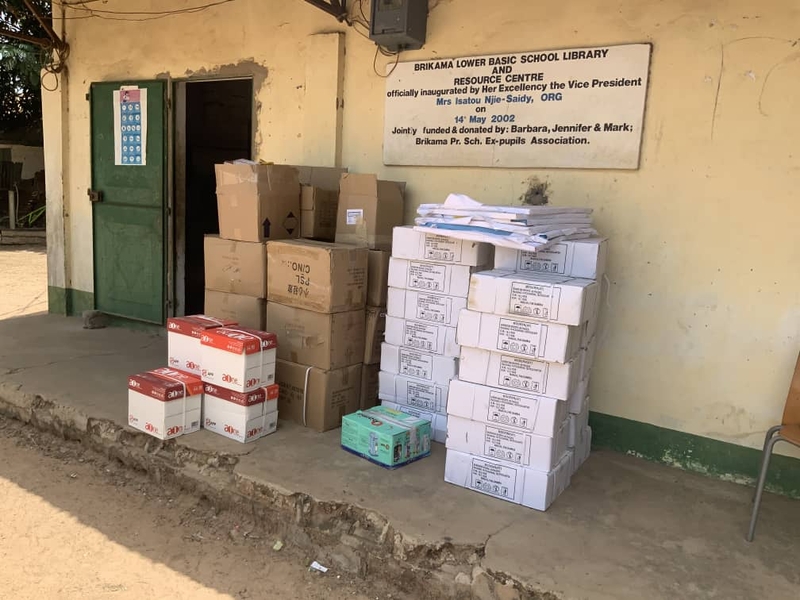 President Cornelius O Igwe made the presentation of the school materials to the school leadership team with some of the pupils looking on. In his speech, he reminded the school of their obligation to use the materials wisely for the education of the children and thanked the President and members of RC Prestatyn for choosing to partner with the RC Brusubi in supporting Education in The Gambia. In addition to thanking the members of RC Prestatyn, he also acknowledged the efforts of Rtn Mam Gaye Dop and her husband Rtn Peter Dop for their initiative. Rtn Mam is a past pupil of Brikama Lower Basic School and Junior Vice President of Prestatyn Rotary Club and President Cornelius charged the pupils to work hard at school and to be good ambassadors of The Gambia wherever they may find themselves in future.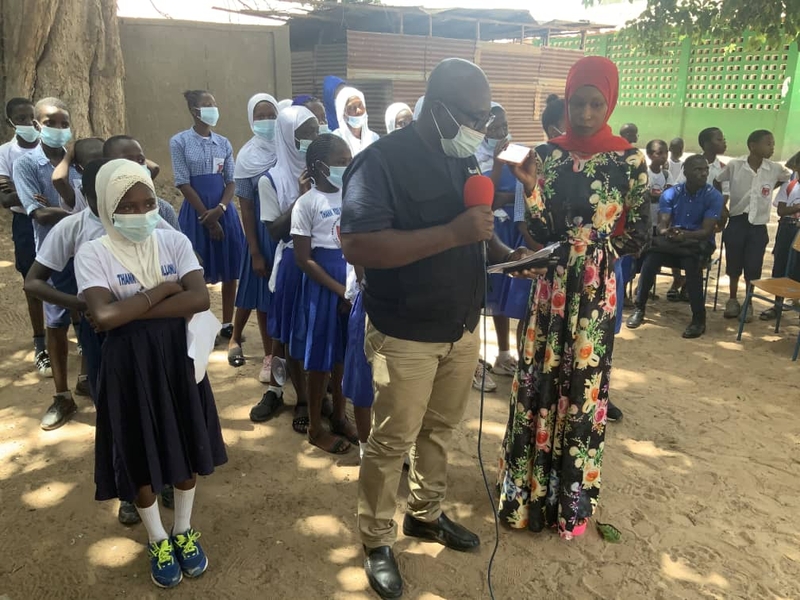 In his acceptance speech the Headmaster, Mr Mustapha Jarju, said that the entire leadership team of the school were honoured to receive the donation and promised to use the materials wisely and thanked all concerned for their hard work and kind donation.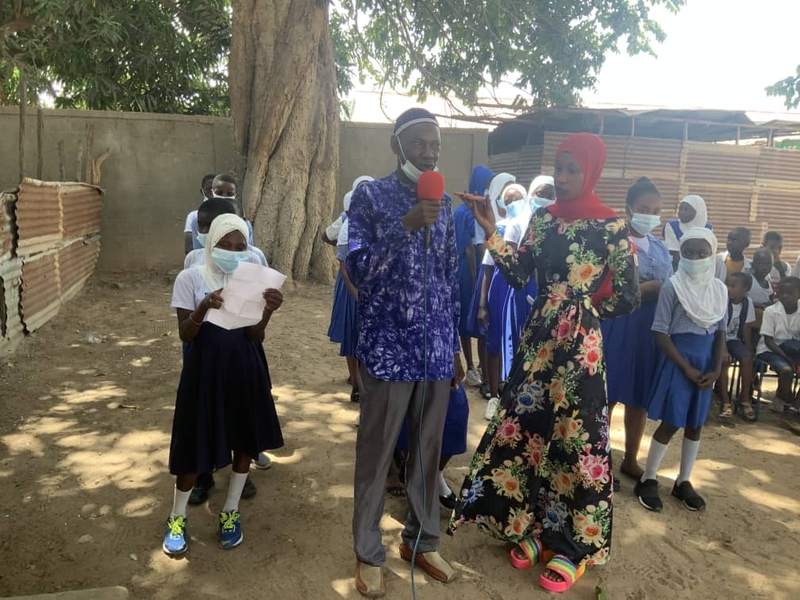 President Elect of RC Brusubi, Omar Jallow, took the opportunity to speak of the importance of Rotary in the community.