PRESTATYN ROTARY CLUB LATEST FUND-RAISING EFFORTS:
Three more cheques from the 2020 Christmas Float collection have been handed over completing donations from our somewhat curtailed float run in December.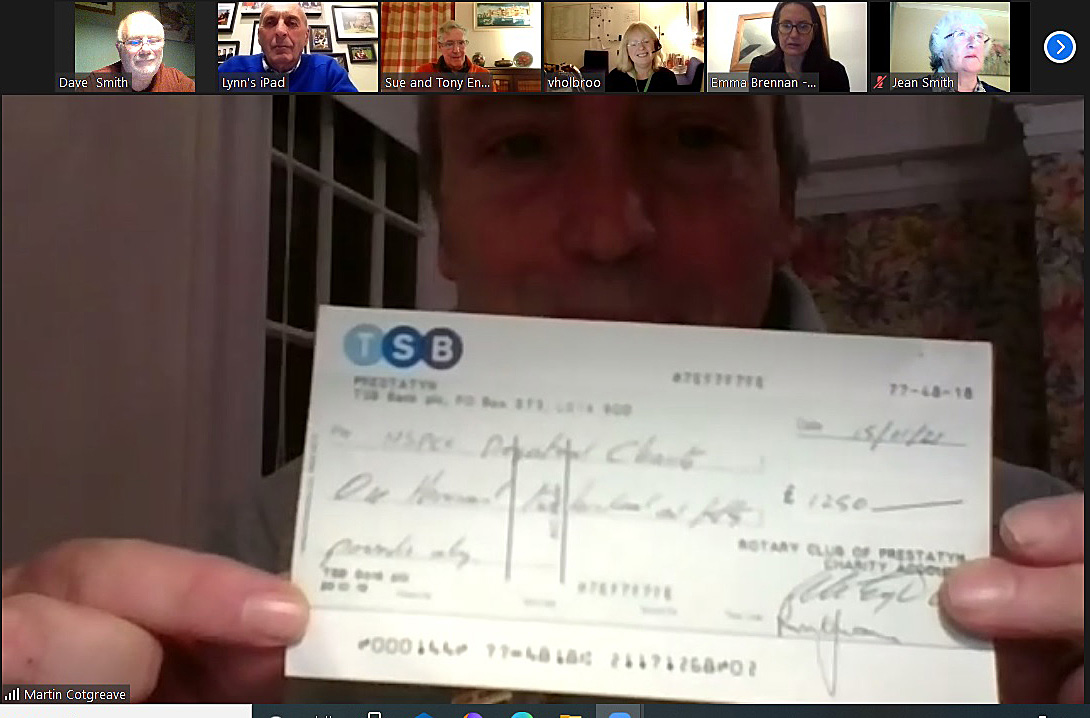 Laura Ellis-Bartlett, representing St. Kentigern's Hospice, joined our weekly Zoom meeting to accept a cheque for £1,250. She thanks Prestatyn Rotary and the local community for their continued support during the lockdown. Community fund raising represents about 80% of the hospice income. Laura informed the Rotarians of how the pandemic has affected the operational side of life in the hospice. She said "Covid-19 safety measures are in place allowing family visits to relatives. People are now more confident that it is safe to visit, however counselling services on Zoom continue to be much in demand".
Emma Brennan from Childline Prestatyn gave a sobering and thought-provoking talk on the activities of Childline nationally but particularly in the local area, and the pressure on volunteers and increase in workload due to the pandemic. She said "Mental Health issues are now a very grave concern, as is the increasing levels of domestic violence. The service is a confidential service but if life is at risk in the opinion of the volunteer, emergency services would be informed". Emma was presented with a cheque for £1,250 from the Presidents Christmas Float fund. She thanked the club for their generosity.
And the final cheque of £500 from our float collection went to the Prestatyn and Meliden Foodbank. Heather Norris gave a further update to Prestatyn Rotarians. The foodbank continues to be very busy helping approximately eighty families every week. All of the food boxes are delivered in the Covid-safe manner by a team of volunteers.
Aside from the Christmas float collection, personal donations by Prestatyn Rotarians have been supporting the foodbank throughout the pandemic. On March 15th 2021 a further £250 was donated, bringing the total of £5,750 donated to the foodbank to date.
The Prestatyn & Meliden Foodbank runs from the Festival Church, 200 Victoria Road, Prestatyn, LL19 7TL. They help families in the local area and also liaise with other local foodbanks where needed. If you are able to help, there is a drop-off point at the church, or you can contact the foodbank on 07722 749773 orinfo@prestatynmeliden.foodbank.org.uk.
To donate to our foodbank collection, please click here.