Rotary goes to Parliament!
A group of Prestatyn Rotarians and friends visited the Houses of Parliament as guests of our local MP and fellow Rotarian, Dr James Davies. We enjoyed a guided tour around the Palace of Westminster followed by lunch in the Jubilee Dining Room and a visit to the terrace to get a riverside view of London.
Membership of Rotary brings with it unique opportunities such as this, as well as being able to contribute to making the world a little better while having a great time. You can find out more about the work of Rotary by clicking here and to get details about joining our Club, please use the contact facility at the top of the page.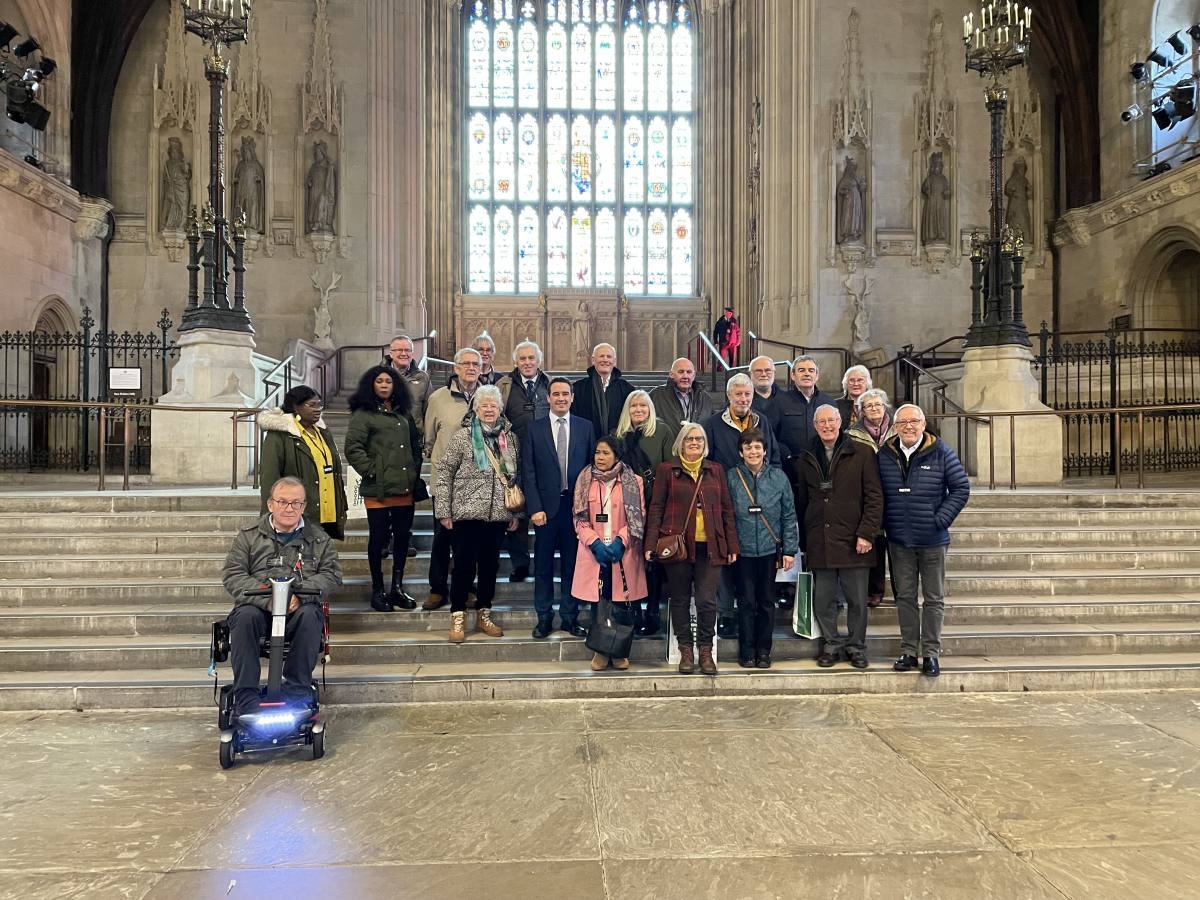 Our Christmas collection
The Christmas collection this year is going to support St Kentigerns, Prestatyn & Rhyl Food Bank, and Hope House. Some of the money will also go to the Rotary Foundation which helps to advance world understanding, goodwill, and peace by improving health, providing quality education, improving the environment, and alleviating poverty.
We are delighted that so many people, young and old, have come out to see the float. Your donations to our charity collection have been so generous.
You can still donate to our Christmas collection by clicking the link below. Thank you.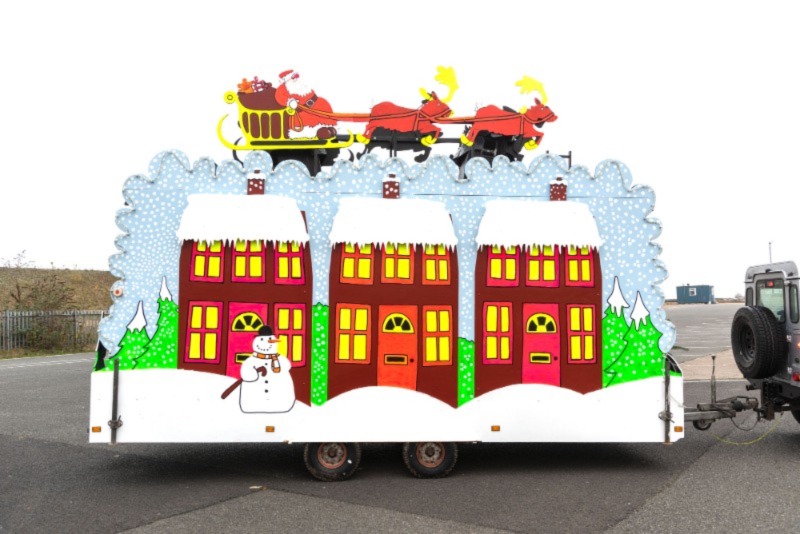 The newly painted float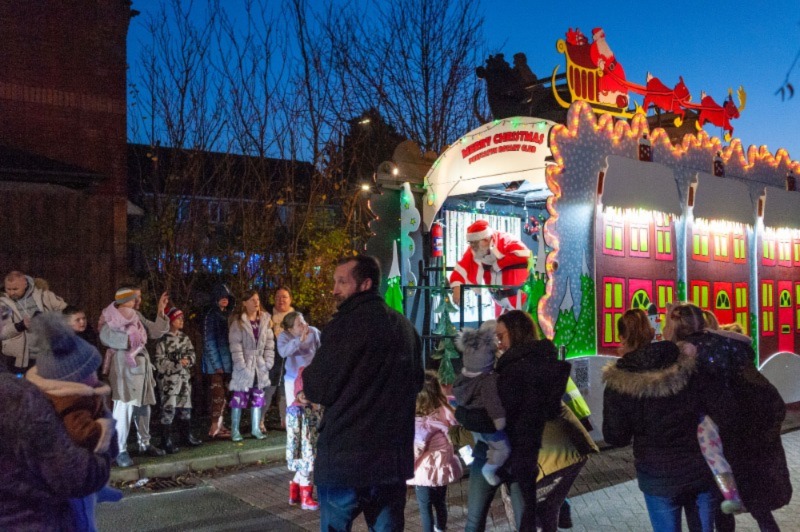 A cold evening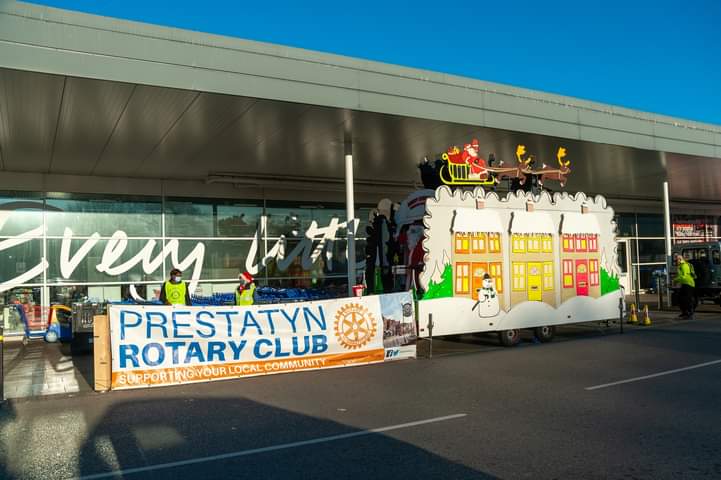 Outside Tesco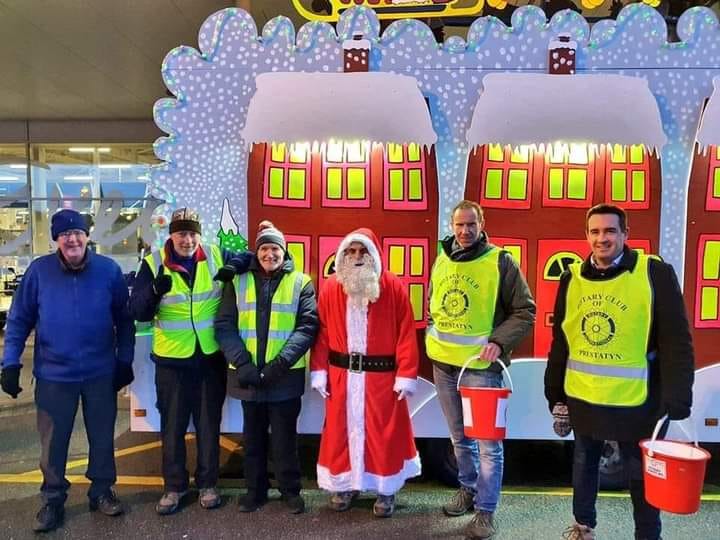 Santa and the elves gather
To see a short video of the float, click here
To donate, please click below. Thank you.

Why not join your local Rotary Club?

The Rotary Club of Prestatyn is a friendly group of local business people and professionals who meet at the Beaches Hotel in Prestatyn every Monday at 6. 30pm.
We are part of Rotary International which is a global network of service volunteers. It is the world's largest service organisation for business and professional people, with some 1.4 million members operating in over 200 countries world- wide. There are some 58,000 Rotarians in Great Britain and Ireland in 1,845 Clubs, helping those in need and working towards world understanding and peace.
For details about joining our Club, please use the contact facility at the top of the page.
Our latest litter pick
It was the turn of the lower end of the Prestatyn to Dyserth walkway to be cleaned in October by a group of Prestatyn Rotarians and other volunteers. 9 bags of rubbish were removed from the walkway making it a little cleaner for all to enjoy.
Thanks to all those who took part in the October beach clean, and to Offa's Paddock and St.Melyd Golf Club for their support.
We're having a break while the Christmas Float is busy, but normally we do a town or beach clean on the 3rd Thursday of every month. Litter pickers, gloves, and hoops are provided, so why not come along and join us.
Prestatyn Rotary Club brings water to West African school
Our speaker at tonight's Prestatyn Rotary meeting was Past President Jean Smith. Members enjoyed a slide show of the opening ceremony of the borehole at Brikama Lower Basic School in The Gambia. The entire school with their parents turned out, the pupils looking very smart in their pale blue uniforms. This was a project funded by Prestatyn Rotary Club during Jean's year in the President's Chair. Jean thanked all involved in raising the funds, with special mention to Torello Lounge who donated the proceeds from 2 quiz nights and to Rotarians Alan Booth, Amie Dop and Pete Dop. The project was also funded from a donation from our Christmas Float collection 2022 and a sponsored walk along the Prestatyn to Dyserth walkway.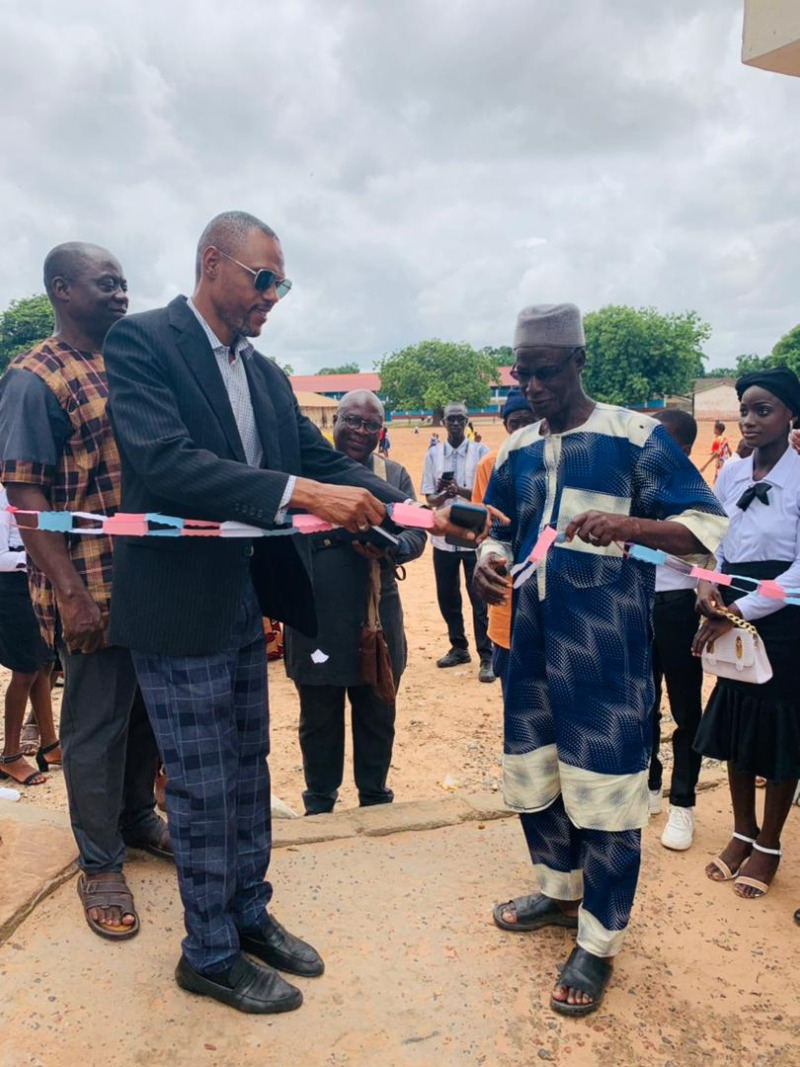 Brusubi Rotary Club President, Mr Alpha Omar Jallow (left) formally hands over the new borehole to Brikama Lower Basic School Headteacher, Mr Mustapha Jarju (right).
The borehole pump is electrically powered, feeding a large header tank which ensures a regular supply to eight taps throughout the school even during power cuts. Prior to the borehole the school, with 3200 pupils, had only one water tap.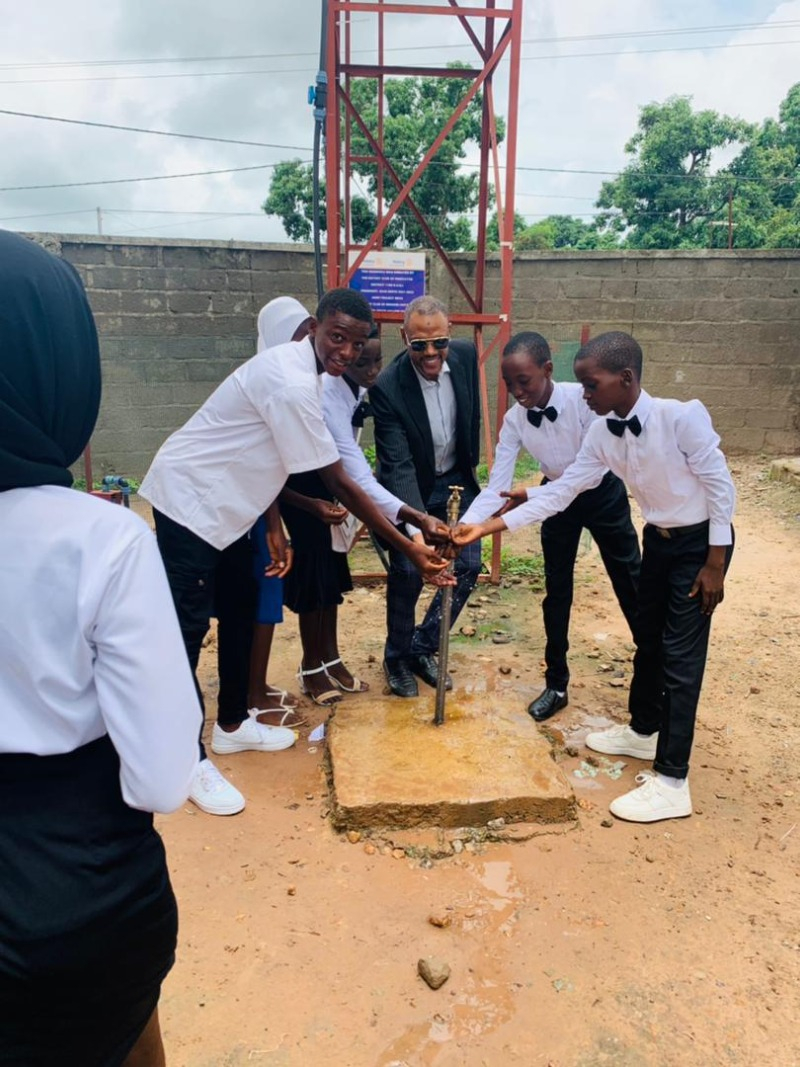 Brusubi Rotary President and children from Brikama Lower Basic School at one of the 8 taps.