Why not join your local Rotary Club?

The Rotary Club of Prestatyn is a friendly group of local business people and professionals who meet at the Beaches Hotel in Prestatyn every Monday at 6. 30pm.
We are part of Rotary International which is a global network of service volunteers. It is the world's largest service organisation for business and professional people, with some 1.4 million members operating in over 200 countries world- wide. There are some 58,000 Rotarians in Great Britain and Ireland in 1,845 Clubs, helping those in need and working towards world understanding and peace.
For details about joining our Club, please use the contact facility at the top of the page.
To donate to our good causes, please click on this button (just edit the donation amount as required)

A New President for 2023-24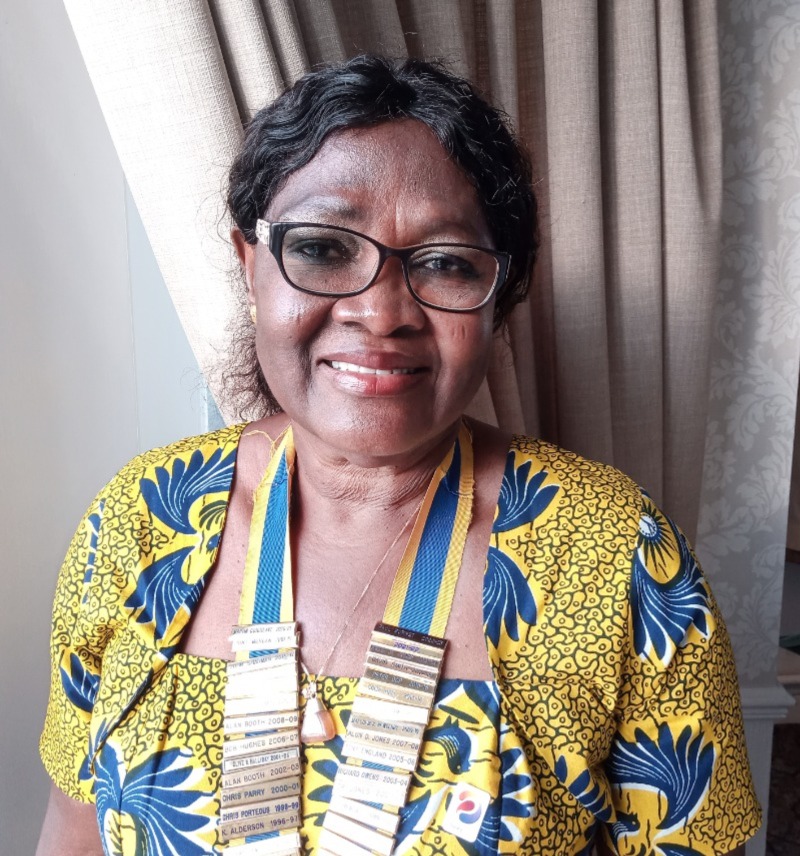 Rotarian Amie Dop has been inducted as President of Prestatyn Rotary Club. During a brief handover ceremony at the Beaches Hotel, past-President Paul presented Amie with her chain of office and wished her a productive and enjoyable year.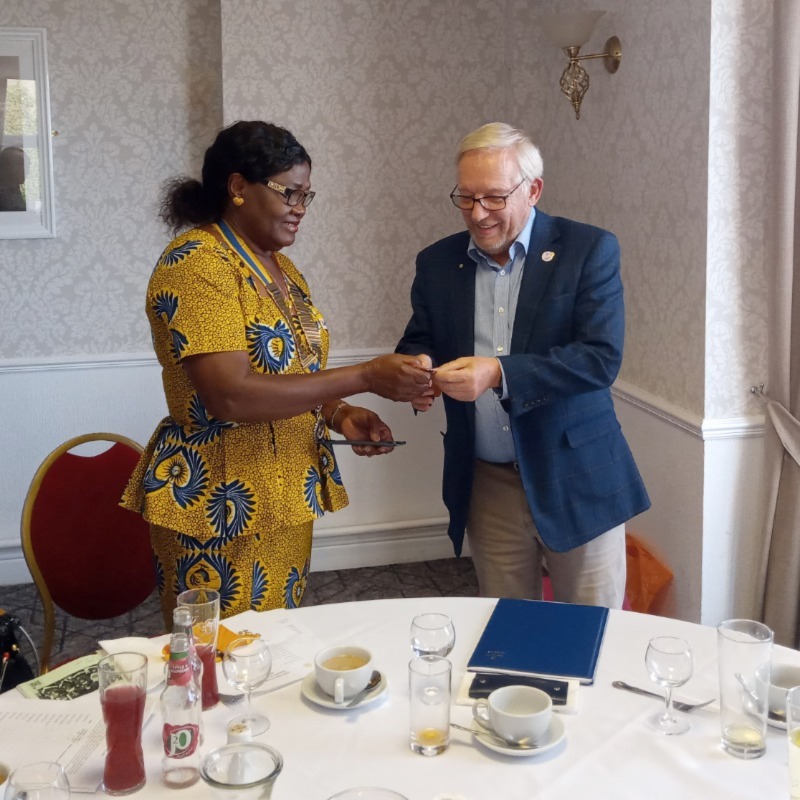 In response President Amie thanked her fellow Rotarians for their confidence in electing her. She said "It is my privilege and pleasure to be standing here in front of you all. I am proud to be a Rotarian and am honoured and humbled to be elected President of The Rotary Club of Prestatyn. With the help and support of my Committee Chairs and fellow club members I will do my best to meet the challenge. Our club has been built on a strong leadership and I am fortunate to have a membership that is fully committed to the Rotary ideal of "Service Above Self".
Amie went on to congratulate immediate past President Paul for a very successful year, in which the club was able to support many local causes and have some fun in the process. The Rotary International theme this year is "Create Hope In The World" with a focus on Mental Health in Rotary and in the community. Amie hopes that all Rotarians can truly give of themselves with new vigour in support of the ideals of Rotary and share the magic of Rotary.
News from Prestatyn Rotary Club
Before his handover at the end of his year in office, President Paul handed over two cheques to complete the donations from our Christmas 2022 float collection. Here he is with our local First Responders, who do a great job looking after the defibrillators in town. Also pictured Rotarian Pete Dop. Then with staff at the Special Care Baby Unit.
Congratulations on a great year Paul. Now over to Amie!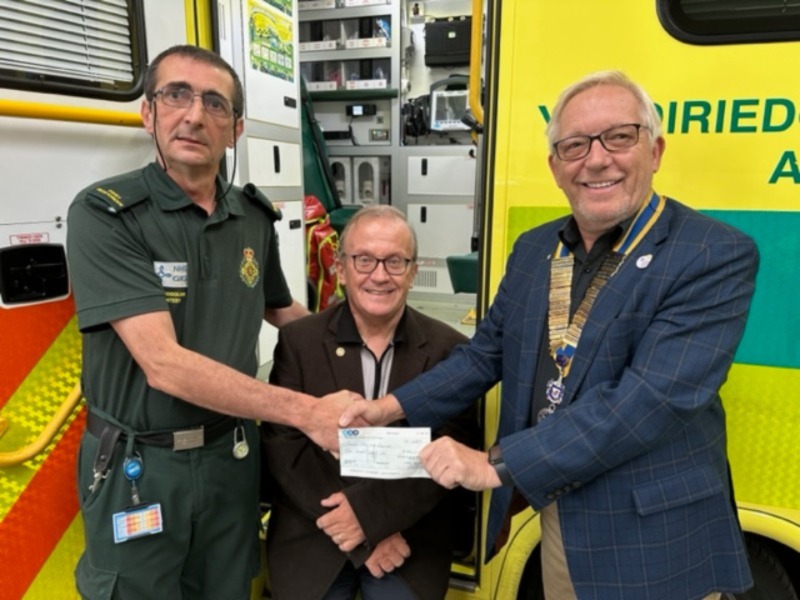 Pictured are first responder Andrea (left), Prestatyn Rotary Club Community Chair Peter Dop (centre), and Prestatyn Rotary Club President Paul Burnett (right).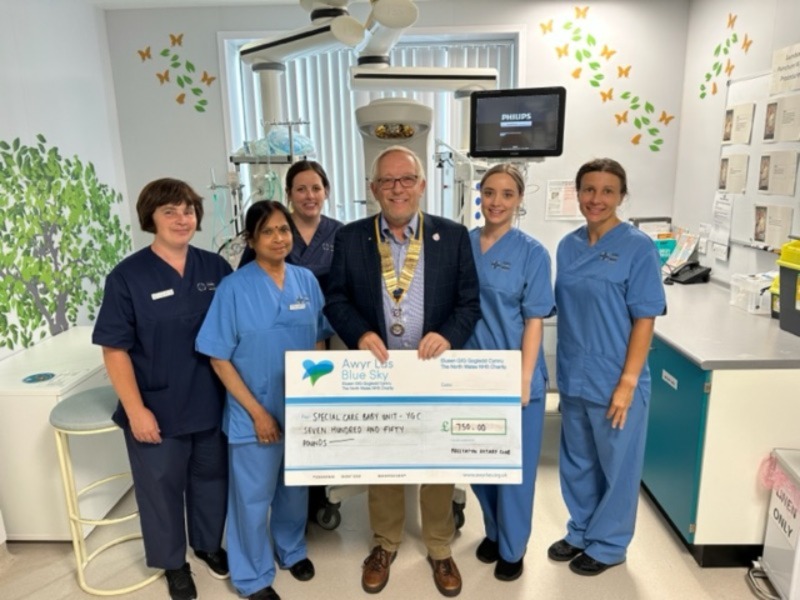 President Paul Burnett (centre) with some of the team from the Special Baby Care Unit.
Trip to Rhydymwyn Valley Historical Society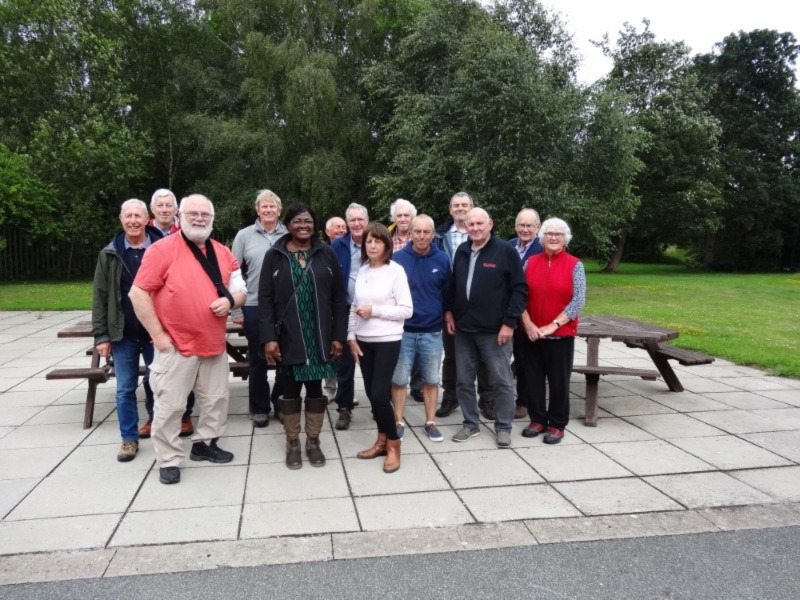 President Amie's year could have started off with a bang had it been 1942. Luckily fourteen twenty-first century Rotarians enjoyed a very safe and interesting trip to the Valley Works in the Alyn Valley. The Rhydymwyn Valley History Society is an organisation which researches and promotes the operation of the former Ministry of Supply's Valley Works in the Alyn Valley at Rhydymwyn in North-East Wales. It was one of Britain's top secret sites in WW2 and one of several involved in the production of mustard gas chemical weapons.
Thanks to the efforts of the Historical Society the site, which is controlled by DEFRA, has been preserved and really should be protected for future generations.
The tour began with a 1942 Ministry of Defence film about mustard gas production and a talk by Colin, one of the society members. It rained heavily while we were indoors but luckily cleared up when it was time for our guided tour of the site. It's a large site, and a full tour would entail a walk of well over two miles. However, thanks to the original concrete and tarmac site roads, it is quite feasible for a group to tour in a small convoy of cars, stopping off at places of interest. Which is just what we did, and our guides Mike and Chris were most helpful, knowledgeable and enthusiastic.
We visited the "Danger Area", "Building 45" which now houses a colony of bats but also has connections with the development of the atom bomb. We were able to go inside the entrance of the main tunnel complex. Full tours of the tunnels are organised from time to time strictly by prior booking. The whole visit gave us a very good feel of just what went on at this interesting site.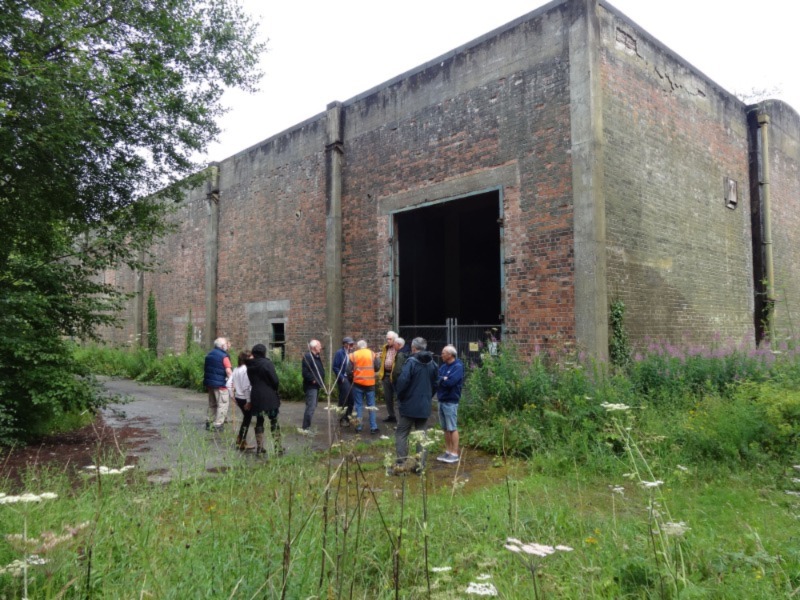 Membership of the Rhydymwyn Valley Historical Society is just £5 per year which allows access all year (except Christmas Day) and members may take up to six guests as well. Much of the site is "re-wilding" back to nature and would be a pleasant place to visit for a picnic on a nice day.
Following the visit we enjoyed a very nice meal at the Dinorben Arms in Bodfari.
Our latest litter pick - Barkby Beach sand dunes
On 21st September we are supporting the Marine Conservation Society Great British Beach Clean at Barkby Beach at 7pm. Full details available here. Litter pickers, gloves, and hoops are provided, so why not come along and join us. Details of all of the local MCS beach cleans during the Great British Beach Cleans week are available here.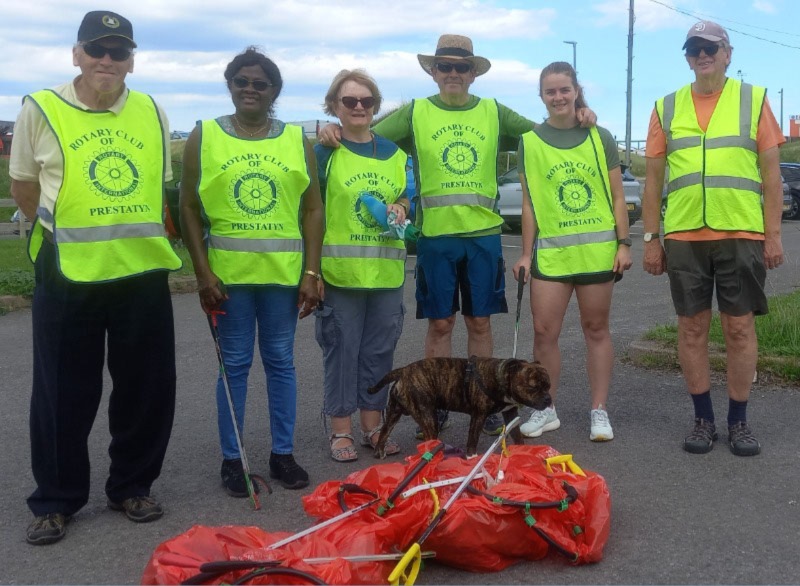 The August beach clean at Barkby Beach sand dunes
Prestatyn Rotary Club brings water to West African school
Our speaker at tonight's Prestatyn Rotary meeting was Past President Jean Smith. Members enjoyed a slide show of the opening ceremony of the borehole at Brikama Lower Basic School in The Gambia. The entire school with their parents turned out, the pupils looking very smart in their pale blue uniforms. This was a project funded by Prestatyn Rotary Club during Jean's year in the President's Chair. Jean thanked all involved in raising the funds, with special mention to Torello Lounge who donated the proceeds from 2 quiz nights and to Rotarians Alan Booth, Amie Dop and Pete Dop. The project was also funded from a donation from our Christmas Float collection 2022 and a sponsored walk along the Prestatyn to Dyserth walkway.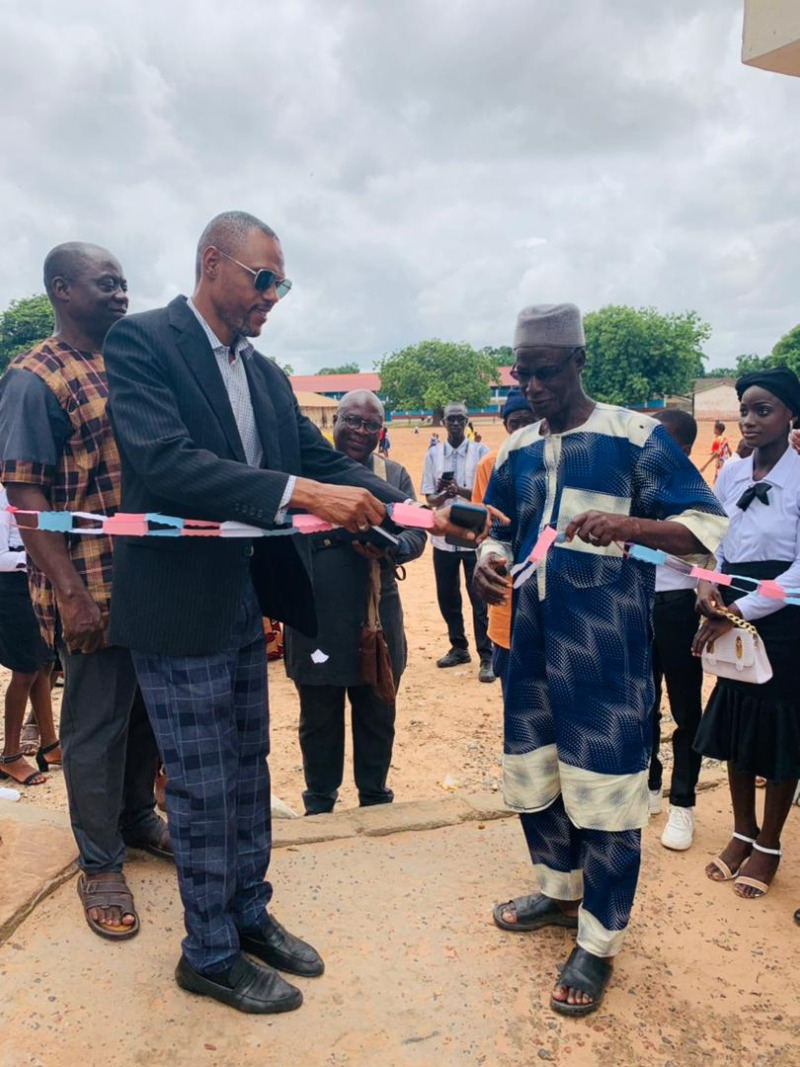 Brusubi Rotary Club President, Mr Alpha Omar Jallow (left) formally hands over the new borehole to Brikama Lower Basic School Headteacher, Mr Mustapha Jarju (right).
The borehole pump is electrically powered, feeding a large header tank which ensures a regular supply to eight taps throughout the school even during power cuts. Prior to the borehole the school, with 3200 pupils, had only one water tap.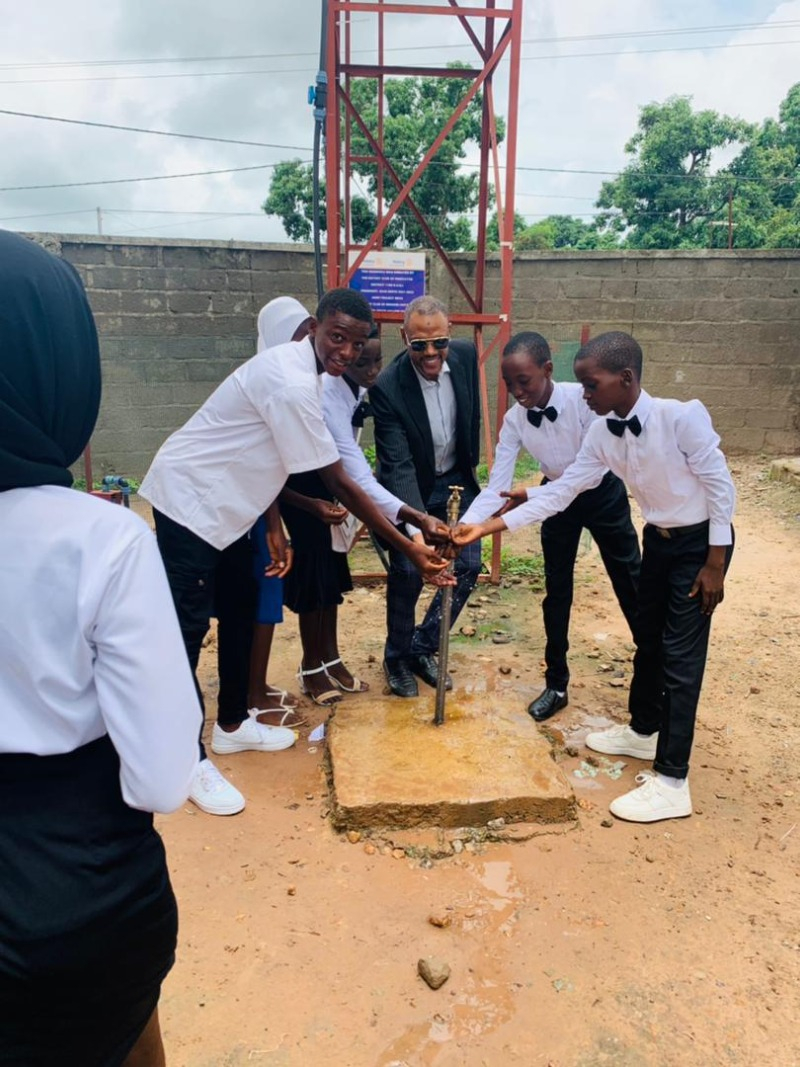 Brusubi Rotary President and children from Brikama Lower Basic School at one of the 8 taps.