JOIN US AND HELP TO MAKE A DIFFERENCE!

Groups we have been able to help:
Local Community
Burnley, Pendle & Rossendale Young Carers
Samaritans
Scouts
RBL Poppy Appeal
Burnley & District Talking Newspaper
Pennine Lancashire Community Trust
Reuben's Retreat
Girl Guides
Victoria Park Cafe
Pyramid Self Help
Barnoldswick & Earby Brass Band
Beverdere Rugby Club
Home Start
Barrowford in Bloom
Burnley Boys & Girls club
Morris Dancers
Womens Refuge
Burnley Youth Theatre
Burnley Leisure Trust
High Viz Vests for local schools
Pendle Schools Music Festival
Coats for Homeless
Gull Church Bells
Emmaus
Trawden Athletic Club
Bobcats
Barrowford Celtic Boys FC
TEAMRISE
Cliviger Girl Guides
Pendle Group Riding for the Disabled
Burnley Boys Rugby Club
West Craven Scouts
AFC Clarets
Belverdere Rugby Club
Burnley FC in the Community
Cliviger Village Hall
Read Cricket Club
Pendle Action for the Community
West Street School Colne Football Strips
Church on the Street Ministry
Rossendale & Pendle Mountain Rescue
Burnley Together in the Community
Burnley General Hospital
St Mary's Church Newchurch
Pendleside Hospice
National Donations
Scanner
Pyramid Self Help
England Deaf Rugby Union
Carnforth Rotary
East Lancashire Health Trust
Lymphoma
MacMillan Cancer Support
Padiham Rotary
East Lancs Football League
Participation Works NW
Rotary Young leader Award
Prostate Cancer
Rotary District 1190 Castlehead Project
East Lancs County Scouts Council
Rotary Foundation
C.A.P.
International Donations
Hurricane Appeal
Polio Eradication
Aqua Box
SightSavers
Cleft Palate
Shelterbox
If you feel you may have something to offer time, ideas, talent please get in touch.
rotaryclubburnleypendleside@yahoo.com
Pendle Pub Walk 2021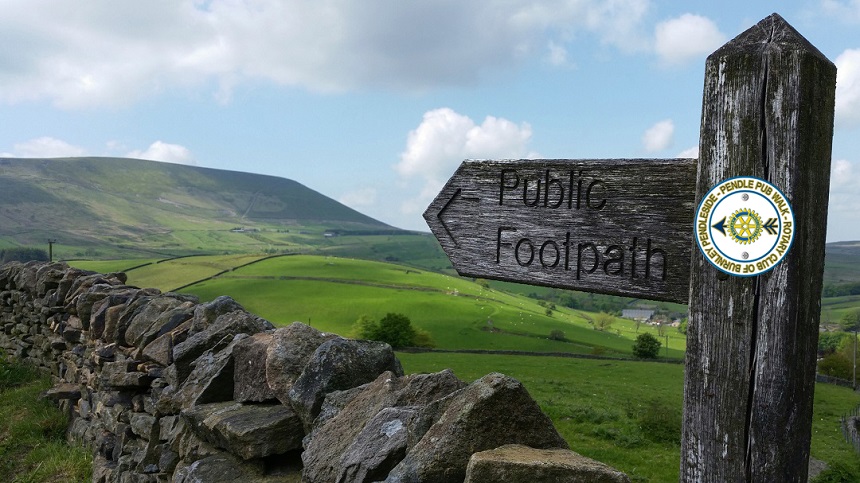 Thousands of walkers raise a glass to the return of Pendle Pub Walk.
On Saturday 18th September Pendle Pub Walk made a welcome return after last year's lockdown.
Around 2,500 walkers, including a record number of dogs, made the most of the fine weather to take in the stunning Pendle countryside and its finest hostelries.
Organised by the Rotary Club of Burnley Pendleside in conjunction with Pendleside Hospice, the last time the walk was held, in 2019, it raised over £110,000 for the hospice as well as funds for local Rotary charities.
Organiser Grahame Trudgell, from the Rotary Club of Burnley Pendleside, said: "The response this year has been absolutely fantastic. The event was originally scheduled for June, but we had to move the date due to restrictions. That has certainly not dampened the enthusiasm of the walkers and the record number of pubs and bars who have supported the walk this year."
A big THANK YOU to everyone who took part in Pendle Pub Walk 2021, the walkers, the hospice, the pubs, our sponsors Alderson & Horan, Birchall's Food Services and Billie at Tesco.
Hope to see you all next year! For our 13th Pendle Pub Walk on Saturday 18th June 2022.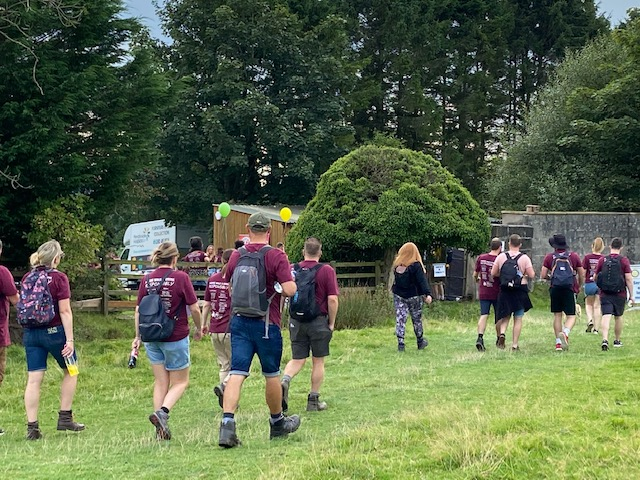 Kidz Away 2020
After over two years in the planning Kidz Away finally came to fruition in July 2021.
Throughout the worst times of the Covid Pandemic the notion of taking forty young people away to Whitehough Outdoor Centre for three days respite from the pressures of their difficult lives burned bright for us at the Rotary Club of Burnley Pendleside.
Now more than ever there was a huge requirement to get these young people out into the Pendle countryside and experience the peace, beauty, contentment and tranquility there to be enjoyed.
Whitehough was established in 1955 by forward thinking educationalist and outdoor enthusiast Ken Oldham. It was based on a cross between the harsh regime of Gordonstoun in the Scottish Highlands and the emerging Outward Bound movement.
Locals from the Pendle area may have mixed memories of Ken, whatever the day, Winter, Spring, Summer or Autumn he would always be wearing his khaki shorts. From a young people's leadership and exploration perspective he was way ahead of his time - he led numerous challenging expeditions to various far away mountainous regions; Scottish Highlands, Iceland, Dolomites and the Alps. What an opportunity he gave those young people under his span of responsibility and control.
Some observers credit him with Lancashire's pre-eminence in post war mountaineering and being integral in the development of the high standards of mountain leadership we now have in the UK.
How lucky we are locally to have the excellent facility of the Whitehough Outdoor Centre on our doorstep steeped in its history. Fate nearly deprived us of the centre though. Following various local borough reorganisations, the Outdoor Centre ended up under the management of Lancashire County Council which appeared to lack vision for outdoor education and the mental and physical benefits which could be delivered to young people through it.
Not surprisingly it was proceeding on a downward spiral but before the point of no return was reached an outdoor knight in shining claret and blue armour appeared (Burnley Football Club in the Community [BFCitC]) and took it over for the benefit of the local community.
Having already established a working relationship with BFCitC taking children to Leisure Box Sports facility in the former Smith & Nephew Cotton Mill in Brierfield and to Burnley Town Centre Community Kitchen teaching facility to learn the basics of healthy nutritious cooking we approached our contacts there to see if they would come aboard with us to deliver our Kidz Away project. Much to our satisfaction they endorsed our plans and agreed to our concept of giving young carers and socially deprived young people respite even in pre Covid times.
As plans continued to advance with both the Community Volunteers and the Boys and Girls Club in early 2020, they were getting close to identifying the twenty representatives from their organisations. Then all the background noise of Covid in January and February 2020 became a cacophony - still the optimists amongst us thought it would be all quiet by the end of July and the beginning of August. How wrong we were!!!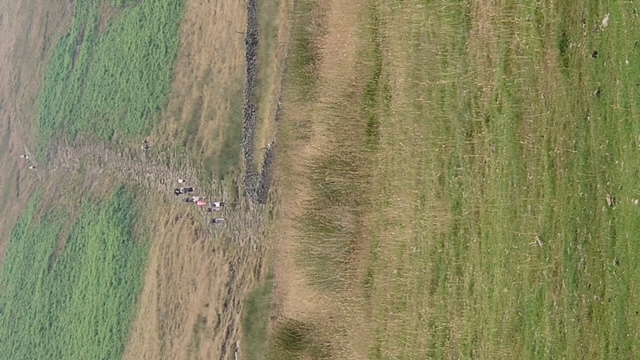 Track forward now to 2021, we had maintained contact with both groups during the down times but in Spring 2021 we began to feel some optimism that the project would get out of the starting blocks that year.
Planning meetings with all the associated parties came and went successfully. Information being released from the Government Covid regulators gave us reason to believe that everything was beginning to look very positive for all to go ahead as planned.
Like a bolt of lightning out of the blue at the beginning of July we were surprised to receive an email from Burnley Boys and Girls Club that following a major incident the police had advised that the club should be shut down until September. Rather than try to find twenty new attendees at this short notice we decided to ask the Pendle Hill Foundation to carry our grant funding forward again. Our hard gained finance was too precious to consider risking it on uncertainty.
With some nervousness on Monday 26th July, we arrived at Whitehough hoping to be able to welcome twenty young carers or disadvantaged young people to benefit from three days respite at the centre.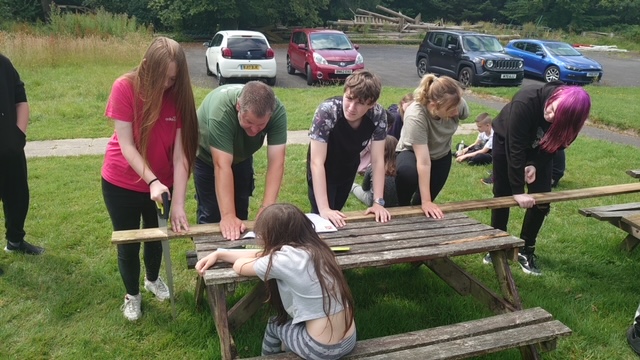 We weren't disappointed seventeen were there - brilliant, fantastic. Three no shows we could live with - we very well understand the pressures these guys face daily. All the young people were very quiet and keeping themselves to themselves. Fortunately, the gods were smiling on us, the sun was shining so difficult initial introductions could be done outside and they could lay out on the grass. Normally the first task Whitehough attendees have to do is to make their own beds. Sara the Whitehough manager took pity on our cohort and made them up for them, what a star she is! So once the guys and girls started to communicate with each other things got going in earnest, team building and team working were first up; building bird nest boxes. Encouraging the local wildlife is a major ongoing task so what better start than to support their breeding plans.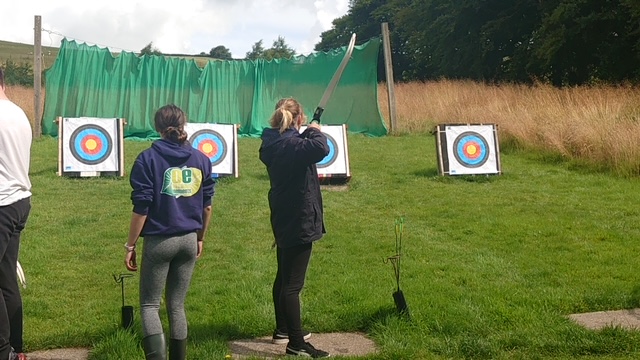 The Kidz Away project was very fortunate not only to have the major financial support of the Pendle Hill Landscape Partnership but also the practical input from their Community Engagement Officer - Jayne Ashe and one of her colleagues, they lead two practical sessions taking the young people out into the local fields and woods undertaking tasks such as netting flies and bugs.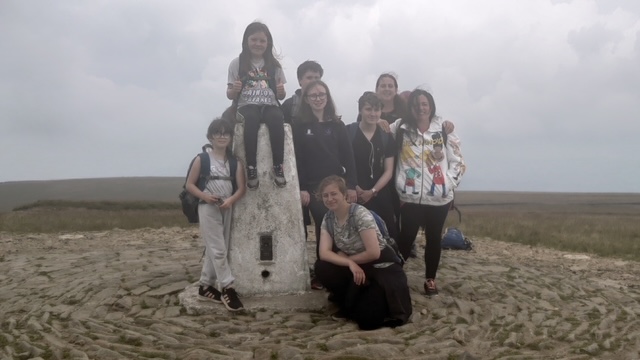 The centre piece of the trip had always been planned to be an expedition up Pendle Hill, it was the one key objective we wanted the course to achieve. Living in the shadows of this hill these guys mostly never have the opportunity to ascend it's majestic, sublime and beautiful hillsides. Ascending Pendle has been the prelude to many people starting lifelong love affairs with more distant and grander mountain ranges, whilst never forgetting their Lancashire roots.
The Rotary Club of Burnley Pendleside were very lucky to be offered support and leadership for the day by Devaki Sutton, a gold award Duke of Edinburgh leader and one of her qualified mountain leadership colleagues. Blessed with good weather the group walked to Barley to start their climb up Pendle's steep Big End path. Rather than simply return to Barley back down the diagonal path Devaki decided to extend the walk by the more remote Boars Clough track down into the Ogden Valley to allow them to be able to experience other facets of Pendle and maybe see the wild deer that roam freely on the hill sides. After the effort on Pendle, once back in Barley everyone was treated to an ice cream from The Cabin.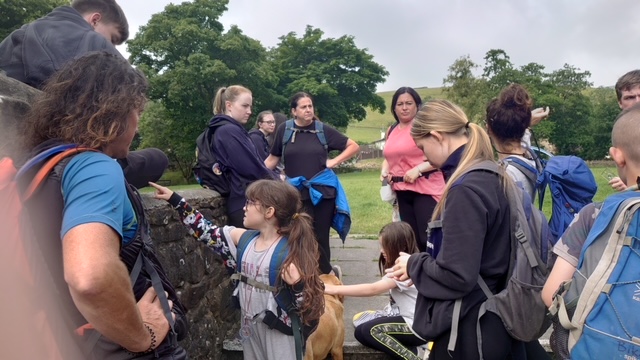 As if we had not made the group participate in enough exercise for one day, masochistically we had arranged a Ceilidh for the evening organised by Rotary Club President elect Peter Crewe supported by his colleagues from the Malkin Morris Dancers.
The energy that some of the young guys and girls possessed had to be seen to be believed- to say they loved it was an understatement, they certainly slept that night! Thanks are also very much due to the Rotarian wives, Ginny, Pauline and Vanessa, who not only joined in the dancing but also cajoled the young people to participate in the Ceilidh.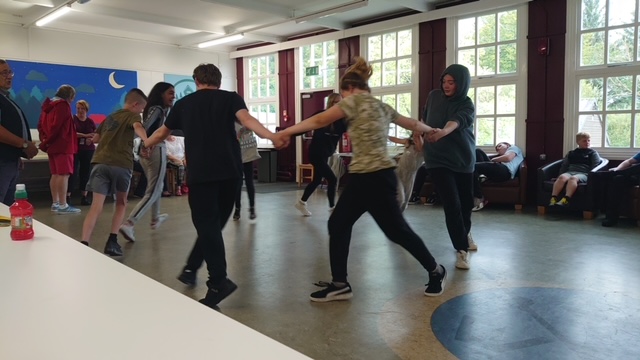 The final day at Whitehough concentrated on achievement and team work. Participation in challenges such as climbing the Jacobs ladder, doing the high wire leap of faith, walking the high wire aerial course and climbing and building crate towers. Self-belief and confidence were key factors for the course objective. We genuinely think the confidence levels of the young people were much higher than when they had arrived on the Monday morning. Feedback from the young people through the BPRCVS leaders was very positive and they would love to do something similar again.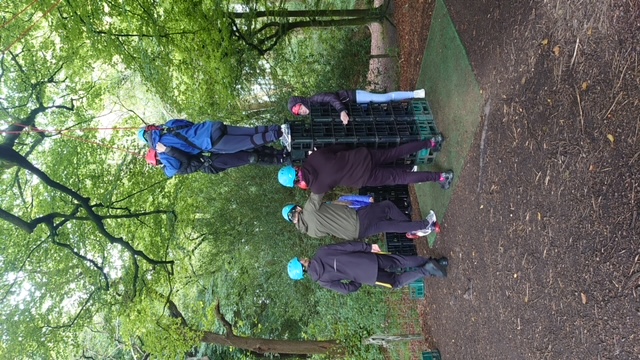 Projects like this are only possible through the efforts of many people, so on behalf of the Rotary Club of Burnley Pendleside we would like to say a big thank you to:
• Pendle Hill Landscape Partnership - Jayne Ashe and colleagues.
• Whitehough Outdoor Centre (BFCitC) - Sara Parsons and team.
• Devaki Sutton & colleagues- DOE Gold Award Leaders.
• Burnley Pendle & Rossendale Community Volunteer Service - Alison Harris, Youth Team Leader.
• Rotary Club of Burnley Pendleside - Graham Trudgill & Peter Crewe.
• Malkin Morris Dancers.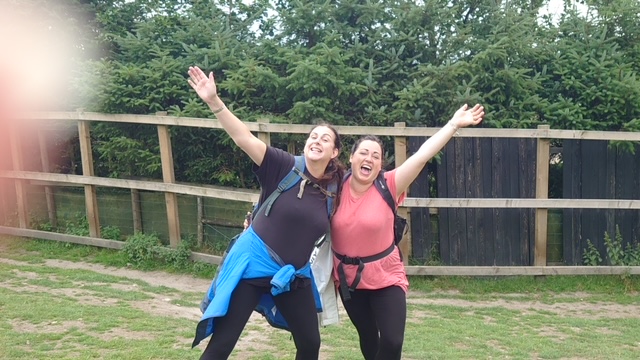 Welcome President Paul

The Rotary Club of Burnley Pendleside has welcomed in new President Paul Roberts at our first face-to-face meeting in more than 15 months.
President Paul received the chain of office from outgoing President Rob Walsh at the special club night held at Calder Vale Rugby Club.
Rotarian Dave Alexander takes over the role of President Elect with Rotarian John Cooper becoming President Nominee.
AmazonSmile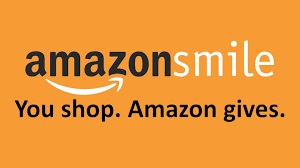 AmazonSmile is an incredible service where you shop and Amazon gives!
AmazonSmile works in exactly the same way as Amazon but donates a 0.05% of your total spending to the Rotary Club Of Burnley Pendleside.
To set this up simply log onto AmazonSmile and select 'Rotary Club Of Burnley Pendleside' as your chosen charity.
When you shop with Amazon use this link https://smile.amazon.co.uk/ch/1028246-0 or go to AmazonSmile, 0.05% will be donated to our Charity when you checkout.
We Are Counting Down The Days Until Pendle Pub Walk 2021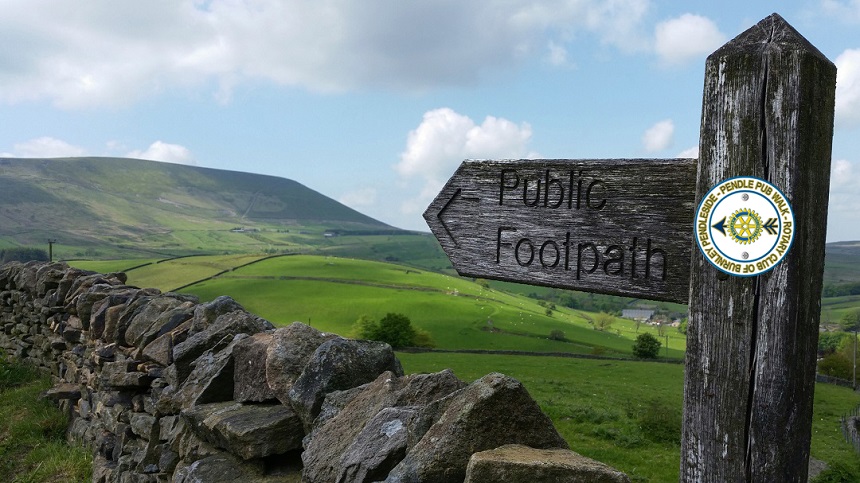 Pendle Pub Walk is set to make a return in September as lockdown measures are set to ease.
The event, which is organised by the Rotary Club of Burnley Pendleside in conjunction with Pendleside Hospice and is kindly sponsored by Alderson and Horan Funeral Services, will take place on Saturday 18th September 2021.
The walk has two starting points, so walkers can choose to set off from the Village Hall in Barley, with The Pendle Inn as the first pub en-route, or from The Sparrowhawk in Fence.
Registration costs £20 for adults and £10 for children, and the hospice asks that participants gain sponsorship or make a minimum donation of £30 at the time of registering.
The registration fee includes a £5 donation to Rotary Club charities, your t-shirt, sponsor pack including postage and packaging and other event costs such as promotion, administration and processing etc.
Walkers are asked to start from their chosen point between 10am-12noon - if between registering and the event you change your mind about where you would like to start you must contact the fundraising department on 01282 440120.

New Date Announced For Pendle Pub Walk 2021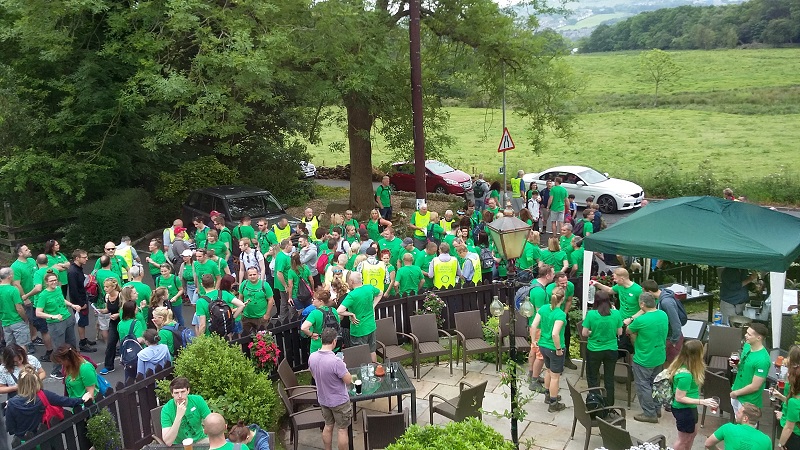 As it is highly unlikely that Covid-19 restrictions will be lifted by June a new date for Pendle Pub Walk 2021 has been agreed.
The event, which is organised by the Rotary Club of Burnley Pendleside in conjunction with Pendleside Hospice, will now take place on Saturday 18th September 2021. This is subject to Covid-19 restrictions.
Starting times are 10am to noon. The event is sponsored by Alderson and Horan Funeral Services.
Pendle Pub Walk has raised in excess of £500,000 for the Hospice over the years and we cannot thank members of the public enough for their continued support.
Hope to see you all again in September!!
The Rotary Club Of Burnley Pendleside Help Put A Smile On ELHT Staff's Faces This Christmas

Pictured: Michelle Connelly, Chief Executive's Personal Assistant, Emma Heinicke, Community Fundraiser, Denise Gee, ELHT&Me Charity Manager, and Jim Hepburn and Alan Clifford from the Rotary Club of Burnley Pendleside.
Members of the Rotary Club of Burnley Pendleside have provided over 700 selection boxes to donate to staff at East Lancashire Hospitals NHS Trust this Christmas.
The small team at the club has been ongoing supporters of the Trust's charity, ELHT&Me, and this year they wanted to support our fantastic NHS staff with a chocolate treat.
The 700 selection boxes will be given out to staff to show appreciation for all their hard-work over the past year.
Denise Gee, Fundraising manager for ELHT&Me was delighted with the donation. She said:
"We are delighted to receive the extremely kind support from our local Rotary team, on behalf of the Burnley General Hospital staff we would like to say a massive thank you."
Jim Hepburn and Alan Clifford, both members of the Rotary Club of Burnley Pendleside, were able to safely deliver the selection boxes in person to the hospital this week. Jim said:
"We hope these selection boxes bring a smile, and are a thank you for recognition of all the hard and caring work that goes into dealing with COVID-19, which has brought unprecedented demands on the NHS. Alan and I, and the rest of our small club, wish you all a safe and happy Christmas."

Pendle Pub Walk 2020 Cancelled Due To COVID-19 Pandemic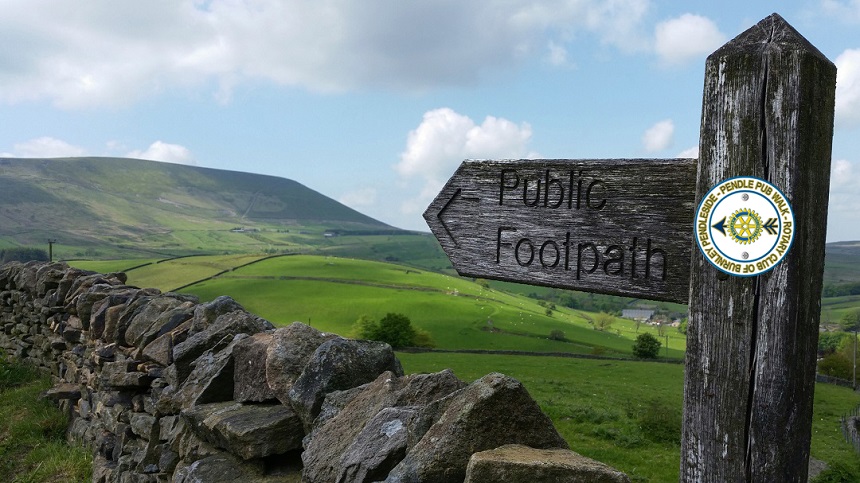 We have made the difficult decision to cancel Pendle Pub Walk 2020.
We were hoping that we would be able to put on the event after postponing to August, however the impacts of the COVID-19 pandemic mean it isn't possible. It would be irresponsible of us to stage the event, as we cannot adhere to government guidelines, and crucially, do not want to impact our local NHS.
As things stand, and even as the situation improves, it isn't going to be possible to meet requirements with any certainty. So, with just under two months to go we have concluded that the best course of action is to cancel, as we cannot ensure the safety of the organisers/helpers, official venue staff, walkers or local residents.
We haven't taken this decision lightly. Pendle Pub Walk raises a huge amount of income for Pendleside Hospice and local Rotary Club charities, as well as supporting our local economy. It is a very important day in our calendar which thousands of people look forward to each year. We know how disappointing this is, but we're sure everyone will understand why this decision has been made.
We hope to be able to host the Pendle Pub Walk again next year, all being well, on Saturday 19th June 2021.
All those registered have been contacted and informed that their registration will automatically roll over to next year. If you have any queries please send us a direct message or contact Sammi, head of events at Pendleside Hospice on 01282 440128.
Thank you for your patience and understanding
Welcome President Rob

The Rotary Club of Burnley Pendleside has welcomed in new President Rob Walsh. President Rob received the chain of office from outgoing President Bob Nolan virtually via Zoom due to the coronavirus pandemic.

Rotarian Paul Roberts takes over the role of President Elect with Rotarian Peter Crewe becoming President Nominee.

President Bob thanked members for all their kindness and support throughout the year and during the difficult times.

Bob also said "We have done exceptionally well throughout the year with a record amount of £110,000 raised for Pendleside Hospice and giving record amounts to a lot of worthwhile causes."

Before handing over Bob had two presentations to make, the first was awarding a Paul Harris Fellowship to Kevin Martin for displaying all of the good qualities of being a Rotarian, regenerating our sports and publishing our newsletter each month.

The final award was for the Rotarian of the year, this would normally be presented on Charter Night, which was cancelled due to the coronavirus outbreak.

The award went to Rotarian John Osborn for the outstanding work he has done this year.

A special presentation night will be held at Calder Vale Rugby Club as soon as the COVID-19 restrictions are over.

Pendle Pub Walk Smashes All Previous Records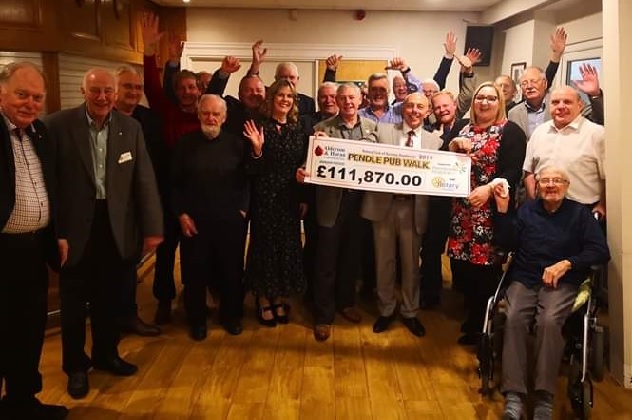 Around 2,500 walkers braved the rain for Pendle Pub Walk 2019. Heavy downpours and muddy fields were not enough to deter ardent walkers taking part in yet another successful Pendle Pub Walk.

A special presentation was held at a recent meeting attended by members, Sammi Graham Fundraising Manager for Pendleside Hospice and our sponsor Stephen Alderson from Alderson & Horan Funeral Services.

Sammi announced that the amount raised for Pendleside Hospice was an amazing £111,870.00.
In addition to this, over £12,000 has been raised for local Rotary charities thanks to the registration fee from the 2,500 walkers who took part.

Andrew Coulthurst who attended the meeting with his wife Beverly raised £1,900 and received the Brian Doney Memorial Tankard from President Bob Nolan for the most sponsorship funds.

The event has already raised in excess of £500,000 for the Hospice over the years and we cannot thank members of the public enough for their continued support.

A big THANK YOU to everyone who took part in Pendle Pub Walk 2019, the walkers, the hospice, the pubs, our sponsors Alderson & Horan, Birchall's Food Services and Billie at Tesco.

Hope to see you all again next year!! For our 12th Pendle Pub Walk on Saturday 20th June 2020.

For more details visit: www.pendlepubwalk.co.uk


Santa's Sleigh 2019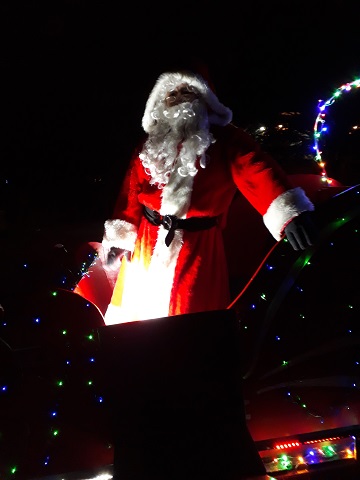 2019 has been another successful year for our annual Santa's Sleigh in the build up to Christmas.
The Sleigh spent a day outside Sainsbury's and three days outside Tesco Extra, Burnley.
Santa also went to Nelson for their Christmas Lights switch on and went out on the road for a tour around Lower Manor just off Barden Lane.
Unfortunately we had to cancel Lanehead/Briercliffe area twice due to poor weather conditions, we are very sorry about that and hopefully we will be back next year.
The total collected this year was: £3.467.00 Another brilliant result, it's unbelievable how kind the public have been again this year. Many local charities will benefit from this.
Christmas Lights Switch On In Nelson