About us
The Rotary Club Of Burnley Pendleside Help Put A Smile On ELHT Staff's Faces This Christmas

Pictured: Michelle Connelly, Chief Executive's Personal Assistant, Emma Heinicke, Community Fundraiser, Denise Gee, ELHT&Me Charity Manager, and Jim Hepburn and Alan Clifford from the Rotary Club of Burnley Pendleside.
Members of the Rotary Club of Burnley Pendleside have provided over 700 selection boxes to donate to staff at East Lancashire Hospitals NHS Trust this Christmas.
The small team at the club has been ongoing supporters of the Trust's charity, ELHT&Me, and this year they wanted to support our fantastic NHS staff with a chocolate treat.
The 700 selection boxes will be given out to staff to show appreciation for all their hard-work over the past year.
Denise Gee, Fundraising manager for ELHT&Me was delighted with the donation. She said:
"We are delighted to receive the extremely kind support from our local Rotary team, on behalf of the Burnley General Hospital staff we would like to say a massive thank you."
Jim Hepburn and Alan Clifford, both members of the Rotary Club of Burnley Pendleside, were able to safely deliver the selection boxes in person to the hospital this week. Jim said:
"We hope these selection boxes bring a smile, and are a thank you for recognition of all the hard and caring work that goes into dealing with COVID-19, which has brought unprecedented demands on the NHS. Alan and I, and the rest of our small club, wish you all a safe and happy Christmas."

Pendle Pub Walk 2020 Cancelled Due To COVID-19 Pandemic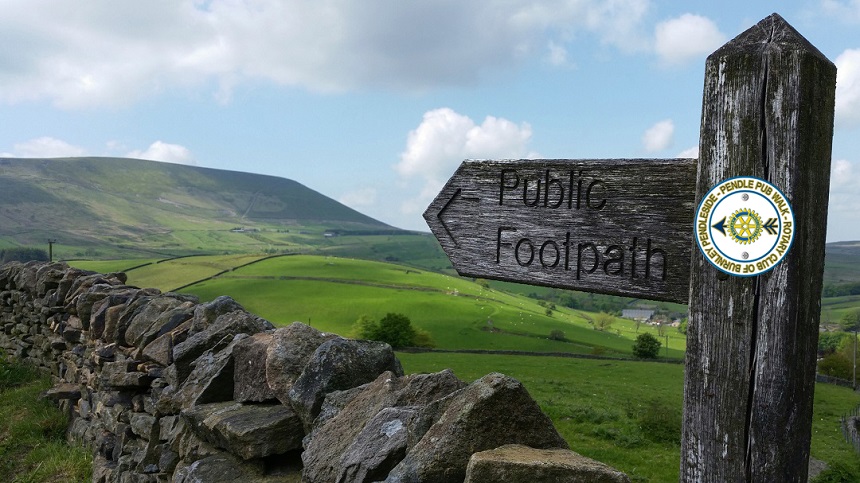 We have made the difficult decision to cancel Pendle Pub Walk 2020.
We were hoping that we would be able to put on the event after postponing to August, however the impacts of the COVID-19 pandemic mean it isn't possible. It would be irresponsible of us to stage the event, as we cannot adhere to government guidelines, and crucially, do not want to impact our local NHS.
As things stand, and even as the situation improves, it isn't going to be possible to meet requirements with any certainty. So, with just under two months to go we have concluded that the best course of action is to cancel, as we cannot ensure the safety of the organisers/helpers, official venue staff, walkers or local residents.
We haven't taken this decision lightly. Pendle Pub Walk raises a huge amount of income for Pendleside Hospice and local Rotary Club charities, as well as supporting our local economy. It is a very important day in our calendar which thousands of people look forward to each year. We know how disappointing this is, but we're sure everyone will understand why this decision has been made.
We hope to be able to host the Pendle Pub Walk again next year, all being well, on Saturday 19th June 2021.
All those registered have been contacted and informed that their registration will automatically roll over to next year. If you have any queries please send us a direct message or contact Sammi, head of events at Pendleside Hospice on 01282 440128.
Thank you for your patience and understanding
Welcome President Rob

The Rotary Club of Burnley Pendleside has welcomed in new President Rob Walsh. President Rob received the chain of office from outgoing President Bob Nolan virtually via Zoom due to the coronavirus pandemic.

Rotarian Paul Roberts takes over the role of President Elect with Rotarian Peter Crewe becoming President Nominee.

President Bob thanked members for all their kindness and support throughout the year and during the difficult times.

Bob also said "We have done exceptionally well throughout the year with a record amount of £110,000 raised for Pendleside Hospice and giving record amounts to a lot of worthwhile causes."

Before handing over Bob had two presentations to make, the first was awarding a Paul Harris Fellowship to Kevin Martin for displaying all of the good qualities of being a Rotarian, regenerating our sports and publishing our newsletter each month.

The final award was for the Rotarian of the year, this would normally be presented on Charter Night, which was cancelled due to the coronavirus outbreak.

The award went to Rotarian John Osborn for the outstanding work he has done this year.

A special presentation night will be held at Calder Vale Rugby Club as soon as the COVID-19 restrictions are over.

Pendle Pub Walk Smashes All Previous Records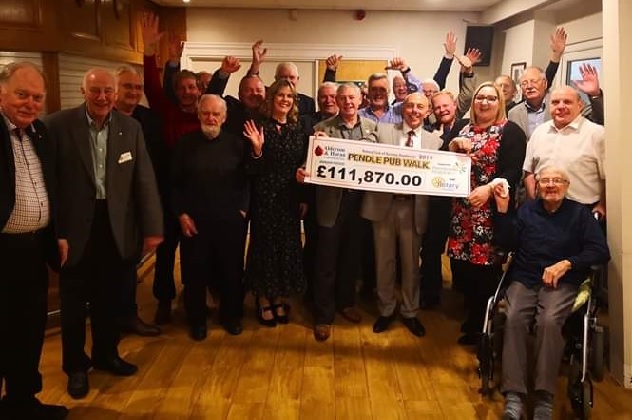 Around 2,500 walkers braved the rain for Pendle Pub Walk 2019. Heavy downpours and muddy fields were not enough to deter ardent walkers taking part in yet another successful Pendle Pub Walk.

A special presentation was held at a recent meeting attended by members, Sammi Graham Fundraising Manager for Pendleside Hospice and our sponsor Stephen Alderson from Alderson & Horan Funeral Services.

Sammi announced that the amount raised for Pendleside Hospice was an amazing £111,870.00.
In addition to this, over £12,000 has been raised for local Rotary charities thanks to the registration fee from the 2,500 walkers who took part.

Andrew Coulthurst who attended the meeting with his wife Beverly raised £1,900 and received the Brian Doney Memorial Tankard from President Bob Nolan for the most sponsorship funds.

The event has already raised in excess of £500,000 for the Hospice over the years and we cannot thank members of the public enough for their continued support.

A big THANK YOU to everyone who took part in Pendle Pub Walk 2019, the walkers, the hospice, the pubs, our sponsors Alderson & Horan, Birchall's Food Services and Billie at Tesco.

Hope to see you all again next year!! For our 12th Pendle Pub Walk on Saturday 20th June 2020.

For more details visit: www.pendlepubwalk.co.uk


Santa's Sleigh 2019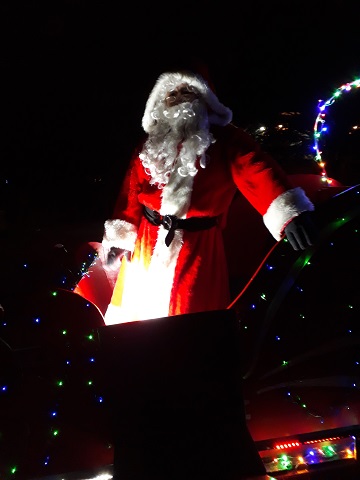 2019 has been another successful year for our annual Santa's Sleigh in the build up to Christmas.
The Sleigh spent a day outside Sainsbury's and three days outside Tesco Extra, Burnley.
Santa also went to Nelson for their Christmas Lights switch on and went out on the road for a tour around Lower Manor just off Barden Lane.
Unfortunately we had to cancel Lanehead/Briercliffe area twice due to poor weather conditions, we are very sorry about that and hopefully we will be back next year.
The total collected this year was: £3.467.00 Another brilliant result, it's unbelievable how kind the public have been again this year. Many local charities will benefit from this.
Christmas Lights Switch On In Nelson