About us
Welcome to the Rotary Club of Frome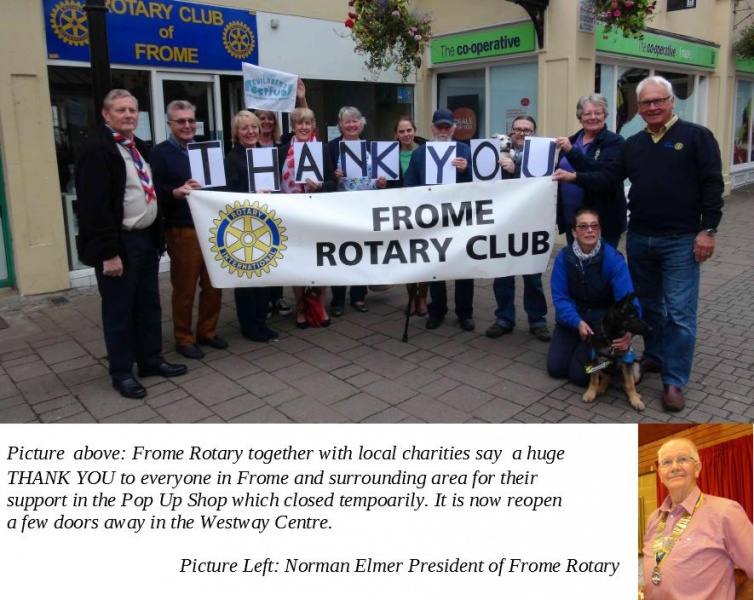 Welcome to Frome Rotary, of which I have the pleasure and honour to be president this year. Though we get a lot of community work done, our meetings are full of good humour and we enjoy plenty of social events. Please explore the website and learn about our club and activities and the great world-wide movement Rotary International. If what you learn makes you want to come to one of our meetings, you are most welcome. You might even decide to join us. Please feel free to view our library of newletters.
Norman Elmer
View our Club Newsletters by clicking on the logo
This facility is kindly sponsored by YUDU.COM
Rotary GDPR - PRIVACY NOTICE
With regard to the forthcomming European regulations on the holding of personal data please read the Rotary Club of Frome's Privacy Notice by following this link.
Have you wondered where / why Rotary started
You can make a difference with Rotary


If you wish to know more or join Rotary Club of Frome then please use the contact us tab and you will be contacted by a local Rotarian.

Although Frome Rotary Club has been going since 1925 we like to keep up with the times. At present, we have 53 members and in our time have founded two daughter clubs Midsomer Norton & Radstock and Frome Selwood and also Frome Probus club. We have been twinned with the Rotary Club de Bayeux since 1964. We meet on alternate Mondays for Lunch at 12.30pm, the other Mondays at Breakfast at 7:30am and Twilight at 6:15pm. Occasionally we meet with our partners in the evenings at 7:15pm.This variation from the Rotary 'norm' has proved popular and has increased attendance from members who cannot make lunchtime. We are a friendly and informal lot and visitors are most welcome.
Rotary Club of Frome Charitable Trust is a registered Charity - number 1100424.
For more on the History of The Rotary Club of Frome select the following link History of The Rotary Club of Frome.
For meeting details contact our Attendance Officer by using the contact us tab or visit our diary section
'Frome a Special Town'
Frome, the home of the Rotary Club of Fr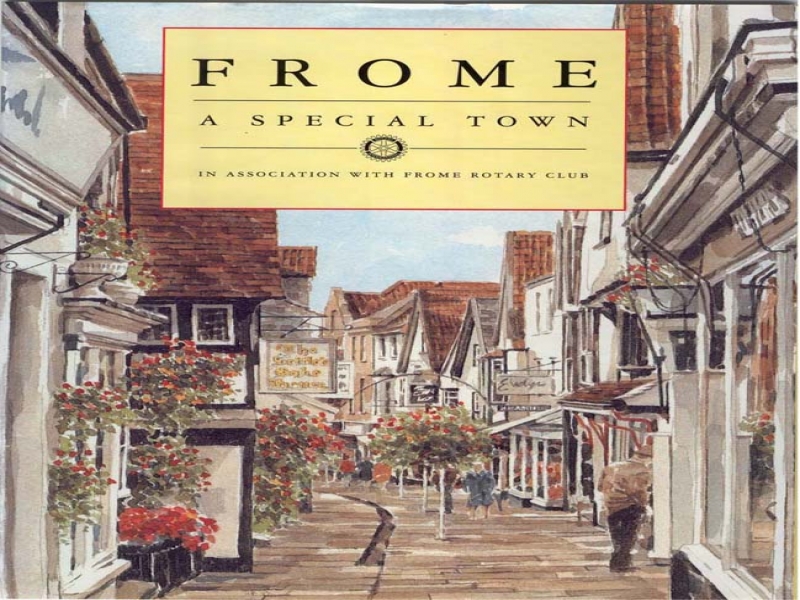 ome and the Rotary Club of Frome Selwood, is a remarkable town, having more listed buildings than any other town in Somerset,it has always been able to adapt effortlessly to the changing times. It values its past and much careful conservation work continues to be done to its old buildings, but it looks very much to the present and future. To read more about Frome click on this link.
To know what is happening in Frome visit Frome Times.
Rotary Club of Frome in Action
There can be no better example of voluntary service in action, than the partnership between Rotary Club of Frome and the community in and around Frome. 2017 has seen a remarkable demonstration of this at a local and wider level. The amazing generosity of people in the town can be experienced every day in the Rotary Pop Up Shop, as well as the incredibly popular Father Christmas Float run together with Frome Lions. Charitable work can only be done with this vital support. Local Charities have been able to use the shop to boost their own funds. Frome Rotary has been able to support Purple for Polio, the worldwide campaign to eradicate this terrible disease and Water Survival Boxes have been funded for disaster areas around the world. On a national scale. the Rotary Club of Frome once again helped to mastermind the annual Kids Out day for disadvantaged children at Longleat.
It is especially on a local scale, that the club really makes a difference. Many smaller local charities have received donations, families given support, and events like the Frome Carnival provided with volunteer collectors. Long running support for Frome's young people has again been the club's focus. A year of young peoples competitions has recently been rounded off with the 2017 Frome Rotary Young Musician and Young Photographer events. These could only take place with the enthusiastic support of local schools.
Club President Chris Page summed up 2017 by saying a huge thank you to everyone who has provided their support, to club members who give so much of their time, and to all the partner organisations, who work with the club. Chris said 'The Rotary Club of Frome has the community at it's heart, and we pledge to continue our vital work, throughout 2018.'
FROME Shows It's Fantastic Support Once More For The Father Christmas Float

Father Christmas and his reindeer toured Frome once again, during December, and showed the fantastic generosity of people in and around the town and neighbouring villages. Run by the Lions Club of Frome and the Rotary Club of Frome, the Christmas Float continues to demonstrate the total commitment of both clubs to the community.
The total this year reached a wonderful £12,161 which will help both clubs support charities and good causes in the area.
Frome Rotary President Chris Page and Frome Lions President Jim Dowling commented, "We have both been amazed, by the generosity and kindness of the people of Frome, and surrounding villages which will enable us to help those in difficulties, throughout 2018. Thank you to everyone who has contributed. Special thanks must go to routes organiser Mike Bishop and his team of Drivers and Marshals. We are also very grateful for the help of club members, partners and friends, as well as the team of helpers who work so hard to maintain the float and keep it on the road."
The float is a brilliant joint effort between both clubs, and the dedicated team of Drivers and Marshals, who put in a huge effort behind the scenes as well as on each night's route. It is a real challenge to reach as many places as possible in the town and surrounding area, as new developments add yet more roads to cover each year.
Santa's sleigh and the reindeer are now back in their stable having a well earned rest, before being back next December

Homes for Nepal's Earthquake Victims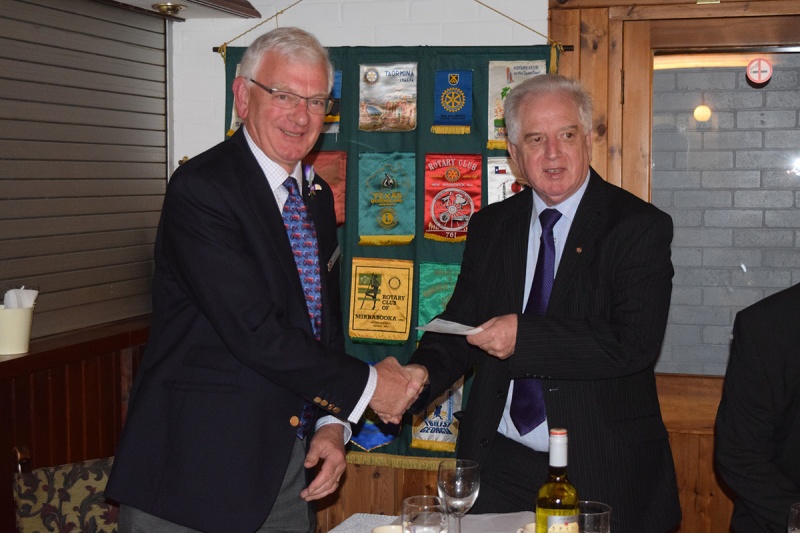 Rebuilding shattered homes in earthquake-devastated Nepal villages will be helped by a combined operation of three Rotary clubs. A £1,000 cheque from Frome club has made possible the dream of the Wrington Vale club and their French twin, Dourdan club. Frome club's international committee learnt that the simple, but vital £15,000 soil-brick making machine was out of the reach of the twinned clubs.
With Frome's promise to give money the machine is on its way. Villagers will be taught the simple operation of the machine – this brick construction is considered to the answer to permanent earthquake homes – and it will move from village to village.
Wrington Vale's international chairman, Phil Gooding, received the cheque from Chris Good, Frome's committee chairman, when both clubs met on Wednesday (April 15). A contingent of 10, visited the Wrington Vale club. President Gerry Atkinson wished host president Gary Carr success when he visits Nepal next week to see the machine, and makes a sky dive to help raise the remainder needed.
New Books For Trinity School Library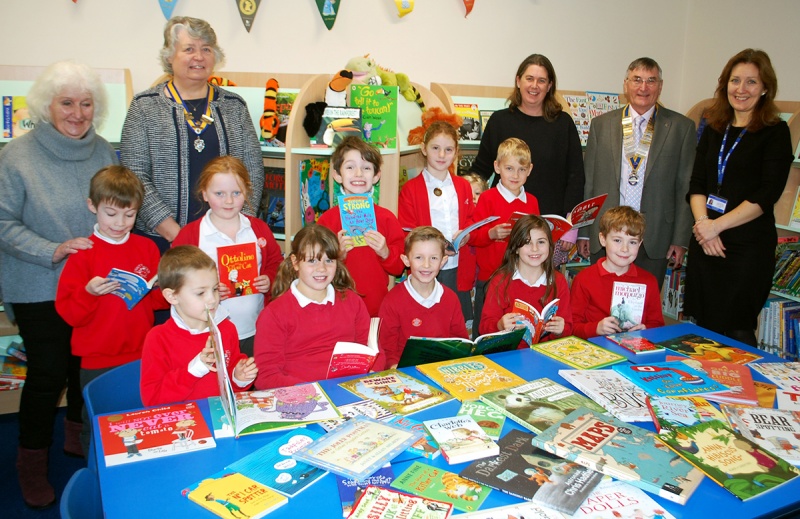 Trinity School have received an early Christmas present from Frome Rotary Club this week, with the arrival OVER 50 new books to complete their library. As part of a wider initiative in the town to inspire children and their families to read together, Frome Reads has come about from a rising concern over literacy levels in Frome. To read more click here.
Young Writer 2017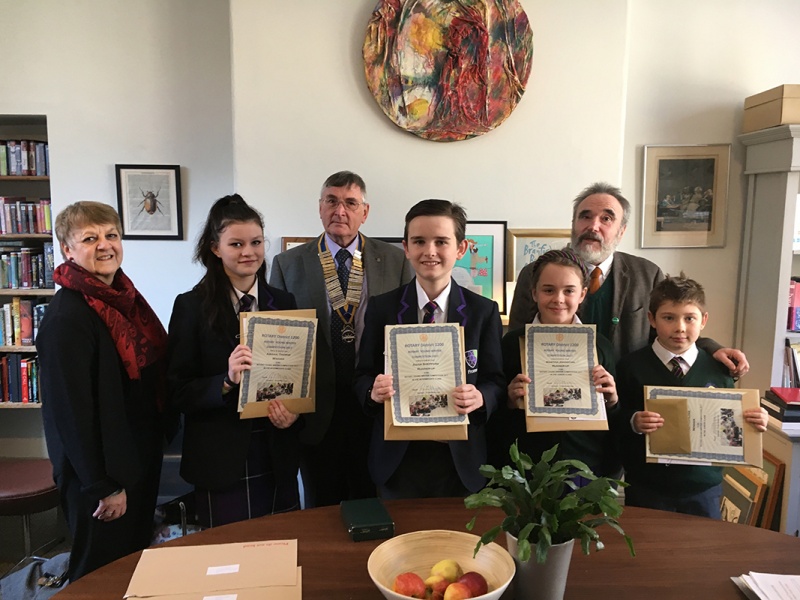 FROME ROTARY "YOUNG WRITER" COMPETITION
On Wednesday 8th February a very successful Competition was held with local schools to search for the best Young Writer in the area.The 500 Word entry was to be entitled "Reflections".
This National Competition supported by Rotary is held annually, with the prestigious Finals being held in a few months time.
"Chicken House Publications" along with "Huntingraven Books" jointly sponsored the event yet again.
In the Junior section the Winner was Daniel Hopkins (runner-up Martha Johnston), both from Springmead School in Beckington.
In the Intermediate section the Winner was Abigail Thorne (runner-up Adam Shepherd), both entrants from Frome College.
The Winners submissions now progress to the District Finals for judging later in the month, and if successful will move even closer to the National Final.
Results of District Competition
Congratulations to Daniel Hopkins (Springmead School Beckington) who came runner up in the Junior section and also to Abigail Thorne (Frome College) who was the outright winner of the Intermediate section.
The special 'Certificates of Excellence' were presented by the Frome Rotary Club President, Gerry Atkinson.Frome College Principal, Gavin Ball, added his congratulations to the worthy contestants.
Frome College Mock Interviews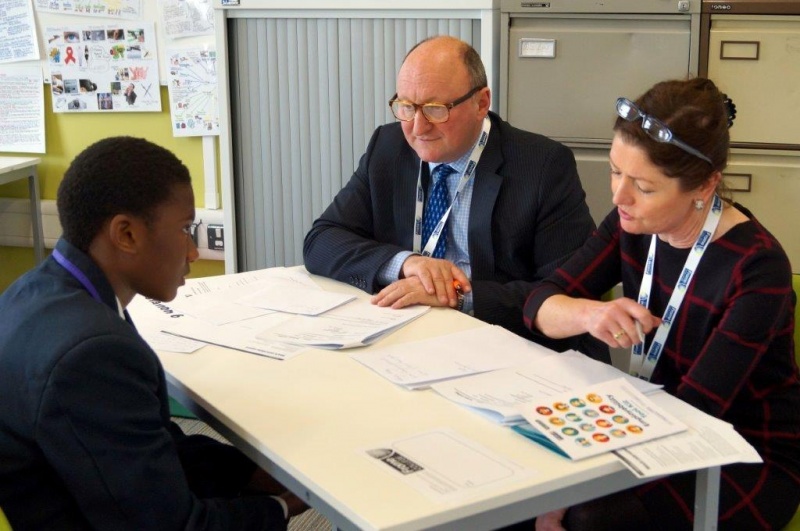 Back in 2009 the Club saw a need to train young people in presenting themselves to adults in an interview situation and to assist them with their career planning. It also recognised that there needed to be a closer relationship between Frome College and local employers. The Rotary Mock Interview Proramme for Year 10 students was designed to achieve this. It was set up by the Club in 2009 and has now been running for 7 years. Whilst for the first 5 years it was run by members of the Club it has now been taken on and further developed by the Next Steps organisation at the College with club members just providing interviewers where required. Over 250 students are now interviewed by around 70 representatives of local employers. This has proved to be a fine example of the role of Frome Rotary Club as an initiator. The 2017 mock interviews will take place on 15th and 16th March.

Rotary Club of Frome Charitable Trust is a registered Charity - number 1100424.
Last Updated December 24th 2017

---
---
Rotary News
Be part of a global network of volunteers, trying to make the world a better place. Please also see the 'links & news' page for information from the local district and live feeds from Rotary International and Rotary International in GB&I.
Flexibility creating new opportunities for new members
---
RotaKids supporting their local community
---
---
Meetings & Venue
Where and when:
We meet on Mondays at 12.30 Lunch & 18.15 Twilight
(
1st Mon Evening, 2nd and 3rd possibly a 4th Monday Lunchtime. Check with Club for exact programme for any particular week
)
The Masonic Hall,
North Parade
Frome
BA11 1AU
07538914400