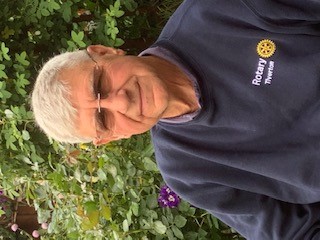 From President Malcolm Lock
Thank you for showing an interest in Rotary.
Members of the Rotary Club of Tiverton are part of the world-wide family of Rotary which, with 1.2 million members in over 185 countries, is the largest non-governmental humanitarian organisation in the world. Rotarians, of all ages, male and female, come from all sections of society, and share a desire to make life better for people in their local community, their country and across the world.
You may have heard of the work of Shelterbox, a Rotary initiative that has provided support for thousands across the world in times of disaster. Perhaps Rotary's biggest international challenge has been its determination to eradicate Polio that has now been achieved in all but a few countries
In Tiverton our club promotes and runs a number of programmes and raises funds to help support both local and international charities:
· Our Ready Steady Read programme helps many primary school children in local schools to improve their reading skills.
· At Tiverton High School we enable a flourishing Interact Club (a junior Rotary Club). Pupils have fun raising money for local and international causes.
· We promote and run a dog show in the Market
· We link with Exmoor Rotary to run the Exmoor Junior challenge. Teams of young people aged 10 and 11 navigate a fifteen mile course across difficult terrain.
· We support the Tiverton Litter Pickers taking responsibility for one area of the town.
· Overseas we sponsor a Ugandan student on a one year course at the Kira Farm project in that country; helping them develop a range of skills to run projects and businesses in their local communities. We run an annual Quiz to raise funds for this project
· We support the Exeter Triathlon by providing course stewards.
· We have refurbished the well in Phoenix Lane, and provide flowers for the baskets on the riverside walk.
More details are on the "What we do" part of the website – click at the top. While involved in the above activities we seek to enjoy ourselves supplemented by a vibrant programme of social events
Our Members normally meet on Mondays either at the Hartnoll Hotel or by zoom. The next few meetings are shown on this page. Why not come along and find out more?
Our neighbouring club Exe Valley also meets at the Hartnoll Hotel in Bolham or by Zoom on Wednesday evenings .
I look forward to meeting you.