My name is Robert Preedy and I am just one of the 1.2 million Rotarians around the world. I am also fortunate enough to be President of the Rotary Club of Wrington Vale for the 2020/2021 Rotary Year. Our club was formed in 1976 and we meet every Wednesday at The White Hart Congresbury. As a club, we have been serving our local North Somerset communities in Banwell, Congresbury, Wrington, Churchill, Winscombe, Shipham, Sandford, Blagdon, Axbridge and surrounding areas for over 40 years.
Our Rotary theme for this year is "Be The Inspiration" with particular emphasis on working with local communities and collaborating with other groups and organisations on projects where we can make a valid and useful contribution. We aim to continue to develop our long established relationship with prominent local businesses, and to strengthen our links with all the local primary and secondary schools in our area through our school liason officers and the various young people activities we promote - including Rotary's popular Youth Speaks, Young Musician and Young Chef competitions.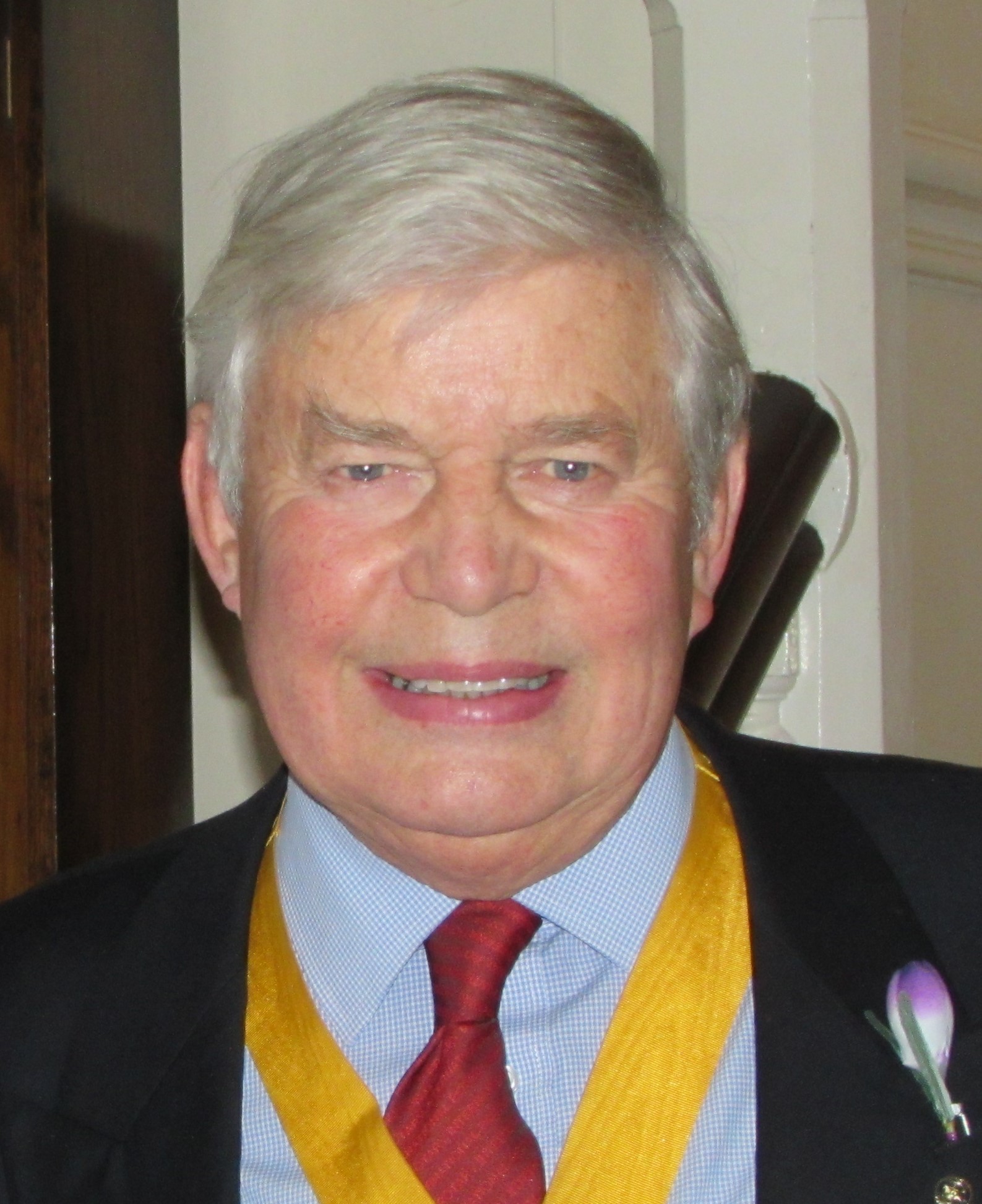 I love Rotary because it allows us to make a real and positive difference to people's lives, locally, nationally and internationally. Like all Rotary clubs we welcome everyone irrespective of culture, race and creed. We have no political and no religious allegiances. We have no secret ceremonies or complex joining processes. What we do have is a commitment to putting service above self.....something we share with each one of the 32,000 Rotary Clubs in the world.
Whilst we give willingly and ask for nothing in return, there is much to be gained from joining Rotary. We place great importance on the friendship, camaraderie and fellowship we enjoy....and because we take what we do more seriously than we take ourselves, we share a lot of laughter. The atmosphere in our club is always relaxed, friendly and informal.
You often hear people say that life has treated them well and they want to put something back. If you feel like this, then Rotary may suit you down to the ground. The only way to find out is to make a date to visit us. Just email me at rhv@dialstart.net and I'll get back to you.
What is Rotary All About?
We are in existence to support charities within the local community, the wider nation and internationally by promoting them through club activities and our world wide organisation called Rotary International.
Rotary is simply and purely a charitable service organisation and should not be confused with fraternal organisations, trade guilds or "secret societies". At the club level, we are just a diverse group of local people with a shared passion for helping the various charities we support. We get together once a week to enjoy friendships, share a meal, listen to an invited speaker talk on a wide range of topics, and plan projects. We often partner with our neighbouring Rotary clubs in Mendip, Chelwood Bridge, Weston Super Mare, Burnham-On-Sea, Wells and many others beyond. We also get strength from being part of a truely global network of problem solvers - friends; neighbours; business, professional and community leaders - who come together to make positive, lasting change in communities at home and abroad.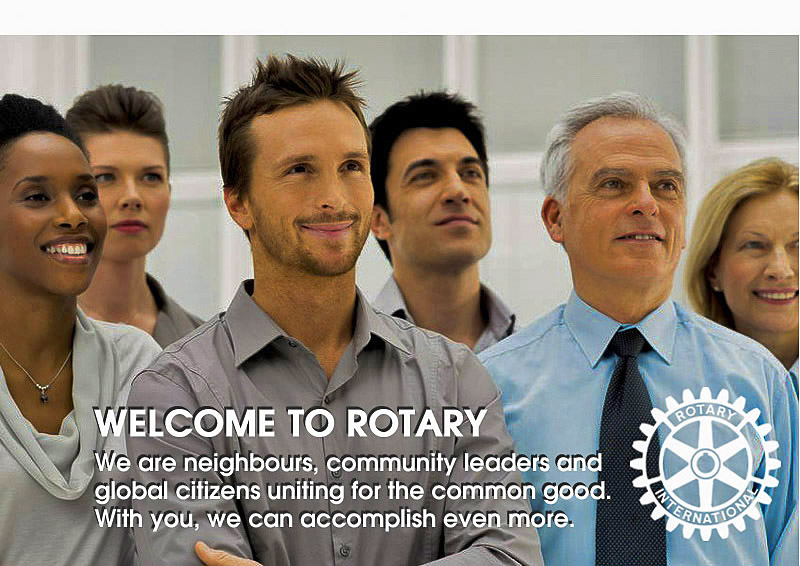 Our members come from a wide range of backgrounds including education, law, manufacturing, farming, banking, insurance, marketing, police & the armed services, technology and construction. Some run their own local businesses, large and small. In fact, with 1,800 clubs and a membership of more than 50,000 professional men and women across England, Scotland, Wales and Ireland, if you are in business you will quickly find that Rotary clubs are great opportunities for building contacts and sharing innovative ideas. Although many club members are retired - and now relish the opportunity to use the professional talents and skill sets they built up over their careers to help others - many others are very active in the workplace and are able to balance their passion for Rotary with the time demands of their families and careers. Like all Rotary clubs, we are looking to the future and so are particularly keen to attract a younger and more diverse membership from all walks of life in order that we will be able to continue our charitable work for many years to come.
Rotary is a big story. It is no exaggeration to say that Rotarians change lives, help communities and make the world a better place. But we need more people, particularly younger people,to bring new ideas into the organisation and to reflect our ever changing societies.
What We Do
Rotary clubs consist of men and women who vounteer their effort to improve the quality of life in their communities and beyond. Clubs are open to all and our membership represents a cross-section of local business, professional and community leaders. Being part of Rotary is more than just giving back to the community by volunteering. It is also about you bringing your skills, experience and enthusiasm to help it thrive, whilst making some great friends along the way.
A lot of people are still unsure what Rotary is all about but Rotarians are involved in almost every facet of humanitarian activity from volunteering at a school helping with literacy and numeracy; to operating a "Stroke Awareness Day"; or running a local charity event; to raising money for disaster hit countries. At the same time, we have a huge amount of fun and run a wide range of social activities.


To get a flavour of some of our own club events and activities, please explore this this website by clicking on the "What we do" and "Programme" pages on the menu above, or use the social media link at the bottom of this page to access our Facebook pages.
Charitable Fund Raising and Other Events
In addition to our regular activities, we have an exciting programme of events planned for this new Rotary year, building on what was a very successful year in 2019/2020. A significant early success was the Casino Night held at Thatchers Cider in Sandford on Saturday 18th January 2020. This prestigious black tie event raised over £8,000 in aid of The Grand Appeal, Bristol Children's Hospital and other charities supported by Rotary. In fact, over the past three years of running this event, we have raised over £30,000 for good causes that also including the Bristol Children's Hospital Grand Appeal, Weston Hospice, the Jessie May Trust, Build Up Nepal and WaterWorks.
We are also keen to continue our international charitable work. Since 2016 to the present day, we have run an ongoing series of events, large and small, - including a safely completed President's sponsored 15,000 feet tandem skydive! - to raise funds for our selected international project "Build up Nepal".
Build up Nepal is a non-profit social business working with Shiva Charity UK to introduce earth bricks in Nepal. Earth bricks are a perfect technology for rebuilding rural villages in Nepal hit by the earthquakes of April and May 2015. The villagers can produce their own bricks out of cement and soil using a portable brick making press. This lowers transportation costs and also creates local jobs and opportunities in the village. The buildings are earthquake resistant and of very high quality. Using this technology, villagers can build schools, homes and other community buildings at lower costs.
The Rotary Club of Wrington Vale, in partnership with our twin club The Rotary Club of Dourdan and with the help of a very generous donation from the Rotary Club of Frome, purchased a brickmaking press (and paid for the associated training and supervision) for the village of Rabi Opi. Subsequently we also paid for the refurbishment of the village primary school's toilet block, purchased computer equipment used for teacher training throughout the region, and provided a clean water filtration system for both a primary and secondary school. We plan to continue our involvement this year by supporting a major Shiva Charity project to rebuild another local primary school. We have been proud to follow the progress of villagers as they rebuild their village and aim to continue to support this project throughout the coming year.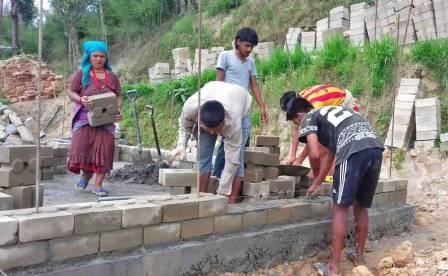 In 2018 we also introduced a new, innovative and very successful fundraiser - The Big Frisbee Golf Challenge - held on the beautiful Mendip Hills above Churchill and Sandford, raising money for mental health charities supporting children, teenagers and young adults. Then, in collaboration with Mendip Outdoor Centre, we massively expanded this event into a major Festival of Outdoor Activities which we called "Offest" in May 2019. This event attracted some 2,000 attendees and raised a very significant amount of money for Homelessness and other Rotary Charities.
Unfortunately, Covid 19 has seriously disrupted these major fundraising events but we are determined to come back stronger than ever in the future.
Full details and all the latest news on this and our other activities are posted regulaly to our Facebook Page (see the link below).
The Club
The Rotary Club of Wrington Vale was founded back in 1976 by 23 member's who wanted, by fellowship and actions to create, within the Wrington Vale, a club where like minded people could meet and enjoy promoting charitable deeds.
The club now comprises of some 39 members from many different walks of life and is not restricted to a particular area with members coming from all over the Wrington Vale and further afield.
Each year we undertake a number of charitable projects which may include:
Taking local schoolchildren on a "Kids Out" visit to Longleat
Organising a Senior Citizen's Christmas Party
Sending members into local schools to conduct mock interviews
Running a weekend break for local Young Carers
Hosting Rotary events including the Youth Speaks Debating Competition, Rotary Young Musician and Rotary Young Chef in conjunction with local schools
Volunteering at the Leonard Cheshire home in Axbridge
Promoting fund-raising events to support local, regional, national and international charities supported by Rotary including Shelter Box, Water Survival Box and Rotary's End Polio Now Campaign
In 2014, again in collaboration with Thatchers Cider, we held a Business and Youth Showcase to highlight the many successful businesses and youth organisation within the North Somerset region. Around 1,000 visitors attended this event which was officially opened by the Rt Hon John Penrose, MP. A wide variety of over 30 youth groups - ranging from Brownie Packs to Young Farmer Clubs - manned stands at the showcase to publicise their club activies. Over 60 businesses from across the region were able to promote their services and display their products. Local colleges, training establishments and business development organisations also attended. In all, around £11,000 was raised and this was distributed across a number of community youth projects put forward by the individual youth groups.
In 2015, we completed our biggest ever project. Working with Rotary Clubs throughout District 1200 and with the very generous support of the Friends of Musgrove Park Hospital in Taunton and an anonymous Trust Fund, we raised £60,000 for a Heartworks 3D Training Simulator to be used to train Doctors and Cardiac Staff in NHS Hospitals throughout the South West.
The Heartworks equipment was officially presented to Musgrove Park Hospital on 25th June 2015.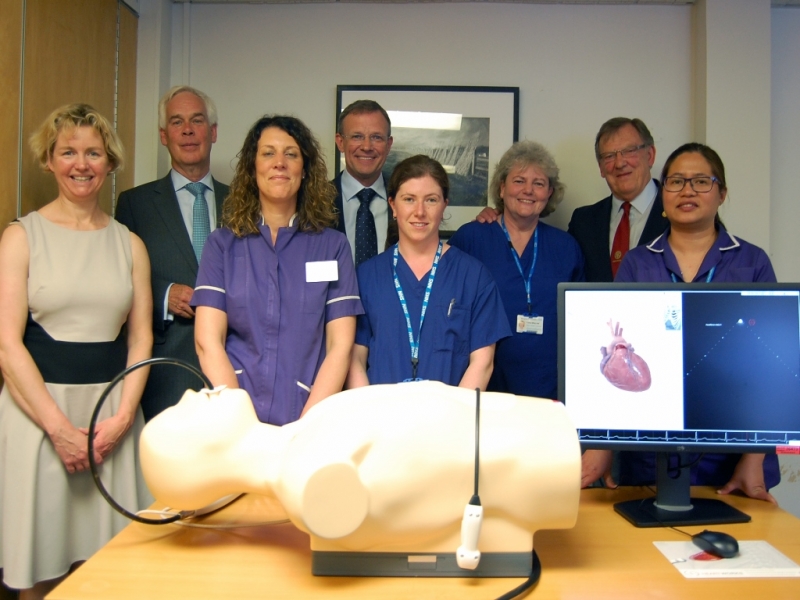 As a club we also have fun with sports competitions against other clubs and visits to a variety of entertainments and places of interest.
Contact Information
Volunteering with Rotary could be the most important thing you ever do. Your skills and experience are invaluable in our drive to help communities at home and around the world.
Whether you become a member of Rotary, or can volunteer your time and abilities to help one of our projects, or come along and support one of our charitable fund-raising events, you will be helping to make people's lives better.
If you would like to find out more about our club then please contact me, Robert Preedy I would love to hear from you.
.