A Welcome from the Club President Alan Jasper PHF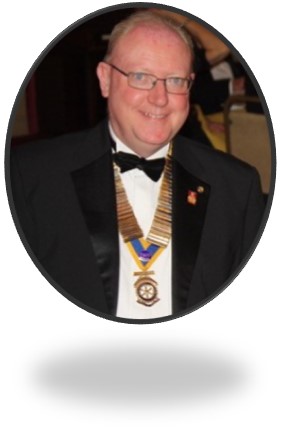 Following the pandemic The Club normally meets in person on the first and third Wednesday of each monthat 7:00pm at the Wombourne Cricket, Tennis and Bowls Club which incldes a buffet meal. We also meet virtually on Zoom for Business meetings on the second and fourth Wednesday of each month.
This website contains information about the Club and the Word of Rotary, along with links to UK Umbrella organisations Rotary in Britain and Ireland (RIBI) and Rotary Internationl (RI).
If you are interested in joing our Club or would like further information on our activities please do not hesitate to use the Contact us option on the website or simply email: RotarySedgleyandWombourne@gmail.com
Further details on what we do are given below but are also on our Facebook Page:
Yours in Rotary
Rtn Alan Jasper PHF
President 2022/2023

Who are we …
Our Club is a proud part of this community and of Rotary International. Rotary is a global network of more than 1.2 million members who believe great things happen when dedicated minds come together.
What we do …
Our Club offers opportunities for our members – and those interested in making a difference – to get involved. Through meetings, social events and volunteer projects, our members learn about issues facing our community and communities all over the world. Solving real problems takes real effort, commitment, and vision.
How we make a difference …
Some of the organisations we are currently supporting:
· Locally - Providing Women's Refuge with food hampers; Sponsoring Young Citizens' Trophy in 14 primary schools; providing SEND equipment in a secondary school; arranging a "Kids Day Out" at a Theme Park for children at a Special School; supporting MAG; Sponsoring "Shakespeare in Schools" at two secondary schools; Guides and Scouts; Providing entertainment in care homes at Christmas.
· Nationally - Marie Curie Cancer Care; Alzheimer's Society; Medical Detection and Guide Dogs.
· Internationally - Ending Polio — Partnering with the Bill & Melinda Gates Foundation, the World Health Organization, and UNICEF to end polio, once and for all; Legs 4 Africa; Shelter Box; Australia Bush Fire Appeal.
Is it fun …
Along with these opportunities to serve, members are able to regularly network resulting in lifelong friendships. Fellowship is the bedrock of our Club. We like to serve but also to have a good time on the way! Some of the things we do:
· Jazz Evening; Ladies' Night; Last Night of the Proms; International Evening
· Santa's Sleigh Christmas Collections; Wombourne Carnival Stall; End Polio Day
· Visits to Musical Shows; Dogs at Monmore Green; Days Trips to interesting places
· District Sporting competitions including 10-pin bowling, snooker, darts and croquet
We would love to hear from you! Becoming a Member enables you to meet your community's leaders and to make an impact both here, nationally and around the world. We invite you to visit our Club and find more about us and the opportunities we offer to get involved.
Our Latest Newsletter
September_22_Club_Newsletter.pdf