Sailability At Carsington Water
15th June Bakewell Rotary met at Carsington Water Sailing Club where the KidsOut team were participating in a Sailability event. A group of primary school kids were able to try sailing, experiencing the thrill and tranquility of being out on the water.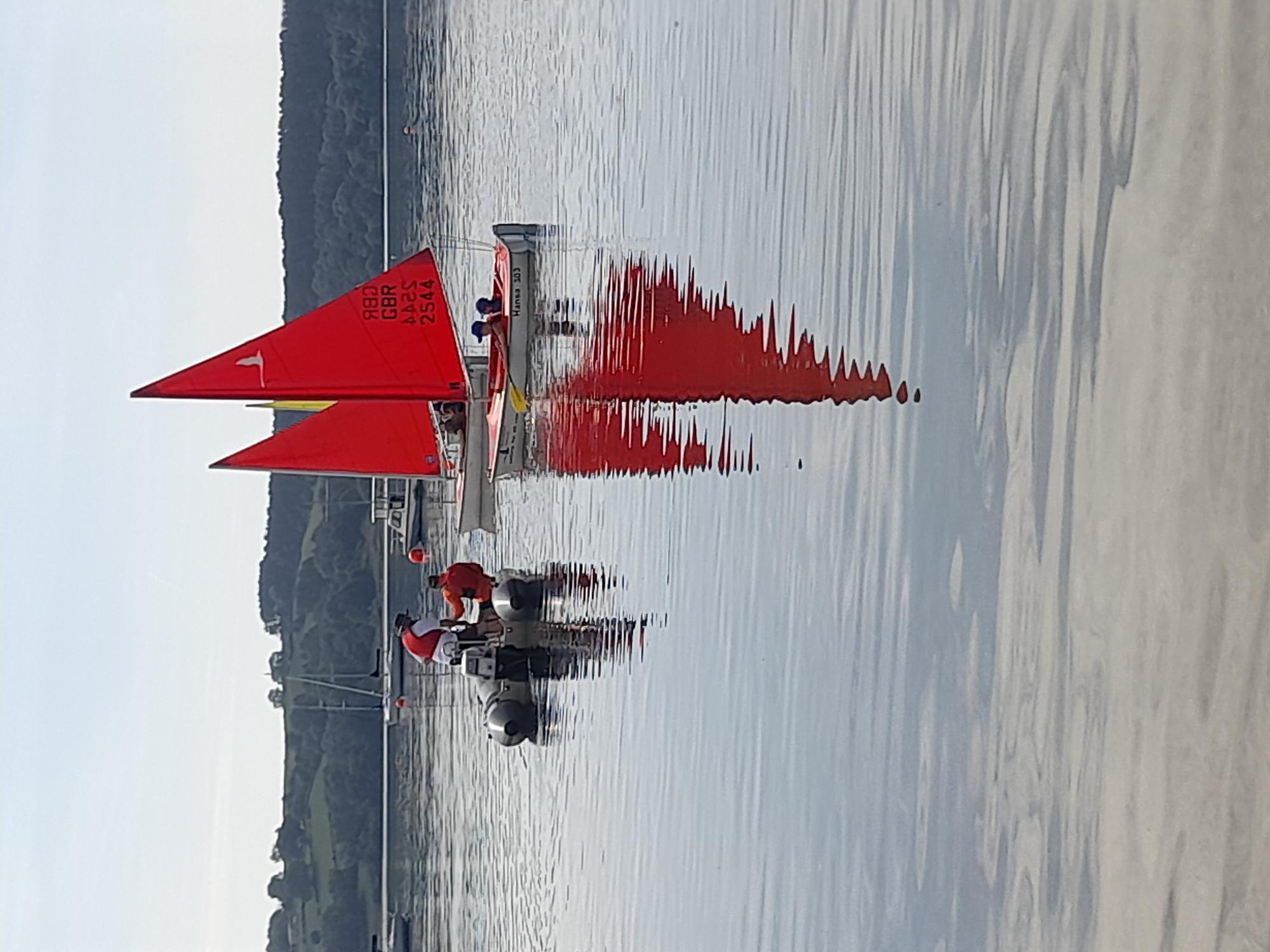 Rotary Bakewell's Birthday Celebration
18th May. Held at St Elphin's Park with entertainment from Bakewell Silver band.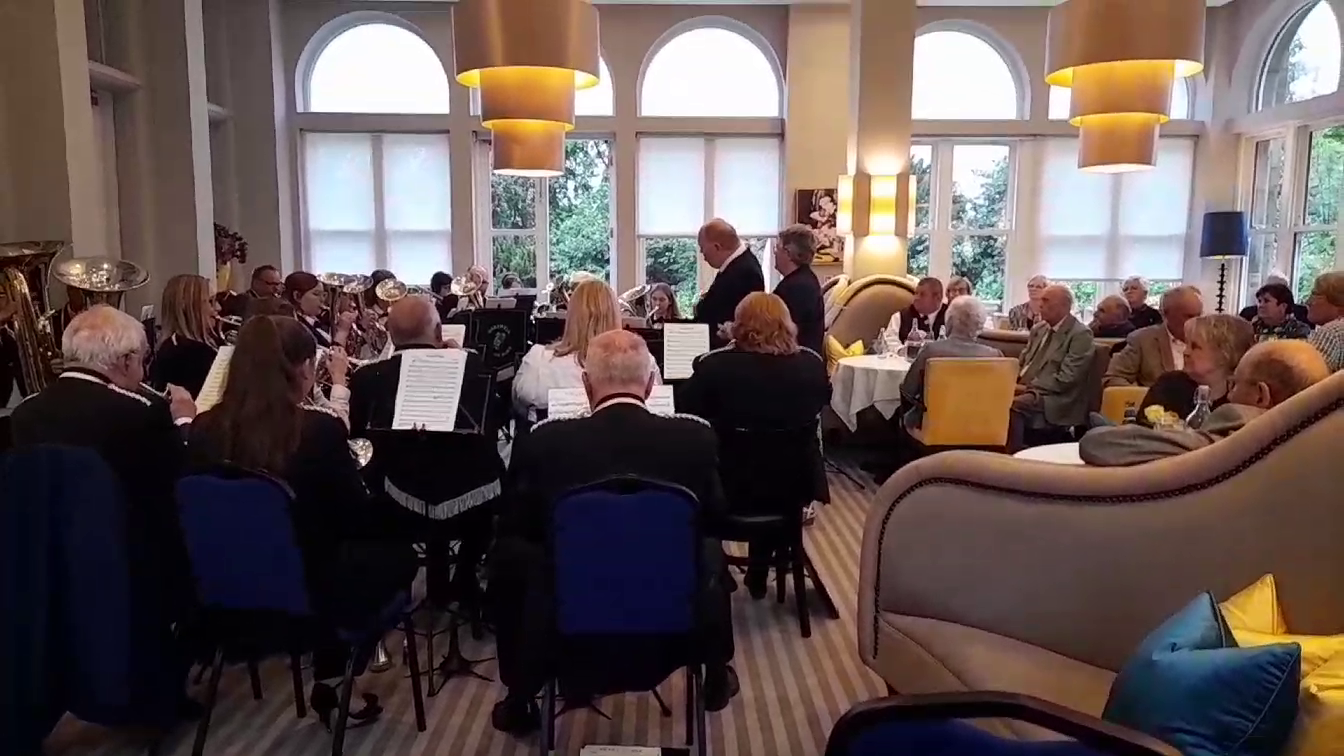 Spring is here
Last autumn Rotary Bakewell purchased thousands of crocus bulbs in support of End Polio Now. They were planted outside the Bakewell Agricultural Centre. In March there are several drifts of purple across the grassy areas.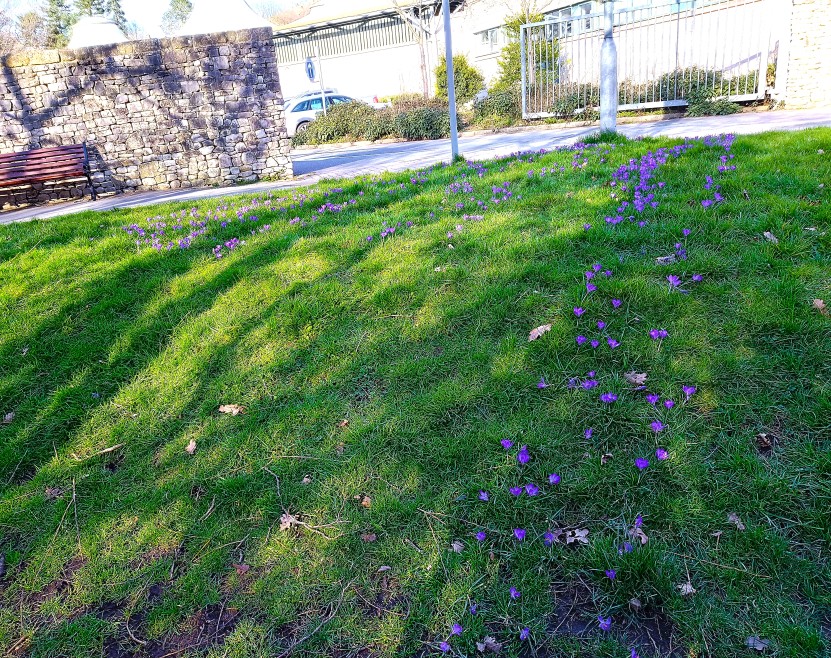 Raising money to support humanitarian relief in Ukraine
Update 10th March - nearly £5000 has been donated via our collections, individual donations and Gift Aid.
Collections have been held in Aldi, Bakewell (5th March) and in Bakewell town centre (7th March). So far over £2000 has been received from collections and personal donations. £2000 has been sent to the Disasters Emergency Committee (DEC) to support families fleeing the conflict.
Tree Planting at Bakewell Showground Site
14th January - Bakewell Rotary helped to plant some trees at the South end of the Bakewell Showground site. With members of Bakewell Agricultural and Horticultural Society dozens of tree saplings were planted along with a range of spring flowering bulbs. Rowan, birch and wild cherry were supplied by the Woodland Trust as part of their Community Project.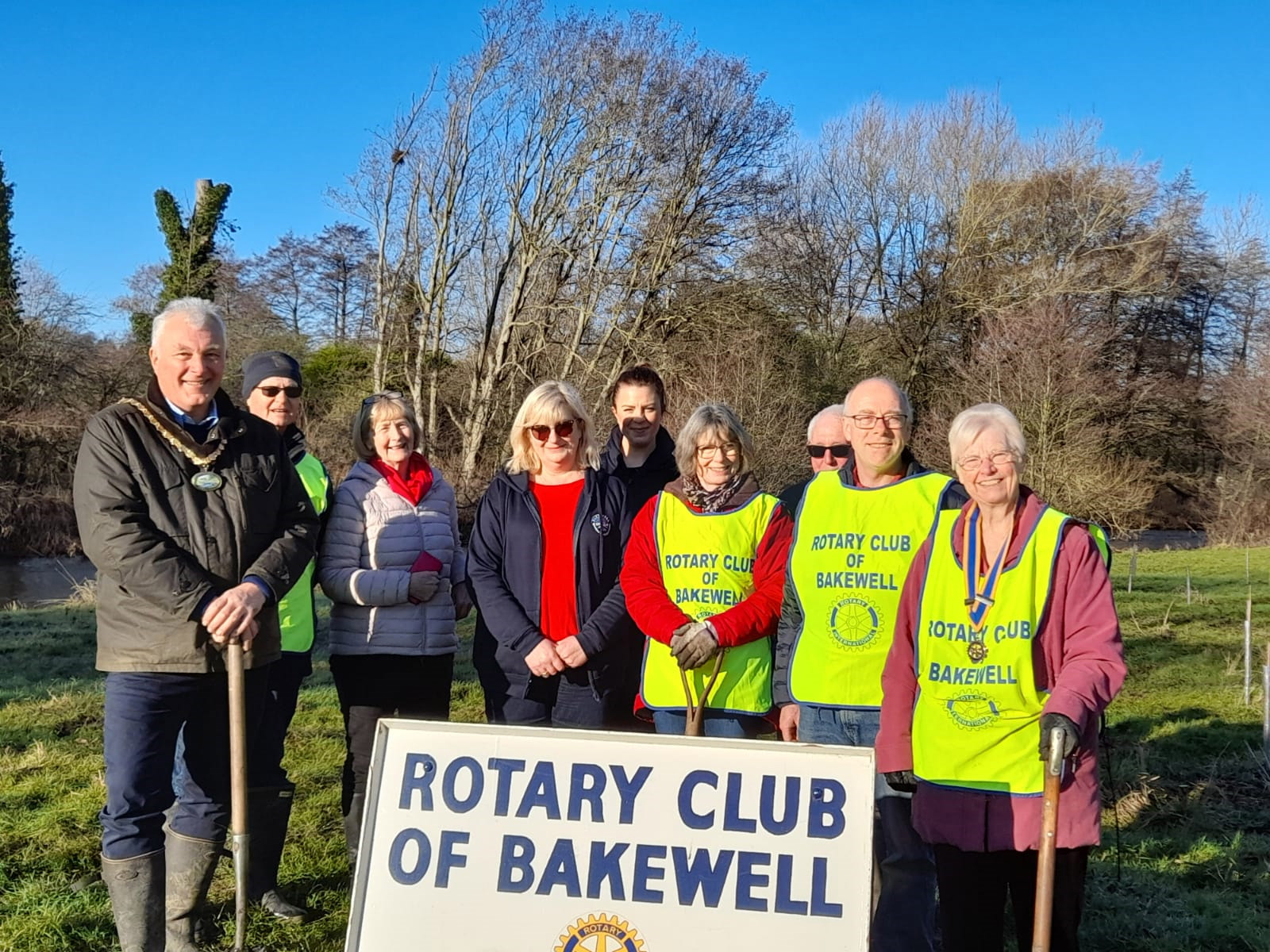 Bakewell Parish Church Christmas Tree Festival
Rotary are sponsoring a tree at this year's Christmas Tree Festival in All Saints' Church
https://bakewellchurch.co.uk/activities/christmas-tree-festival/
Chris Webb and Carol Clegg decorated this tree.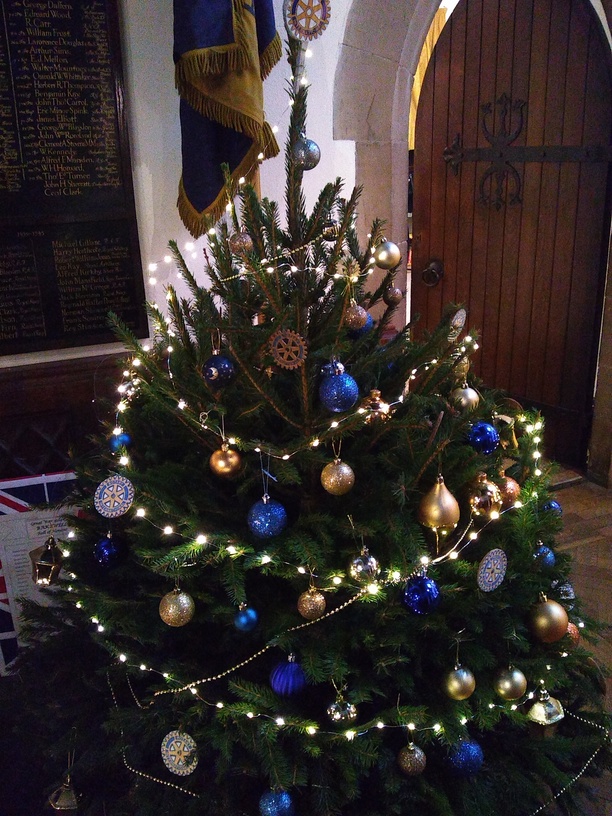 Christmas Collections
Bakewell Rotary members were very pleased by the generosity of those who made donations to their collections for local charities in the run up to Christmas. Over £1000 was raised over several events in November and December. Bakewell Pudding Shop, Bakewell Christmas Sparkle, Bakewell Co-operative and the Aldi in Bakewell are thanked for their assistance. Santa also made an appearance on several occasions.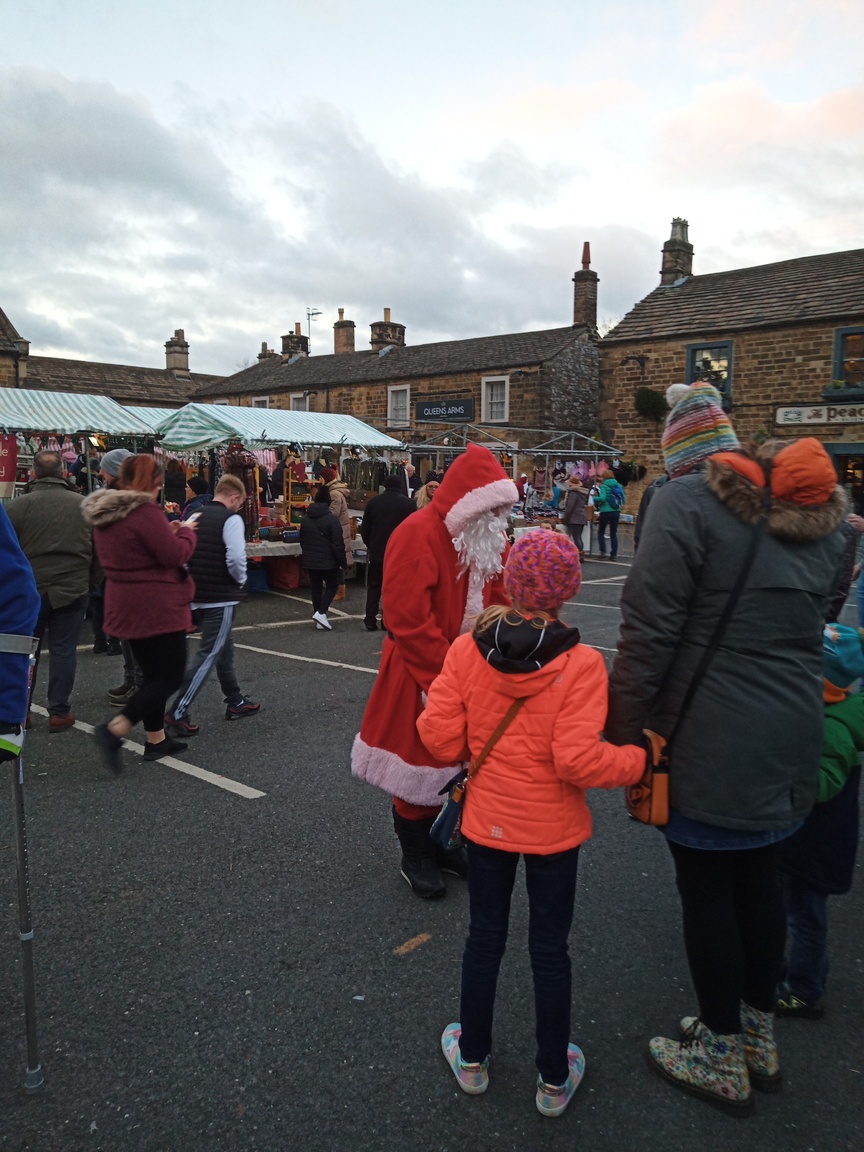 Santa at Bakewell Christmas Market courtesy of Bakewell Rotary
10th November - Talk from Martha Bramwell
Martha told Bakewell Rotarians and guests about life since she had attended the Rotary Youth Leadership Award weekend at White Hall Education Centre, Buxton. This was 5 years ago but she pointed to this award as being a major impetus for helping her develop as a person. At 16 she was able to start her own small business, making and selling ceramics and other craft pieces. She has worked with young people on creative workshops, involving local community groups and kid's clubs. She is currently interning with Junction Arts which aims to help communities facing social barriers such as poverty, poor health, and low aspirations to create a better future through the arts.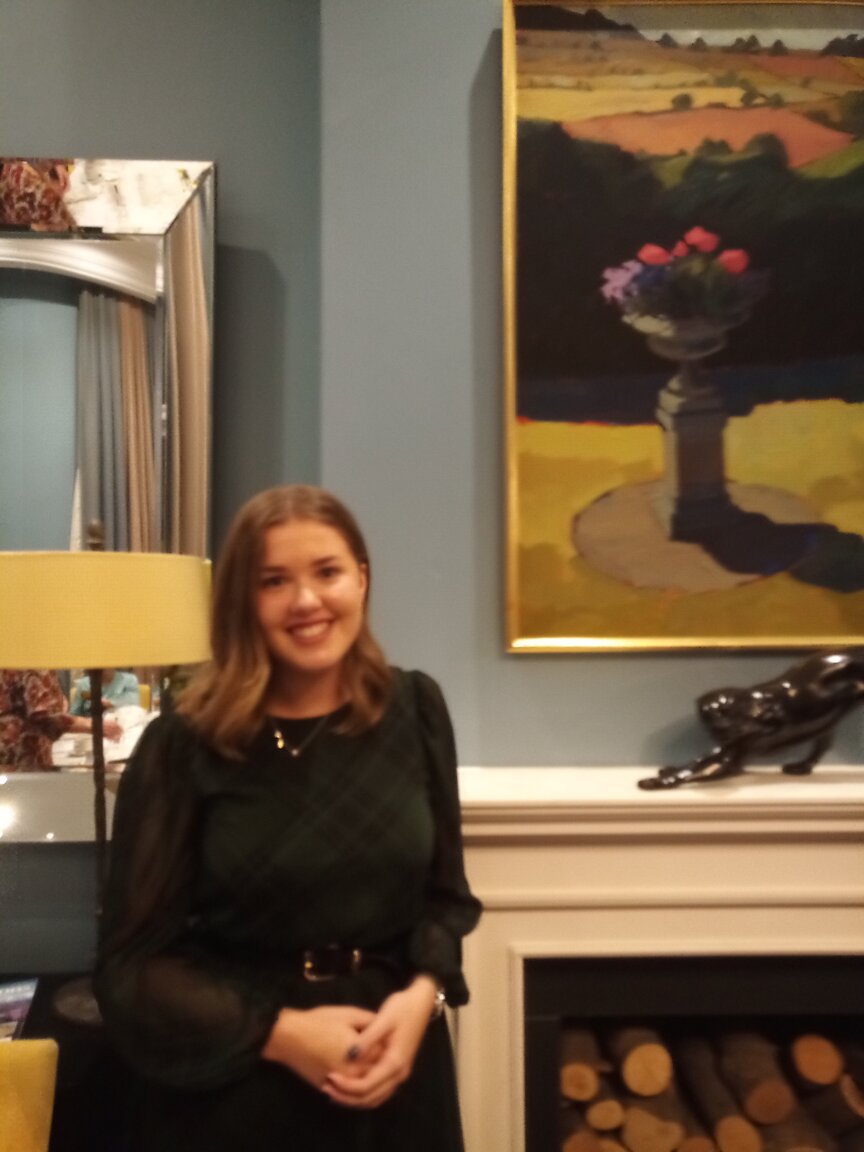 Martha gave a very inspiring talk which highlighted the value that the RYLA scheme can have for young people.
29th October Bakewell Quiz
Rotary Bakewell's annual Charity Quiz evening at the Medway Centre had ten teams competing in a hotly fought competition. A team from Chesterfield Satellite Group walked away with the top honours. Team "Late Again" were the undisputed winners having astutely played their Joker. Over £700 was raised for local Bakewell charities and Lendwithcare - which provides startup loans for small businesses in third world countries.
Thanks to the Medway Centre for their support and for those hard working individuals who helped with the food and arrangements.
20th October - Meeting held at St Elphin's Park, Darley Dale
After a buffet lunch our member Hannah Montague spoke about the trials and tribulations of wills and taxes. Helped by her team of Mr and Mrs Pig, Barbie and the blue shark (aka the taxman).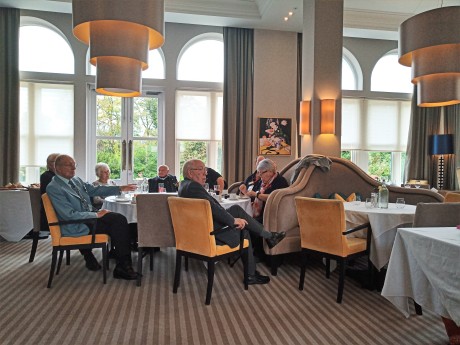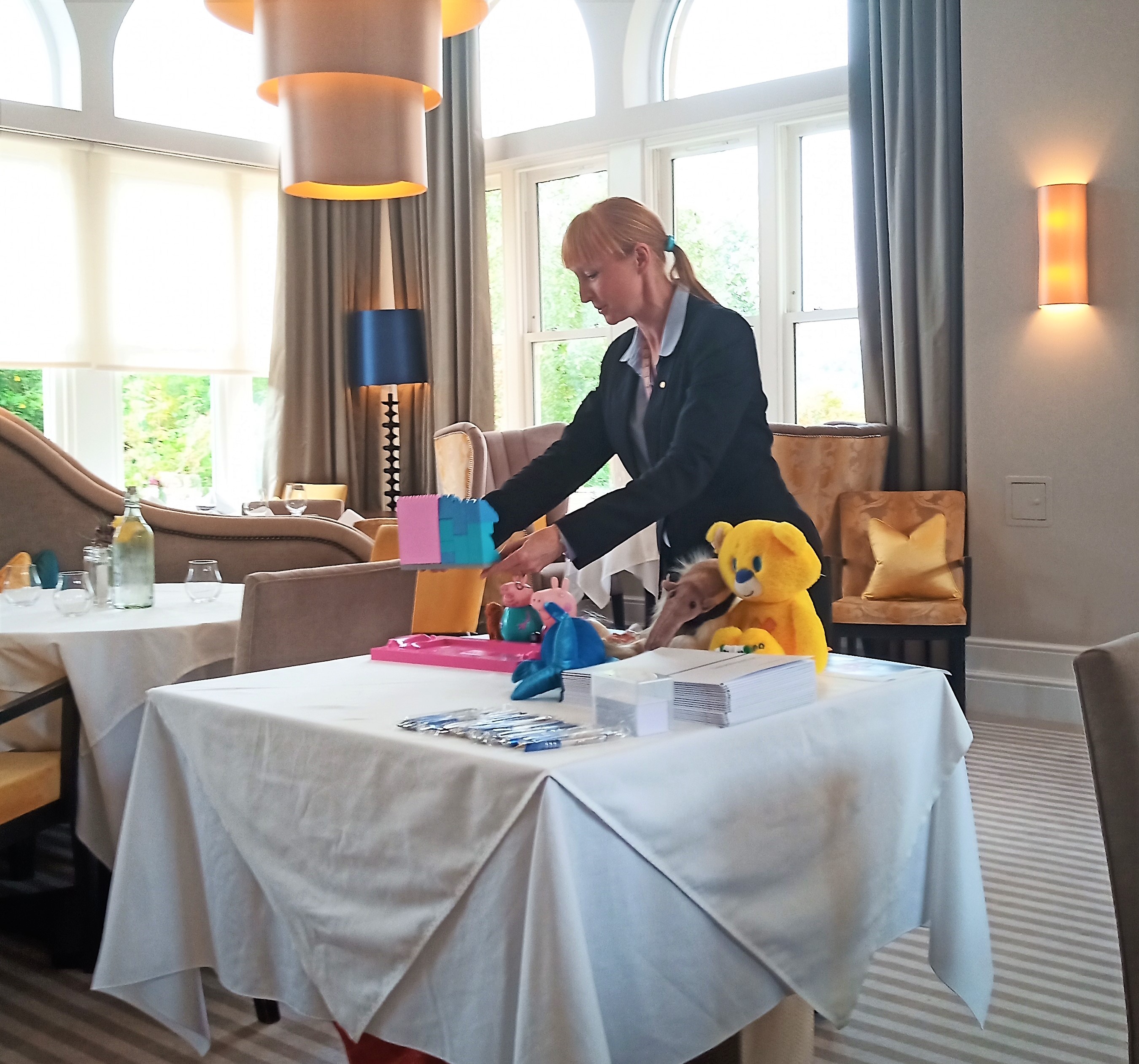 29th August - Rotary Bakewell's Duck Race
Finally we were able to run our charity fund raising duck race on the River Wye that runs through Bakewell. Over £1500 raised thanks to lots of support from the public buying tickets for the 1300 yellow ducks. The real ducks moved out of the way as the flotilla of Rotary ducks swam down towards the finishing post.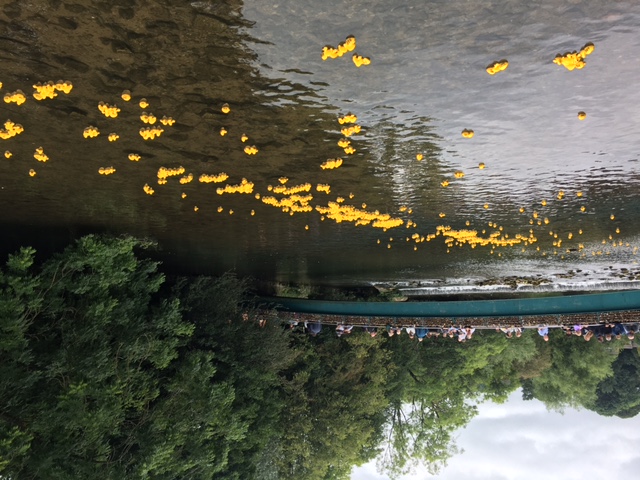 11th August - Visit to Aquabox
Bakewell Rotarians visited the Aquabox Headquarters - HqO at Wirksworth. They were shown round the new premises where Aquafilters which convert dirty water into safe drinking water are assembled and then packed in boxes for distribution to disaster areas around the world. www.aquabox.org
21st July - Face to Face meetings return
For the first time since March 2020 Bakewell Rotary Club has held a meeting where we actually meet other people! On the 21st July we gathered in the event suite at the Rutland Hotel in Bakewell for a buffet lunch, followed by a speaker. Over 20 Rotarians and friends gathered and heard a talk by Stephen Chaytow the CEO of Manchester and East Midlands Rail Action Group.
A BUSY MEETING FOR ROTARY BAKEWELL
At our handover meeting on Wednesday, 7th July, we welcomed Chris Webb as the club's new President. It was a delight to have a combination of members joining the meeting in person ( a restricted group of 6) and by Zoom.
Chris has great plans for filling her year with many social events and fund-raising activities in support of local causes. Chris has chosen Helen's Trust as a main beneficiary of the club's fund-raising efforts.
The club was honoured to have won both the District's Membership and Membership Increase awards. This is extremely gratifying and reflects the welcoming nature of our club.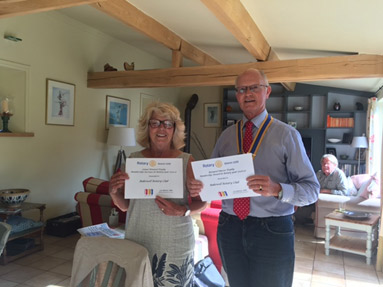 and finally ……..
Two members, Mike Webb and Roz Adamson were presented with the Paul Harris Fellowship Award.