29th August - Rotary Bakewell's Duck Race
Finally we were able to run our charity fund raising duck race on the River Wye that runs through Bakewell. Over £1500 raised thanks to lots of support from the public buying tickets for the 1300 yellow ducks. The real ducks moved out of the way as the flotilla of Rotary ducks swam down towards the finishing post.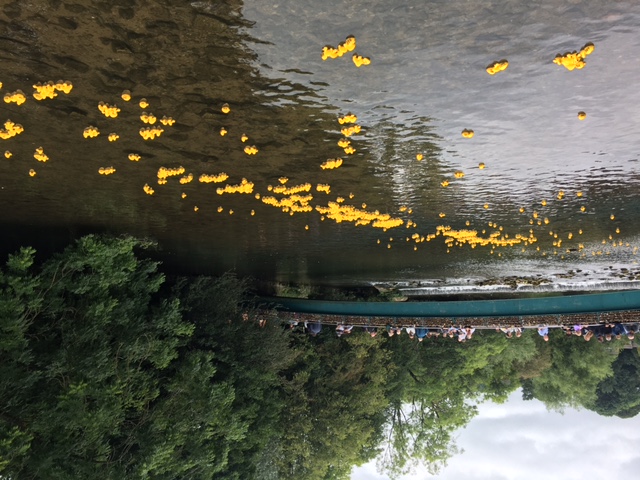 11th August - Visit to Aquabox
Bakewell Rotarians visited the Aquabox Headquarters - HqO at Wirksworth. They were shown round the new premises where Aquafilters which convert dirty water into safe drinking water are assembled and then packed in boxes for distribution to disaster areas around the world. www.aquabox.org
21st July - Face to Face meetings return
For the first time since March 2020 Bakewell Rotary Club has held a meeting where we actually meet other people! On the 21st July we gathered in the event suite at the Rutland Hotel in Bakewell for a buffet lunch, followed by a speaker. Over 20 Rotarians and friends gathered and heard a talk by Stephen Chaytow the CEO of Manchester and East Midlands Rail Action Group.
A BUSY MEETING FOR ROTARY BAKEWELL
At our handover meeting on Wednesday, 7th July, we welcomed Chris Webb as the club's new President. It was a delight to have a combination of members joining the meeting in person ( a restricted group of 6) and by Zoom.
Chris has great plans for filling her year with many social events and fund-raising activities in support of local causes. Chris has chosen Helen's Trust as a main beneficiary of the club's fund-raising efforts.
The club was honoured to have won both the District's Membership and Membership Increase awards. This is extremely gratifying and reflects the welcoming nature of our club.
and finally ……..
Two members, Mike Webb and Roz Adamson were presented with the Paul Harris Fellowship Award.