Welcome
We are a friendly club of just under 50 men and women, sharing lots of fun and fellowship. In the 21st Century the Rotary Club of Burton upon Trent has been awarded the trophy for the best Club in the District (out of then 57 Clubs) on five occasions.
On Mondays we meet at Pirelli Stadium, the home of Burton Albion Football Club. Usually, after lunch, a speaker presents a topic relevant to our community, our charity work, or to Rotary more widely.
To help those in need - locally, nationally and internationally - we raise funds through the Pirelli Stadium Parade, street collections, concerts and shows, quizzes, suppers, dinners, and anything else that springs to mind!
To read more about our Club and the Rotary movement in general, do explore 'What we do' in the menu top left. Some past activities are shown below.
If you would like to put something back into the community while gaining a whole new group of like-minded friends, come and see us in action. Contact us to arrange a visit to one of our meetings.
Congratulations
Congratulations...to Andy Archer, the new Club President of Rotary Burton upon Trent for 2023 - 2024! We are thrilled to announce that Andy has taken over the reins from the incredible Mel Thomas, who deserves a round of applause for his outstanding leadership throughout the entire year of 2022 -2023. With Andy at the helm, we can expect nothing short of greatness as he brings his enthusiasm, dedication, and fresh perspective to our beloved Rotary club. Together, let's continue to make a positive impact on our community and create a brighter future.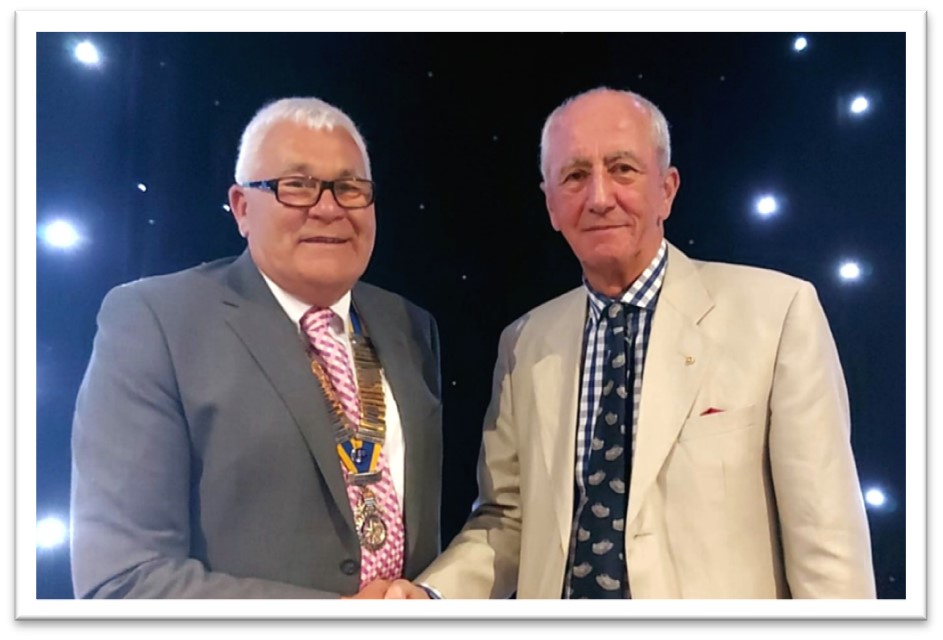 Pictured Left to right Andy Archer President Mel Thomas (Right) Immediate Past President.
Latest News
---
Welcome to the Latest News from Rotary Burton upon Trent!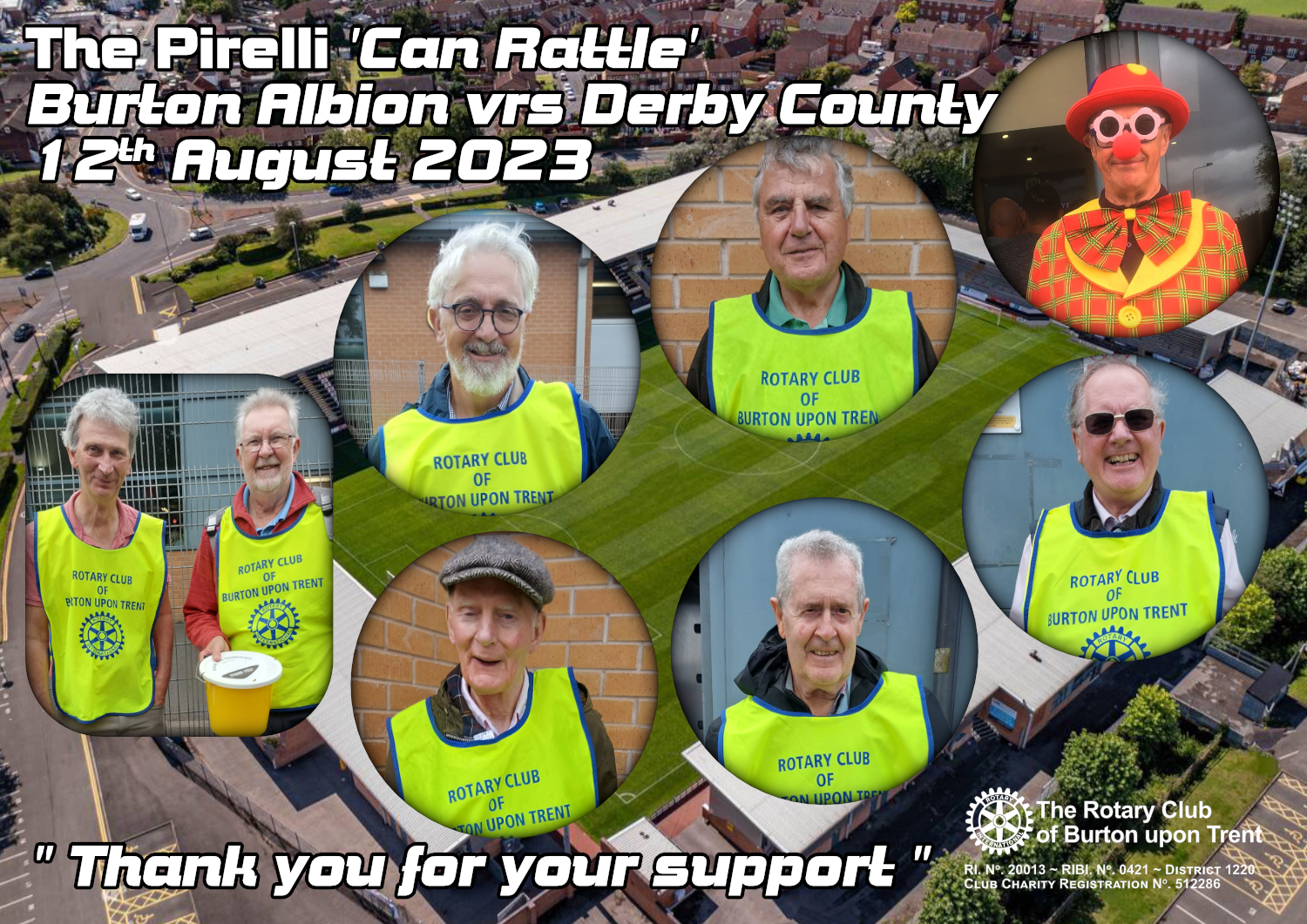 An update from the recent local derby between Burton Albion and Derby County.
The Pirelli Stadium was buzzing with an incredible attendance of 6,410 passionate fans. The atmosphere was electric as supporters from both sides came together to cheer on their teams.
The Burton shirts were so sought-after that the Derby players couldn't resist trying to take them off their opponents' backs!
Stoic Rotarians, (did anyone see the Clowns?) remained unfazed, standing firm with their collection buckets even amidst heavy showers.
Meanwhile, the Burton players gave it their all, displaying 100% effort and creating numerous opportunities, the referee's indifference left us all stunned when attacking players from both ends tumbled in the box, only to be met with no action from the referee.
Unfortunately for the Brewers, the ball just wouldn't find the back of the net. Looking ahead, we're eager to see our home team shine in the upcoming home match so let's keep our fingers crossed and hope that we can surpass the 6th-minute mark this time, as both Leicester and Derby managed to score early in previous matches.
Our fundraising at the event has been a tremendous success, raising a magnificent sum of over £1000 for good causes. We are proud to share that our efforts had an impact that even Manx pounds and Euros were accepted, showcasing the widespread support we have received. This incredible achievement would not have been possible without the unwavering dedication and generosity of our community. Together, we are making a real difference and creating positive change, join us in our mission to make the world a better place, one pound at a time!
---
On a wet and cold July day, we had the pleasure of witnessing an exciting football competition organised by the Burton Albion Community Trust. This fantastic event, supported by Rotary Burton upon Trent, brought together teams from all over the community. The highlight of the day was the presentation of the trophy to the deserving winners the winning side Chasetown under 11s by none other than our very own Andy Archer, President of Rotary Burton. Stay tuned for more updates and exciting news from our community initiatives!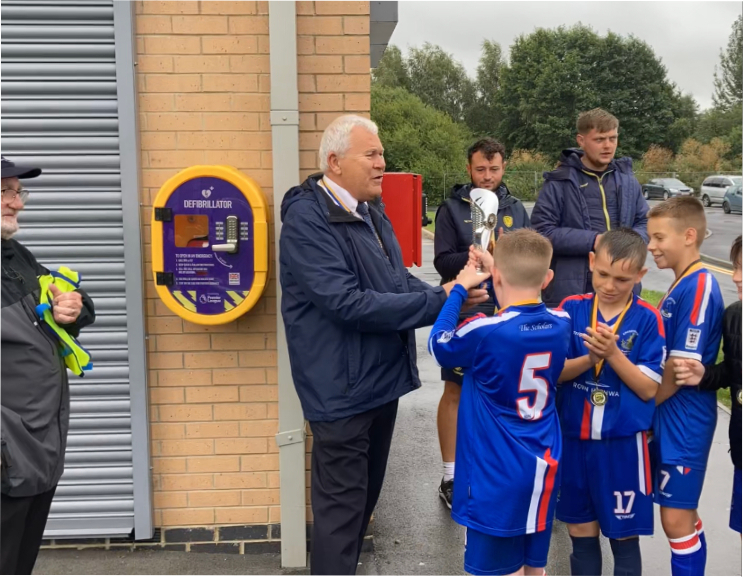 ---
We are thrilled to share with you the incredible achievements of our young chefs who have emerged as the talented prize winners of 2023. In this picture-perfect moment, our aspiring culinary stars are captured alongside the esteemed judges who recognised their exceptional skills.
Pictured with the prize winning chefs are: from left to right.
Colin Hopkins, Chair of the Academy Trust, Chairman of the Judges Leigh Perry, from The Winery, Kevin Irvine from John Taylor High School, Ken Watson from John Taylor Free School and Mel Thomas, President Burton Rotary.
The lady in the apron is Becky Smith, Lead Food Teacher from John Taylor High School who made all the arrangements for the competition.
---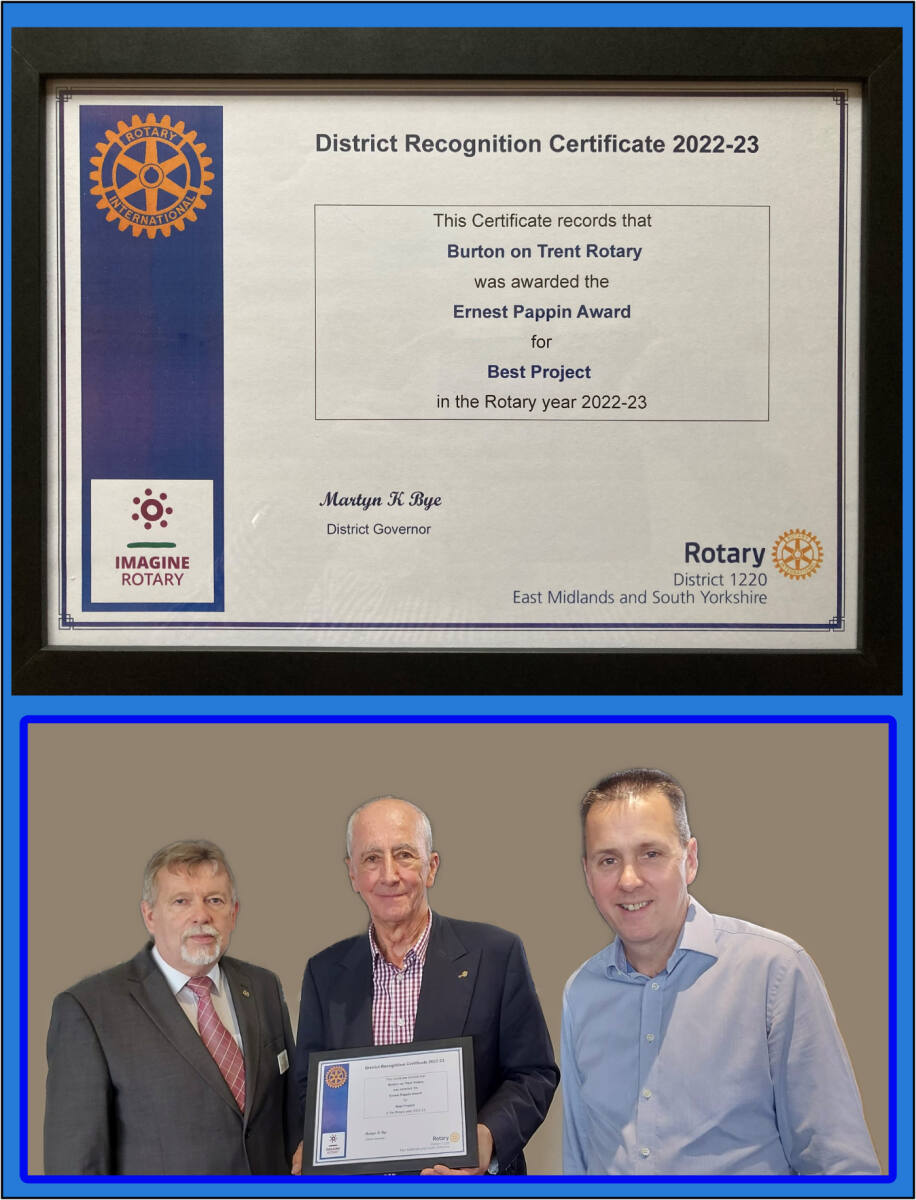 At our Last Meeting
We are thrilled to share with you the highlights of the last meeting, featuring a presentation by Tony Waldron, our Assistant District Governor, the prestigious Ernest Pappin Award for the Best Project in the Rotary Year 2022-23.
Receiving the award, none other than Mel Thomas for his outstanding Hospital Pack project. We are proud to have Mel as part of our Rotary community.
Pictured, left to right, Tony Waldron, Mel Thomas, and Peter Gibbs, Manager of the Waitrose store in Uttoxeter, capturing this special moment of recognition.
---
Our projects
UNDER CONSTRUCTION
---
The Rotary Club of Burton upon Trent Trust Fund is a Registered Charity.
Charity No. 512286
---