Latest update
Mike Herbert Award for Endevour 2021-22
For those of your who have visited our website previously you will have seen that The Rotary Club of Newark Castle were awarded the Mike Herbert Award for Endevour at the Changeover meeting held Friday 1st July 2022 which came somewhat as a surprise however a very welcome and pleasing one!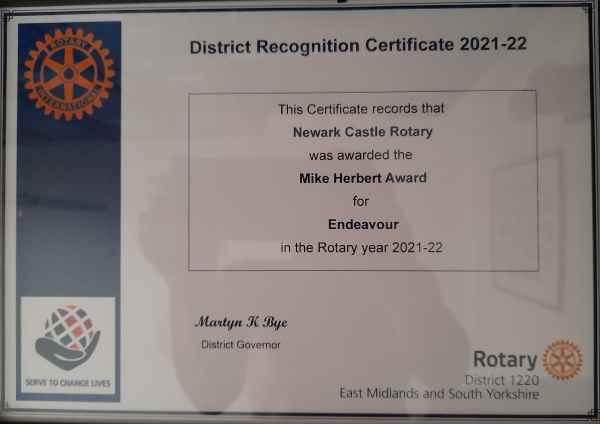 The Club was nominated by Stella Herbert - District Executive Officer (Head of Membership) for District 1220 - who wrote some very kind words about the Club:
"I'd like to nominate Newark Castle Rotary for this award. This time last year the club had suffered a massive loss of members for various reasons it would have been very easy to call it a day and close the club. BUT under the careful presidency of Geoff Nicholls and his team, they have dug in, built some new supporting foundations and managed to continue healthily with 2 new members . They have had closer working relationships with Newark Rotary and David Shannon the outgoing president of this club & with them they have laid feelers out for new Rotarians in new housing developments and started some joint projects. They have won a gold award for assisting in the Newark in Bloom competition which showcased their volunteering work, as well as planting 1000s of trees for the Queens Green Canopy Project as well as many more.
The club should be recognised for not letting the losses beat them, but by regrouping and laying new plans according to their current membership numbers, they will go on looking stronger each year."
A glowing endorsement indeed for Past President Geoff and all Club members.
Pictured below is Club President, Susan Parker, presenting Past President, Geoff Nicholls with the Mike Herbert Award at our recent Business Meeting.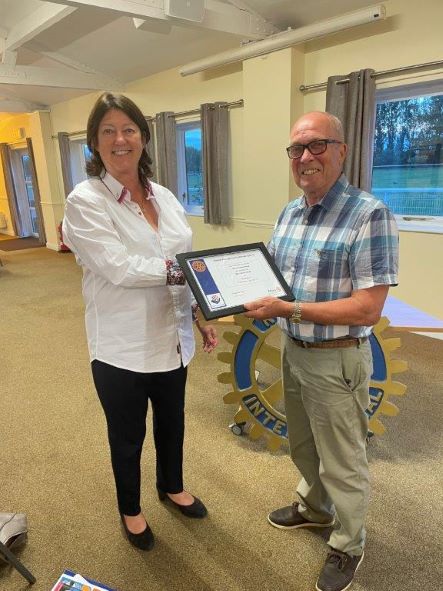 If you would like to find out more about us why not contact us via the Contacts Page on our website or email the Club Secretary for further information: celiasmallwood@gmail.com
General News
We are please to announce that we are now holding Club meetings "face to face" post lockdown easing.
The venue for Club meetings is Sir Stuart Goodwin Suite at the Newark Showground - please see side panel for venue details and dates of future meetings.
Newark Castle is part of Rotary International a service organization whose stated purpose is to bring together like minded people in order to provide humanitarian services.
We get involved in local Community and International projects and are always looking for new members who are prepared to give service to others less fortunate than ourselves and who want to give something back to society. The Community is at the heart of the club's service and our projects help to improve the lives of people in the local area.
We are a non-political and non-religious organization open to all. If you are interested in joining Rotary or would simply like some further information please contact us either via our Contacts Page and select "Membership" from the drop down box or by selecting the following link for Membership.
Additionally if you would like to know more about us click on the "What We Do" tab at the top of the page and select an item from the drop down menu or why not scroll down to view our Facebook feature, alternatively click on the following link to visit our Facebook page.
The Rotary Magazine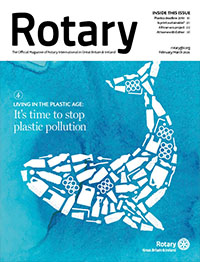 Rotary magazine covers a wide range of fascinating features, exclusive interviews and inspiring human interest stories from across the world of Rotary.
Read the stories