About us
Welcome to our homepage.
Please use the links to the left of the page to access information on the site.Please note our 'easier to remember' address is www.rhosonsea.rotary1180.org which will bring you to this page automatically.
"Purple for Polio" at Rhos on Sea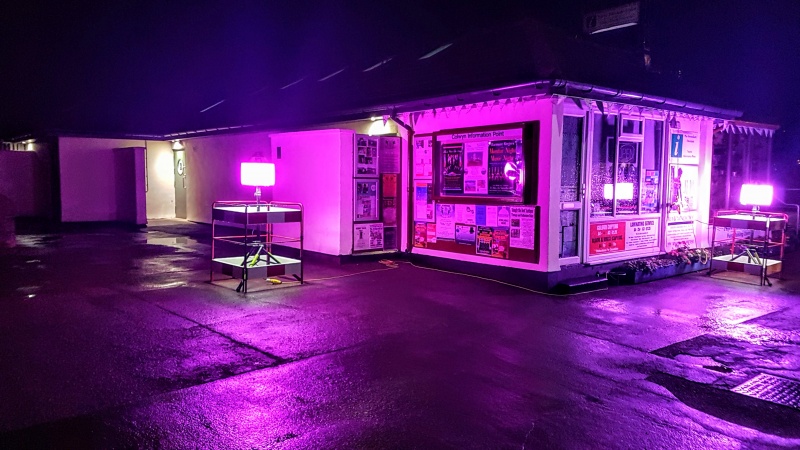 Yesterday Rotarians raised funds for the "Purple for Polio" campaign by selling purple crocus bulbs in aid of Rotary's campaign to rid the world of Polio.
Polio is only present in two countries in the world at the moment Afghanistan and Pakistan.
Throughout the world buildings were lit up in purple light to support this campaign. Our Tourist Information Centre was lit up to mark the occasion. Thanks to them for allowing us to plug into their power supply. Many thanks to electrician Shaun Williams of Denbigh who supplied, set up and connected the lights.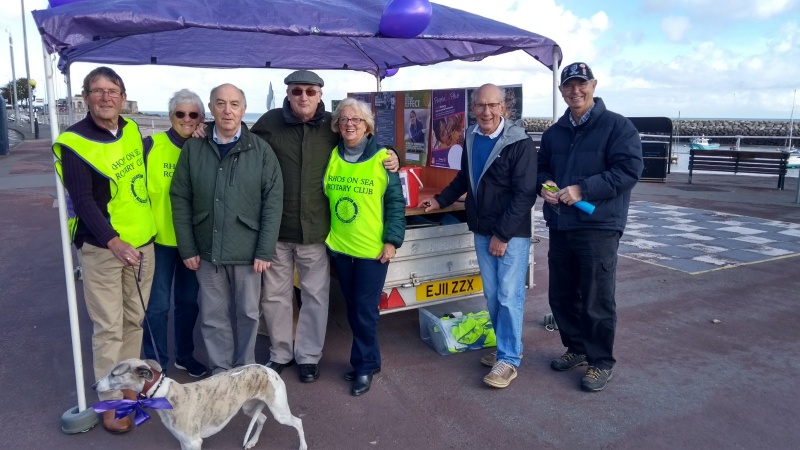 £200 was raised over the day. Surplus bulbs are being given to Ysgol Llandrillo yn Rhos to plant at the school.
In the evening members enjoyed an excellent meal at the Cayley Flyer across the road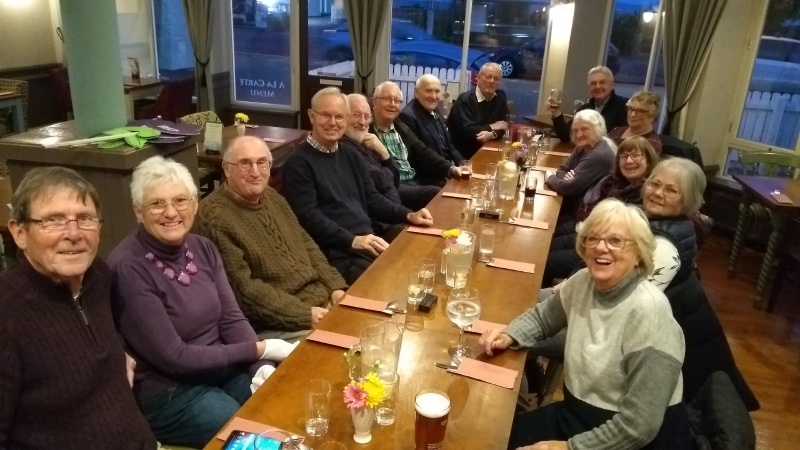 District Fun Games at Chester.


Great day at MBNA Chester yesterday. Rhos Sea Rotary once again ran the Boccia event which proved very popular. Thanks to Pauline, Roy, Ian, Cliff, Sue,Kent, Mandy, Kay and Geoff for making the event such a success.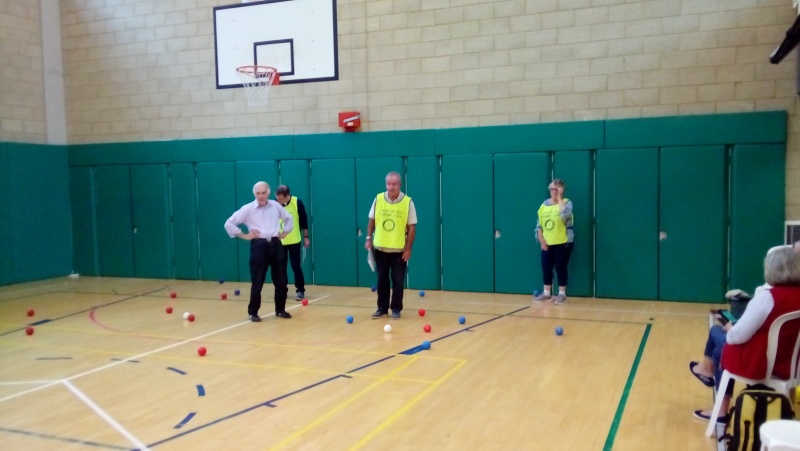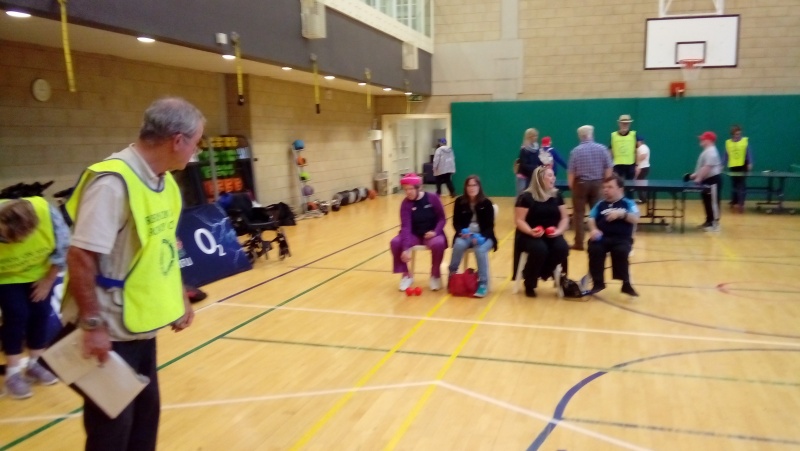 Rhos on Sea Memorial Garden Rededication marks 22nd anniversary of Princess Diana's death.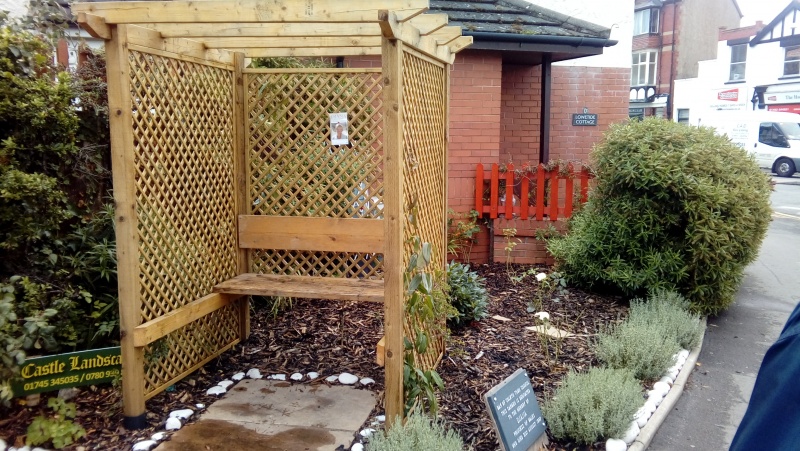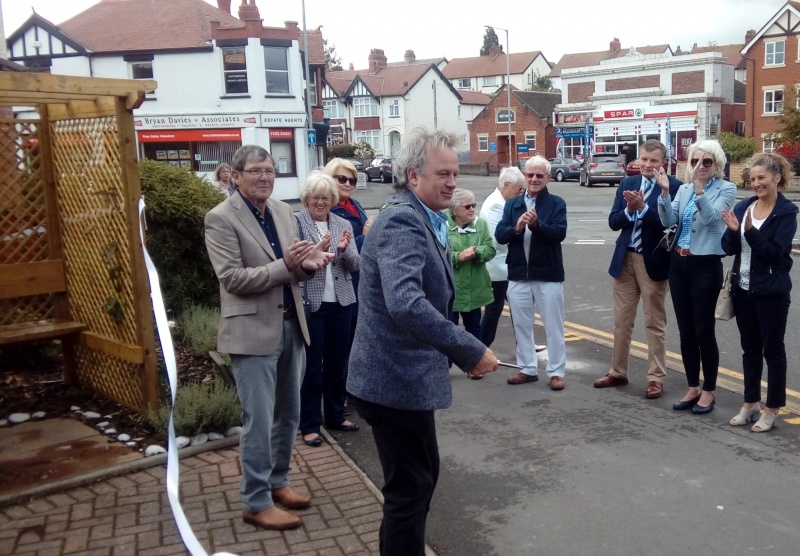 At a recent ceremony on the 22nd anniversary of the death of Princess Diana, the Mayor of the Bay of
Colwyn Town Council Cllr Neil Bastow reopened the newly refurbished garden in her memory in the centre
of Rhos on Sea.
Rotarian Wyn Jones outlined the history of the garden which had sadly become neglected over the years.
Rhos on Sea Rotary decided to refurbish the garden as a fitting memorial to the Princess's good works.
Rt Hon. David Jones M.P. reminded those gathered of how the Princess had brought joy into the lives of so
many people with her kindness and caring for those in need.
The Rev David Lewis led prayers of thanks and a rededication of the garden.
The Mayor cut the ribbon and thanked all those whose hard work had made this project possible.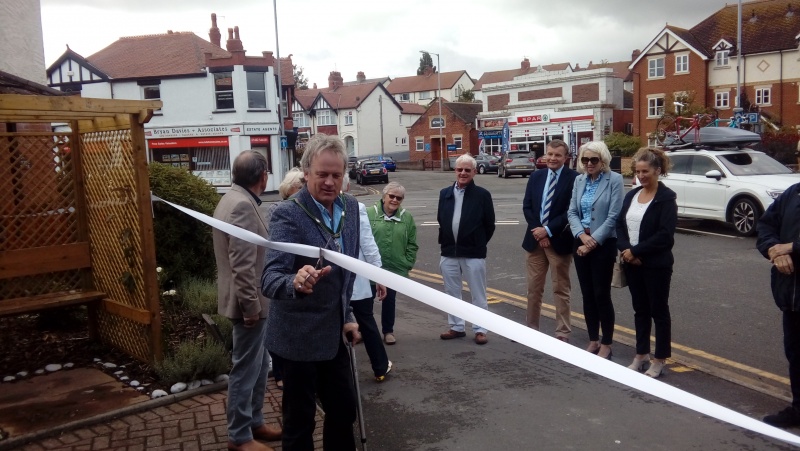 Rotarian Wyn Jones said," We have enjoyed carrying out this project which brings a peaceful corner to our
village for all to enjoy. Particular thanks should go to Rotarians Sue Williams and Cliff Large who have
led the project. The club will continue to maintain and develop the garden
on a regular basis to ensure it's future.
We are most grateful to Bob Howarth of Castle Landscapes and his team and the generous support from
Julia Hulme of B & Q Llandudno, Tim and Hanna Evans of Snowdonia Nurseries, Tina Early and the
members of the Bay of Colwyn Town Council, Conwy Council and neighbours living around the garden who
helped us in making this project a success."

Petanque on Rhos on Sea beach last Thursday.
Epic battles won by Wyn, George, Andrew and Mark. Thanks to Sue and Cliff for the organisation.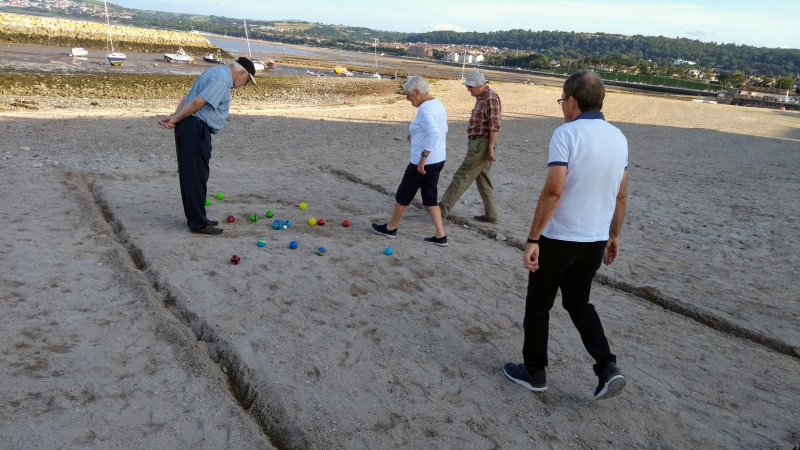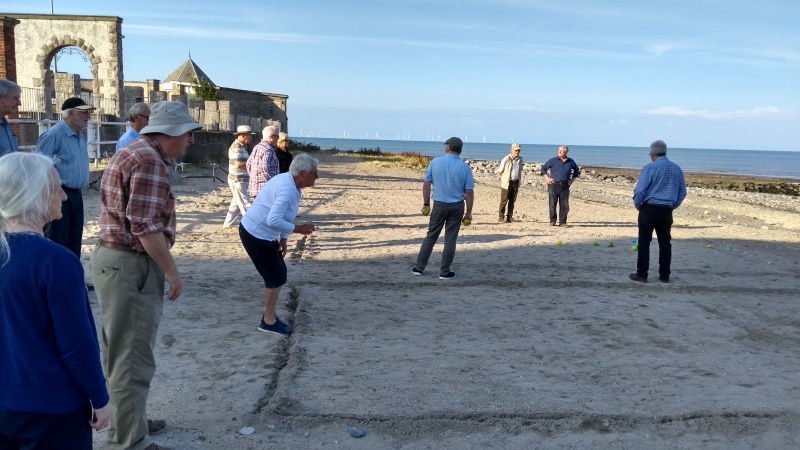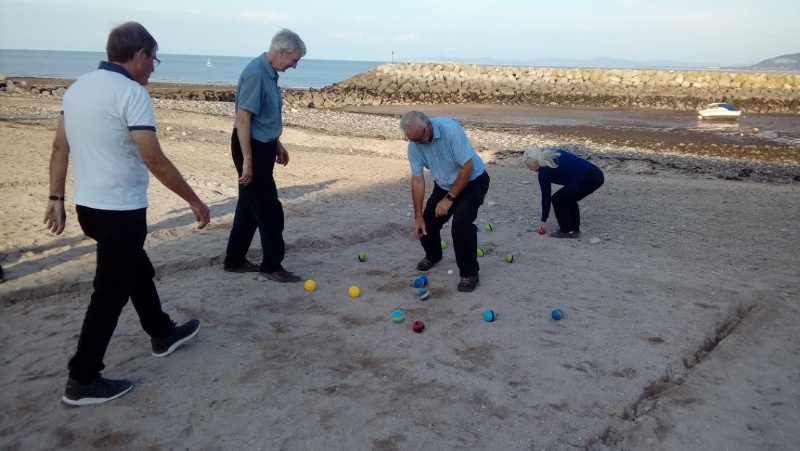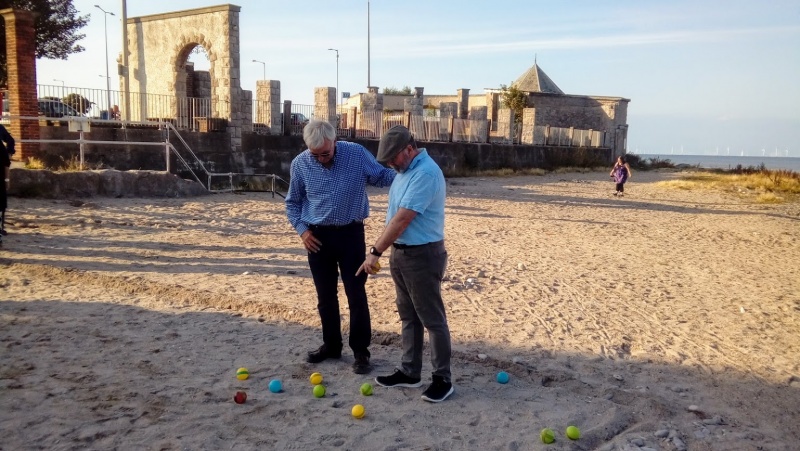 ...........................................................................................
Handover to New President
Following a very pleasant meal at Colwyn Bay Cricket Club, President Clive Hampton handed over to our new president James Briggs at our last meeting of the Rotary year.

James recently celebrated his 86th birthday, he puts many younger men to shame with his enthusiasm and attention to detail.

We wish James every success in his new role and feel sure he will keep us up to scratch.


James handed over to Cliff Large as President Elect.

.........................................................................................................................................
Great night to celebrate 4th July Independence Day with a fancy dress BBQ in aid of local good causes. Lassoing, horseshoe throwing, catch the tea bag and a shooting range, with you know who as the target, made it a great night of fun.Thanks to Chip and family for the cooking and the organisation.
Thanks also to Gillian from Gwesty Glyndwr for the buffet.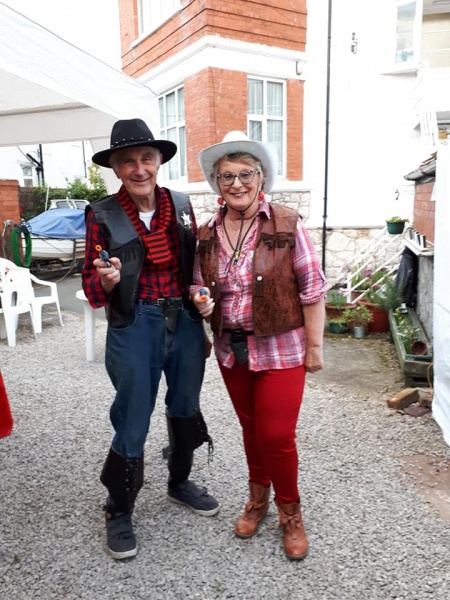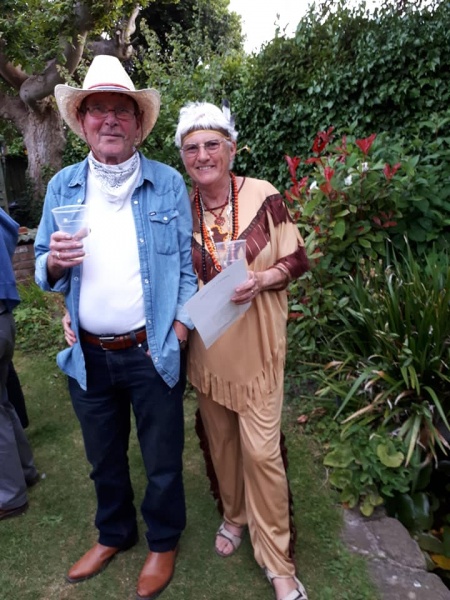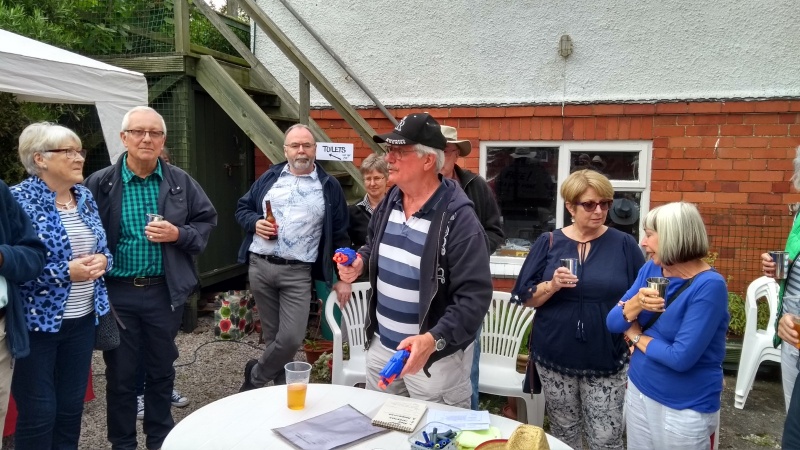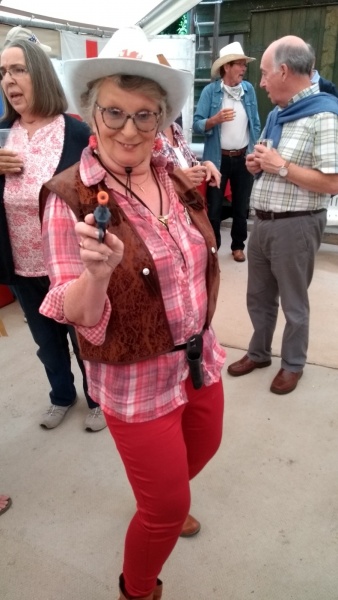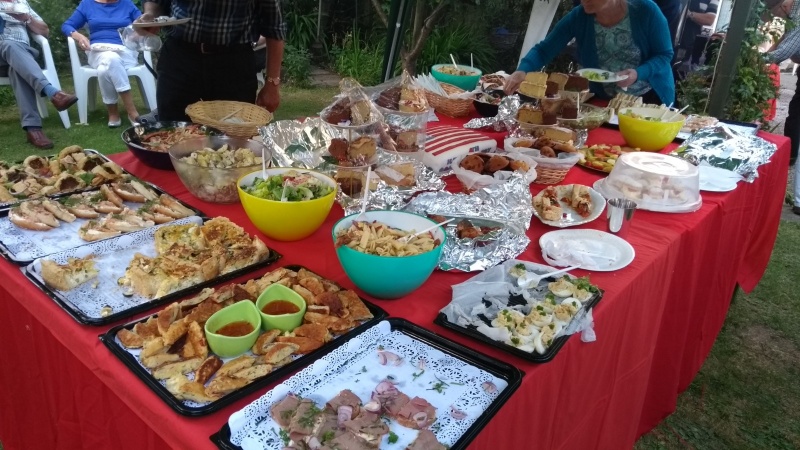 ....................................................................................................................................................
Successful clean up this morning along the beach and in the park with fellow Rotarians from Colwyn Bay

..................................................................................................................................
Sue, Cliff and Wyn worked hard recently trimming the hedges at the Princess Diana Garden in the village.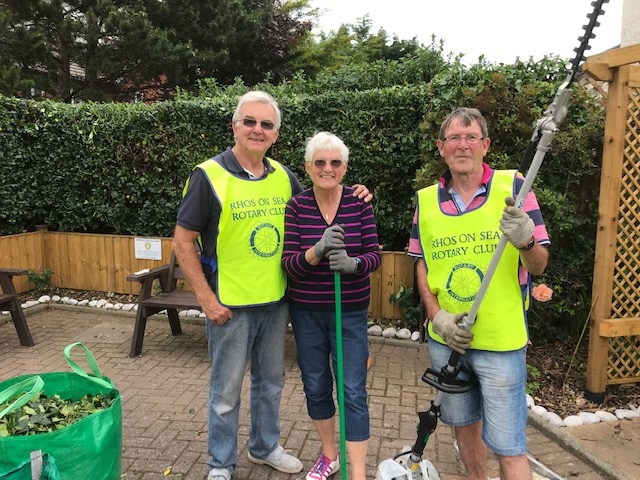 Last Thursday some members went for a walk above Mochdre to enjoy our beautiful countryside followed by a tasty meal at the Pen y Bryn.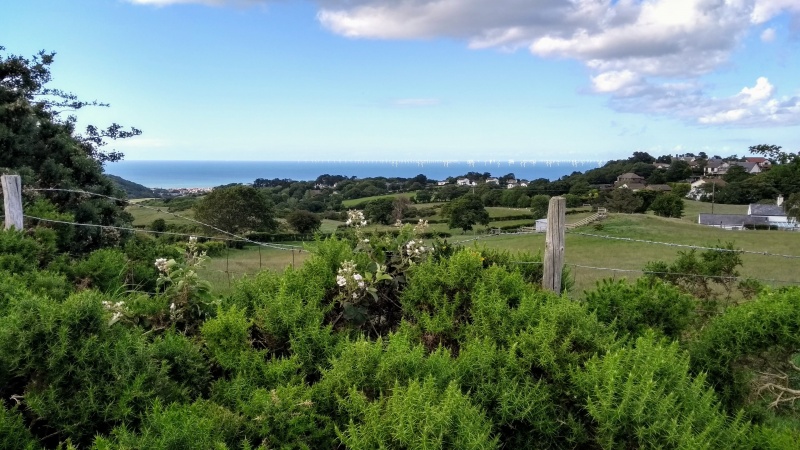 Scrap Collection Week
25th-27th June 2019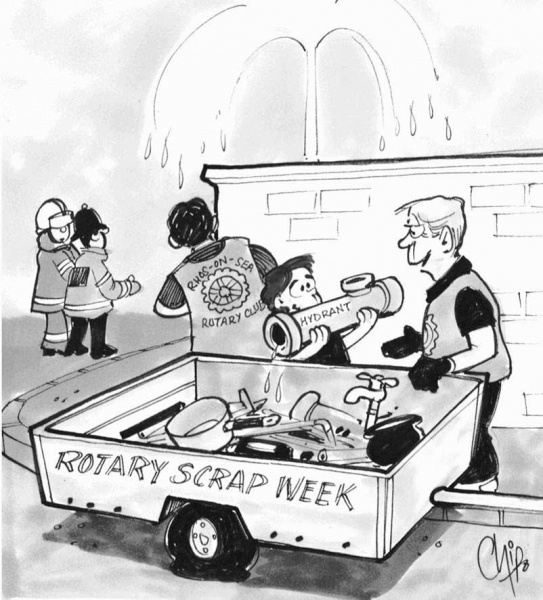 Scrap Collection Week 25 – 27 Jun 2019
Eighty years ago a lot of people were collecting scrap metal to support Great Britain's war effort. Included amongst them were Rotary clubs.
Next week the Rotary Club of Rhos-on-Sea will again be collecting scrap metals for sale through an authorised scrap dealer but this time for peaceful and not warlike purposes.
If you have any metal items you want to recycle and you would like us to do some good with the money raised, please call Rotarian Ian on 07855 095197 after 0900 on Tue 25th, Wed 26th, or Thu 27th June to arrange collection from your address.
The money raised will go to our 'Good Causes' account from which donations are made each year to many local organisations. Last year these included St David's Hospice, The Brain Tumour charity and the Welsh Air Ambulance amongst many others.
We are looking for small scrap such as aluminium items, copper, brass, lead , dense metals such as steel sash weights etc. As long as the item can be moved by two old blokes and carried in a 9ft long trailer, we can use it. That said, all offers will be considered and if we can shift it for you we will!
Time to declutter that shed or garage and help us to do good in the community! Call 07855 095197 and see if we can help.
Wales Air Ambulance Collection.
Members recently held a successful collection at Tesco in aid of the Wales Air Ambulance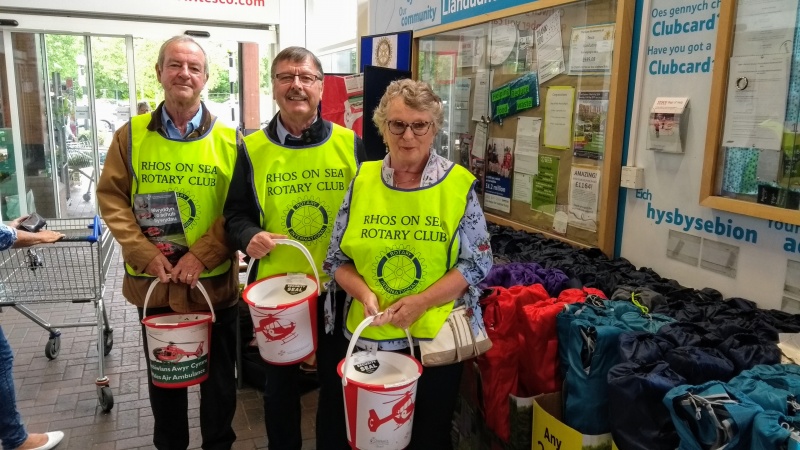 Rotary Helps National Osteoporosis Society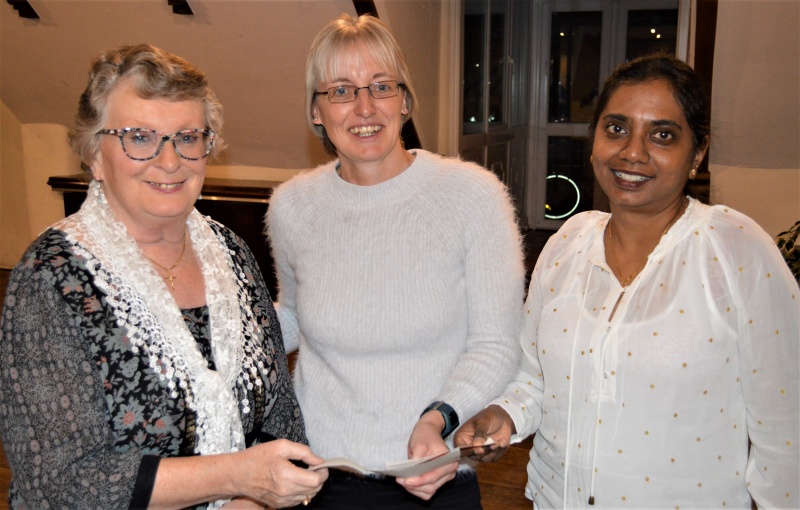 Last night we were visited by Dr Alexander and Sister Amanda Durber of Llandudno Hospital.
They accepted a donation of £300 on behalf of the National Osteoporosis Society.
Rhos on Sea Rotarian Pauline Hogan presented the cheque which was made up of
contributions from her
Boxing Day dip and donations from Prestatyn and Rhos on Sea Rotary Clubs
Rotary Tree of Lights enjoys continuing success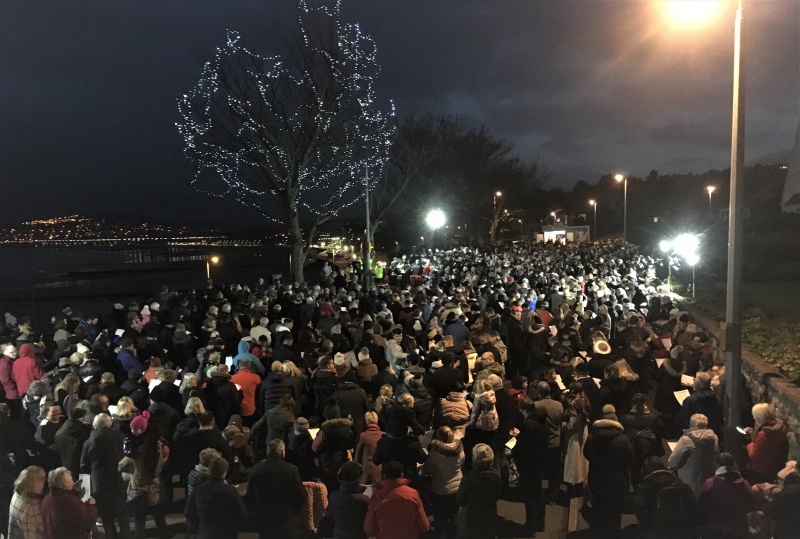 Rotary Club of Rhos on Sea is celebrating another successful
"Tree of Lights" switch on.

This project, which was first established in 1999, has this year
raised over £25,700 for St. David's Hospice, Llandudno.
Club members arrange this event to herald the Christmas season and allow those who have lost loved ones to see a light shining in their memory.

A book recording all those who have made a donation is
displayed at the hospice.

The lights were switched on by the Mayor of the Bay of Colwyn
Town Council, Cllr. Stephen Williams.

Carol singing was led by Cor Meibion Colwyn and accompanied

by Beulah Brass.

The club is most grateful for local businesses, press and both

local councils for their unstinting support which helps to make
this event such a great success.

Over the years we have raised over £236,000 from this event.

An additional £1286 was raised for the hospice at our annual
Carol Concert at Capel Horeb, Colwyn Bay.

Other communities are building on the success of this event with their own "Tree of Lights" and the club continues to provide expert advice to them, on request.

Club President Clive Hampton said, "Every penny donated through Rotary will go to St. David's Hospice, supporting the good work they do in our community.

Most of us have lost someone close and the opportunity to commemorate and dedicate time of remembrance, is so important and in doing so at this time of year especially, it does bring some comfort to our lives.

It is an important event to us and at the same time supporting this worthy local cause. Diolch i bawb am ein cefnogi."




A Big Thank You

Rotary Tree of Lights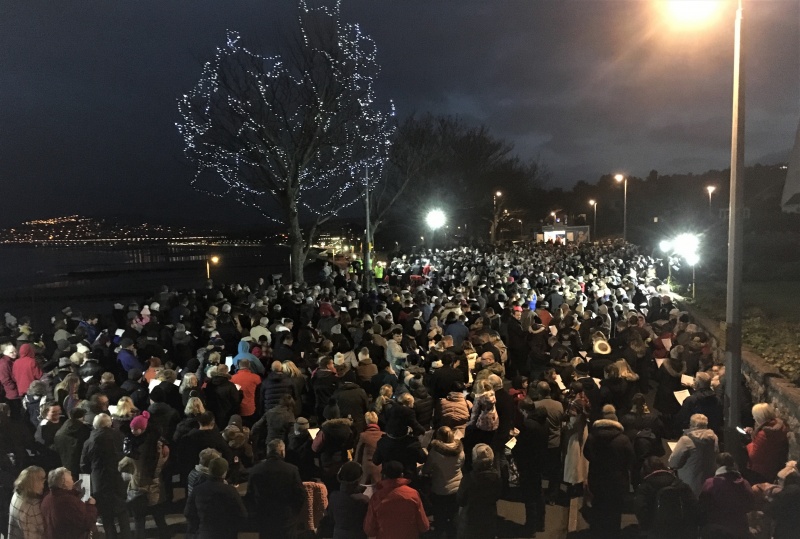 The Rotary Club of Rhos on Sea would like to express our special thanks to all those who worked so hard to make this annual event such a success.
£1466 was raised on the night, another record broken.
Absolute Sound, Greenfield Road, Colwyn Bay for the sounds
Specialist Engineering Technical Services, Henllan, Denbigh for the lights and power and some great photos.
Beulah Brass & Cor Meibion Colwyn for their sounds and voices
Amberon
Bay of Colwyn Town Council
Conwy County Borough Council
Dwr Cymru (Welsh Water
North Wales Pioneer
Morgan Sindall Construction Ltd
Rhos Fynach
And all those who made this event such a success and helped to support St. David's Hospice.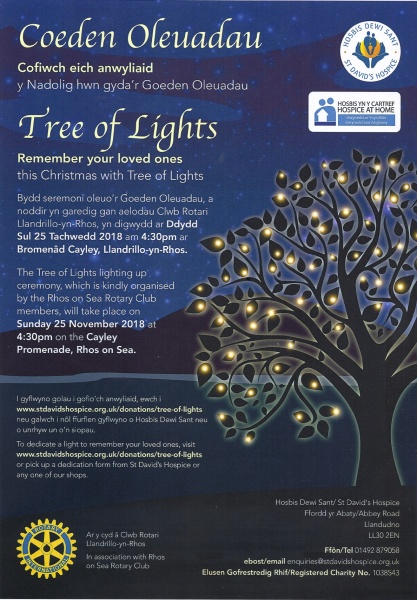 Rotary supports Brains Trust Charity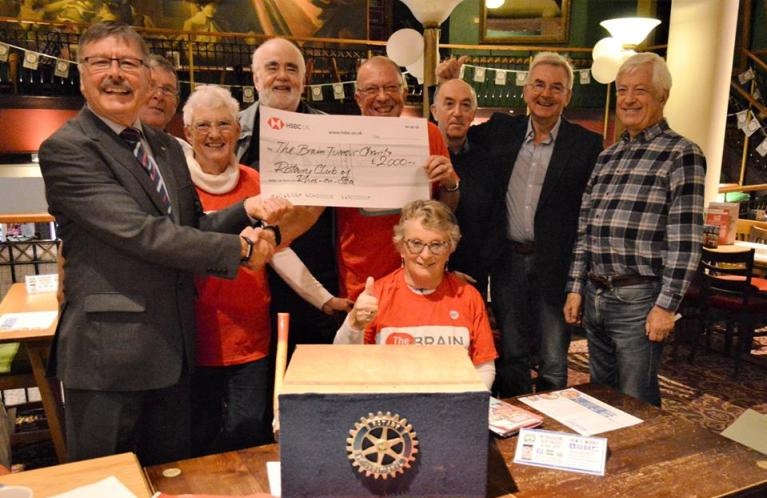 The Brain Tumour Charity has been at the forefront of Rhos on Sea Rotary Club's recent activities. Last week, after hard work fundraising, the Club donated £2000 to this good cause. Brain tumours are the biggest cancer killer of children and adults under 40 years. Currently there are over 102,000 people living with a brain tumour in the UK and 9000 are diagnosed every year many of whom are young children and young adults.
Rhos Rotary President Clive Hampton commented, "This Charity's strategy is to double the survival rates within 10 years and halve the harm tumours have on patients quality of life. Essential laboratory research is ongoing ,but we need to do all we can to improve the life of those affected which our contribution is all about. . This wonderful charity relies 100% on voluntary donations. Less than 2% of cancer research funding is spent on brain tumours. We are delighted to support them."
For further information on The Brain Tumour Charity visit :-
Beach Clean Up Rhos on Sea

Saturday 29th September Rhos Rotarians and members of the public took part in a beach clean from Rhos Point to the Pier. We also cleaned up the children's play area and the park.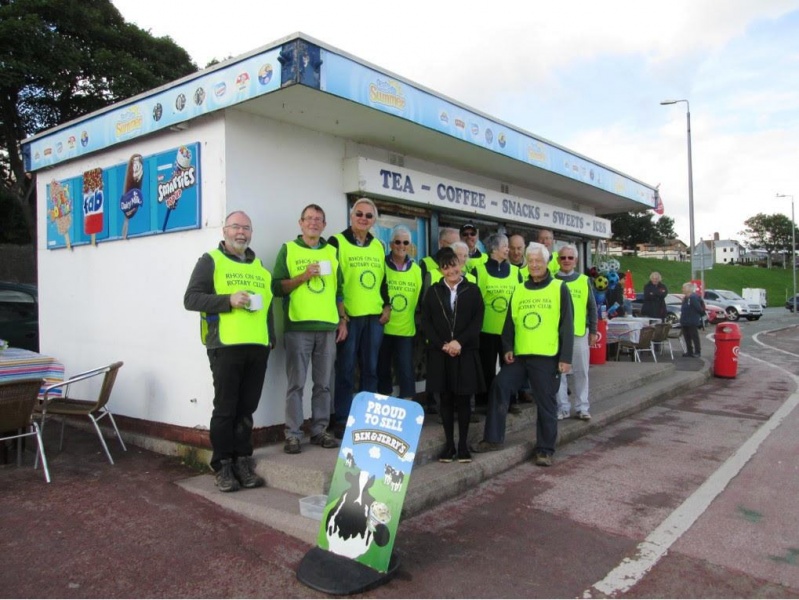 Many thanks to Anthony at the Coffee Pot who kindly supplied tea and toast to all. A useful morning's work.
...............................................................
District Fun Games at Chester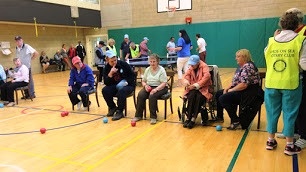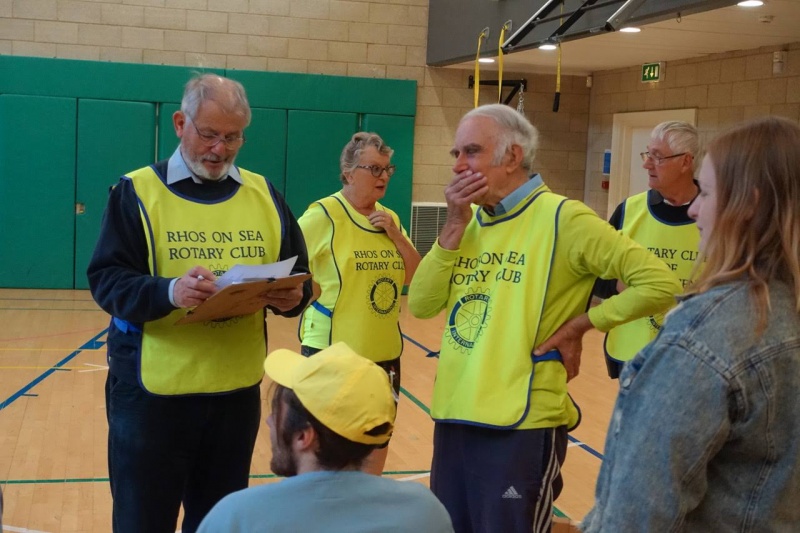 " Now how did we score it last year?"Last Sunday a team from Rhos participated in the District Fun Games held at MBNA Sports facility at Chester. We ran the Boccia with help from Tarporley Rotary Club. A great day lots of fun for all involved.
Members and guest recently enjoyed a return visit to Gwinllan Conwy where they learned from owner Colin of the progress since our visit last year. This was followed by an excellent meal featuring local produce and a wine tasting.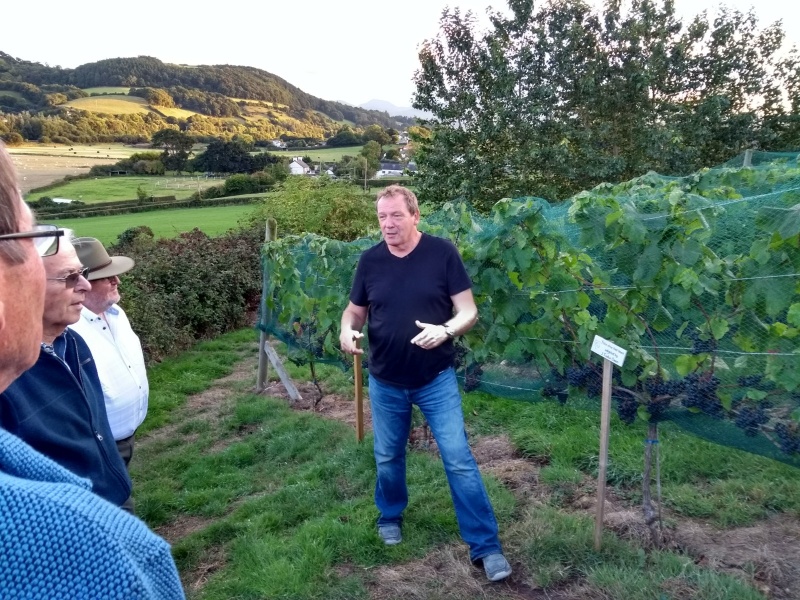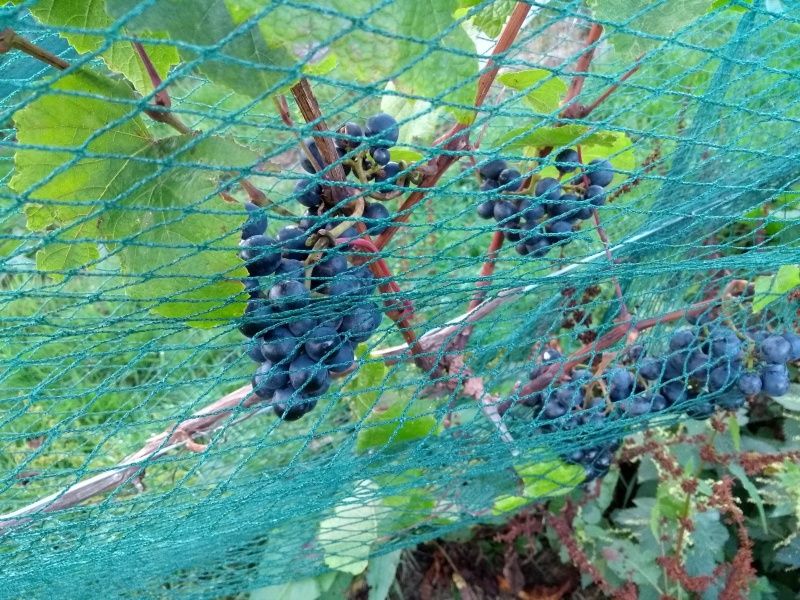 Club welcomes new member
At a recent meeting, Dr Kent Hill was inducted into the club by President Clive Hampton. Kent, a native of Colwyn Bay, who has previously been a member of our club, has worked throughout Europe in the Pharmaceutical Industry in research and development. We welcome him back to the fold.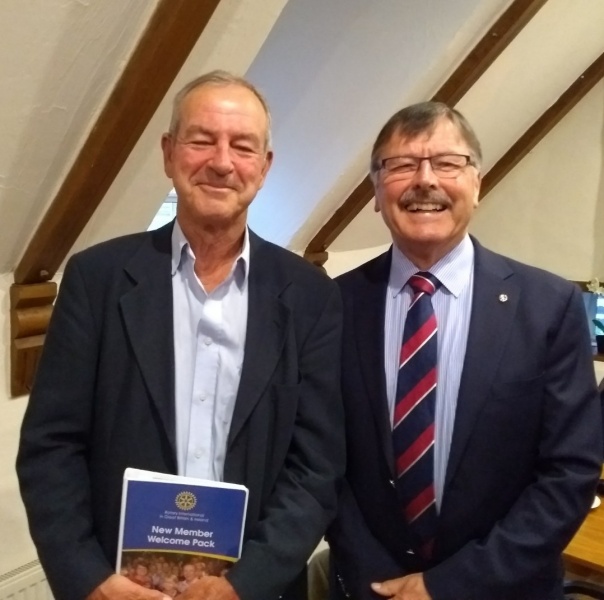 ............................................................................................................................................................
More pictures from the collection for the Brain Tumour Charity collection. Many thanks to our local ukelele groups and their friends from Dublin for entertaining us all.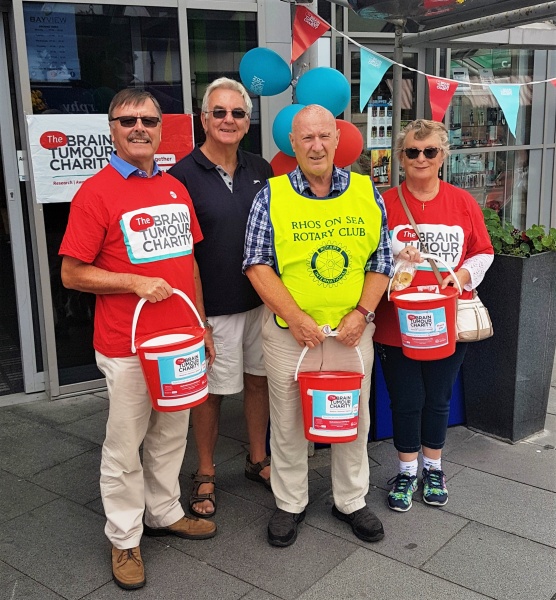 RNLI Llandudno visit
This morning members enjoyed a great visit to RNLI Llandudno and were really impressd by the new lifeboat and equipment. Many thanks to the RNLI staff for sparing the time to update us on the latest news from RNLI. A charity well worth supporting.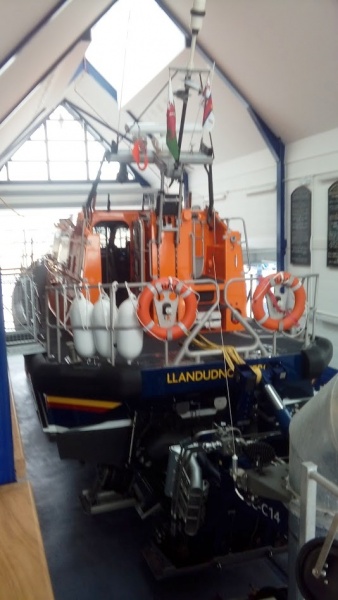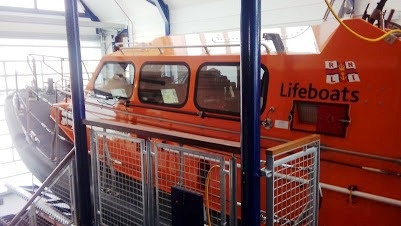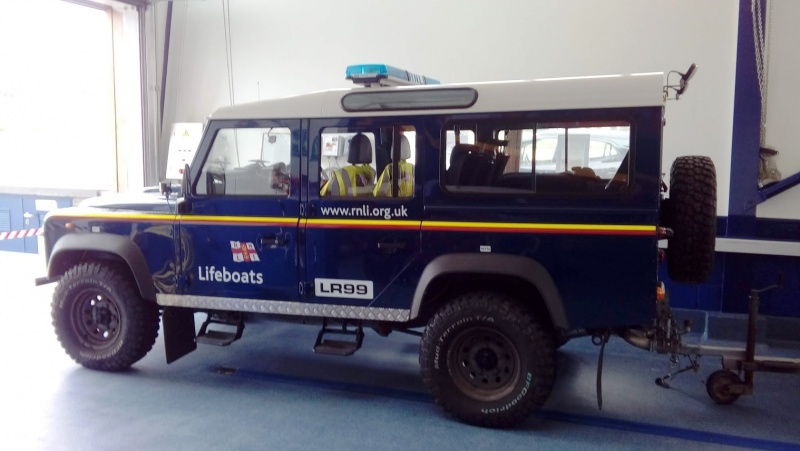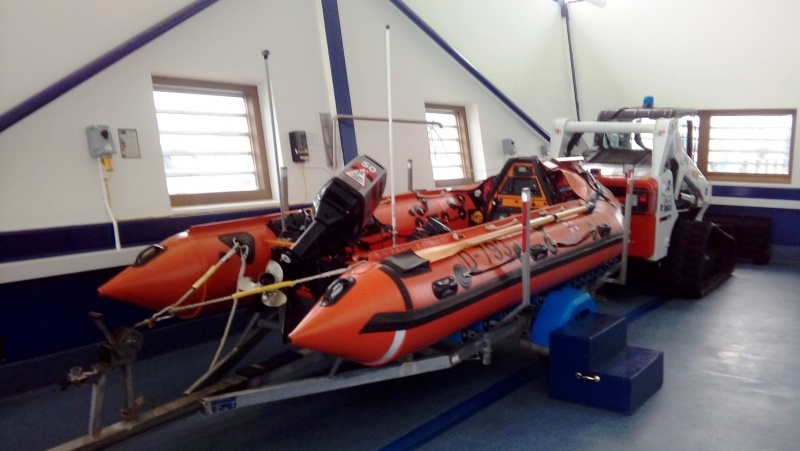 Gardeners at work
Small team, Sue, Wyn and Geoff did some tidying up at The Princess Diana Memorial Garden in Rhos on Sea, left a few bits for later in the week as we needed a longer ladder. Watch this space!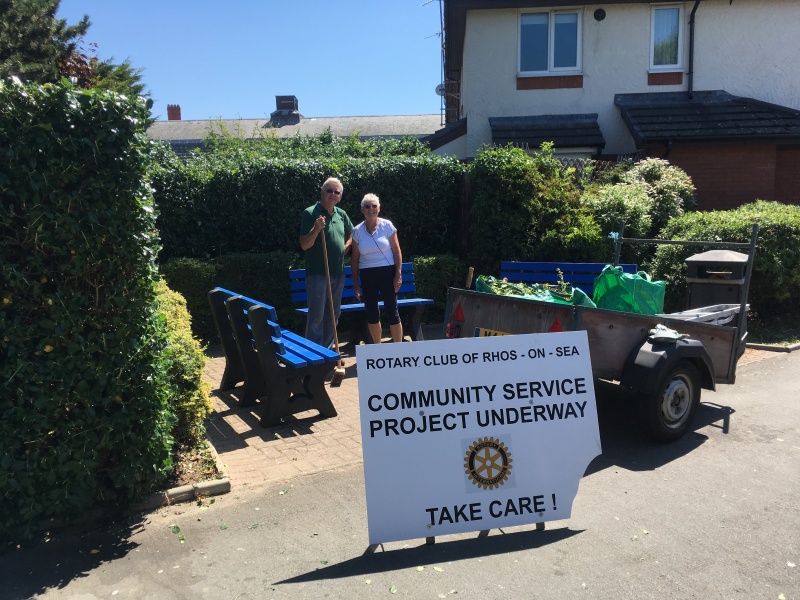 29th Charter Night Celebrations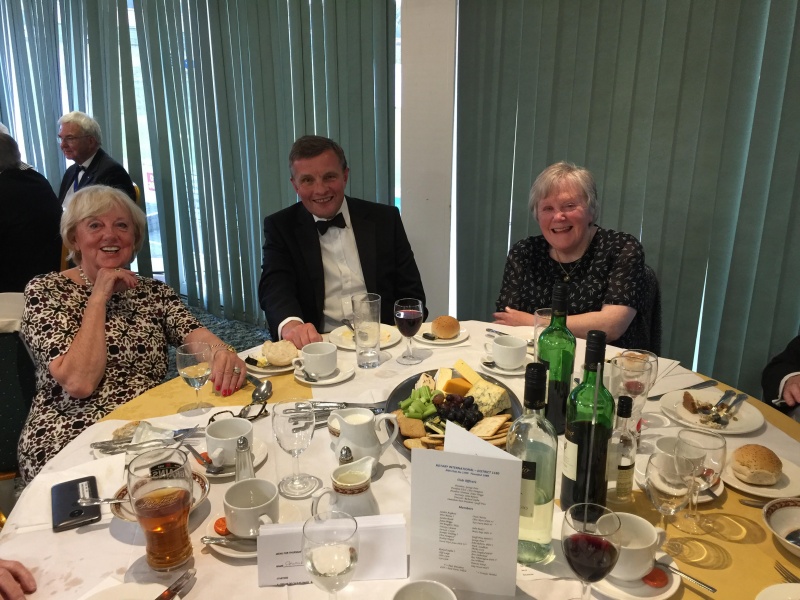 Rhos on Sea Rotary celebrated the 29th anniversary of their charter recently at the Colwyn Bay Cricket Club.
A warm welcome by President George was followed by a most enjoyable meal provided by Martin and his staff .
The toast to the club was given by our local MP David Jones who entertained us with tales from the Westminster bubble.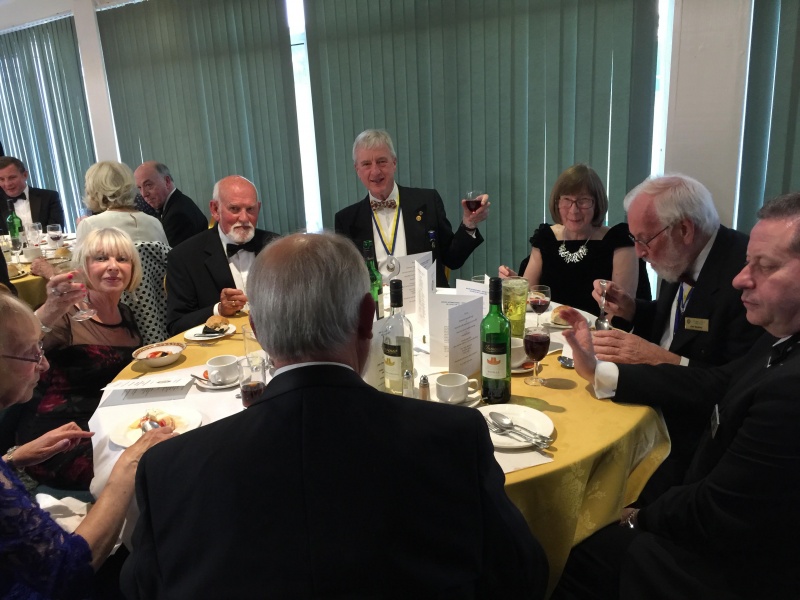 It was a pleasure to welcome many of our friends from surrounding Rotary clubs and enjoy their company.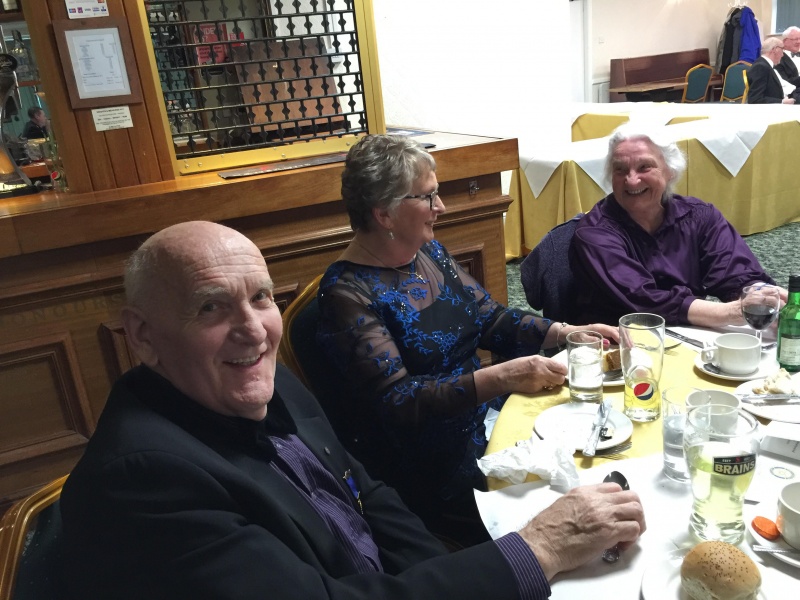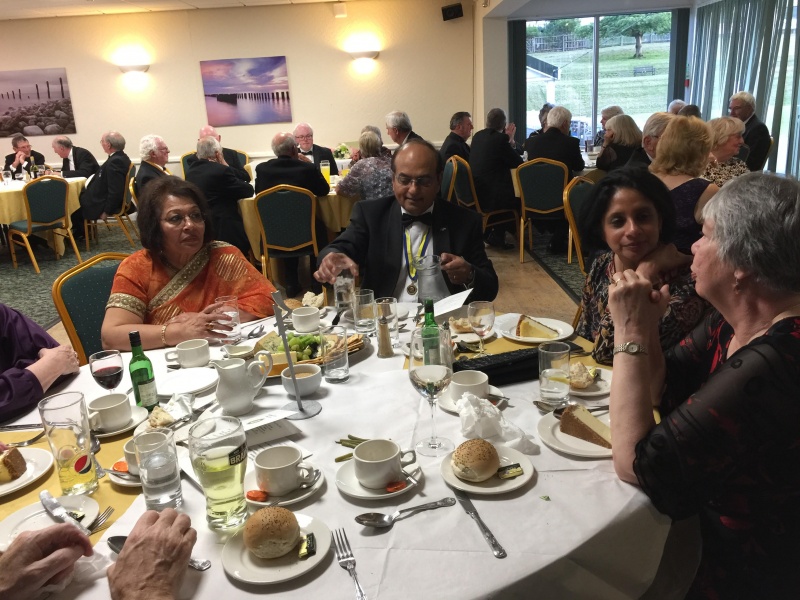 New Rotarian for Rhos on Sea Club
President George Price inducted a new member at last night's meeting.
Sandra Anglesea was introduced by Rotarian Jenny Fielding and welcomed by a packed meeting to Rotary membership.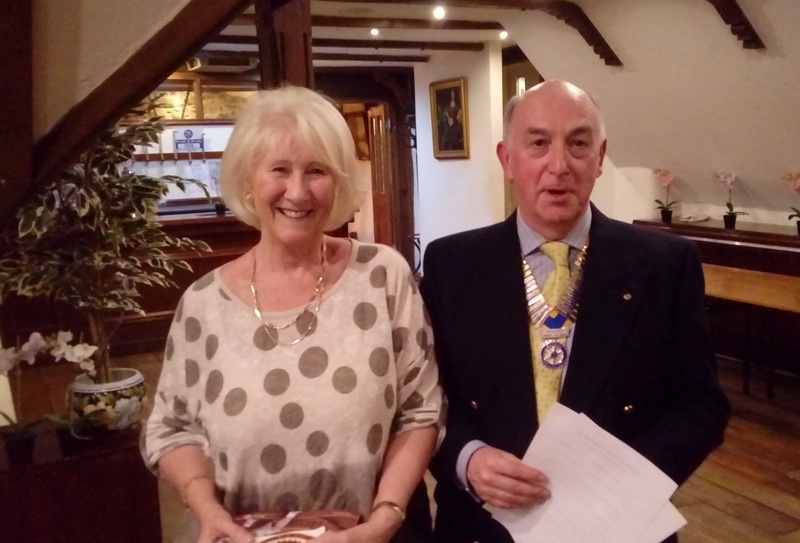 Refurbishing Princess Diana Memorial Garden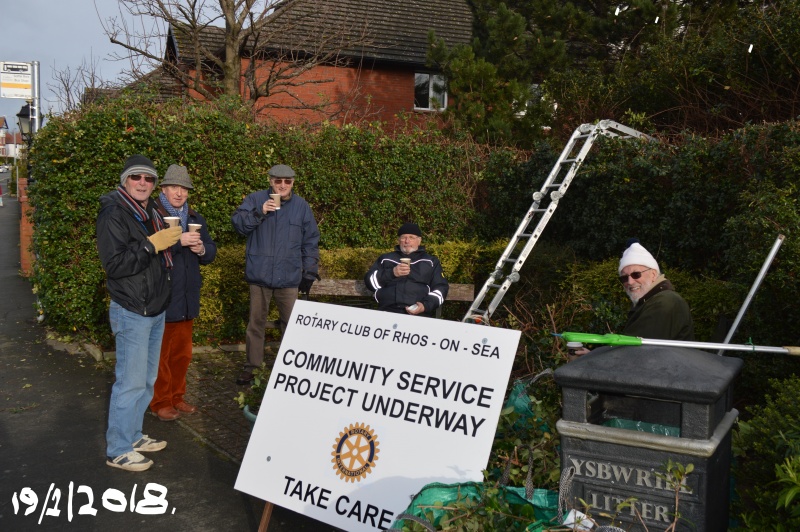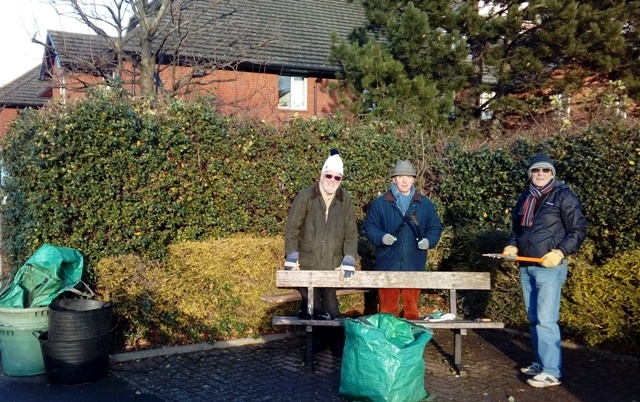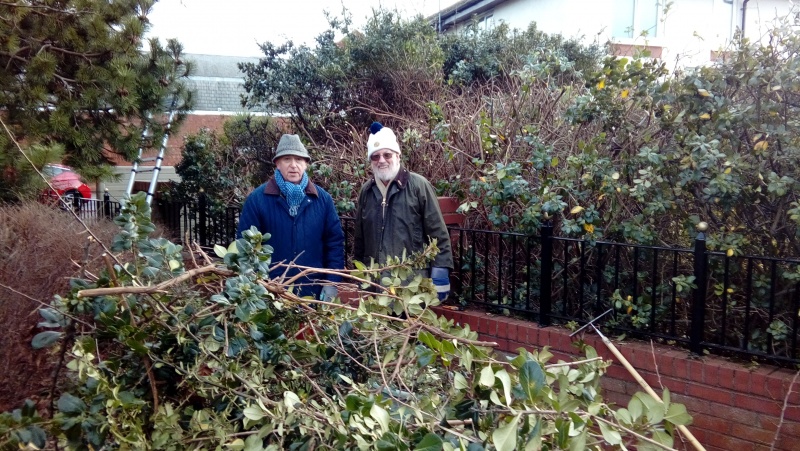 Rhos Rotary tackled the first stage of their project to revamp the Princess Diana Memorial Garden in the village. The aim was to reduce the height of the hedge around the garden to around 2 metres. A team, led by President George Price, worked tirelessly and managed to twice fill a Conwy County Borough Council pick up with hedge cuttings . Thanks to driver Luke from the Council for his hard work in helping us to load. Some minor trimming is needed before we tackle to second planting stage, later in the spring. Great fun, helping to improve our community environment.
Rotary supports Hearing Charity
President George Price today presented a cheque for £200 to Action on Hearing loss at their Colwyn Bay office.
Colin Evans from Action on Hearing Loss had attended a recent club meeting and given a most useful talk on what is available to assist those whose hearing is deteriorating.

Colin explained how we can lose our hearing gradually and how this can lead eventually to social isolation and poor quality of life.

He demonstrated a wide range of aids which can be of assistance to those who are hard of hearing.

Several members already wore hearing aids and were able to recount their own experiences and the improvements available.

If you want to test your hearing it can be done over the phone.

Dial 0844 800 8880 and follow the instructions. Both ears are tested and the results given at the end. It takes about 5 minutes per ear. Give it a try.
Action on Hearing Loss can be contacted on 01492 532066. E mail wales@hearingloss.org.uk
Tree of Lights switch on
On 26th November hundreds flocked to the Cayley Promenade to witness the switching on of the Rotary Club of Rhos on Sea's Tree of Lights. Beulah Brass and Cor MeibionColwyn accompanied the carols.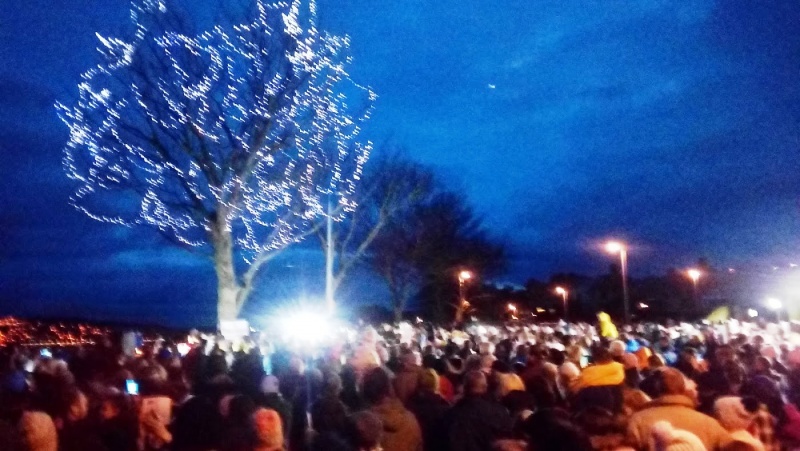 The Mayor switched on the lights to many oohs and aahs.
The Tree of Lights allows us to remember our loved ones in the lead up to Christmas.
All proceeds go to support St.David's Hospice Llandudno to whose staff we would like to send our grateful thanks for their exceptional support during this campaign. We are hoping this year to break the £200k barrier since we started the event 18 years ago.
Many thanks to all those who came and supported our event and if you were unable to get there we know you were thinking about us.
Visit to Treborth Gardens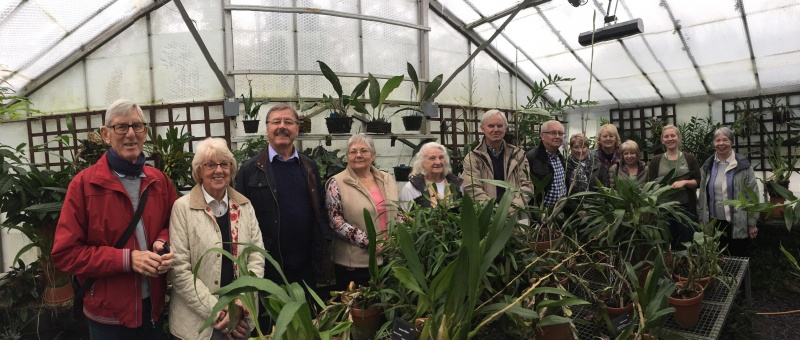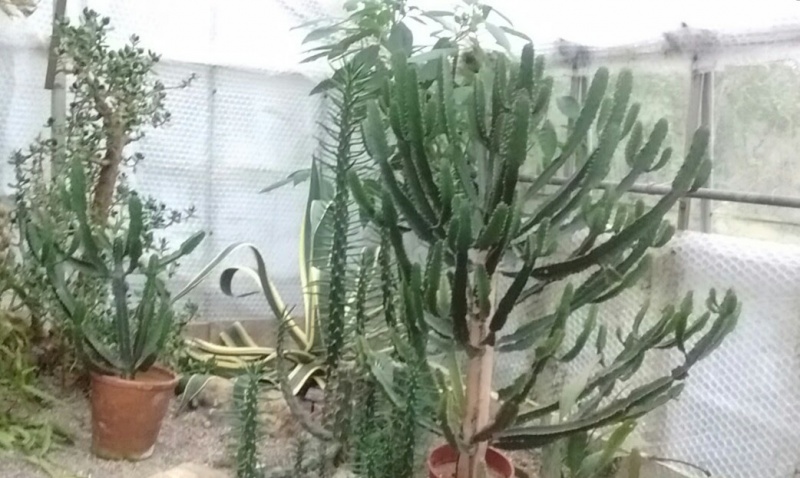 About 15 members of the club with partners visited the University of Bangor Treborth Botanic Garden situated on the south side of the Menai Straits between the Telford and Britannia bridges. Most of us had no idea that garden existed and we only found our way there because John Pack's experience!
We gathered in the lecture theatre to hear a fascinating account of the history of the land and gardens given by the Director. He also told us that there were three other staff and dozens of volunteers, without whom the whole place would not manage. The University only gives an upkeep grant of £5000 per year; the rest comes from fundraising, support from the National Heritage Lottery Fund and from the Confucius Organisation in China, since there is a close link with Treborth and its Chinese garden.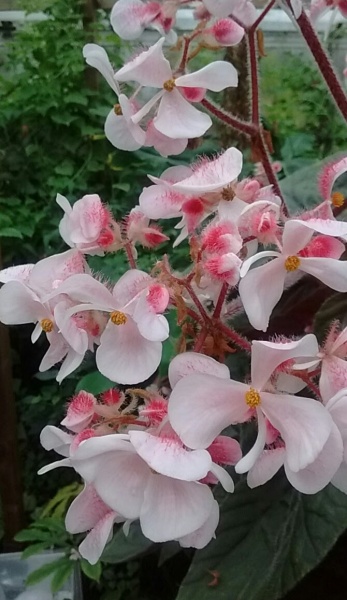 After the talk we were taken to three of the plant houses with displays of various exotic plants, including lots of orchids and cacti.
ACTION ON HEARING LOSS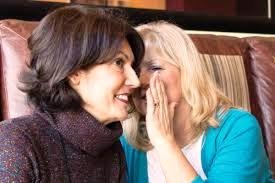 At our last meeting Colin Evans from Action on Hearing Loss gave a most useful talk on what is available to assist those whose hearing is deteriorating.
Colin explained how we can lose our hearing gradually and how this can lead eventually to social isolation and poor quality of life.
He demonstrated a wide range of aids which can be of assistance to those who are hard of hearing.
The large number of questions posed after the talk showed it was a subject which could affect us all. Several members already wore hearing aids and were able to recount their own experiences and the improvements available
If you want to test your hearing it can be done over the phone.
Dial 0844 800 8880 and follow the instructions. Both ears are tested and the results given at the end. It takes about 5 minutes per ear. Give it a try.
Michael Richard Ernest Hovey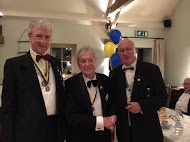 2 July 1934 - 10 September 2017
R.I.P Michael, "a true Rotarian"
....................................................................................................
At last night's meeting President George Price inducted our first new member of the Rotary year.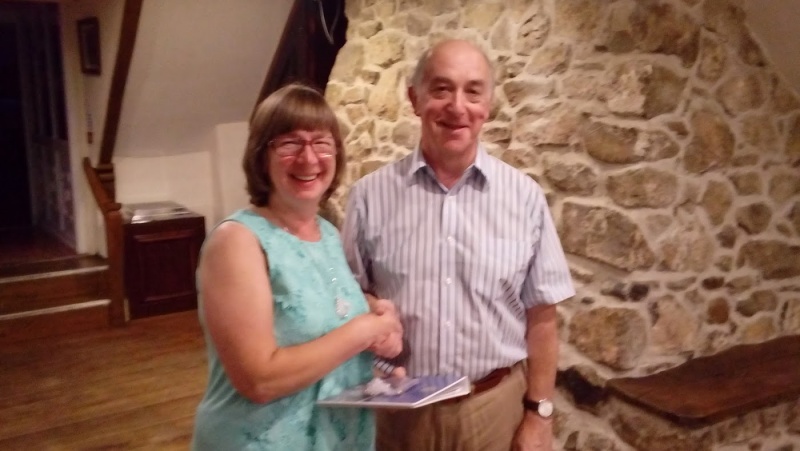 Felicity Coleman, known as " Flick", has recently retired from the NHS were she worked as physiotherapist.
We welcome Flick to the wider world of Rotary and am sure she will make a great contribution to our club.
Our evening started with a Treasure Hunt around Rhos on Sea organised by Wyn Jones. The winners were Roy and Jan Whittington who won a bottle of "top quality" wine. A fun night out with friends and partners. Many thanks to Wyn for organising the game.
............................................................................................................................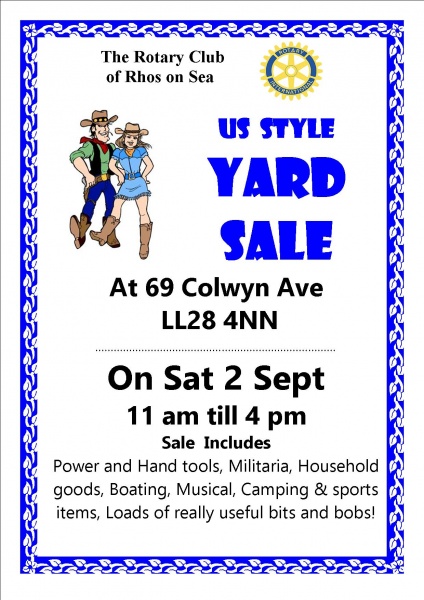 Enjoying local produce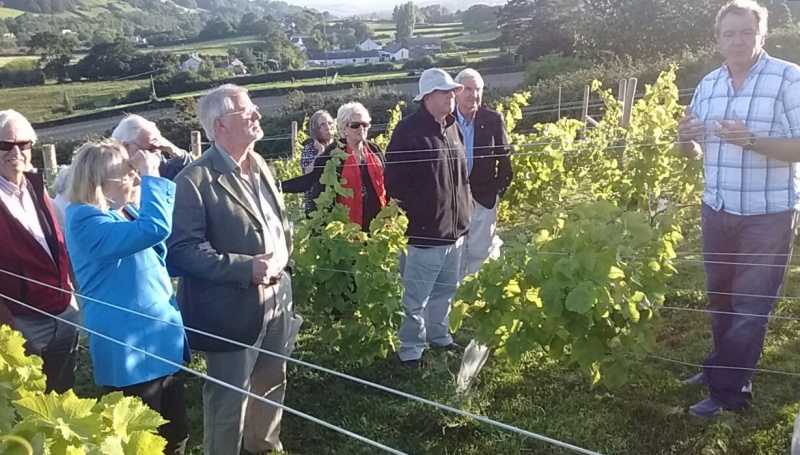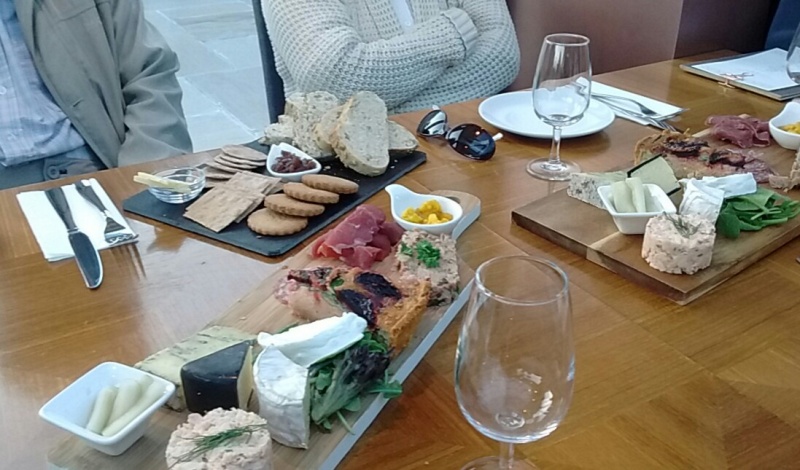 Last night members visited Gwinllan Conwy an award winning vineyard close to our village.
Owners since 2012, Colin and Charlotte Bennett have transformed part of the valley to create a valuable local asset which benefits from the "foehn" effect to create a microclimate.
Their exceptional Pefriog sparkling wine won a Silver award at the Iatest International Wine Challenge.
Well worth a visit to taste the wine and enjoy local produce. www.gwinllanconwy.co.uk
Supergran tackles Catherdral Challenge.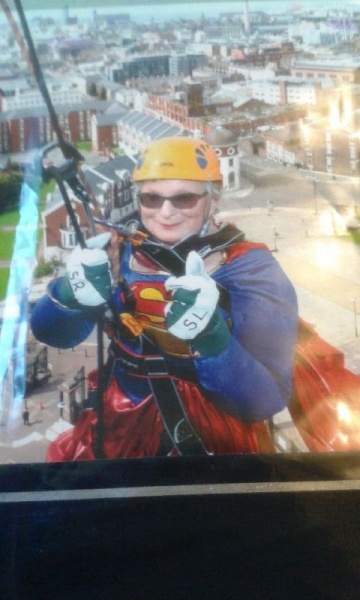 Last Saturday a Rotarian Supergranny from the Rotary Club of Rhos on Sea tackled an abseil from the 100 metre tower of Liverpool Anglican Cathedral in aid of Rotary Charities. Well known for previous knuckle riding challenges this was taken with her usual aplomb.
Well done Supergran.
Evening Train Trip to Blaenau Ffestiniog.
Last Thursday evening, following a meal at the Station Hotel, members and friends took a trip on the Conwy Valley line from Llandudno Junction to Blaenau Ffestiniog. Beautiful scenery along the Lledr and Conwy valleys, a first for most of us. Many thanks to Rotarian Clive Myers for organising the trip.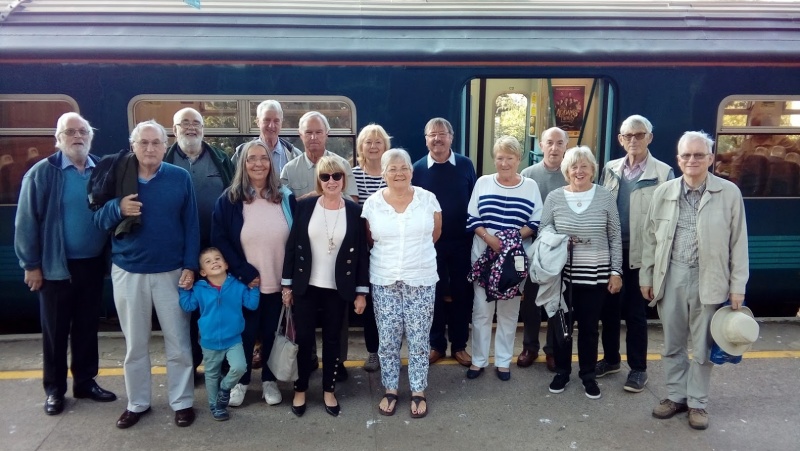 New President Inducted
At a recent meeting our new President Rotarian George Price was inducted by 2016/2017 President Geoff Price.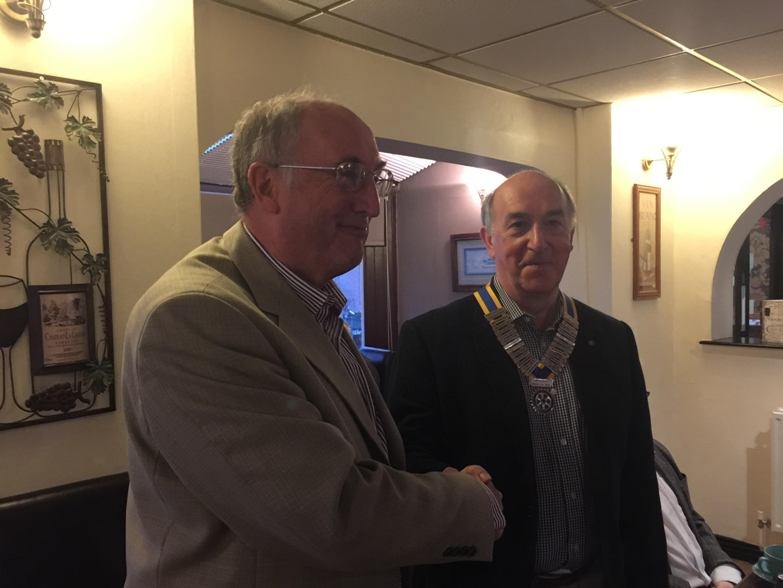 George is a retired solicitor who has lived and worked in the area all his life. We wish him every success in his year of office
New members Inducted
At last night's meeting 5 new members were inducted into the club. We also took the opportunity to have a group photo.
We wish our new members a warm welcome to our club and a happy time in Rotary .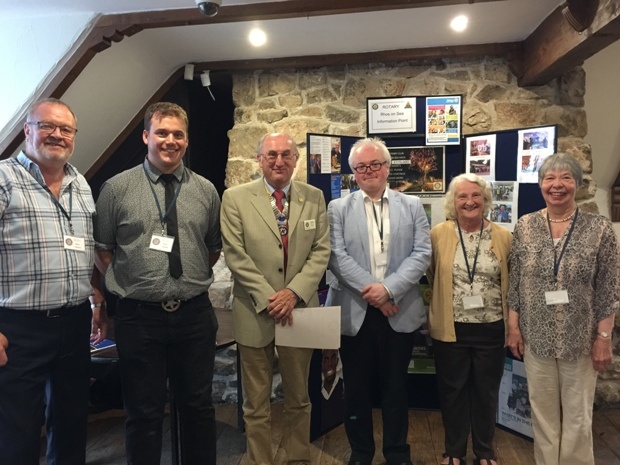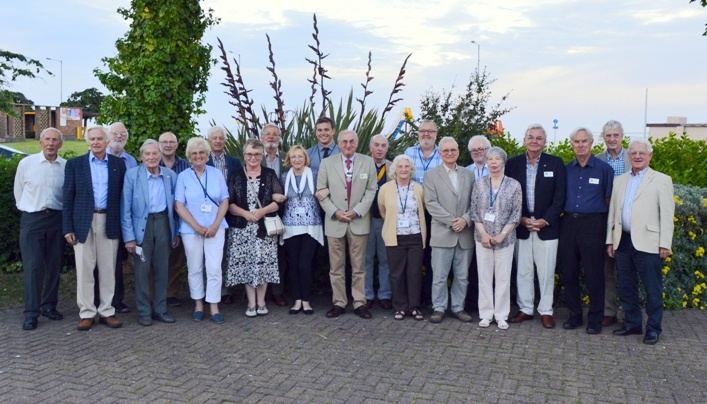 Membership Update 2nd June 2017
We now have 5 prospective members!!
5 new prospective members!
Last night we held a Membership Recruitment Evening at the Rhos Fynach.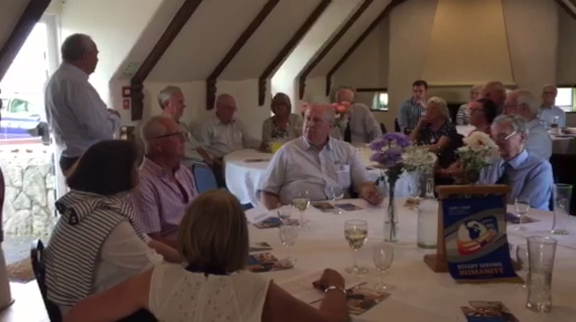 8 prospective members attended and were given an introduction to Rotary by club members and District Membership Recruitment Officer Tony Cotton. 5 completed application forms for membership. Great result. We have several others who were unable to attend so we will be chasing those up.
....................................................................................................
At a recent meeting President Geoff Price welcomed three new Associate Members to the club. Chris and Lyn Lyon and Sue Williams.
Following our meeting, which was a rehearsal for next Thursday's Membership Recruitment Evening, Sue decided she would like to become a Full Member. Maybe we are moving along the right lines?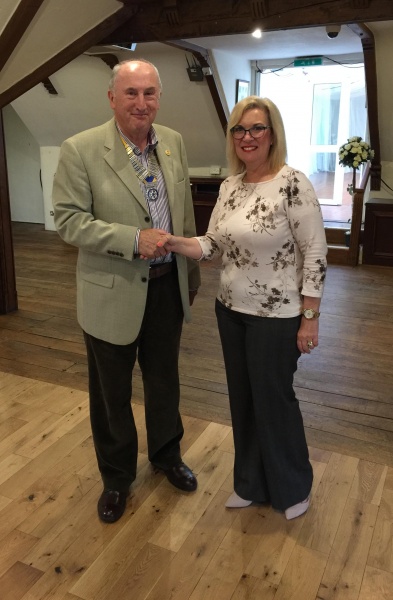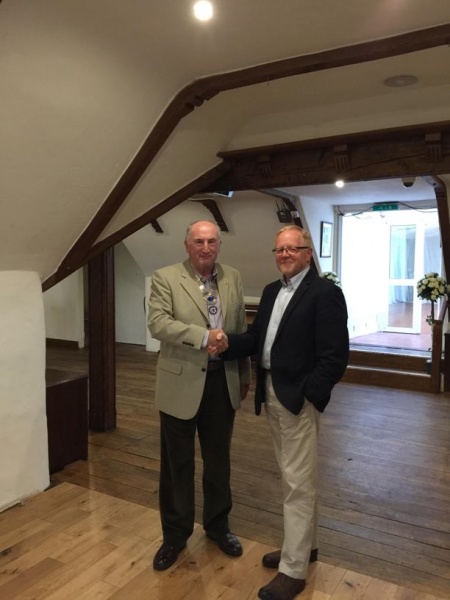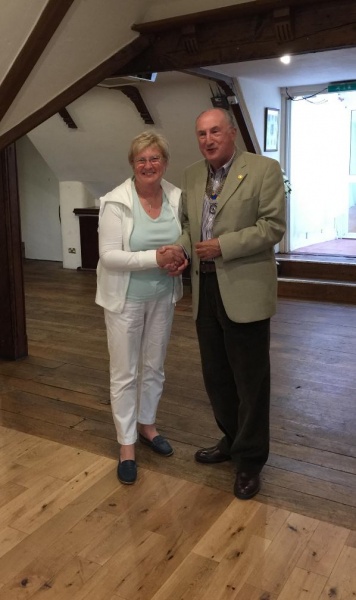 On Tuesday last President Geoff Price presented a cheque for £200 to the Conwy and North Denbighshire Branch of the Multiple Sclerosis Society at their meeting at St.John's Church Colwyn Bay.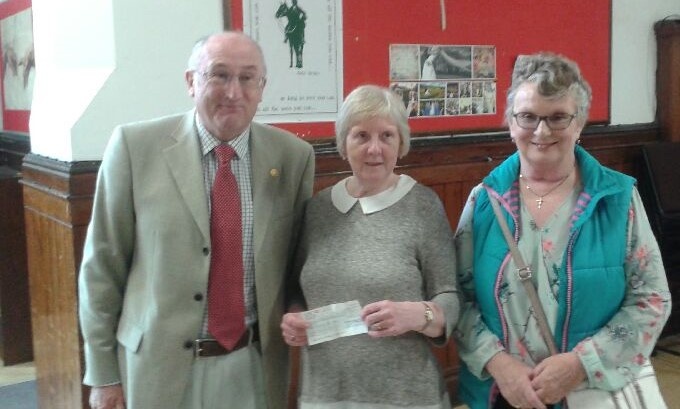 Geoff pictured here with Linda Cook of MS Society of Conwy and North Denbighshire and Pauline Hogan from Rhos on Sea Rotary Club
..................................................................................................................
Commemorative Oak Tree planted at Bodysgallen Hall in memory of local Welsh Soldiers who fell at Matetz Wood in World War 1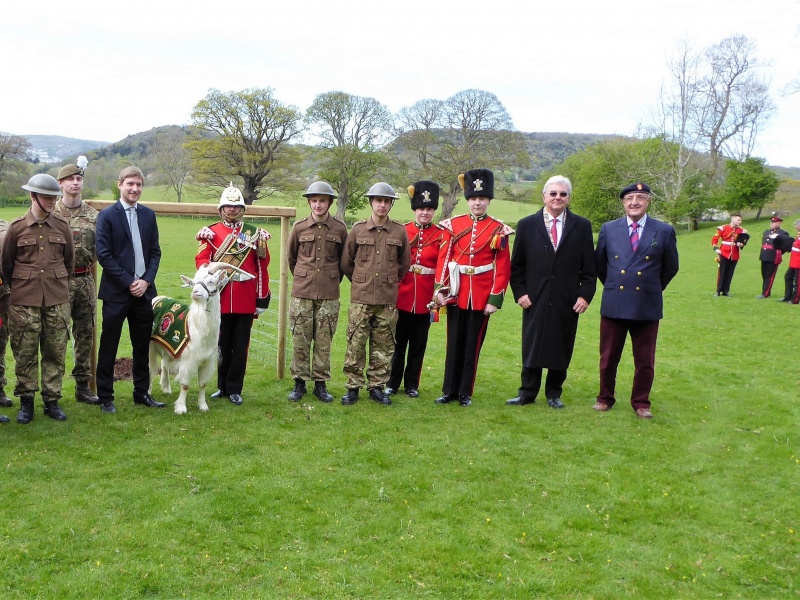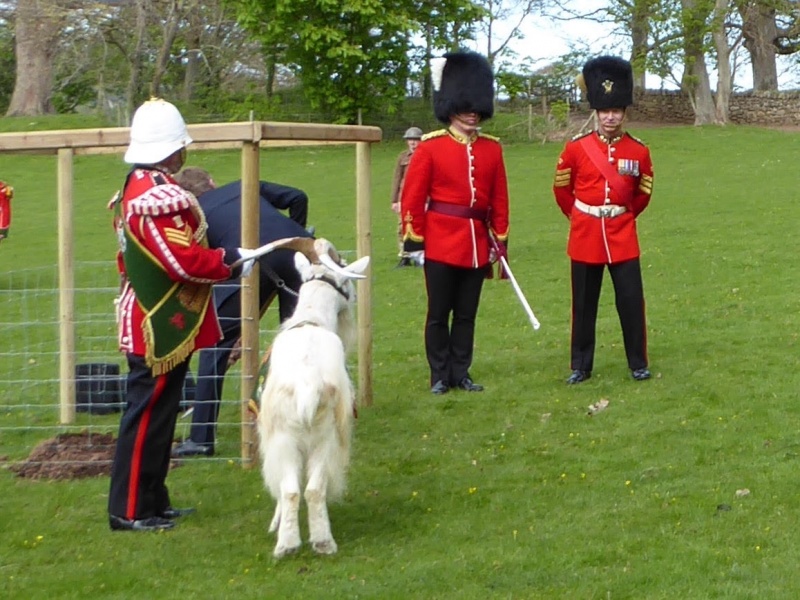 A visit to WW1 battlefields organised by former Rotarian Merfyn Thomas and the chance collection of an acorn from the Matetz Wood battle site by Rotarian Wyn Jones of Rhos-on-Sea Rotary Club, resulted in an oak sapling from Mametz Wood being planted by the current Lord Mostyn at Bodysgallen Hall recently.
4000 Welsh men where either killed or wounded during the battle. The sapling was planted in the same field at Bodysgallen Hall where a century earlier another oak was planted to commemorate the battle. It was in this field where the regiment was first mustered by Lord Mostyn's ancestor.
MYSTERY BUS TOUR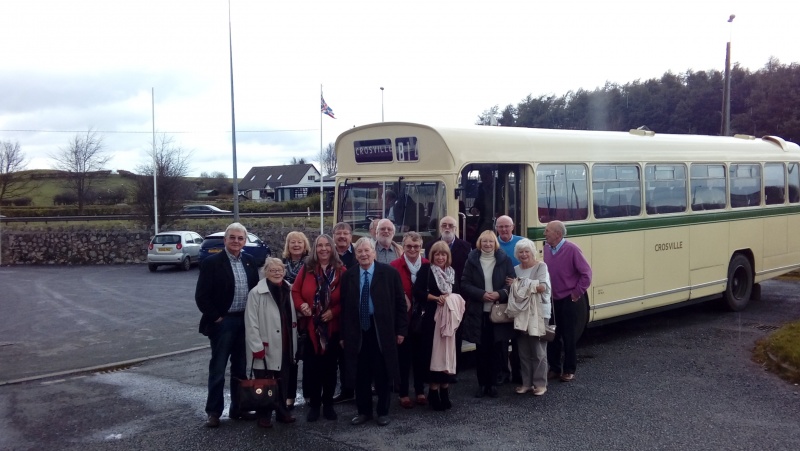 Today members enjoyed our annual mystery bus trip organised by Rotarian Clive Myers.
We travelled on a fully refurbished,1967 ERG3 Bristol, formerly operated by Crosville Motor Services throughout North Wales.
Our trip took us along the coast in an easterly direction passing through Talacre, Mostyn, Whitford and Carmel.
We sampled an excellent Carvery at the Travellers Rest on the A55 near Lloc.
Clive provided an insight into many local landmarks from trees to mining history.
A grand day out.
Tree of Lights donation to St. David's Hospice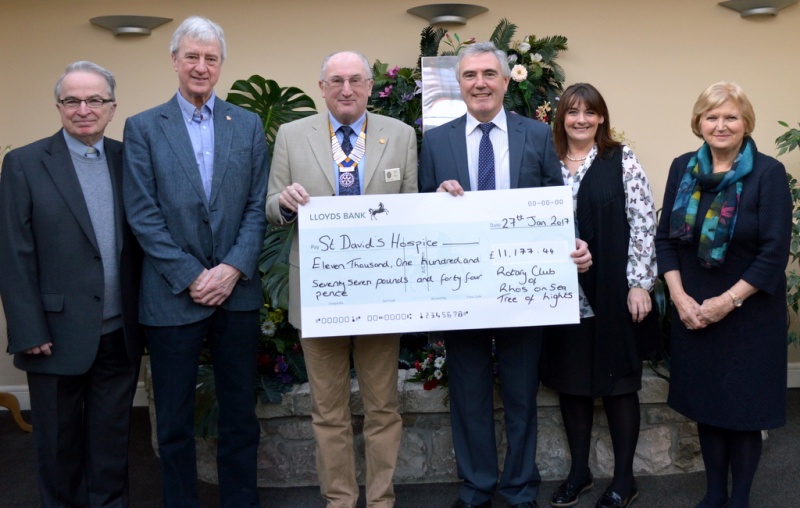 This morning we presented a cheque for £11,127.44 to St.David's Hospice, Llandudno which had been donated through our Tree of Lights event. Since its inception we have raised over £179,000 for the hospice thanks to the generosity of our local community. Each individual donation, in memory of a loved one, is recorded in a Book of Thanks kept in the chapel at the hospice.
New Rotarian
On Thursday last President Geoff Price inducted our first new member of 2017.
Owen Morris is a Business Education Consultant, originally from Holyhead. Owen currently lives in Colwyn Bay.
Welcome to Rotary Owen.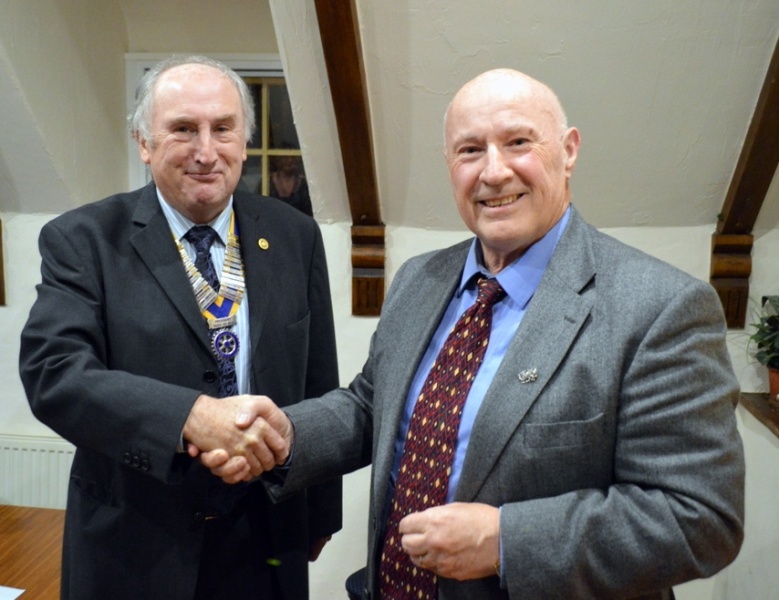 Rotary spruces up the Park
A team from Rhos on Sea Rotary took on a challenge to spruce up their local park. Benches were rubbed down and painted. Posts were similarly tackled. The odd crocus was added to the bank. We are looking forward to a fine display in the Spring.
All in all a most enjoyable few hours improving the look of our neighbourhood. We hope you like it.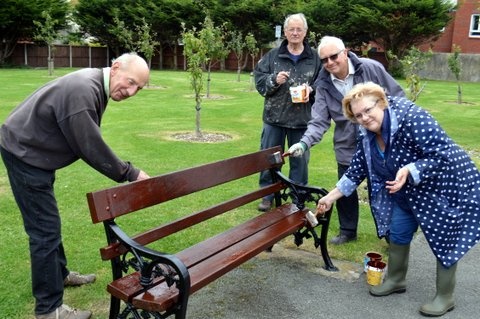 Great Wall of China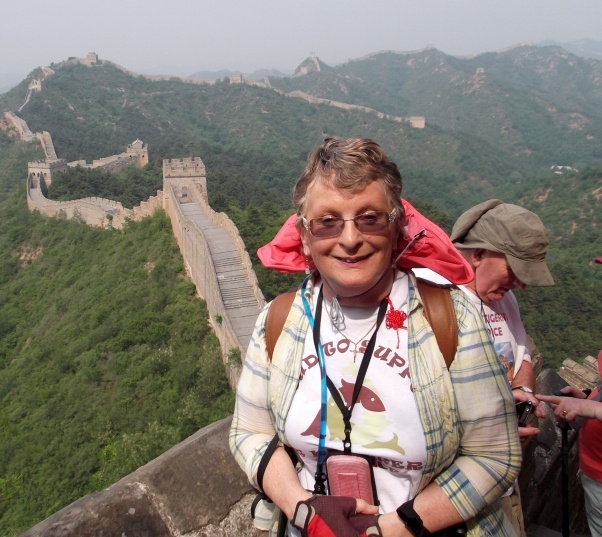 At our last meeting club member Pauline Hogan retold her adventures when she trekked along the Great Wall of China last year in aid of St. Kentigens Hospice.
High temperatures, strange food and steep climbs were taken in their stride, well almost.
Ably lead by Rotarian Rev Clive Southerton of the Rotary Club of Prestatyn the team raised over £133,000 for the hospice, a magnificent achievement.
Where will our superhero go next on her travels? Nepal or Rhyl? Who knows?
T
Happening soon...
Meetings and events happening soon
Thursday 19th December 09.15
Breakfast briefing
---
Breakfast briefing @ Wetherspoons Colwyn Bay
Thursday 26th December
NO MEETING
---
BOXING DAY
Thursday 2nd January
NO MEETING NEW YEAR
---
NEW YEAR
Thursday 9th January 09.15
Breakfast briefing
---
Breakfast briefing @ Wetherspoons Colwyn Bay
future events Past Events calendar district events local events
---
---
Rotary News
Be part of a global network of volunteers, trying to make the world a better place. Please also see the 'links & news' page for information from the local district and live feeds from Rotary International and Rotary International in GB&I.
Flexibility creating new opportunities for new members
---
RotaKids supporting their local community
---
---
Meetings & Venue
Where and when: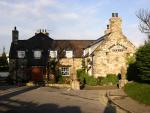 We meet on Thursdays at 1915 for 1930
(
Dress code for normal meetings is "smart casual". Variations for special events will be notified to members. No meetings Christmas, New Year and Maundy Thursday.
)
Rhos Fynach
Rhos Promenade
Rhos On Sea. LL28 4NG
except second Thursday when we meet at 0915 at Wetherspoons, Princess Drive, Colwyn Bay LL29 8LA LL28 4NG
01492 548185