To serve, we volunteer with variety and enjoy social friendships.
We are looking for like minded men and women to join our activities.
The framework for what we do


Charity Trustees - account for distributing and receiving donations
Club Service - includes Safety & Safeguarding, Attendance, Webmaster, and Publicity.
House, Entertainment, & Social - as it says, enhances our enjoyment.
Membership - membership, interest, and diversity matters.
Community Service - provides local support to charities and individuals on various occasions, including the Orthopaedic Hospital, Derwen College, and Macmillan.
Environment - Supports and partners environmental organisations with local emphasis.
International Service - supports Mercy Ships, LendwithCare, and responds wherever help may be needed worldwide.
Youth Service - all for local youth, supports six Rotakids Clubs, Young Carers, Young Writers, Young Chef, Young Innovator and Young Achiever.
RYLA - uniquely, manage the Rotary Youth Leadership Awards scheme for our region, having initiated it and promoted it nationwide. Our Club sponsors 2 participants.

Major Events - manage Oswestry Christmas Parade, the unique Borderland Mountain Bike Challenge, occasional special events, and work the Oswestry Town Bonfire & Fireworks.
Rotary Foundation - gives financial grants, beyond the capacity of individual Clubs. We contribute to support this, and also promote Purple for Polio, so successfully eradicating polio from our planet.
Personal data protection is important; see - Oswestry Borderland Rotary Privacy Notice
President's Message 2021/22
President Cathy Osselton writes…
I have looked forward to taking over as President for the year 2021-2022. Last year was a difficult time for the club as a consequence of COVID and our activities were severely restricted. This year I hope that we shall be able to get back to some normality. My main objective is to grow our membership and ensure that members have an enjoyable and productive year. I have put together a comprehensive program, updated details of which will be posted on this website: see "What's NEXT".
Borderland Rotary ..
Borderland Rotary was founded in 1990 to satisfy a need for an evening Club in the Oswestry area. We are based at the Sweeney Hall Country Hotel, Morda. Sometimes, social and other activities are elsewhere.
Our members are drawn from the town of Oswestry and the surrounding areas of Shropshire and Wales.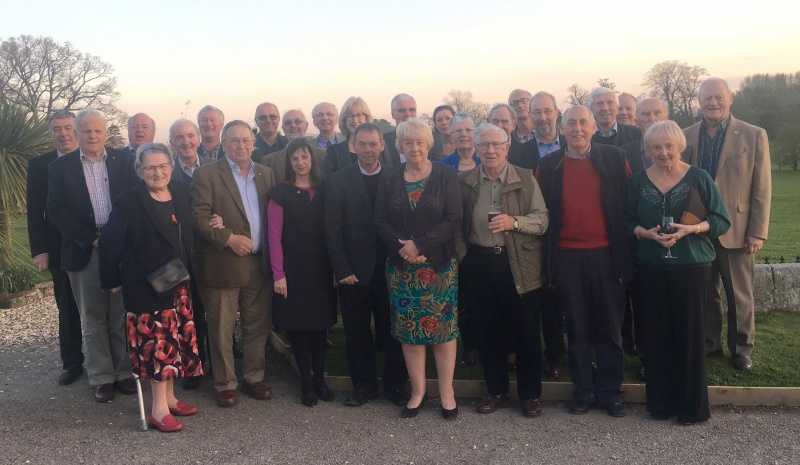 We are a dual gender club and actively support the inclusion of lady Rotarians. We have no corresponding Inner Wheel Club although partners have formed themselves into an ad-hoc group known as the 'Inner Tube' which arranges its own social programme.
Guests and guest speakers are invited to most meetings, but the first Wednesday in each month is for discussing Club business affairs.