Exeter Southernhay is a lively breakfast club, known for hospitality and humour, and a varied programme of service. Formed in 1990, we are a mixed club of about 23 members who meet regularly for breakfast on Tuesdays. A warm welcome is extended to all Rotarians in or visiting Exeter. During the Covid 19 pandemic we have weekly meetings on Zoom.

How to join us
If you work or live in or around Exeter and you are interested in enjoying and contributing to the Rotary ideals of service and fellowship, then please contact us through the link above and come along. Breakfast meetings finish promptly at 8.30am. We also have occasional evening meetings, and many social, fundraising and community events to enjoy.
Julian House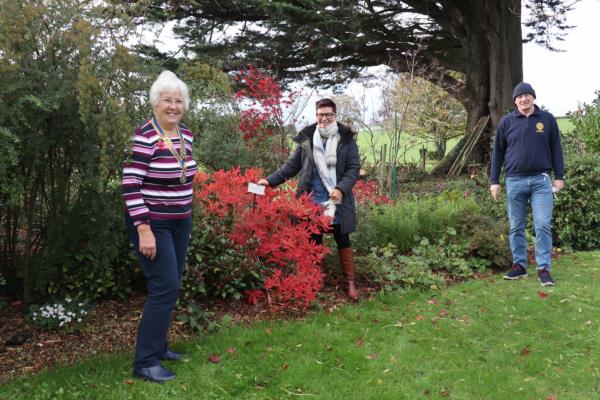 The President's Charity for 2019-2020 was Julian House - a friendly place providing emergency same day accommodation for 16-25yr olds preventing young people from having to sleep rough.
During Covid lockdown a cheque for £3115.66 was presented to Sarah Lakey for Julian House, by collection from the red leaved azalea. Also a large donation of bed linen was passed over.
For more information see Julian House