****** LATEST NEWS ******
**Our next Charity Concert: Fri 20th Oct. Details**
----------
Our recent Macmillan Coffee Morning raised around £500!!
Our Xmas Sleigh visted South Cave December 2022:

Aprox £3500 was raised for our local charities




----------
Photos of our recent visit to North Cave Primary School new library, where we funded the purchase of 250 new books: Photo1 Photo2

To see what else we've been up to recently check out our
LATEST BULLETIN
For the latest on Rotary's fight to eradicate polio worldwide: www.endpolio.org
****** Upcoming Events 2023 *****
Fri 20 Oct - Music concert at South Cave Church
Fri 17 Nov - Alan's quiz + Fish & Chips
*****
For all enquiries please email or call secretary Neil Bowerman on 07545 613429
This page can always be reached directly at www.southcaverotary.com
WELCOME TO THE ROTARY CLUB OF SOUTH CAVE & WOLDS
South Cave & Wolds Rotary Club meets at Brough Golf Club on alternate Wednesdays at 6.30 for 7.00pm to enjoy a very good 2 course meal plus coffee, followed by a speaker or other activity. Every other wednesday we meet at South Cave Church Community Hall for coffee and Rotary business.
We are a small friendly club, chartered in 1991, which makes the Rotary Ideal of Service before Self, fun. We work to raise funds and support for local, national and international communities.
We are actively engaged in projects within our local community such as sponsoring kit for local teams:
And in November we hold our annual Christmas Party for the residents of local care homes. About 70 guests attend and enjoy festive food and entertainment: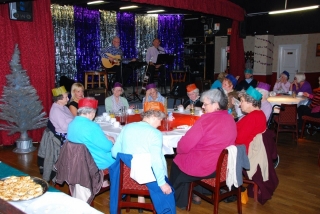 We have close ties with St Anne's Special School and every year the children are taken to a local attraction as part of Rotary Kid's Out:
One recent event was a charity lunch at the Hotham Arms to raise funds for the Yorkshire Air Ambulance, where we were entertained by our own musical maestro, John Diver: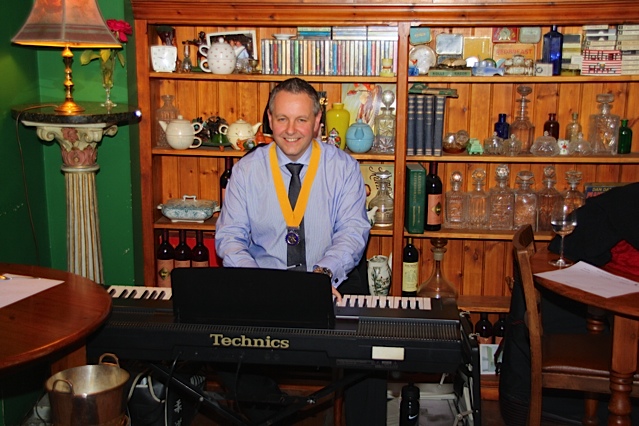 We're for communities, local, national and international. We help people and have a good time doing it. So If you are looking to give something back, Rotary is the organized way.
Why not join us?