This diverse club of men and women has been running for 25 years and meets formally on the 1st and 3rd Tuesday night each month at La Campagna restaurant in Paulton. Meetings start at 7:30pm and are followed by an optional meal at 8:30pm.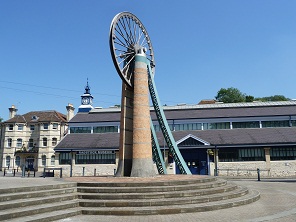 The current members are from a broad range of backgrounds, some work full-time, some have their own businesses and some are retired.
The Club aims to raise funds and provide practical support for local community organisations and individuals, as well as being involved in international aid projects including the eradicaion of Polio worldwide and disaster relief, working in conjunction with other local Rotary clubs.
In 2019 we collected over 6,000 used school books from local primary schools, which have now arrived safely at a primary school in Kenya. The transportation of the books was achieved by sharing a shipping container with another charity, Just Be A Child, based in Stevenage.
Our chosen charity last year was SWALLOW, and so far we have raised £500 from Car Boot Sales held in June and July at Farringtons Farm Shop, Farrington Gurney.
As well as the working aspects of the club, we organise various social events including skittles and boules evenings, trips to businesses, the theatre, museums and outings such as the Exmoor Challenge Walk. Last year we visited Thatchers Cider and enjoyed a talk and guided tour around the factory, followed by a meal in their restaurant with complimentary cider!
So, if you are interested to see what we get up to come along to one of the events advertised below or contact us by clicking "Contact us" at the top of the page and selecting "Membership Enquiries".
To donate to our trust fund (Charity Reg: 1095477), please CLICK HERE. You can pay by PayPal or Debit/Credit card. 100% of your donation will reach us and be used for Rotary charities.
Rotary ID 30613 Date of Charter 6th March 1995