ROTARY IS OPEN FOR BUSINESS!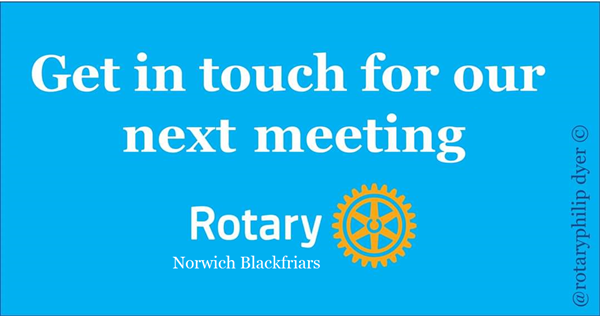 Welcome to Norwich Blackfriars Rotary
We are a group of like minded individuals who meet on the 1st and 3rd Tuesday of the month for a `business type` breakfast meeting at The Oaklands Hotel, Yarmouth Road, Norwich. It`s a positive start to the day - and we have fun doing it. A "ZOOM" alternative is also available if you can't make it in person.
The meetings give members and guests the opportunity to enjoy a good breakfast whilst:
Listening to inspirational speakers
Participating in networking
Experiencing fellowship
Supporting local and international charities by volunteering and fundraising
Being able to join in varied evening and weekend social activities
Waking up at an unearthly hour for a breakfast meeting at 8.000am......and you have a summary of our club
Above all we follow the Rotary principles to "make a difference" both locally and throughout the world by fundraising and community activities.
If this all strikes a cord with you and you like an early start to the day,you are the type of person that NORWICH BLACKFRIARS ROTARY gladly welcome.
Click here to see our latest news.