Crewe Rotary launched the float for Santa back in early December. Santa is pictured with some of his elves and the Mayor of Crewe. Santa has toured most of Crewe over the last four weeks finishing this evening ,Christmas eve, at Tesco. He needs to go home, fill his sleigh and deliver to all those people looking forward to a joyful Xmas. Best wishes for a peaceful healthy time to all.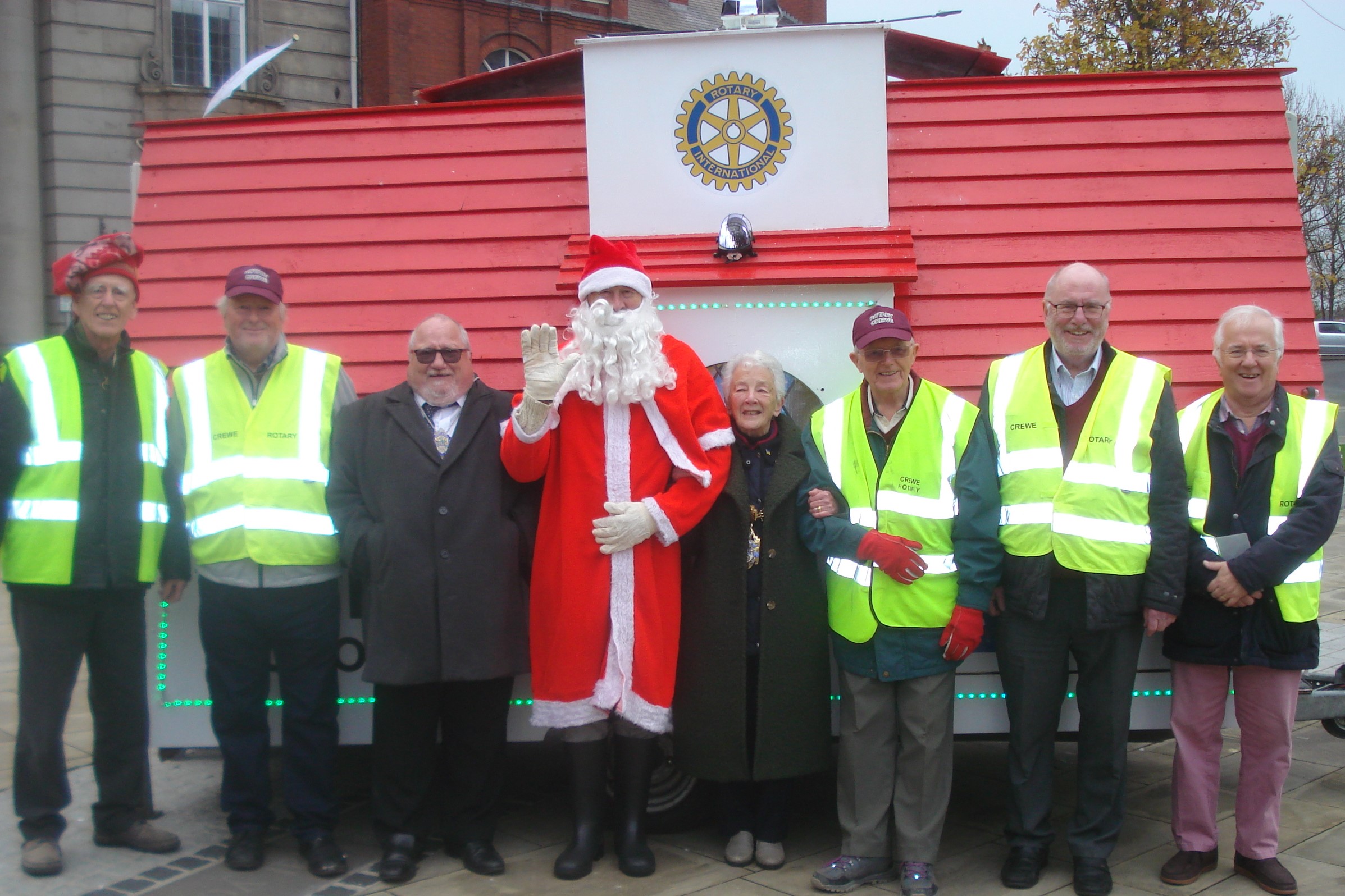 Crewe Rotary celebrates 90 years of service in Crewe. A dinner dance November 2022.
This follows a planting of 3000 purple crocus in Queens Park in October 2022 as a contibution to END POLIO.This brings a total of 80,000 Purple crocus planted in schools and parks in the town in the last ten years.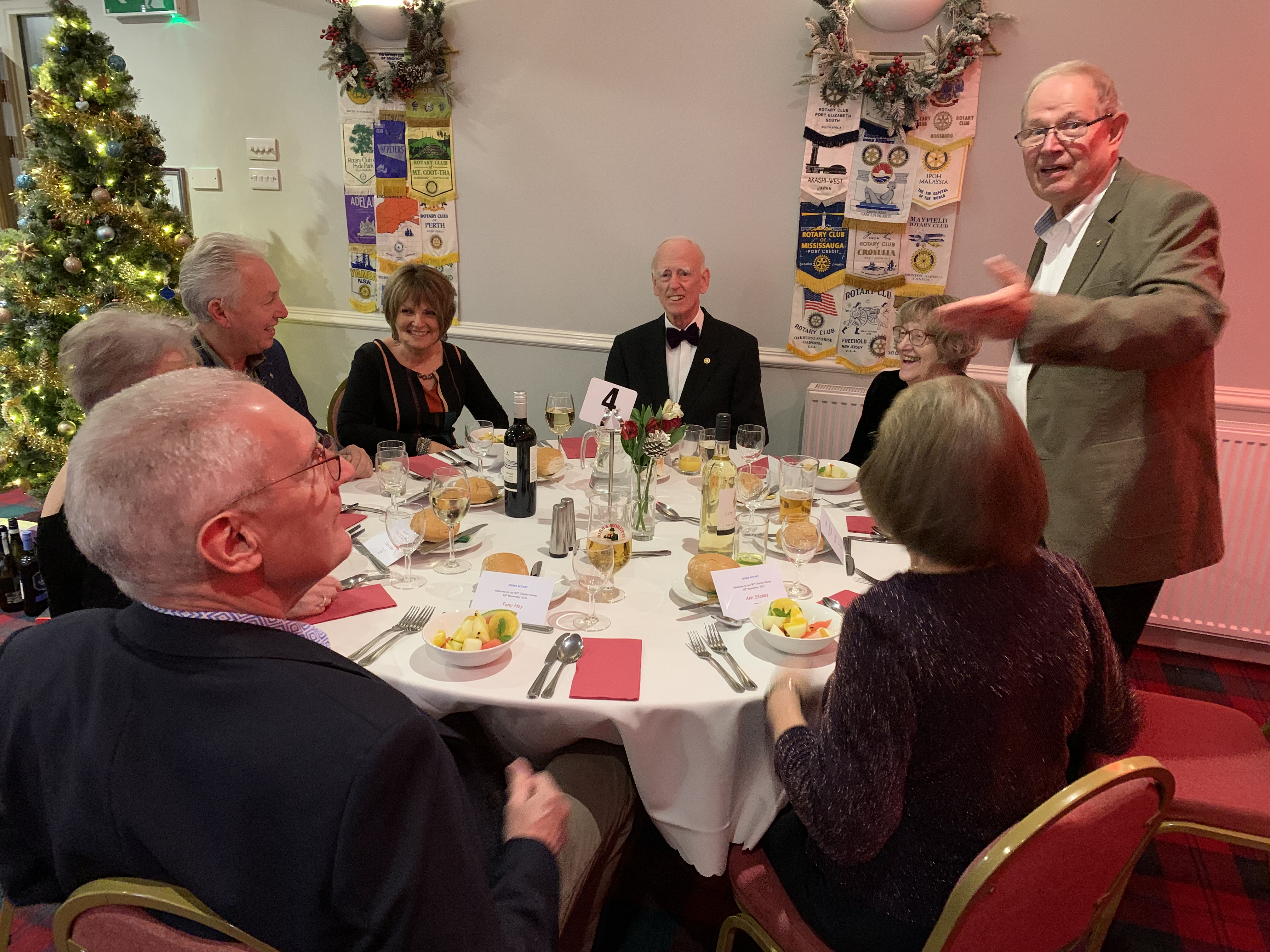 was our second celebration our first being the planting of 3000 purple crocus in Queens Park in October for END POLIO. July 2022 found Crewe Rotary at Springield school Crewe summer fete. Guess which member the photo shows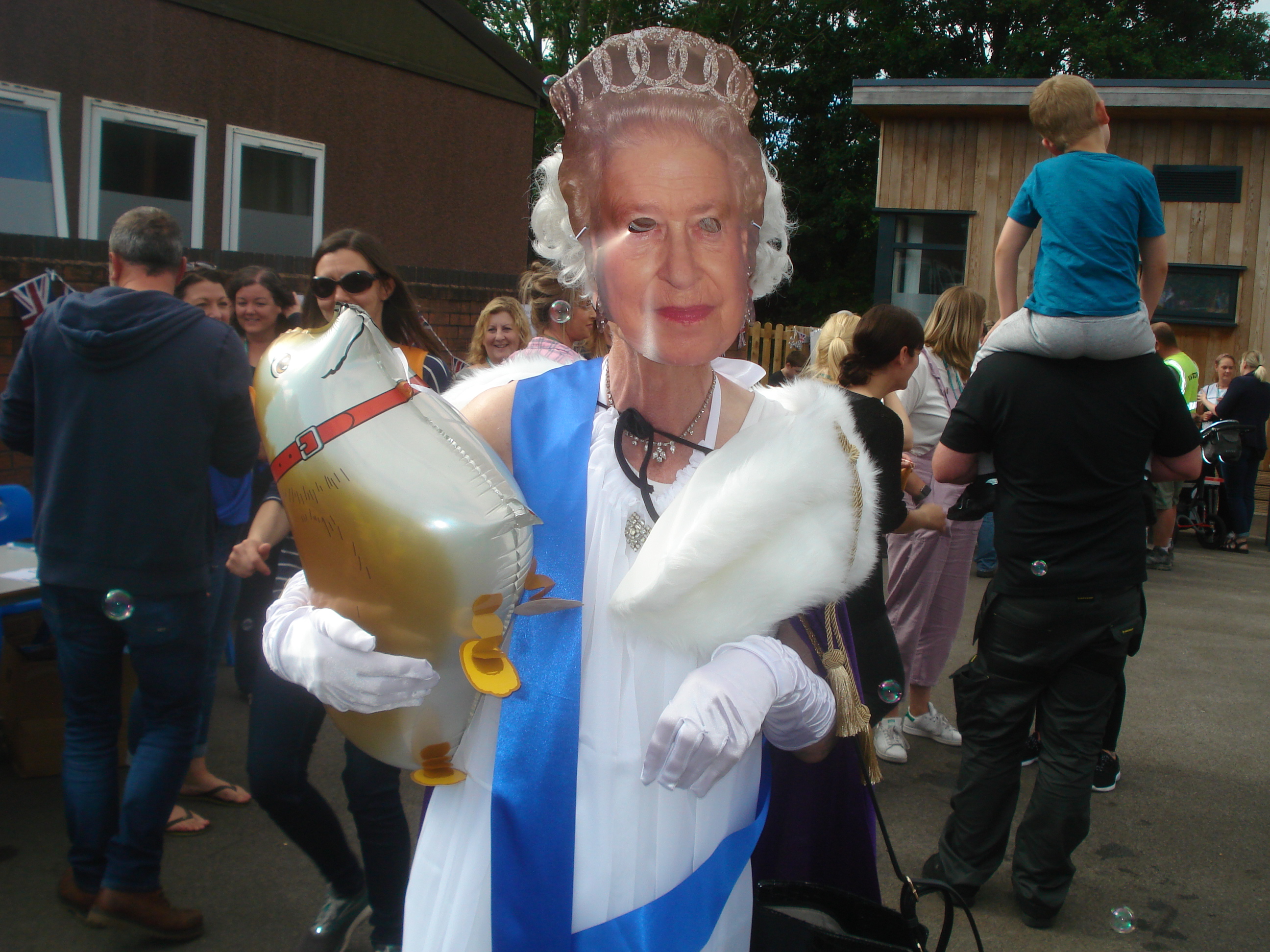 ROTARY SCIENCE IN MARCH 2022. Over 1500 young students experiencesd, interested and enjoyed a range of Science presentations with hands on a key part of every session.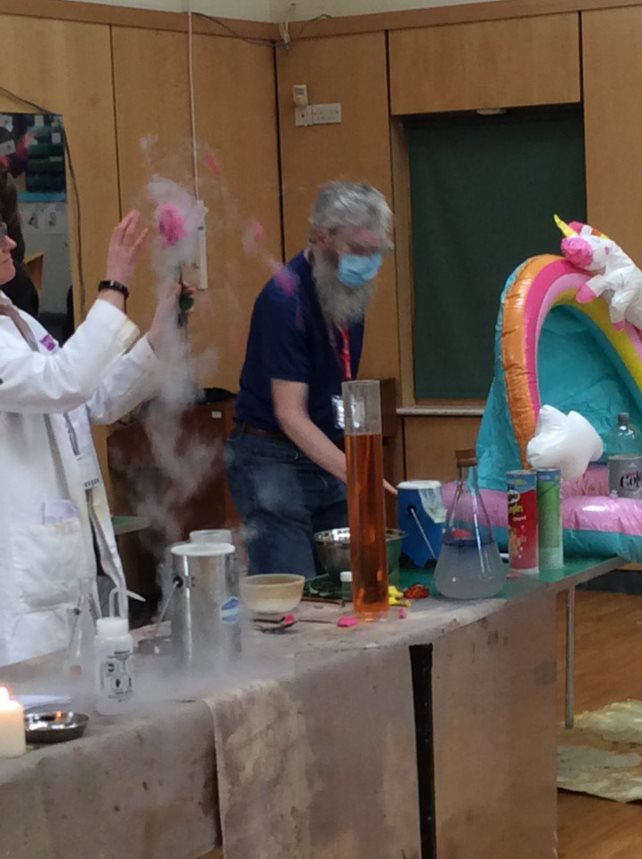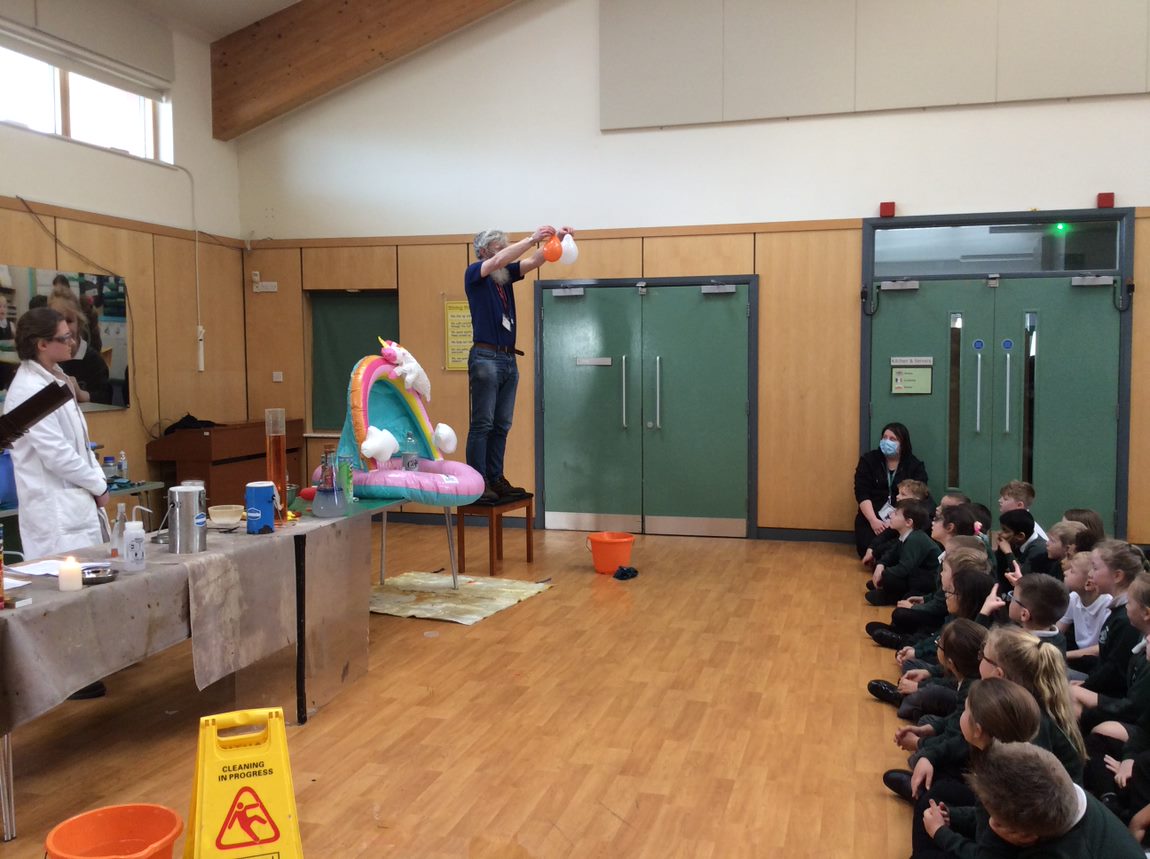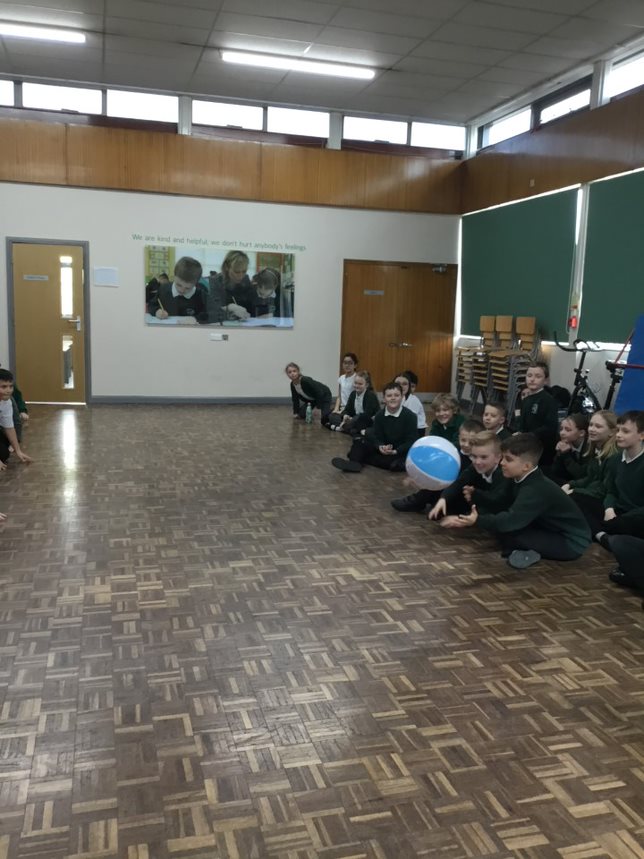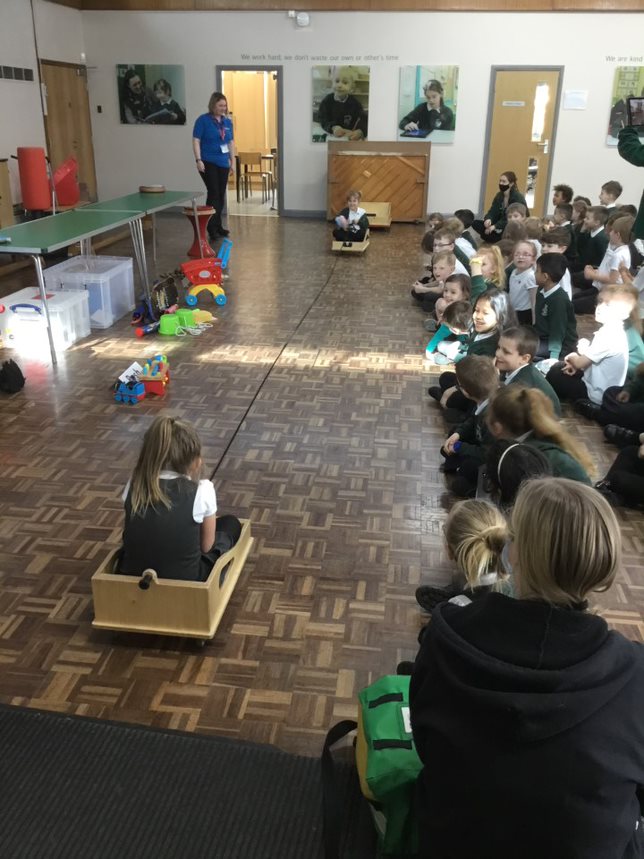 Rotarians planted 8000 purple crocus in Crewe last autumn,making a total of 70,000 over the last 7 years.
All in support of Rotary's campaign END POLIO NOW.Below a picture of a Rotarians garden from crocus bought in support of the campaign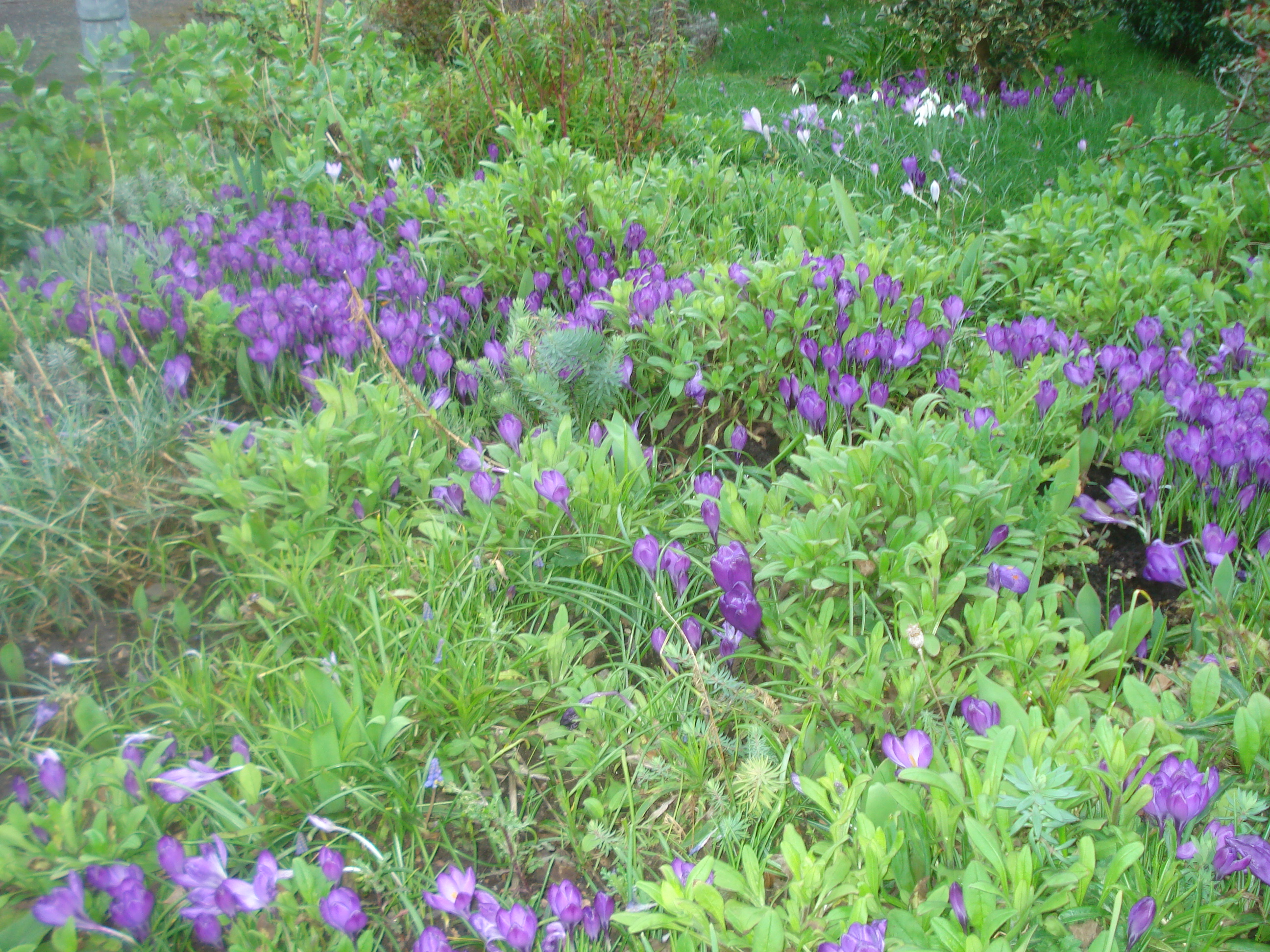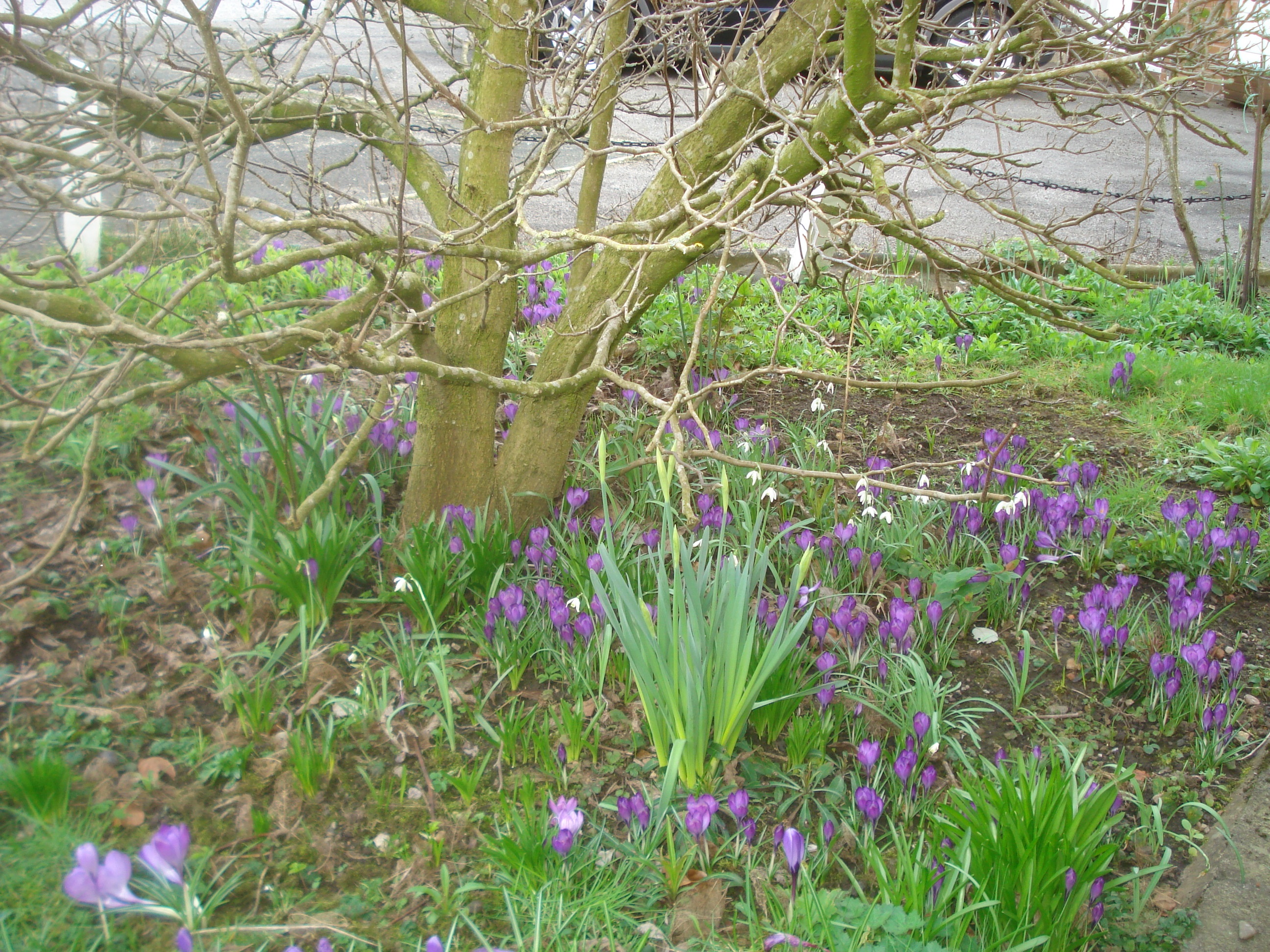 Rotarians collecting food from Morrisons in a joint venture for Crewe food bank St Paul's pantry.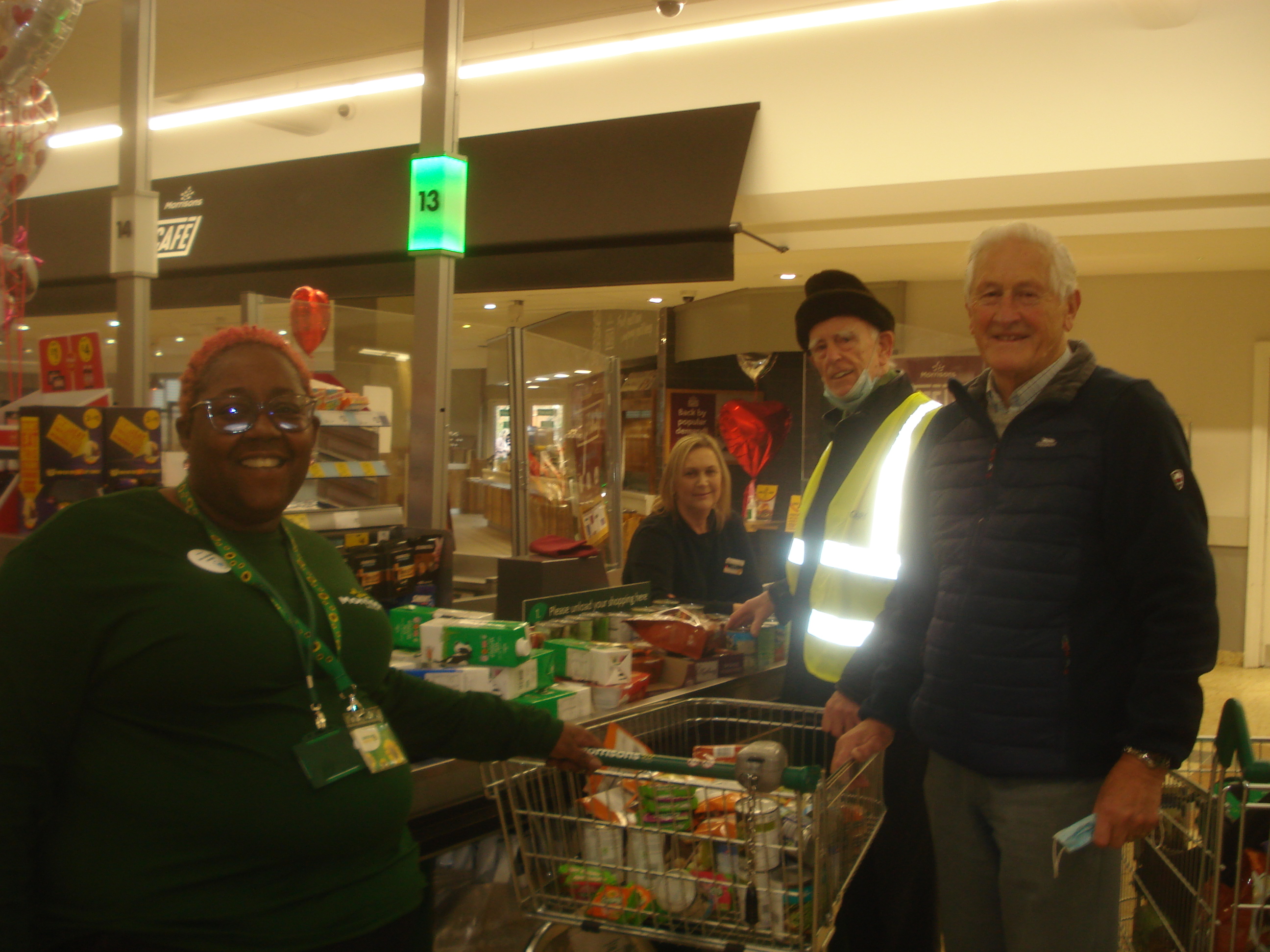 An amusing summary of the children's letters posted to Santa in 2021
The Minshull new road team supporting Santa below -the record breakers!!!!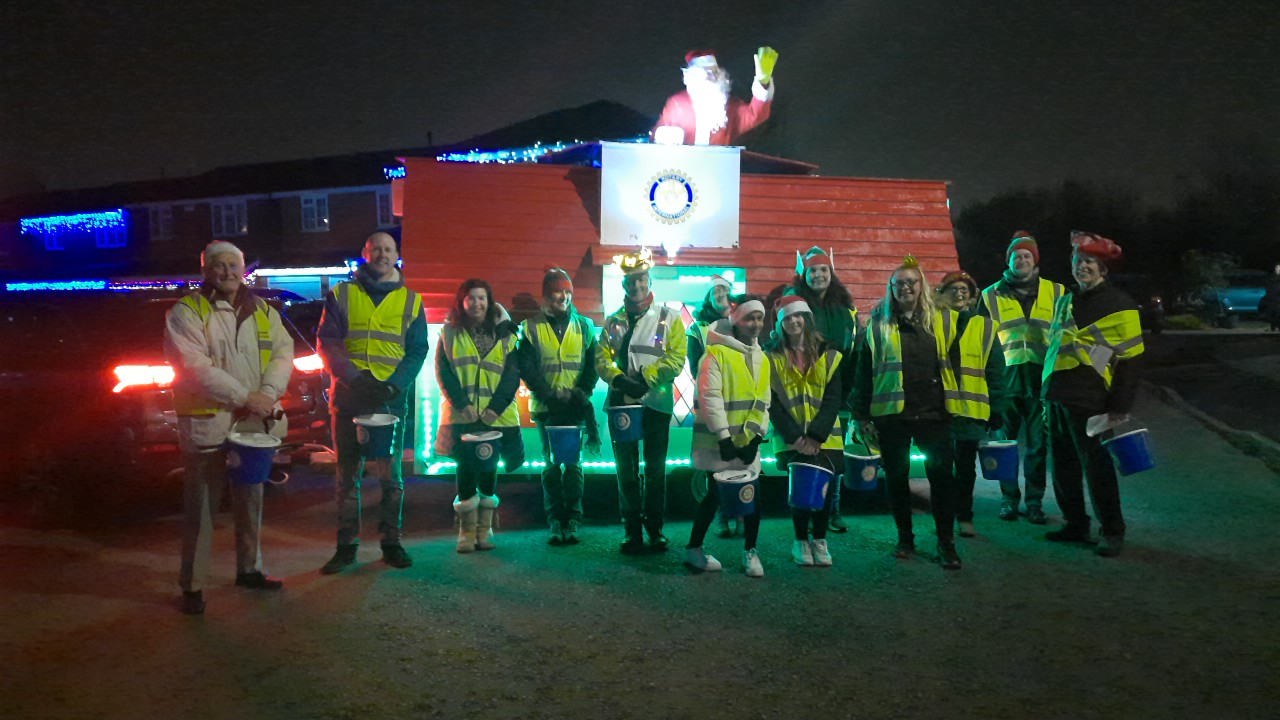 Crewe Rotarians supporting Santa at Springfield special school Crewe at the Xmas fair 2021 December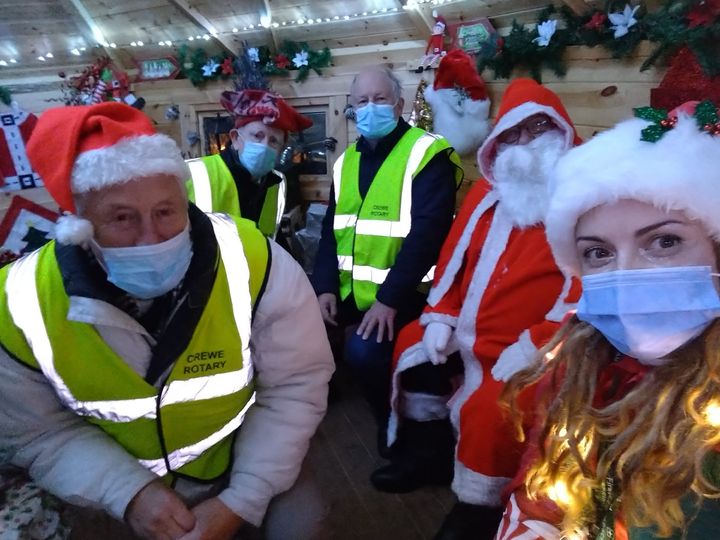 Crewe Rotarians David and Tom supporting Crewe Clean Team in their litter sweep in the Flag Lane area.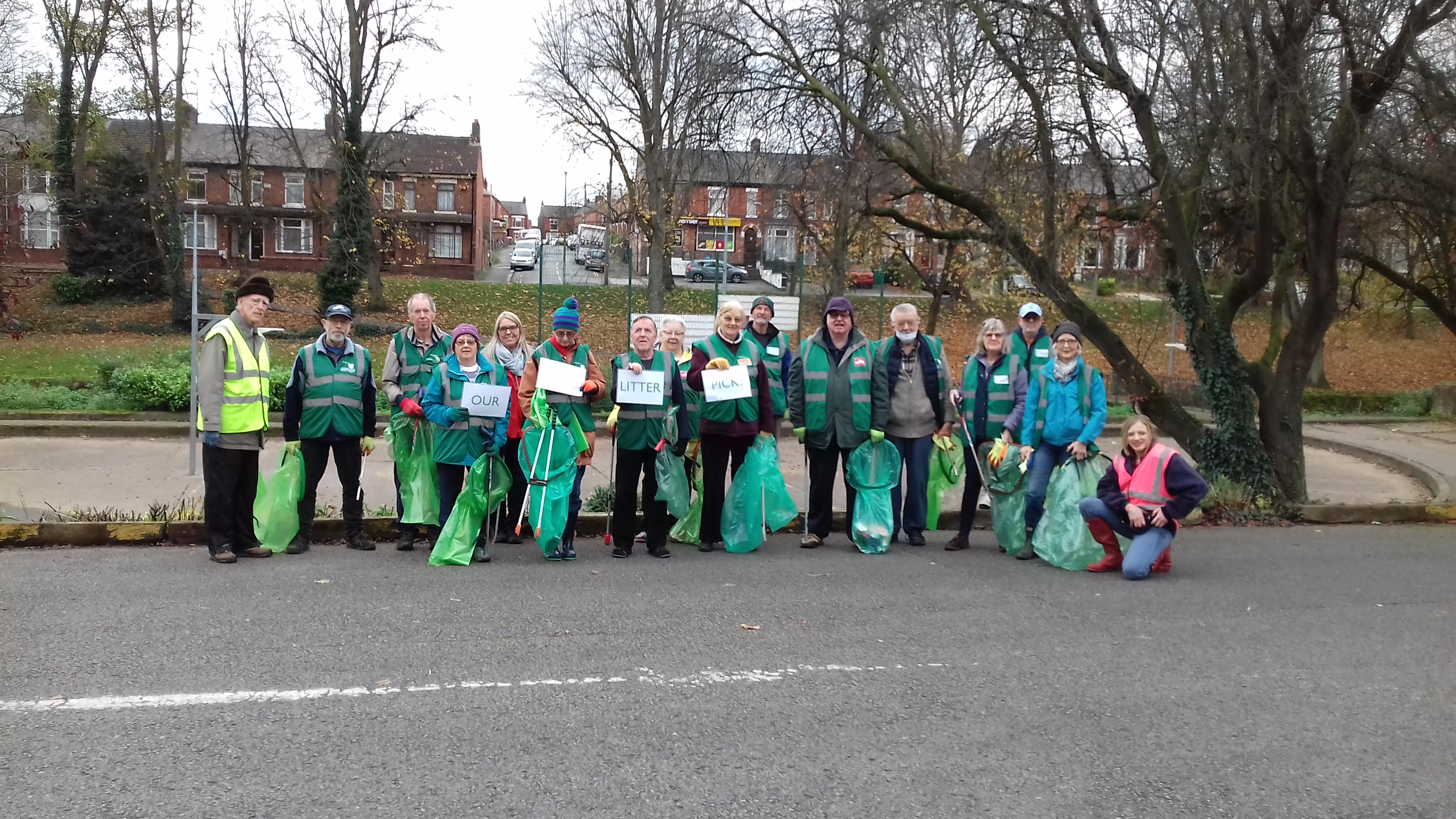 Crewe Rotarians planting purple crocus on Tuesday 9th November at Wistaston Church Lane primary school.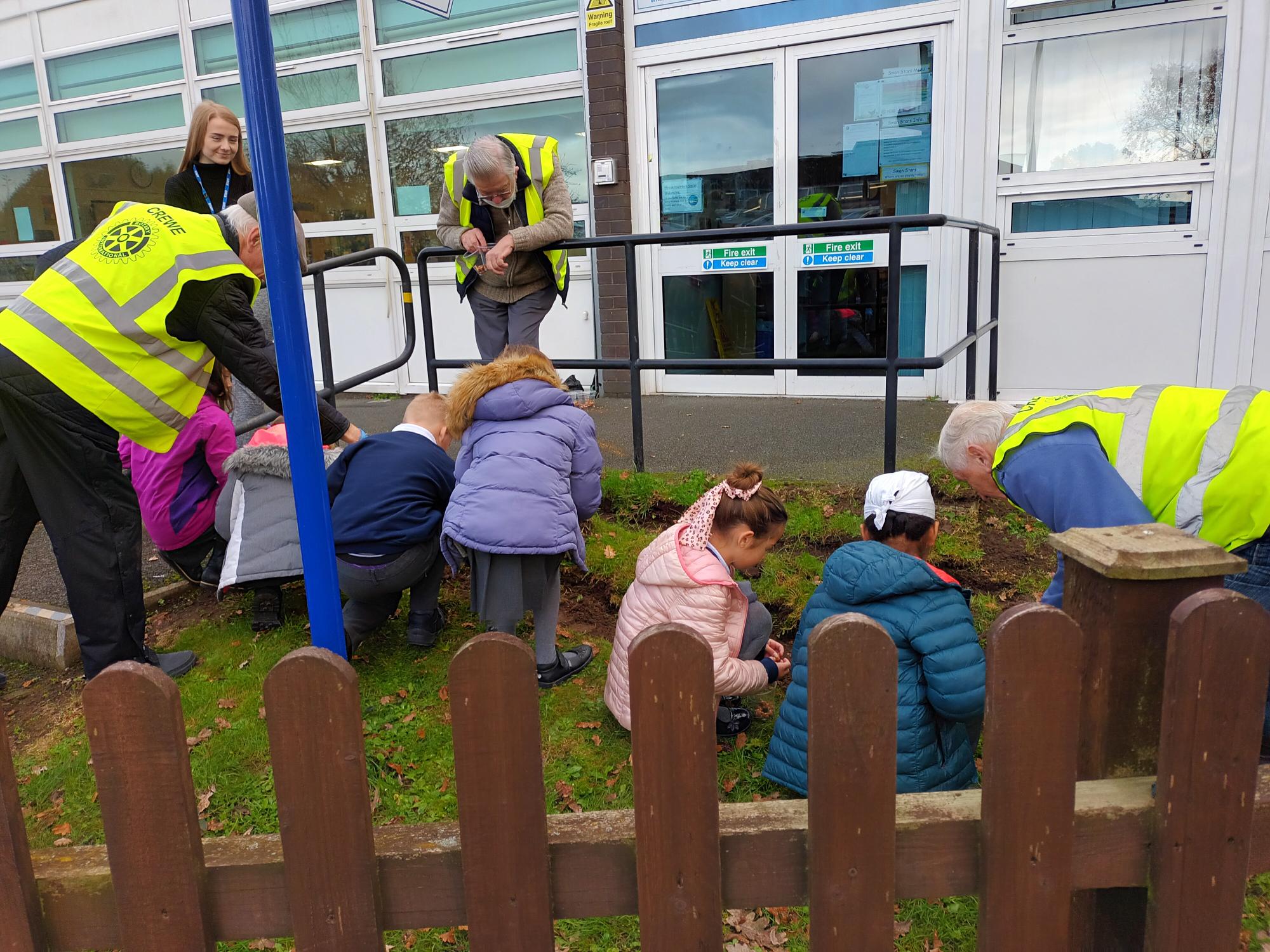 On Wednesday 20th October Crewe Rotary and Wistaston Church Lane primary school planted 2000+ purple crocus at Joey the Swan alongside a new path created by the park volunteers who also helped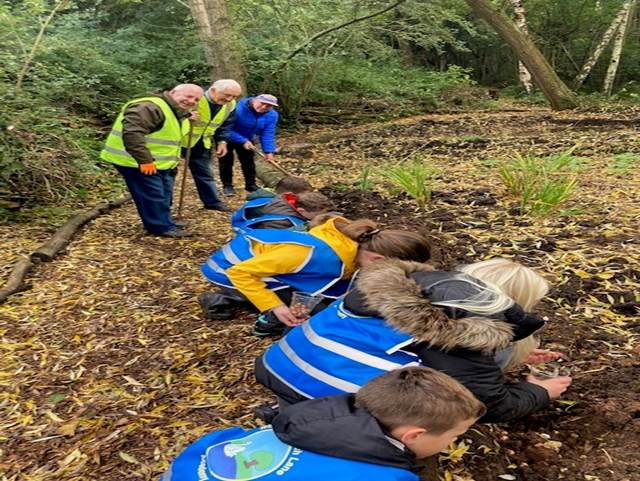 Today Tuesday October 7th 2021 Crewe Rotary members leafletted the eastern roads of Haslington and will be collecting any donations next Tuesday 12th.Crewe foodbank St Paul's have indicated they are expecting an upswing in numbers following the end of the £20 Universal Benefit. Some Schools and churches in the town are offering their harvest festival proceeds to St Pauls.
President Steven Clark taking the chain of office from past President Jane Chalmers.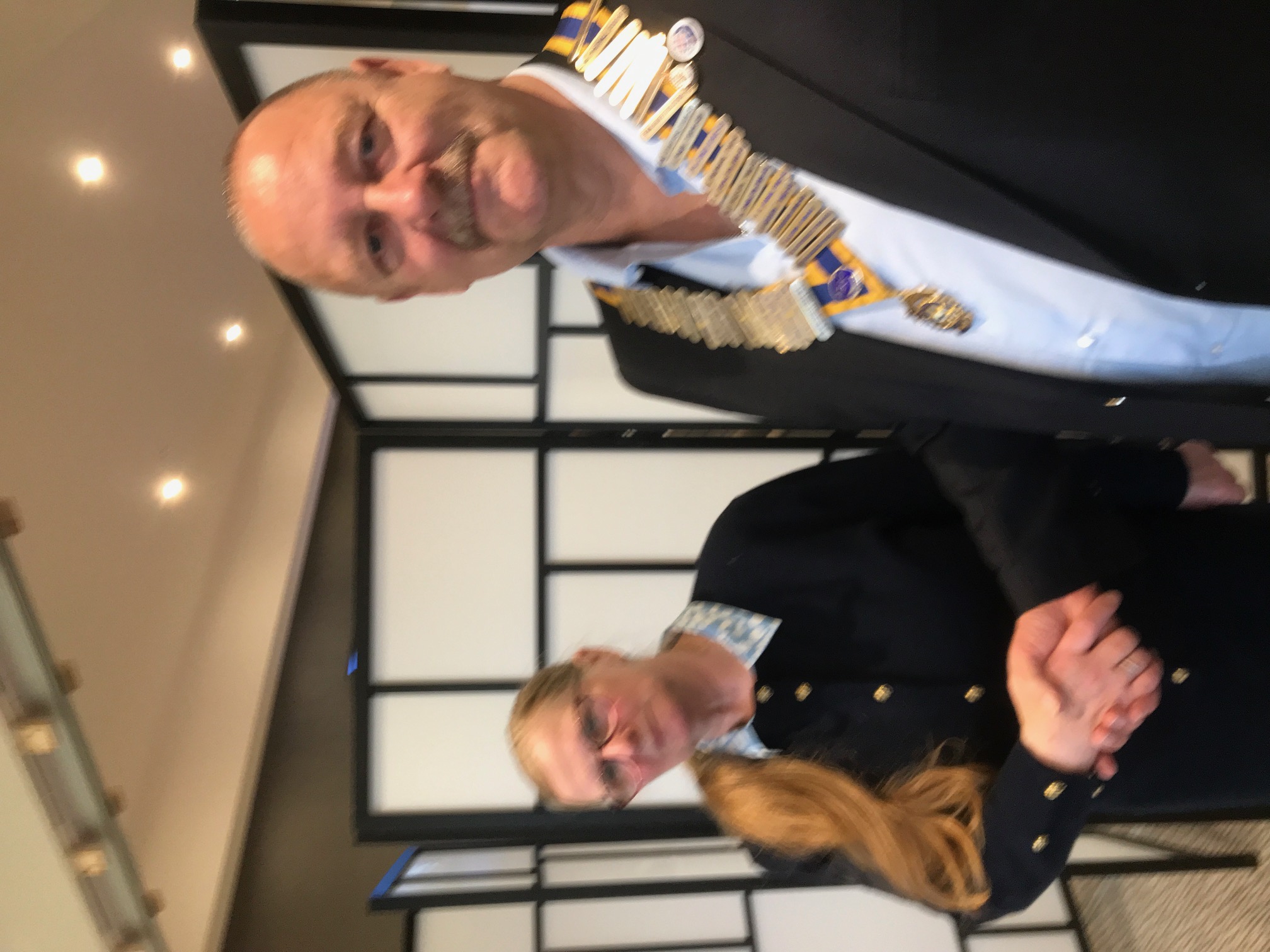 On the 16th July Past President Jane married Crewe Rotarian Iain. Crewe Rotarians David B, David S, Derek and Tom were at West Street church to show the club's support and best wishes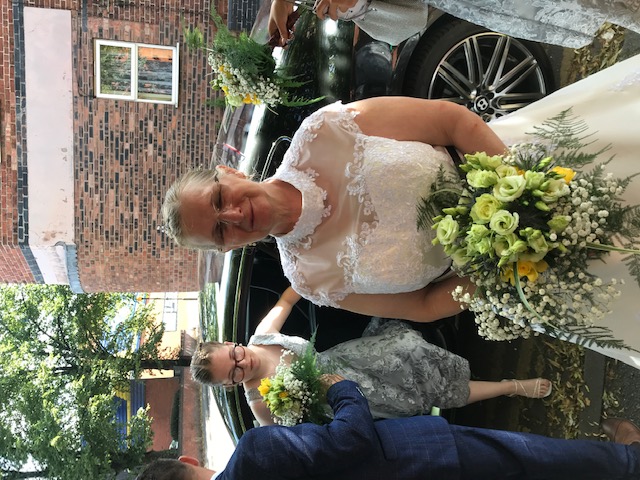 Crewe Rotarian Iain fully kilted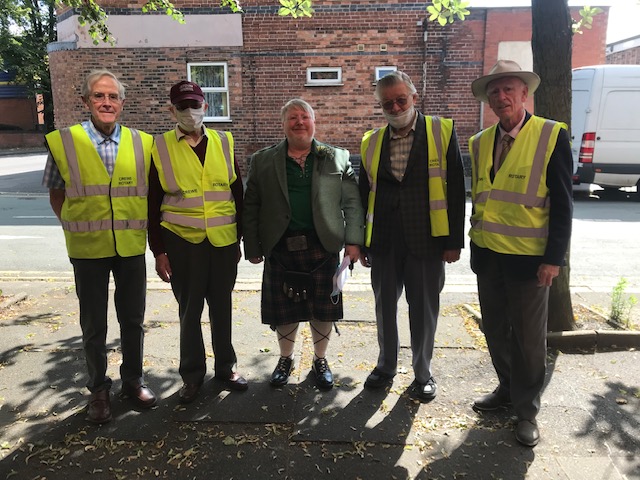 Cameron who has been a key worker in the club's operation wheelbarrow collecting food for Crewe foodbank pictured in the full regalia at the wedding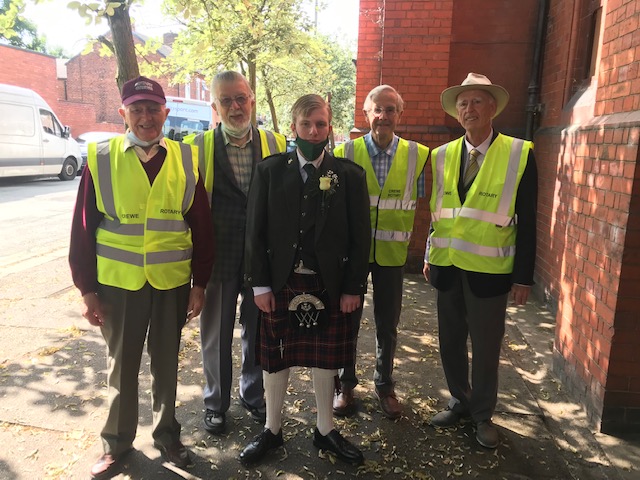 A happy gang of Rotarians prepare to start collecting food for St Pauls food bank on 5/6/21 on Coleridge Way and Roads off.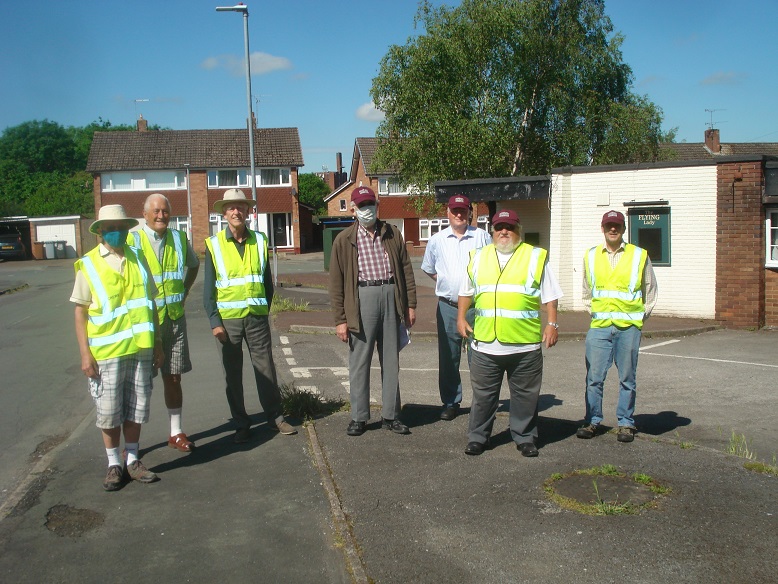 Crocus for END POLIO. Crewe Rotary have planted another 8000 purple crocus making 58,000 so far.
Purple is the campaign colour of the campaign to end the disease POLIO by mass immunisation across the world. Pictured l to r Rotarians Dennis and Tom planting 1000 crocus on the bank in Valley Park -thus helping the environment and raising awareness of the campaign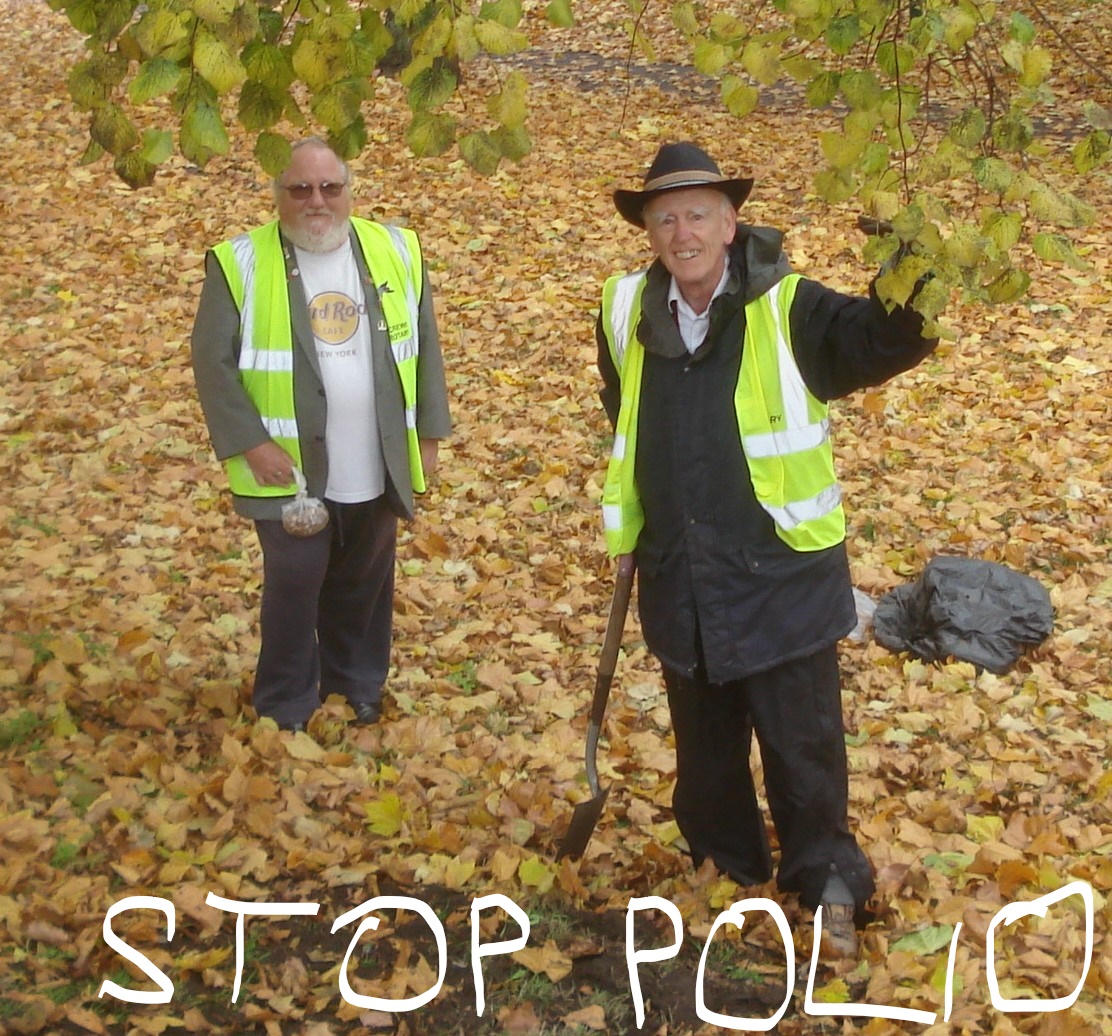 Two pictures showing Rotarian Tom kneeling and planting and Clean team leader Dave following the planting.
Note the Rotary plaque in an area that Rotary Crewe has planted some 4000 crocus with today's addition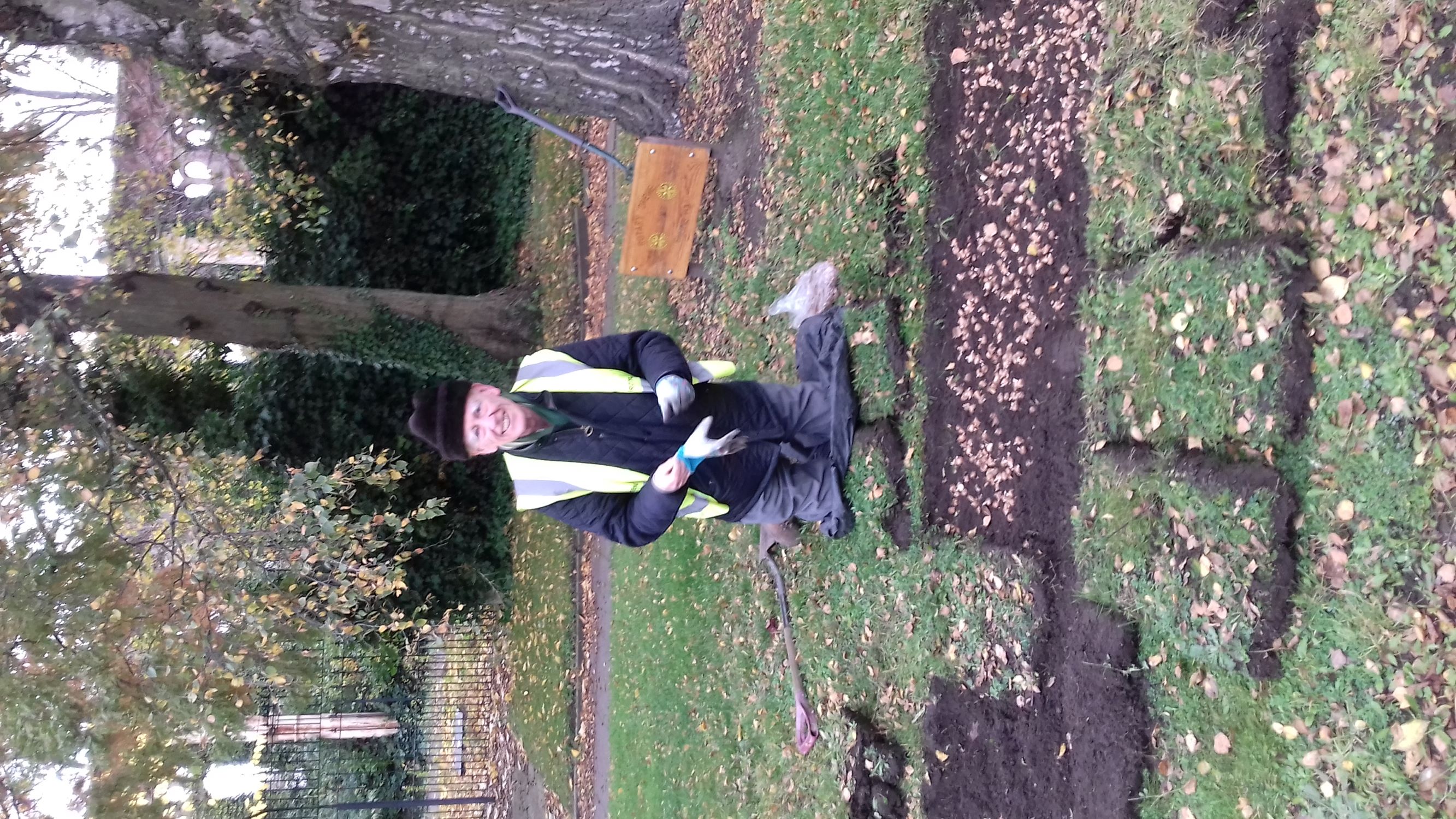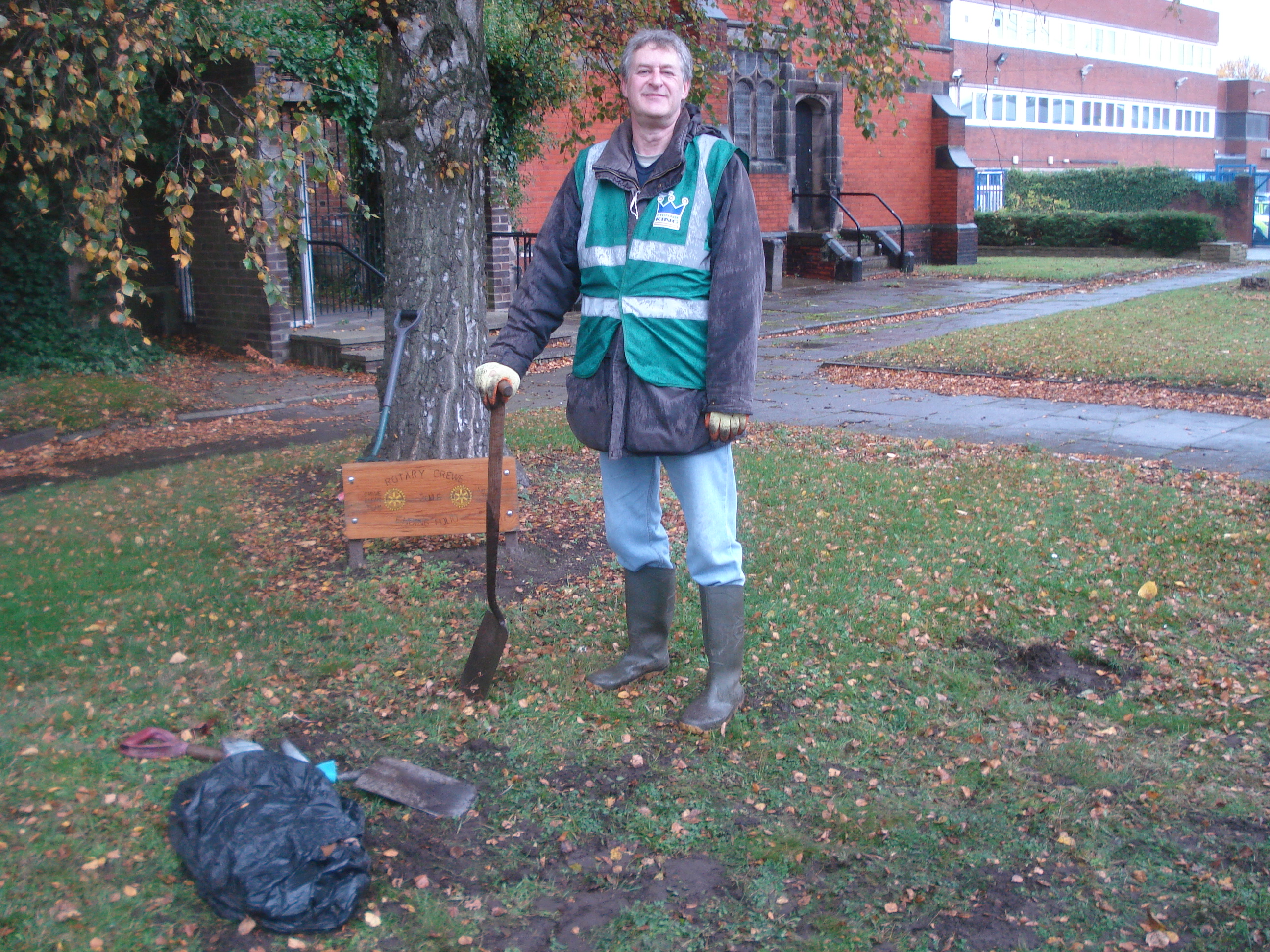 19/10 finds Crewe Rotarians supplying St Paul's with another collection from the good people of Wistaston.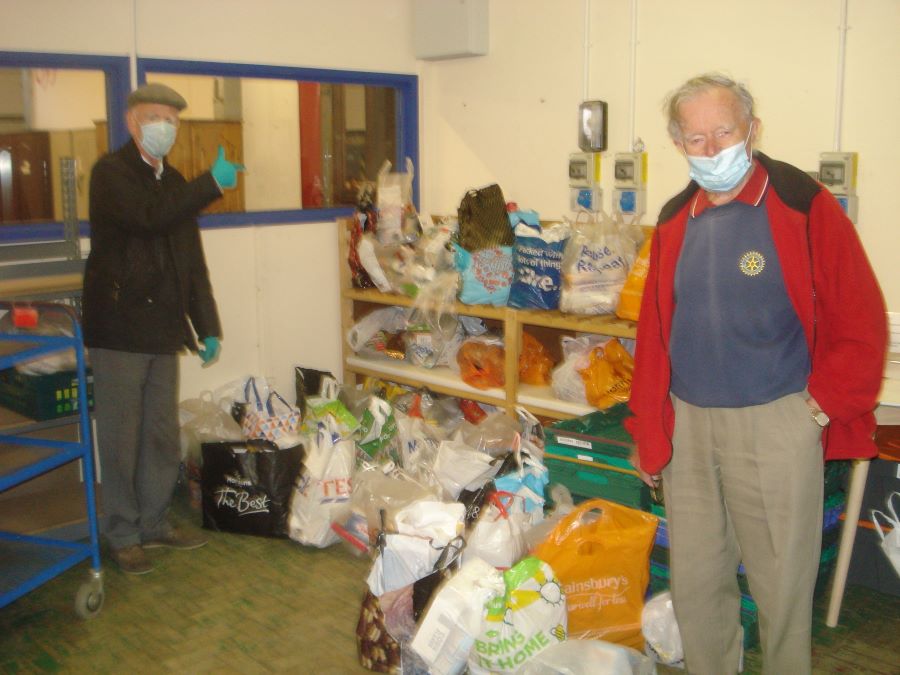 Crewe Rotary were instrumental in setting up the Crewe based Talking Newspaper for the visually impaired.
Crewe Rotary member Ray Gladden was one of the driving forces and you can learn more by following this link
https://cntn.org.uk/25-years/
Continuing our collections - on 5/10/20 Rotarians Dennis and Tom delivered our collection to St Paul's Foodbank ,Crewe.Also pictured Alexia Stockton from St Pauls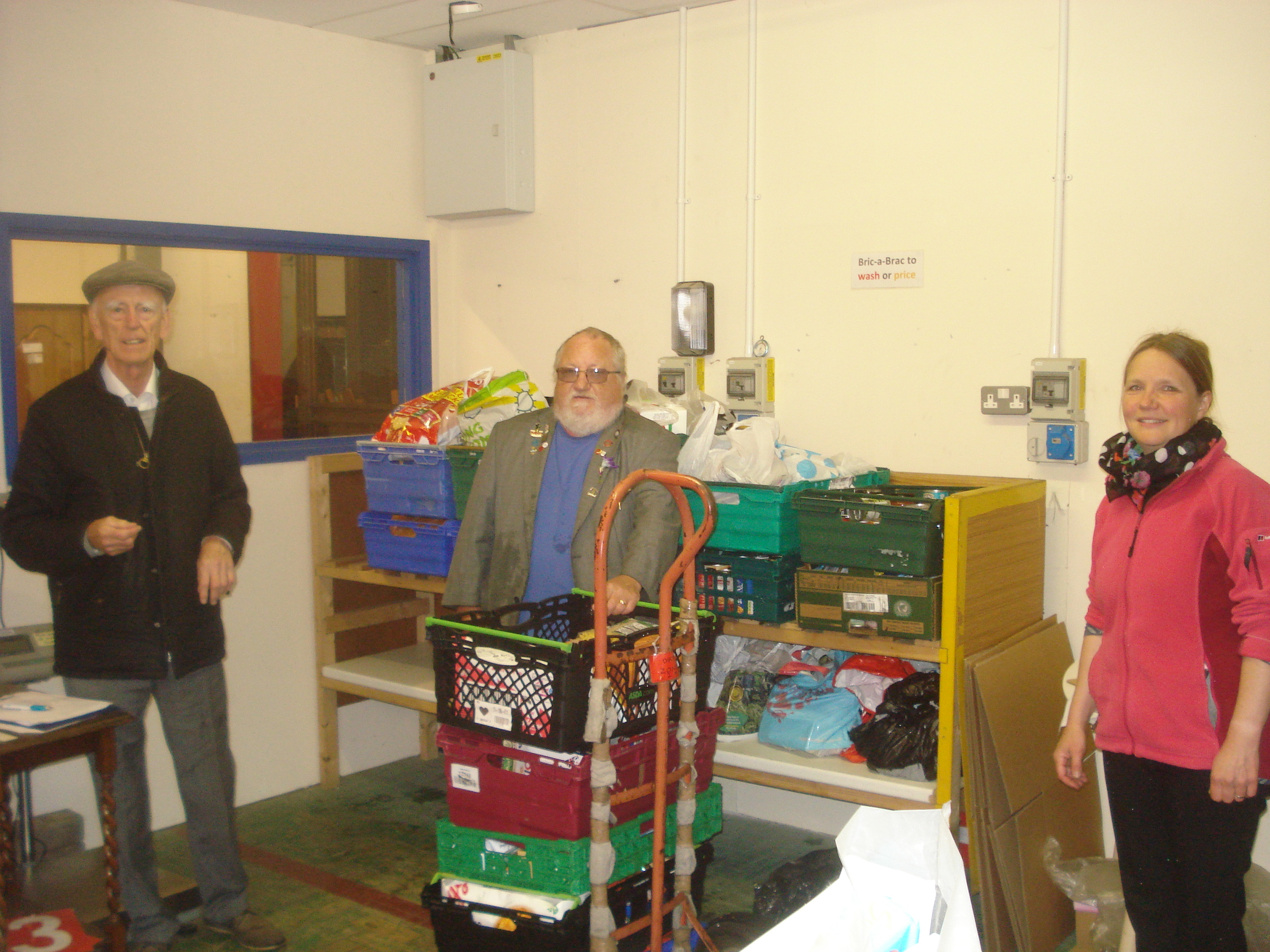 Crewe Rotary continue their food collection for St Pauls foodbank also known as Crewe food bank.This the third time was on the Poet's estate in Wistaston on saturday5/9/20.Our first two collections made two thirds of a ton add this one and maybe we will break our first ton.This shows Rotarians Dennis and Tom with the collection delivered to St Paul's on Monday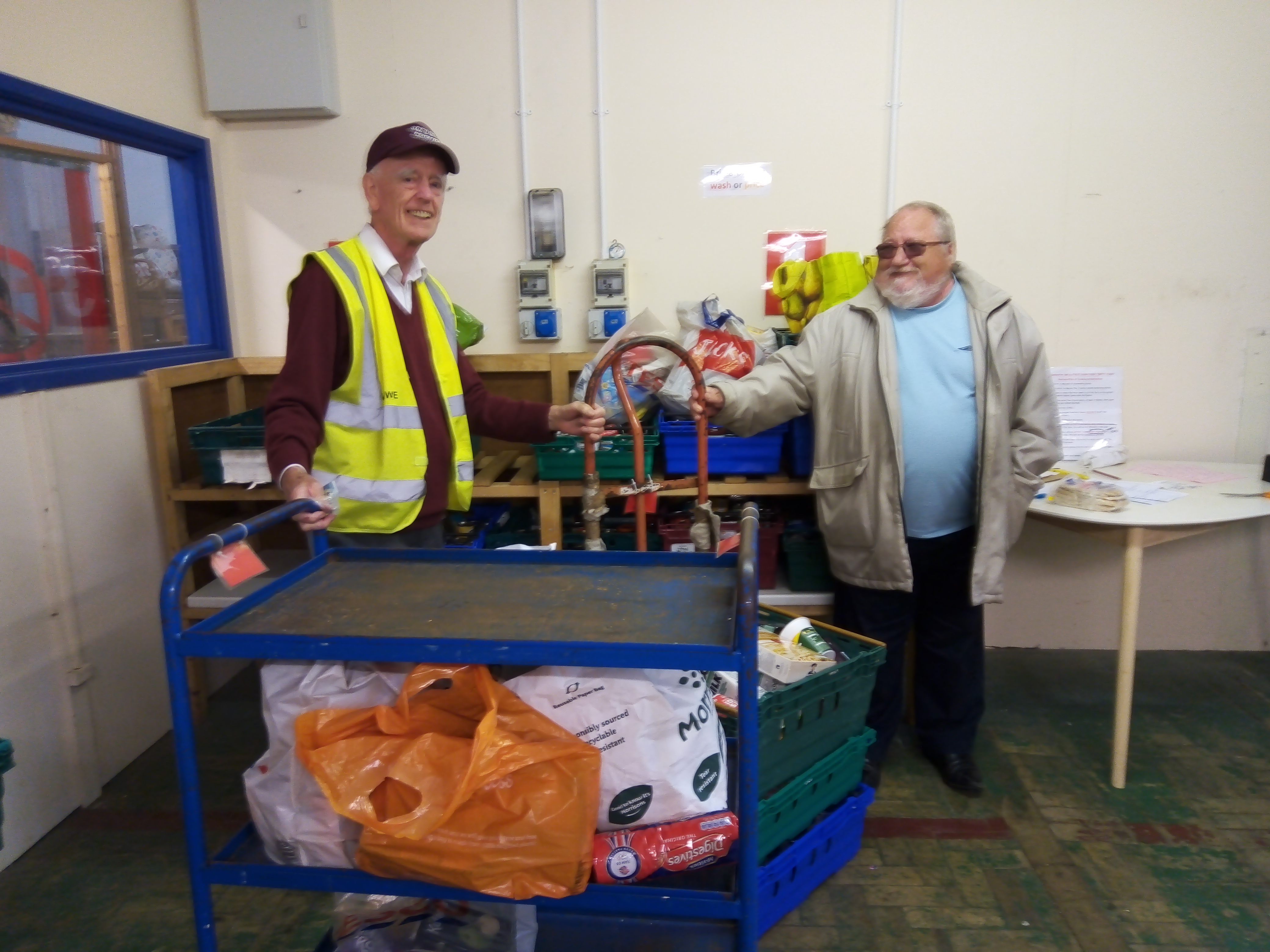 President Jane with our filled trailer from our second collection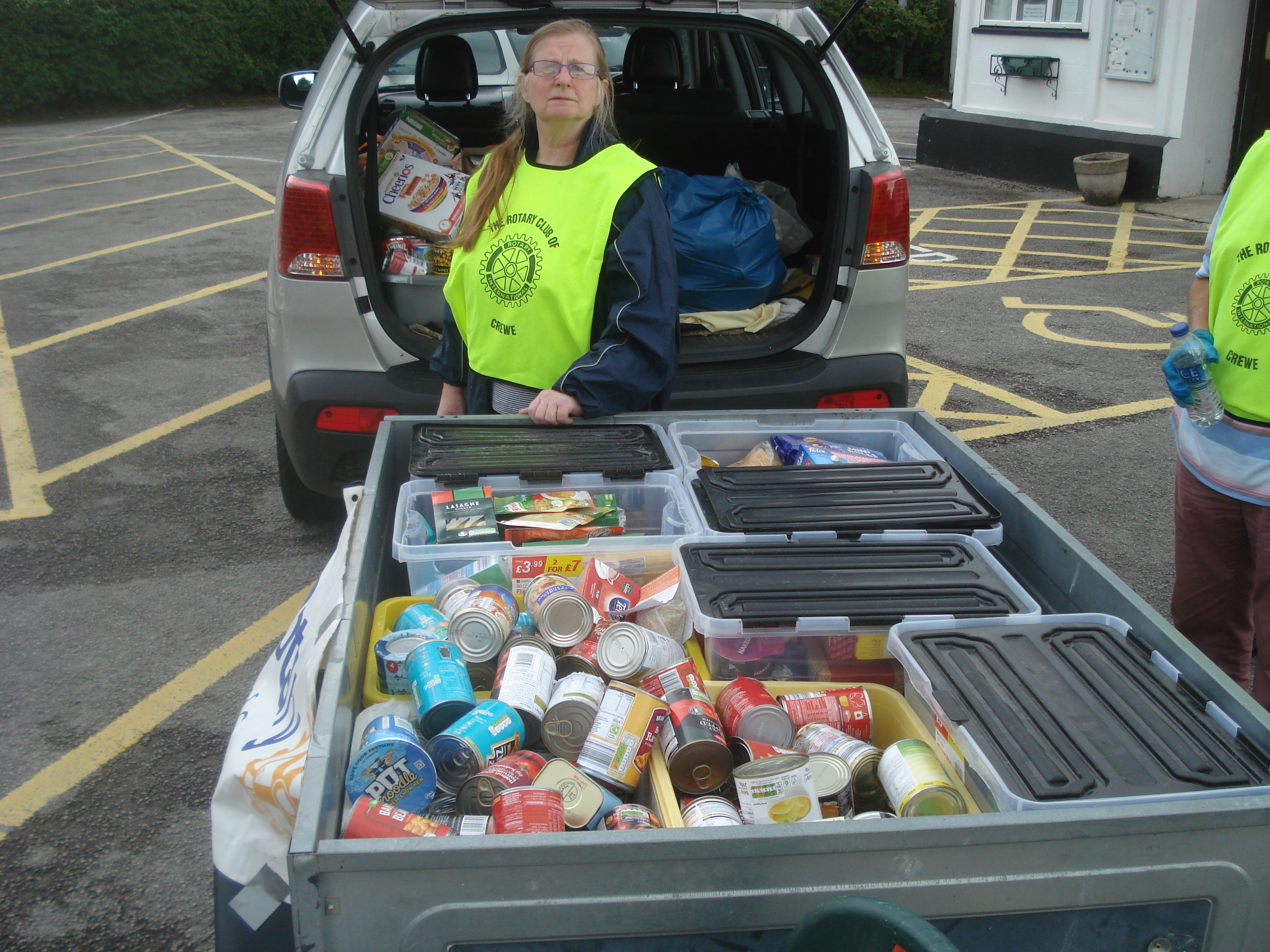 The "barrow boy" collectors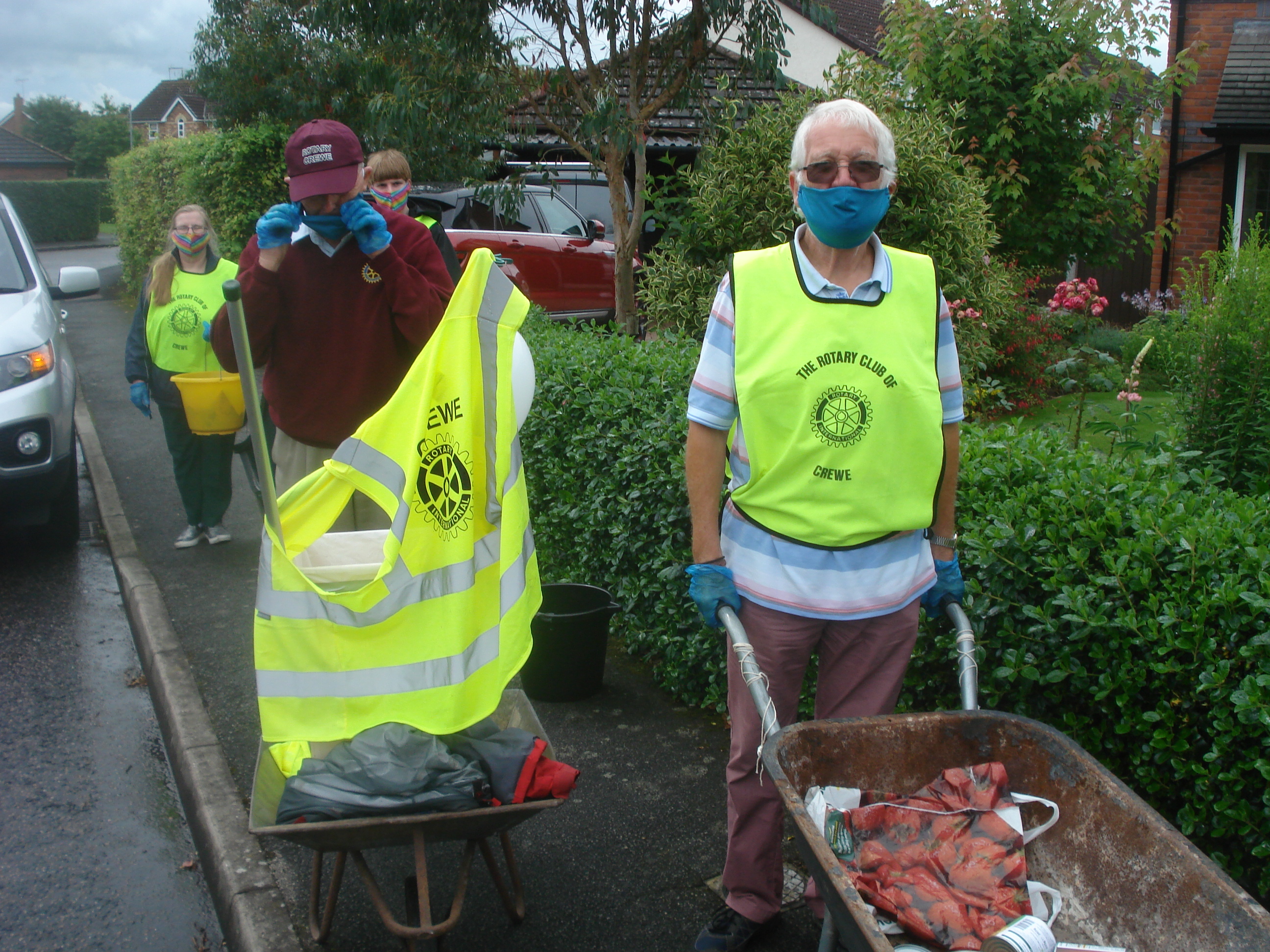 Crewe members +Cameron lined up at Wistaston Memorial ready for the collection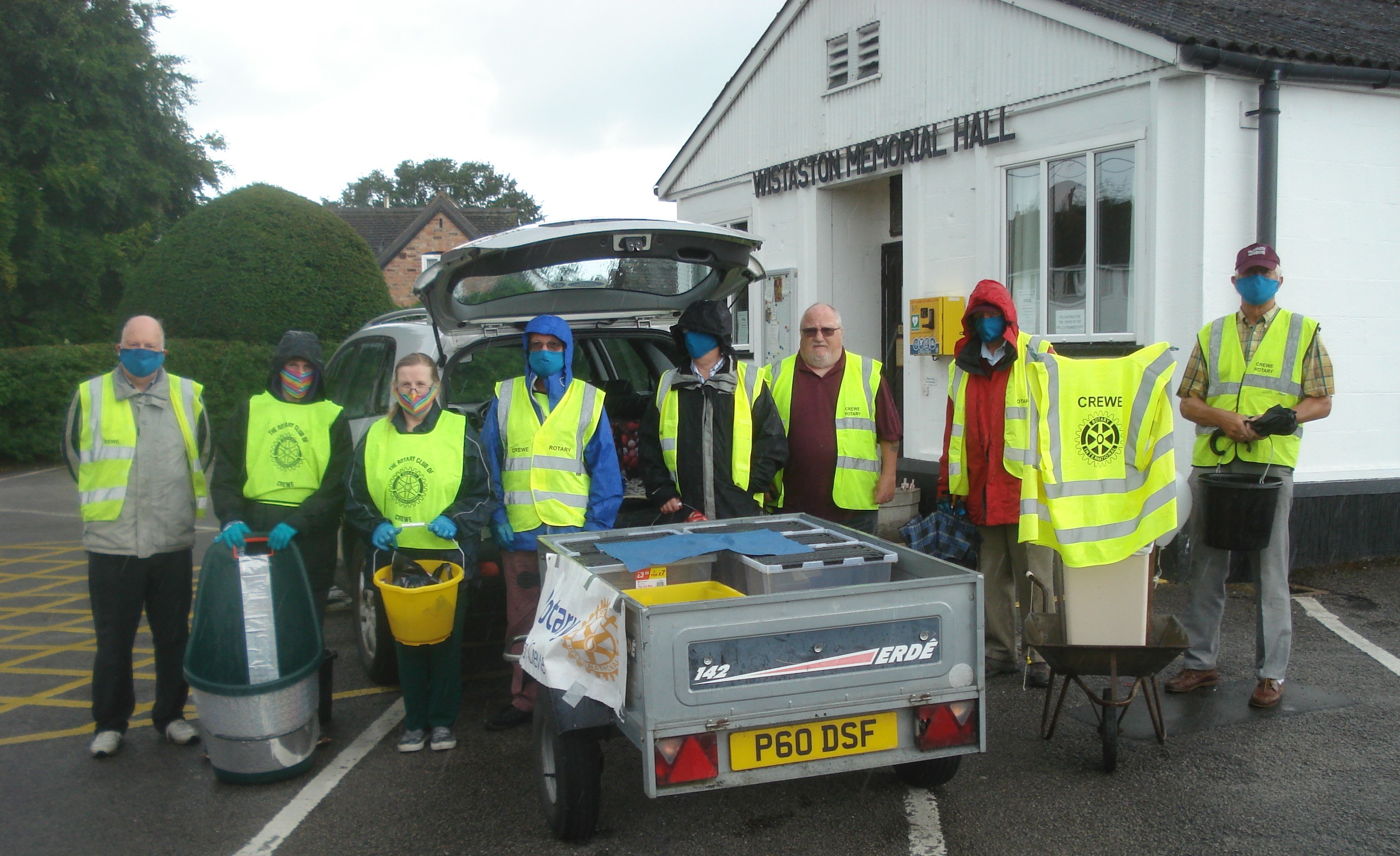 Crewe Rotary members at Crewe Food Bank, St Pauls, with a selection of food as they experience much higher demand.Fray Bentos tinned pies are a sought after item.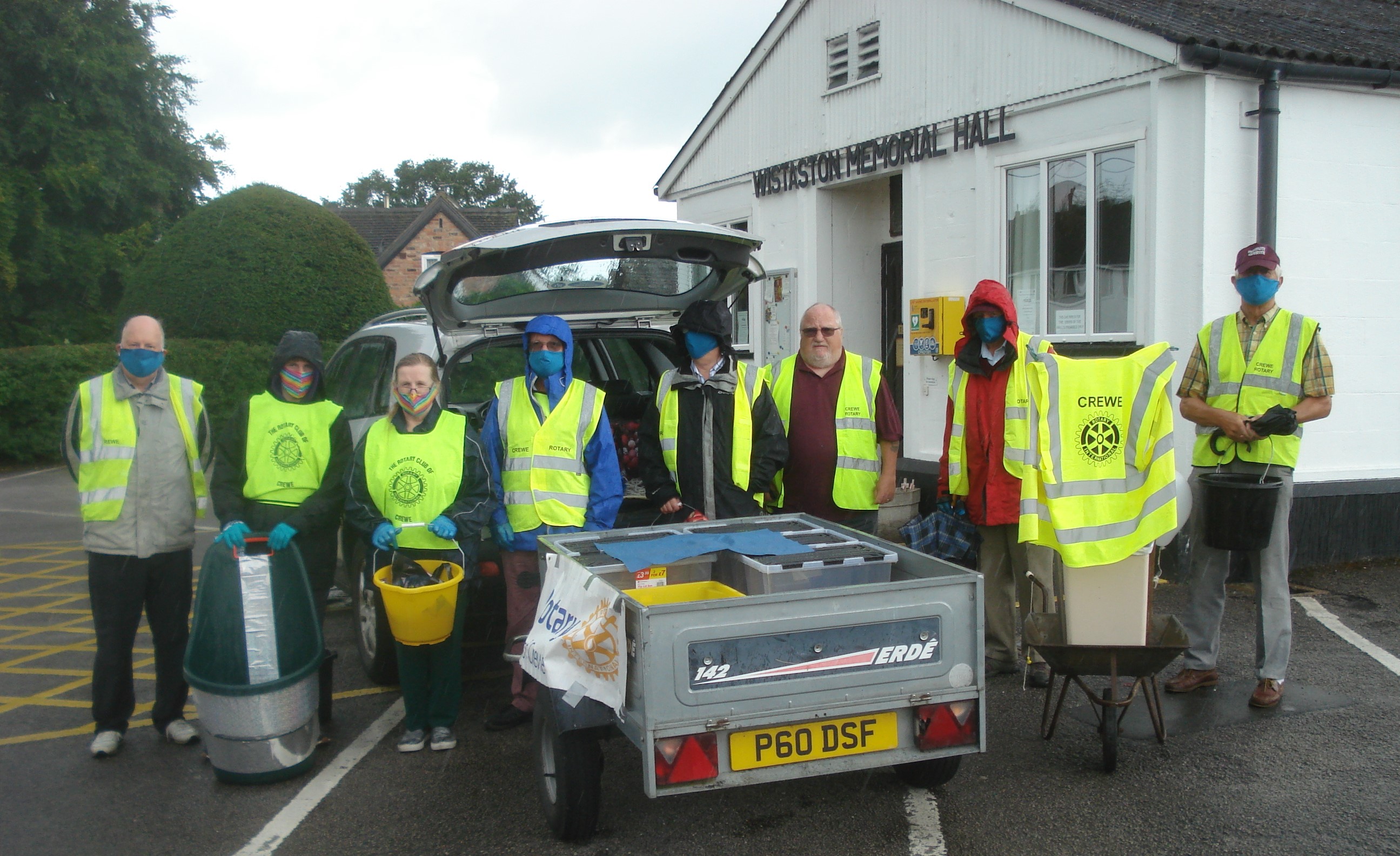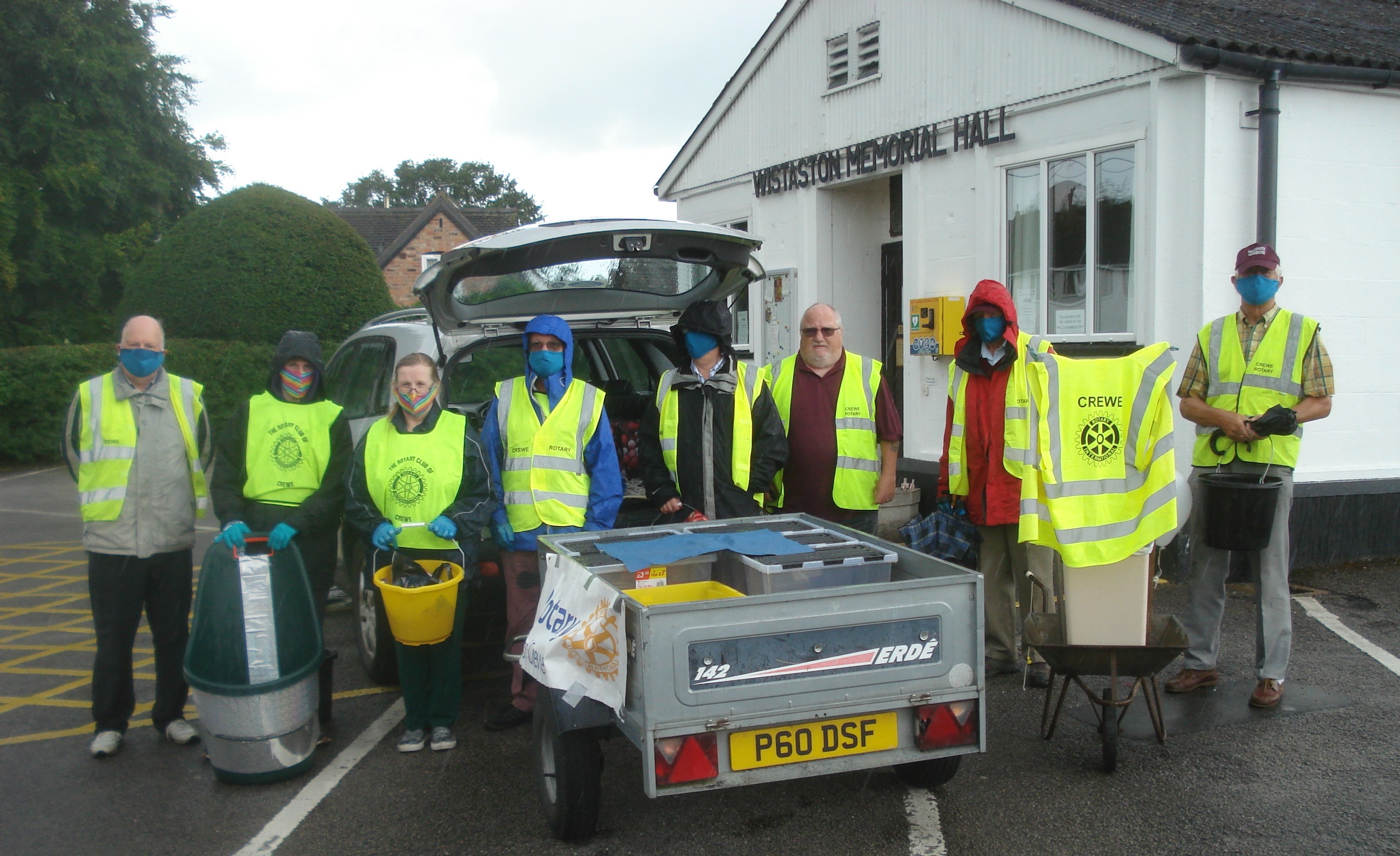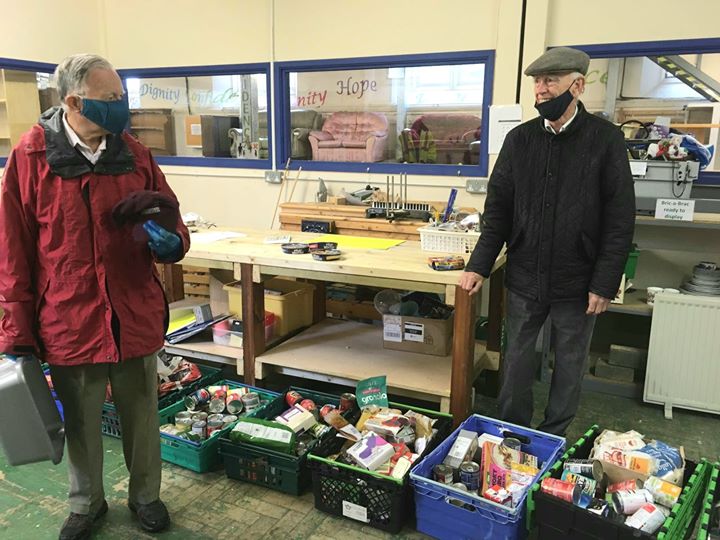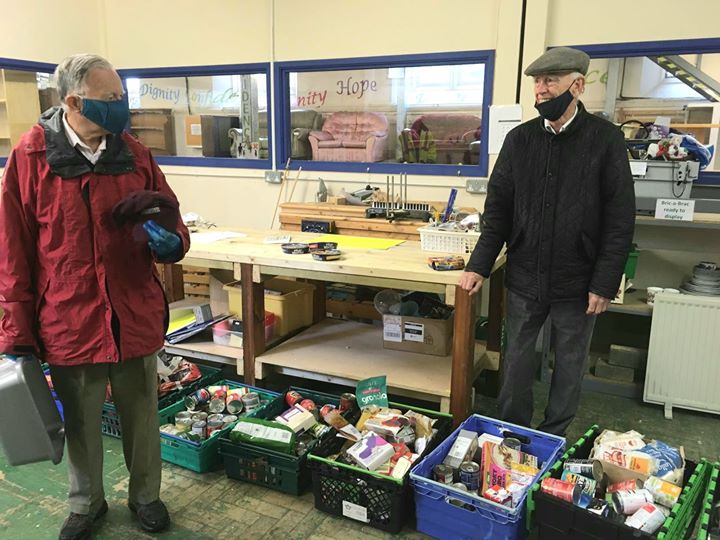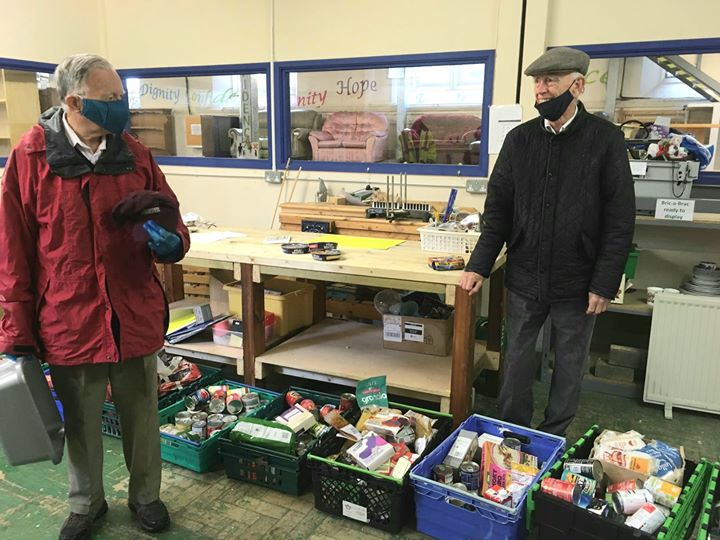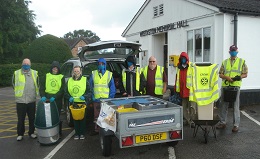 Crewe Rotary had delivered their order for Illustrated dictionaries today June 23rd 2020. As the primary schools are not fully open we look forward to presenting them to several schools in Crewe probably in September.Crewe Rotary has presented dictionaries for the last few years and headteachers have remarked that such items are excellent learning/teaching tools.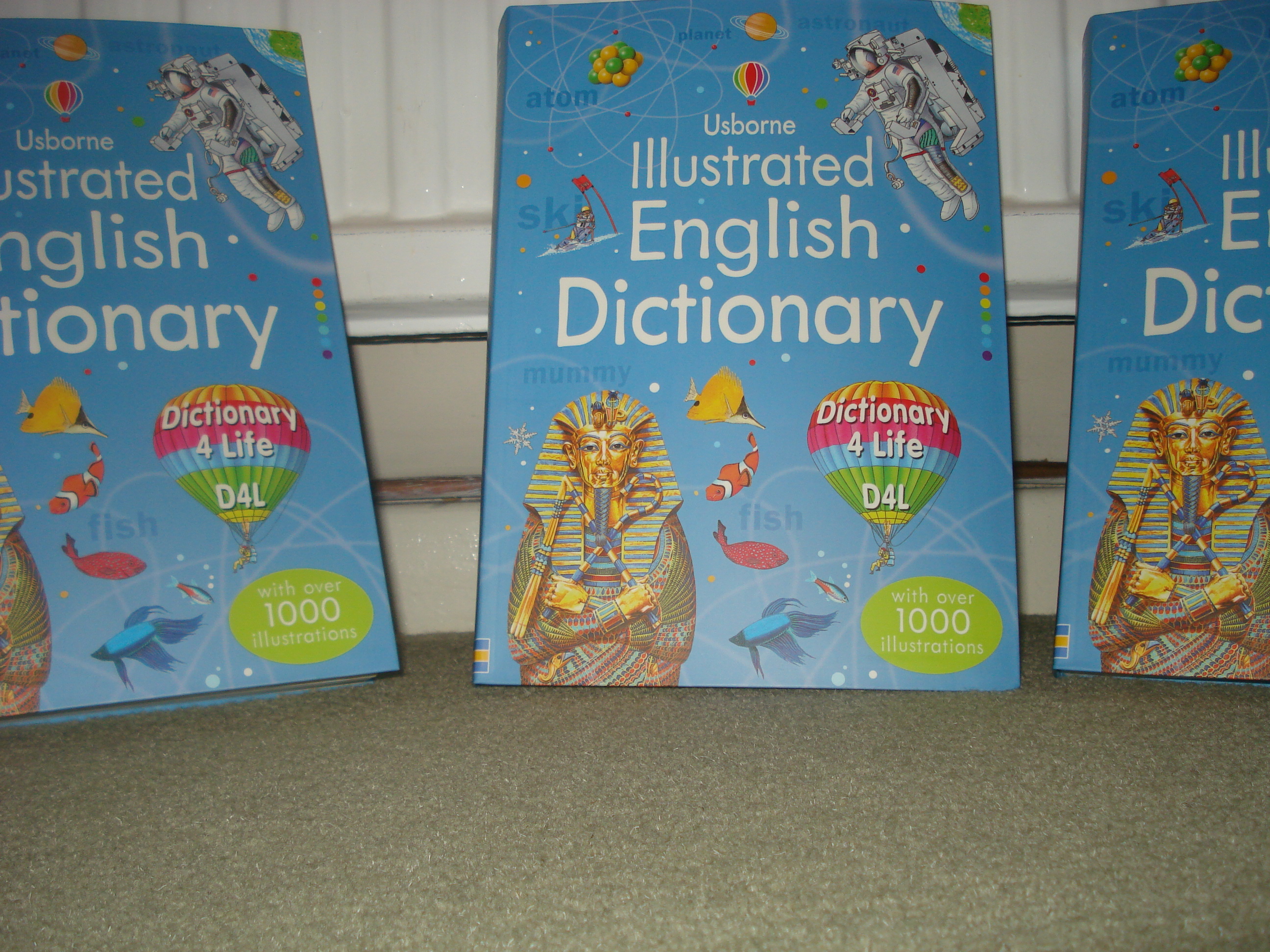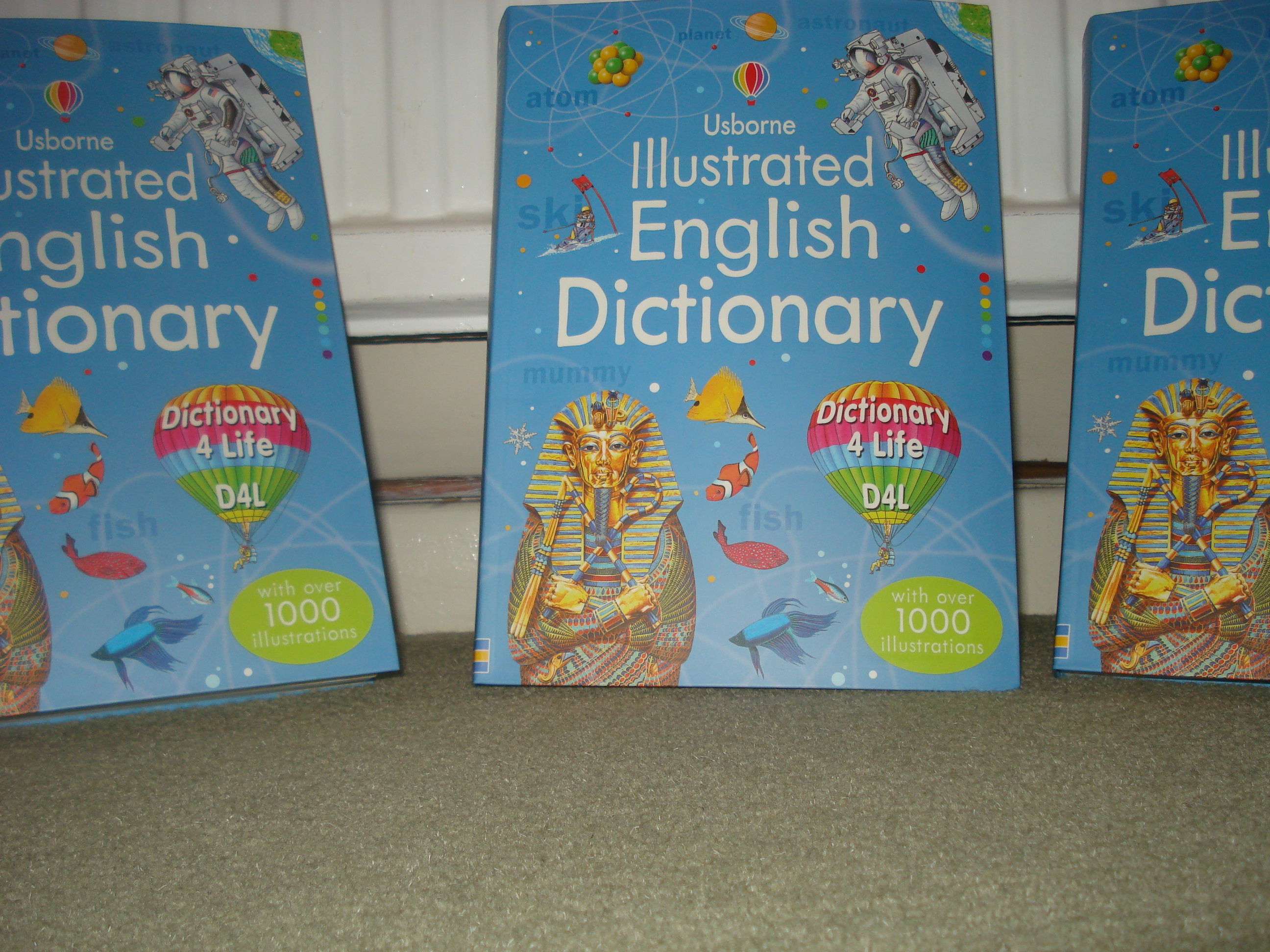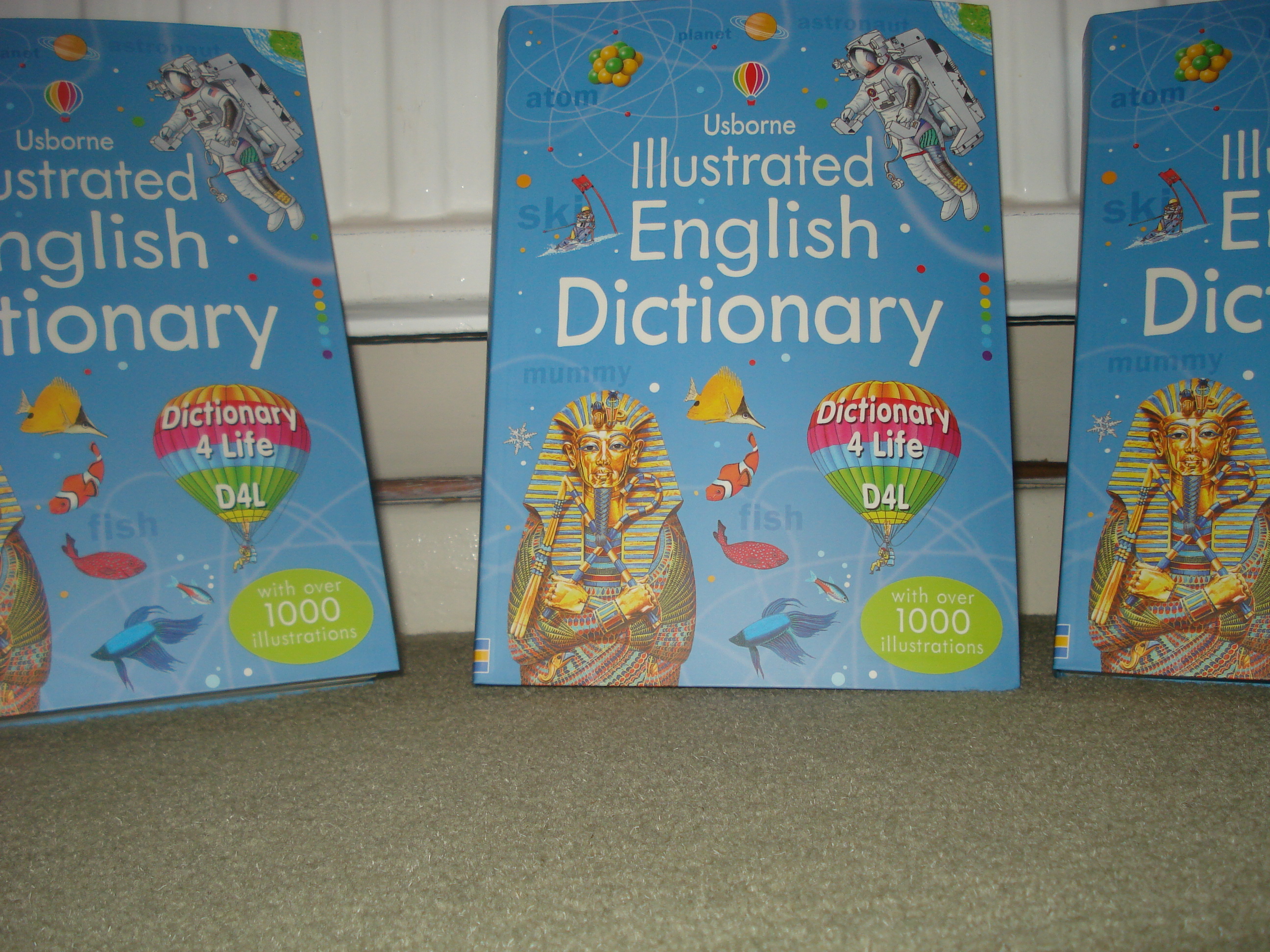 Students from Wistaston school who wrote to Prof Wilson expressing their enthusiasm for her chemistry demonstration.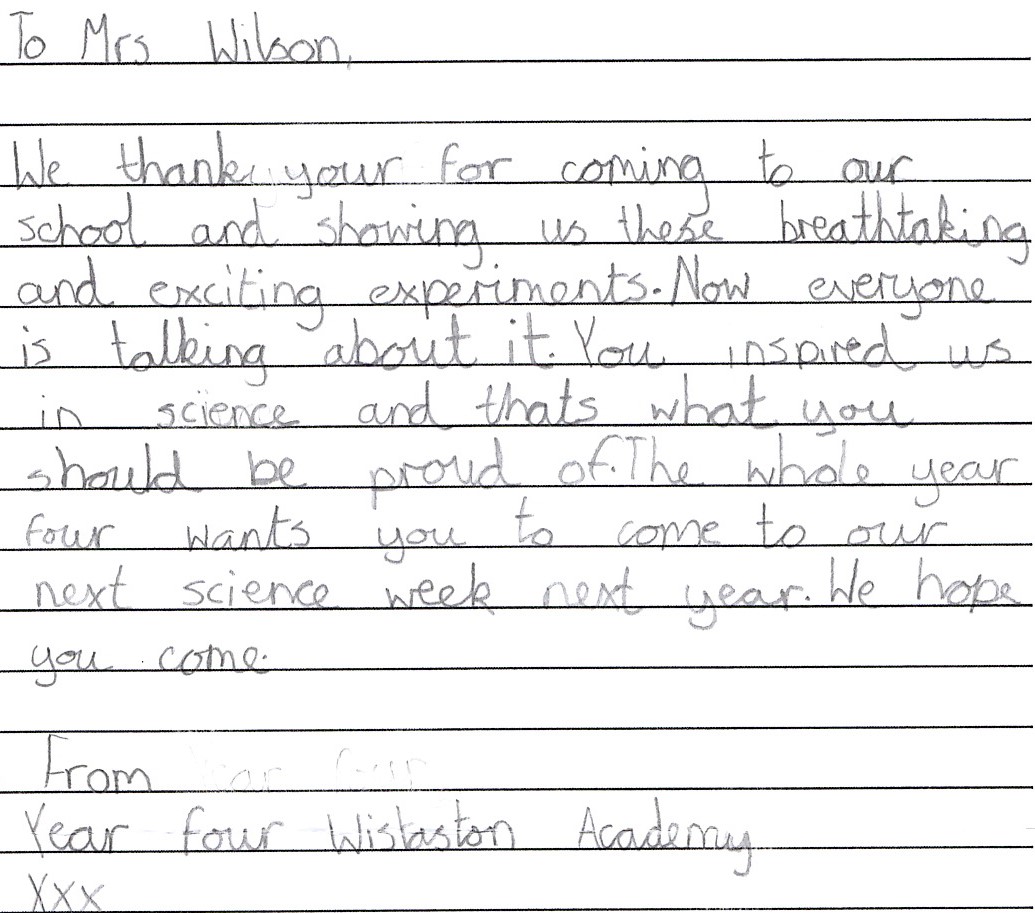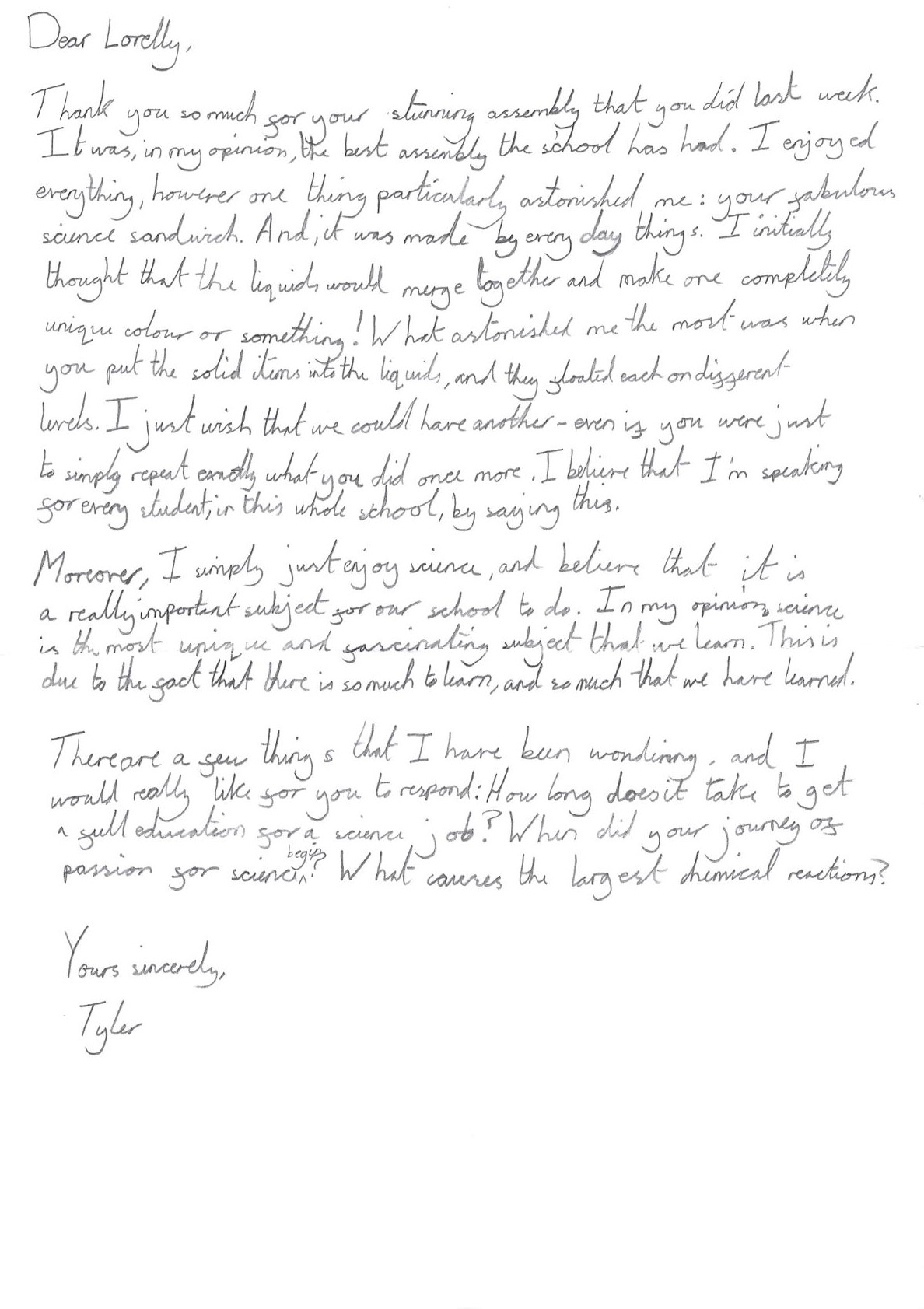 Rotary Science was held March 6th to 13th in 10 schools in Crewe. Approximately 1300 young people have taken part in stimulating interesting science sessions.Below are a series of pictures showing some of the sessions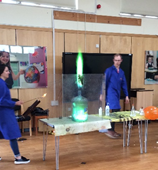 post grads from Manchester explore the fascination of chemistry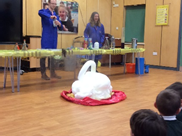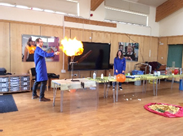 Prof Lorelly Wilson exploring the role of gravity and air pressure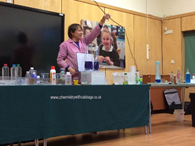 Two students making carbon dioxide in a demonstrative way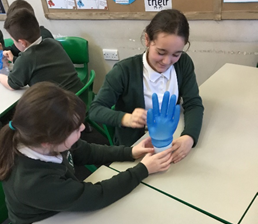 Prof Wilson showing the role of carbon dioxide as a fire extinguisher
18 ROTARIANS AND FRIENDS OF ROTARY PLAYED A COMPETITIVE GAME OF SKITTLES AT THE BICKERTON POACHER ONMARCH 3RD.SOME OF THE ACTION.
Jane Knight showing a good follow through action.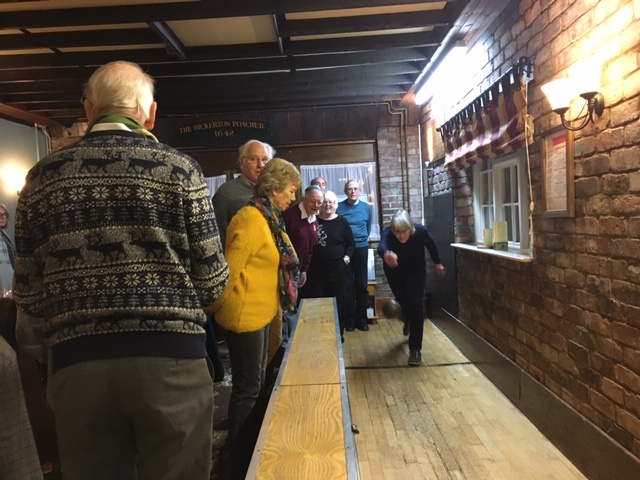 Clive replacing the skittles -not sure why but this photo will only upload in this position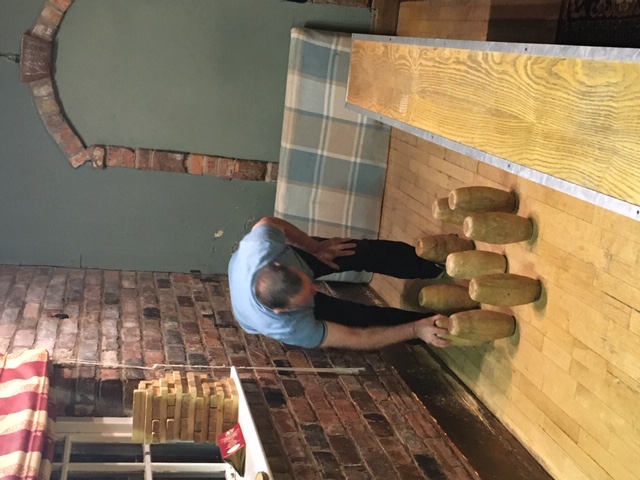 President Dennis with the winners from Edleston school on 25th February for their written report on the visit to The Lion Salt museum. He is accompanied by Rotarians Frank Baldwin and Tom Protheroe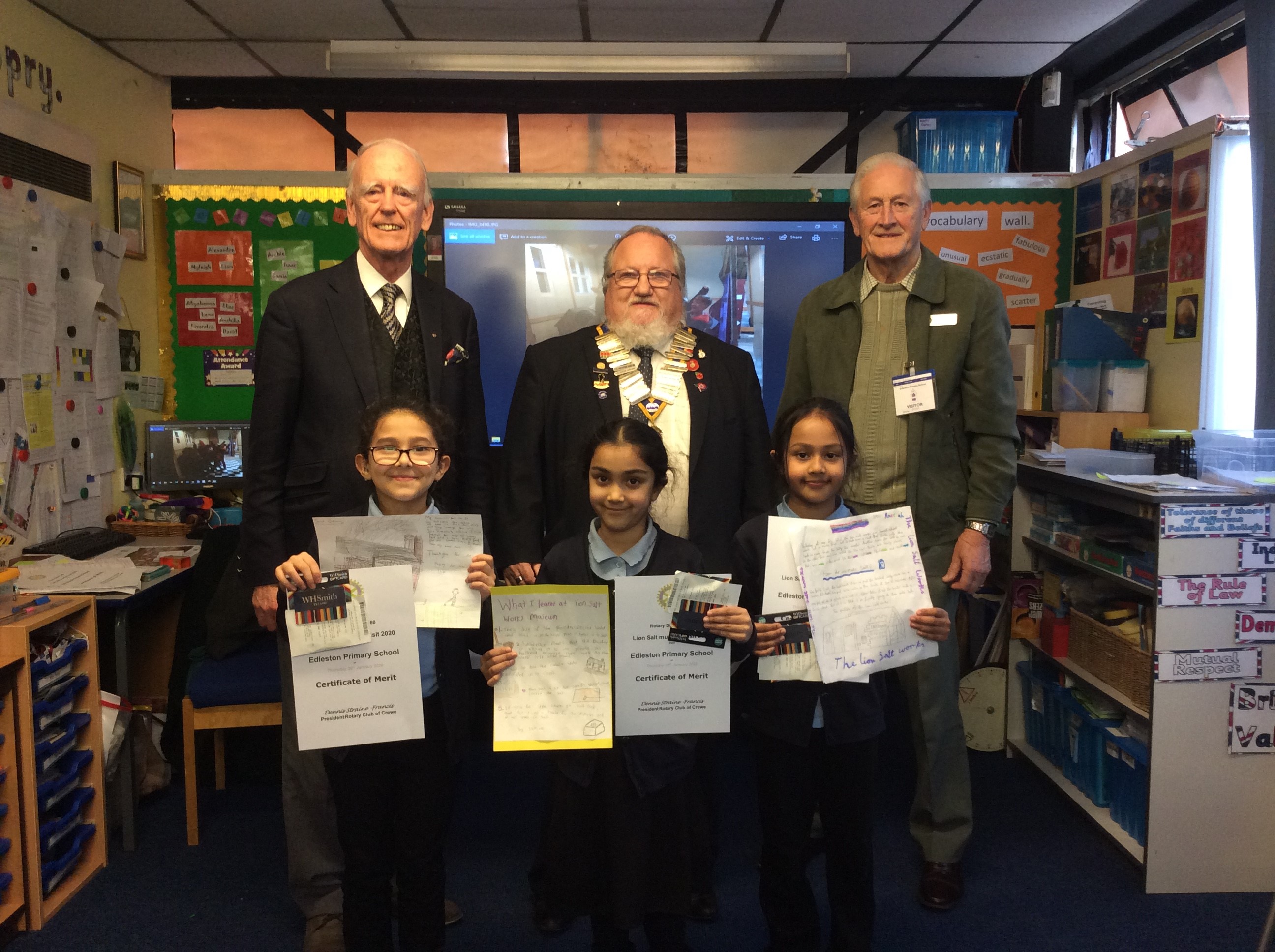 below the winning entries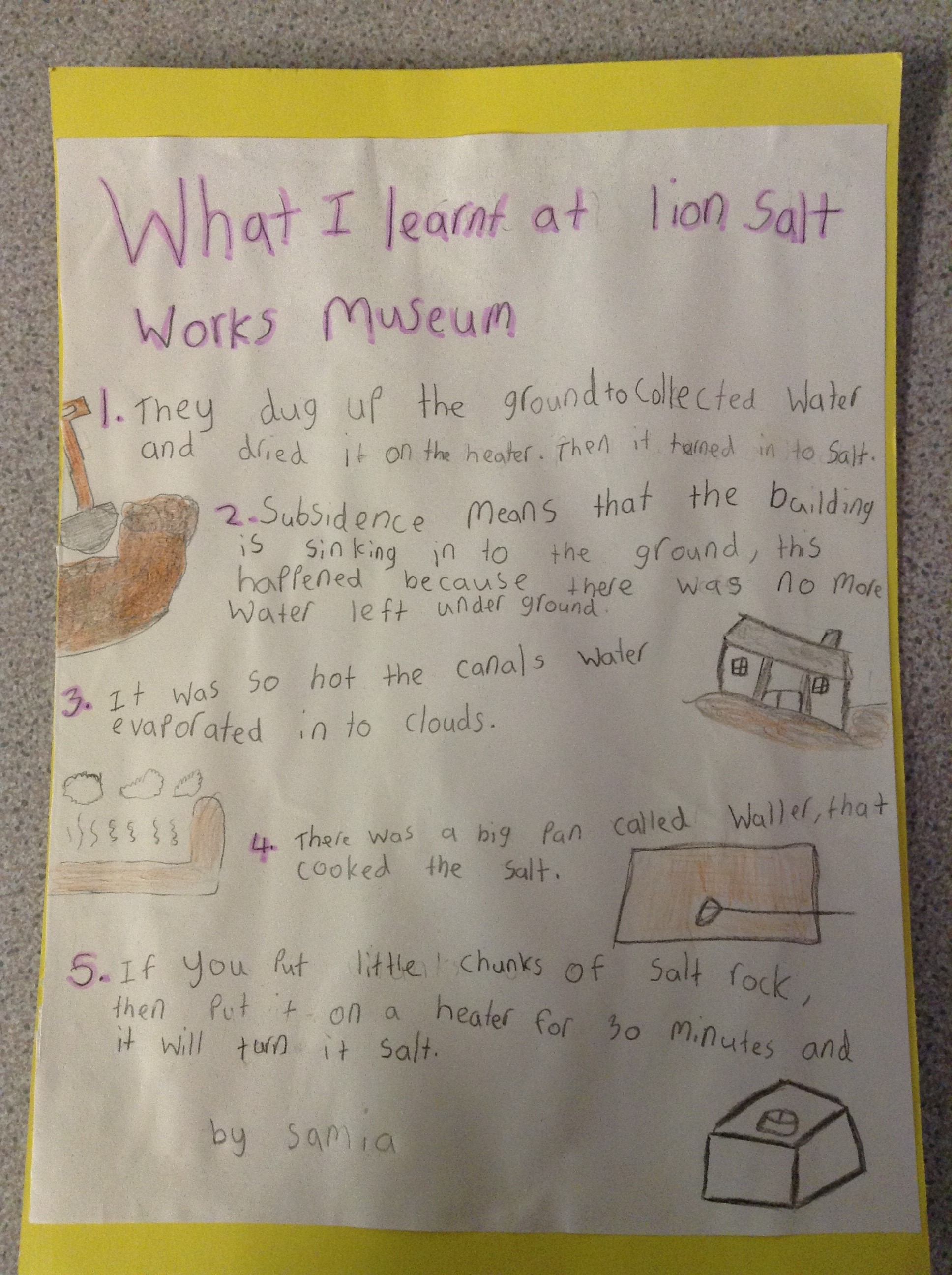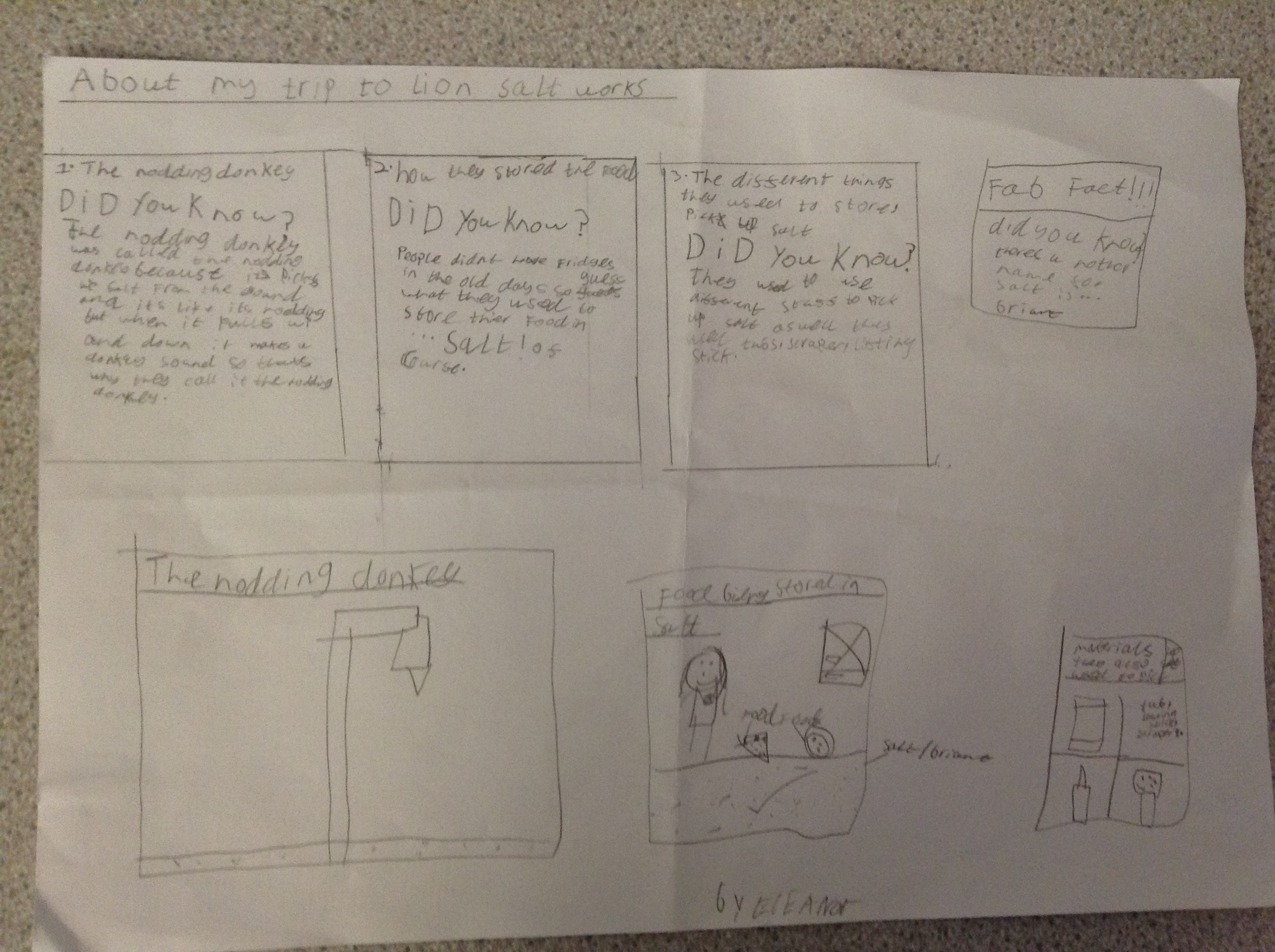 Rotary Crewe and ROTARY DAY.
The local M.P. Kieran Mullan , President Crewe Rotary Dennis Straine-Francis, the Mayors and Mayoress of Cheshire East, Deputy Mayor of Crewe and the Rotary District Governor attended the club's ROTARY DAY. Here 37 charities and local groups met to exchange views on how they operate and to network with other groups..
5 from the left is Rotarian Frank Baldwin who organised the day and who is well known to the many groups in Crewe that we have supported with help and donations this year.
He commented that without the 150 volunteers helping us with our Xmas collections we would not be able to support so many groups.Volunteers were called for.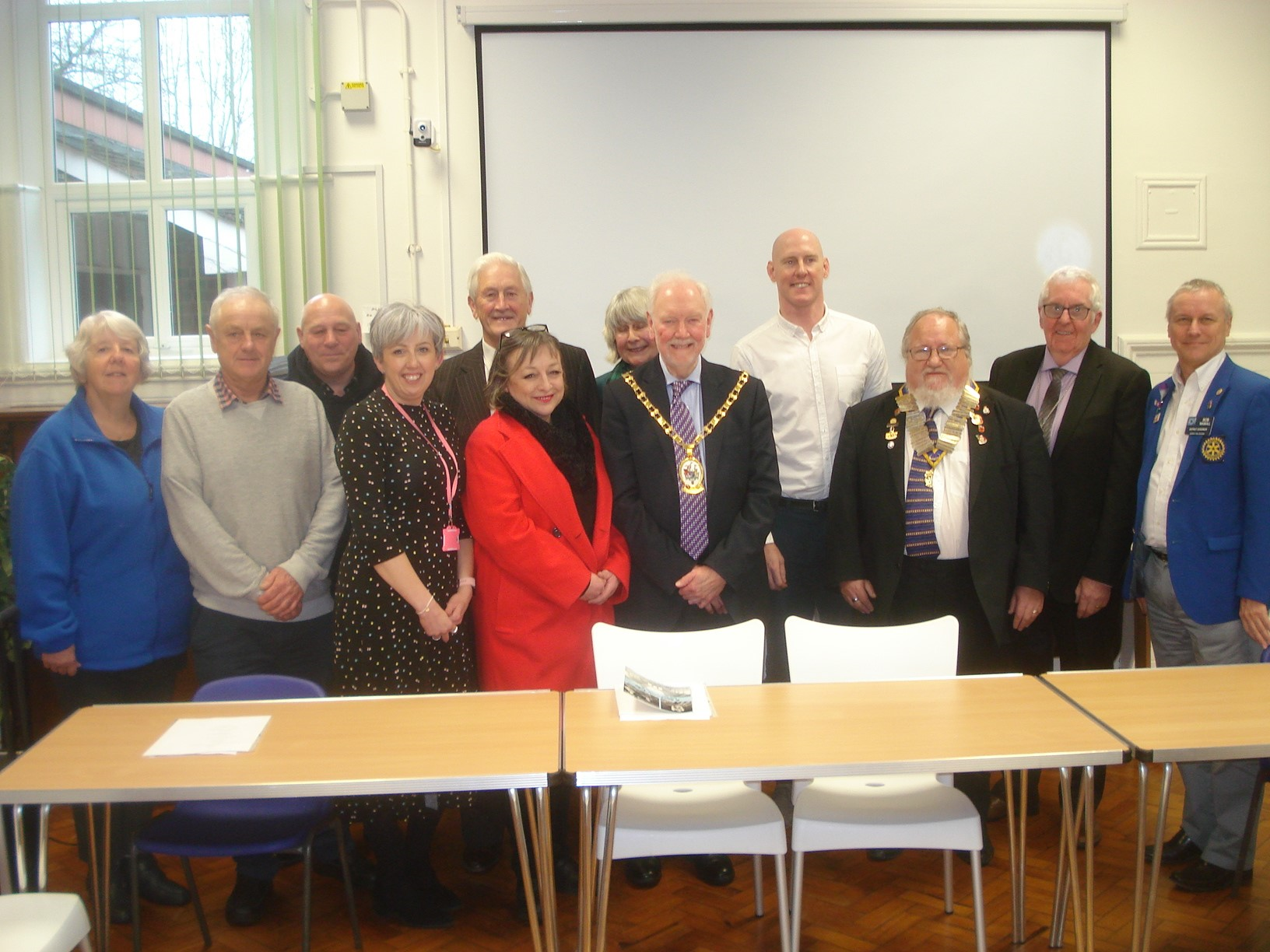 Crewe Rotary sponsored a class from Edleston school to visit the Lion salt museum January 30th 2020.Rotarians Tom & Frank attended.

Making salt theRoman way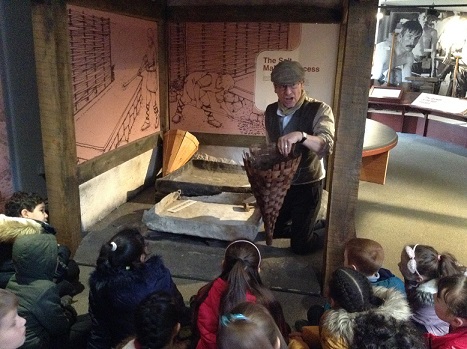 in the pub and them so young!!!!!!!!!!! learning about hydration and salt tablet rebalancing electrolytes.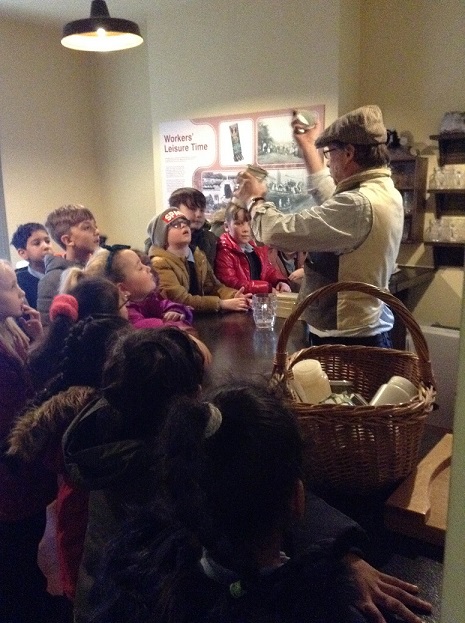 Getting dressed for work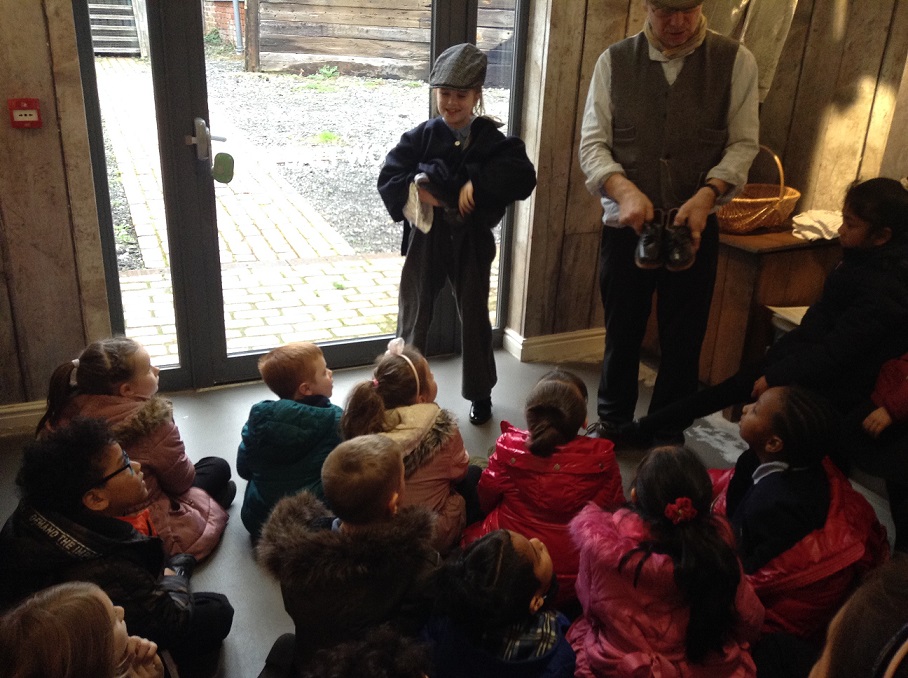 The big salt pan -were they interested -look at the picture again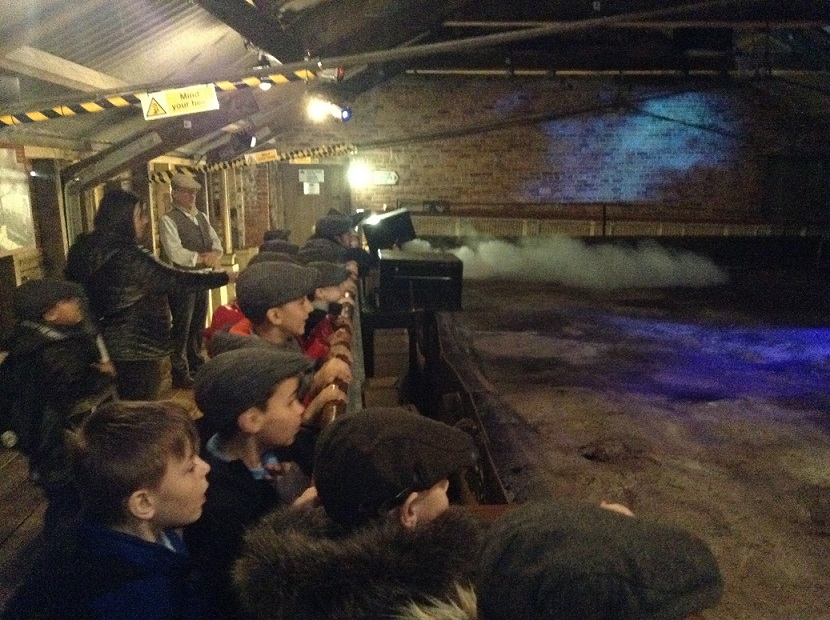 Finally the laboratory - who said chemistry was dull?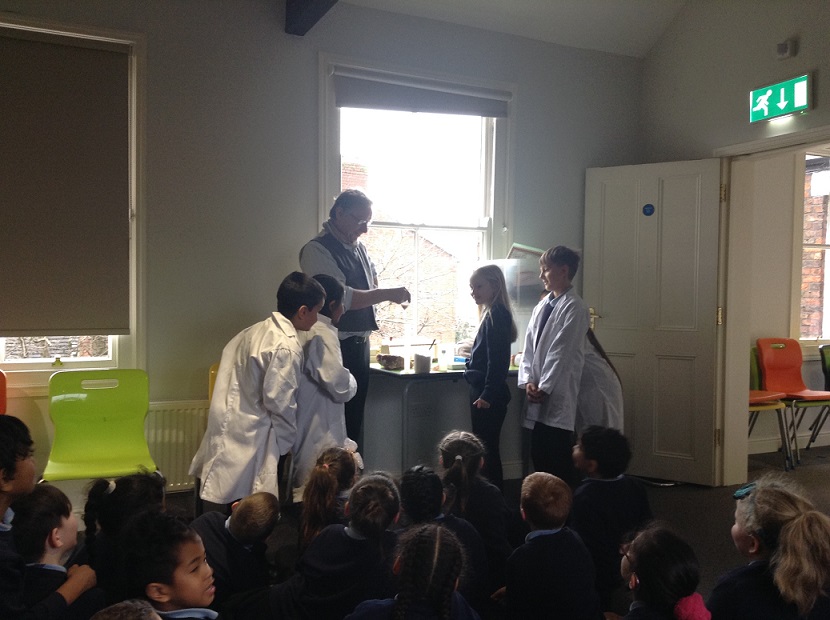 Below examples of letters received by Santa in December 2019
1.I have summ redy food and cucys for you Santa

2.My Xmas list x box -that is good -fortnite gun-a diary- Jurassic world lego -trainers -addas shirt that's it thank you Santa -Joshua

Santa -Ino wot I wot for Christmas Santa I wot a niteoswist and a apple pen for my i pad Layla

and finally
Dear Santa you are the best in the world becuase you give people what they want every year for Christmas you do a good job every year for the children on Christmas day love from Sophie Joshua and George Rotary Crewe supported many groups in Crewe during 2019 here are some of them.
We wish them a peaceful enjoyable Christmas

Local Alzheimer's group, ex Residents of Beechmere - following the fire-Crewe Rotarians Iain Chalmers and Jane Whetnall at Hope &Beams provided free Sunday lunches for ex residents for three months with a grant from the club.The club Rotarians were the potatoe peelers, the washer upperers and any other job required.

The Samaritans, Crewe Men in Sheds, The Joshua society,LATH -the Crewe group working to help the homeless in Crewe, Crewe Sea Horse swimming group, Wishing Well, St Lukes Hospice, thuscular centre at Winsford.Leighton hospital prostate cancer group.Some of the other groups were local branches of bigger charities eg Cancer Research, Marie Curie, Parkinson's society
Crewe Alex was the setting for Santa with his elves from Crewe Rotary as they prepare for 3700 home fans as Crewe played Mansfield. Crewe drew 1-1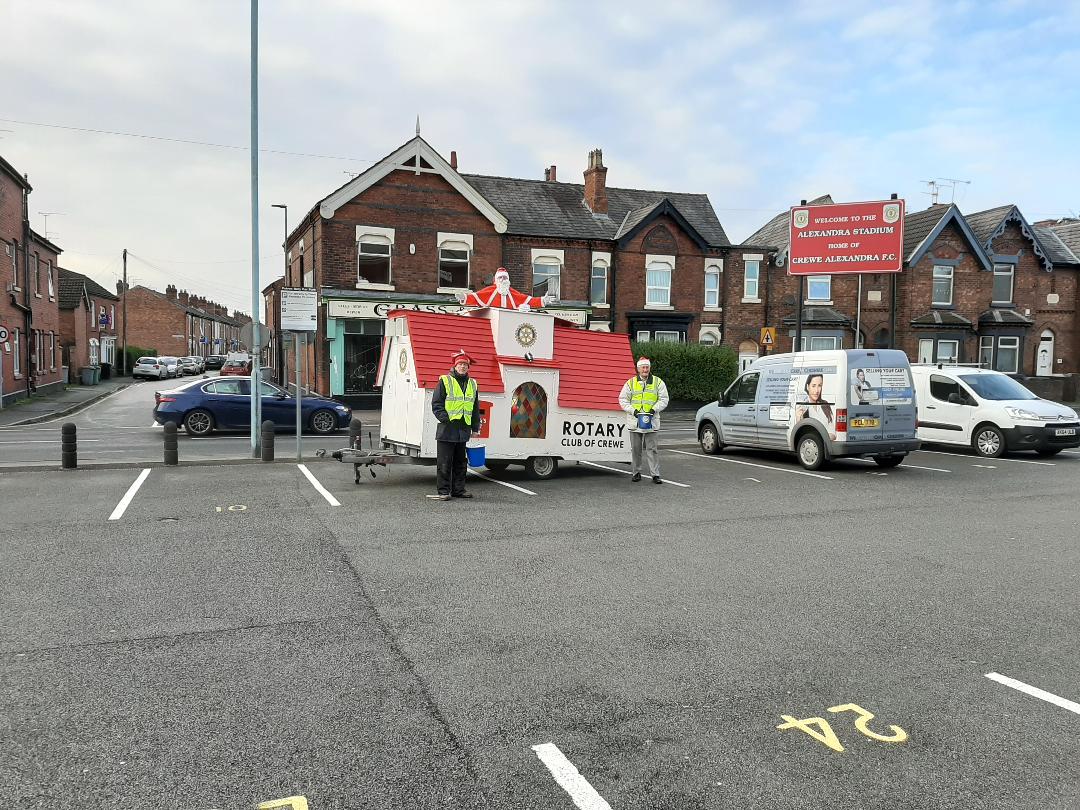 President Dennis and Sylvia after Crewe Rotary had enjoyed their annual Xmas dinner at Homes and Beams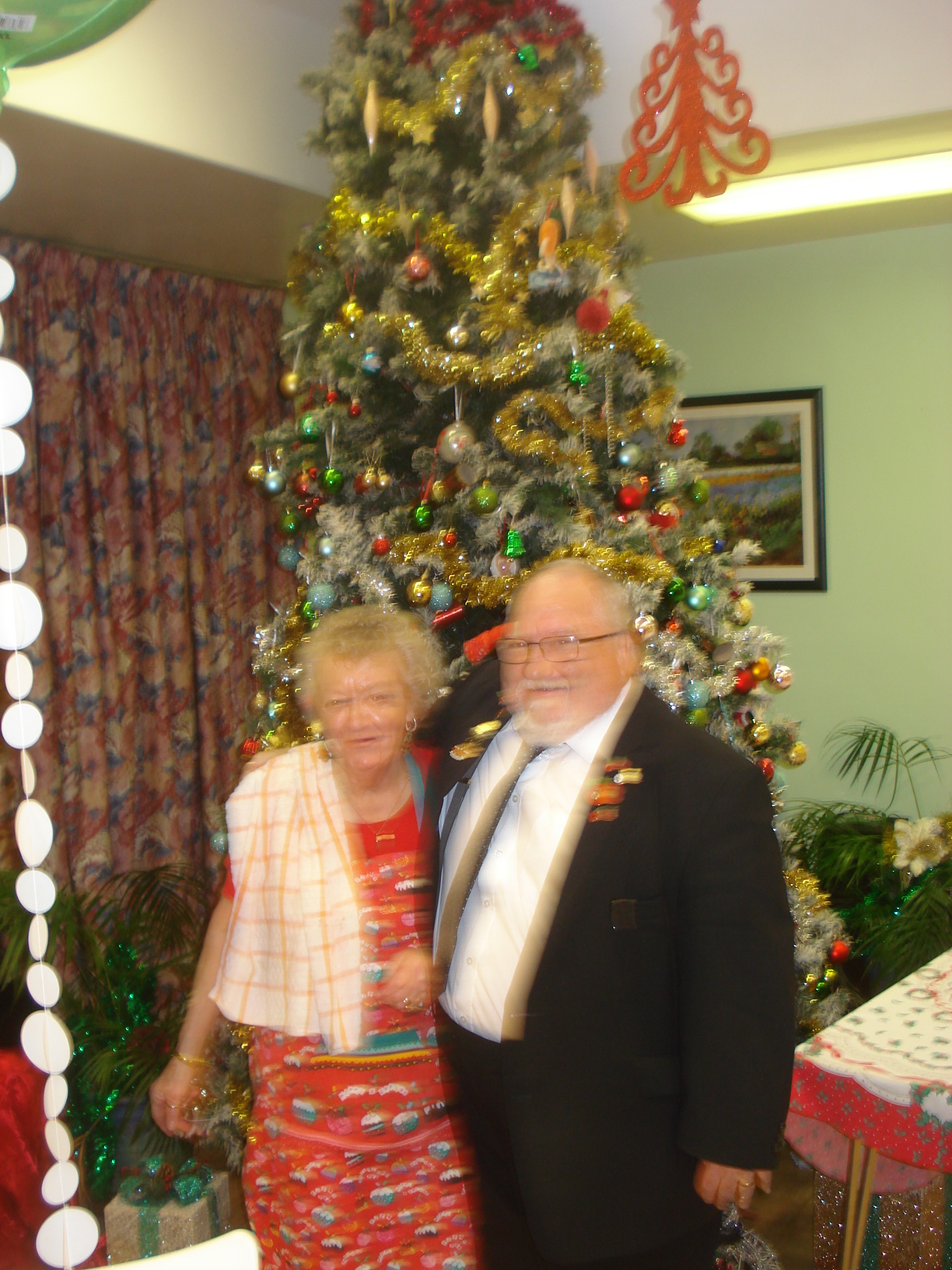 Where is Rotary Way what is the Rotary Way how many ways does Rotary help?
Ask 42 charities and groups in Crewe. END POLIO ask 14 primary schools in Crewe.
Ask the 5000 young people who have experienced a Rotary Science presentation in the last three years.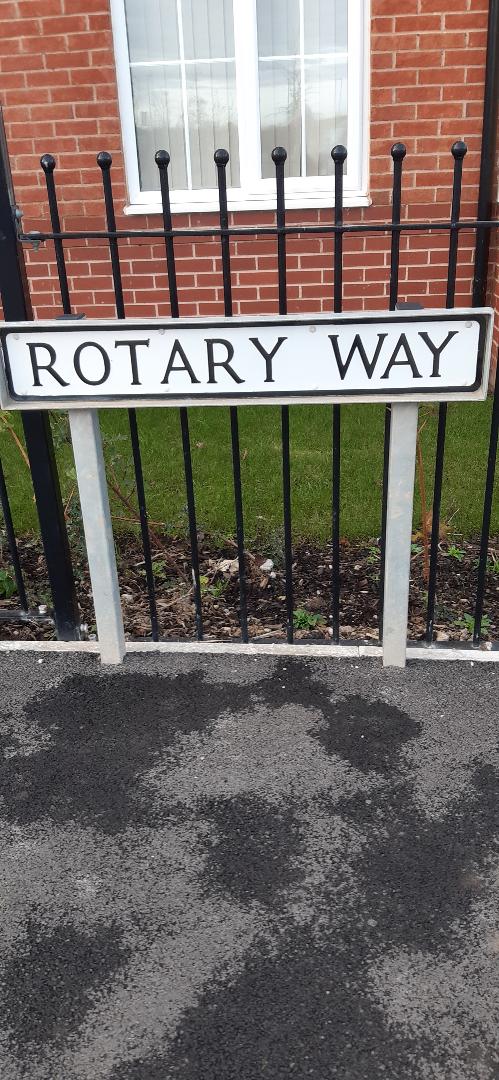 Santa visits Rotary Way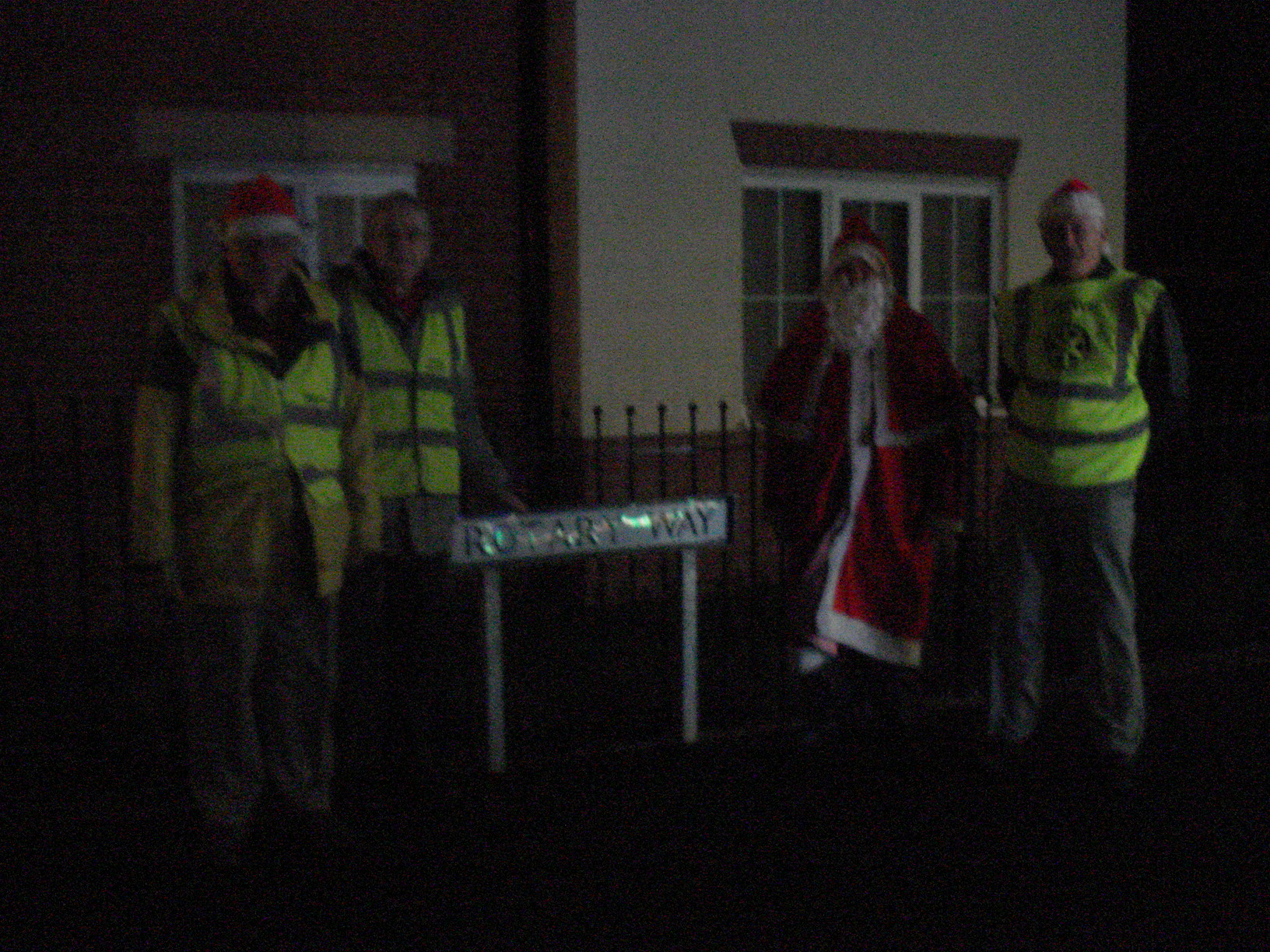 Santa with his elves, his reindeer and Springfield members of staff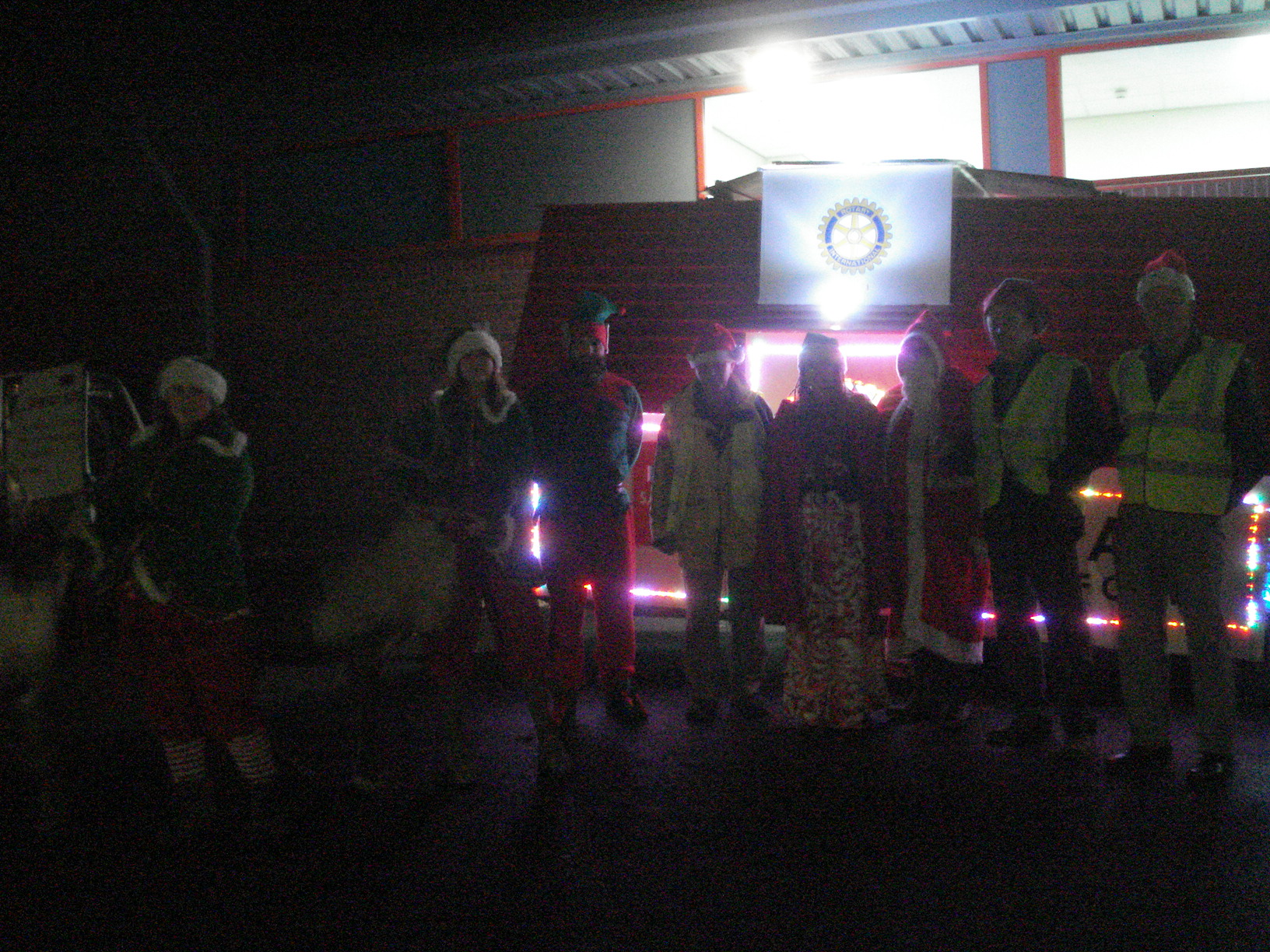 Santa with staff member Emma at Sringfield special school in Santa's grotto.Lots of children went to the grotto and were excited to have a chat and receive a present from Santa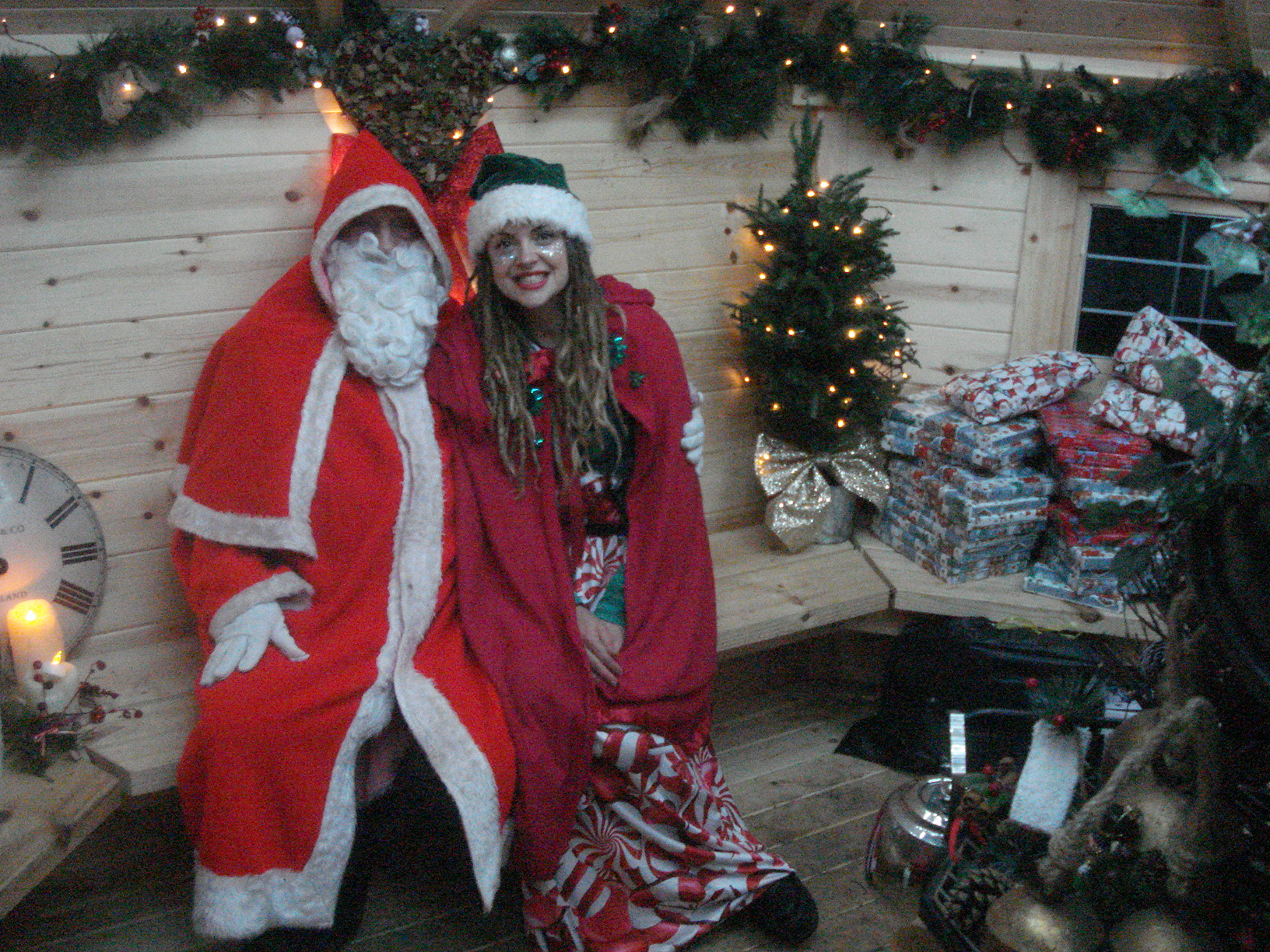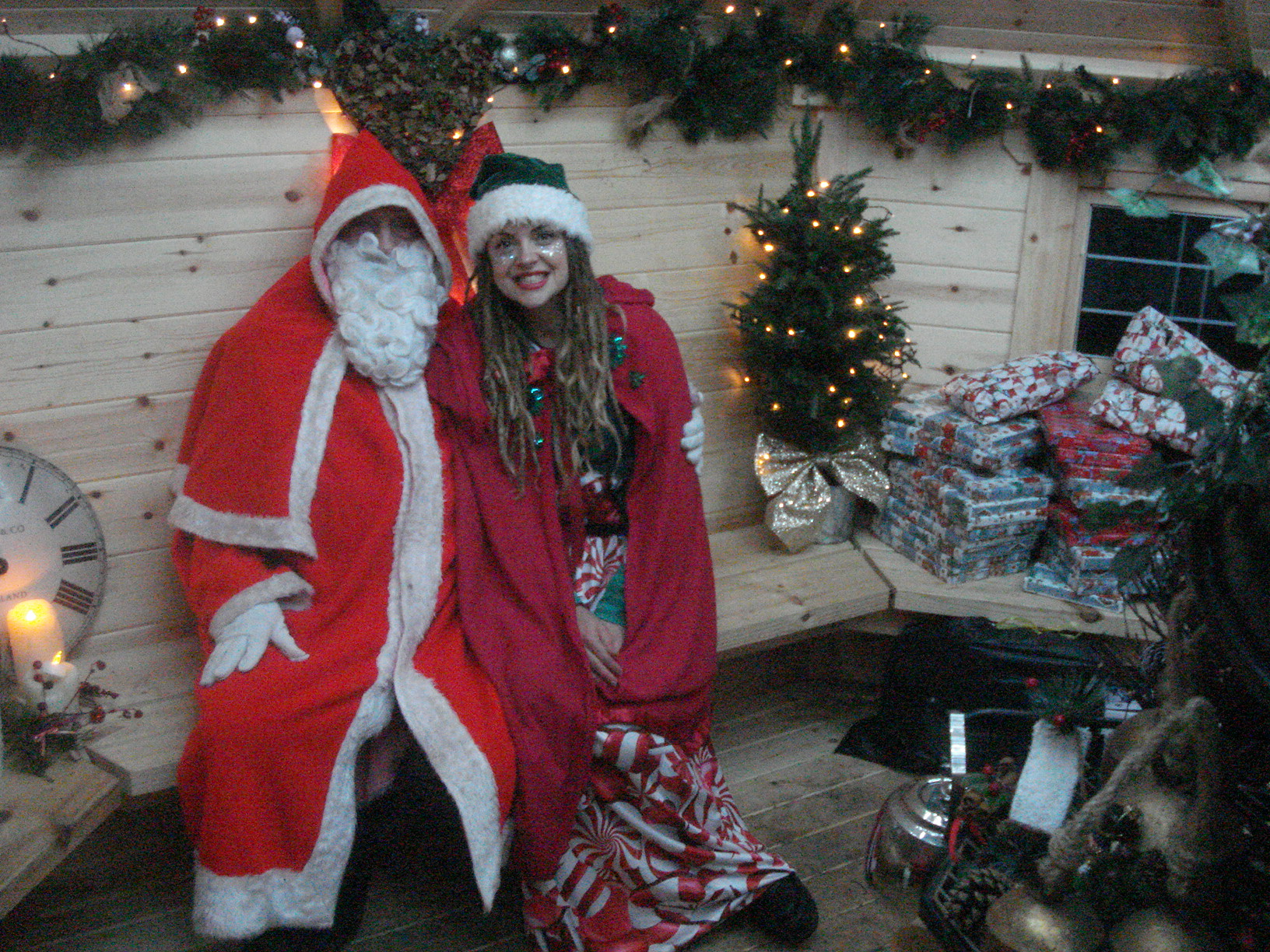 Students and staff from Springfield special school with those stalwart three Rotarians Frank, Ray and Tom planting our final 1000 purple crocus for this year as part of the END POLIO campaign. Finally 50000 purple crocus have been been planted in Crewe.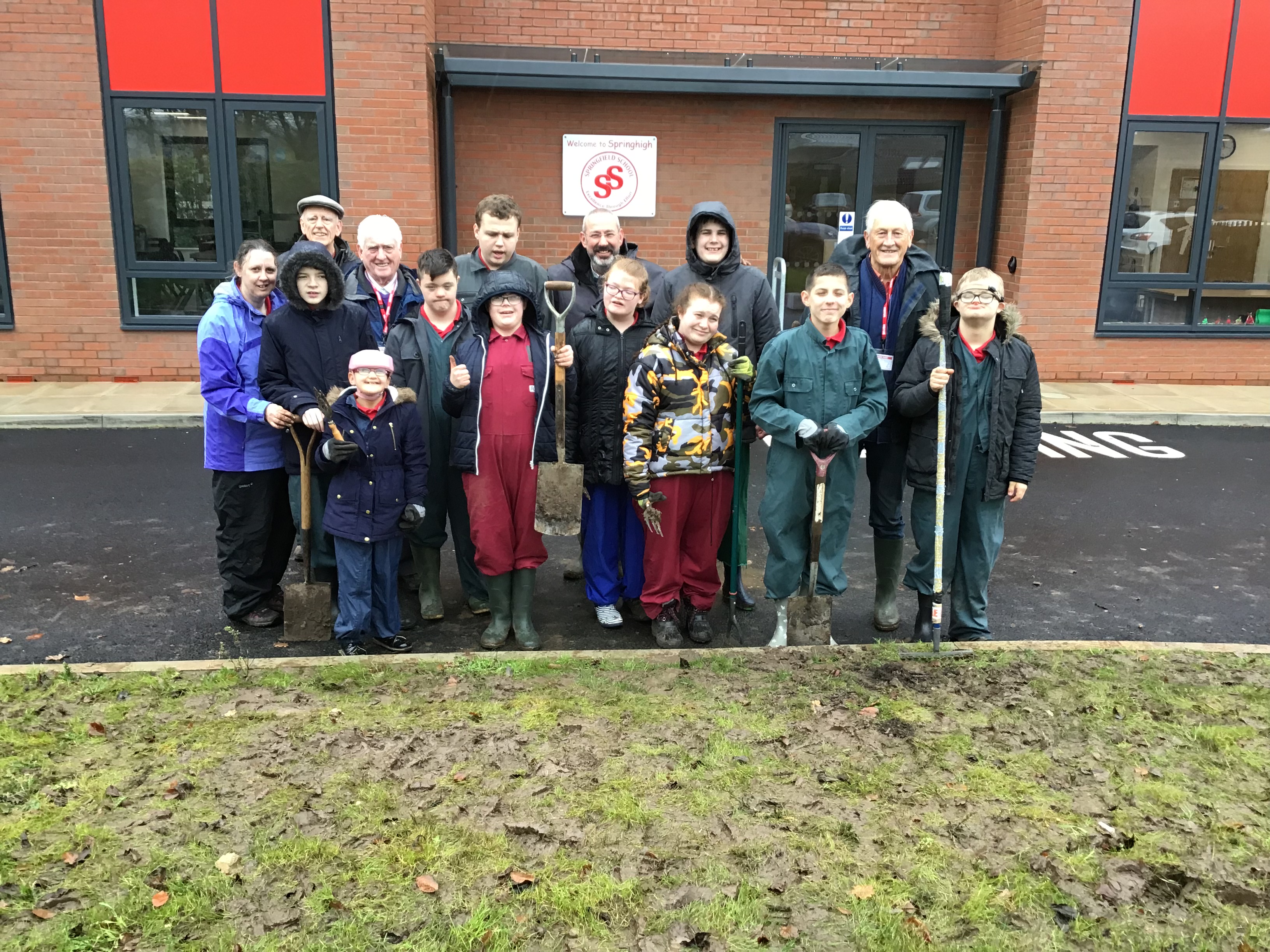 last years crocus come up at St Mary's Dane Bank Rotarians Frank, Ray, Tom and Neil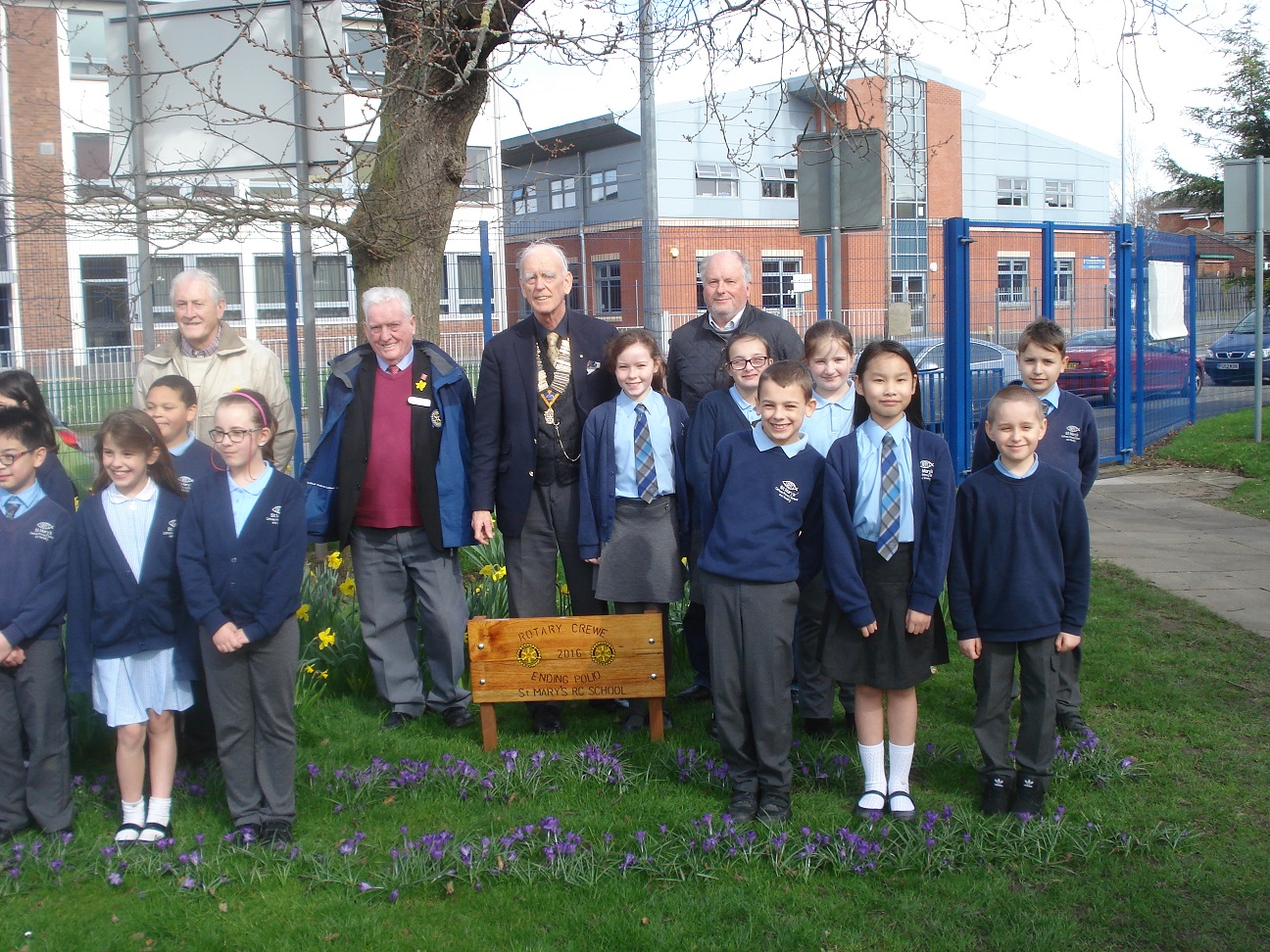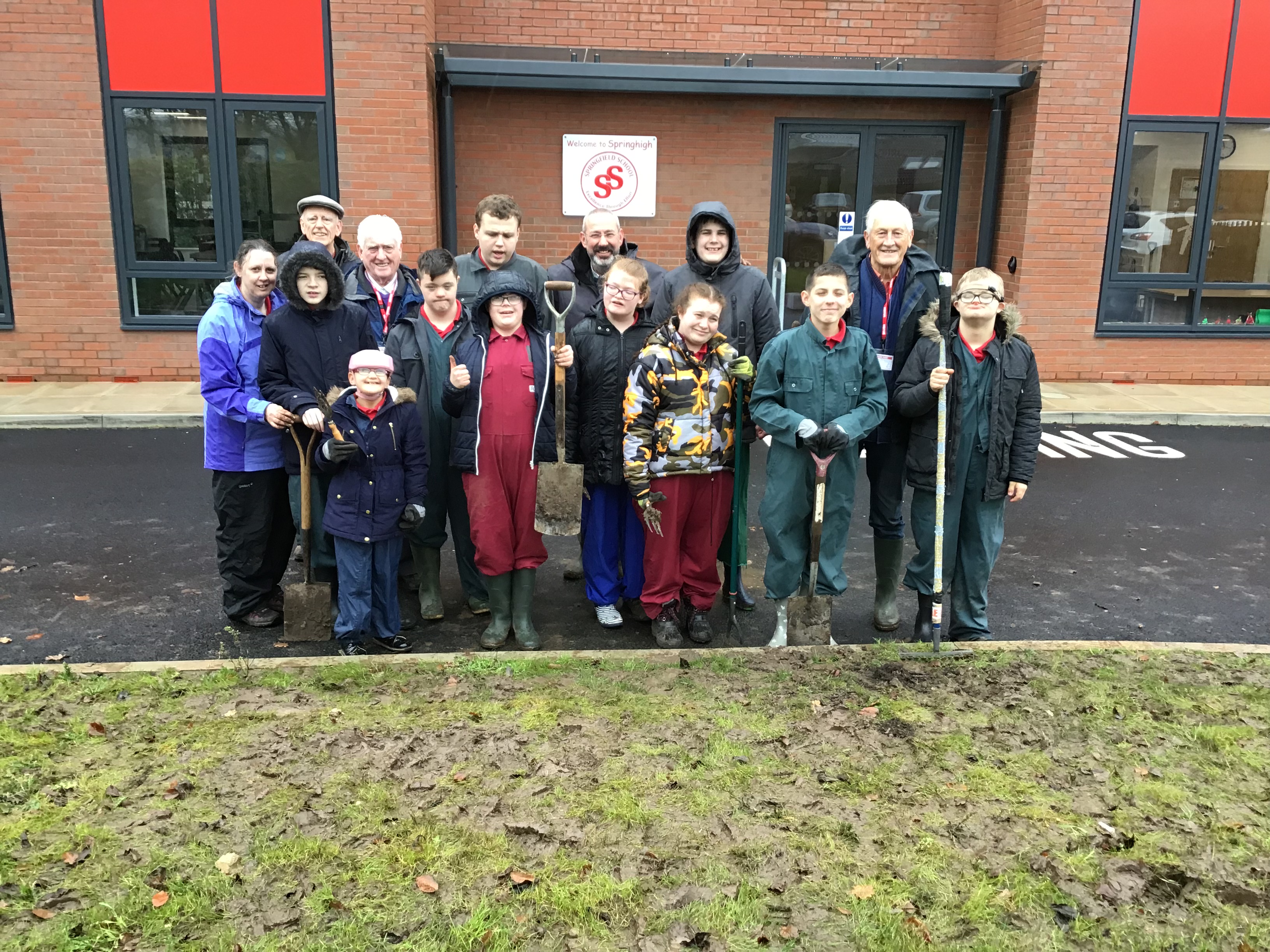 Four musketeers just finished planting 1000 purple crocus corms in Queens Park to add to the 2000 planted last year. We did it on 5th November,bonfire night, the park looked tremendous, yellows and golds with splashes of red. l to r Rotarian Neil, Steve, Frank and Tom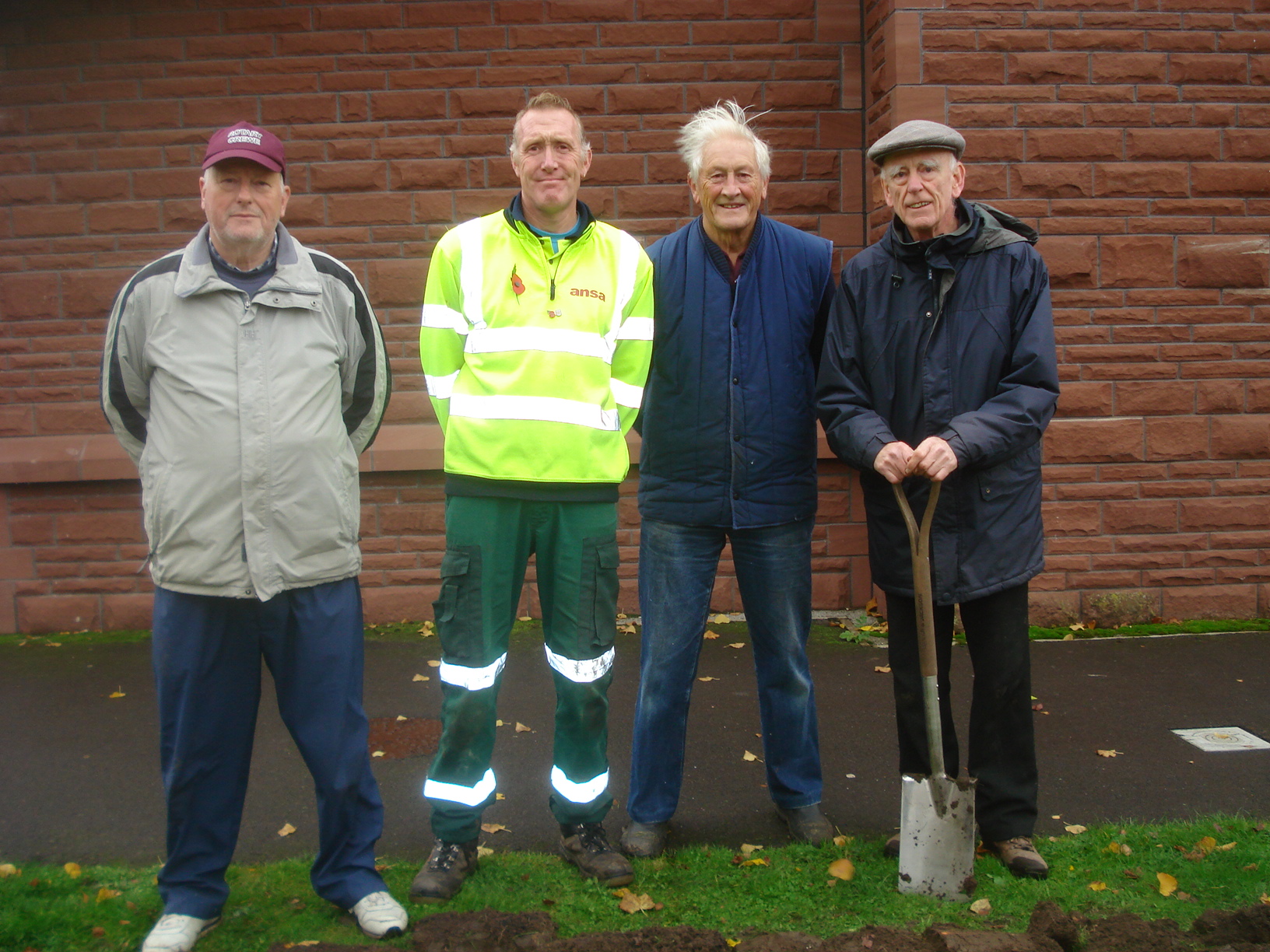 Youngsters from Monks Coppenhall school planting some of the 1000 crocus planted to raise awareness of our Rotary END POLIO campaign.Over sixty young people took part and thanks are expressed to Ms Bromilow who coordinated the children.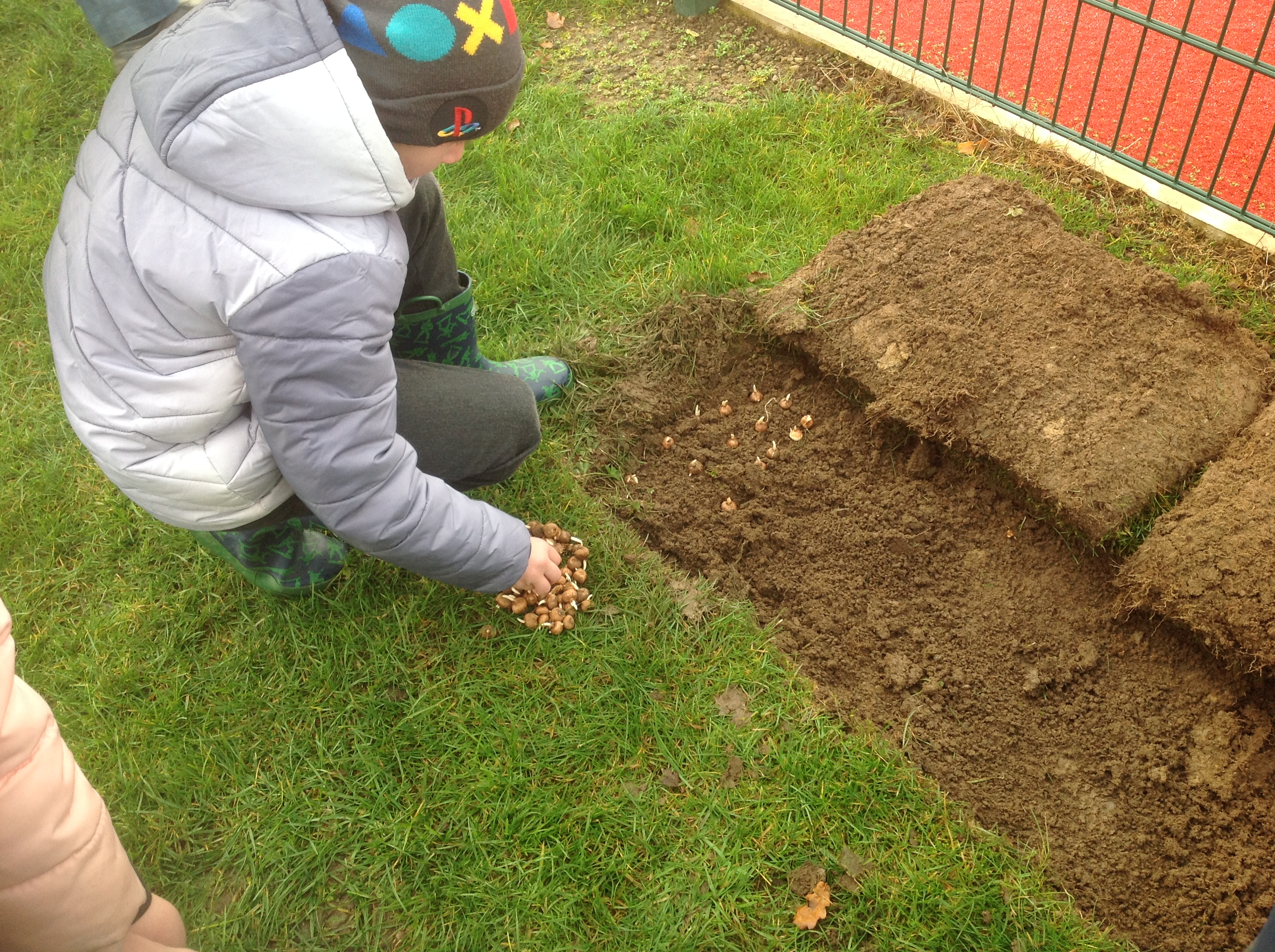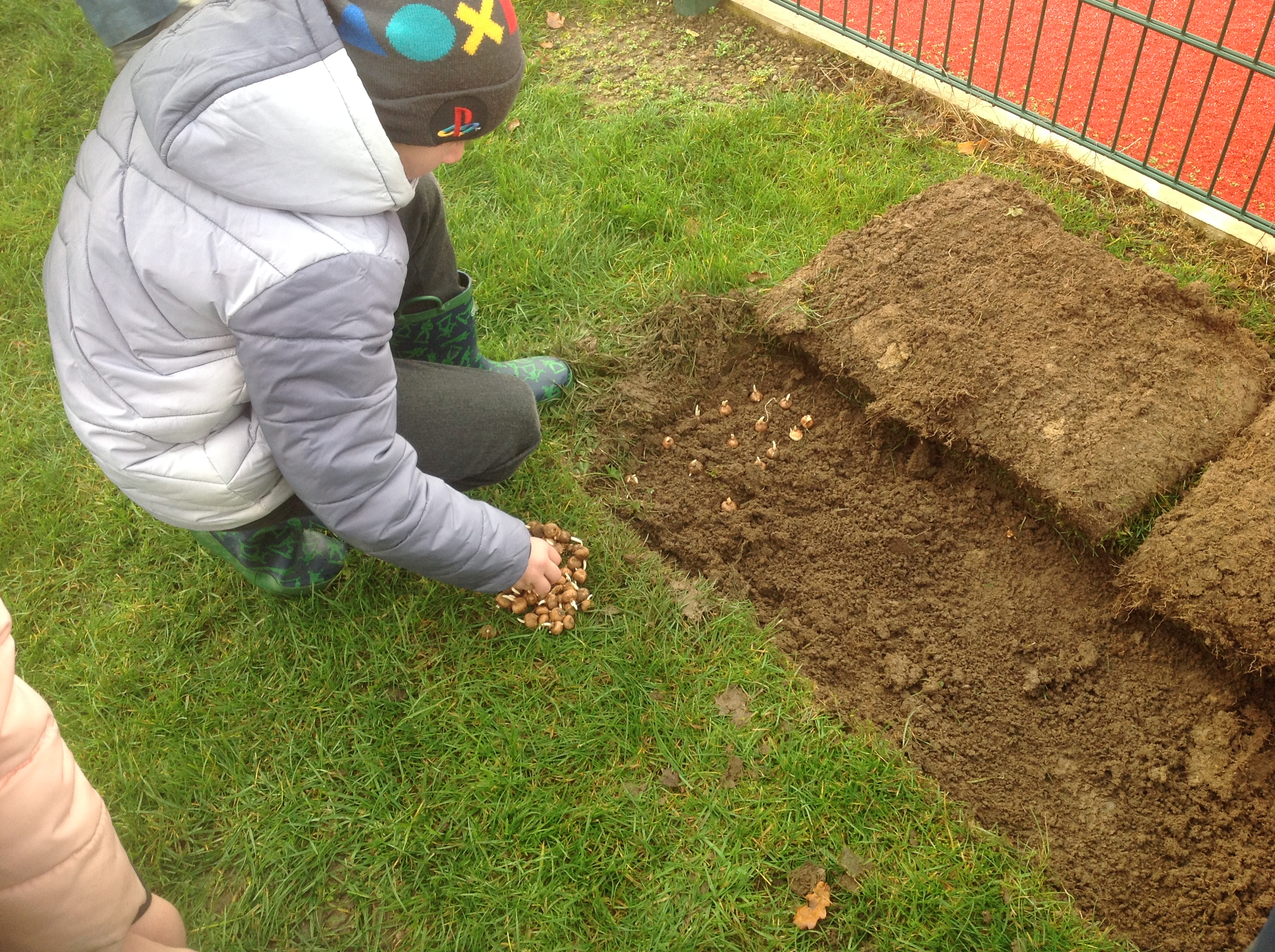 Rotarian Tom Protheroe handing out purple crocus corms at Monks.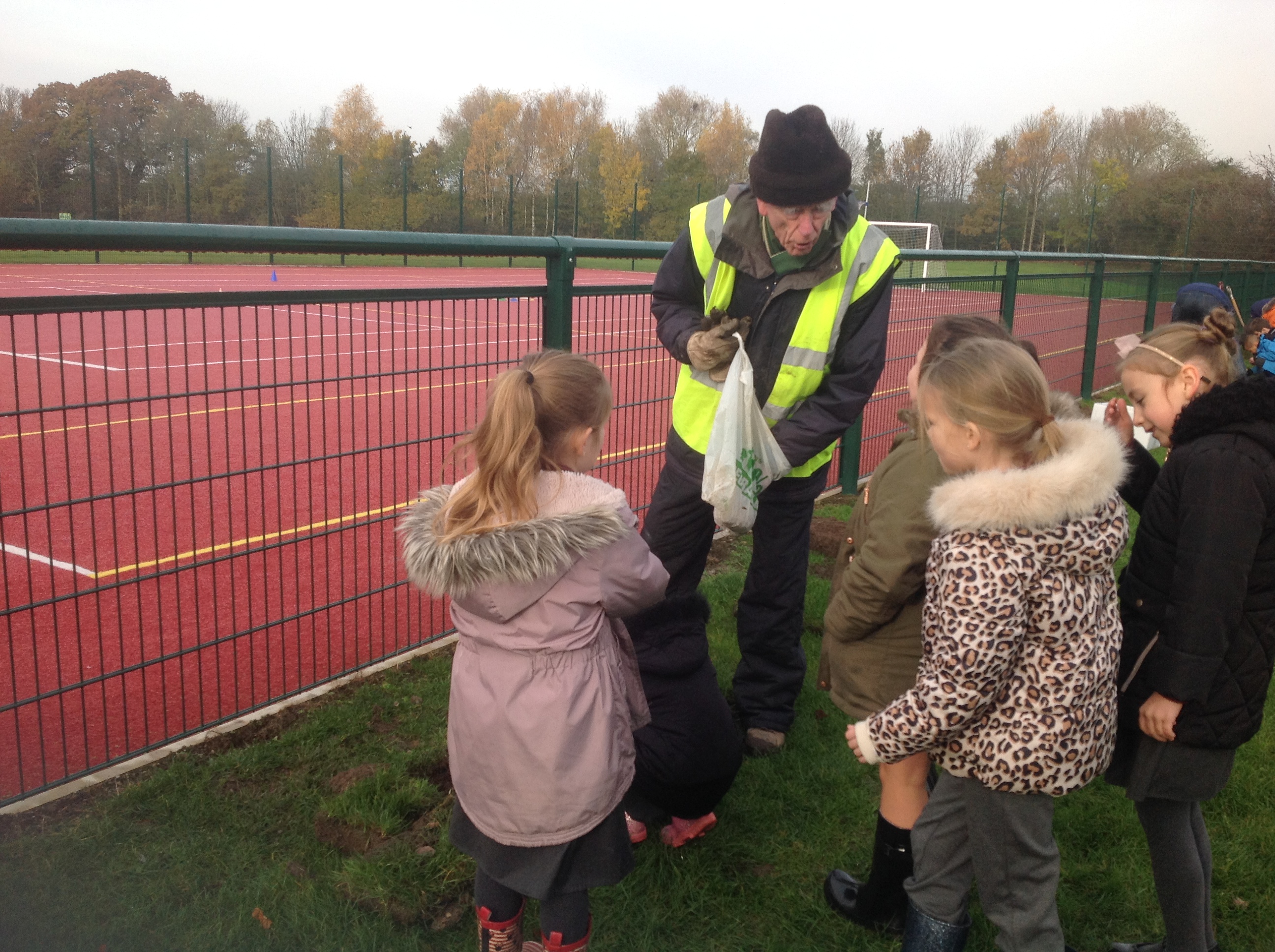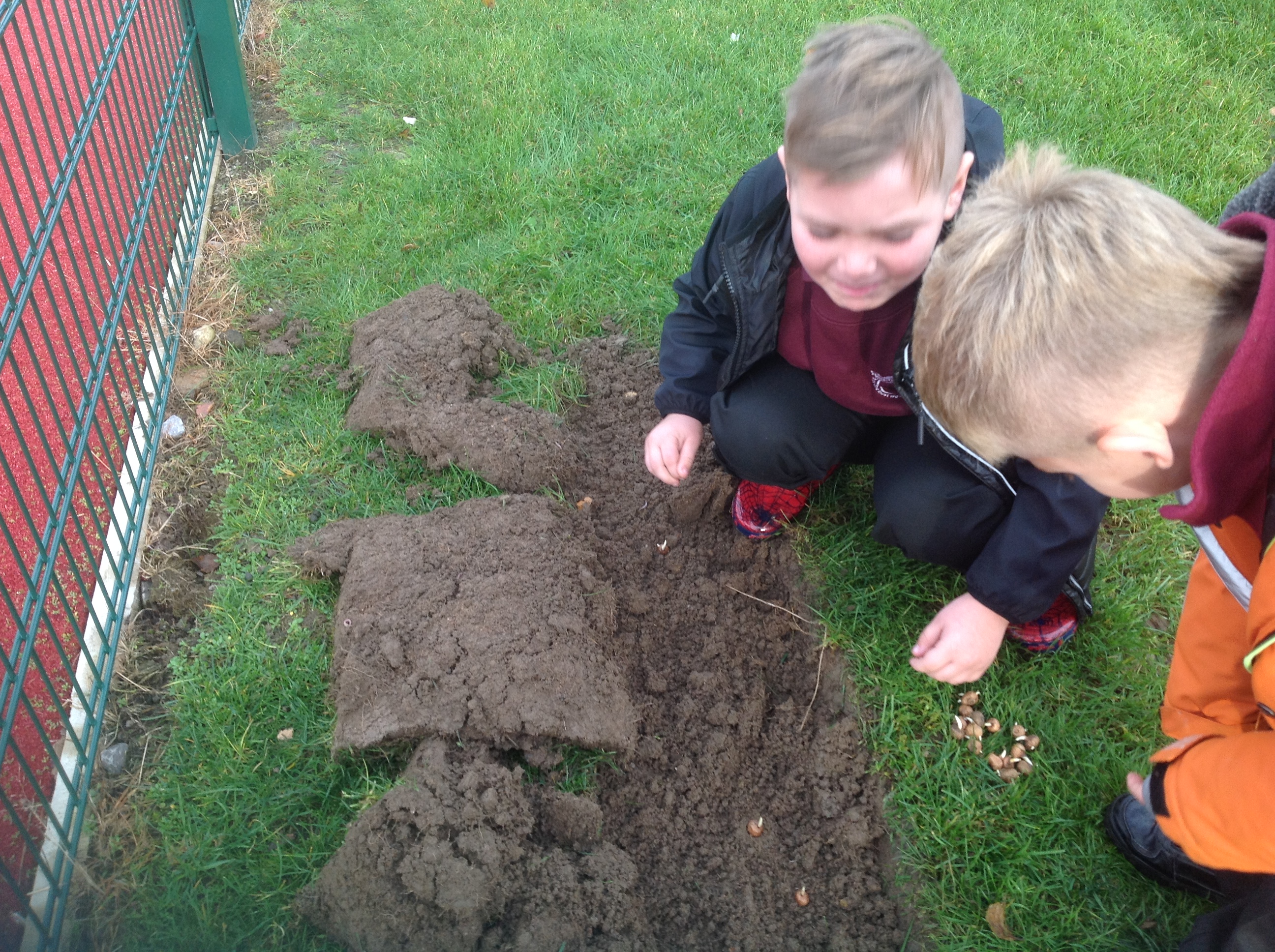 From 1000 young people a day across the world contracting POLIO forty years ago we now have 1 a month. Keep supporting Rotary the END of POLIO is in sight.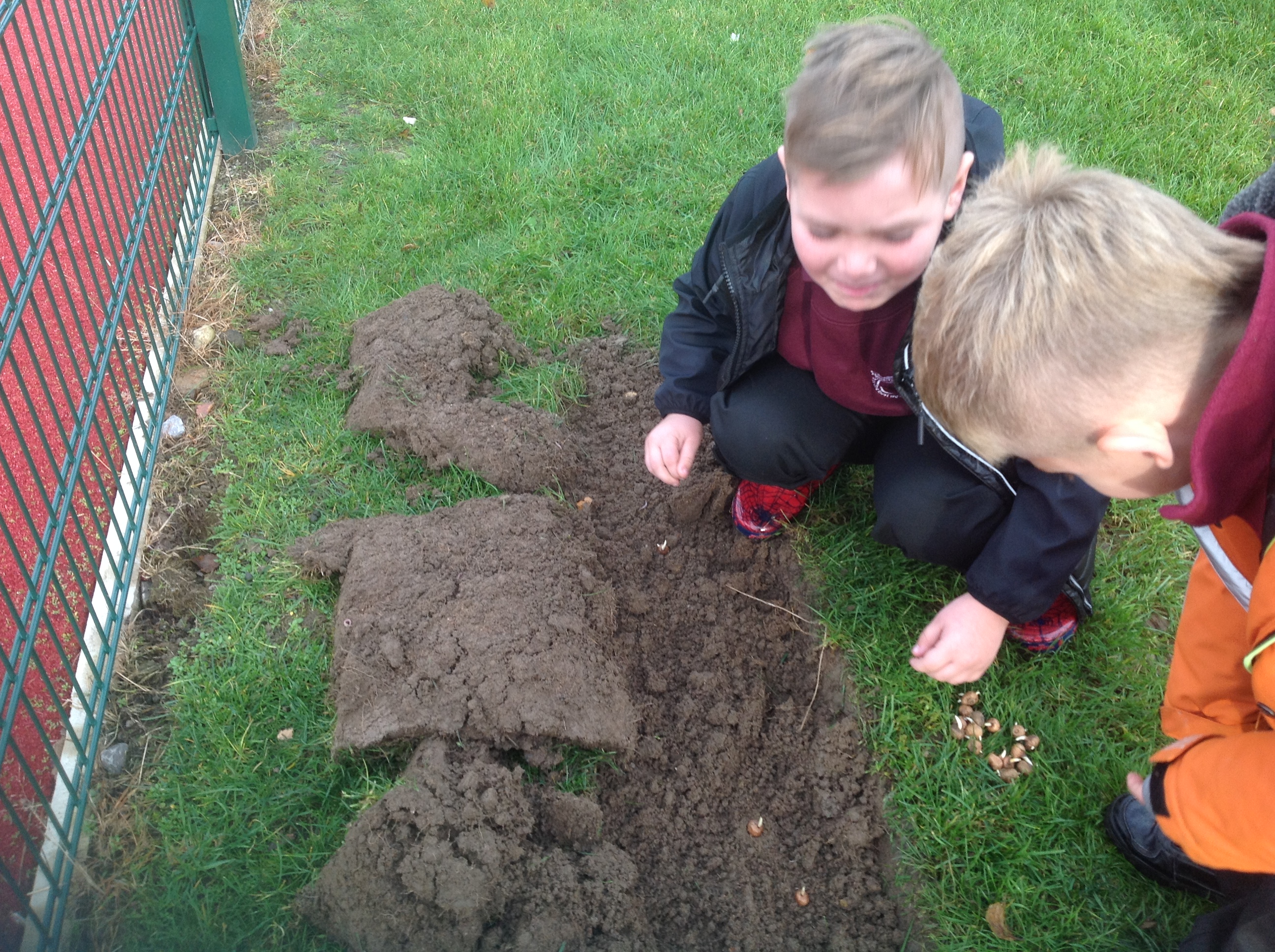 Pictured Crewe Rotarian Jane Whetnall receiving her Paul Harris Fellowship award for a range of activites both within the club and in the wider community.As director of Hope and Beams she has coached young people with disability for over 20 years.She is the GB coach.She provides really good lunches for the elderly -everyone should try it. With the support of Rotary Crewe she has been supplying Sunday lunches for the displaced residents of Beechmere following the disastrous fire. The award was presented at our Charter on November 14th 2019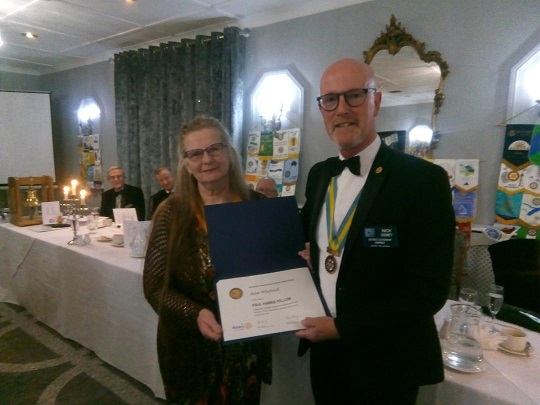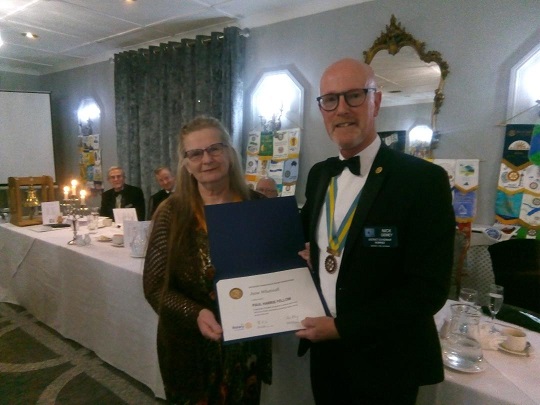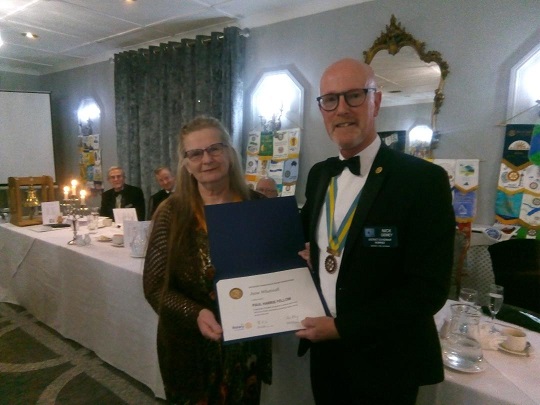 Last week found us at Crewe UTC planting another 1000 crocus as part of our END POLIO campaign lto r Ray, Frank, Tom, Dennis and Jerry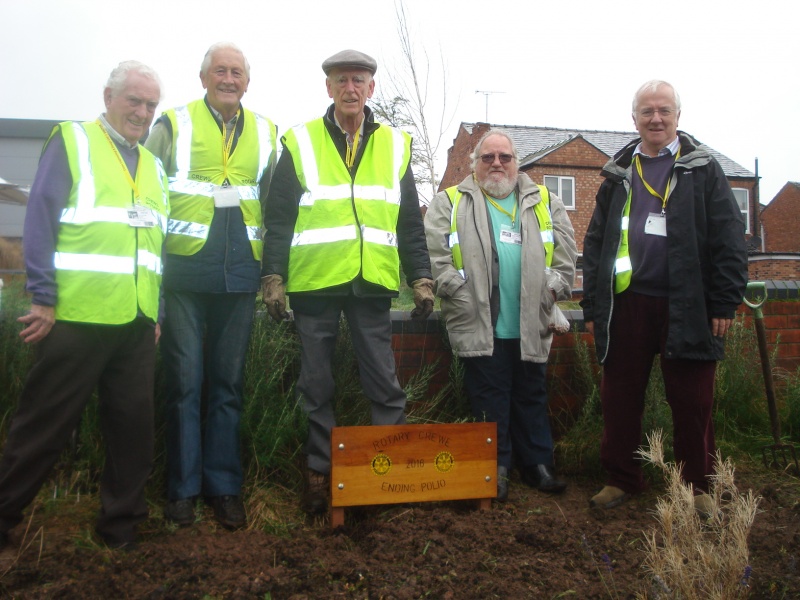 Santa's elves have been busy turning his float "green". Pictured from l to r are Derek, Clive and Neil who are putting the finishing touches to an ALL electric float.Look out in December as Santa glides around the streets of Crewe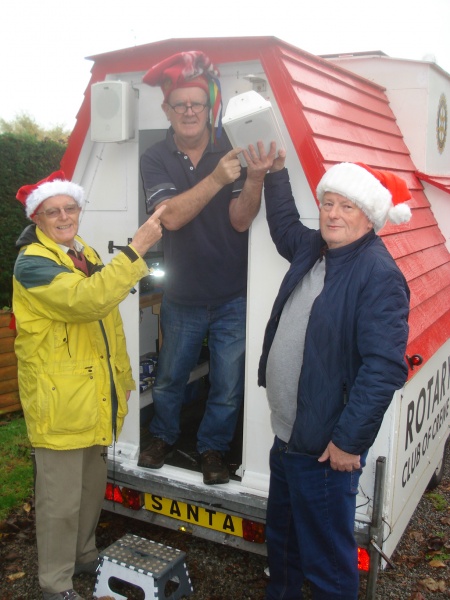 On thursday 31st Crewe welcomed a member of the Bulgarian embassy who gave an interesting talk on Bulgaria's history, food and traditions.Pictured below with Dennis club President is Mr Vasil Asenov. Did you know Bulgaria goes back to the 6th century?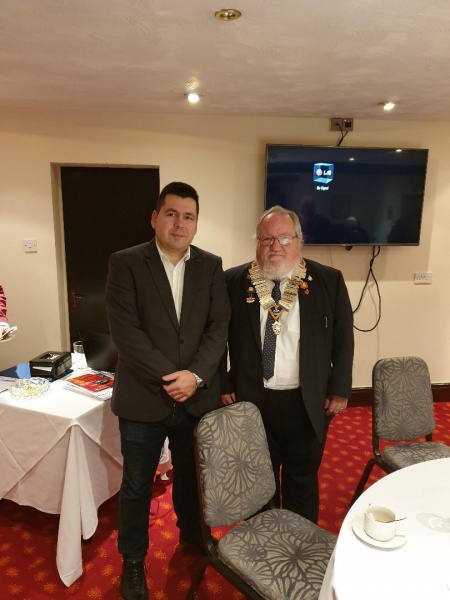 Pictured below on the left Crewe Rotarian Sabri Tezdzhan with Mr Vasil Asenov with Past President Neil walking at the back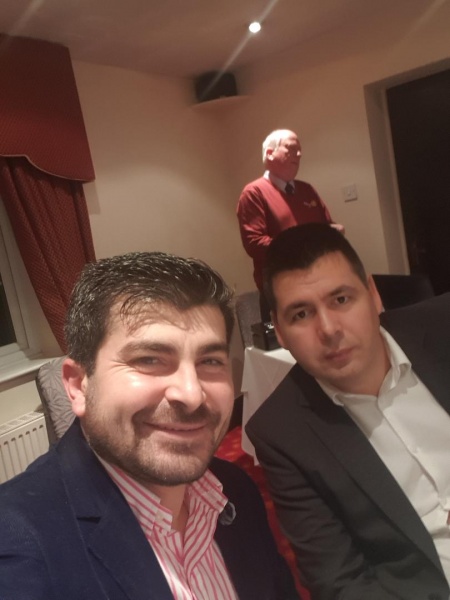 Crewe Rotary helped in setting up the Crewe Clean Team and pictured are the various helpers with David McDonald the leader giving guidelines before we tackle the litter around Dunelm. Almost 6 bags of cans.Crewe Rotarian Tom in the yellow hi viz jacket

As we prepare to plant our 50000th purple crocus at Crewe UTC 25TH October below a selection of the sites in Crewe we have planted previously
Christchurch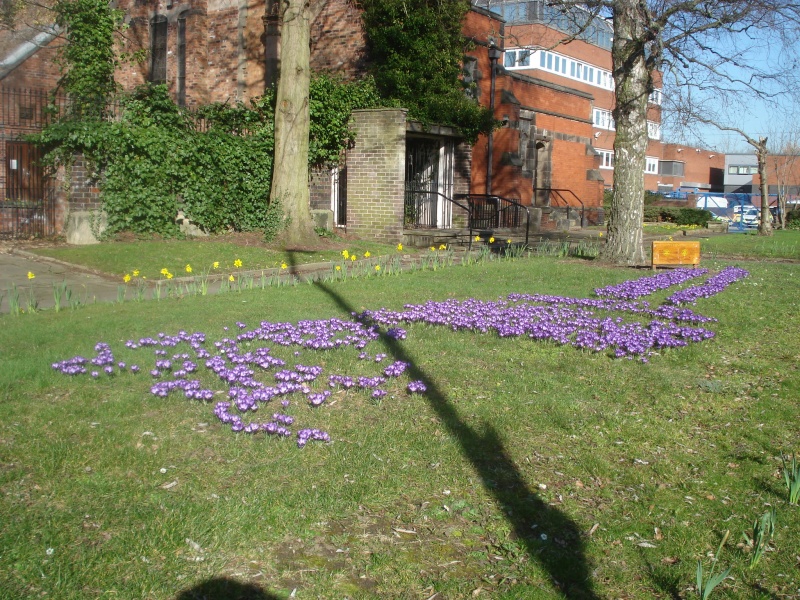 Valley park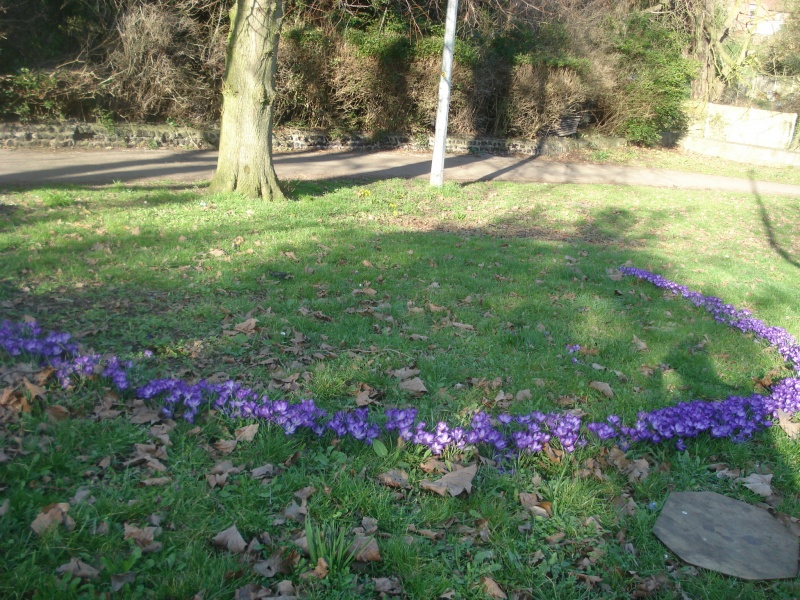 St Mary school Crewe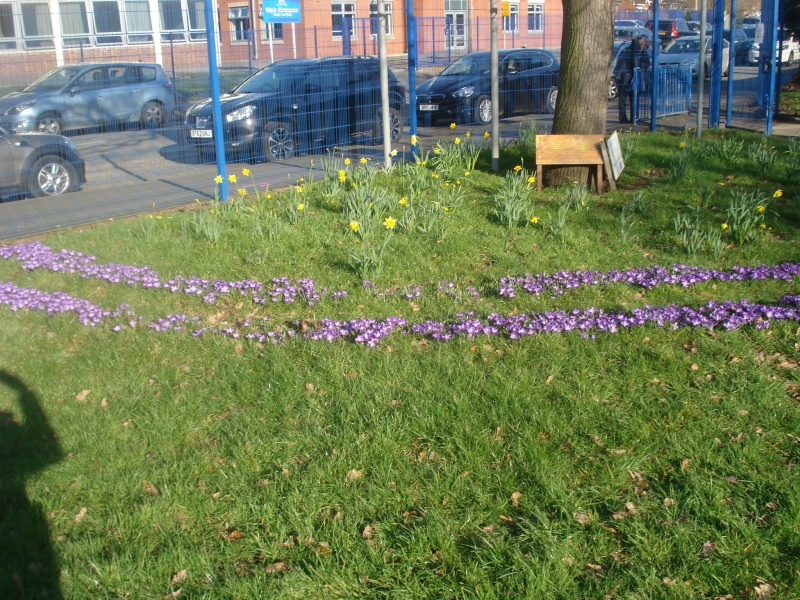 Jubilee gardens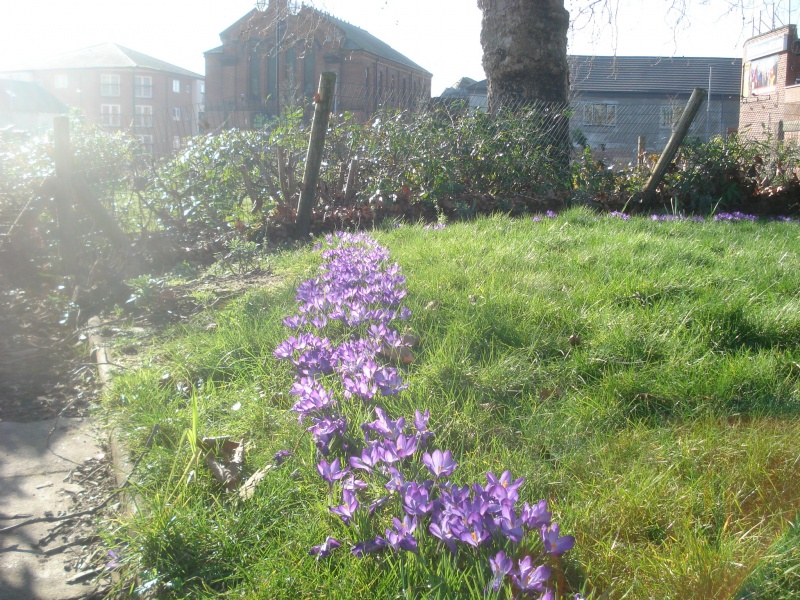 Each year the club holds a potato growing competition -biggest spud wins plus heaviest crop.Here is Protheroe's entry for 2019 roll on 2020 when a better effort is expected. If you want to take part - it will cost you £5 contact Crewe Rotary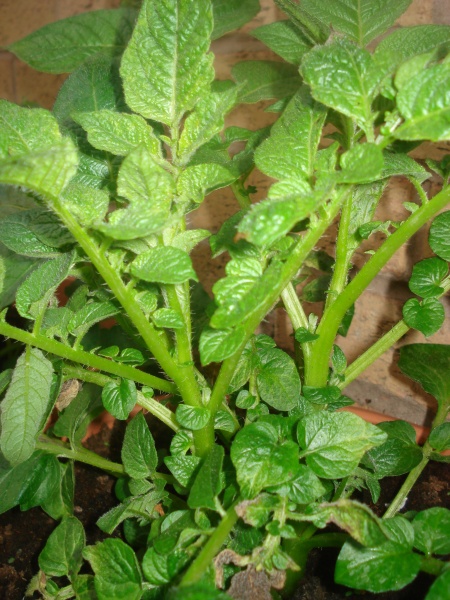 on this website
As well as helping to END POLIO the Crewe club has adopted Forever Angels as it's overseas charity.Pictured are Val Lithgow also an Angel receiving a cheque from club President 2019/2020. This is the third year we have donated and feeding orphaned babies in Tanzania will be one of the groups highlighted at our district conference next year.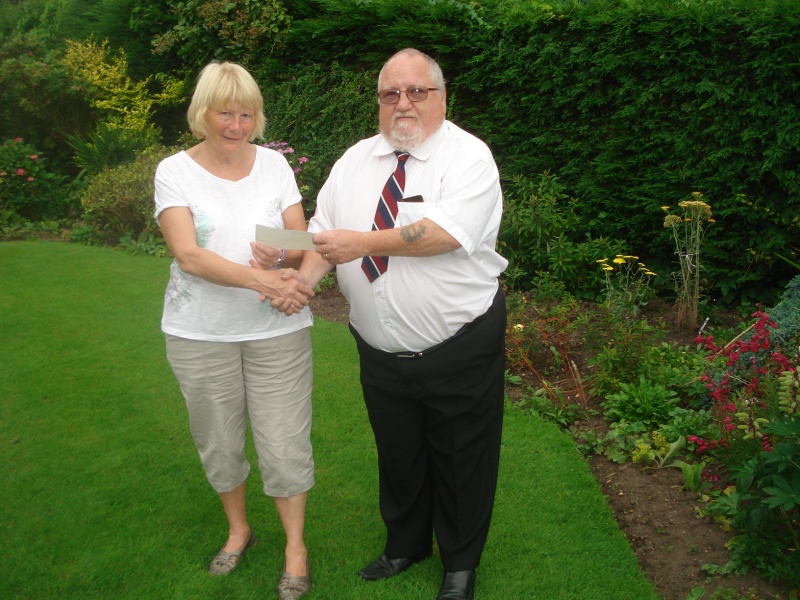 Where is this? It is in Crewe. Part of turning the town purple. Crewe Rotary are helping END POLIO. From 1000 children a day struck down by POLIO to just 1 a month last year.All the Rotary clubs in south Cheshire are taking part in raising awareness of this crippling disease so if you see purple it could be us.
Not the jungle but Hunters lodge Crewe turning purple.It is END POLIO week.Want to know more contact Crewe Rotary.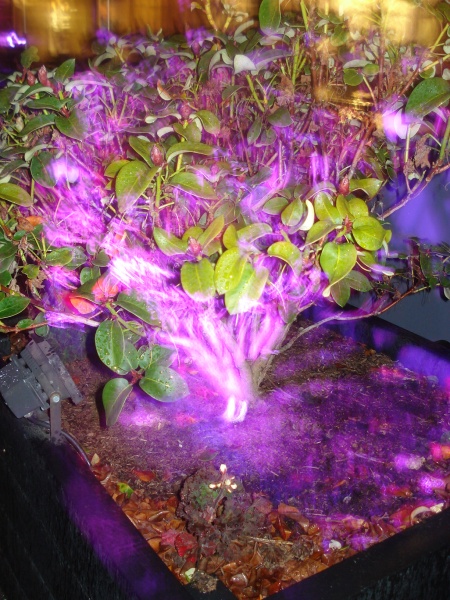 Crewe Rotary members + Nantwich Rotary + Inner WheeI Crewe + Inner Wheel Nantwich help Crewe Rotarian Jane Whetnall prepare potatoes and carrots for Sunday lunch. Jane and Iain are providing up to 60 Sunday lunches for the residents of Beechmere which burned down scattering them over south Cheshire.Doing this people who had been friends for years and had lost every thing in the fire can meet and have a chat over a 3 course meal.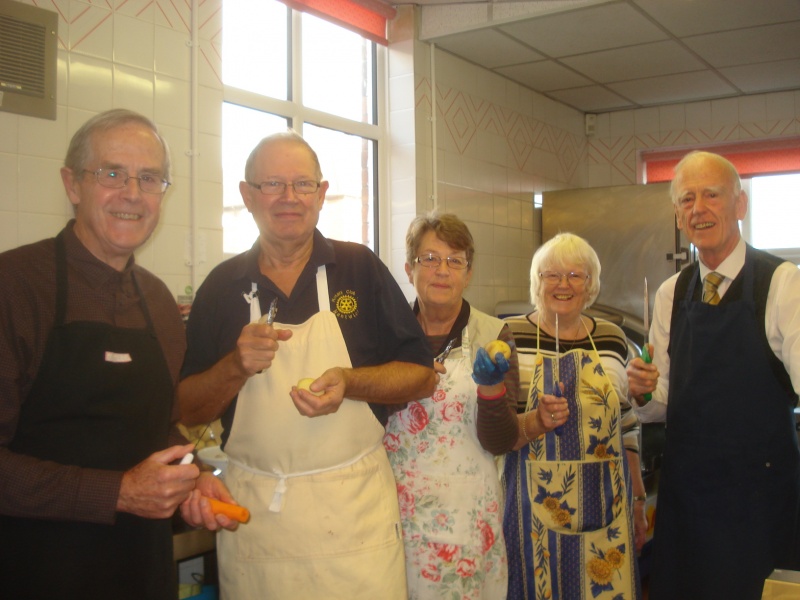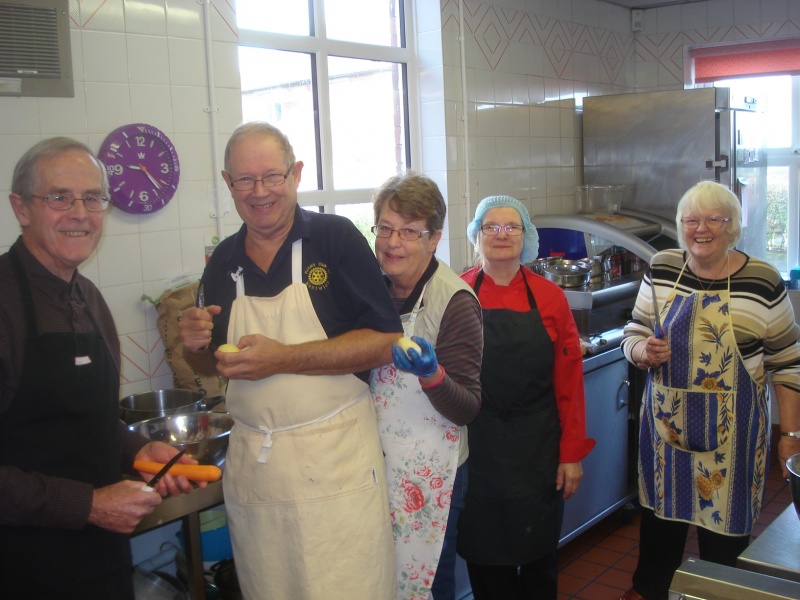 Tezdzhan Sabri is a club member who runs cafe "Rimini" on Victoria street Crewe.
On 15th September he organised a group of traditional Bulgarian dancers to dance outside his cafe -they are pictured below.Similar to other folk dances everyone joined in a very joyful occasion.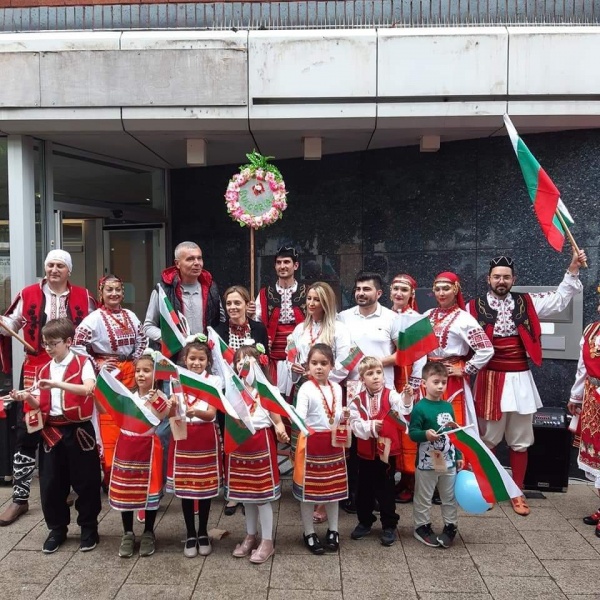 On September 12th Crewe Rotary agreed to join "Hopes and Beams" in a joint venture to provide free Sunday lunches for ex Beechmere residents to help them reunite with friends following the disastrous fire.Following the fire they have been dispersed across south Cheshire and have been struggling to reunite. pictured is Jane Whetnall being given a cheque by club President Dennis to help fund the programme. Mers also volunteered to help prepare veg, meet and greet as well as provide some transport.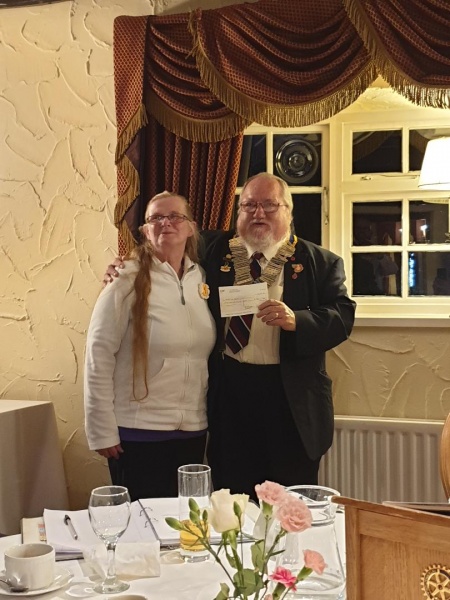 Crewe Rotary helped develope this lovely garden at Vine Tree school Crewe along with mums who wanted to see their children take more interest in gardening. In a few months probably October we will plant a few hundred crocus as part of our END POLIO campaign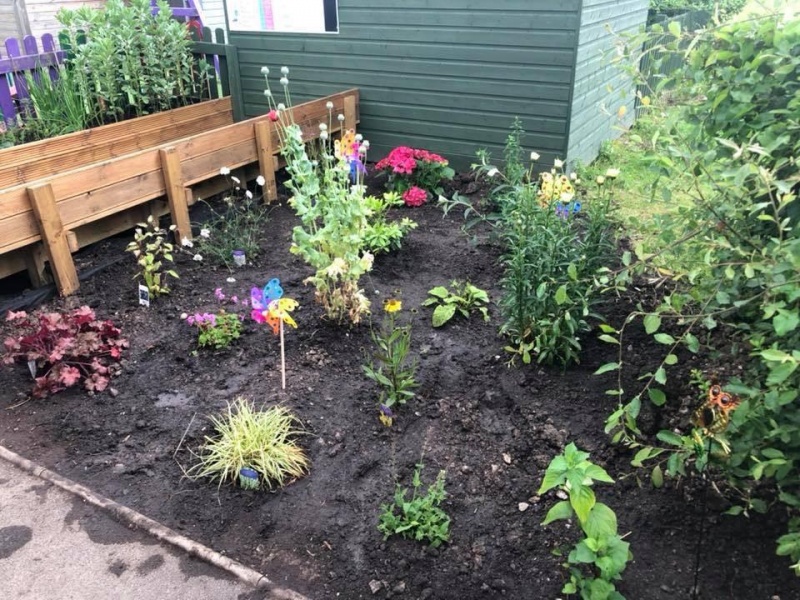 Ms Aspinall presenting collected bras from St Thomas More on July 19th. Crewe club has collected over 12000 bras so far.The money raised goes to "Against breast cancer"
The collection prevents UK landfill,contributes to a cancer charity and the bras are sent to east Africa where they help reduce "groping" win,in,in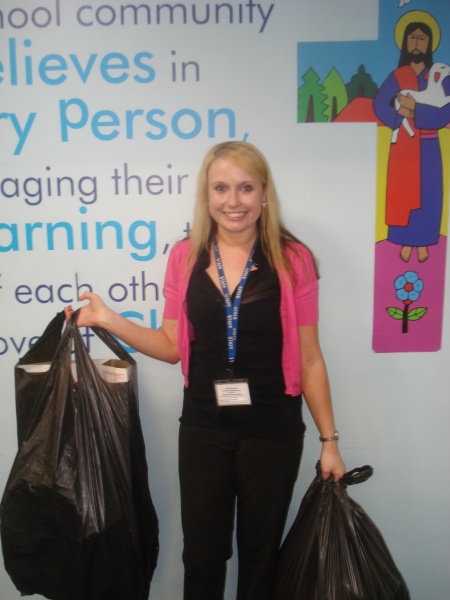 Past President Neil presenting first prize to Sue Bushell for the heaviest potatoe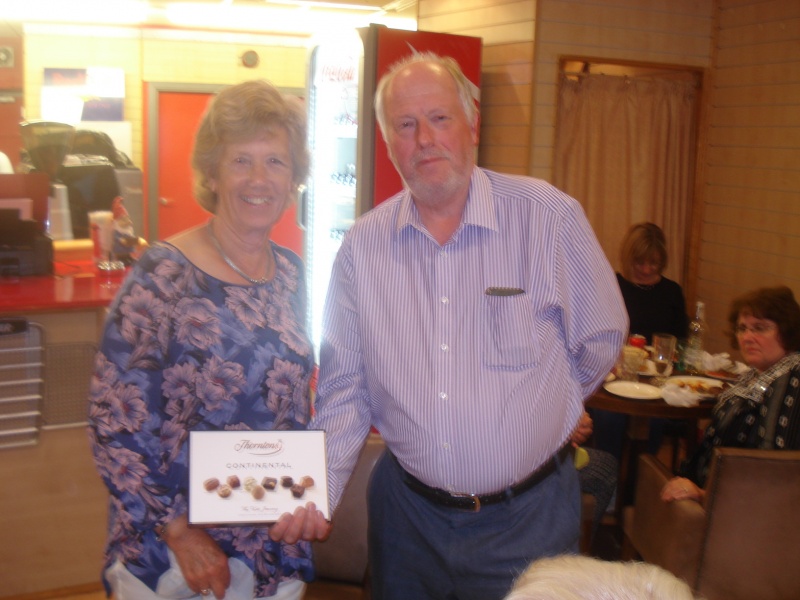 President Dennis addressing the "spud u like "group at Tez's cafe6/7/19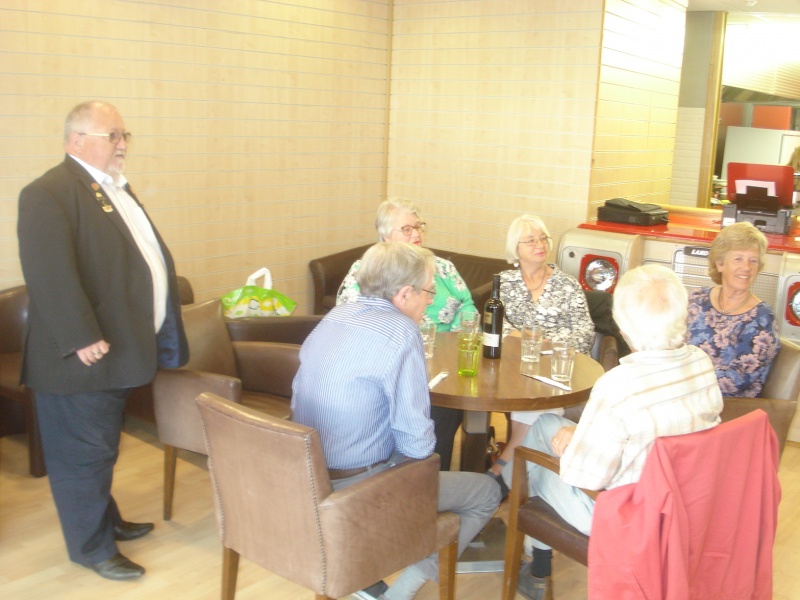 Rotarians, Bushell, Baldwin,Waling,Armitage, Clark and Protheroe were steward volunteers for the St Luke's midnight walk from Nantwich to Crewe rail station and back on daturday .Pictured is Tom Protheroe ushering walkers across Walthall street, Frank was on Westminister street and David further towards Nantwich. We were given a "goody bag" a van brought us a cup of tea and bacon sandich around 10-45pm and I returned to Reaseheath to book Frank & I out and had another bacon bap around 1-30pm.Clive wizzed up and down Nantwich Road displaying his Crewe Rotary credentials A pleasant warm evening and here's hoping St Luke's (the local hospice) did well.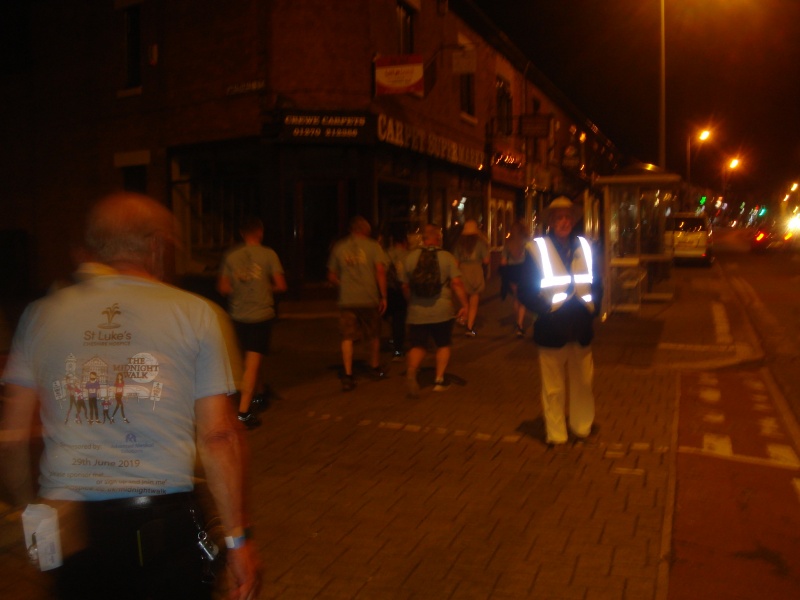 Past President Neil, President Dennis, Senior Vice Chris junior vice Jane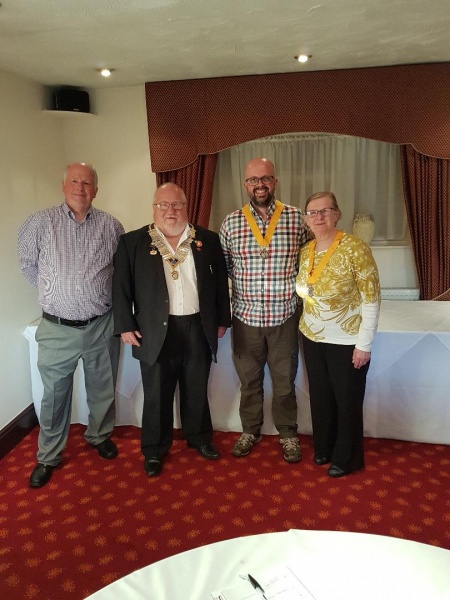 Rotary President Dennis congratulating Jane Whetnall on becoming Vice President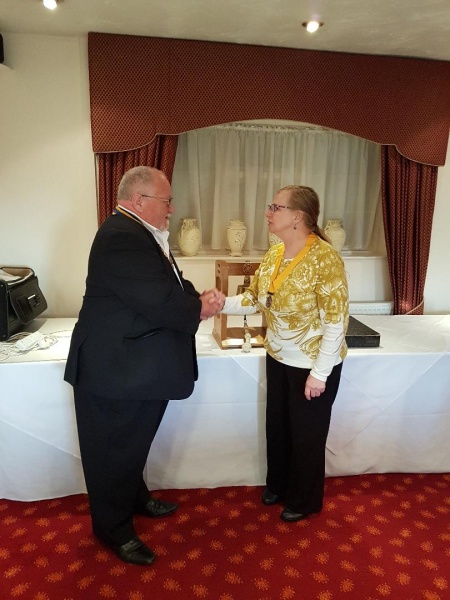 Rotary President Dennis Straine Francis (2019 2020) being presented with his insignia by Past President Neil Fearn June 27th

from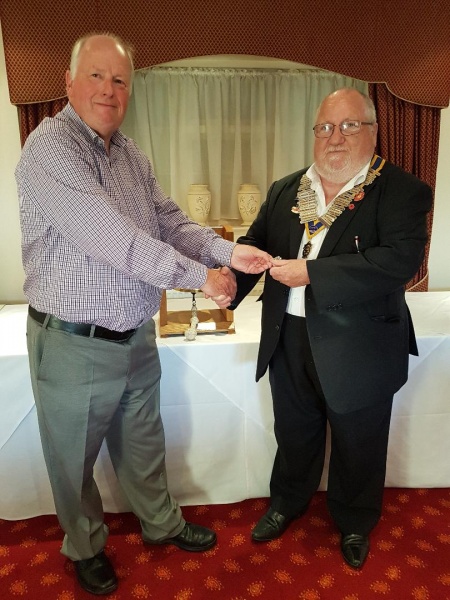 President Nearn on 27th June
Rotarians Dennis and Tom and competitors at the Haslington fun day on May 11th.The weather stayed dry and a stream of youngsters tried their hand at Baggo Thanks to members Lindsey and James for the gazebo.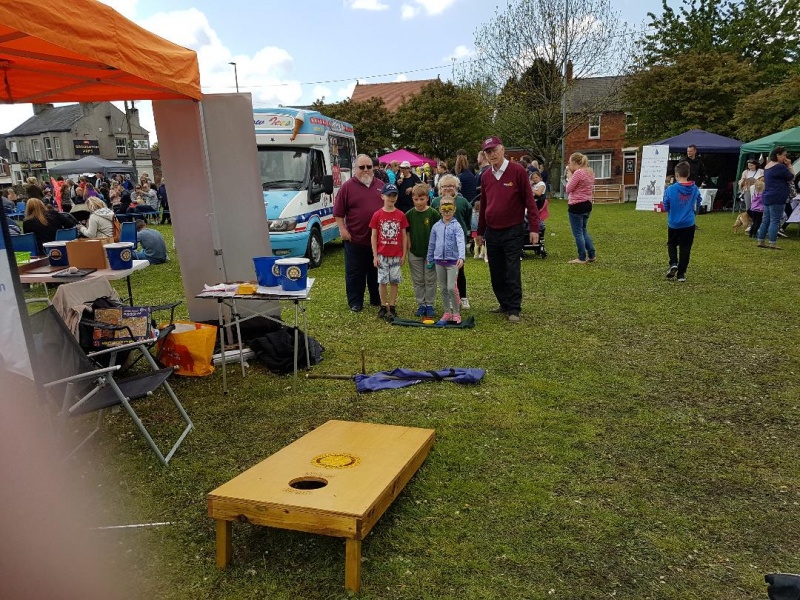 President Neil Fearn with Sally Scott a volunteer fund raiser for the Lee Rigby Foundation. They provide a quiet safe haven for traumatised servicemen and their families.It is hoped that as well as our donation the club will be able to help Sally raise awareness of their work among the people of Crewe and south Cheshire.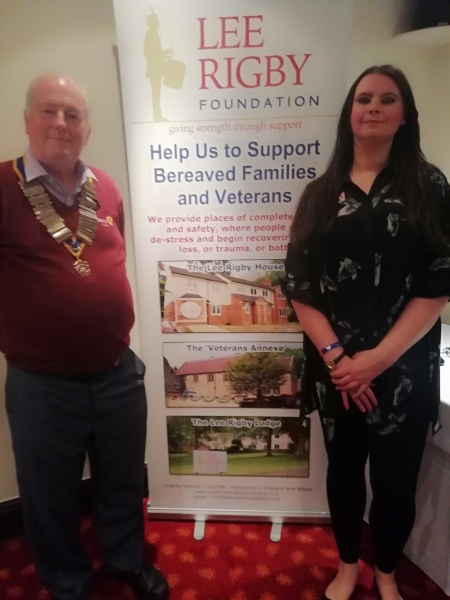 Members of the club welcoming Mr Angel an M.P. from Bulgaria with his friend Tez also from Bulgaria and a member of the club on thursday 7th March
5th from left Mr Angel, 3rd friom left Tez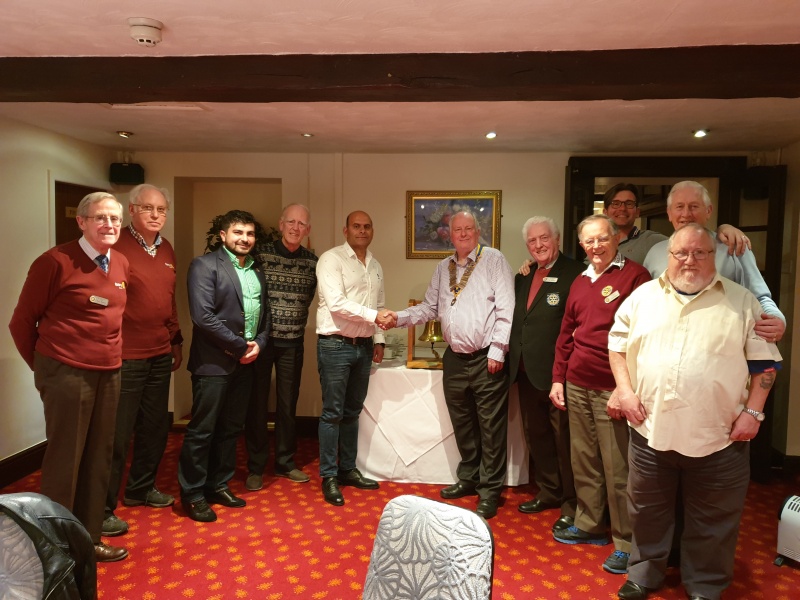 Members of the Rotary Club of Crewe on a visit to Crewe UTC. We were given the talk and tour by the Deputy Principal. We learned that the number of students enroling was steadily growing as the reputation grows. For students interested in learning engineering principles and putting them into practice this college with it's impressive array of machinery, computers and sophisticated software is ideal to take students on a pathway to success.
We did ask if the Bentley was a freebie -it was not -but a quality tour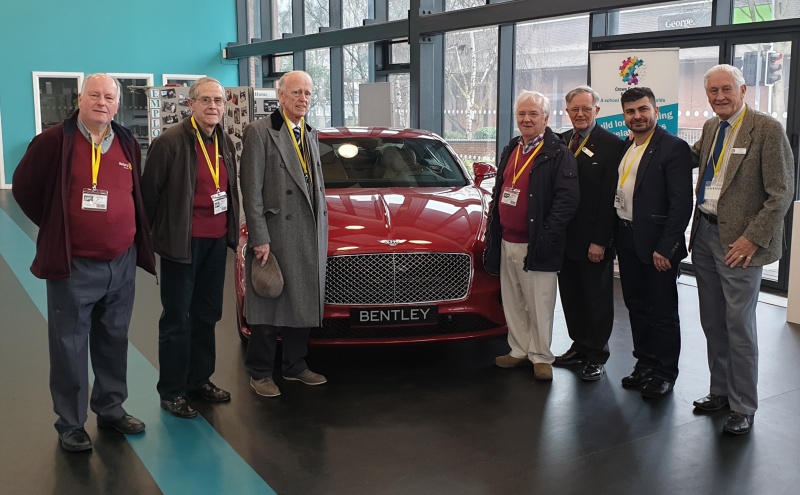 President Neil (3rd from left) chaired the club's Rotary Day Sixty two people representing around 40 groups were present on Friday Feb 22nd. These groups have been supported with donations by Rotary Crewe under Frank Baldwin (7th from left) the club's community chair. Others present were Cllr Lesley Smetham (Cheshire East Mayor) Cllr Brian Roberts (Crewe Mayor) and Rotary District Governor Steve Martin. The representatives of 5 groups who spoke about their work in Crewe are also pictured.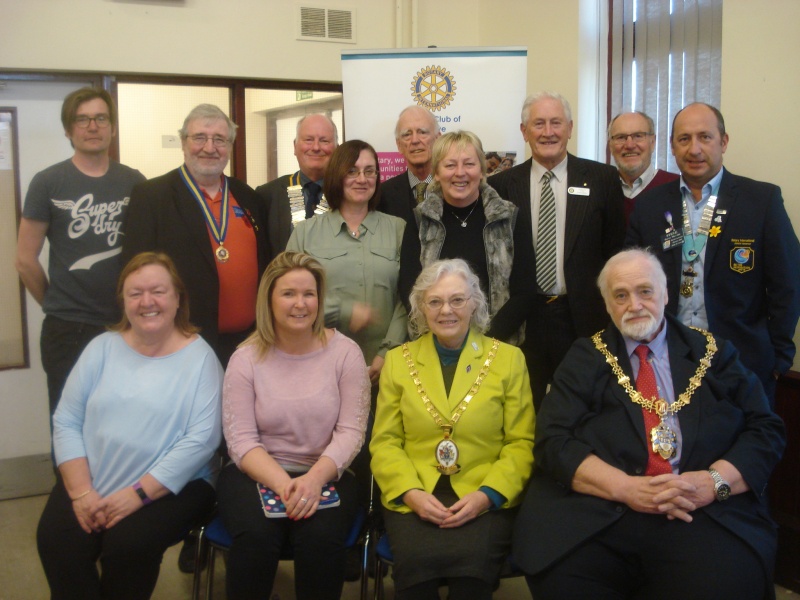 President Neil Fearn of the Rotary club of Crewe presenting joint Inner Wheel Club of Crewe Presidents with a donation in support of their charities.l to r Chris Gregory, Neil Fearn and Diane Park. The occasion was the Annual Dinner of Inner Wheel and was attended by 31 members and friends of both clubs.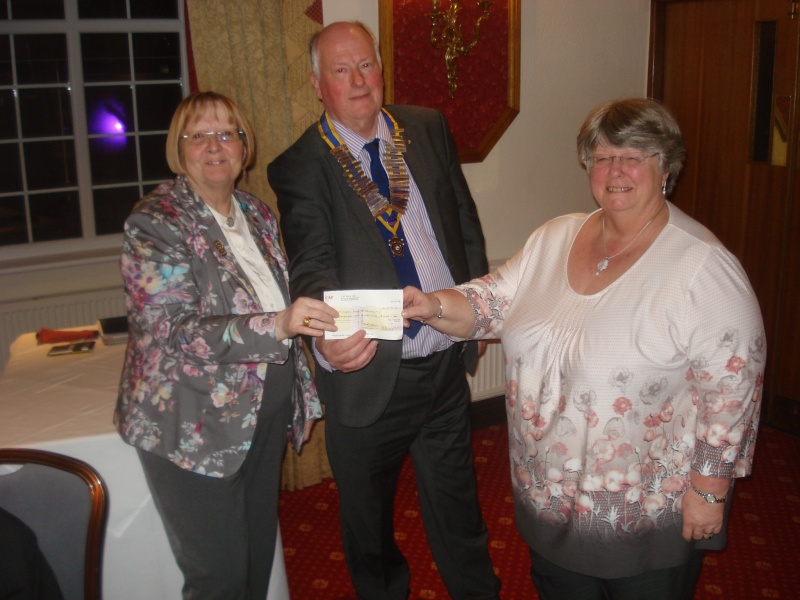 Rotarians at Crewe Alexandra preparing to collect for Neuro muscular Centre on tuesday 12th Feb.

Jenny from MND ( far right) is their fund raising manager.
Crewe Alex won 2-1 against Carlisle -great result for MNC and the Alex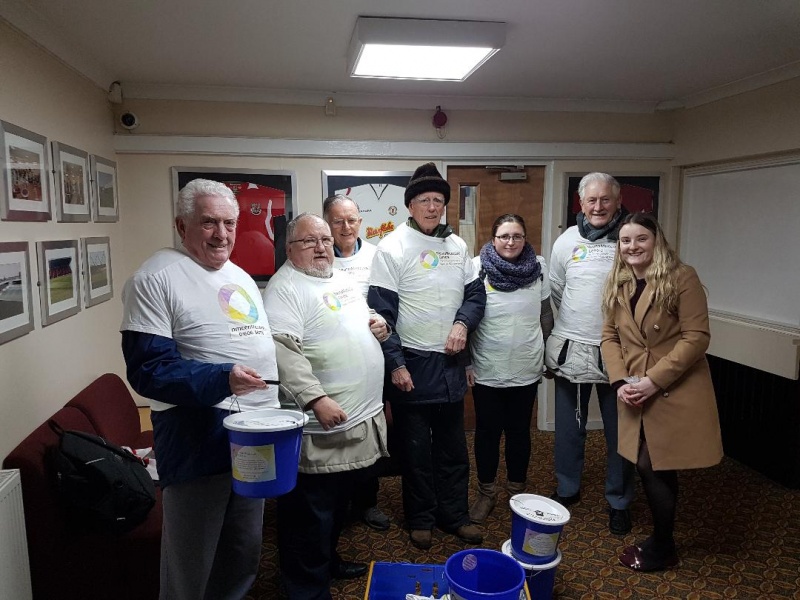 Rotarians at Springfield special school Christmas Fayre.Santa arrived on the Rotary Sleigh and entertained the youngsters whilst elf Tom won a magnum of prosecco -those elves!!!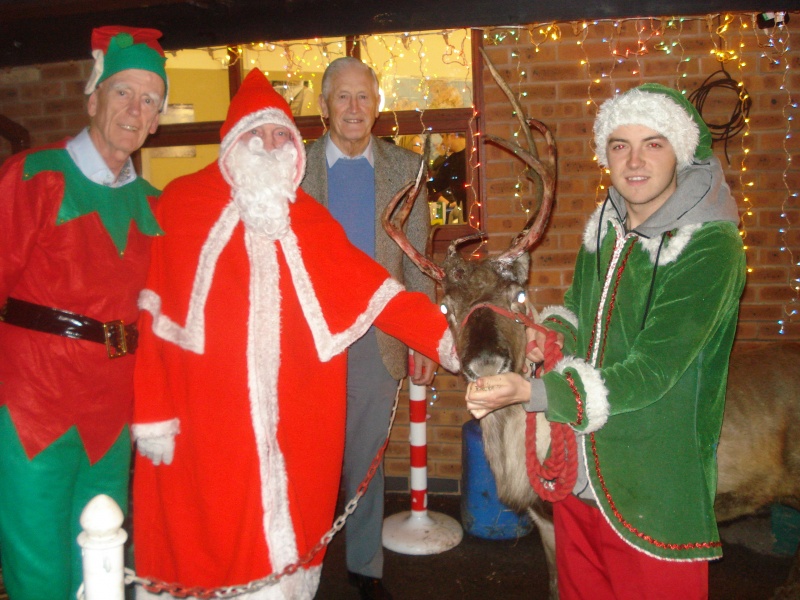 Rotarians, Ray Stafford, Frank Baldwin and Tom Protheroe with Chair of Friends of Springfield, teachers and pupils of Springfield special school. In November Rotary Crewe planted 3000 crocus in the Springfield garden. The youngsters planted the last few of 45000 crocus planted across the town in the last three years.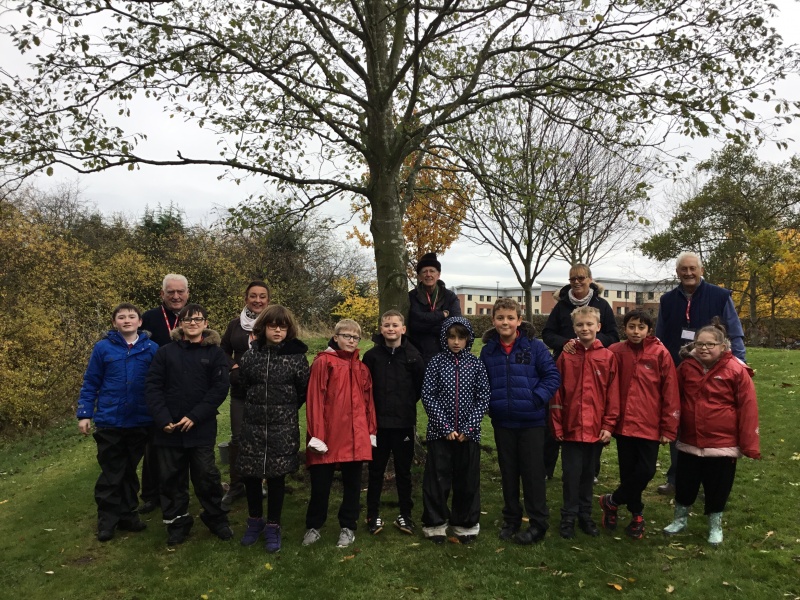 Rotarians Frank Baldwin and Tom Protheroe planting 1,5000 purple crocus at the Sherborne community project. These youngsters are part of the community gardening project.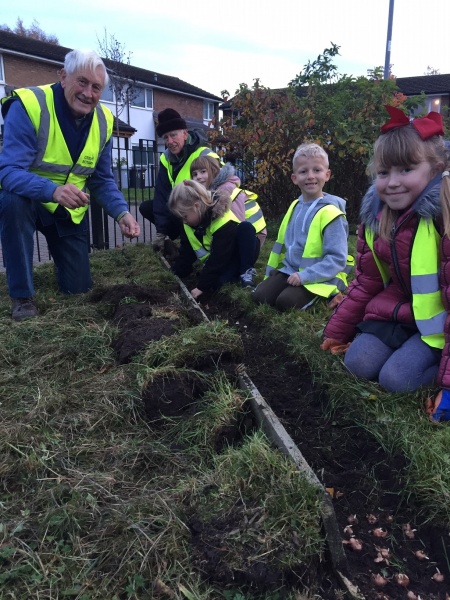 Rotarians Baldwin, Fearn , Bushell and Protheroe planting purple crocus at Hunters Lodge Hotel, Crewe. Rotary Crewe meet there every thursday.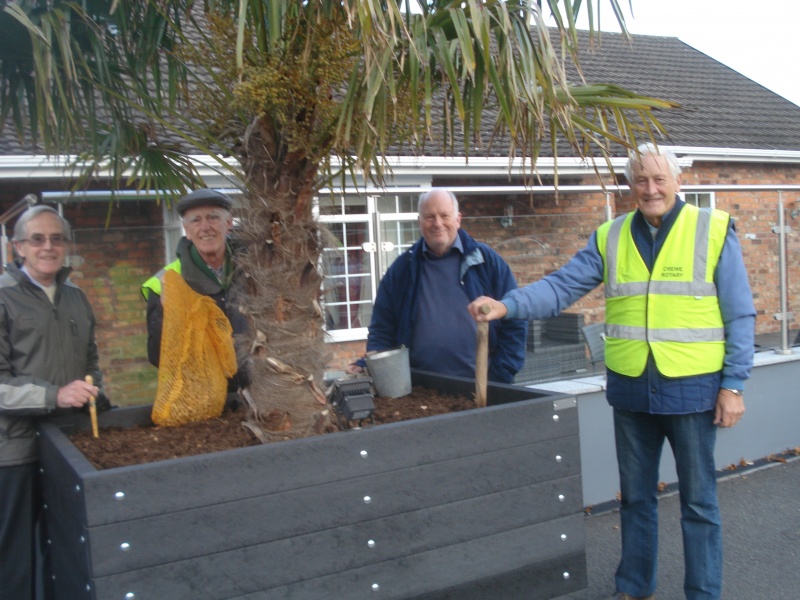 During October 3rd at IBIS Hotel Cewe almost 3000 unwanted bras were donated. us saving landfill, obtaining donations to a breast cancer charity and thirdly helping women in Africa - whats there not to like? Pictured are Dennis and Tom from Rotary and Debra Cumming from Danesound.com based in Holmes Chapel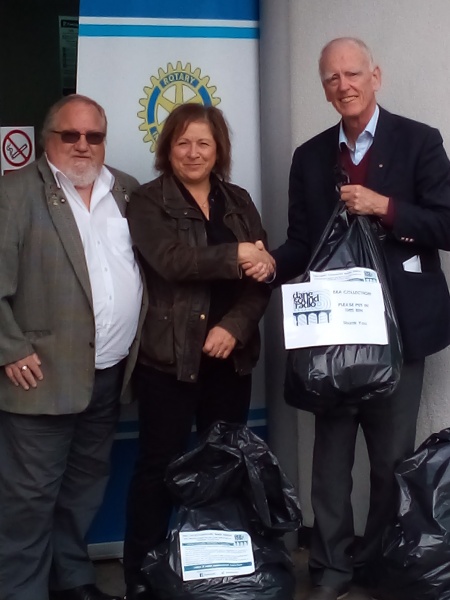 October 3rd and a fun photo of Rotarian Tom and a group of girls from a company off Electra Way with a few of the donated bras.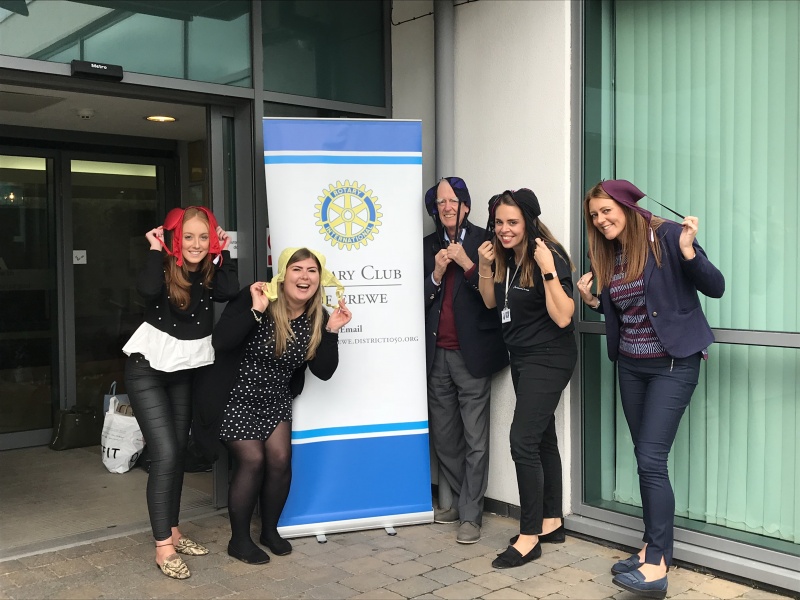 President Neil and Tom Protheroe International chair at the entrance to IBIS Styles hotel ,Electra Way on 4th September having collected three bags of old bras for the charity "against breast cancer"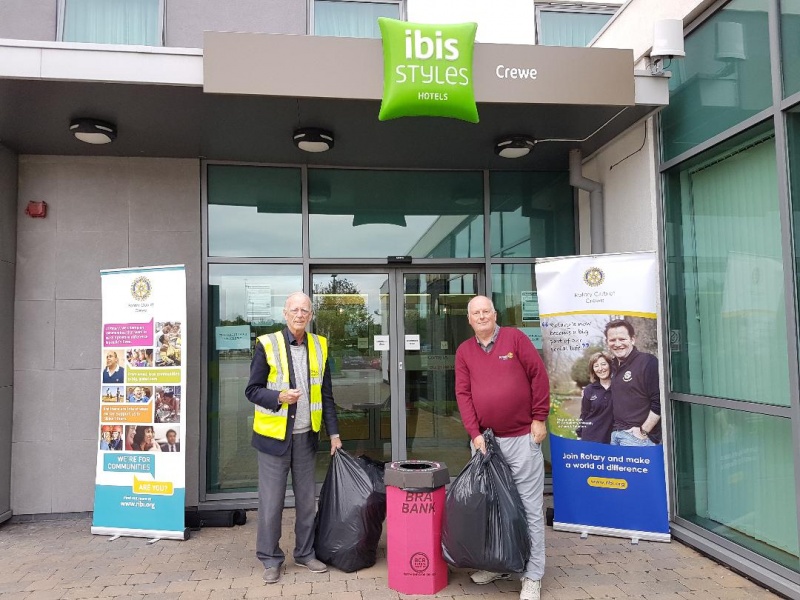 tra WAY with bags of old bras kindly donated
President Neil presenting a cheque to "Forever Angels treasurer Val Lithgow.Interanational chair Protheroe is also pictured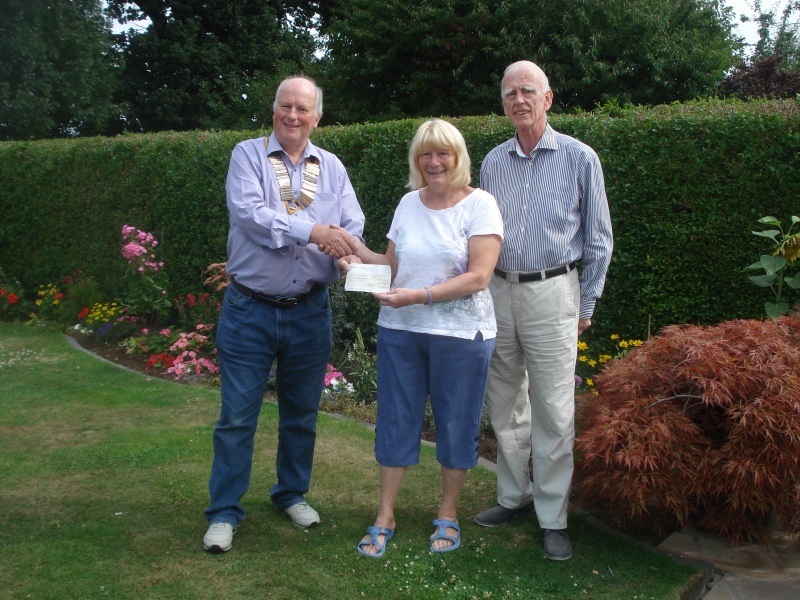 Joint President of the Inner Wheel club of Crewe Diana Park receiving a bouquet from President Neil at the social at Hough village hall on Sunday 5th August. The puddings were to die for
Pictured below the Crewe Rotarians, President Neil,Derek,Frank, Lindsey, James, Ray, Dennis and Tom with the Mayor of Crewe enjoying the sunshine at Pickmere. Aug 4th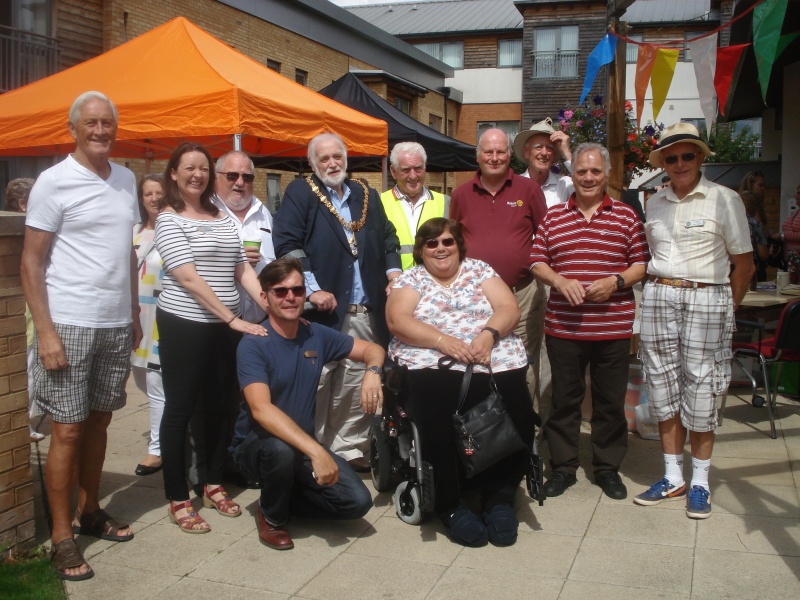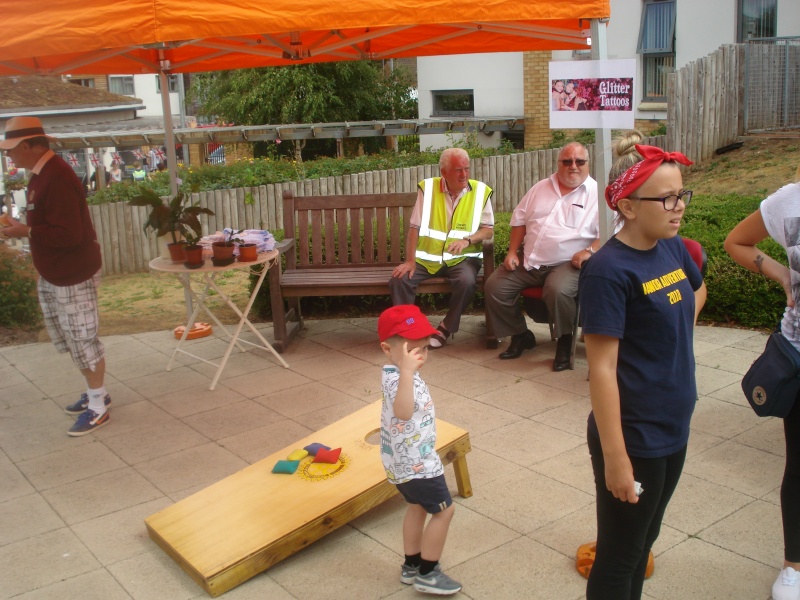 Saturday 4th Agust saw Crewe Rotary, the baggo board and glorious sunshine at Pickmere complex enjoying a "Community Day". 31 was the highest score achieved and the box of chocolates duly awarded although not to this little chap. Dennis and Ray were clearly exhausted by the heat!!!
On June 26th a class from Edleston school visited Apedale mining heritage centre and experienced going down a drift mine.
The youngsters were amazed by the experience and took home a bag of coal for rubbing on their faces None of them have coal fires at home.The club held a competition on "my day in the mine" .and pictured is the winning entry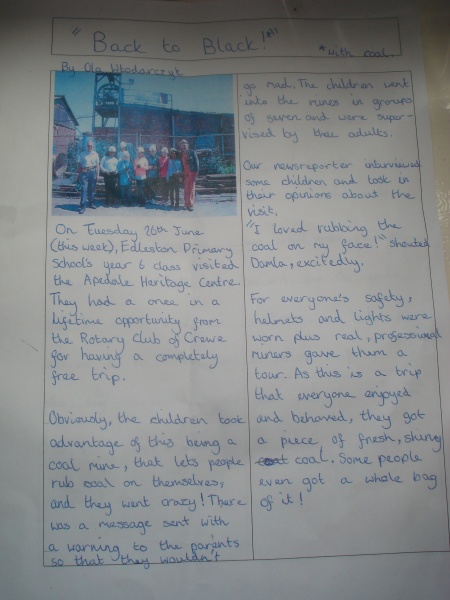 Young people in Crewe being enthralled by Science
A peregrine falcon at Edleston school. The whole class had a Harry Potter moment when they were up close to a range of British Owls.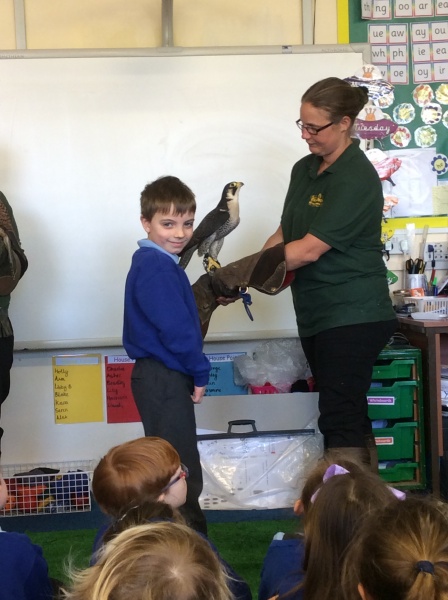 Architect or builder these youngsters worked as a team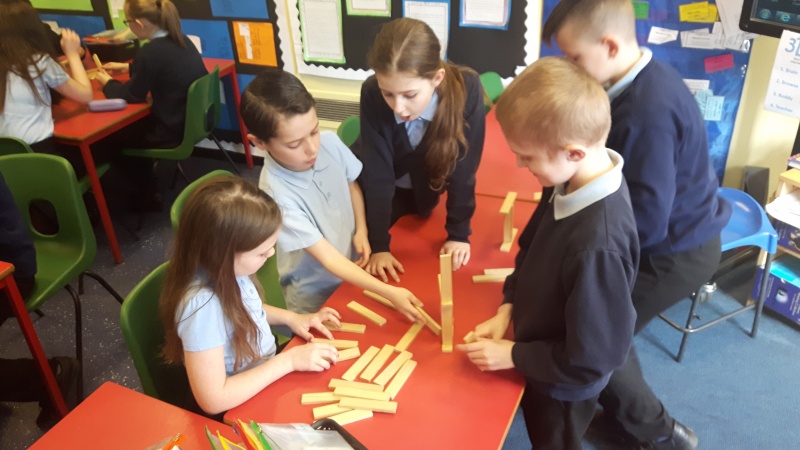 Try this at home -Techniquest challenge boys in Crewe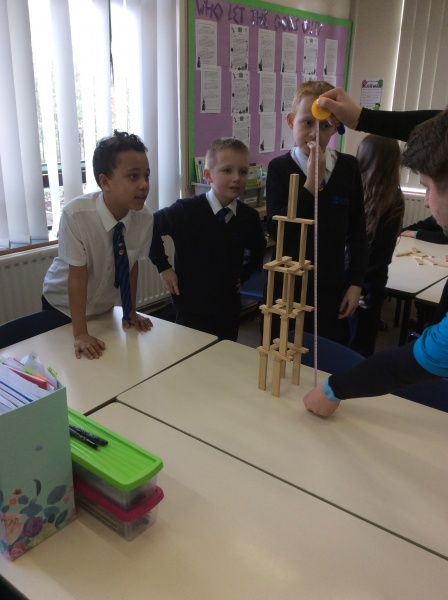 Make CO2 and put out the flames

END POLIO NOW 23/3/18

Some pictures from areas we planted over the last two years
Outside Christchurch opposite the Life style centre.The END POLIO Rotary board at the end.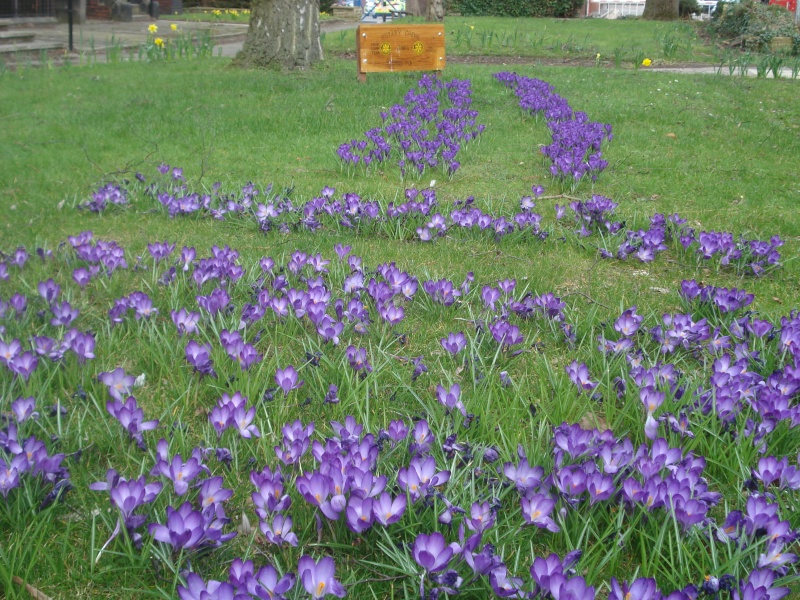 EDLESTON SCHOOL-around a memorial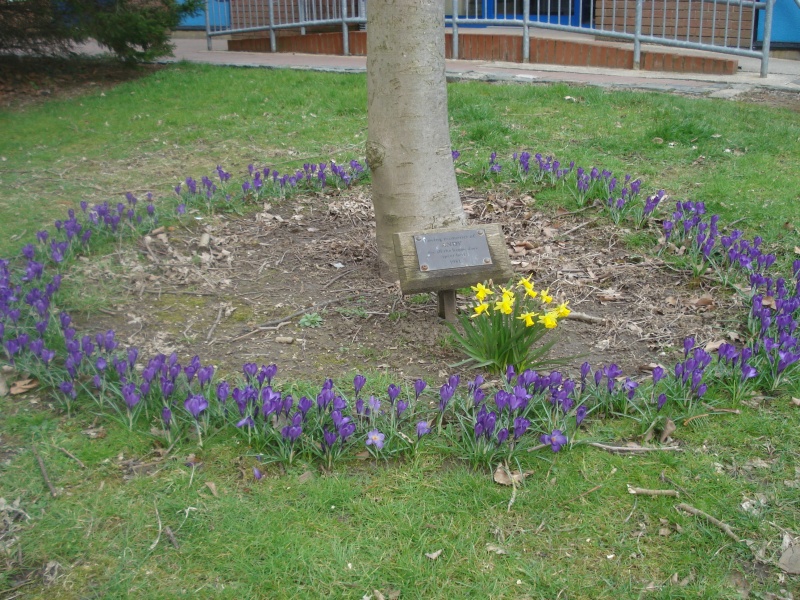 Valley Park

Part of our horseshoe for good luck planted with youngsters from Edleston school and
the Mayor of Crewe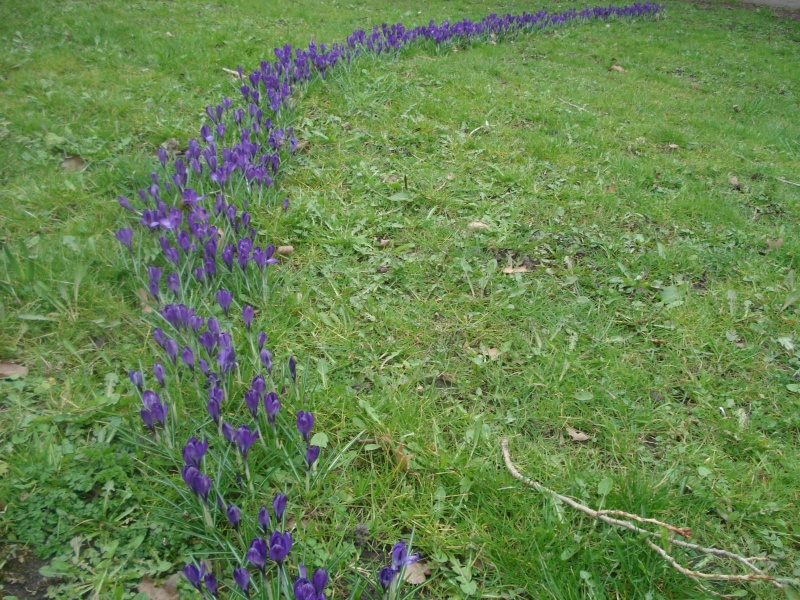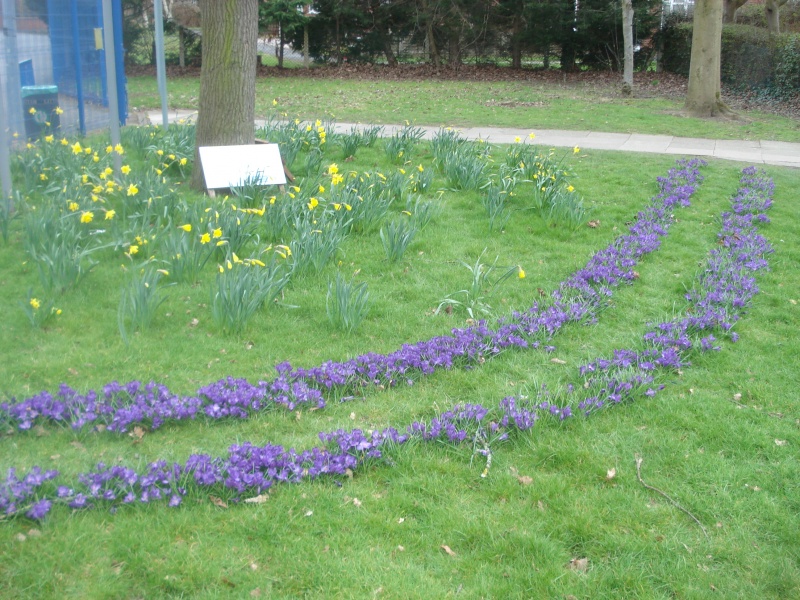 St Mary's RC school - our crocus nestling in front of the Marie Curie's daffodils
CREWE SCHOOLS HONOURED (15/2/18)
Rotarian Tom Protheroe(on left) receives a certificate of achievement from President Neil Fearn in recognition of the money raised by Crewe schools to support the "PURPLE CROCUS END POLIO NOW" campaign.Almost 35000 crocus have been planted ln schools and public parks
.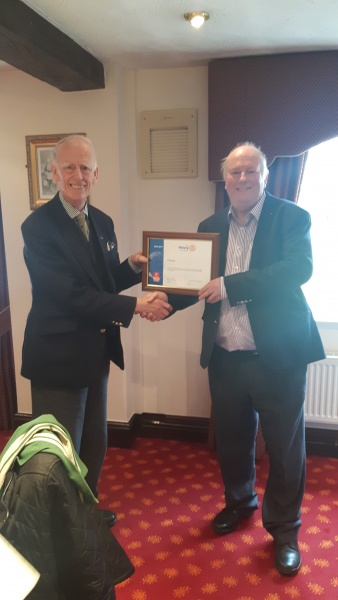 ROTARY SCIENCE
From day March 9th through to March 19th 1500 young people in the Crewe area have enjoyed Scientific presentations as part of National Science Week. This was done through 32 demonstrations delivered in primary schools in Crewe
One school inspired by one of our demonstrations "To infinity and beyond"" created this wall on poems on gravity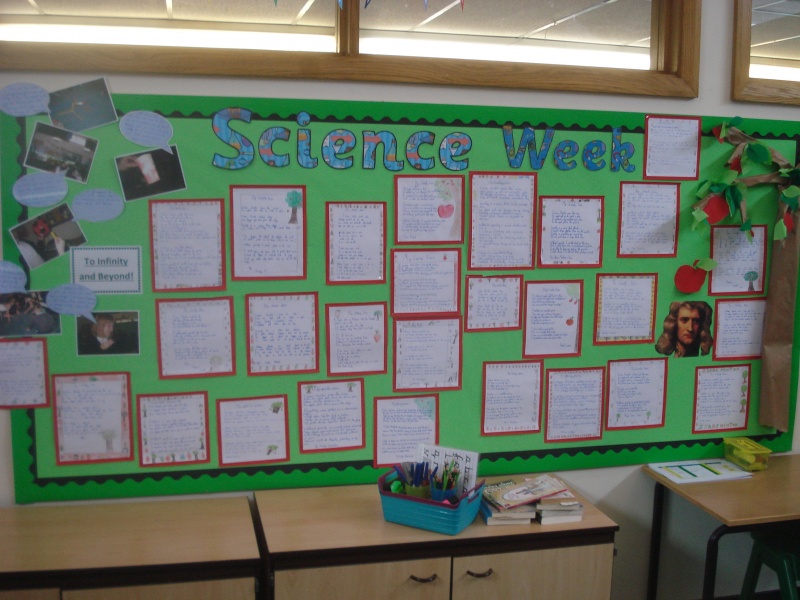 an individual poem

Youngsters at Leighton Ademy and Edleston primary tried their hand at civil engineering and architecture.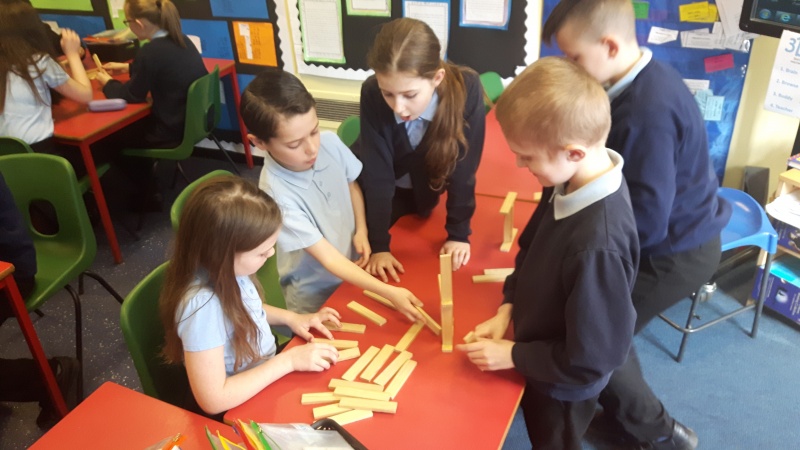 Rotary Day
On Friday 23rd February over 30 local organisations and charities were joined by the Mayor of Cheshire East Arthur Moran, his Mayoress Carole Thomas and local M.P Laura Smith to celebrate Crewe Rotary donating £8000 of the £12000 raised on the Christmas float.
photo left to right
Deputy Mayor of Crewe Dennis Straine Francis, Rotary assistant Governor Nick Gidney President of Rotary Crewe Neil Fearn, community chair Frank Baldwin , the Mayor, Mayoress, .M.P. Laura Smith and youth officer Tom Protheroe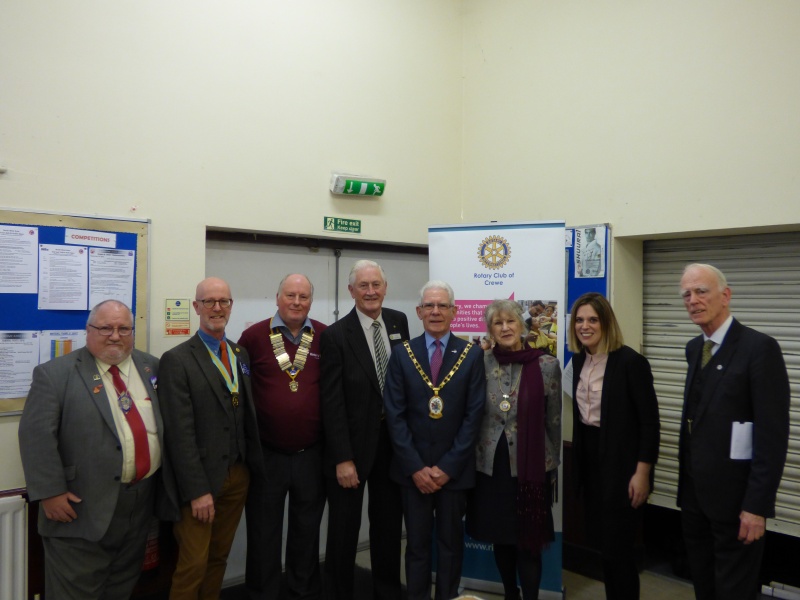 Give us a hand
Rotary Science enthralls another group of young people! On.TuesdayJanuary 23rd 2018 we visited Springfield (special) school where over two demontrations 80 adults and students enjoyed Chemistry with Cabbage presented by Lorelly Wilson pictured here giving a hand!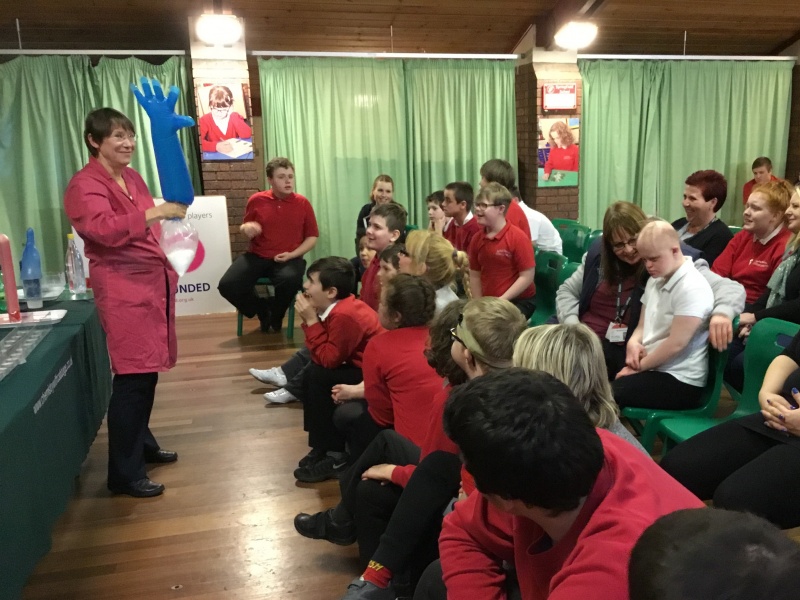 PUT THAT FLAME OUT

carbon dioxide being demonstrated as a fire extinguisher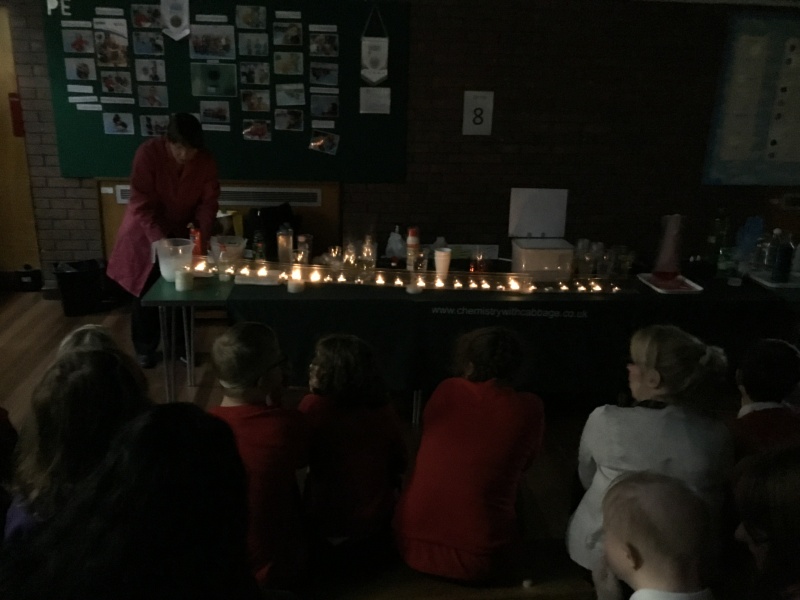 Santa Claus' helpers clean his float ready to visit Crewe and bring joy to thousands of youngsters.If you can help please contact Crewe Rotary.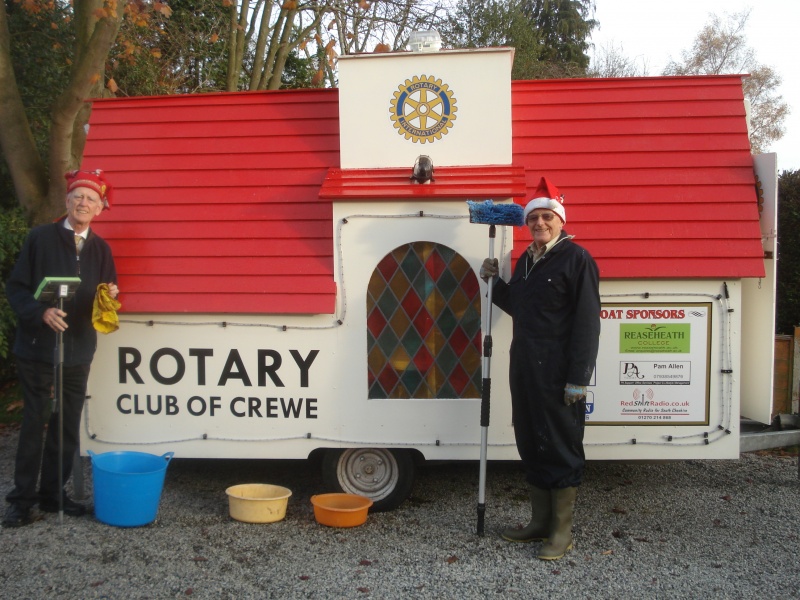 YOUNG CHEF
A selection of competitors and dishes created at the Crewe Rotary Young chef at Sir William Stanier High school.Andy Panayi of Hunters Loge Hotel was the judge for the evening and he commented"An excellent range of skills and taste provided by these young people"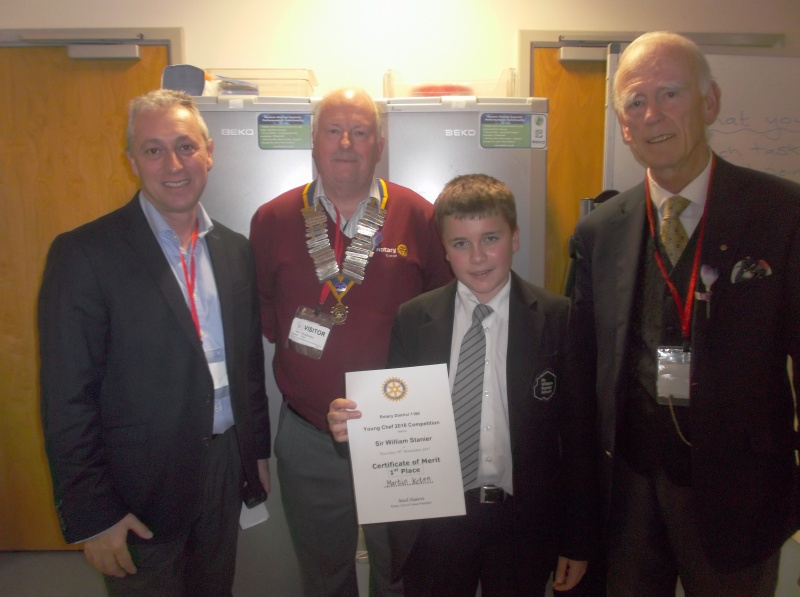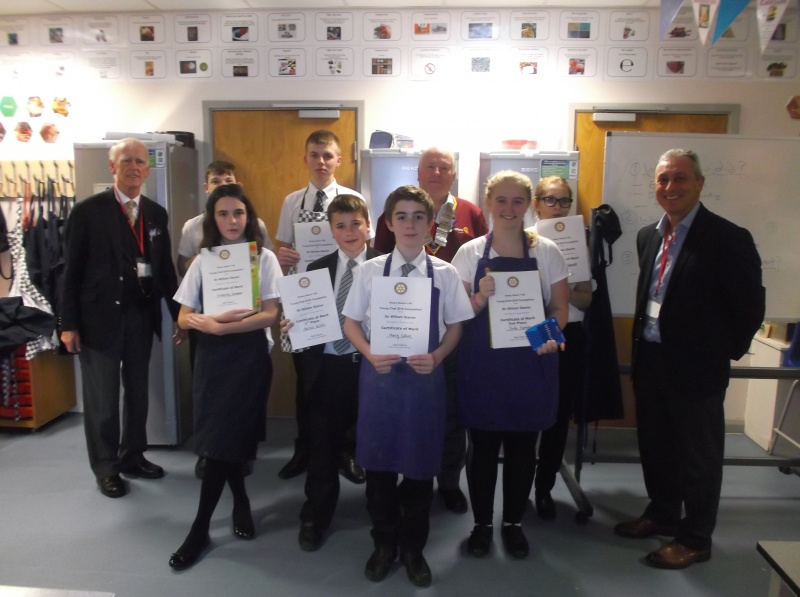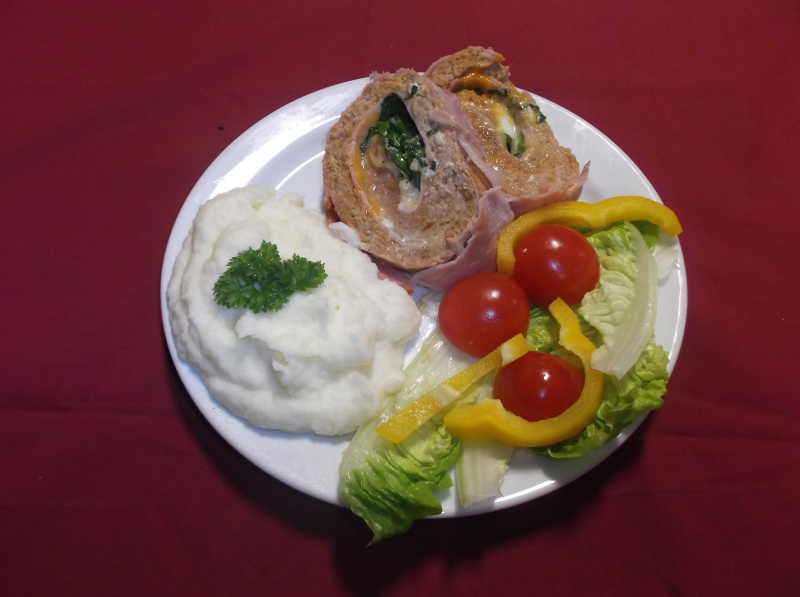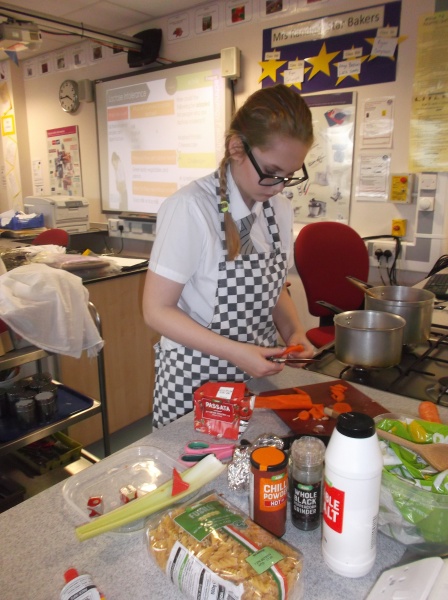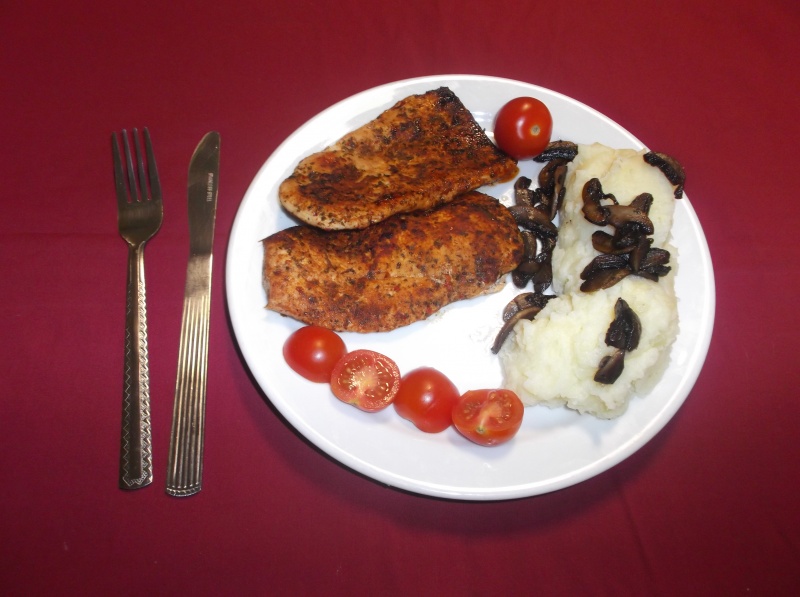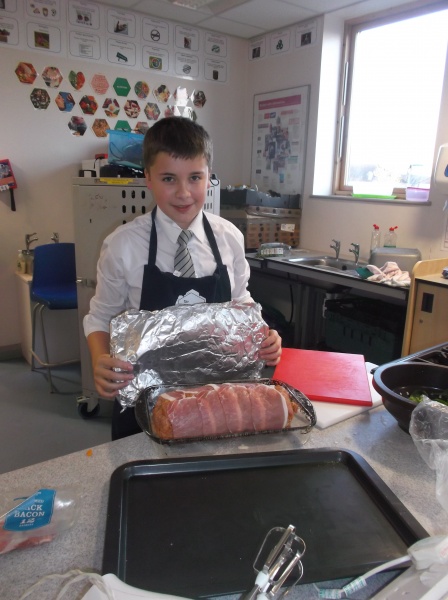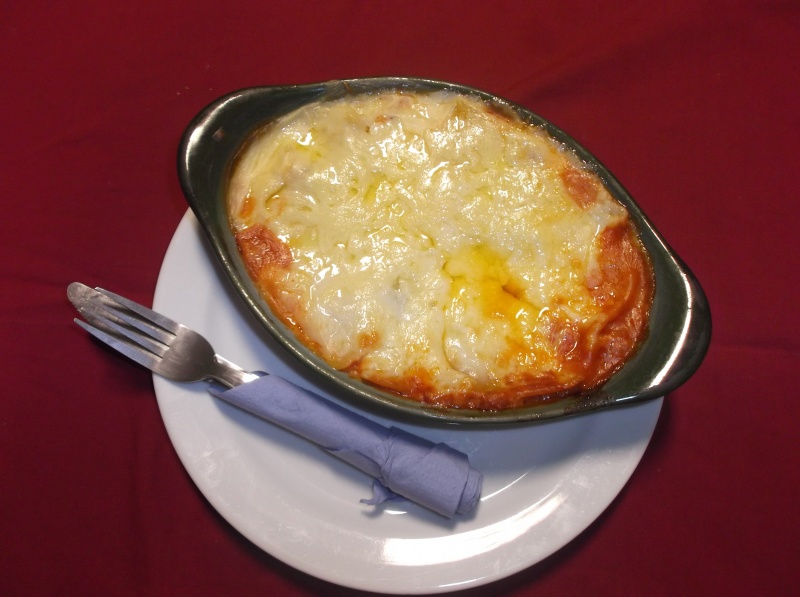 PEACE

Children at Vine Tree primary, Crewe lighting the PEACE CANDLE at the beginning of a day(17th November) long celebration of PEACE. PEACE songs,dances, poems and pictures were created. Sponsored by Rotary Crewe over 2000 young people in Crewe have enjoyed PEACE DAYS over this term.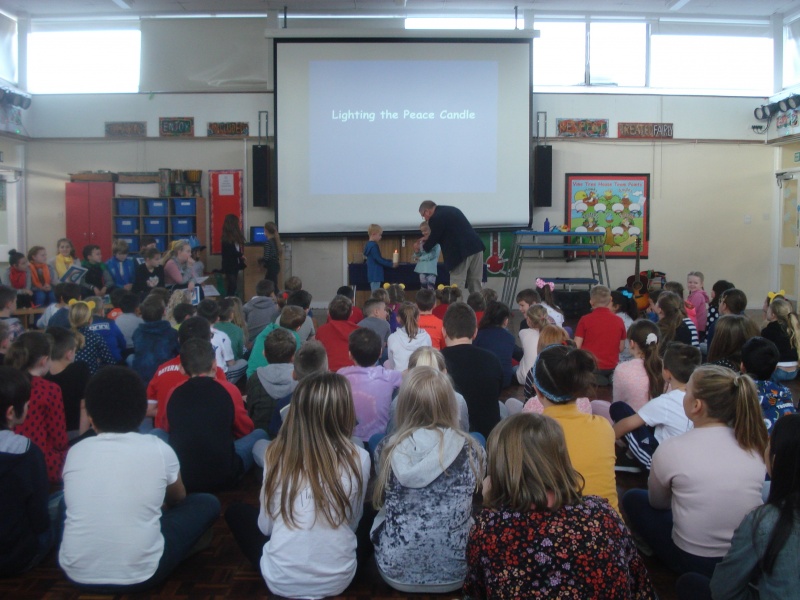 PEACE INFORMAL
Youngsters enjoying PEACE songs during their morning break at Vine Tree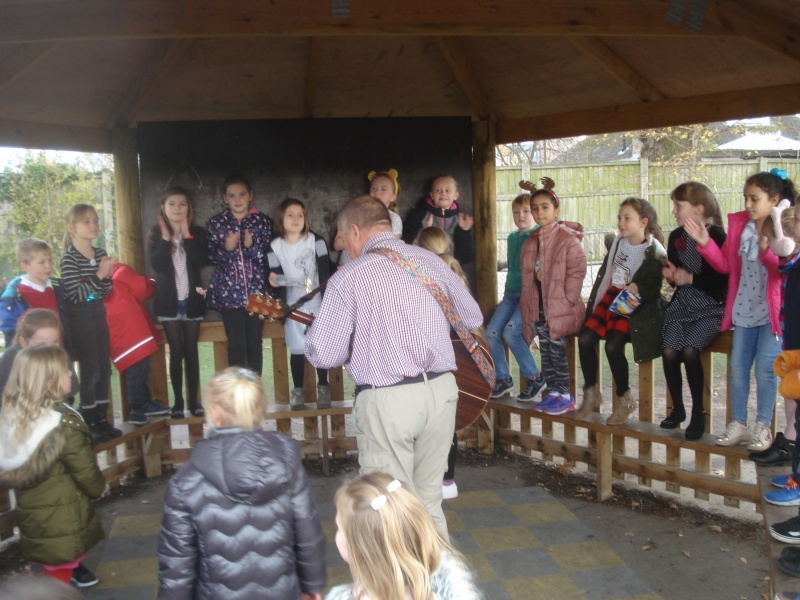 Haslington Boys help orphans in eastern Europe
President Neil Fearn (in sweater) and Rotarian Tom Protheroe accept Rotary Shoe Boxes and items for more boxes from Haslington Boys' Brigade. These will join the hundreds of other boxes collected from schools in Crewe before being sent to various orphanages in eastern Europe.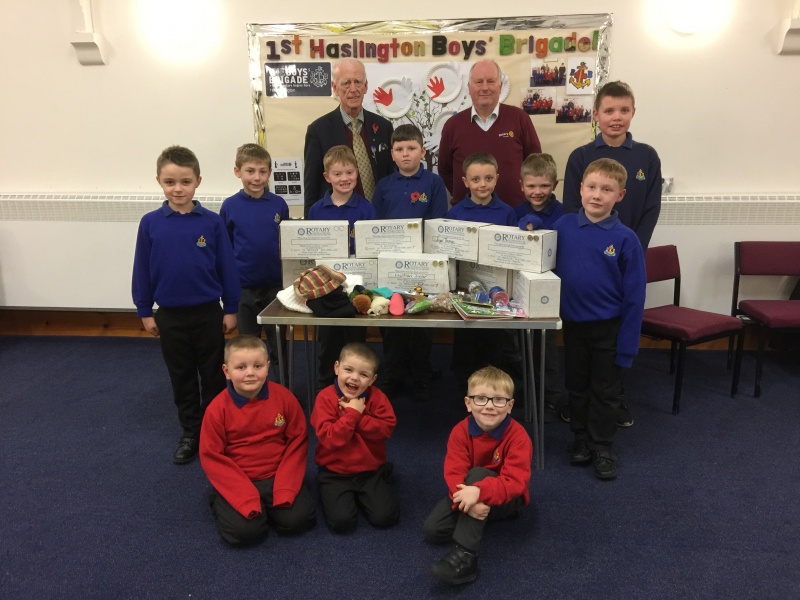 November 7th finds Lorelly Wilson demonstrating "Chemistry with Cabbage to 40 parents and pupils of Edleston school

SANTA SANTA SANTA SANTA
Rotary Crewe have started their planning for December 2017. The first float visit will be on December 4th and continues in different parts of Crewe town,Haslington and Wistaston until December 23rd. If you are a driver willing to tow, have an inner wish to help Santa, or organise a group who would be willing to collect please contact us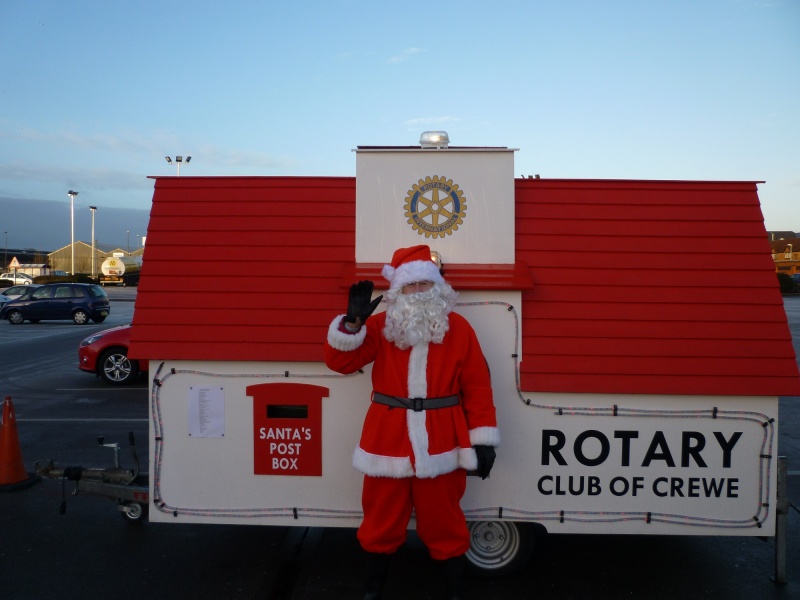 Mr Cox,headteacher, and a representative group of students from the Dingle school in Haslington on the 7th November standing in front of the 79 Rotary shoe boxes (filled by families) which are destined for orphans in eastern Europe.Parents also donated alot of money towards the Rotary transport costs.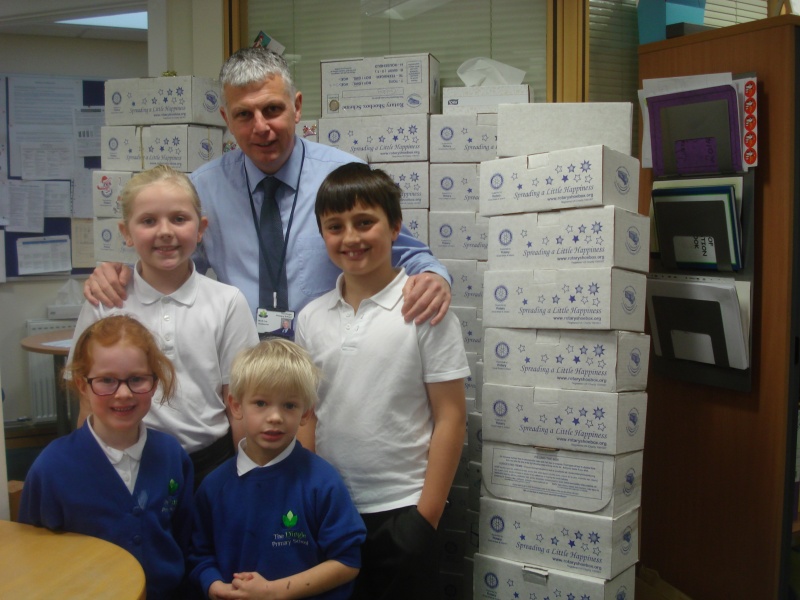 The Angel made out of knives surrendered to the police in the 43 constabularies.It is on display at the British Iron works which was part of the District 1180 conference programme.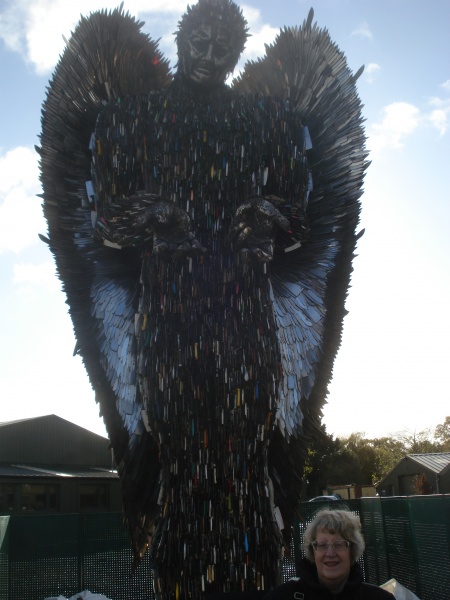 Tom & Sue Protheroe with Derek & June Poppleton standing next to the President of RIBI's END POLIO car,He brought it to the District 1180 meeting at Oswestry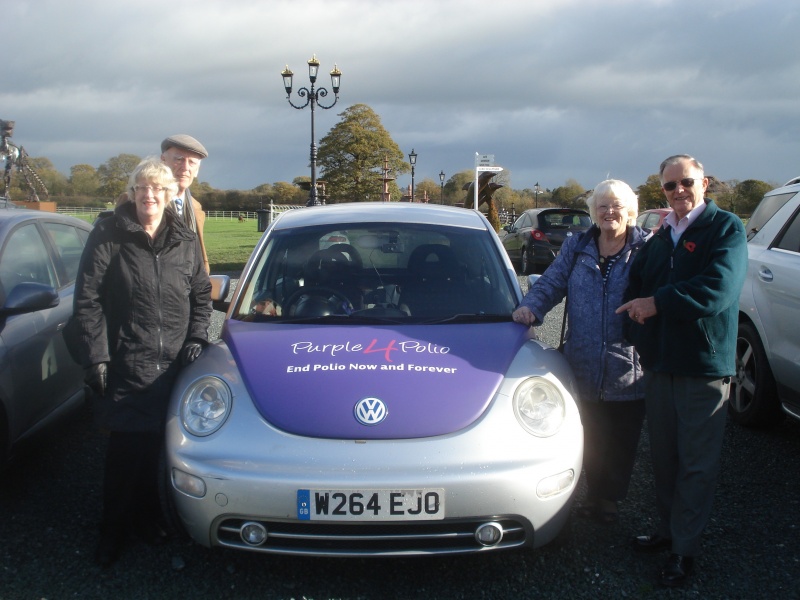 We have been holding a series of PEACE DAYS, encouraging young people to create Peace Poems, Peace Songs, Peace pictures and Peace dances. These events involve the whole school and are all day programmes. Pictured are young people from Leighton primary with Peace Ambassadors from St Mary's RC primary school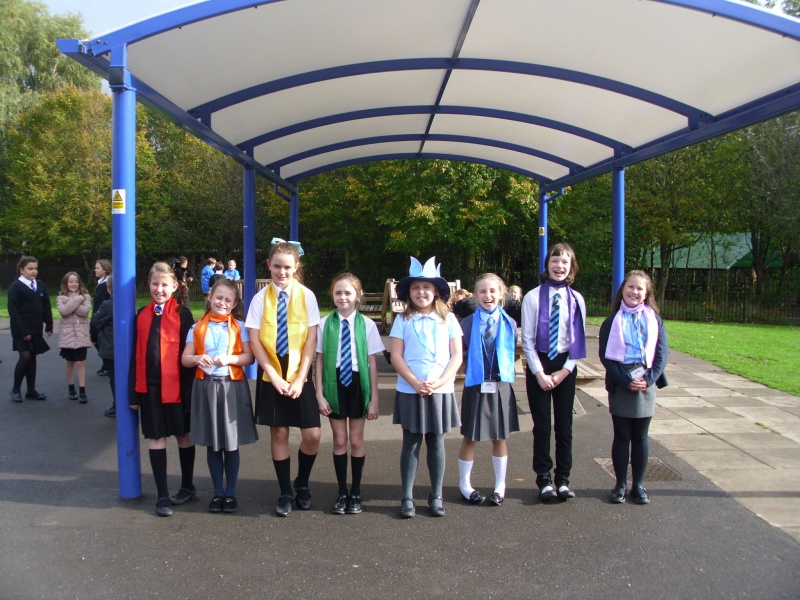 President Neil introducing new member Chris Waling.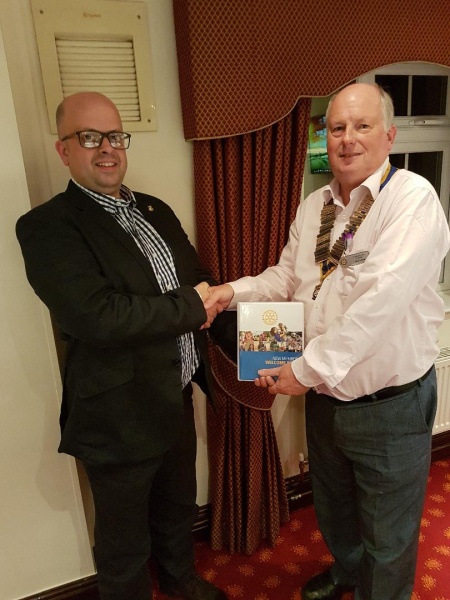 Have you paid all your tax?
The club received an interesting talk on HMRC and the tax system,on thursday 26th October from Jeremy Stretton a former tax inspector seen here with President Neil on the left.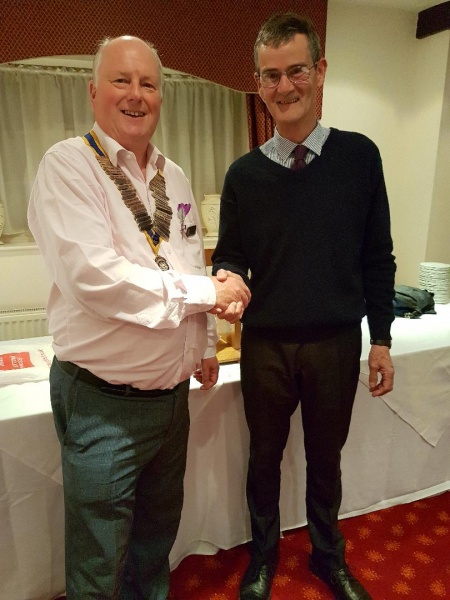 President Neil in London for World Polio Day on tuesday 24th October showing a "purple pinkie" denoting his Polio immunisation is up to date.This method is used in India part of the world wide Rotary campaign when almost 70 million children are immunised each year. In Crewe thousands of pounds have been raised to buy vaccine.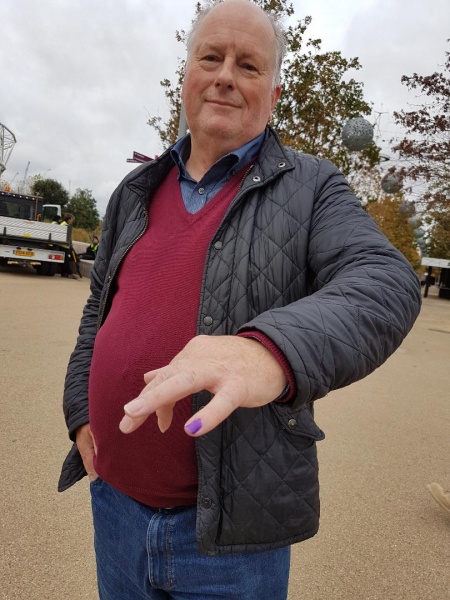 Rotary at Christchurch Crewe planting 1500 crocus with Crewe Clean Team & scouts on saturday 21st October 2017. 1500 crocus were also planted in October 2016. Should be a great sight in 2018!!!
A Rotary plaque was embedded to celebrate how close Rotary are to eliminating this scourge.The plaque was made by "Men in sheds" Crewe.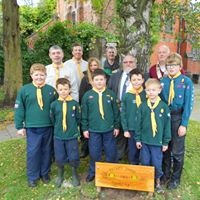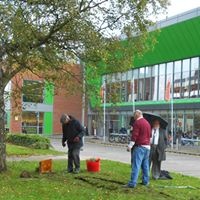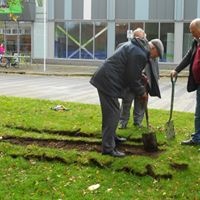 Rotary at Valley Park Crewe with Edleston school and Mayor of Crewe, councillor Yates. Over 3000 crocus were planted by 60 children from the school on 17th October.The Mayor Cllr Yates and Crewe Rotary President are on the far right of the picture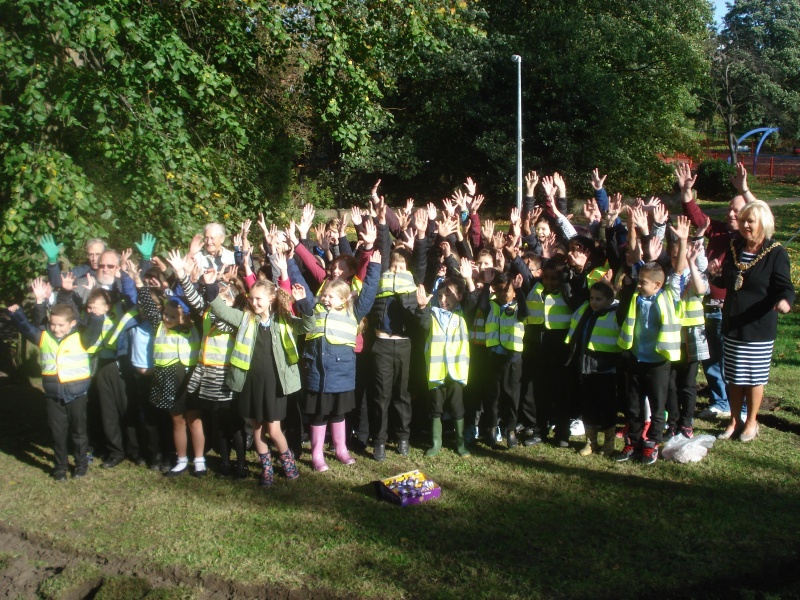 Rotary Crewe member Tom Potheroe gives Australian leader the Crewe Club pendant in recognition of their visit. Pictured here after a journey in a narrow long boat on the river Weaver at Northwich on saturday 14th October.This was followed by an excellent tour of the Lion Salt works and museum.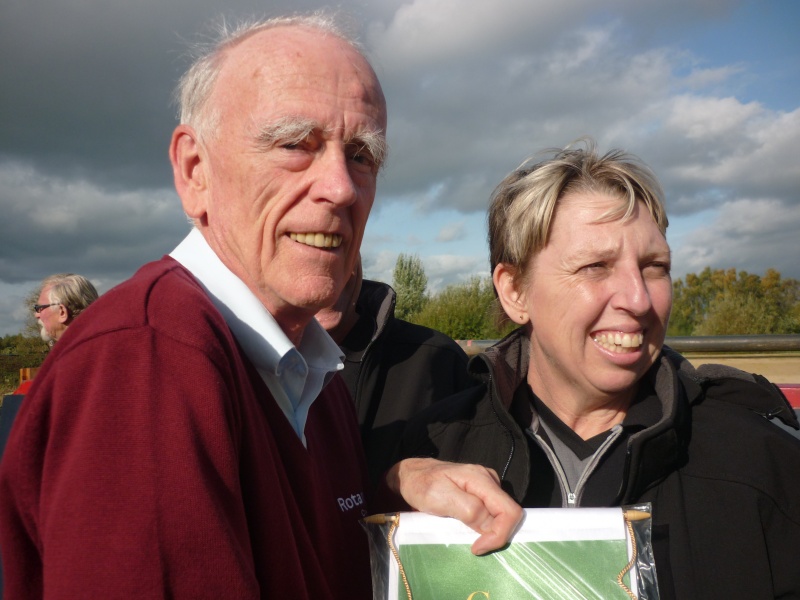 Australian visitors on GSE Rotary exchange l to r Crewe President Neil Fearn,Australian visitors and David Barton Chair of District Foundation.The occasion was the final presentation given by our guests at Winnington. The Rotary Club of Northwich were the hosts.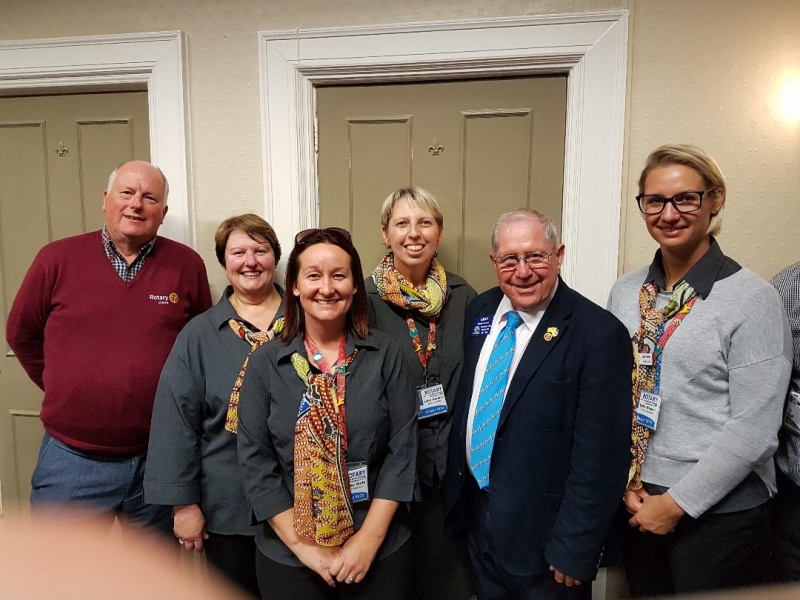 Chemistry with Cabbage
Pictured Lorelly Wilson and a series of chemistry experiments you can do in the kitchen.Held on 11th October in The Dingle school at Haslington.Over 60 parents, grandparents and youngsters filled the hall.Putting out fires with invisible gas, using red cabbage water to distinguish acids and alkalis found in the kitchen etc As with all young people the exploding fountain provoked the greatest response!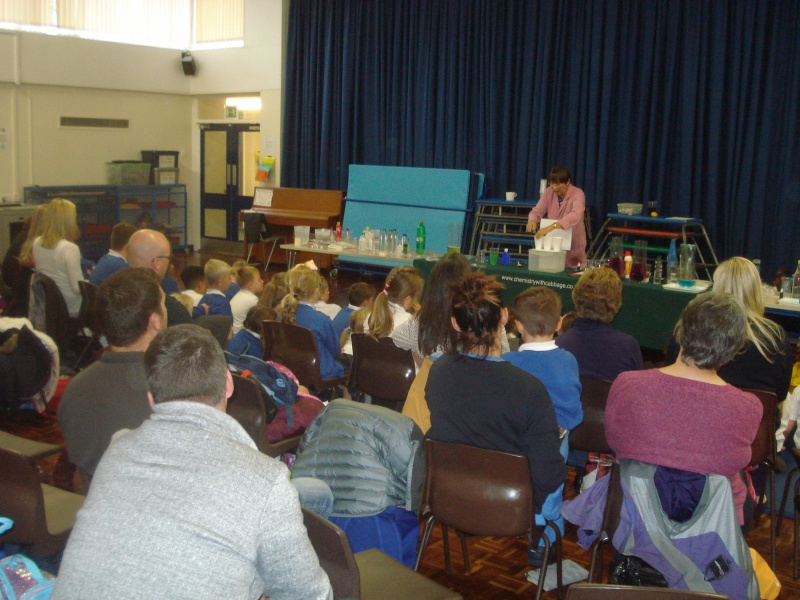 LOCAL HISTORY
On thursday 28th the club were informed of the history and current heritage of coal mining in North Staffs.Curator at the Apedale mining centre gave a fascinating insight into the mine -the name being derived from Apple dale from when the valley was covered in apple orchards.Pictured here with President Neil Fearn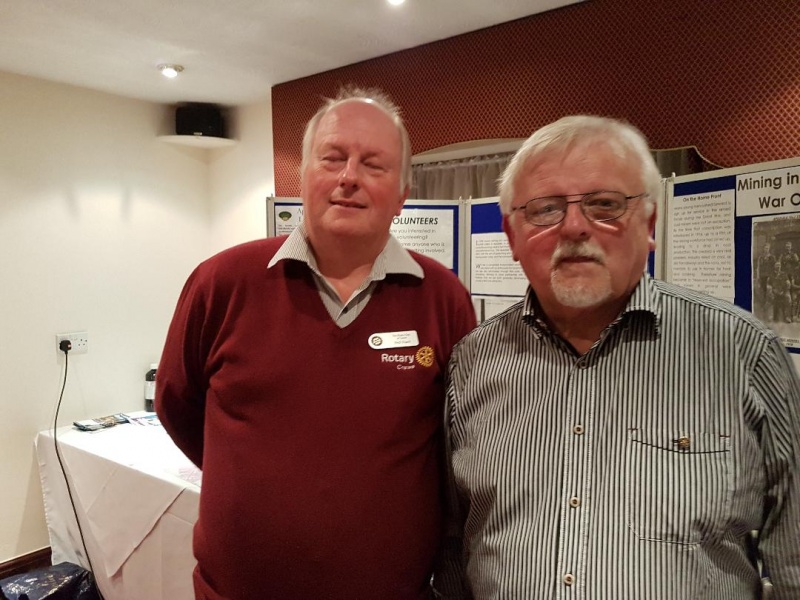 KEEP CREWE CLEAN
The Rotary Crewe team have supported the Crewe Clean team since it was formed and on saturday 23rd September rotarian Tom Potheroe helped with the clear up of Goddard street scheduled for redevelopmentTons were collected and Tom is pictured doing his bit -don't strain yourself lad!

ROTARY CREWE ENCOURAGES SHARED LEARNING
Following a Big Lottery Grant the club was excited to gain the support of Lorelly Wilson MBE Fellow of Manchester University pictured below. Since the programme started in May 2017 over 600 parents and young people have shared the joys of chemistry experiments which can be carried out with materials found in every kitchen.
The programme restarts next week at Mablins Lane primary school.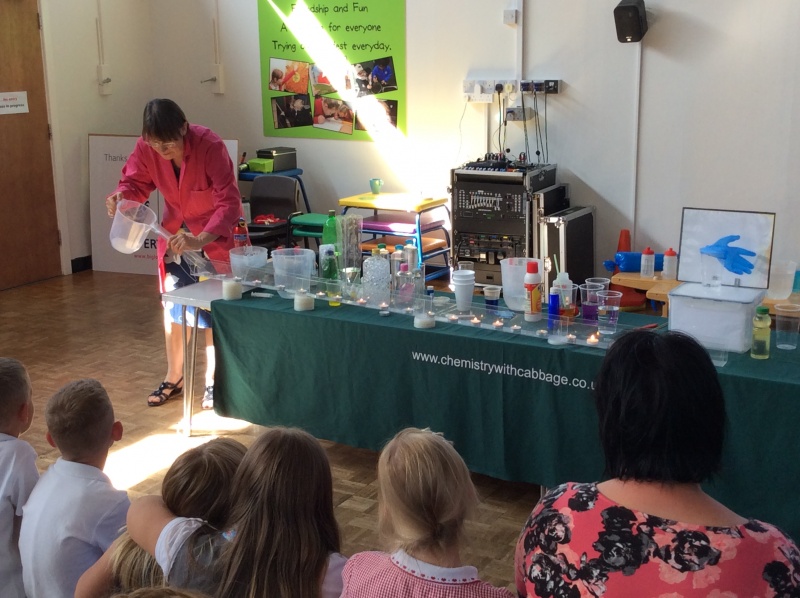 Anderton Boat Lift, Parkinson Society, Rotary Club of Crewe 19th September 2017
Pictured are the Rotary Club of Crewe President Neil Fearn congratulating Geoff Sheridan, organiser on a successful trip to the Boat Lift and a trip on the canal. This the second year we have supported the Parkinson Society,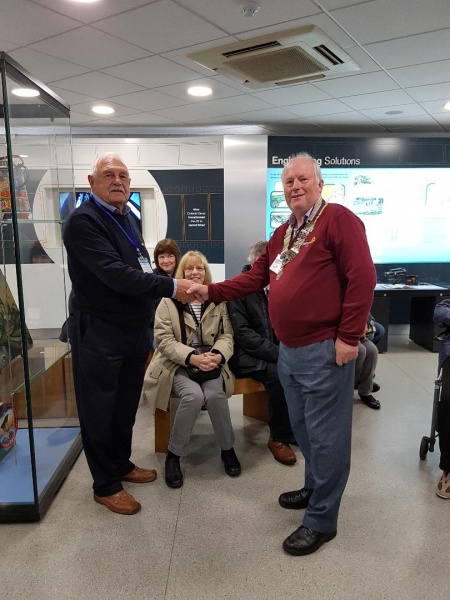 Thursday 14th September

President Neil Fearn congratulates Kate Everils a special needs nurse who has recently returned from volunteering in Ghana.The club contributed to her expenses in going and in return she informed the club of her time in Ghana. Also shown club member Clive Armitage who was the original sponsor.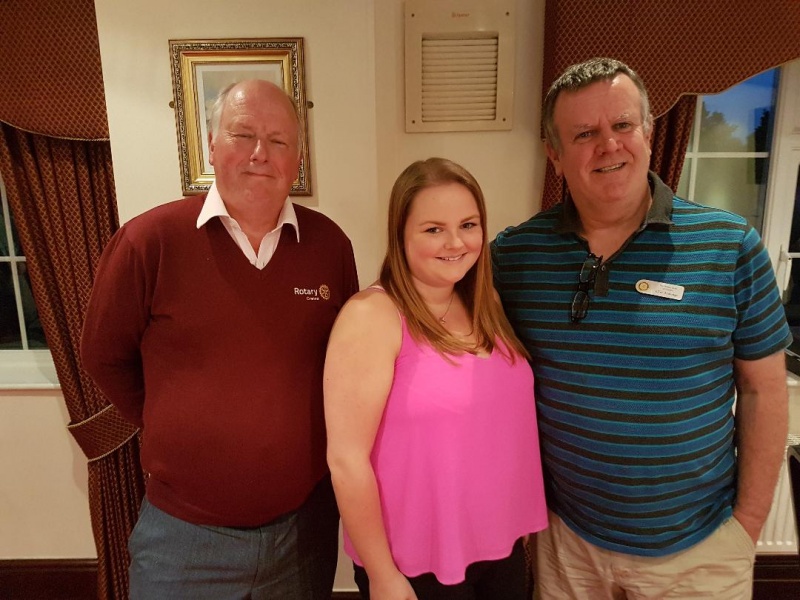 Manchester ship canal
On Sunday 13th August a group of Crewe Rotarians and partners took a 6 hour trip from Seacombe to Manchester (Lowry basin).Pictured is President Neil Fearn just before the ship passed under the Thelwall viaduct.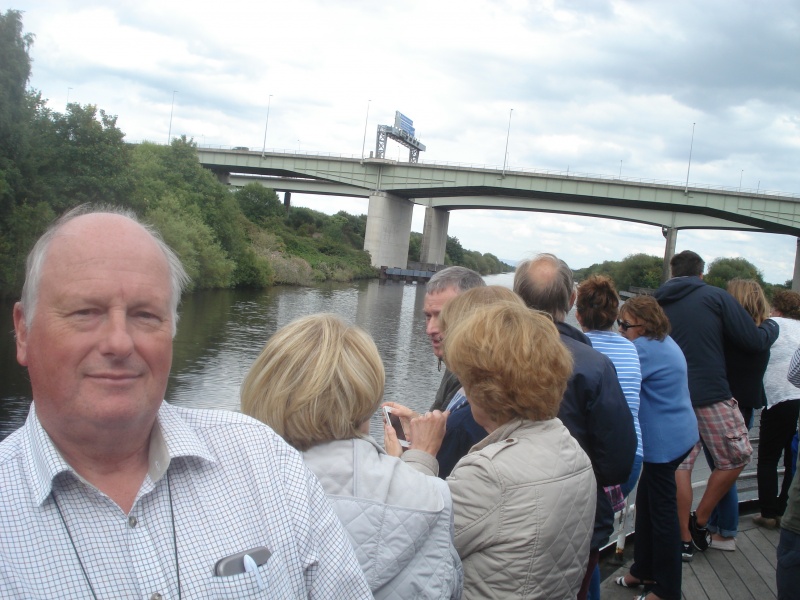 pictured belowJune Poppleton,Sue Protheroe, Roger &Wendy Beastall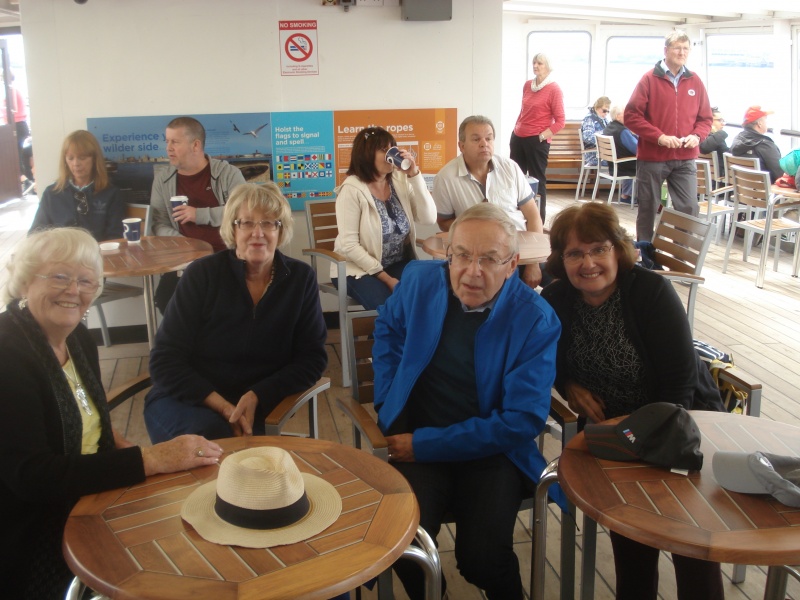 POTATO COMPETITION
Pictured the winner Ray Bough with Rotary Crewe President Neil Fearn. Ray's potato weighed 14oz and easily beat all other entrants.The competition sponsored by Minshull nursuries involves growing potatoes for 15 weeks in tubs and as well as the heaviest who had the lightest crop-David Bushell -pictured second.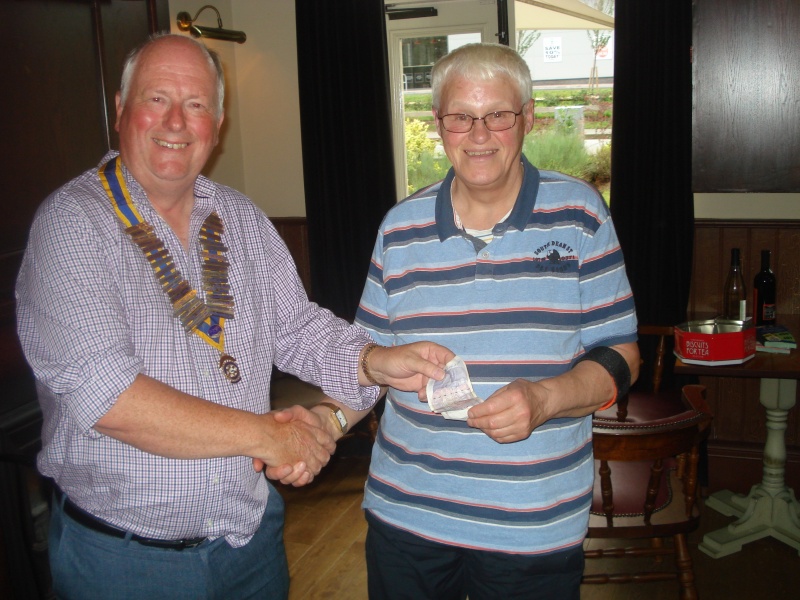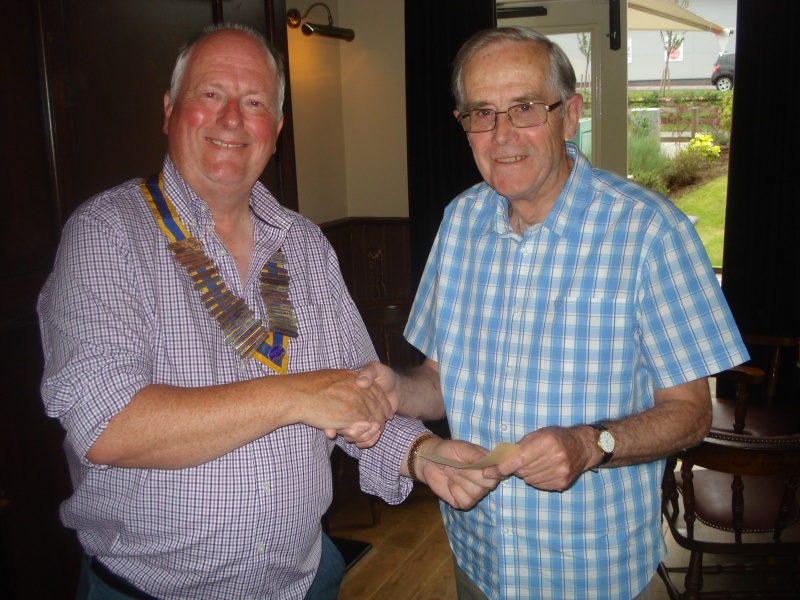 Rotary Science -Cabbage with Chemistry
As a result of a BIG LOTTERYgrant Crewe Rotary have been able to launch a series of Chemistry demonstrations in primary schools.The demonstrations are performed by Lorelly Wilson M.B.E.pictured below at Beechwood primary school in Crewe. A further set of demonstrations are arranged for autumn 2017. Over 500 parents and youngsters have enjoyed the experience in the first programme.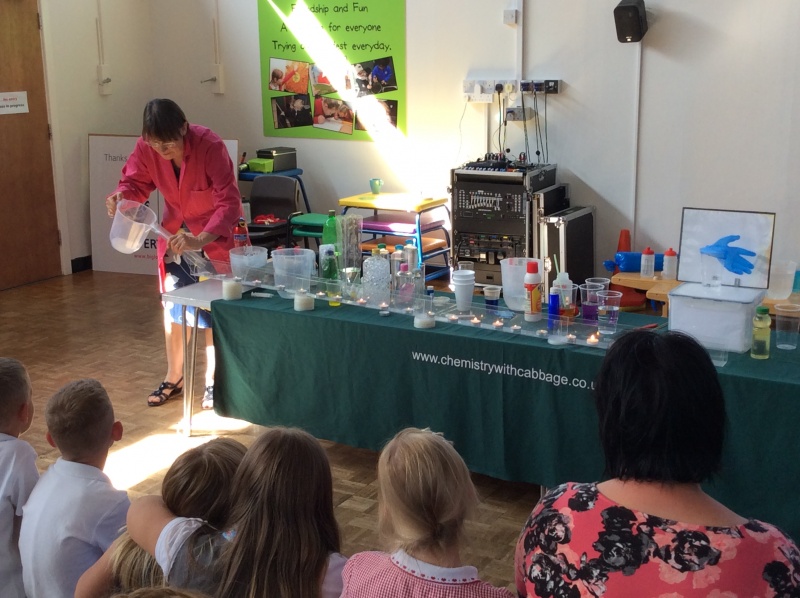 Paul Harris award
Sue Protheroe, treasurer of the Inner Wheel Club of Crewe receives a Paul Harris award at the outgoing/incoming President's lunch. President Neil Fearn commented on her many years of service both to the Inner Wheel Club , the Rotary Club of Crewe and the wider community.
Beechwood School Crewe
Pictured is Chloe Moore (teacher) of Beechwood after receiving 15 "Dictionaries 4 Life" from youth officer Tom Protheroe on Wednesday 26th July.It is planned to use these to help youngsters whose first language is not English.The school will be taking part in the END POLIO autumn crocus planting programme.

END POLIO NOW

Crewe Rotary planted over 23,500 crocus last autumn.Below some of them in bloom.This was done all over the the UK as part of the ENDof POLIO Rotary campaign.From over 1000 children struck down 30 years ago this year 2017 there has only been 5 cases in the world reported. Join us in this campaign and help the children of the world..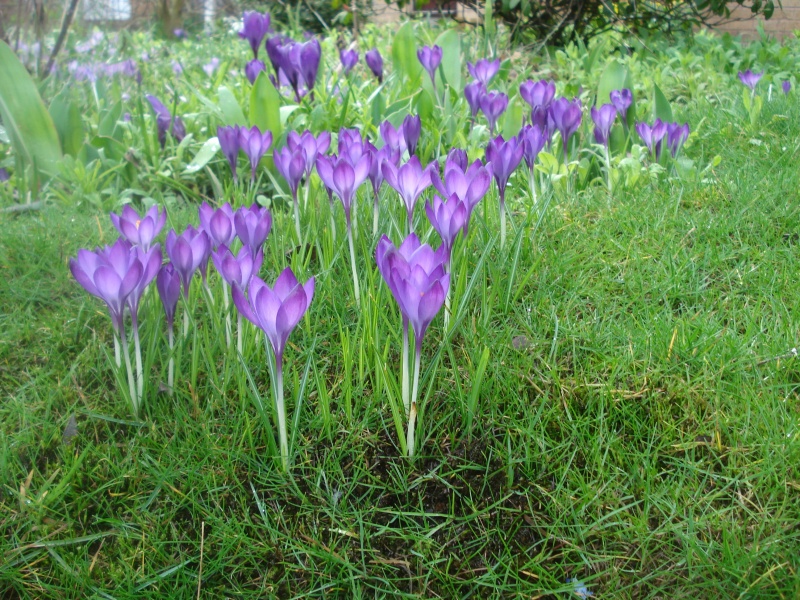 Crewe Rotary members , Inner Wheel Crewe and friends spent a fascinating day at Bletchley Park on the 5th April. Friend of Rotary Crewe David Scott is on his starting line ready for the race to the local pub for a meal.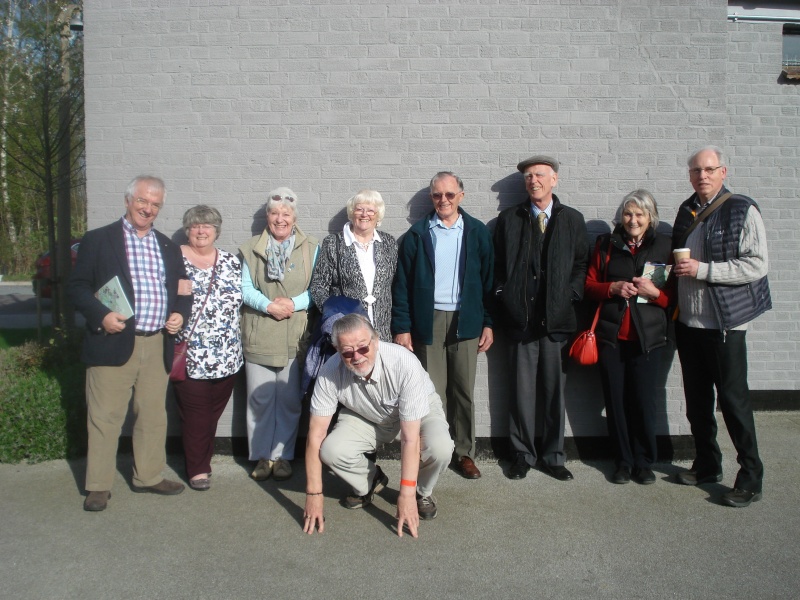 Clive Armitage joins Rotary Crewe
Following a long association with the club, mainly through supporting our Xmas Float and planting crocus
Clive decided in March2017 to become a full time member.Pictured President Tom Protheroe welcomes Clive as the Objects of Rotary are announced. Clive is Working to make the club a Dementia friendly organisation.
ttt a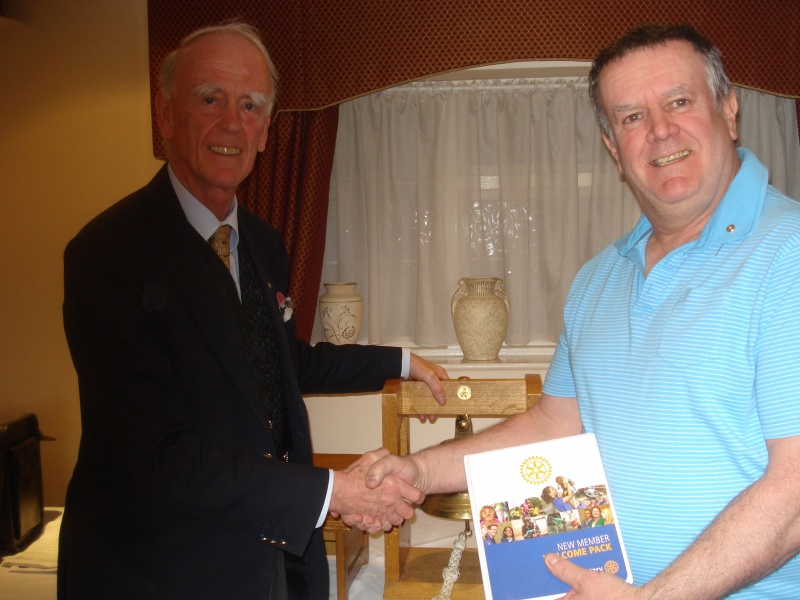 South Cheshire College

After planting 1000 crocus last autum, viewing them in the south Cheshire College in early March 2017 President Tom Protheroe and Rotary Club friend David Scott spent a morning exploring David's experiences in India when he joined the National Immunisation programme.The students at the college are now developing "END POLIO NOW" posters for the end of April.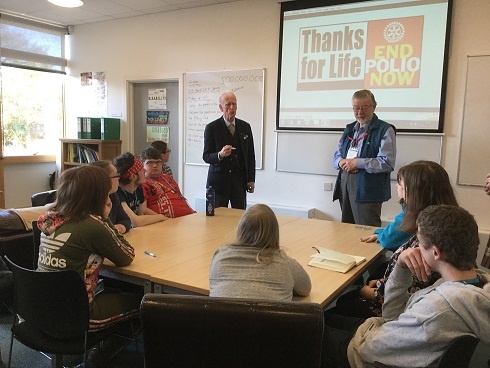 St Mary's RC primary school
On 21st March 2017 a group of "END POLIO NOW" crocus student planters from the school gathered as a Rotary sign was planted among the flowering crocus.Matthew Plant , teacher at the school, had been instrumental in arranging the planting and the donation the school gave towards the programme and our thanks are due to him.Mattthew a keen supporter of International peace and fellowship among young people
commented " What Rotary are doing and it's values can be a shared experience for all young people"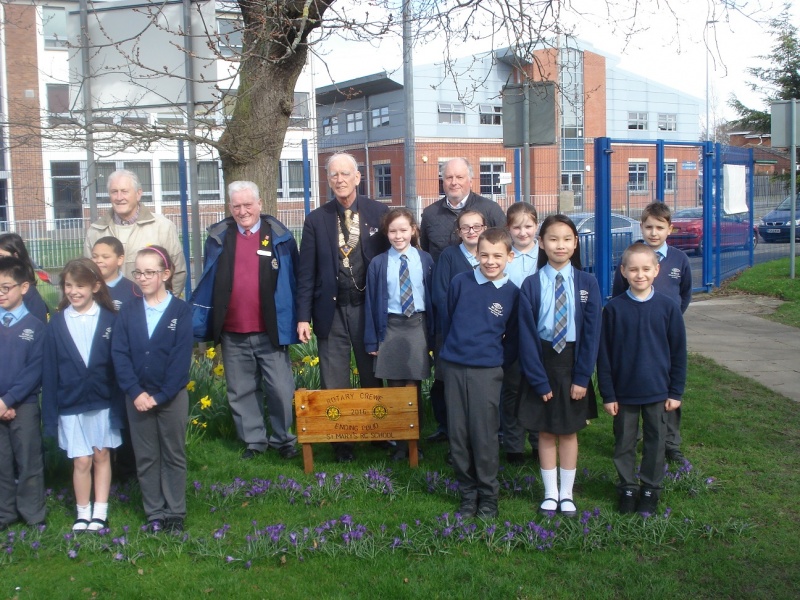 pictured l to r Rotarians Frank Baldwin, Ray Stafford MBE Tom Protheroe MBE (President) and Neil Fearn

ROTARY DAY

ON FRIDAY 24TH feb over 40 Crewe based charities and organisations met at The Georges centre to celebrate Rotary DayDignitaries attending were Edward Timpson M.P.,Olivia Hunter Cheshire East Mayor, Marilyn Houston Crewe Town Mayor and Molly Youd Rotary District Governor. Crewe Rotary President Tom Protheroe hosted the day.-following talks by 5 of the groups plenty of networking took place.Edward Timpson summarised by thanking all the volunteers who do so much to help people in the town.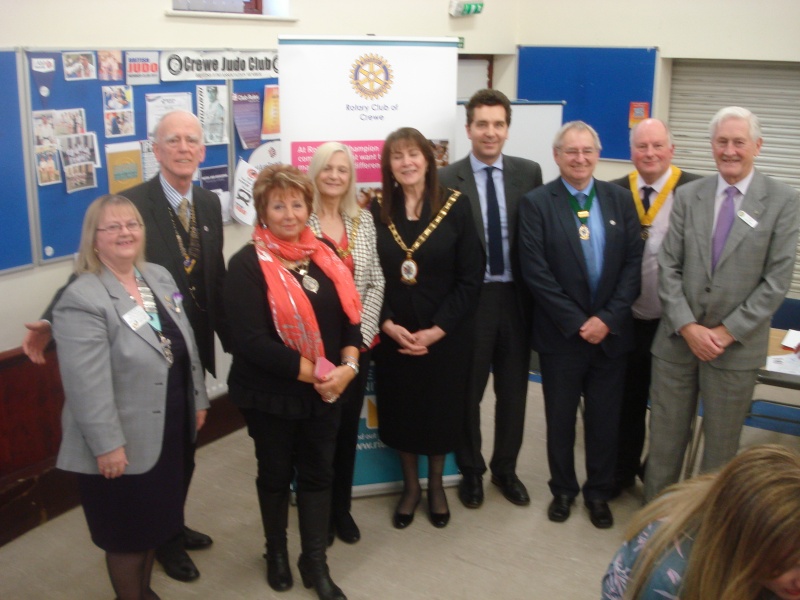 Don Tomkinson receIves a commendation for his 55 years service to the Rotary club of Crewe presnted by President Tom Protheroe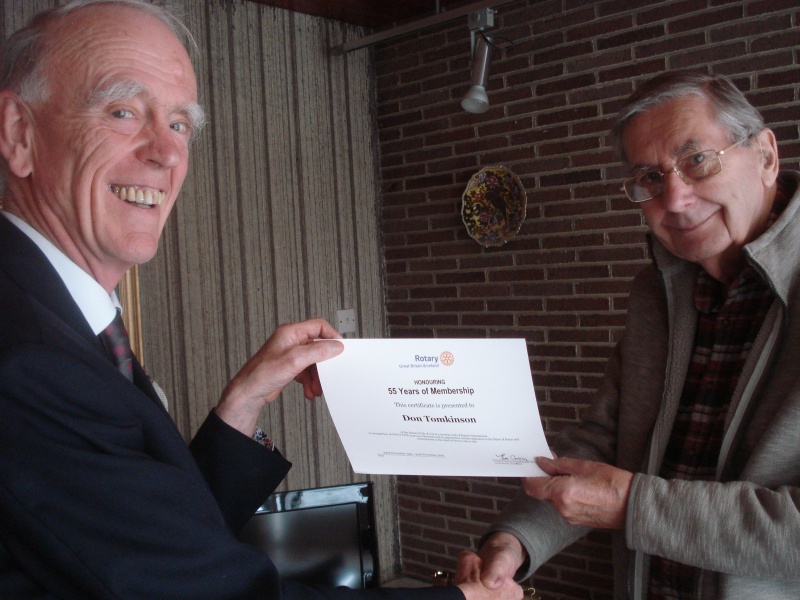 Youngsters from the Sherborne community garden project with the Mayor of Crewe, helpers and Rotarians as awards for the best designed crocus pot were awarded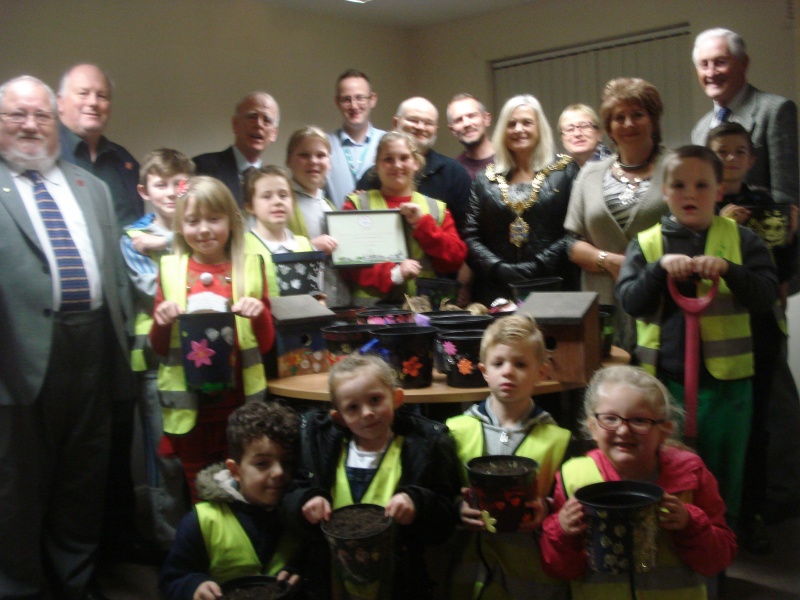 MEN IN SHEDS SUPPLY SIGNS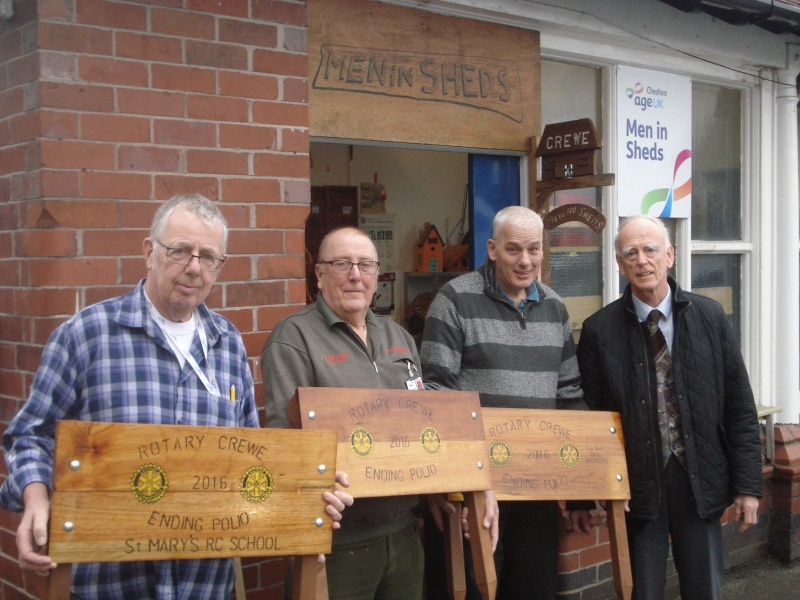 President Tom Protheroe with MEN-IN-SHEDS the three shields celebrating the completion of the club planting 21000 crocus in schools, colleges and public spaces in Crewe.
Crewe members in Westminster Hall before enjoying a visit to the Houses of Parliament and the House of Lordsr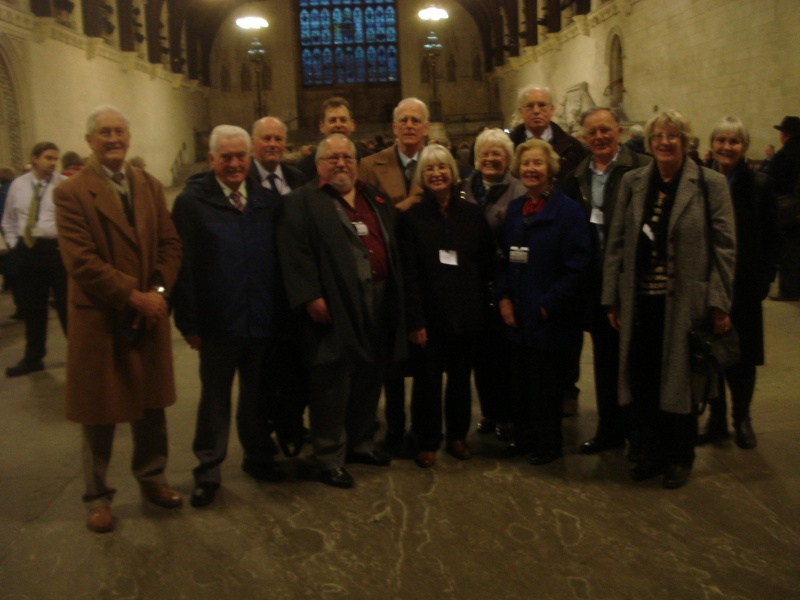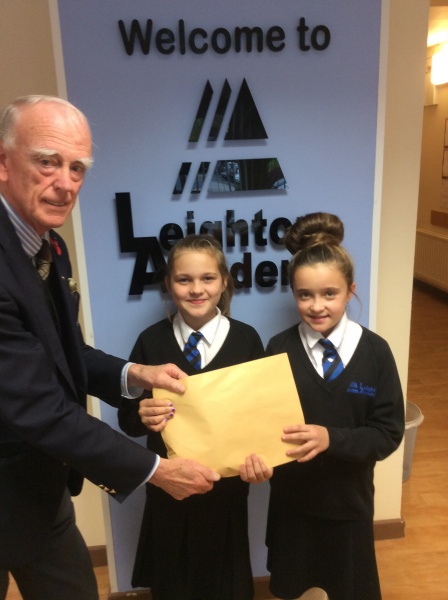 President Tom receiving over £200 from pupils at Leighton Academy. The school had held a "Purple crocus planting day" as part of Rotary
's END POLIO campaign. Pupils are shown planting giant crocus.Over 700 were planted.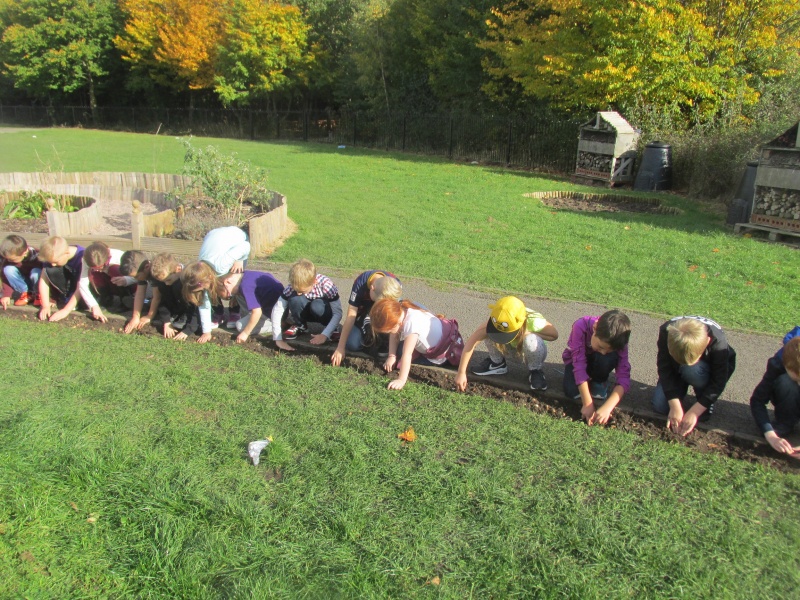 Sunday 6th November 200 brownies and Girl Guides went to South Cheshire College and enjoyed sessions in the MMU STARLAB.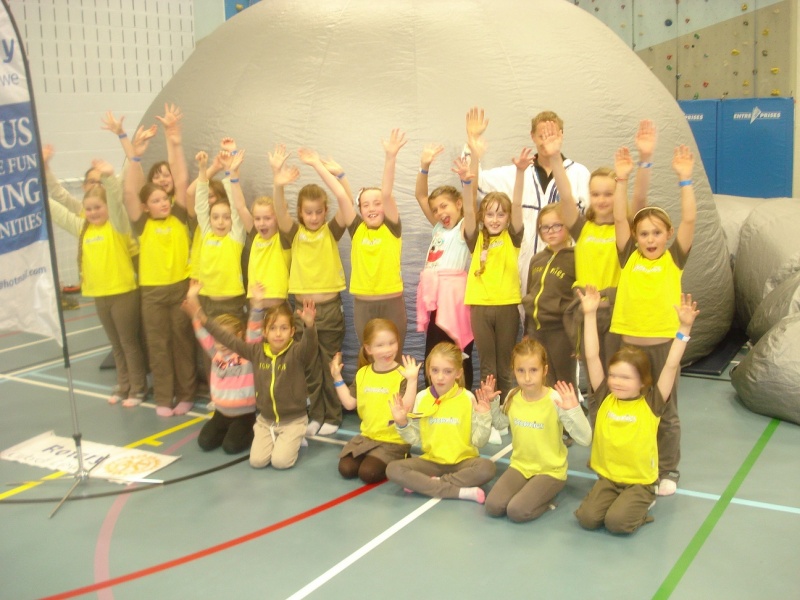 Sunday 23rd and a morning stop for coffee with PCSO Stuart Mortimer and President Tom Rotary Crewe having pushed the trolley from Crewe to Nantwich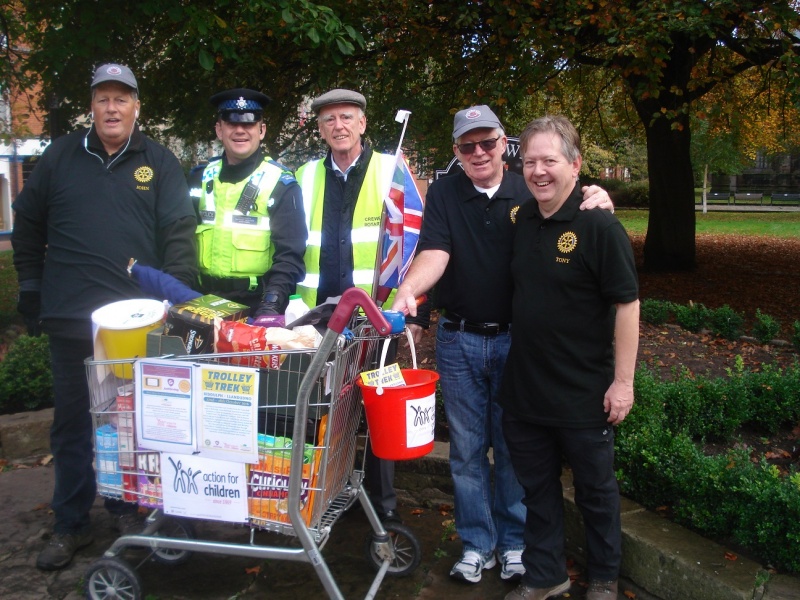 On saturday 22nd Otober Rotary Biddulph pushed a Sainsbury trolley from Biddulph to Hunters Lodge hotel,Crewe (en route to Llandudno -90 miles) where they were met by Crewe Rotarians President Tom Protheroe,Neil Fearn, Frank Baldwin and ex mayor Ray StaffordMBE.
Devlin Hobson, Middlewich town crier added a resounding Oyez!!!
They are raising money for Alzheimers and Action for children and can be followed on their facrbook page.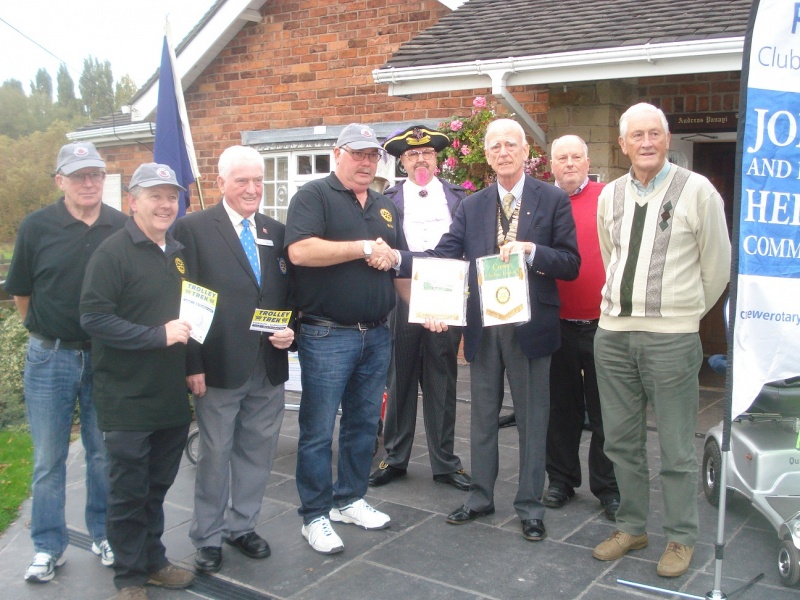 ROTARY SANTA FLOAT 2016
Look out for Santa as he travels around Crewe
mon 5th Wistaston/Emmerdale/Riverside
Tue 6th Manor Way/Gresty
Wed 7th Alton St /Valley Road estates
Th 8th Coppenhall Lane/Marshfield Bank
Fri 9th Hungerford/Poets/Sydney
Sat 10th Wistaston Fuller Road
Sun 11th Minshull New Road
mon 12th Haslington1
tu13th Coppenhall/Sedgemere/Parker Rd
Wed14th Ruskin/Danebank/Gainsborough
Thur 15th Middlewich St estate
Fri 16th Wistaston/Poets/Church Lane
Sat 17th Market Centre
Sun 18thASDA
Mon 19th Haslington 2
Tues 20th Underwood Lane /Mablins Lane
Wed 21st ALDI
Thur 22nd Morrisons
Fri 23rd Tesco
Sir William Stanier High School hold an END POLIO Assembly as part of the Rotary Club's drive to raise awareness and funds. Pictured are [upils from SWS and Rotarians,Baldwin,Fearn ,Straine Francis and Protheroe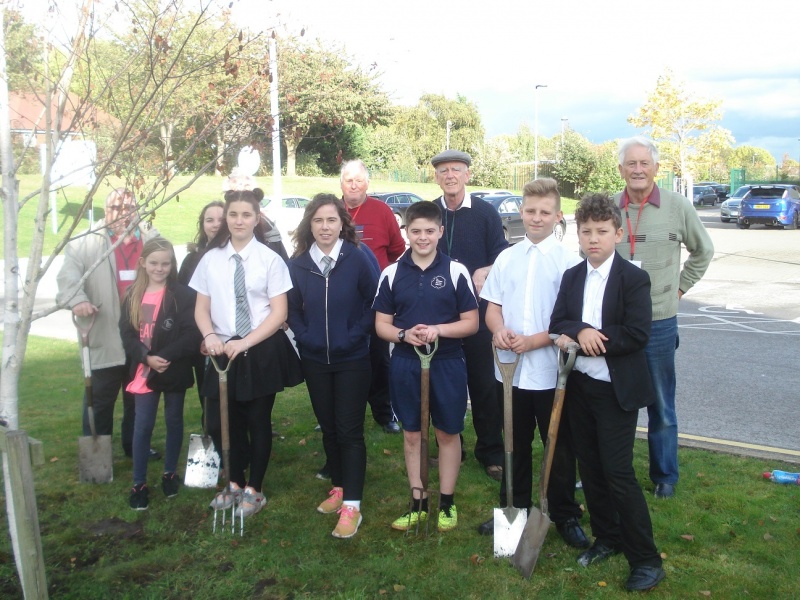 Crewe Rotary members very ably assisted by Steve finish planting 1000+ crocus in the Queen's Park. next spring tens of thousands of visitors to the park will see the Rotary Wheel and be reminded of our 30 year campaign to "END POLIO"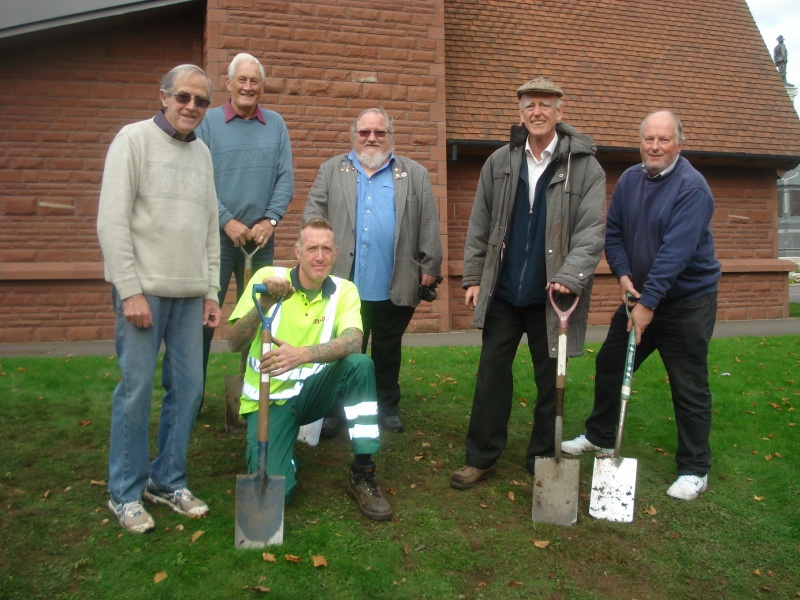 CREWE MARKET CENTRE SATURDAY OCTOBER 1ST CREWE ROTARY WILL BE DISPLAYING OUR END POLIO NOW CAMPAIGN.

COME ALONG , RECEIVE SOME PURPLE CROCUS, MAKE A DONATION HELP PREVENT THIS CRIPPLING DISEASE.

saturday 17 september and RotaryCommunity chair Frank Baldwin(the good looking one on the right) with Debbie and Tom Protheroe.They are helping with the purple crocus END POLIO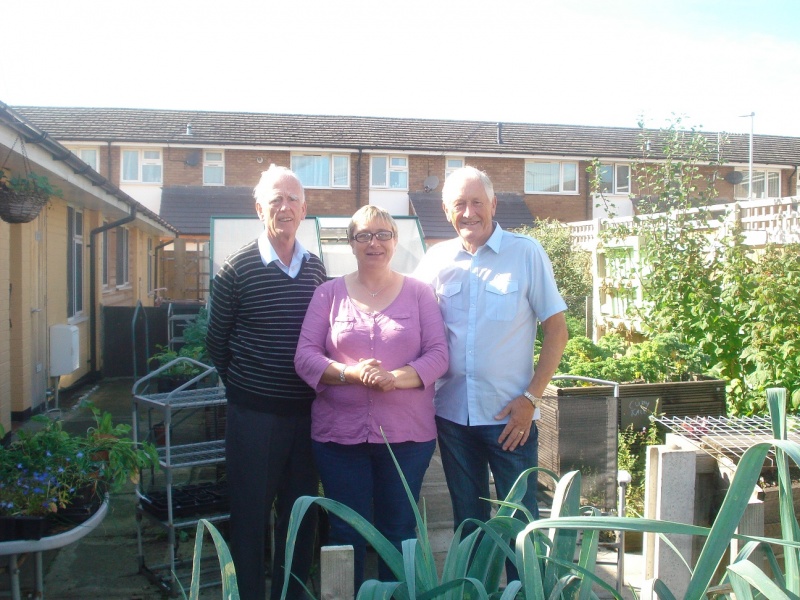 PURPLE CROCUS- END POLIO NOW-THE CLUB IS IN THE PROCESS OF PLANTING CROCUS ALL OVER CREWE. SO FAR
1.STUDENTS AND STAFF AT SOUTH CHESHIRE COLLEGE ARE PLANTING ALREADY.
.A SPECIAL LEARNING GARDEN AT SOUTH CHESHIRE WILL BE PLANTED WITH CROCUS ON FRIDAY 23RD SEPTEMBER BY ROTARY CREWE MEMBERS.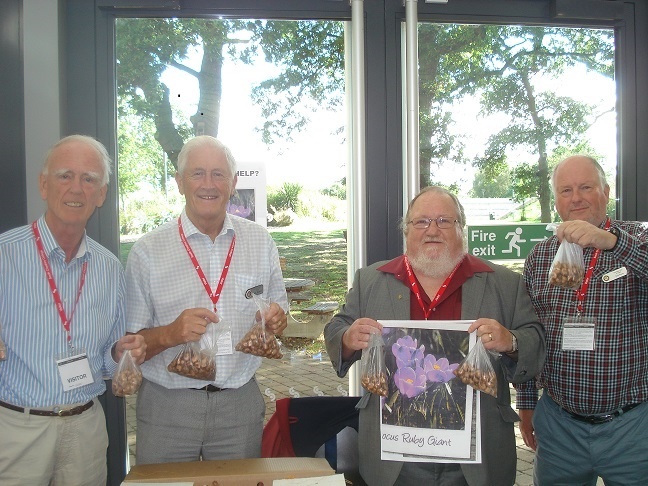 Rotarians at South Cheshire college encouraging students to donate to the POLIO campaign in return for bags of purple crocus.
2.
ON SATURDAY MORNING OCTOBER 29TH CREWE ROTARY WILL BE JOINING WITH THE CREWE CLEAN TEAM TO PLANT PURPLE CROCUS AT CHRISTCHURCH IN THE TOWN CENTE.
4.VINE TREE PRIMARY WILL BE HOLDING A PURPLE CROCUS PLANTING EVENT IN THE NEXT THREE WEEKS.
5.SIR WILLIAM STANIER ARE LOOKING TO INVOLVE GROUPS AT THE SCHOOL IN PURPLE CROCUS PLANTING
IF YOU WISH TO CONTRIBUTE TO THIS FUND RAISING AND AWARENESS PROGRAMME PLEASE EMAIL US AND HELP ELIMINATE POLIO FROM THE WORLD.
Rtary members enjoy the community day organised by The Chronicle at the New Lifestyle centre.on Sunday 4th september. Over twenty people entered our "What do you know about Rotary quiz" and the winner from Clements Drive, Crewe was the only one who knew that the Crewe Club was founded in June 1932. and duly won a bottle of wine.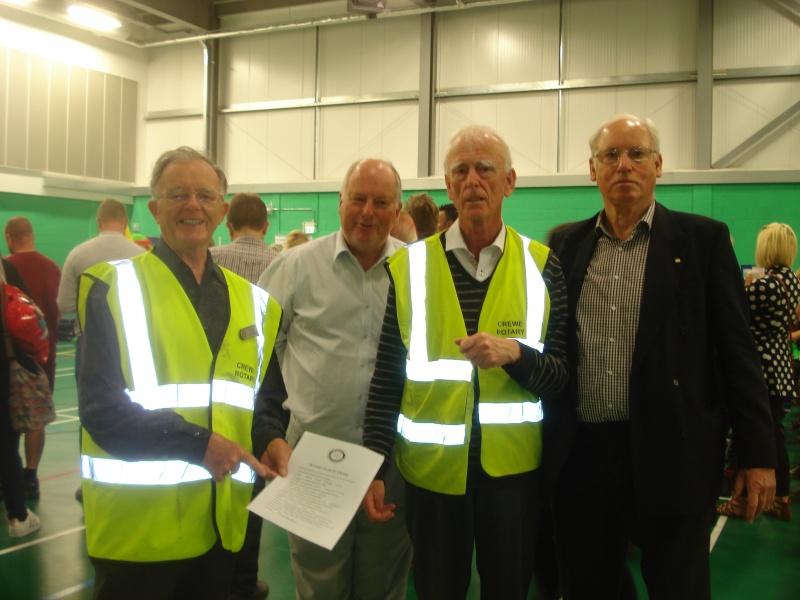 Know your blood pressure
In cooperation with the Stroke Association Rotary Crewe hold a blood pressurre day in the market centre.
This year over 120 people had their pressure taken including Mayor Dennis Straine -Francis.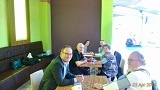 CREWE ROTARY HELPS CREWE SCOUTS
PICTURED ARE THE SCOUTS OF THE SCOUT GROUP DEMONSTRATING THE TERRIBLE CONDITION OF THE APPROACH ROAD TO THEIR MEETING PLACE. CREWE ROTARY HEARING OF THEIR PLIGHT HAVE DONATED TO THE FIGHTING FUND. ANYONE WISHING TO CONTRIBUTE CAN CONTACT CREWE ROTARY OR THE SCOUT GROUP DIRECTLY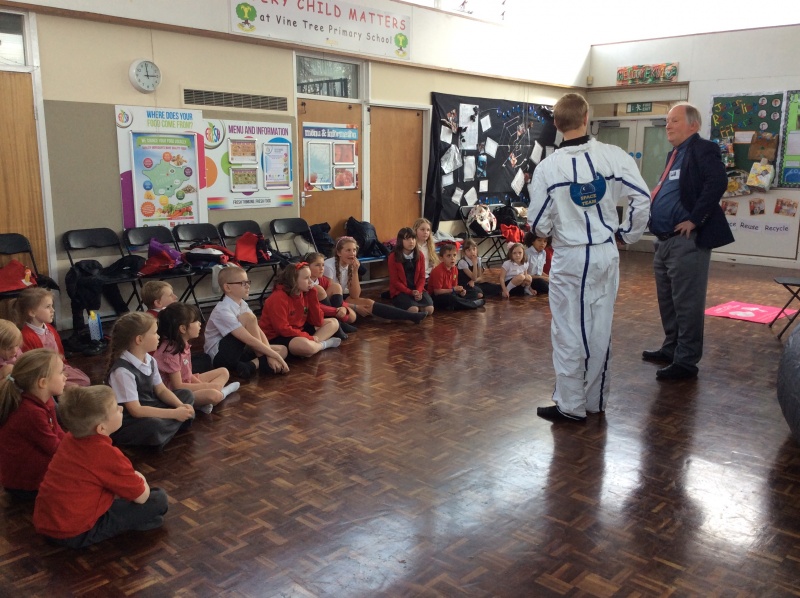 Rotarian Neil Fearn and spaceman Athony Tibbetts of MMU (Cheshire) prepare budding astronauts for their visit into space.over 1000 parents,grandmas granddads and youngsters have taken a journey into space with STARLAB. Exploring our planets, studying the stars following some ofTim Peake's adventures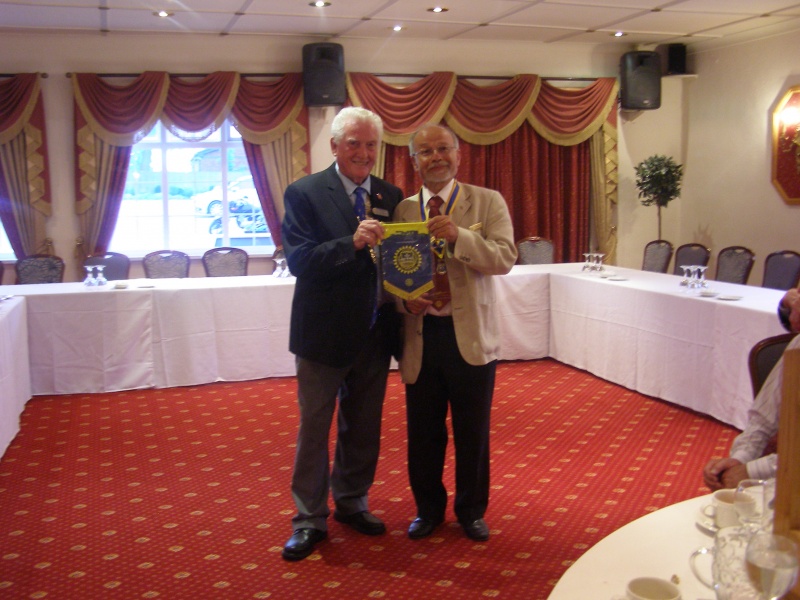 I1934 R.A.Briggs was elected only the third President of the Rotary Club of Crewe.In June 2016 his grandson Mr Peter Mehta President of the Rotary Cub of Stirling visited the Crewe club at Hunters lodge hotel and is seen here with Crewe President Ray Stafford MBE making agenerous donation to the community work done by Crewe Club
GRAPHENE -THE WONDER MATERIAL
Dr Pamila Sharma of the Manchester University Graphene group shows members the structure and properties of Graphene. At the atomic level graphene with "holes" can be used to de salinate water, it is a great transmitter of electricity, it is stronger than steel and the commercial applications are legion.As materials go this has many attractive qualities and the is one of the leaders in patents registered for it's applications

SPECIAL OLYMPICS
On saturday and Sunday 16th and 17th April 86 competitors took part in a Special Olympics of Table Tennis at the leisure centre Sir William Stanier. President of Rotary Crewe Ray Stafford M.B.E. and Community chair Frank Baldwin were among those presenting medals to the winners in the different divisions.
President Ray presented a cheque to Wendy Beech in support of local Special needs Table tennis players
ROTARY SCIENCE
During March 2016 over 1500 young people in Crewe took part in Science events and demonstrations. Chemistry presentations proved very popular with Manchester University postgraduates showing how the various elements can exist in different forms,solids and liquids as well as as gasses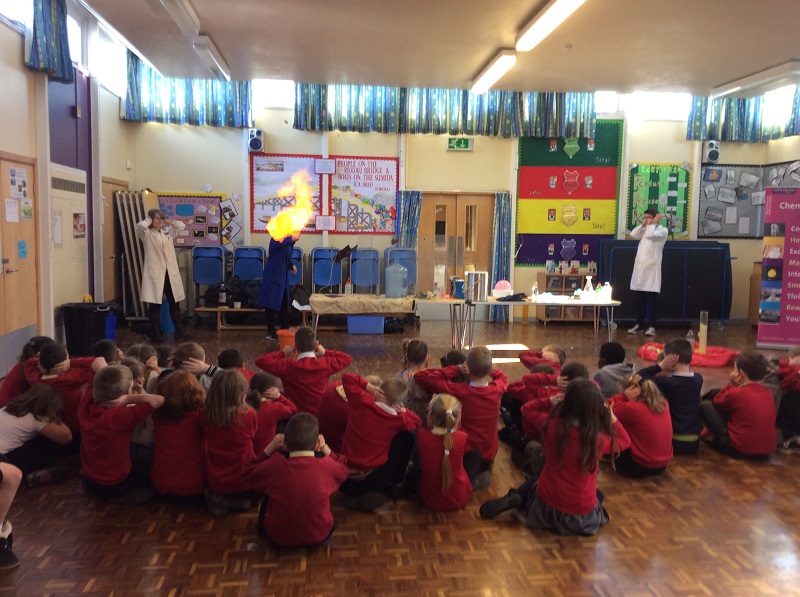 On Friday 26th feb 2016 at Crewe library a number of organisations that Crewe Rotary have supported over the last year were present to review how their organisations operated in Crewe and how Rotary has helped.
Speakers included "Men in sheds-Age Concern", Alzheimers Society,Mayor of Crewe, Rotary District Governor and local MP The Hon.Edward Timpson.Over 40 organisations were present all of whom had received a monetary grant or help from Crewe Rotary. The opportunity was taken for the groups to exchange ideas on fund raising, mutual support and for each to know how much voluntary work is done in the Crewe area. If you would wish to volunteer to help Rotary at Xmas time( one evening no other commitment) please email t.protheroe@talk21.com for further details.
Soon to be Speakers at Crewe Rotary
28/4 at 7-0pm Dr A. Vijayaraghavan (Manchester University Graphene Group) speaking on the Nobel Prize Winning discovery and subsequent development of the single atom layer -called graphene. Stronger than steel, excellent conductor of electricity etc
Members of the public are invited contact Crewe Rotary or t.protheroe@talk21.com
Grants
The following organisations have been given grants by the club community service committee.Where national groups are stated the local branch based in Crewe are given the grant. Where Crewe residents are helped eg The Neuromuscular centre in Winsford or St Lukes then grants are also made.A modest grant to help as many groups as possible remains our strategy for 2016.
Climb �200, Cancer Research (local branch) �200,C&N Carers support group �100,Donna Louise Children's hospice �200, Hope House �200, Marie Curie Cancer Carew �200, Neuromuscular Centre �200, Parkinsons Society (local branch) �200, Samaritans (local branch) �200, St Luke's Hospice �200.
Young Chef at Crewe

At the end of

June 2014 the Crewe heat of "Young Chef " was held at Sir William Stanier School, Crewe. Pictured above are the competitors and judges with District Governor Derek Newman .The winners going through to the District final are Lucy Barrow sponsored by the RC of Congleton and Sean Mitchell-Goldstraw sponsored by the RC of Alsager.
Judge Andrew Panayi commented that he might adopt some of the menus at his hotel as they were so inventive, balanced and tasty!
A teacher from Sir William Stanier School commented that she is now teaching one of the school's entrants from two years ago and had been impressed by the confidence our competition had given the fourteen year old, who at sixteen now wished to obtain her GCSEs and then pursue a career in catering. Rotary at its best in service!
SPECIAL LADIES
Please find above an important photograph when President Derek awarded Paul Harris Fellowships to four ladies from the Inner Wheel Club of Crewe on thursday May29th 2014.The Paul Harris Fellow award is the highest award given by Rotary to recognise individuals who have contributed well above the normal to the community and their organisation.
Each lady has held the position of President and of other offices within the Inner Wheel club of Crewe. All have made major contributions to the club, to the Inner Wheel organisation in the UK, the community in Crewe and to the Rotary Club of Crewe.They have made these contributions over a period of thirty years.
President Derek highlighted the contribution of the Inner Wheel club to organisations both in Crewe and internationally where a caring element formed a major part of the club's efforts.Many hours of fun and fellowship had been enjoyed working together to help others. The Rotary Club has been thankful with support during the Christmas period when many collectors from across the town have enjoyed hot drinks and mince pies after three hours collecting donations.Knit &natter sessions over the years have provided warm blankets for refugees, whilst bring &buy sales, coffee mornings, charity lunches, quiz nights and many more activities raise funds.
President Sue Bushell thank thanked Derek on behalf of the four ladies.
Rotary Youth makes music competition
On March 6th in Sir William Stanier School Crewe musicians and singers from all over Cheshire and south Manchester took part in a musicians competition.
Pictured competitors with District Governor Derek Newman and organiser Tom Protheroe

Pictured District Governor
Derek Newman and Sir William Stanier singer Holly Pollity who has won through to the Rotary Youth Maskes Music Regional Competition to be held in Bolton on Sunday 16th March.
Rotary Day
The Mayor of Crewe Irene Faseyi and Mayor of Cheshire East Dorothy Flude attended the Rotary Club of Crewe "Rotary Day" This was a celebration of the clubs support for over forty charities and organisations in Crewe. Youth activities in schools taking youngsters on adventure days,providing dictionaries,holding competitions etc
Community activities supporting dance &drama groups, young mums, Wulvern Housing Xmas lunch etc Overseas activities supporting "Sand Dams" Disaster Aid Boxes , Ending Polio etc
Five organisations spoke about their activities in Crewe and Mayor of Crewe Irene Faseyi said "It is wonderful to be here seeing how many organisations are doing great things in Crewe and the support the Rotary Club of Crewe is willing to offer"

Pictured L to R Mike Wycherley, Chair of the Rotary Community committee Frank Baldwin. Mayor of Cheshire East with her consort, President Derek Poppleton, Mayor of Crewe Irene Faseyi, Jerry Park, Tom Protheroe.
ROTARY DAY
FRIDAY 21ST FEBRUARY AT CREWE LIBRARY 1-30 TO 4-0PM
Pop in , have a cup of tea, talk to 30+ organisations and charities the Rotary Club of Crewe have helped in the last year.
St Paul's Pantry known as Crewe Food Bank
Art groups, hospices, youth groups, pensioners, drama groups -all doing their bit
for
CREWE
Any queries contact the club via this website
200 Wulvern Housing residents were treated to a full Xmas lunch at the Oakley Centre on December 10th. Pictured are Rotarians Tom Protheroe and Frank Baldwin with Wulvern Housing staff. Were a finer collection of waiters ever employed?

Wed Nov 13th 2013
On Wednesday 13th November pupils of St Mary's RC primary school met MMU students from a dozen countries learning about their language,dance,food,culture etc With a passport each they collected flags etc Thanks to the International Society and MMU
Pictured are St Mary's pupils, students from Chile, Australia, Malaysia and Grenada with President of the Rotary Club of Crewe Derek Poppleton and organiser Tom Protheroe
St Thomas More students showing the empty sauce bottles they filled as they collected over �250 to help the Rotary "END POLIO NOW" project.

Happy Birthday Rotary !!!
On Friday 22nd February over 30 local charities attended an event at Crewe Library to celebrate the �Birthday� of the Rotary movement.
Also in attendance were: Edward Timpson MP, the Mayor and Mayoress of East Cheshire, the lady Mayor of Crewe and members of the Rotary Club of Crewe.
The event was opened by Edward Timpson MP who was followed by a number of presentations from some of those Charities attending and the Rotary Club.
Hilary Hamilton gave a fascinating presentation on the wide and varied work of the Wishing Well Project in the area
more details are available at www.wishingwellproject.com
Rob Wykes gave an interesting talk on the work of Christian Concern () project which has been running in the area for some 25 years
More details are available at www.christianconcern.org.uk
These two individuals also had a surprise. In Rotary there is an award, a Paul Harris Award (named after the founder of Rotary) which Clubs may make to individuals who have made a major contribution � whilst this is usually Club Members, Clubs may give this award to other individuals.
The Members of the Rotary Club of Crewe, being aware of the tremendous efforts by both Hilary and Rob had decided to award both a Paul Harris Award. (photo below)
Three further excellent presentations were given by Charities:
St.Lukes () Hospice � www.stlukes-hospice.com
The LATH Group ( Looking After the Homeless) www.lathgroup.org.uk
Cheshire Academy of Integrated Sports and Art � www.disabilitysports.com
In addition there were presentations given outlining some of the work of the Rotary Club of Crewe for: New Generations, Community, International but the stars of the day were undoubtedly the Charities who attended.
Club President Jerry Park, as part in his summary, commented that what he has seen and heard from the Charities on the day and others throughout his presidential year indicated that had a real community and here were prime examples of people from within that community doing outstanding work to support that community.
Are you interested in the work of the
Rotary Club of Crewe?
Below is a copy of the Club leaflet:
- you may find it of interest
- if so please contact our secretary for more details