About us
TO CONTACT US for general or membership enquiries or to apply for funding please see Contact at the top of the page
Local Community Heroes Awards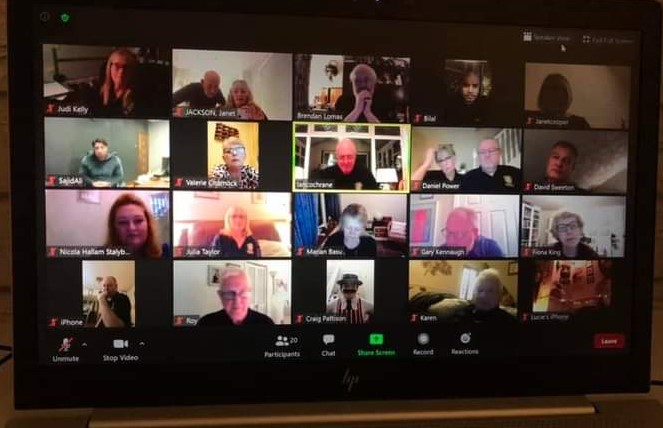 The Club held its first Local Community Heroes Award ceremony by Zoom on 12th November to recognise those people who have gone above and beyond to support those in need in their local communities during the pandemic.
The ceremony was hosted by Rotarian Ian Cochrane and attended by a number of the recipients of the award. Certificates were sent out in advance.
The 16 local heroes were as follows:
Stalybridge Junior Football Club - provision of over 1,000 free meals across Tameside during the October 20 half term
Holy Trinity Church, Stalybridge - providing support to vulnerable members of the community
Stalybridge Covid Support Group - providing a helpline and delivery service for vulnerable residents during lockdown
Heyrod Village Store - support given to local residents
Pattisons Family Butchers, Mossley - providing a delivery service for vulnerable members of the community during lockdown
5 A Day Store, Stalybridge - providing food and a delivery service for local residents
Candolim Restaurant, Stalybridge - providing food and a delivery service for vulnerable members of the community
Raja Brothers in Carrbrook, Manchester Road Mossley and Staley Road Mossley - providing a delivery service for vulnerable members of the community
Steve Barton, BEM, Barty's Foodbank - setting up and running Barty's foodbank in Stalybridge
Karen Blackett, Carrbrook - support for local residents whilst working as a key worker at Tameside Hospital
Mrs Valerie Charnock, Carrbrook - keeping the Honesty Shed stocked with homemade meals, fruit, vegetables, jams, cakes, books and magazines
Katie Whamby of Hairess Salon, Stalybridge - helping to meet the needs of customers during lockdown
Danny Power, Carrbrook - providing entertainment in Carrbrook Village during lockdown
Councillor David Sweeton - for volunteering for Tameside East Foodbank
Councillor Jan Jackson - supporting a wide range of local community groups and local residents
Civic Mayor, Councillor Janet Cooper - supporting her own local communities in Longdendale
Congratulations to all our award winners.
Laying wreaths at local war memorials
Due to the 2020 pandemic, Tameside Council encouraged those wishing to lay wreaths in November 2020 to do so privately. Club members therefore laid wreaths at the memorials in Dukinfield, Stalybridge and Mossley, making a donation of £150 to the Royal British Legion.
The picture below shows President Judi Kelly and Rotarian Roy Pickersgill laying a wreath in Dukinfield. Wreaths were also laid in Stalybridge by Rotarians Danny and Chris Power and in Mossley by Rotarians Idu Miah and Steve Gilligan.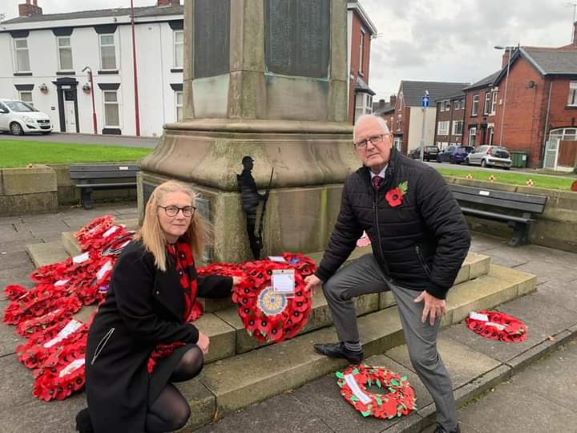 Local Homeless Group receives boost to funds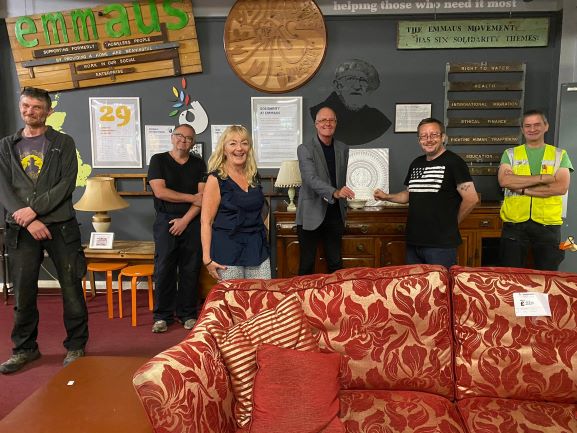 Local homeless group, Emmaus, has received a £250 boost to its funds from the Club to help them to continue with their work in the local community. Emmaus does a fantastic job supporting previously homeless people and raises valuable funds from the sale of furniture and bric a brac donated by local residents as well as running a popular cafe from Longlands Mill.
After presenting the cheque, members of the Club were given a guided tour of the facilities within Longlands Mill, Mossley, which has the capacity to support 26 companions at any one time.
Adrian France, Senior Finance Officer from Emmaus, said: 'this donation is much appreciated. At the heart of Emmaus Mossley are our companions - the residents we support. Our charity's main focus is on supporting people, providing a home for as long as someone needs it and meaningful work in our social enterprise. The donation will assist Emmaus to continue to help our companions to live in a stable environment with the opportunity to regain lost self-esteem and the confidence to get back on their feet.'
The photo shows president-elect, Ian Cochrane, and Rotarian Jan Jackson presenting the cheque to Adrian and his colleagues.
Club supports young Rotary Hero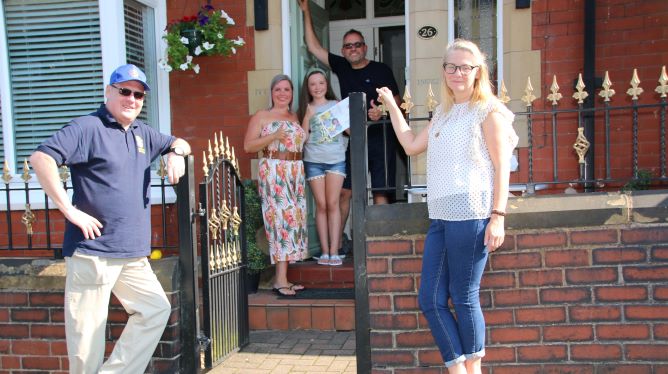 Steve Gilligan (Immediate Past President) and Judi Kelly (President) were pleased to present a cheque for £100 and a Rotary Hero Award certificate to Ella Warhurst (back centre). Ella has been raising funds for the NHS by holding a table top sale outside her Mossley home selling homemade loom bands, squidgy stress balls and colouring packs. Ella has decided to donate the money to Tameside Hospital's scanner appeal.
Socially distanced handover for 2020/21 President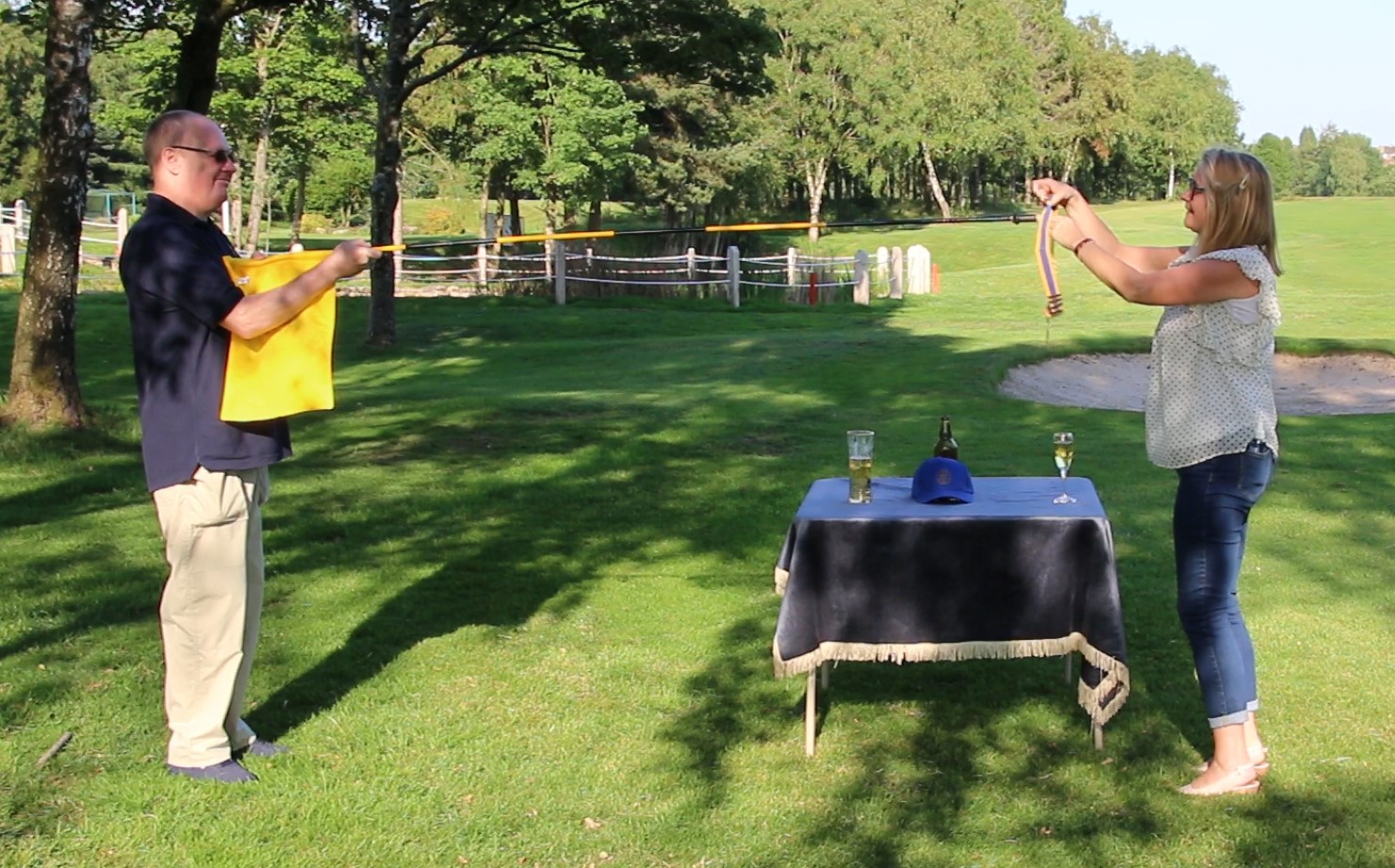 In recent times the handover of the chain of office to the new President has been celebrated at a local restaurant but the current pandemic called for a rethink. As Steve Gilligan, the 2019/20 President is steward of Ashton Golf Club he arranged for the handover to take place at the 18th hole and complied with social distancing rules by presenting the chain of office at the end of a flag! Judi was of course careful to spray the chain with sanitiser before touching it which caused much amusement when the film of the ceremony was viewed by the Club at the handover zoom meeting. Thanks goes to member Brendan Lomas for arranging the event. Certainly one for the history books.
Club members step up to the Covid Crisis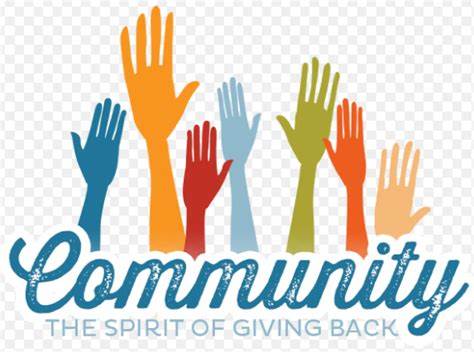 Although we're a small Club we're doing all we can to deliver a big impact across Dukinfield and Stalybridge. Since lockdown started Club members have been busy volunteering their time and talents to tackle the crisis brought on by Covid-19.
Members are supporting the local community in a wide variety of ways; for example, working in partnership with Action Together Tameside, which offers a range of support to strengthen communities in Oldham, Tameside and Rochdale (www.actiontogether.org.uk). Other examples are:
Our President Elect is linked in with Mind and Leap, making phone calls each week to support those who feel isolated and who would normally have a 'buddy' regularly spending time with them.
A past President is volunteering as an NHS Responder (www.goodsamapp.org/NHS) providing telephone support to a person who is isolating. A 'check in and chat' call can make all the difference to someone who is lonely at this time.
Another member is part of the Stalybridge Covid-19 helpline group, which is providing assistance 7 days a week picking up prescriptions and shopping or helping with signposting and telephone support to the most vulnerable in the community.
Our Club Treasurer is volunteering 6 days a week driving around 100 miles to deliver PPE made up at Bury Ambulance station by Community First Responders to main hub ambulance stations across the county for use by frontline ambulance crews.
Other members are supporting food relief, for instance, delivering leaflets to raise awareness of the local foodbank and volunteering at FareShare Greater Manchester. FareShare Greater Manchester (www.faresharegm.org.uk) is a leading member of one of the UK's leading food charty, FareShare.
Dukinfield and Stalybridge helps supply PPE items to Hospices and Care Services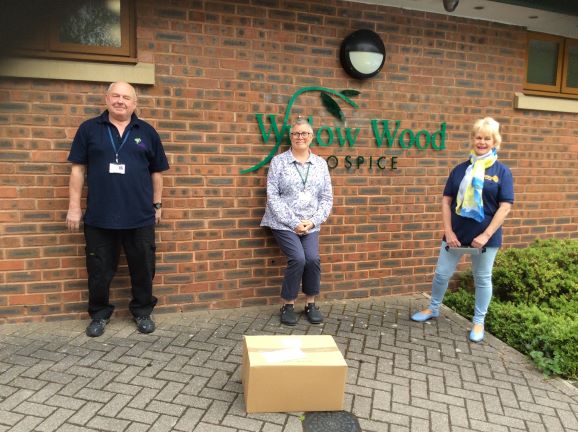 Thousands of items of personal protective equipment (PPE) have been delivered to care homes and hospices in the the North West thanks to the efforts of 20 Rotary Clubs across Greater Manchester, including Dukinfield and Stalybridge. The PPE has been distributed to 8 hospices and 22 voluntary care homes after the Rotary Clubs in District 1285 chipped in just under £8,000.
Some 5,000 face masks and 520 visors are among the consignment, all sourced in the UK and delivered on 1st May by dedicated Rotary members for use by care workers in the hospices and voluntary care homes in Bolton, Wigan, Salford, Tameside and Glossop. In the Tameside and Glossop areas, masks and visors were donated to Hatton Grange in Hyde, Redcourt in Glossop and Willow Wood Hospice in Ashton under Lyne. The picture above shows the President Elect of Hyde Rotary, Maria Bailey, handing over PPE to Dave Egerton and Nicki Byrne of Willow Wood Hospice.
The work is not yet finished. 10-inch Samsung tablets will also be delivered to the hospices in Greater Manchester to aid communication at a time that family visits are totally restricted and patients long to see their loved ones. Willow Wood Hospice will be amongst those receiving a tablet.
Business as usual for Dukinfield and Stalybridge - supporting our local communities
Although meetings in person have had to be cancelled due to Covid-19, members have been using WhatsApp and Skype to ensure that the Club can continue to support it's local communities through this difficult time.
For example, the Club decided to go ahead with the distribution of £2000 to nine Dragon's Den applicants, an event which was originally due to be held on 19th March, based solely on the written applications. A recent survey by the Institute of Fundraising found that charities predict that their voluntary income will fall by 48% on average due to Coronavirus. With that in mind we felt it was essential to carry on with our Dragon's Den in a virtual way so that we could get our Rotary funds to local charities as quickly as possible.
During this national emergency Club members are also supporting local communities by working in partnership with Action Together Tameside and signing up for the new NHS Volunteer Responder role.
If you are an organisation based in Dukinfield and Stalybridge that is supporting people through the current Coronavirus pandemic and are in need of funds and are not already in touch with us about this then please contact us asap using the Contact link at the top of the page.
New football kit for Stalybridge Celtic Blues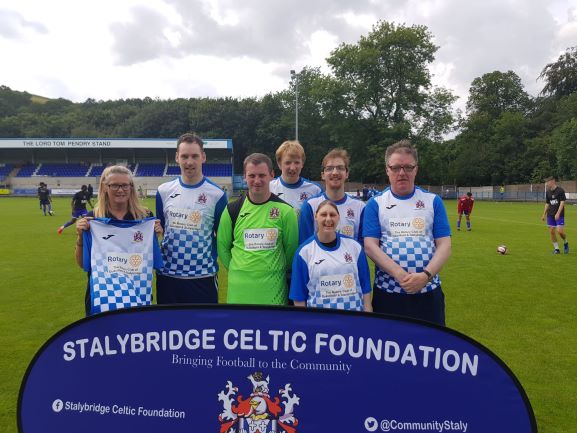 Stalybridge Celtic Blues are a football team whose members have disabilities. When our Club discovered that their kit was 3 years old they decided to provide them with the £200 necessary to buy a new kit. The picture shows Community Chair Judi Kelly presenting the kit to the team at the Stalybridge Celtic ground on 3rd August 2019.


Football kits for Rampur High School, Bangladesh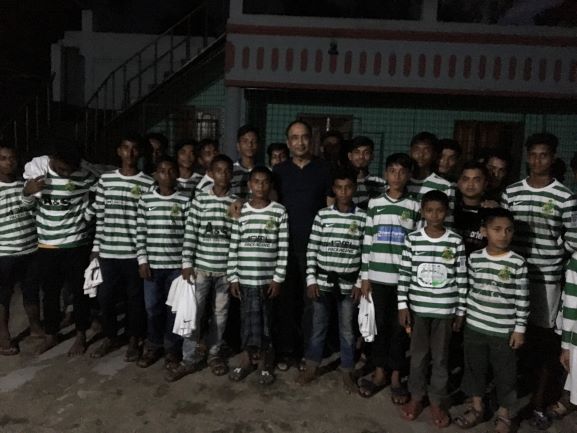 Club member, Roy Pickersgill, coaches at Dukinfield Youth Junior Football Club and when new kit was purchased for the team he suggested that the old kit be donated to Rampur High School in Bangladesh, which we have supported for many years.
The picture shows Rotarian Idu Miah with the High School's team proudly wearing the donated kit. Idu said ' these lads were so happy and grateful to receive a set of football kit each'.
Making a difference in our communities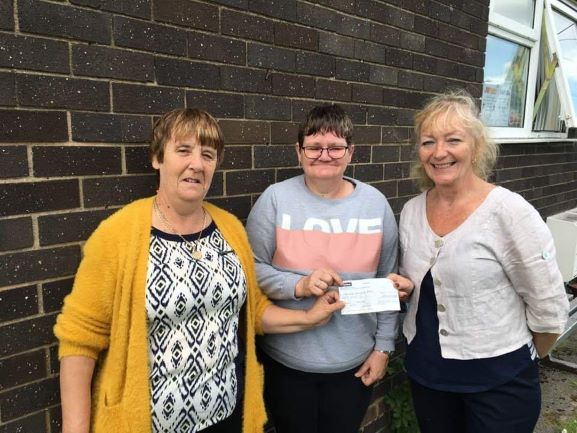 Angela Taylor (in the middle of the photo), who is profoundly deaf, applied to our Dragons Den event for the sum of £80 to enable her to arrange sign language classes from Carrbrook Community Hub. Rotarian Jan Jackson is shown in the picture on the right presenting a cheque for the amount that she needed. Wendy, the treasurer of the Hub is on the left. The money may seem minimal to some, but this will provide resources and refreshments for service users and make the service sustainable. Classes are held every Thursday 4:00pm - 5:30pm at the Hub, 1 Broadbent Close, Carrbrook. It is free but a small donation is welcome.

If you are interested, you can get in touch with the Carrbrook Hub by contacting the Community Projects Team on 0161 226 4211 or email involvement@msvhousing.co.uk.


Rotary Mealpack on Palm Sunday
Club members and partners joined other Rotarians from around the District on 14th April 2019 to help pack 60,000 meals, which will be sent to Africa to help those who are malnourished or starving. Rotary International has joined forces with the organisation Rise Against Hunger and meal pack events are arranged annually all over the world. The event in this District was arranged by Glossop Rotary Club. The number of meals packed will enable 90 children to attend school for 12 months.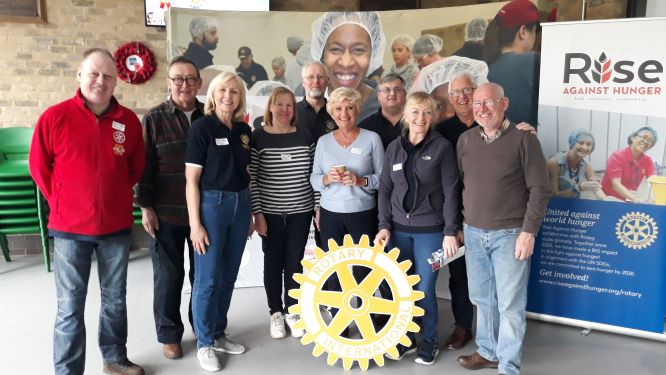 Presentation to Mossley Foodbank
The club recently made a donation of £250 to Mossley Foodbank to help them with their fantastic work in the community. The picture shows Rotarian Idu Miah (2nd from left) presenting the cheque to the manager of the food bank, Peter, together with volunteer, Mike, on Idu's left and Counciller Homer on the far right.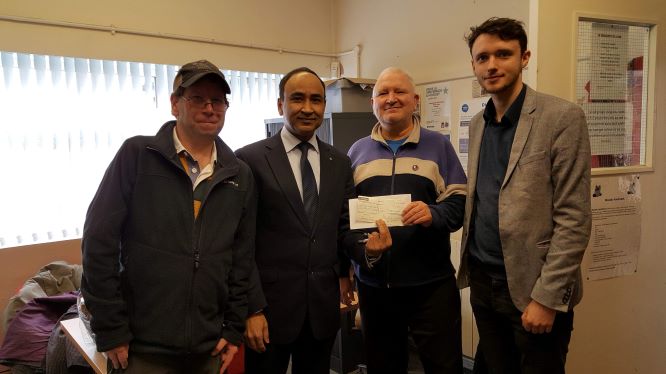 Neighbouring Rotary Clubs join forces to help fund local and internation
al causes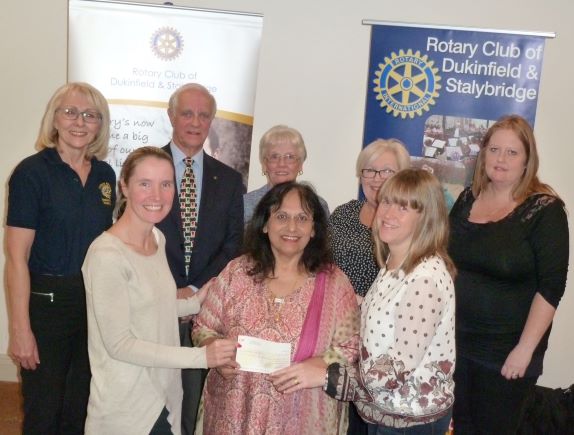 As well as the many local charities and community projects who gain financially from Rotary fundraising events, all the local Rotary clubs in the area also raise funds throughout the year to support international projects.
This year the clubs in Denton and Audenshaw, Dukinfield and Stalybridge, Tameside and Hyde joined forces and with help from the Rotary District 1285 matching grant fund they were able to support The Oakdale School Sensory Room Appeal in Dukinfield and the Oasis Relief Borehole Project in Lusaka, Zambia with donations of £2000 each.
Oakdale School is a school for children with severe learning difficulties, profound and multiple learning difficulties and Autistic Spectrum Disorder. Rachel Hindle and Tina Tray from the school attended at special evening on 18th October hosted by Dukinfield and Stalybridge Rotary Club at Stamford Golf Club during which the Rotary Clubs jointly presented them with a cheque for £2,000.
Accepting the grant on behalf of the school, Head teacher, Tina Tray, said, "The funding will help the school to purchase an interactive music system for the sensory suite."
Our picture shows the cheque presentation at Stamford Golf club to the Oakdale School representatives by Rotary Assistant Governor Swati Mukherjee and the club presidents from each of the four clubs.
The other project supported by the four clubs was Oasis Relief, which has been sinking boreholes in Zambia for the last eleven years. The donation from the Rotary Clubs is already helping to provide a much needed borehole machine for use in a small village, giving the inhabitants access to fresh drinking water for the first time.
The evening on 18th October continued with a presentation from a locally based charity, Gift of a Wedding, which Dukinfield and Stalybridge Club had arranged in order to promote the charity and raise awareness of its work amongst members of the Rotary Clubs and local communities. The Gift of a Wedding charity is based in Oakdale Lodge, Stalybridge and was founded by Patricia Harrison.
The charity aims to bring joy, love and happiness to those with a terminal or life-shortening illness by gifting wedding services and vow renewals, supported by the generous UK wedding and hospitality industry and talented volunteers. Since its inception in 2012 the charity has gifted over 180 weddings.
Patricia's moving presentation to the Rotary club members and guests illustrated the significance of the work the charity does. She showed a montage of some 30 to 40 photographs of gifted weddings before sharing with the audience that only 3 of the terminally ill Brides / Bridegrooms were still alive. Everyone had tears in their eyes as they watched a video of a recent wedding where the groom had only a few days to live. For more information on the charity visit their webpage at www.giftofawedding.org.
To find out more information on Dukinfield and Stalybridge Rotary Club, the combination of community action and fellowship that it offers, the charities the club supports and how to join simply follow us on facebook, explore this website or call us on 07730586269.
If you would like to find out more about your local Rotary club in the area visit the RIBI website at www.rotarygbi.org.


Hack Back CIC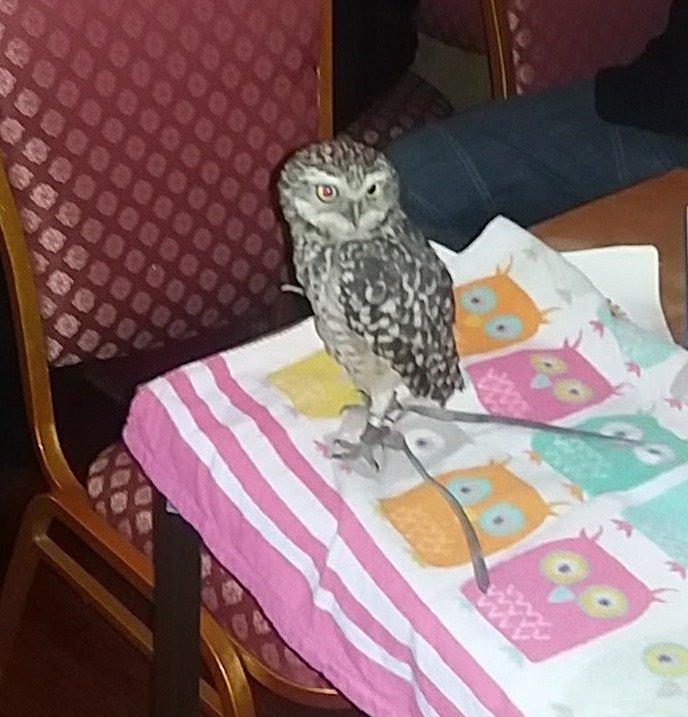 We had a delightful speaker in October 2017 - Anita Morris from an organisation called Hack Back CIC. This is an organisation that works with a wide range of individuals, all of whom come to them with significant barriers which prevent them from reaching their full potential in life. Hack Back helps these individuals to overcome their barriers in a number of ways, including interaction with animals, spefically birds of prey. Anita brought along 3 owls that she uses to help those who seek Hack Back's help, including Murray (shown in the picture) who even has his own social media pages (visit Murray the Owl on Twitter) and story books ! The Club made a donation to the organisation to help with the promotion of their work. For more information visit the Hack Back website.
---
Rotary News
Be part of a global network of volunteers, trying to make the world a better place. Please also see the 'links & news' page for information from the local district and live feeds from Rotary International and Rotary International in GB&I.
Rotary serving communities through supporting foodbanks
---
Diversity is part of Rotary's core values
---
---
Meetings & Venue
Where and when:
We meet on Thursdays at 19.30
(
Meetings are held on the 1st, 3rd and 5th Thursday of each month
)
Stamford Golf Club
Oakfield House
Huddersfield Road
Heyheads Stalybridge
OL6 6QX
0161 308 2076