Welcome from President Gill Redfern
I am honoured and proud to be given the opportunity to take on the role of President of Glossop Rotary club in its 83rd year.
I would like to thank our outgoing president David Phillips who has successfully guided the club through the past 12 months in what can only be described as unprecedented in its challenge. Despite the challenges Glossop Rotary has been able to adapt to zoom meetings and continued to meet weekly. We have been able to provide small grants to local projects, deliver PPE to local hospice and care homes and collect 336 pairs of shoes as part of a joint project with Rotary clubs in the North West for shoe Aid. We were able to provide our annual contribution of crocus bulbs to be planted in our local parks as well as one of our members raising money through his online Hubble Telescope talk to other Rotary clubs via zoom in support of Rotary's End Polio now foundation charity.
As we start to come through this pandemic my aim is to support the club to achieve the ambitious goals we have set ourselves for the coming year, raising funds for and delivering great projects in our local community as well as raising funds for projects to be delivered internationally. Please see link to 'what we do'. In early October We will be holding a great 'Last Night of the Proms' event to raise funds which I look forward to being able to welcome you to. Link attached.
I will aim to support the club to be able to continue where we left off pre covid and once again deliver projects in our local schools that include the Technology challenge, science talks, garden project and an exciting new sports event we are in the process of planning.
I am looking forward to the year ahead. I hope to be able to look back on my year as president with a sense of achievement and pride in all we have achieved as those who have gone before me have been able to do.
Glosssop Rotary meet weekly, alternating one week on zoom and one week at Windy Harbour Restaurant. If you would like to find out more about the club I would welcome the opportunity of meeting you. Please contact our secretary ………
To find out more about what we have planned please visit our Club Facebook page here which is updated weekly and there you can follow our news items. Also refer to our "What we Do". pages above. Click the link here to view and see what we're up to.
If you would like to come along to one of our speaker meetings please give our secretary, Derek Scott, a call on 01457 866760 or email him at: secretary@glossop.rotary1285.org
---
We have a "˜Donate Button"™ below through which you can make personal donations to our Trust Fund Account and which attract gift aid - All donations from the 4th March 2022 will be for the Ukraine Disaster Appeal until further notice.
---
---
Car Boot Sales:
To be decided
Glossop Jog:

Planned for Sunday the 9th of October 2022 at the Redgra, Pikes Lane, Glossop.

Community Service and New Generations merge for 2021/22 Projects include:
Annual Garden Competition based on Accessible Edibles
Food Bank Donations
Hummingbird Trust
Technology Challenge 2022
Science Talk to Schools - Alien Life

International Projects include:
$30,000 Joint project with Rubaga RC to provide fresh water supplies to the KoSovo slum in Kampala, Uganda
Support for Rotary Against Malaria
Lend with Care
Disaster Reserves
Foundation (our own charity) Projects include
Pig racing evening

Crocus planting of 4,000 bulbs for Polio
Support for Rotary Against Malaria
Disaster Reserves
Thanks to everyone for supporting our 2021 Glossop Jog at our new venue at the Redgra, Pikes Lane.
The weather was kind to us and there were perfect jogging conditions on the day.
There were 225 sponsored runners from 14 schools and businesses, and we had a total of over 300 runners on the day.
---
Membership
---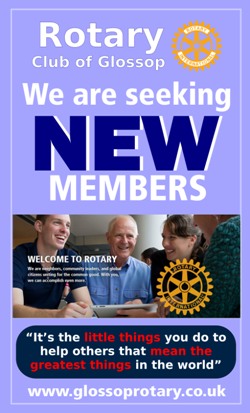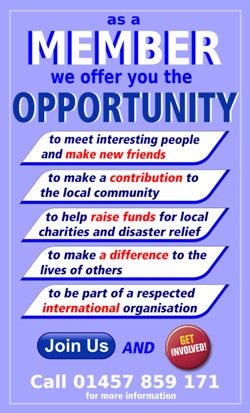 ---
Meeting arrangements
At the present time the club is holding hybrid meetings, live meetings with Zoom video conferencing every other week starting from the 4th of August 2021 with Zoom meetings for the intervening meetings. We meet at Windy Harbour Restaurant, please ring us if you would like to attend.
Normally, the club meets every Wednesday evening at the Windy Harbour hotel in Glossop which overlooks the reservoirs in the Longdendale valley. The evening normally consists of a meal and then after the formal business is completed there is usually a speaker. Guests are most welcome to join us. All bookings to the Attendance Secretary Barrie Powney by 17.45 on the Tuesday prior to the meeting, (01457) 862107 or email to barriepowney@gmail.com
---


---