Welcome from President David Phillips
My name is David Phillips and I am proud to become the Club President of Glossop Rotary Club in our 82nd year. I welcome this opportunity to give something back to our community whilst enjoying the company of a very special team of people.
My wife, Dorothy, has always been there for me and supports everything the club undertakes.
I would sincerely like to thank Past President Steve for his sterling work last year and the projects undertaken during the year.
Last year we awarded many donations to local and international charities and held our fourth technology challenge for our local schools. I hope that I can maintain Steve's commitment to service in our community.

Our club theme for this year is "work hard and play hard".
Rotary's primary aim is the eradication of polio and we have spent over $1,800,000,000 in the past 30 years to achieve this end. We are almost there. The Rotarymovement (R.I.) has over 1,200,000 members throughout the world, with over 50,000 in the UK.
Locally we have provided a range of support from small grants to local groups and charities to staging projects for the benefit of our young people. Please visit our "What we do" pages to review the many projects we do and have undertaken.
We also have a Club Facebook page which is updated weekly and there you can follow our news items. See "What we Do". Click the link here to view and see what we're up to.

If you would like to come along to one of our speaker meetings please give our secretary, Derek Scott, a call on 01457 866760 or email him at: secretary@glossop.rotary1285.org
---
We have a "˜Donate Button"™ below through which you can still make personal donations to our Trust Fund Account, and which is used to make our the donations to the local, National and Global Charities which we support.
---
---
Thanks to everyone for supporting our 2019 Glossop Jog at our new venue at the Glossop Cricket Club.
The weather was kind to us and there were perfect jogging conditions on the day.
There were 225 sponsored runners from 14 schools and businesses, and we had a total of over 300 runners on the day. Our main beneficiary this year was Kidscan.
.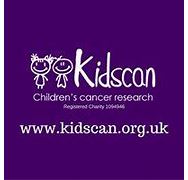 ---

---
Membership
---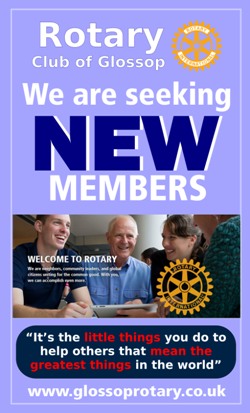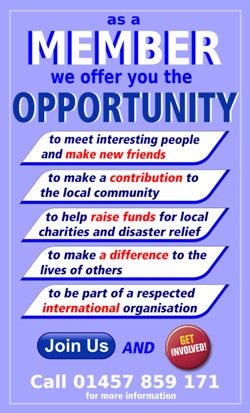 ---
Paul Harris Fellowship Award
During the past 12 months the highest award the Club can bestow, the prestigious Paul Harris Fellowship Award, was presented to Rotarians Alf Castle and Geoff Hadfield. Both members have given outstanding service working to help relieve poverty in Africa; Alf through a little known Charity "Tools for Self Reliance" and Geoff for Mary's Meals fund raising events.
Please note the new telephone contact number on the poster below and if you do have any unwanted tools to donate, please contact us.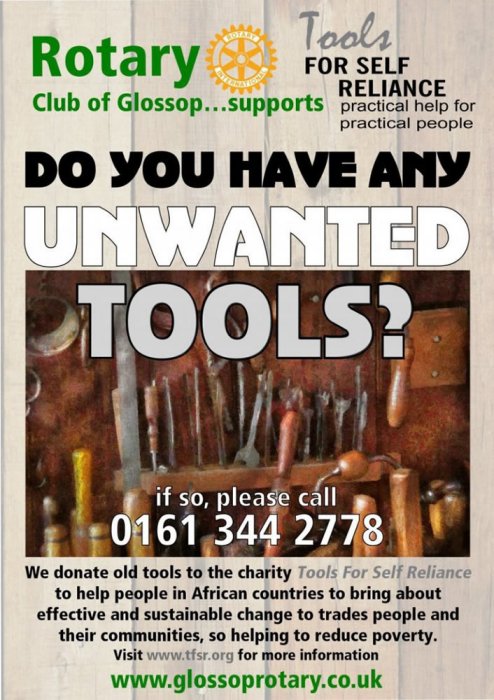 ---
Meeting arrangements
At the present time the club is meeting via Zoom video conferencing, please ring us if you would like to attend.
Normally, the club meets every Wednesday evening at the Windy Harbour hotel in Glossop which overlooks the reservoirs in the Longdendale valley. The evening normally consists of a meal and then after the formal business is completed there is usually a speaker. Guests are most welcome to join us. All bookings to the Attendance Secretary Barrie Powney by 17.45 on the Tuesday prior to the meeting, (01457) 862107 or email to barriepowney@gmail.com
---


---