What do we do at Horwich Rotary?
Being a member of the Rotary Club is all about service to the local community, to quote the Object of Rotary, "... to encourage and foster the ideal of service as a basis of worthy enterprise". How do we do this? We meet every week to develop and encourage new ways (and socialise) but currently we have two major fundraising events each year and then distribute what we raise to worthy causes, mainly in the local community but also to improve communities in the "third world".

Our two main fundraising events are the Horwich Beer Festival over the first weekend in September and Santa's Sleigh in December.

If you would like to find out more about the Rotary Club of Horwich and possibly get a taste of one of our meetings or help with one of our events, email the secretary, Phil Jones - sec.horwich.rotary@gmail.com.
News From Community Service
Despite the Covid lockdown the committee have been very active and been able to help in several ways.
We very much appreciate that many members of the Horwich Community have suffered more than others and these are a few of the projects we have worked on.
# Primary Schools returning after lockdown
We wrote to all 9 heads of the local Primary Schools asking if they needed some financial help to assist in the children's return to School, post Covid. Here are 2 typical responses From Ian Dryburgh of Blackrod Primary School: "We would be looking for items that would support children getting outside in play/social settings with their peers as these are the things our children have missed so much over the last 12 months. Interactive play equipment/gardening equipment etc - doesn't need to be too sophisticated. We are looking to get our children running and laughing as vital ways of helping them past a very difficult time. Many thanks."
From Anne-Marie Davies of St Mary's Horwich
"We have noticed a rise in behaviour and safeguarding issues since the pandemic, children and families are dealing with a great deal in these challenging times. Children's mental health and wellbeing is at the fore front of our minds. Any help you can give will be gratefully received. This will help at playtimes, PE times and Out of school club and the impact will be great. We currently have up to 107 families requesting places. We have been able to offer places to children of one key worker and vulnerable groups. We have wanted to be of service to the parents of Horwich and your support would be greatly appreciated. We are very grateful to the Rotary for your kind offer to fund extra stocks of some items to allow children to play or be active where maybe we only now have one or two that cannot be shared!"
We received requests from 7 schools and were able to donate £200 to each to help in the purchase of the items they needed.
# Over 50's Food Bank
Ex-Mayor of Horwich, Peter Wright set this up a couple of years ago and with the help of 2 other volunteers distributes food and other household essentials to needy families in Horwich. The demand has been exceptionally high over the last difficult year. Currently based in the RMI cricket pavilion, Peter is hoping to move to larger premises very soon. We were able to help his project by supplying a whole range of PPE equipment and sanitizing products to ensure the safe storage and delivery of goods to his clients.
# The Horwich Clean-up Brigade
Founded and run by Charlene Bessell, this is a group of volunteers determined to make Horwich a cleaner and more attractive environment. Chantelle says -
"We are currently doing clean-up work at Holy Trinity Church in Horwich which includes clearing years of over-grown grass off graves and keeping them tidy once done and we recently did a session focussing on clearing the leaves that had fallen from the trees in the Autumn We have a litter pick/bramble clearance session planned at Mount Street in Horwich for 10th April. This session will focus on completely cutting back brambles so our volunteers can access the litter that's collected and been trapped underneath. Last year just before Christmas we did a complete overhaul of the pocket park on Chorley New Road Old Station Park is also on our to do list. I know the council have some plans for the park so this is currently on hold until we see confirmed plans. For this we aim to trim back the trees and hedges along the footpaths. Clear the grass and moss that's grown over the edges of the footpaths to tidy the area as a whole. As well as all this we are doing regular group and solo litter picks around the Horwich area. We have had some lovely comments on how the town is starting to look cleaner. Although we do have some serious areas such as Brunel street that will need regular maintenance due to consistent fly tipping. Brambles will also need to be cut back and cleared from these areas to help us get to trapped litter."
The committee have agreed to fund the purchase of some essential gardening tools to make their job a lot easier.
Horwich Rotary Club – Happy to be of Service in the Community.
Pat Byrne - Chair Horwich Rotary Club Community Committee
---
Horwich Rotary Sponsors Wall
In 2020, Covid-19 restrictions meant we were unable to hold the annual Beer Festival or take Santa's Sleigh out and around Horwich. These are the two primary fundraisers for the Rotary Club of Horwich which enable to us to fund charitable donations for good causes in the community. As a means of attracting some funding for these causes, we created a Sponsor's Wall. In 2021, we were able to run a limited Beer Festival in September and plan to have Santa's Sleigh back on the road for Christmas.
---
Christmas Art Competition Winners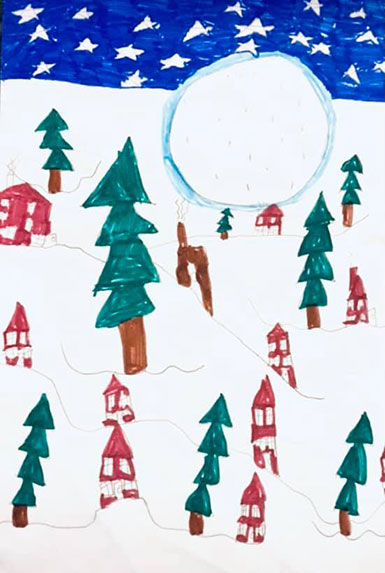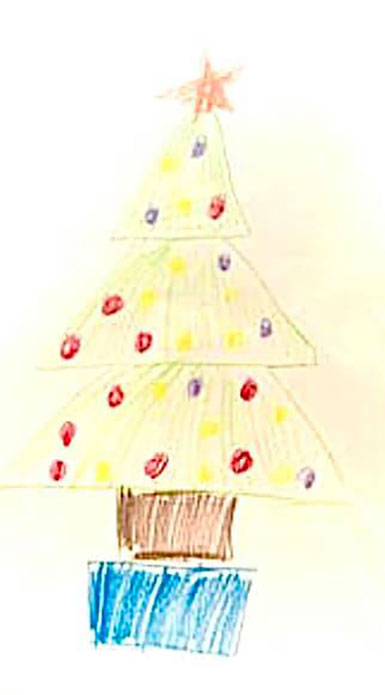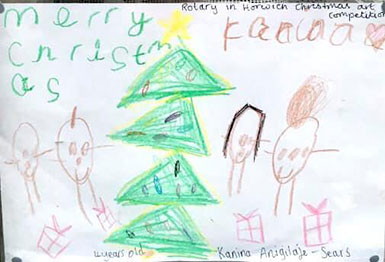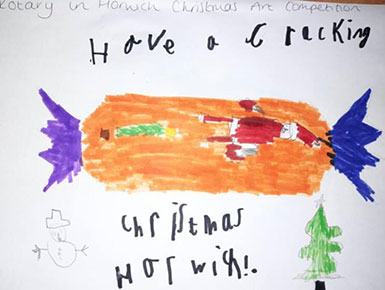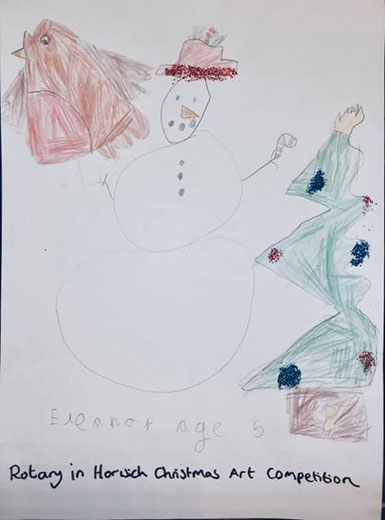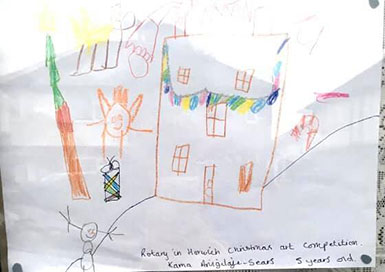 Who are we?
40 or so individuals from all walks of life with a close association with our local community of Horwich. We have been an active part of this community since 1944. We are also part of a worldwide organisation of over 1 million members and 35000 clubs - click for more info>
What do we do?
We raise in excess of £20,000 of charitable funds each year and distribute them to worthy local and International causes. We also meet each week for a meal and some social interaction.
How are we organised?
We conduct our business through six small committees;
2 focused on fundraising - Beer Festival > and Christmas Collection >
3 on distributing those funds - Community >, Vocation / Youth Development > and International >
1 to organise club events - Club Service >
And 1 Monthly Club Magazine - The Barn Owl >
Latest News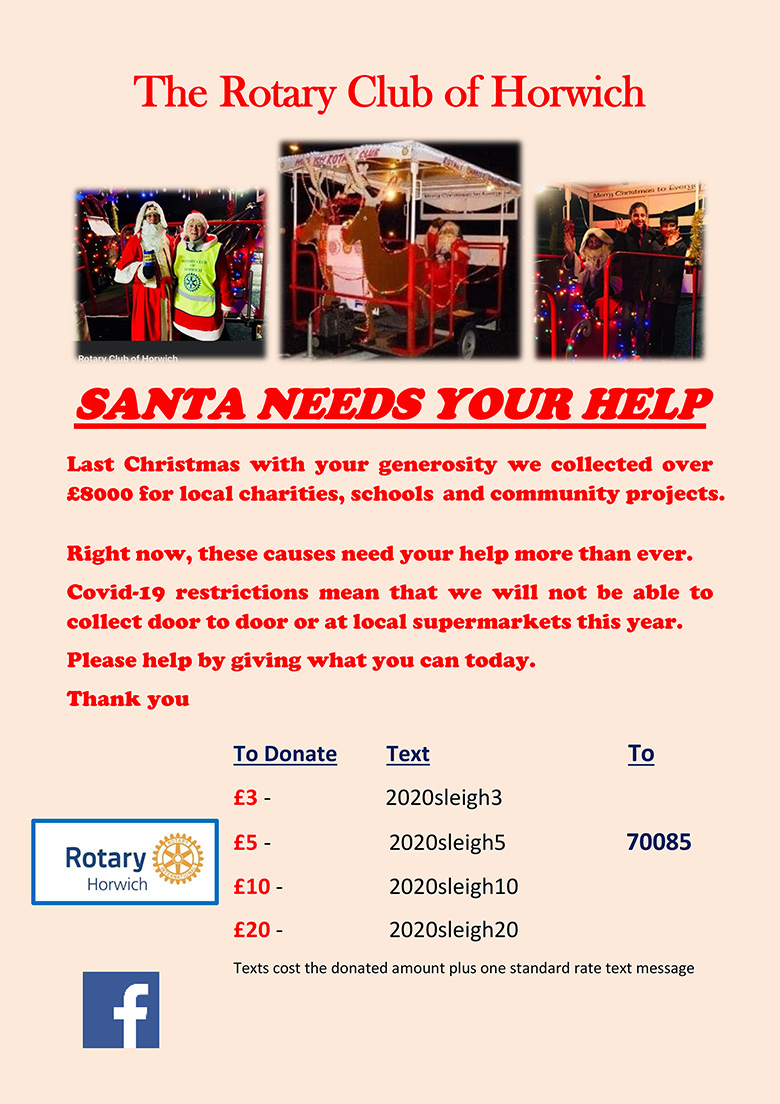 Rotary Charity Work Continues Afoot Despite The Pandemic
The six Rotary Clubs in the Bolton area are working hard to find ways to overcome the Covid pandemic restrictions. Charity work involving face to face contact is heavily restricted for the time being, and this is having a major impact on what Rotary and other charities can achieve.
Nevertheless, all is not lost. Together with about 35 other Rotary Clubs in the North West of England, more than 100 local Rotarians, as well as their friends, neighbours and colleagues have been looking in their cupboards for shoes that are no longer loved, and collecting them for the Midlands based charity, Shoe Aid. All of this can be done in a 'socially distanced' way. No kind of shoe is overlooked – high fashion, practical streetwear, leisure and sports shoes are all included, both adult and child sizes.
Thousands of pairs have been collected in the Bolton area already and the numbers keep rising.
Shoe Aid has a central organisation which assesses the shoes, cleans them, boxes them up and distributes them free of charge to needy people in the United Kingdom and overseas. More than half a million pairs have been distributed already.
It is worrying to know that 200,000 homeless people in the UK lack proper footwear and that four million children need better shoes. Without suitable footwear it can be difficult and even embarrassing to attend a job interview or to join in with your schoolmates in sport or games.
In addition, of course, the recycling effort diverts shoes away from rubbish tips. Once discarded it can take over a century for shoes to biodegrade, and yet over two million shoes are thrown into landfill every week.
The President of the Bolton Daybreak Rotary Club, Peter Jones, says he is pleased with the progress being made in Bolton. "We are all very frustrated that many of our usual projects have been curtailed, but this is something which is urgently needed, and which can be safely done in spite of the pandemic." Last year Rotary organised a successful collection of winter coats, donated by local people and which helped keep out the cold for people in local shelters and homes.
Pat Byrne - The Rotary Club of Horwich
---
A message from our President
March 23rd 2020, a date none of us will forget in a hurry. Total lockdown decreed by our government. So what did this mean for us?
It meant only going out to shop for groceries, exercise for just one hour and no work!
What it did do though, was to bond together the good people of Horwich like I've never seen or heard of for a long time.
Neighbours shopping for their neighbours who were shielding or vulnerable.
Food banks set up at St Elizabeth's and St Catherine's generating a general sense of togetherness not previously felt for a long time and demonstrating how our town pulled together during this terrible pandemic.
As our community knows, Horwich Rotary Club has for the past 21 years run a Beer Festival.
Over those years we have raised in excess of £150,000 for Charities plus local and International good causes.
Local recipients have included Bolton Hospice, Derian House, the North West Air Ambulance and the local Mountain Rescue service. More recently we have helped to purchase essential PPE for local Care Homes and Hospices.
Local youngsters from both Primary and Secondary schools have been strongly supported as have the more elderly members of the community.
All this has been achieved with the support of local businesses who have so generously sponsored the Festival.
This year, because of Covid 19, we had planned to run a lower key event – the "2020 Rotary Charity Beer-Fest" again sponsored by our local businesses.
However the inevitable has happened and we have found it necessary to put the event on hold until Spring 2021 at the earliest.
Meantime as President of Horwich Rotary Club, I would like to thank wholeheartedly those sponsors who supported the event last year and who we hope will support us again.
The Beer Festival takes an enormous amount of hard work and planning by members of the club.
It also would not function without the generous help of volunteers from all kinds of local organisations including Horwich Harriers who give their time free to pull pints for our customers.
This is the kind of community spirit so prevalent in Horwich.
If 2020 is a year to forget for many of us, it is a year to remember for the Horwich Rotary Club.
The Club was founded in 1944 and is one of over 50 clubs in the north west that form District 1285.
This year we are fortunate to have one of our members, Mr Peter James- Robinson MBE, elected as Governor of our district 1285. A great honour indeed. We wish him well and will fully support him during his tenure of the role.
In closing I would like to thank all the people of Horwich for supporting the Beer Festival throughout the years and also our famous Christmas Float collection that we are hoping to organise again this year, in some form or other.
Ian Blackmore - President. The Rotary Club of Horwich
---
There were 7 Rotarians attending the Charter Night from the Rotary Club of Horwich.
The clubs have been twinned for many years and the photographs shows current President Margot Mather, with Past President of Douglas, Bill Hamilton-Turner, and Past President of Horwich, Geoffrey Pearson, at the plaque and tree planted within Infinity Circle of the Cooil Y Ree Memorial Garden in Douglas, remembering the 37 passengers that died in the plane crash in 1958 on the hillside of Winter Hill.
---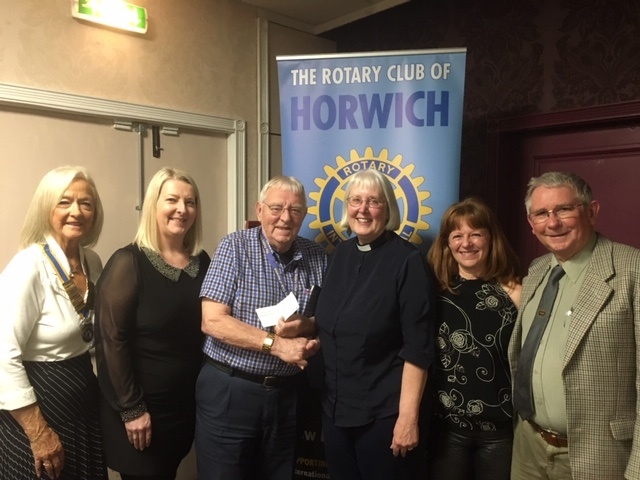 Another fantastic cause - Rotary Club of Horwich are proud to support Rev Caroline Tracy and Members of the Horwich Churches Namibia Committee to assist them purchase Solar Lights for rural Townships in Namibia.
Horwich Rotary Club were delighted to sponsor the event again this year, donating £600 towards the prizes and supplying several Stewards on the day, which was a great success.
Vice President Gary Parker started the race. With a near record entry of 409 runners and a big supporting crowd the race was held in beautiful warm and sunny weather conditions.
---
In an excellent talk he explained some of the problems of those who are homeless in Bolton
Since 1990 when Dave and his wife founded Urban Outreach, which is a Christian Charity now with a staff team of 25 and 250 volunteers, it has worked alongside Bolton Council and other statutory, church and voluntary organisations in the town.
FIND OUT MORE>
---
On February 12th 2019 Bolton Rotary clubs sponsored the third annual Tournament, which was organised by members from Bolton Daybreak, Bolton with Le Moors and Westhoughton Rotary clubs.
Also supporting were Bolton Lever, Horwich, and Turton Rotary clubs. Taking place in Canon Slade school, four Bolton Schools supported it bringing over 50 year 9 students working in teams of four.
---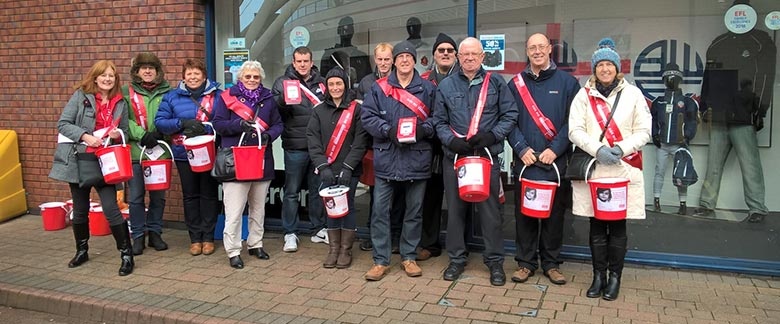 Rotarian Geoffrey Pearson and Judith Pearson helped with the collection for Action for Children at the University of Bolton Stadium this weekend.
An amazing £363.75 was raised to help local children in the Bolton and Horwich area.
---
Members of the Horwich Rotary Community Committee got together to cook and serve the Luncheon Club members a full Christmas turkey meal at the Horwich Resource Centre. The Luncheon Club members meet every Tuesday and Friday throughout the year for a meal of soup, filled roll, pudding and a hot drink at a cost of just £2 per head.
The Community Committee decided to treat them to turkey and all the trimmings, plus Christmas pudding and a rich white sauce.
---
The Horwich Rotary Club annual Kids Christmas Party was held again at Horwich Rmi on Sunday 9th Dec.
Children aged 6-9 were invited from the 9 Primary Schools situated in BL6 – Horwich and Blackrod.
More than 80 lucky youngsters were thoroughly entertained by Smiley the Clown with activities, fun games and music.
---
A fantastic time was had by all at the Horwich Community Choir Concert held on Monday evening at the Parish Church.
The Rotary Club of Horwich were invited as we donated to the Choir during the year. The Mayor of Horwich was also in attendance. The Choir and Specialist Guest Soloists, led by Rachel Hughes, sang some wonderful songs.
---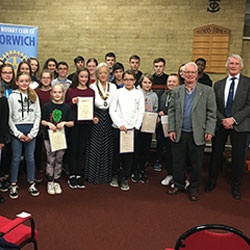 The Youth Achievement Award Scheme run by the Rotary Club of Horwich is designed to foster the development of individual talent for young people, under the age of 19, who live or attend school in Horwich or Blackrod.
The scheme is not means tested and is concerned solely with identifying and developing individual talent in all forms of activity, regardless of family circumstances. This year the scheme attracted a large number of quality applicants, who live, or go the school in, the Postal District of BL6.
Many thanks to John Mountrie who delivered an insightful talk on Remap an organisation of engineers who custom-make equipment to help disabled people live more independent lives.
The Rotary Club of Horwich were thrilled to present John with a cheque for £100 to help Remap in their future activities. Visit Remap at: www.remap.org.uk
FIND OUT MORE>
---
At our 22 March meeting we heard a lovely young lady give a inspired talk about her life with MS and how she formed new friendships and a new hobby which gave her so much more.
A sense of freedom. Bolton Sailability is a charity based on Belmont reservoir offering the disabled a chance to learn how to sail. She's taken to it so well that she is fund-raising for new equipment that will help her and other disabled people a better and safer experience out on the water.
FIND OUT MORE>
---
Thanks to Ted Wisedale
Youth Achievement Awards 2017
The Youth Achievement Award Scheme run by the Rotary Club of Horwich is designed to foster the development of individual talent for young people, under the age of 19, who live or attend school in Horwich or Blackrod.
The scheme is not means tested and is concerned solely with identifying and developing individual talent in all forms of activity, regardless of family circumstances. This year the scheme attracted a large number of quality applicants, who live, or go the school in, the Postal District of BL6.
---
Santa Is Coming To Horwich!
1st December 2017 Santa & Horwich Rotary's Christmas sleigh will be at the Crown for the switching on of the town's Christmas tree by the Town Mayor, Councillor Steve Rock this year accompanied by Horwich RMI Brass Band and Fr. Richard Howard from St Mary's.
So Santa and the Rotary sleigh will begin Horwich Rotary's Christmas collection for local community groups as well as international support for the Rotary Foundation's 'Ending Polio Now' campaign. Look out for Santa who is coming soon.
---
New Rotarians Welcomed
Vic and Denise Silcock were welcomed as members of our Club at the start of October 2016.
Denise and Vic have been established for many years in Horwich as the proprietors of that excellent local newspaper 'Living in BL'. They were proposed by Pat Byrne who has known their support and professionalism in so many ways. They will make an excellent contribution to the life of our Club.
---
President David, Vice President Margot and Secretary Phil were much moved when they recently visited Derian House children's Hospice at Chorley to present a cheque for £1,130.
The cheque was presented to Derian House staff members Caroline, Claire, Daryl and Kirsty who provide respite care for families with very sick children.
FIND OUT MORE>
---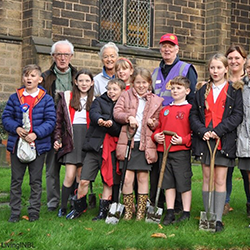 At the beginning of November President David Griffiths, & Vice-President Margot Mather and friends met with children from Horwich Parish School Eco Council and member of staff Mrs. L Magilton.
They met to explain what Rotary International is doing, with the support of the Gates Foundation, to end Polio forever in places like Pakistan.
---
Children from across Horwich took part in the week long Bolton School's Music Festival in June.
Choirs from St Catherine's School and Claypool sang on the first night. Chorley New Road Primary School choir sang on the Wednesday, whilst Horwich Parish School choir, sang on the Thursday evening.
All the children also joined with choirs from other schools in excellent Massed Choirs. FIND OUT MORE>
---
Every year, Kids Out, called the 'Fun and Happiness Charity' team up with Rotary International (RIBI) to take over 25,000 children from up and down the UK on a fun day out.
This year Horwich Rotary Community Committee organised and funded our trip to Blackpool Zoo, with additional financial contributions from other Rotary Clubs in Bolton. The trip took place on Wednesday 14th June. It was a glorious sunny day and 41 children, 10 school staff and 2 Rotarians went by coach and mini bus to Blackpool Zoo. FIND OUT MORE>
---
The 10th holding of this very popular event was yet again a great success and enjoyed by over 150 of our local senior citizens.
Bussed and taxied in from all over Horwich and Blackrod, our guests enjoyed excellent entertainment from Singer/DJ and comedian Tom Scott ably assisted by his wife.
Audience participation was his speciality and several guests were persuaded to take part. A pasties and cake supper followed by a Free raffle plus Bingo with cash prizes were enjoyed by all.
---
The Rivington Pike Race at Horwich on Saturday 15th April 2017
Horwich Rotary Club were delighted to sponsor the event again this year, donating £600 towards the prizes and supplying several Stewards on the day, which was a great success.
With a record entry of 371 runners and a big supporting crowd the race was held in ideally cool weather conditions. Winner for the second year was Horwich Harrier Chris Farrell ( nephew of John Farrell, a Friend of Rotary ) in a very creditable time of 17 mins 27 secs.
---
Horwich Rotary embarked on a new idea to raise funds for our Charity Account.
On 23rd March we organised a ladies fashion show, with an entrance ticket cost of £5 per person.
200+ tickets were sold and the main hall at the RMI club was packed to capacity.
The show was run by a firm called Colours who took control of the fashion side of the evening after bringing their own clothes and models.
---
Thanks to Duncan Hamlett of Lunesdale Rotary Club, who gave a great talk at our showcase evening on Mary's Meals.
Mary's Meals is another fantastic International charity that Rotary Club of Horwich supports.
Visit their website here: www.marysmeals.org.uk
Follow them on Facebook here: www.facebook.com/marysmeals
---
Through our International Committee, Horwich Rotary Club works in partnership with the Rotary Club of Port Alfred in South Africa provides an eye clinic in an area surrounding Grahamstown.
The eye clinic project is ongoing and is overseen by Rotarian Bev Radue on our behalf. Clinics are held twice a month at a town called Nkwenkwesi and treats local vulnerable people who would otherwise be completely blind within a short period of time.
---
Breaking Barriers is a twofold organisation founded by 3 parents of disabled children with various requirements.
It aims to:
- Support & reassure with a listening ear


- Promote, improve & advance the emotional wellbeing of Parents, Carers & Families of disabled children & young people aged 0-25 years old and adults
---
Thank You Village Water
Just one of the great projects that Horwich Rotary's International Committee supports.
---
For the past few years, Sparrow Park, in the centre of Horwich, has been looked after by the Rotary Club of Horwich.
After many years of neglect, the park needed a complete makeover, and a number of Rotarians cleared the ground, put many bedding plants and bulbs in the gardens, cleared and weeded the turfed area and re-laid part of the pathways.
In addition they repainted the seating, railings and lights.
---
Meriel from Bolton Young Parents Service came to speak to Rotary Club of Horwich before Christmas, about the support that the Organisation is able to bring to young parents.
Young mothers who have babies, or pregnant Mums, sometimes find themselves in difficulty arising from a range of issues e.g. no parental support, problems with young fathers, and financial problems.
FIND OUT MORE>
---
Horwich Rotary invite you to a fantastic Italian Evening at Max Italia, Horwich.
Open to all, including non-rotarians. Join us for a fantastic Italian Evening at Horwich's own Max Italia restaurant. Wednesday 18th January, 2017 - 7 for 7.30pm.
Any starter, pizza/pasta or chicken dish plus dessert and coffee for only £15pp - Message us to book your place today!
---
Students at Rivington and Blackrod High School and Sixth Form hosted a Community Christmas Party on Wednesday 21st December 2016 for members of the local community.
Celebrating the festive season with homemade Christmas food, the party included performances by the Music and Performing Arts Departments, and a personal appearance by Santa Claus.
Residents of local care homes and members of the senior citizen's community groups were invited to attend.
---
Community Chairman, Keith Maher, was able to hand over a Cheque for £400 to the Lagans Foundation Founder Carren Bell.
The foundation provides Volunteer help to mothers who have given birth to babies with Congenital Heart defects.These babies are very difficult to bring up and need 24 hour care. Most of these babies have multiple defects and many cannot feed normally and need stomach tubes to survive. Young mothers find the situation so difficult that they cannot cope, especially if they have other young children to bring up.
FIND OUT MORE>
---
Stanley Grange - a homely and fulfilling community for adults with learning difficulties.When Horwich resident and member of Holy Trinity Jenny Dagnall found Stanley Grange for her son Andrew it was a prayer answered.
That was in 2004 – twelve years on, 32 year old Andrew continues to enjoy life at Stanley Grange. Members of Horwich Rotary very much appreciated Jenny Dagnall's moving and informative talk about her experience of finding a safe, friendly, secure and supportive community for Andrew who has learning disabilities.
FIND OUT MORE>
---
The Youth Achievement Award Scheme run by the Rotary Club of Horwich is designed to foster the development of individual talent for young people, under the age of 19, who live or attend school in Horwich or Blackrod.
The scheme is not means tested and is concerned solely with identifying and developing individual talent in all forms of activity, regardless of family circumstances. This year the scheme attracted a large number of quality applicants, who live, or go the school in, the Postal District of BL6.
Find out who recieved awards this year - click below
FIND OUT MORE>
---