Welcome to the Rotary Club of Leigh
Our club has a membership of pro-active individuals who work together for the good of others through various initiatives and fund-raising projects. This takes the Rotary motto of "Service Above Self" to a level that really makes a difference. We support a wide range of projects within our local community and also International projects and Disaster Relief.
We have a meeting every other Monday to enjoy each other's company, listen to inspiring speakers and keep up to date with our community projects. We also hold various Social, Fund-raising and Community Service events. If you would like to make new friends and have a good time whilst helping others, you would be very welcome. We are looking for new members - ladies or men, so why not come to one of our meetings to find out more? Please use the "Contact" facility at the top of this page.
Meetings at Leigh Cricket Club,
Beech Walk, Leigh, WN7 3LH

Fortnightly on Monday from 6.00pm to around 7.45pm
***************************************************************************
Leigh Rotary will be supporting Leigh Ornithological Society
with a stand at Leigh Library on Saturday 9th October.
Congratulations on receiving The Queens Award for Voluntary service.
*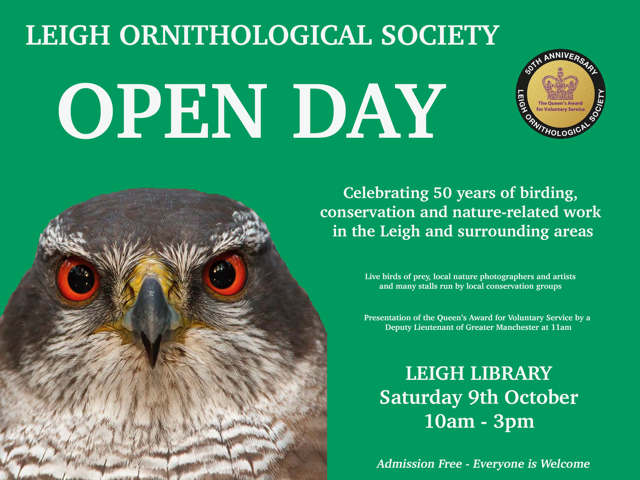 We couldn't possibly let the children down (or their parents!) We have had written confirmation that Wigan Council are going to give us a licence to collect, so we hope our Santa events will all be back to normal. Our usual Supermarkets have agreed that we can collect at weekends, so Santa and his Sleigh will be present as usual at weekends for those who missed us touring the streets.
Look out for further announcements giving details of where Santa's Sleigh will be. We will be needing lots of help from all the Friends of Leigh Rotary, so if you would like to get involved, please get in touch using 'Contact' at the top of this website page.
NEW YEAR ~ NEW PRESIDENT ~ NEW LOOK TO OUR CLUB!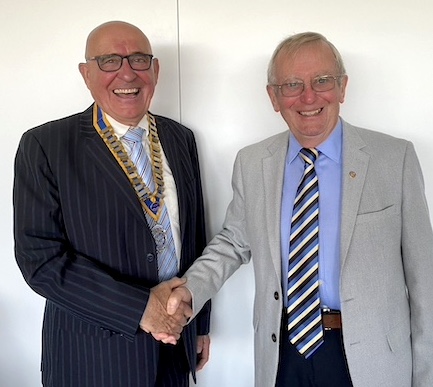 The new Rotary year began on 1st July as John Bullough handed over the reins to Andre Winstanley who became our new President. After thanking John for seeing us through the most difficult part of Covid, Andre said "I'm so pleased that we are getting back to some form of normality. This year, one of my aims is to increase membership and we can assure a warm welcome to any ladies or men, who would like to come along to some meetings to find out what Rotary is all about. We have new meeting times and reduced membership costs, which are explained in more detail below.
"We will continue our support of other organisations in the community and already have lots of social activities planned. So, there are lots to look forward to in coming months and we hope that all our Rotary friends will share in our activities."
A "NEW-LOOK" ROTARY - LESS COST! LESS TIME!



AND WE WANT NEW MEMBERS!
Following the end of lockdown (don't speak too soon!) we have made changes to our meeting frequency to make it less costly to be a member and to reduce time commitments. We now meet every 2 weeks at 6pm until around 7.45pm on Mondays at Leigh Cricket Club. The cost of being a member will now be around £12 per month for fees and general running costs, plus the cost of any meals.
Interested in finding out more? Contact Alan on 07484 739575
ROTARY DONATE LAPTOPS TO LEIGH SCHOOLS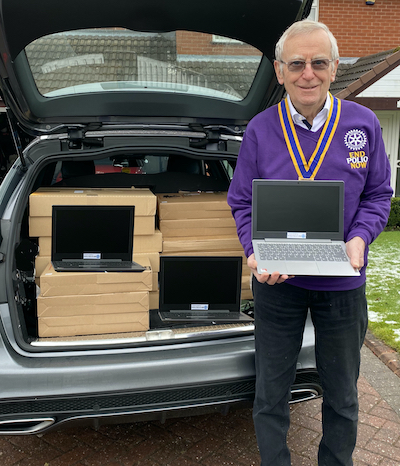 Learning from home has become the norm for many children during lockdown, but not everyone has a computer, putting youngsters into a seriously disadvantaged position. The Rotary Club of Leigh decided to help local schools with this problem and their President, John Bullough told the Journal, "Local people kindly donated around £3500 over the Christmas period, when we took Santa's Sleigh around the streets, so we decided to use that money to buy 17 new laptops. These have been given to 4 schools who wanted laptops to lend out to children who didn't have any computer facility for home learning. The schools were Leigh St Johns, Leigh St Gabriel's, Christ Church CE and Leigh CE Primary. We would like to thank Advanced Computers on Chapel Street, who set up the laptops for home learning and kindly gave a generous discount."
Head teacher Clare Oxborough from Leigh CE Primary said, "We were absolutely delighted when Leigh Rotary contacted us, having heard of our need for laptops. Their gift will be incredibly helpful, enabling pupils to work remotely and submit their work back to the school. Rotary also provided USB sticks for all the pupils in the top class, which they will put to good use in their studies."
On hearing about the donation, local MP James Grundy commented, "This is a wonderful gesture from the Leigh Rotary Club, which will be an invaluable help to youngsters at this difficult time."
****************************************************************************************


Thank you to everyone who gave donations during Santa's 2020 street tours and through the Just Giving and Text donation sites. For the past few years we have collected over £12000 which has been passed on to good causes. This year we could not have our usual house or supermarket collections but are grateful for those who contributed about £3700, which will go to local good causes.
THANKS FOR YOUR GENEROUS SUPPORT AT THIS DIFFICULT TIME
WE WISH YOU A HAPPY AND HEALTHY NEW YEAR IN 2021
****************** ***************** *****************
SHOES & SHOEBOXES
Lockdown didn't stop the Rotary Club of Leigh from collecting for various good causes. Shoes seemed to be the theme for November with two quite separate charities.
Around 4 million children in the UK have to wear ill-fitting shoes that not only causes foot problems in later life but can negatively affect their academic and sporting performance, and self-esteem.
A full carload of shoes was collected by Rotarians for SHOE AID UK, who will check and sanitize them, sort into sizes and distribute to needy people in the UK and overseas. Most people have shoes they no longer need and are glad to give to a good cause rather than throw them away. It's amazing how many shoes we collected were brand new, never been used!
Our support for the ROTARY SHOEBOX APPEAL was cut short with lockdown, but still benefited from another car load of shoeboxes bound for Eastern Europe, via Rotary's new warehouse in Oldham. Children and adults who are living in squalid conditions and who are desperately poor, will be delighted with the toys and household goods they will receive. For many, it will be their first presents ever and even the cardboard box is useful when you have next to nothing!

Leigh Rotary Giving Goes On!
Leigh Rotary President John Bullough promised that helping local community projects will continue despite the difficulties posed by the COVID virus.
John said, "During lockdown we may not have had many meetings but we have still been able to support Leigh's Foodbank with a £3000 donation and The Bridge with £1000.
Some 5,000 face masks and 520 visors have been delivered to care homes and hospices in North West thanks to the efforts of 20 local Rotary clubs. We also donated £1000 to the Wigan Scrub to make scrubs for front line workers.
Leigh care home, Abbeyfields, benefited from a donation for outdoor equipment and a donation was given to The Linus Project, who make and distribute quilts and blankets to local hospitals, children's hospices, women's refuges, foster carers, special schools, etc.
On-going projects include support of the Shoebox Appeal, where boxes are filled with presents and household goods for needy families in Eastern Europe and old shoes are being collected in support of Shoe Aid UK."
****************** ***************** *****************
New President of Leigh Rotary says
"Service Above Self" will continue.
John Bullough has become the new President of Leigh Rotary Club for 2020-21, taking over from Alan Smallshaw, with Andre Winstanley becoming Vice-President.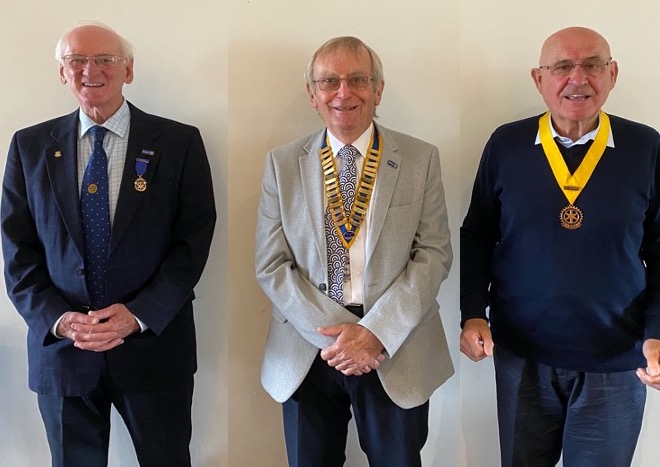 Above: L to R - Past President Alan Smallshaw; New President John Bullough: New Vice President Andre Winstanley
After handing over the chain of office, retiring President Alan said, "We have had a most satisfying year during which we helped the funding of many organisations, clubs and charitable groups, and we must thank the people of Leigh and Lowton for their support and contributions – everyone has been so generous, especially at Christmas time with Santa's Sleigh. Unfortunately, the Covid virus has halted our weekly meetings for now but I wish every success to the incoming President in these difficult times."
After accepting his new responsibilities, new President John commented, "I would like to express my congratulations to our retiring President for such a successful year, despite the difficult past months. With uncertain times ahead, one thing we can be sure of is that our Rotary members will still stand firmly behind our motto of Service Above Self, to ensure that we still do our utmost to help the local needy and the deserving organisations and clubs who rely on charitable donations."
***************** ***************** *****************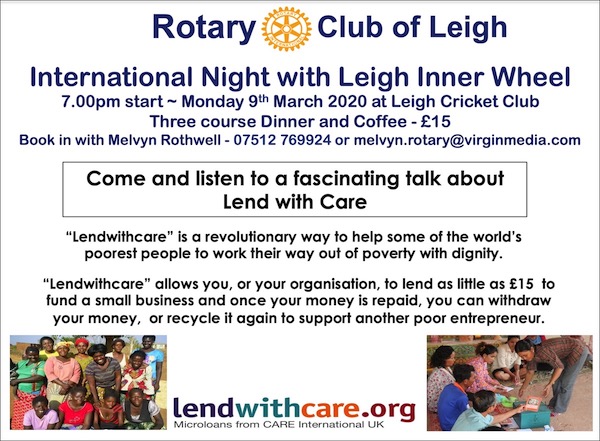 ****************************************************************
COME AND ENJOY THE FUN – EVERYONE WELCOME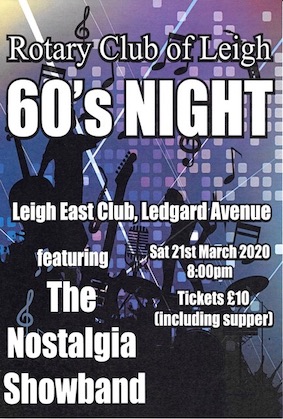 ROTARY HELP FOR BOXING CLUB
Leigh Boxing Club received a welcome boost to their funding when they received a donation of £1000 from Leigh Rotary Club.
Leigh's MP, James Grundy attended the Rotary meeting on 17th February and handed over a cheque to Head Coach Adrian Fleming, which will be spent on gloves, pads and other essential equipment that constantly needs replacing.
Rotary Vice President John Bullough said, "We were most impressed with a talk that Adrian gave last week. We were surprised and pleased to hear how many young boys and girls attend the gym and the benefits they get from learning the disciplines they need for the sport, which also help them in all walks of life. One of our aims in Rotary is to help charitable causes and we are always keen to hear from such organisations, especially when young people are involved."
On receiving the donation Head Coach Adrian added, "We have boys and girls from 5 year old up to 40 and have 7 England International boxers training with us. Donations like this will help us to continue our successes."
Leigh Boxing & Fitness Gym is based in Scott Street (off Wigan Road), Leigh, WN7 5AL
The photo shows James Grundy MP, Head Coach Adrian Fleming and Leigh Rotary VP John Bullough: -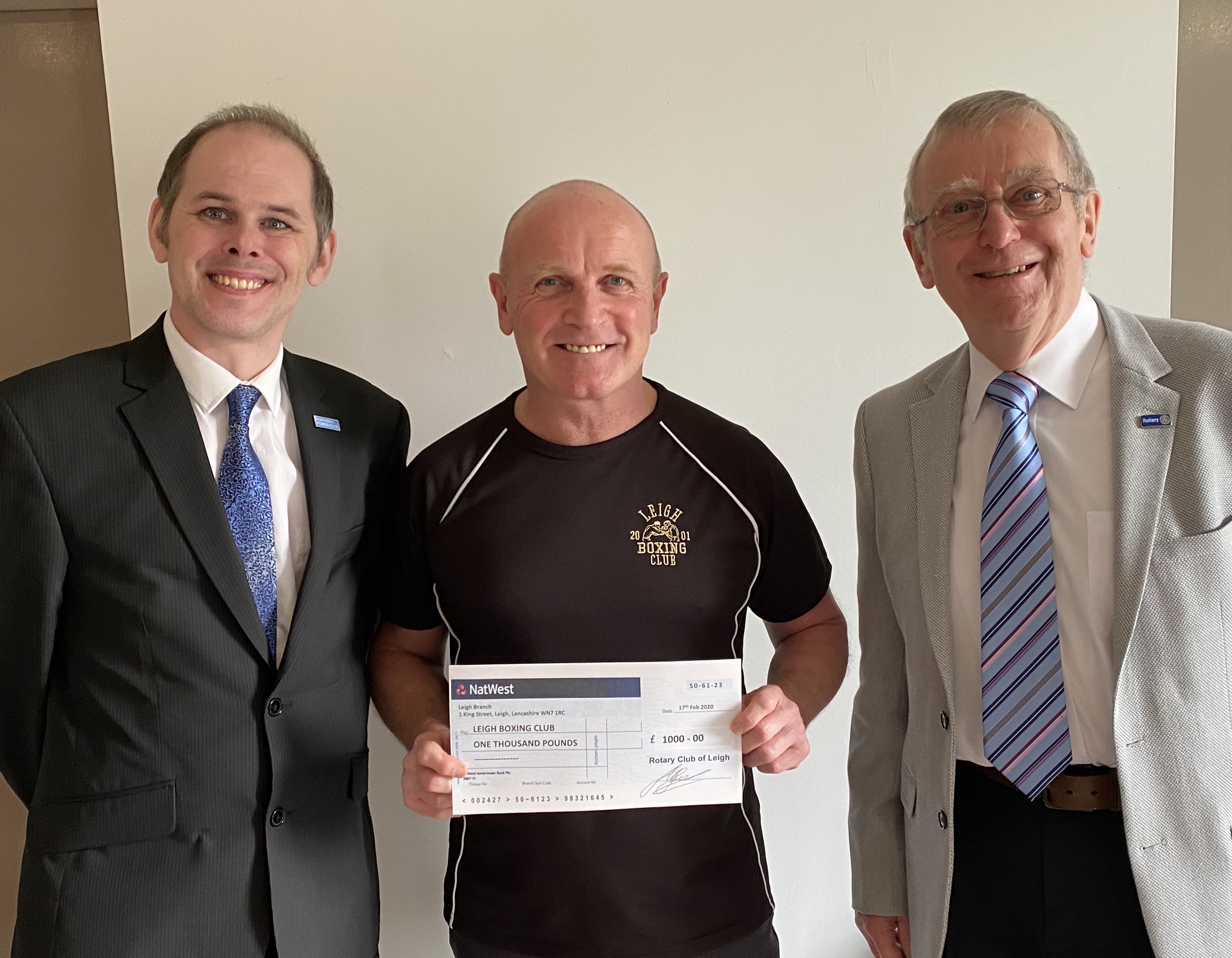 ANOTHER AMAZING SANTA COLLECTION!! DECEMBER 2019
Santa Claus was particularly busy at Christmas, trying to get to as many streets as possible in Leigh and Lowton. The Rotary Club of Leigh kindly lent their sleigh to Santa whilst his own sleigh was being prepared for Christmas Eve.
Alan Smallshaw, President of Leigh Rotary said, "Apart from the money we collect for local charities, our hard work has been worthwhile, just to see the joy on the faces of the boys and girls, as well as mums and dads, when they came out to meet Santa and his Sleigh. Even a 6 week-old baby came out to see Santa! We were overwhelmed with everyone's lovely comments, thanks and big smiles."
"Every year we seem to get larger numbers of children wanting to be photographed with Santa and many handed over bags, full of coins, which they had been saving all year!"
"The people of Leigh & Lowton have again been very generous, helping the Rotary Club to raise over £13000, which will be used to support various local groups, organisations and charities during the coming year. In view of the difficult economic climate and poor weather, this is a tremendous effort and we would like to thank the generous public who kindly donated. We are also particularly grateful for all the help we got from volunteer collectors for their hard work and to Bents, Tesco and ASDA for allowing collections at their stores and Jim Stones buses for storing the Sleigh."
The photo shows baby Sara Patricia who came to see Santa at only 6 days old!
STILL GOING STRONG AFTER 55 YEARS IN ROTARY
Leigh Rotarians were particularly pleased to celebrate Frank Rothwell's 55 years as a member of the Leigh Club at their Christmas Lunch. Club President, Alan Smallshaw presented Frank with a certificate from Donna Wallbank, President of RIBI and a letter of congratulations from the Rotary International President, Mark Maloney.
Frank Rothwell has had a very distinguished life of "Service Above Self", a motto which he often uses and which certainly applies to his life of helping others. Frank served for many years as a JP, has been awarded an MBE and a Paul Harris Sapphire. He is well known in District for his involvement with Rotary Foundation (Rotary's International Charity) and is still as enthusiastic as ever in his support for Foundation.
Frank Rothwell has been involved in many organisations, always holding the most senior posts of Chairman or President and after 55 years in Leigh Rotary is still one of the most regular attenders! His enthusiasm for Rotary has spread through his family with daughter Gillian Bromley, brother Melvyn and Melvyn's son David all active members, all Past Presidents and all having been awarded a Paul Harris Fellowship – what a tremendous Rotary Family, with a total of over 120 years membership!
The photo shows President Alan Smallshaw presenting the certificate to Frank Rothwell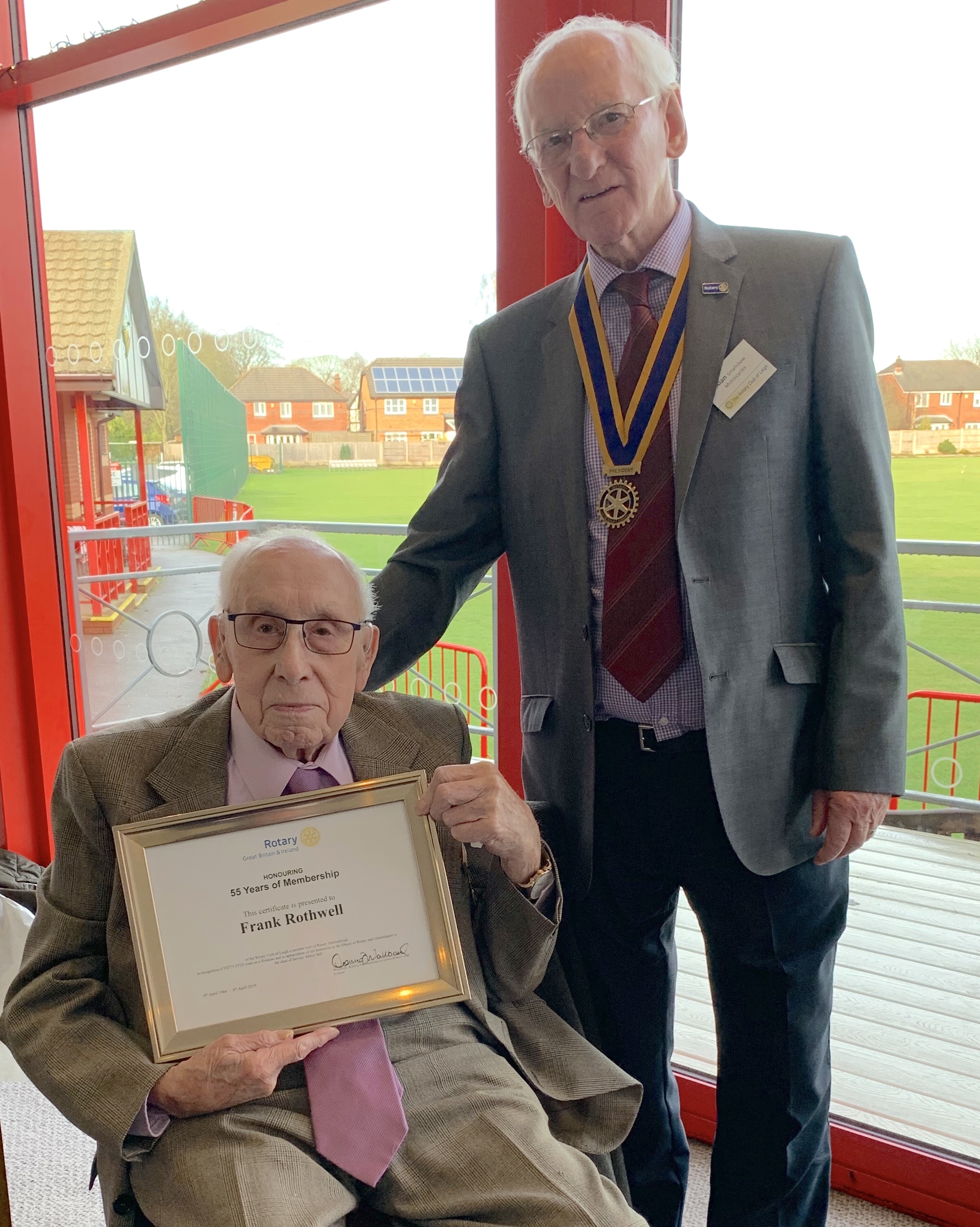 SANTA COMES EARLY IN LEIGH

DECEMBER 2019
Christmas came a bit early for some children who were treated to a Christmas Party by members of Leigh Rotary Club.
Around 40 children partied the afternoon away at Leigh Masonic Hall with fun and games, followed by an afternoon tea of Chicken Nuggets, Chips and Ice Cream. One little boy was asked if he wanted ice cream and said "I don't know – I've never had it!" He was rather surprised to find out that it was cold, but he had a bigger surprise when Father Christmas walked through the door with a big bag of presents for the children to take home.
A number of helpers remarked that the children declared it to be their "best party ever," but for one little girl it was even more special as she said, "It's the only party I've ever been to." That made it all very worthwhile!
The Rotary Club are grateful to the directors of the Masonic Hall for allowing use of their facilities and to caterer "Marks with Splendour" for providing the food.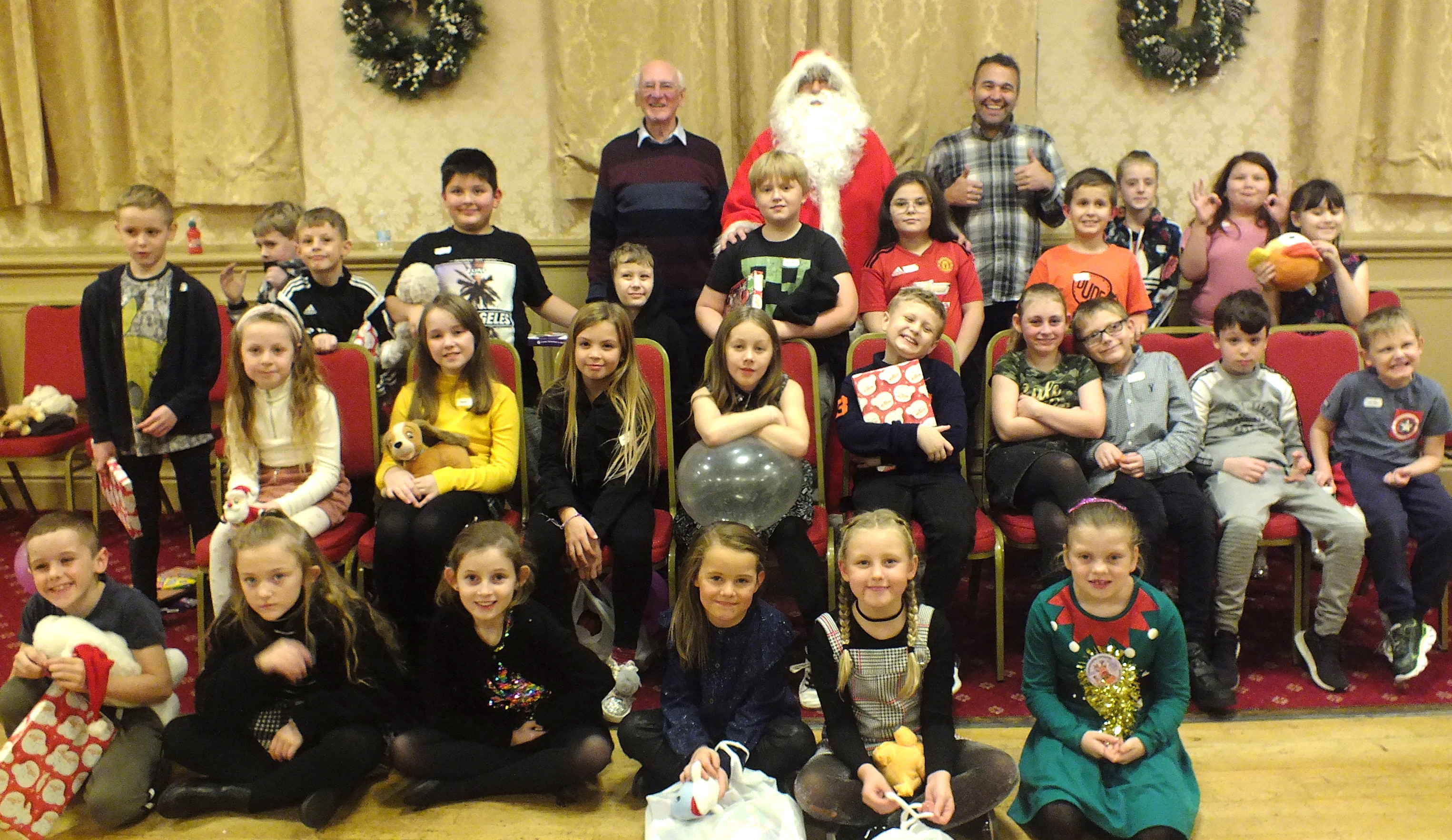 WORLD POLIO DAY – DINNER AT THE RAJ
In conjunction with Newton & District Jubilee Rotary, Leigh Rotary Club organized a dinner to raise money and awareness for World Polio Day on 24th October 2019 at The RAJ restaurant in Culcheth. Past District Governor Stan Bowes spoke to us about the Rotary campaign to rid the world of polio and we heard some new facts about the history of Polio and that the Taliban have recognized the importance of ending Polio by issuing instructions to co-operate with the Rotary campaign. The evening raised £1000 which will be increased to £3000through the Bill & Melisa Gates Foundation. We wish to express our thanks to the owners of The RAJ for their co-operation.
*************************************************
RACE NIGHT FOR DERIAN HOUSE
Our Race Night at Leigh East ARLFC was another successful event, not only raising £1100 but also providing a night of good fun and fellowship. The event was in aid of Derian House Children's Hospice, who have since announced that they beat off competition from more than 50,000 other charities to be named Charity of the Year 2019 at the prestigious "JustGiving Awards". Congratulations to all the hard working staff at Derian House who deserve this well-deserved accolade.
****************************************************************************************
WILLOW PROJECT – ANOTHER DAY, ANOTHER CHEQUE!
Following Leigh Rotary's donation of £5000 in September 2019, Karen Little from the Willow Project was very surprised to be invited to last week's Rotary meeting to receive another cheque. A business associate of one of our members had heard, through our club, about the Willow Project, which supports vulnerable young people in the Leigh area that have various emotional needs. He runs a trust and asked if a donation of £1000 could be made anonymously to Willow, via Leigh Rotary and needless to say, Karen was absolutely delighted with this amazingly kind gesture.

****************************************************************************************
NEW ROTARY MEMBERWe are pleased to welcome our new member, Keith Woodward who joined our club in September 2019. Keith worked in Local Government and will be a valuable member as he already has several years experience as a member of another club where he received the prestigious Paul Harris Fellowship Award.
**********************************************************
WILLOW PROJECT - YOUNG PEOPLE'S COUNSELLING SERVICE
At our lunchtime meeting in September, Karen Little from the Willow Project told us about the Willow Young People's Counselling Service. This project supports vulnerable young people in Leigh and district that have various emotional needs, by giving one to one counselling. They rely on donations to keep the charity open and as the work they do is really needed in our community, the Willow Project has become the main organization that Leigh Rotary are supporting this year. Leigh's President Alan Smallshaw was pleased to present a cheque for £5000 to Karen for this vital work.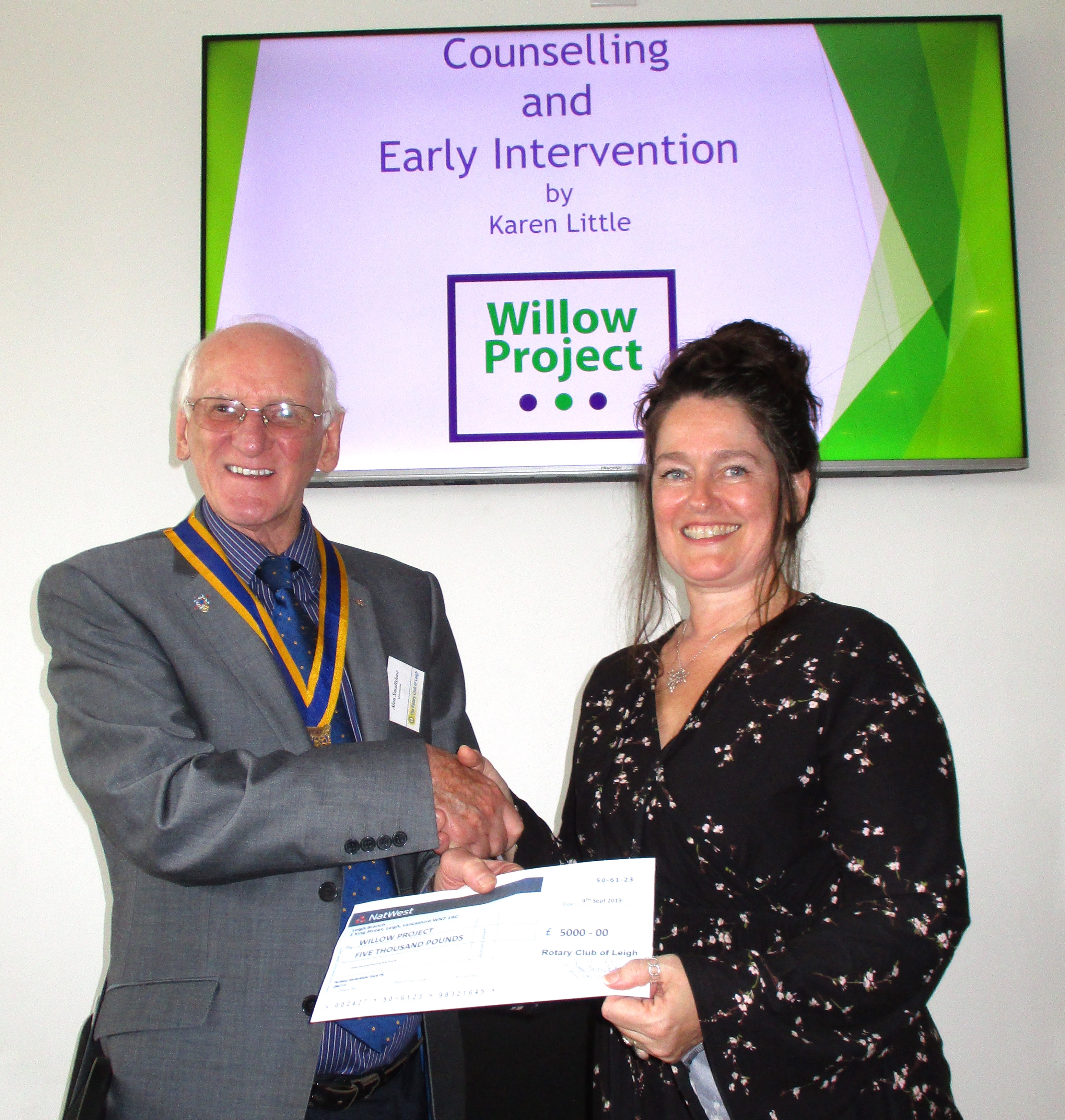 **************************************************************
AQUABOX & SHELTERBOX DISPLAY
In September 2019, we held a display of Aquabox and Shelterbox in the Spinning Gate shopping centre. This gave us the opportunity to show how these Rotary organisations respond to worldwide disasters.
Aquabox started when a Rotarian invented a water filter, which has continually been developed into a portable system turning dirty water to pure drinking water without the need for chemicals. The smallest filters only cost £25 and are usually supplied along with the Aid Box containing Shelter Materials; Tools; Bedding; Cooking Utensils; Baby & Children's Clothing etc. The Aquabox only costs £150.
Shelterbox is another Rotary organization whose teams work with disaster-hit families around the world, offering emergency shelter and other essential items to support them in rebuilding their lives. Each Shelterbox can support a family of 10 with a tent; blankets, cooking utensils; tools etc.
The Rotary Club of Leigh has just funded an Aquabox and a Shelterbox. These are stored in locations around the world, ready for urgent use, so our contributions will fill gaps left by boxes that have just been used.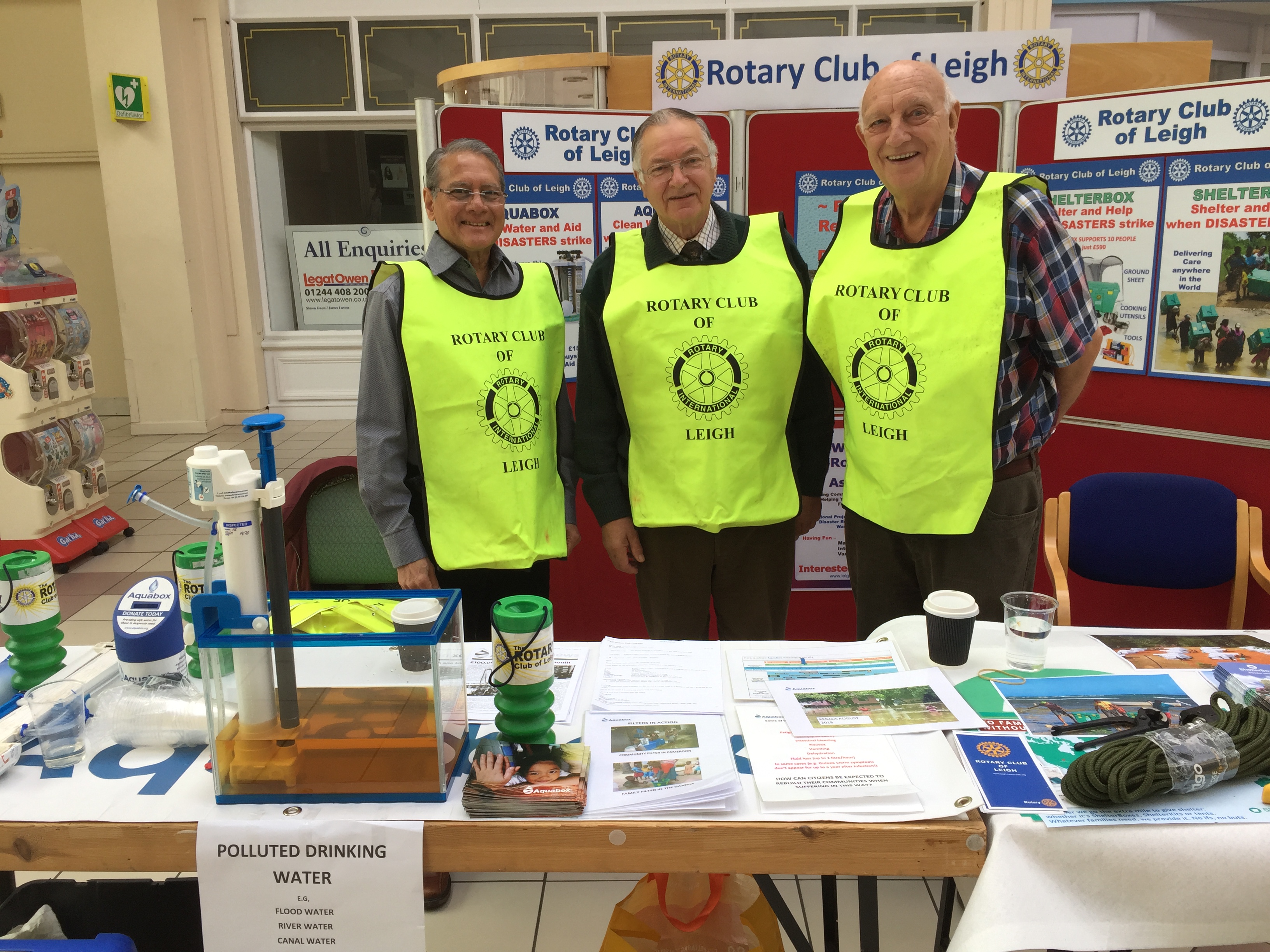 **************************************************************************************
BARRIE BECOMES A NEW AMBASSADOR FOR AQUABOX
Leigh Rotary's Past President, Barrie Coates has taken on an important role as the 18th Ambassador for Rotary Aquabox.
Since its formation in 1992, Aquabox has sent more than 110,000 aid boxes to more than 50 countries around the world, helping hundreds of thousands of people in times of crisis. As well as a water-filtration unit, each Aquabox contains a variety of humanitarian aid items, including cooking utensils, hygiene equipment, tools, shelter materials, baby and children's clothing and educational items.
Aquabox rely entirely on donations and the fundraising activities of their supporters and Barrie will be representing Aquabox to Rotary Clubs and other supporters across the North-West, significantly strengthening the presence of this very important charity, in bringing clean water and aid to anywhere in the world when disasters strike.
As this newsletter was ready to send, Barrie came back from an International Meeting where he agreed to take on the complimentary role as District Rep for SHELTERBOX.
WELL DONE BARRIE!

*********************************************************************
LETTER FROM ROTAKIDS AT LEIGH CENTRAL
Dear Mr Cheesman,
Year 5 would like to thank yourself and the Rotary Club for generously arranging for our trip to Petty Pool today. The children had a wonderful time and had some brilliant opportunities to develop their team building skills, confidence and resilience! It was a shame you weren't able to accompany us, however, we're going to be doing some blogging about the day so I will send you a link. There's also some photo's to go up on twitter this evening.
Thank you again, - Miss Vaughan (and all of Year 5) LEIGH CENTRAL
PHOTO BELOW: - Rotakids at Petty Pool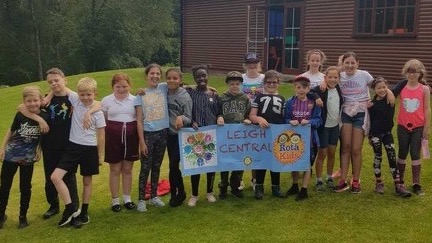 A NEW YEAR – A NEW PRESIDENT for 2019-20
The old year has ended and the new Rotary year began on 1stJuly. Frank Bowker has been Leigh's President 3 times since 2010, the only one to hold that position more than two times. Alan Smallshaw, who joined the club almost 16 years ago, has taken over the role as President, with John Bullough as Vice-President. It is also pleasing to be in a situation where we also have a Second Vice President in Andre Winstanley, assuring continuity of leadership for the next 3 years.
Photo: L to R: V.P. John Bullough; President Alan Smallshaw; Past President Frank Bowker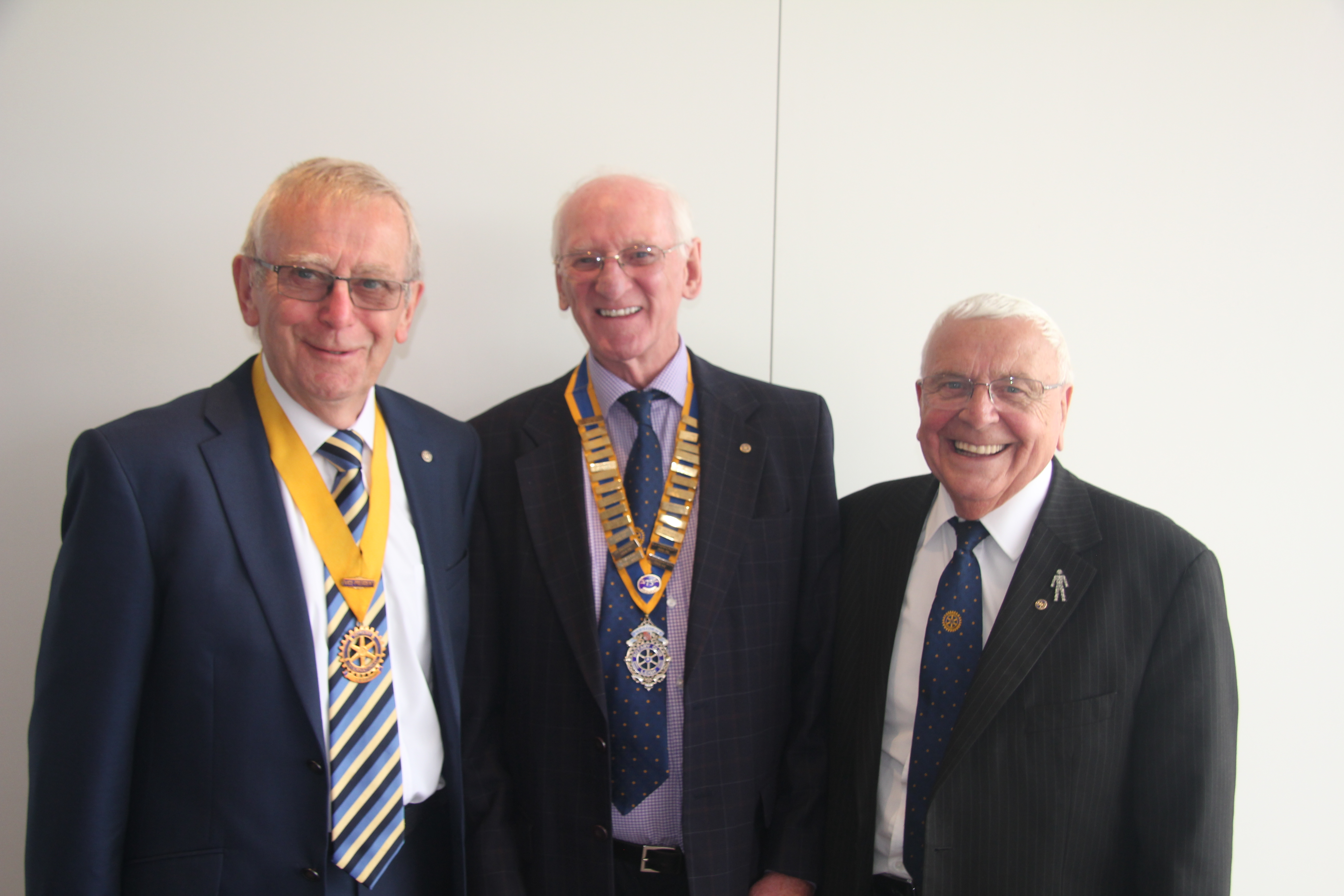 Rotary Helps the NHS
An initiative by Leigh & Wigan Rotary Clubs, the NHS and Wigan Council has been declared a roaring success! Lots of people have found it difficult to return Hospital Equipment after they have finished using it, even when it still looks brand new. That recently changed as Wigan Council established a department that can clean, repair and refurbish Crutches, Zimmer Frames, Perching Stools, Commodes, Wheelchairs and other items.
Following a successful collection of surplus equipment last year, Leigh & Wigan Rotary Clubs staged another event last weekend saving the NHS around £2500.
Following a collection at the Tesco store, Leigh Rotary's President Frank Bowker said, "This was a terrific community project, saving money for the local Hospital Trust. Lots of people turned up with Zimmer and Walking frames, Crutches, Bed Frames and many other items. We were pleased to receive many nice comments about this initiative and would like to thank the general public and Leigh Tesco for their support." In a co-ordinated effort, a similar collection was made by the Wigan Rotary Club at Sunshine House in Wigan.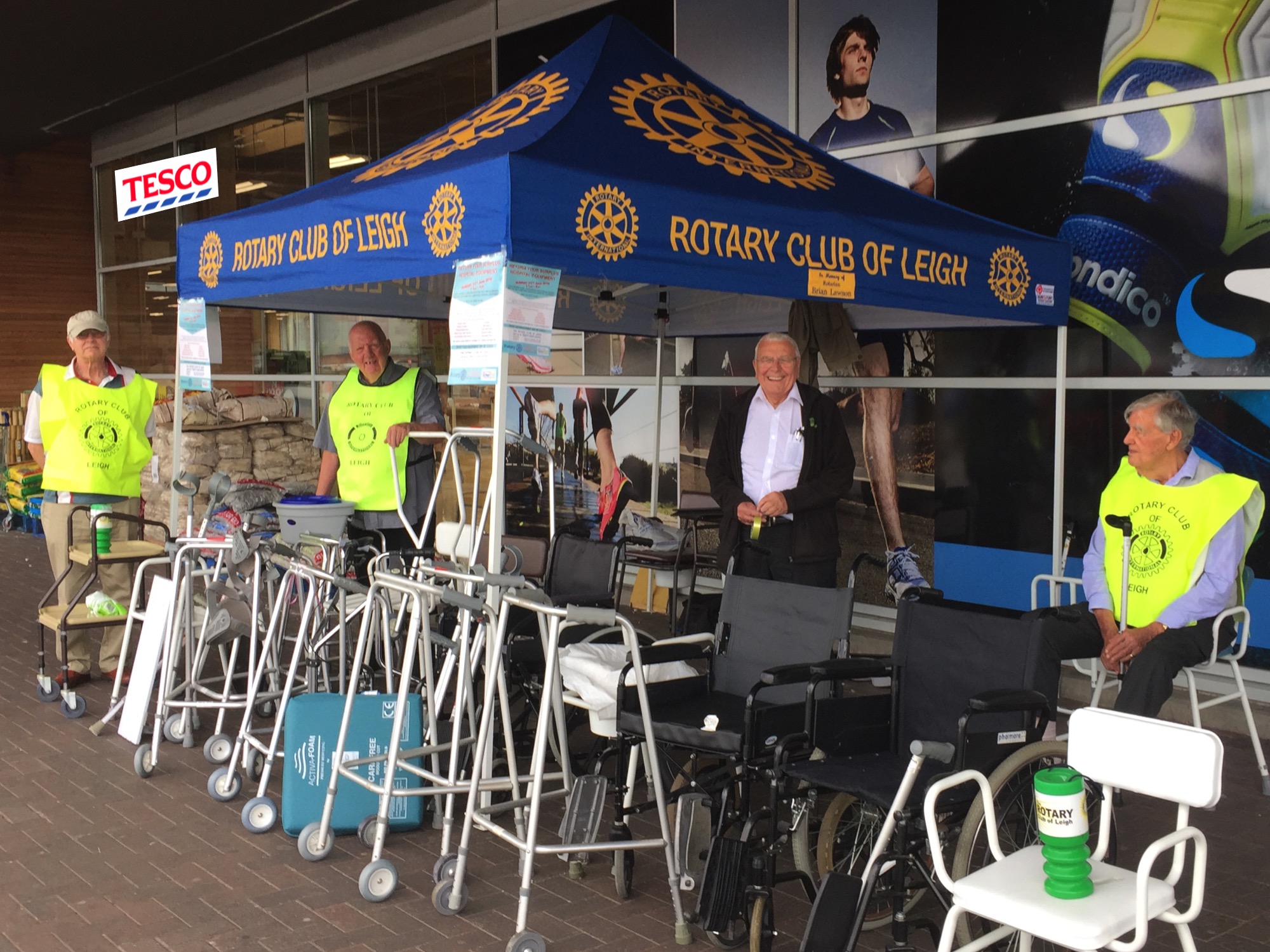 Let the Children Speak
Speaking in public scares the life out of most people, but imagine having to do it when you are under 12 years old to an audience of over a hundred people! That is what youngsters had to face at Leigh Rotary Club's "Let the Children Speak" event.
Ten local schools took part with 26 pupils speaking for 5 minutes on a very wide range of topics of their own choice, ranging from Animals and Sports to very grown-up subjects like Greek Mythology; Ocean Pollution; the Mariana Trench and "Should We Treat Politicians Better?"
Rugby League personality and Rotary member John Stringer acted as MC and after Rotary President Frank Bowker had presented each child with a trophy, he said, "The youngsters who entered this event should be particularly proud, as they had chosen to speak on some difficult subjects, which they presented clearly and kept the audience interested." He then thanked the teaching staff, parents and pupils and the Directors of Leigh Masonic Hall for allowing the use of their facilities.
The participating schools were from the Leigh Excellence Cluster and included Newton West Park, Westleigh Methodists, Leigh C of E, Bickershaw, Sacred Heart, Leigh St Gabriels/ Higher Folds, XII Apostles, Lowton St Mary's, Leigh Central and Leigh St Mary's.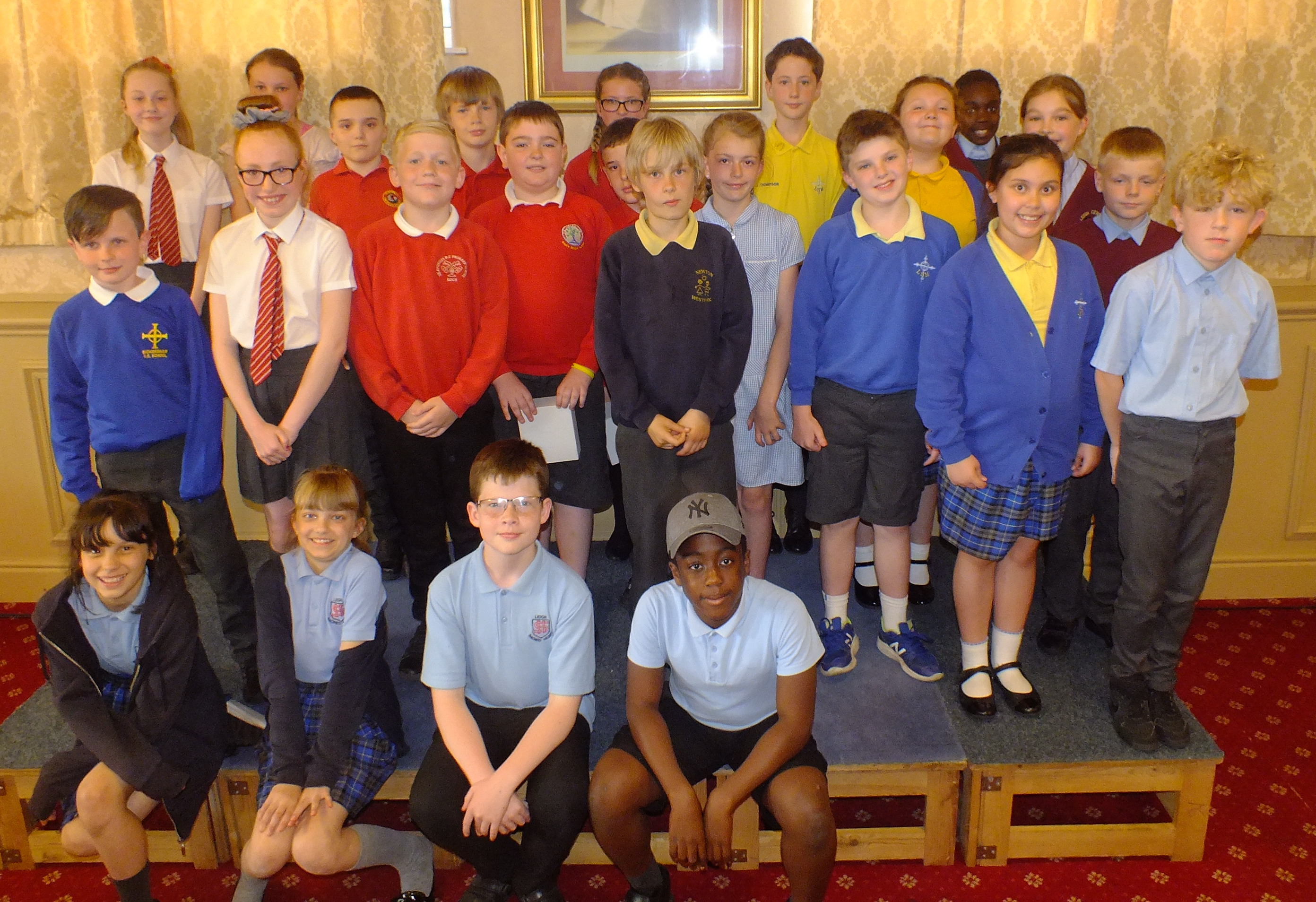 Do you want to join Philip Shepherd in making a difference?
Phil is raising money as a Friend of The Rotary Club of Leigh in aid of True Colours, who provide support for children and adults with autism, learning disabilities and mental health issues from Leigh and District.
Phil is hoping to raise £1,000 to help fund accessible equipment for True Colours, which will help people with autism and learning disabilities to develop and build their independent living skills – and YOU CAN HELP by giving a donation via the funding websitehttps://www.gofundme.com/PhilShepherdLEJOG
Phil will be covering all the costs of our adventure ie. transport, equipment, accommodation, food and drink, etc. Every penny donated to Leigh Rotary Club, plus any Gift Aid reclaimed will go to True Colours.
He says, "My wife, Heather and daughter, Ella will be my support team. However, they will be doing the journey by car, then meeting me at our campsite or B&B at the end of each day. They will be having some lovely days out while I get a sore bottom! Although Heather will contend that her job is just as hard as mine as she will be pitching up and packing up most days!"
Philip says tells of his crazy reasons for doing this ...
"After running/hobbling the Manchester Marathon in 2016, and injuring myself in the process I vowed that my next big challenge would be by bike. 3 years later, and well into my training, I am realising that cycling from one end of the country to the other is going to be just as hard – physically, mentally and logistically! Over 14 days cycling I will be covering over 1,000 miles through England, Wales and Scotland, taking in some amazing scenery and some scary looking hills."
Thank you to everyone who helps with sponsorship by donating to such a worthwhile cause. Further details of True Colours can be found on their website: http://www.truecolourscic.co.uk/our-community/
************************************************************************************
The Rotary Ride Against Prostate Cancer ~ June 2019
The annual Rotary Bike Ride was held in June in aid of Prostate Cancer UK. The party consisted of riders from the Rotary Clubs of Astley and Leigh, as well as prospective members and guests. The 21 riders enjoyed the 10 miles return ride, across Chat Moss, from the Lancashire Mining Museum at Astley Green, to Irlam Railway Station for a leisurely refreshments stop before returning to the Museum just as the rain started. David Jones and family took part along with Roy Edmondson and raised £280 plus Gift Aid for this worthwhile charity.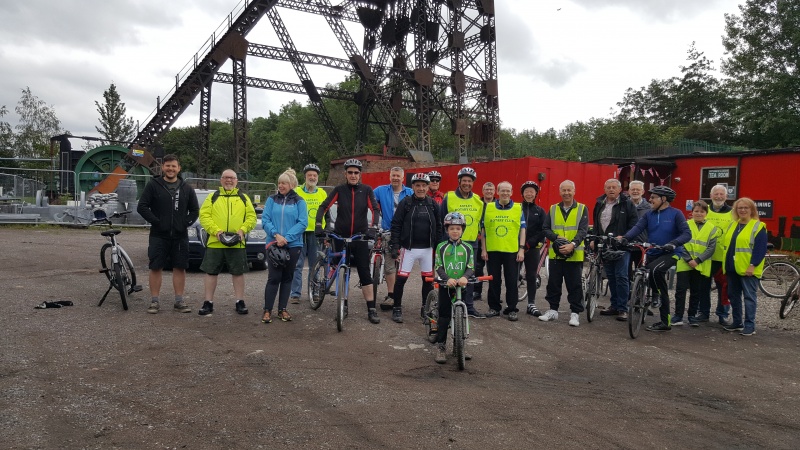 ROTARYS 'END POLIO NOW' CAMPAIGN
The Polio eradication programme in Pakistan was in the news for all the wrong reasons. On 22nd April 2019 a hospital in Peshawar was set on fire after children allegedly fell ill after being vaccinated. Then two police officers guarding inoculation staff were killed and on 25th a polio worker was killed, bringing to 90 the number of polio helpers killed since 2012 in Pakistan – all through ignorance and mis-information. Operations have now been suspended for Ramadan and the government has urged Facebook to remove harmful polio related messages which are hindering the campaign, particularly those alleging loss of fertility. This year there have been 18 cases of wild polio in Pakistan and Afghanistan, and 9 vaccine derived cases in Nigeria, DRC and Somalia. Please support 2 Rotary events – in October we intend to have a presentation at a restaurant in Culcheth and next February we will have a bike ride and collection in Tesco.
We need to work even harder to succeed totally.
The world cannot afford to lose the war on polio
.
*******************************************************************************************