To make a donation to
Ramsbottom Pantry

, use the QR reader, thanks.

All monies raised will go to the Ramsbottom Pantry.
To donate to

Ramsbottom Pantry

use the QR reader thanks.


Welcome to the Lockdown
If you need any help please ask, if we cant help its possible we may know someone who can.

If you would like to contact us please email ramsbottomrotary@gmail.com
If you need deliveries and cannot get a slot from a supermarket, Park Farm, The Eagle & Child and Bradley Fold Garden Centre Butchers Dept is also delivering, I can recommend all three. If you know more in and around Ramsbottom please get in touch.


Would you like to make a donation to the:

NHS COVID 19 FUND?
You can make a donation by clicking this link:
Thank you for your donation


AWR Bury ***** Meals on Alloy Wheels ***** AWR Bury

AWR Bury and the catering team at Walshaw Sports Club

are teaming up to provide meals in our local area for the most vulnerable members of our community.


Meals for the most vulnerable people will be free of charge, others will be subject to a charitable donation of £4 per meal.
Please call Christine 07544 941396 Pam 07563 989590 *****
For further information click:
http://www.alloywheelsbury.co.uk/

Would you like to make a donation to:
AWR - MEALS FOR THE NEEDY IN BURY
You can make a donation by clicking this link:
Thank you for your donation



CAN YOU SEW SCRUBS?
THERE'S A SHORTAGE
Stitch Studio is working with a local group of Scrub Hub Volunteers sewing from home providing the NHS with essential Scrubs and other vital P.P.E. CAN YOU HELP?
Stitch is sewing for a local Scrub Hub Group covering Bury, Ramsbottom, Oldham and Rochdale providing local hospitals and care workers with essential kit.

Can you help?
Could you make a donation towards fabric and materials for us to keep sewing until the shortage is under control?
For more informatioin goto www.gofundme.com/f/scrubs-hub-bury-oldham-
Monies go to RAMSBOTTOM ROTARY and every penny goes to the girls to continue their good work.
Please make a donation to:
You can make a donation by clicking this link:
Thank you for your donation

Our Annual Duck Race will be held on a Sunday sometime. If and when this virus decides to go away we will be back fundraiing.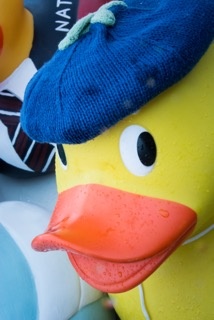 Kiddies Rides, Stalls, Catering Van, Bar, and our Duck Races, and all this during normally held along with the1940s weekend. What a great day usually, if you missed it, we all missed it this year. it will be held at the same time next year. We hope!!!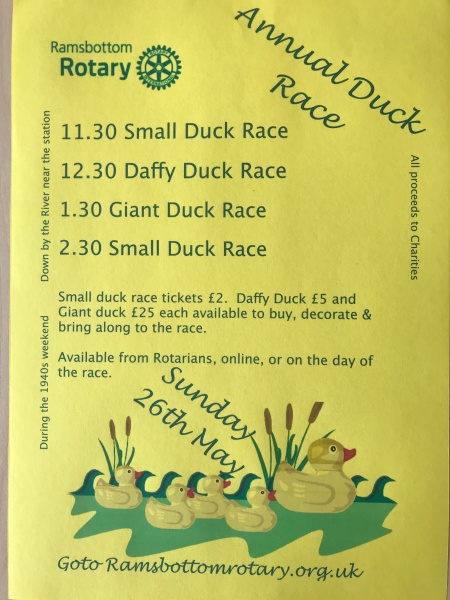 The Ramsbottom Rotary Club Annual Duck Race

On a Sunday sometime in the future.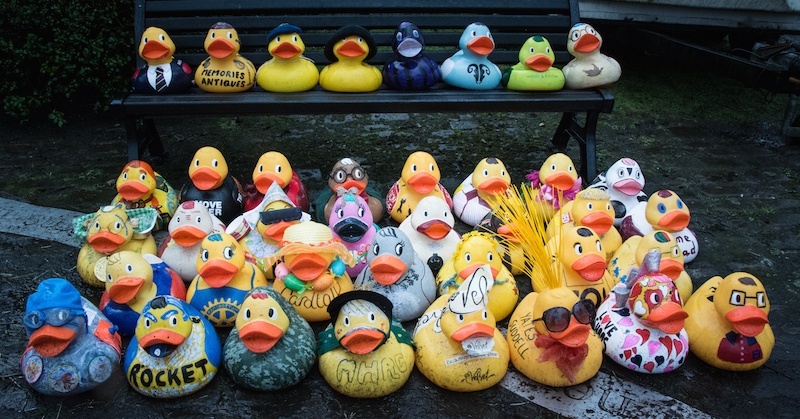 Would you like to help our Rotary in Ramsbottom

We are always looking for people who would like to help or join,You can join as a full member, or an associate member or a corporate member. Full member is in a nutshell you commit to taking part in activities. However this is your choice, you do as little or as much as you wish. We meet & dine every week, but again you only attend when you want, you only dine when you want, there are no rules, you give your time to Rotary as you wish. Associate member is a trial period were you dont commit to full membership. Corporate membership is for a company which would like to be involved in charity work. We are the obviuos choice for companies in and around Ramsbottom. And finally you can be a Friend of Rotary, you help us when you have the time & the inclination.
We need help with IT, with this website, with social media and with publicity. If you have an hour to spare please get in touch. Please email us at Ramsbottomrotary@gmail.com.
We currently have committees, which meet once a month, these are Fundraising, International, Comm Voc and Social. Yes we do have socials, we have days out, we dine out, we go to the pub, we have a good time and have enjoy what we do.
Ramsbottom Rotary are a group of people, twenty members at the moment, we meet, discuss, plan and then hopefully raise funds and improve the lives of others. Our club is one of four in the District of Bury. There are 3 others, Bury, Radcliffe and Tottington & Bury West.
Rotary membership is changing, there are no obligations any more, do as little or as much as you wish. One thing for sure you will make new friends, you will be able to do things or organise things. There is lots going on in Rotary.
Its world wide, Rotary is a world wide organisation. Thousands of Rorary Clubs around the world. The possibilities are endless if you wish to progress to somethng more than your local club.



The final was cancelled due to the Coronavirus.

Young Chef Cookery Competiton 2019The District Final is being held on Thursday 28th 2019

Congratualtions to Amelia, coming in third place in the Regional Finals, which means Amelia is in the top twenty or so of the Young Chefs in the country.

Young Chefs at Woodhey
We have recently completed a record breaking 120 entrants taking part this year. Claire Gallie Head of Food Technology was amazed at the number of pupils taking part, said it's a wonderful experience which Rotary bring to Woodhey High school.
Mrs Claire Gallie, the Head of Food Technology, said the interest is growing year on year, pupils are showing a greater interest in food and cooking, the quality and variety is outstanding for year nine pupils. The entrants had to choose a two course healthy meal for two people, provide their own recipes & ingredients, cook and present the food on their table all in one and half hours.



"Double the Love" & provide "Bags of Love" for Mary's Meals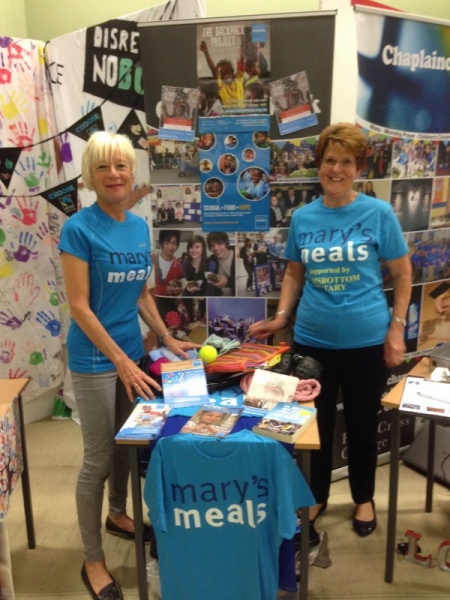 The story begins in 2002, in a lopsided shed in the Scottish Highlands, where Magnus MacFarlane-Barrow started a small charity which grew into a massive organisation helping millions of children fulfil the simple ambition of "having enough food to eat & be able to go to school".
Mary's Meals now feeds a nutritious meal to more than 1.25 million children every school day in 13 of the poorest parts of the world, including India, Thailand, Burma, Lebanon, Haiti, Ecuador and 7 African countries. Wherever possible the meal is made using local ingredients produced by small-holder farmers, thereby supporting the local community. Being educated and fed enables children to lift themselves, their families and their communities out of poverty.
Between now and the 31st December every donation to Mary's Meal's "Double the Love" appeal will be matched by a supporter-led match-funding campaign (up to £1.9 million), so for every £13.90 donated two children will be fed and educated for a whole school year, the very best present you could give. Go to www.marysmeals.org.uk to make some hungry children in the world very happy.
Many children receiving Mary's Meals do not have basic learning tools such as pencils & notepads. The Backpack Project helps the children get the most out of their learning by donating a backpack full of the things they need. For many children, a Mary's Meals backpack will be the first gift they have ever received.
Janice & Hilary began their "Bags of Love" project this summer under the Rotary Ramsbottom umbrella, and have been asking schools and organisations to provide backpack items, new or good condition pre-owned. We have 65 completed backpacks ready for collection by Mary's Meals and many more which are almost complete. It's a great way to recycle school bags, uniforms, sandals, PE kits, towels and spoons. Other items required include A4 lined and unlined notepads, pens, pencils, coloured pencils, sharpeners, erasers, pencil cases, rulers, soap, toothbrushes and toothpaste. They would really appreciate it if you or any school, organisation or club you know could contribute. Financial donations are also very gratefully received to purchase those "hard-to-come-by" items such as sandals and boys' shorts. A brief presentation for younger children or a more detailed one for those interested in the fuller benefits of the project can be given. Current participants include Holcolme Brook Primary School, 38th Rossendale (Open) Scouts, Speakeasy, Holy Cross College, Ramsbottom Rotary, family and friends.
Janice & Hilary are delighted at the enormous response and good-will they have encountered and know that the smiles on the faces of the children participating will be multiplied many times on those receiving these "Bags of Love". If anyone wants to help with this worthwhile project, has items to donate, or is part of a group which may want to get involved, please contact Ramsbottomrotary@gmail.com