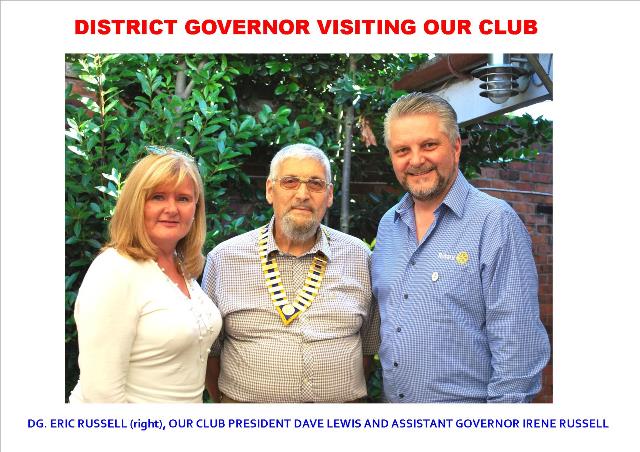 District Governor, Rtn. Eric Russell, visited the club on 13th July and was accompanied by Assistant Governor, Rtn. Irene Russell. Eric has agreed to extend his period of office by a further year due to the untimely death of Rtn Tony Maddocks who was President-elect.
He began by mentioning the new RI President, Rtn. Jennifer Jones who, he said, was a very good communicator as well as being forward thinking and energetic, but also very down-to-earth. The Vive President is Rtn. Nicky Scott and the President-elect Rtn. Gordon McInally. The presidential theme is Imagine Rotary but there are some sub-themes which are carry-overs from last year to give some continuity.
Eric commented on the picture, coming out of the pandemic, regarding volunteering. He said it was definitely changing and gave examples from his work with the Warrington hospice where he said the number of volunteers was smaller, they were younger and they won't commit for long periods. In this climate, Rotary will need to change to cope. People may come along to help with a project without being involved long-term.
The biggest competition, he said, was Netflix – people are staying at home and watching films. It is therefore important for Rotarians to be seen in the community and to publicise their activities. He said it was also about collaboration with other clubs and other groups and gave a local example.
He went on to explain how Rotary had moved very quickly to help with the situation in Ukraine when the war began. £200,000 had been raised in the district and over £4M in the UK. There is a Rotary global fund ($13.2M) and districts can apply. D1285 made an application for $25,000 and it was paid within a few days and has been used to support Ukrainians living in the area. Other Rotary projects, in Ukraine, are on-going.
The District Conference, a full-day event, will be held on 22nd October in Manchester. There will be a meal packaging event for Ukraine.
Our club's meal pack event for Rise Against Hunger has been on hold for some time. Eric said that there is lots of support in the cluster to help get it off the ground. The need for food is greater than ever with shortages caused by the conflict in Ukraine. He said that he had spoken to other District Governors with the idea of each district doing a meal pack during the Rotary year with the target of a total of 1 million meals.
President Dave thanked Eric for attending and wished him well during the Rotary year.
Rtn. John Higgins (Publicity Officer)
Global Scholar
Explains the vision and mission of Rotary International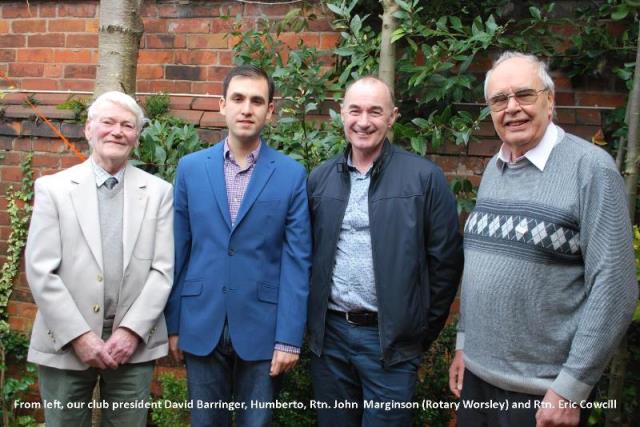 Our guest at the lunchtime meeting on 9th March was Humberto Alejandro Garza Pequeno, a Rotary Global Grant Scholar, sponsored by the Rotary Club of Laredo, South Texas, USA. He was accompanied by John Marginson of the Rotary Club of Worsley.
Humberto said he was born in 1997 in Laredo, Texas, on the border with Mexico, but raised in Nuevo Laredo, Mexico. His first language is Spanish. Laredo, Texas is the most Hispanic city in the US and the busiest border crossing in the US.
He said that he gained his BSc degree in Nursing in 2019 at Texas A&M University and in May 2020 became a Cardiorespiratory Registered Nurse.
Laredo was the most Covid-affected city in the US and he said he was working a six-day week due to excessive hospitalisations. He became a travel nurse with experience in helping areas in crisis.
At the University of Salford School of Health and Society, Manchester, Humberto is studying for an MSC in Advanced Nursing and Health with a speciality in diabetic care. Diabetes is a big problem in Laredo. He said he was impressed by the facilities and expertise of the staff at Salford and explained that most of his studies are taken up with research.
After graduation he plans to work in public and private institutions to promote diabetes awareness and implement prevention methods to reduce the risk and prevalence of DM (diabetes mellitus) across Hispanics in South Texas.
Humberto explained that Rotary awarded 1359 Global Grants in 2020/21 totalling $95.6M 55% of the grants were given under the area of "fighting disease".
He spoke of Rotary's vision and mission to create lasting change and ended his presentation, before answering questions, with a slide which said "Thank you for changing lives, Rotary."
Rtn. John Higgins (Club Correspondent)


Click
here
for Meal packaging experience
activities
r club Newsletter "Crosstalk"
b programme for next 30 days