Global Scholar
Explains the vision and mission of Rotary International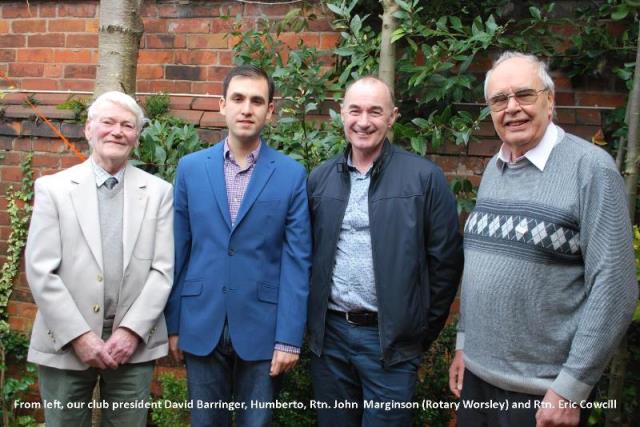 Our guest at the lunchtime meeting on 9th March was Humberto Alejandro Garza Pequeno, a Rotary Global Grant Scholar, sponsored by the Rotary Club of Laredo, South Texas, USA. He was accompanied by John Marginson of the Rotary Club of Worsley.
Humberto said he was born in 1997 in Laredo, Texas, on the border with Mexico, but raised in Nuevo Laredo, Mexico. His first language is Spanish. Laredo, Texas is the most Hispanic city in the US and the busiest border crossing in the US.
He said that he gained his BSc degree in Nursing in 2019 at Texas A&M University and in May 2020 became a Cardiorespiratory Registered Nurse.
Laredo was the most Covid-affected city in the US and he said he was working a six-day week due to excessive hospitalisations. He became a travel nurse with experience in helping areas in crisis.
At the University of Salford School of Health and Society, Manchester, Humberto is studying for an MSC in Advanced Nursing and Health with a speciality in diabetic care. Diabetes is a big problem in Laredo. He said he was impressed by the facilities and expertise of the staff at Salford and explained that most of his studies are taken up with research.
After graduation he plans to work in public and private institutions to promote diabetes awareness and implement prevention methods to reduce the risk and prevalence of DM (diabetes mellitus) across Hispanics in South Texas.
Humberto explained that Rotary awarded 1359 Global Grants in 2020/21 totalling $95.6M 55% of the grants were given under the area of "fighting disease".
He spoke of Rotary's vision and mission to create lasting change and ended his presentation, before answering questions, with a slide which said "Thank you for changing lives, Rotary."
Rtn. John Higgins (Club Correspondent)


Click
here
for Meal packaging experience
activities
r club Newsletter "Crosstalk"
b programme for next 30 days