King's Lynn Priory Rotary Club (Club 1180)
We welcome new members to either our main club or the satellite club
We are a friendly and active club with a wide range of community and fundraising projects and a full social programme. We support many local charities, and typically raise over £20,000 per year through annual events such as our Rotary Swimarathon, our Easter Egg Trail on the Sandringham Estate, and providing marshals for the Great East Anglia Run (GEAR) and Run Sandringham events.
We also participate in Rotary International projects such as End Polio Now, ShelterBox disaster relief, and Lend with Care which helps to start up sustainable businesses in poor countries. We meet regularly at King's Lynn Golf Club, usually for a two course meal or buffet, where we plan our events or listen to speakers on a wide variety of topics.
Our satellite club is aimed at those who are not able or ready to commit to full membership of the club. For more on the satellite club click here.
For more information, see our "What We Do" pages from the menu above.
We meet regularly at King's Lynn Golf Club, but we also provide the option to join the meetings by Zoom for members and guests who may not feel able to join us in person.
If you would like to attend one of our meetings or are interested in joining the club please contact us here.
LATEST NEWS

Silver Mondays November Press Report

Priory Rotary held their first Silver Mondays Cinema Club at the Corn Exchange cinema on Monday. Attendance was very encouraging, with 56 people turning up to watch Emma Thompson in the newly released film, Matilda the Musical.

This is planned to be a monthly social event for older people in the community, with tea/coffee and biscuits before the film starts providing an excellent opportunity for socialising.




President of the Rotary Club, Jonathan Holmes, said "What we are trying to do is offer a friendship group for older people of a similar age to meet more regularly. We are very pleased with the response from the film goers, several of whom have already booked for the next event".




The next Silver Monday will be on January 30th, with the choice of film yet to be announced. Thereafter, the Cinema Club will take place on the last Monday of each month. Priced at just £3, this is excellent value for money. People are encouraged to book in advance by contacting Bharti Patel on 07375 375404 or emailing bharti.patel@west-norfolk.gov.




Pictured (L – R): Rob Colwell, Ken Banks, Mark Collins with members of the Food Bank team.
In a joint venture between King's Lynn's Priory Rotary Club and its Satellite Club, a large consignment of Christmas items has been delivered to King's Lynn's Food Bank on the South Quay. Spearheaded by Satellite Club member, Rob Colwell, it followed an earlier donation of over 100 blankets to help people keep warm as they faced falling temperatures and rising fuel prices. Mark Collins, Satellite Club leader said: "With support from some of the local supermarkets we were able to provide enough to make up 50 packs containing everything from sage and onion stuffing to Christmas puddings and mince pies. We hope these will help make Christmas a bit more special for those who are finding it hard to pay for essential items, let alone anything extra."
Ken Banks has been co-ordinating weekly deliveries of food to King's Lynn's Night Shelter too and members of both clubs will be donating seasonal food items nearer the big day to provide some festive cheer to residents who will be spending time at the shelter over Christmas.
Ken said: "We recognise that the period after Christmas is going to be particularly challenging for those struggling in these hard economic times and Priory Rotary have already set-aside some further funds to support both the Food Bank and Night Shelter in the New Year."
To find out more about the Priory Rotary and Satellite Clubs and how to get involved with projects such as this please visit their website at:https://www.rotary-ribi.org/clubs/homepage.php?ClubID=483
To find out more about the Satellite Club, please contact:
Mark (Collins), Satellite Club Leader Email: markjcollins@talktalk.net or
David (Mills), Deputy Satellite Leader Email: davella02@gmail.com Tel: 07985 945095
...AND LATEST NEWS ABOUT HELP FOR UKRAINE.....
At a collection in the town centre at the beginning of March, Rotarians from King's Lynn Priory were able to collect a massive £5,000 for the Ukraine relief fund from a very supportive public. Subsequently, a further £1,200 was forthcoming in Gift Aid, and this was given to the Hanseatic Union, who are helping supply the needs of Ukrainian refugees who have settled in Lynn.

Receiving the cheque, Julie Chaplin, from the Hanseatic Union, said "We have been working with the Ukrainian refugees ever since the very first people arrived in Lynn. An initiative of the West Norfolk Borough Council was to set up a welcome centre at the council offices, and we have been manning that space on behalf of the council since March. We have seen all kinds of hardship and distress, but also now signs that people are relaxing slightly, starting to settle and feel more at home in our area. Part of this process has been moving into properties that they are renting privately. The money from the Priory Rotarians will go a long way towards helping families set up homes. In the absence of their own families, we have been able to source second hand furniture and household goods, to help make their properties into homes. These lovely people did not choose to come here, they were forced to leave their own homes because of the war, and this donation, plus other gifts from the Rotarians, will help us take a small step to building a life in our local communities."

Pictured are Priory President Jonathan Holmes and International Committee member Ken Johnson handing the cheque to Julie Chaplin and Jurate Smulkiene of the Hanseatic Union.
Priory Rotary have separately also donated £250 to the iCafe, which was re-started in April by Andy Moyles of the Gateway Church with the aim of helping refugees and other migrants to meet up, make friends and learn conversational English. Andy said "The first week we welcomed 12 guests, who were Ukrainian refugees. The weekly café has since grown to 30 guests and so we now run it twice on Tuesday mornings and afternoons in 90 min sessions. We are planning a Christmas Party on Tuesday 20th December for about 30 adults and a similar number of children. This donation from Priory Rotary will be a great help with the costs of catering and gifts for the children."

Our Satellite Group receives grateful thanks from Little Discoverers.....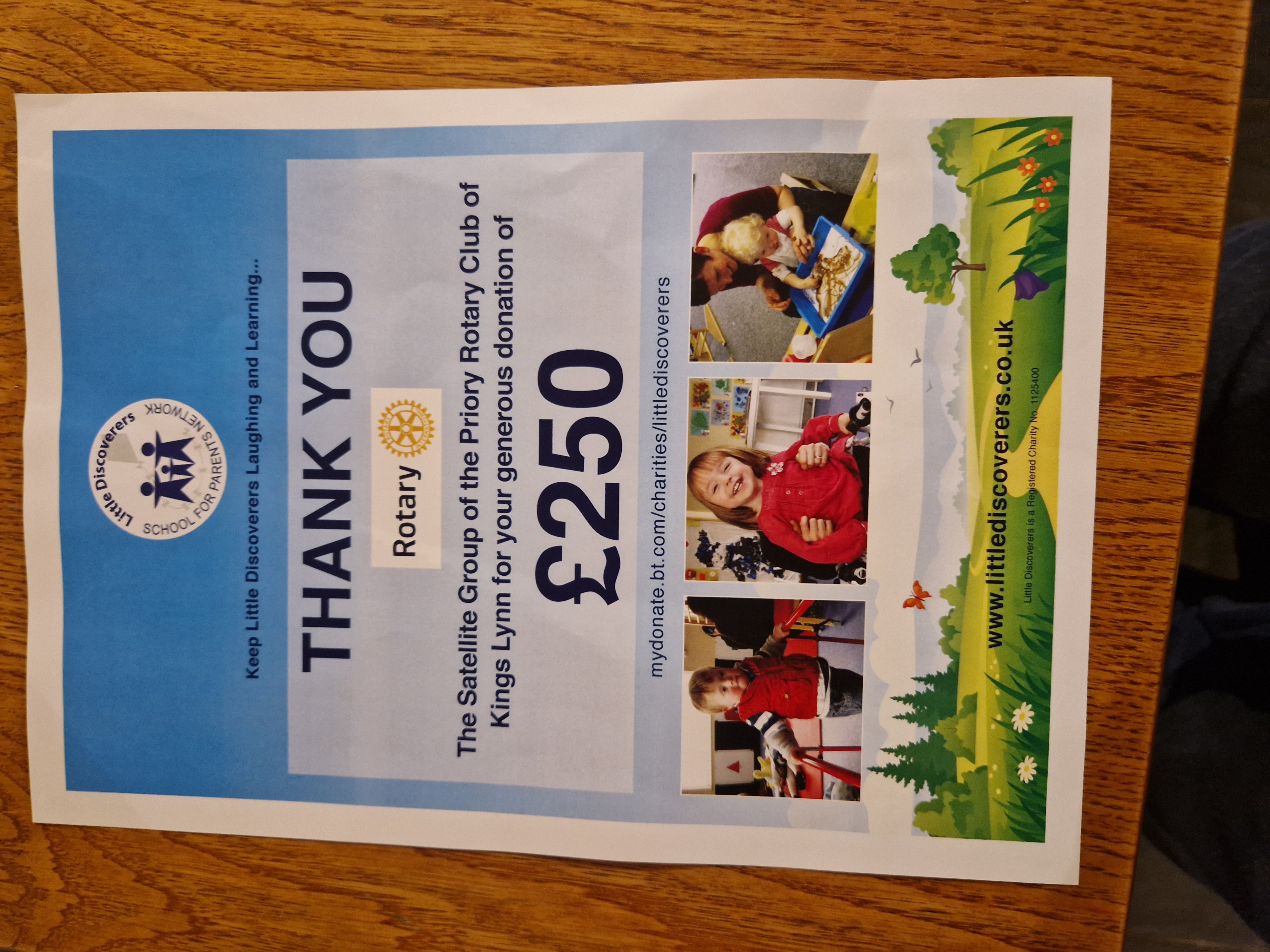 Kings Lynn Priory have been supporting food aid distribution to Sri Lanka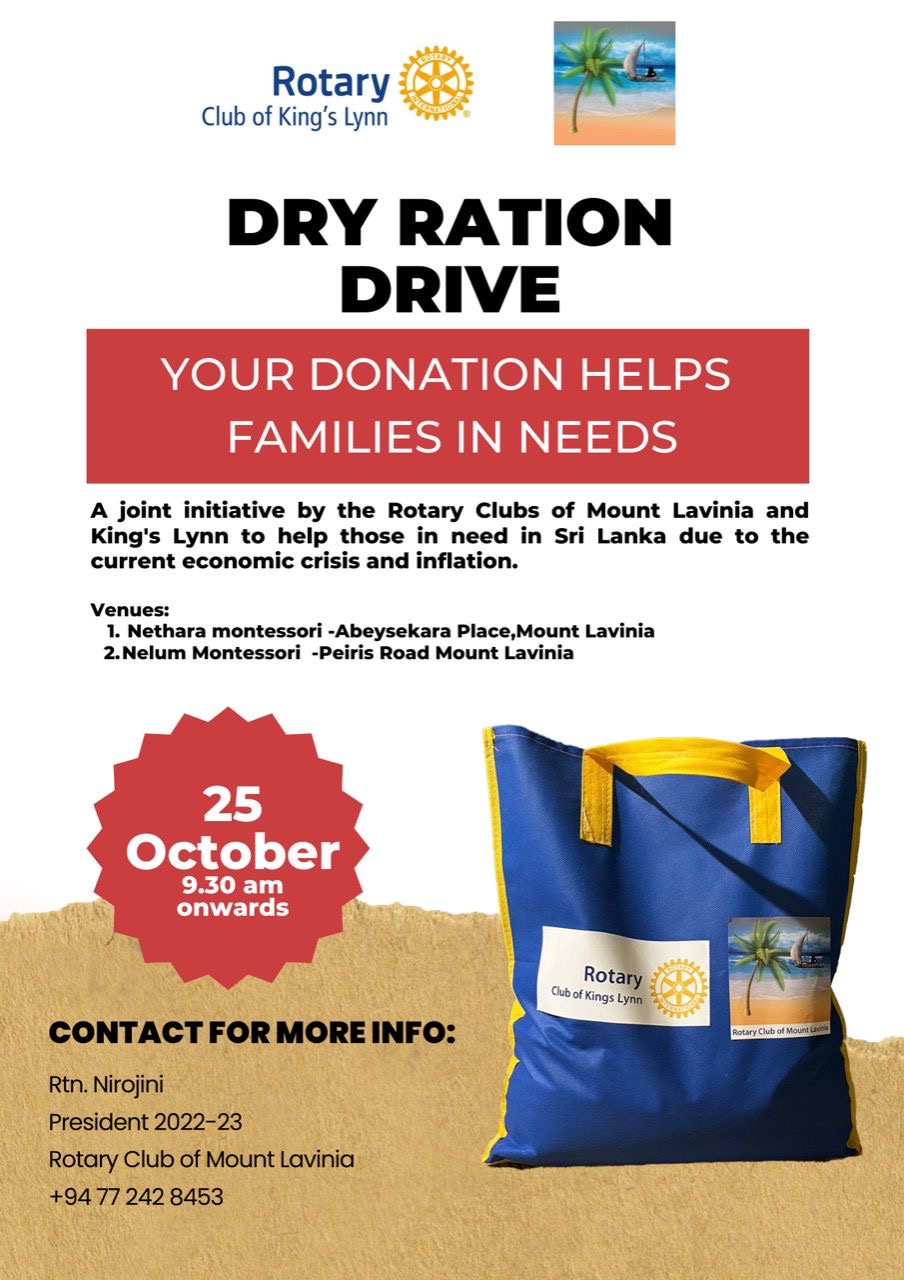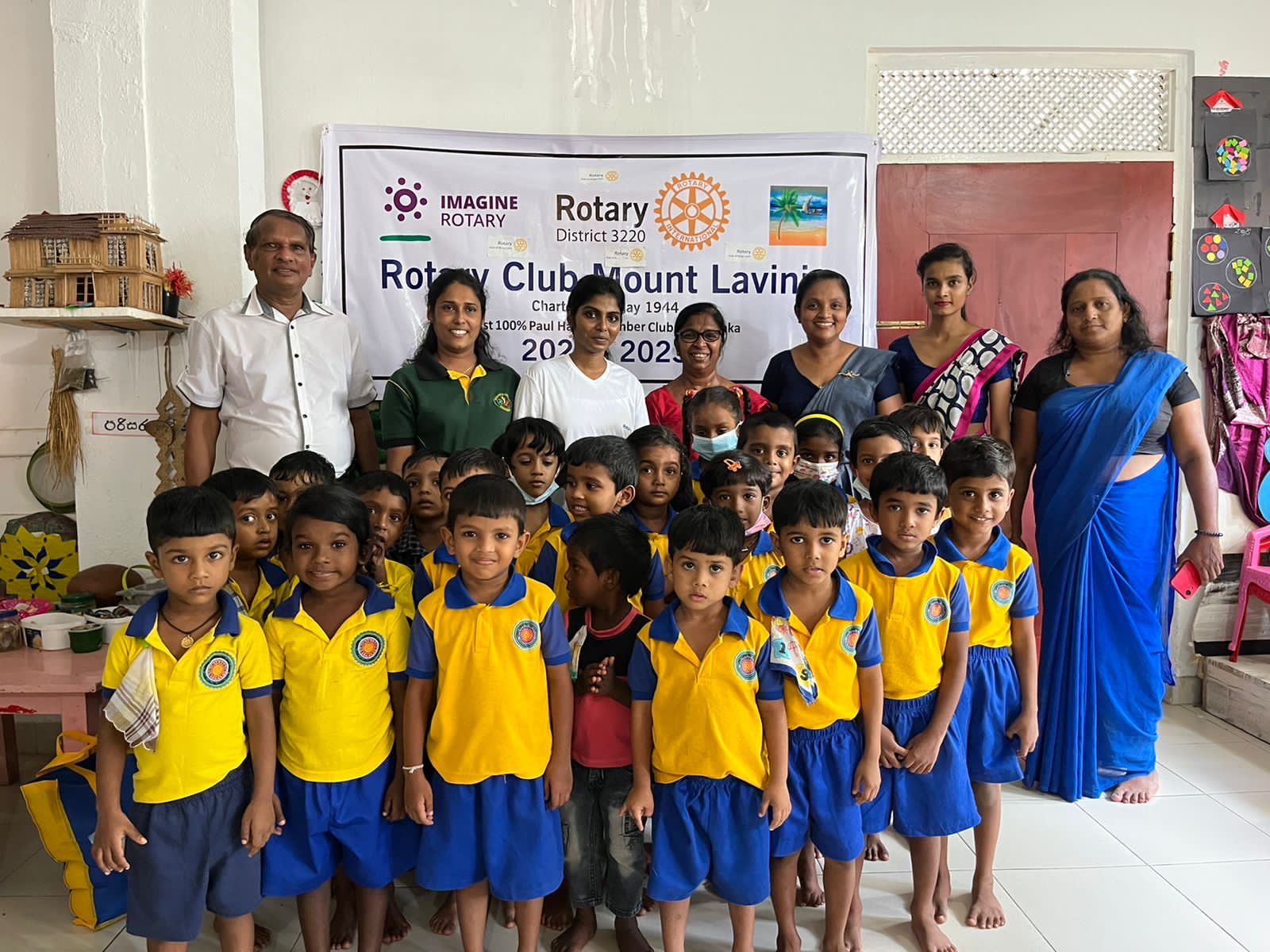 Local members of King's Lynn Priory Rotary Satellite Group have come to the aid of King's Lynn Food Bank, who were concerned about vulnerable service users worried about keeping warm this winter, following the increases in energy costs to heat homes. The cost-of-living crisis and war in Ukraine is impacting so many, but the concern is that with colder temperatures, the most vulnerable in society will struggle the most.
Satellite group leader Mark Collins said "as a Rotary group we have donated to the Food Bank before, but when we heard of the possible need for brand new blankets this winter, we decided to try and make it happen. With colder weather expected in the coming weeks we knew we had to act fast. We are grateful to our main Priory Rotary club for matching the funding we secured to help as many people in King's Lynn as possible".
Rotary member Rob Colwell added, "We set ourselves an aim of over 100 blankets and I would like to thank Wilkinsons in the town for generously donating from their 'community fund', for us to obtain a further 12 blankets towards the goal. I have also donated money from my councillor allowance, as my charity of the month".

Helen Gilbert, Project Manager of King's Lynn Food Bank said, "During the first week in November we have seen a 67% increase in the number of people coming to us for help, in comparison to the same week in 2021. Without the generous support of the local community, the Foodbank would not be able to support so many people in need. We are very thankful to the Rotary Club and to Wilkinsons for their donation of blankets which will help so many who are struggling as the weather is turning colder now. "

Priory Rotary Satellite Group meets just once a month on a Monday evening for a drink and informal chat about how we can help local people. With the group looking to expand, for more information please contact: markjcollins@talktalk.net
Monday October 24th was World Polio Day, and several members of Priory Rotary, along with friends and partners, joined together in a walk as part of the International Rotary campaign aimed at eradicating polio worldwide. Victims of polio frequently suffer paralysis and muscle wasting, requiring them to wear callipers to walk or even confining them to a wheelchair. To show solidarity with polio sufferers, Rotarians across Britain marked World Polio Day in many ways, including walks, to raise money and awareness of this preventable disease. The Priory Rotary End Polio Now Walk started and finished at West Norfolk Rugby Club in North Wootton, with a stop for tea or coffee and cake at Castle Rising. 20 people took part, and when all the donations were collected the event raised £600. This total will be tripled by the Bill and Melinda Gates Foundation, making a grand total of £1,800.
A global campaign of vaccinations spearheaded by Rotary has almost wiped out polio, with an estimated 16 million people walking today who would otherwise have been paralysed by this virus. The task now is to eradicate the last 0.1% of cases. There are still small pockets remaining in hard-to-reach communities such as Pakistan and Afghanistan, and the current situation in Ukraine is preventing new-born babies there being given preventative vaccines including polio. So it is all the more important that Rotary continues to push hard to achieve the ultimate goal of eradicating polio for ever.
Picture shows the walkers about to set off from the rugby club, along with Dr Peter Tasker, chairman of the International Committee, with Rotary End Polio Now balloons and Ollie, Priory's well-travelled polio bear.
Contact - Phil Davies on 01553 631663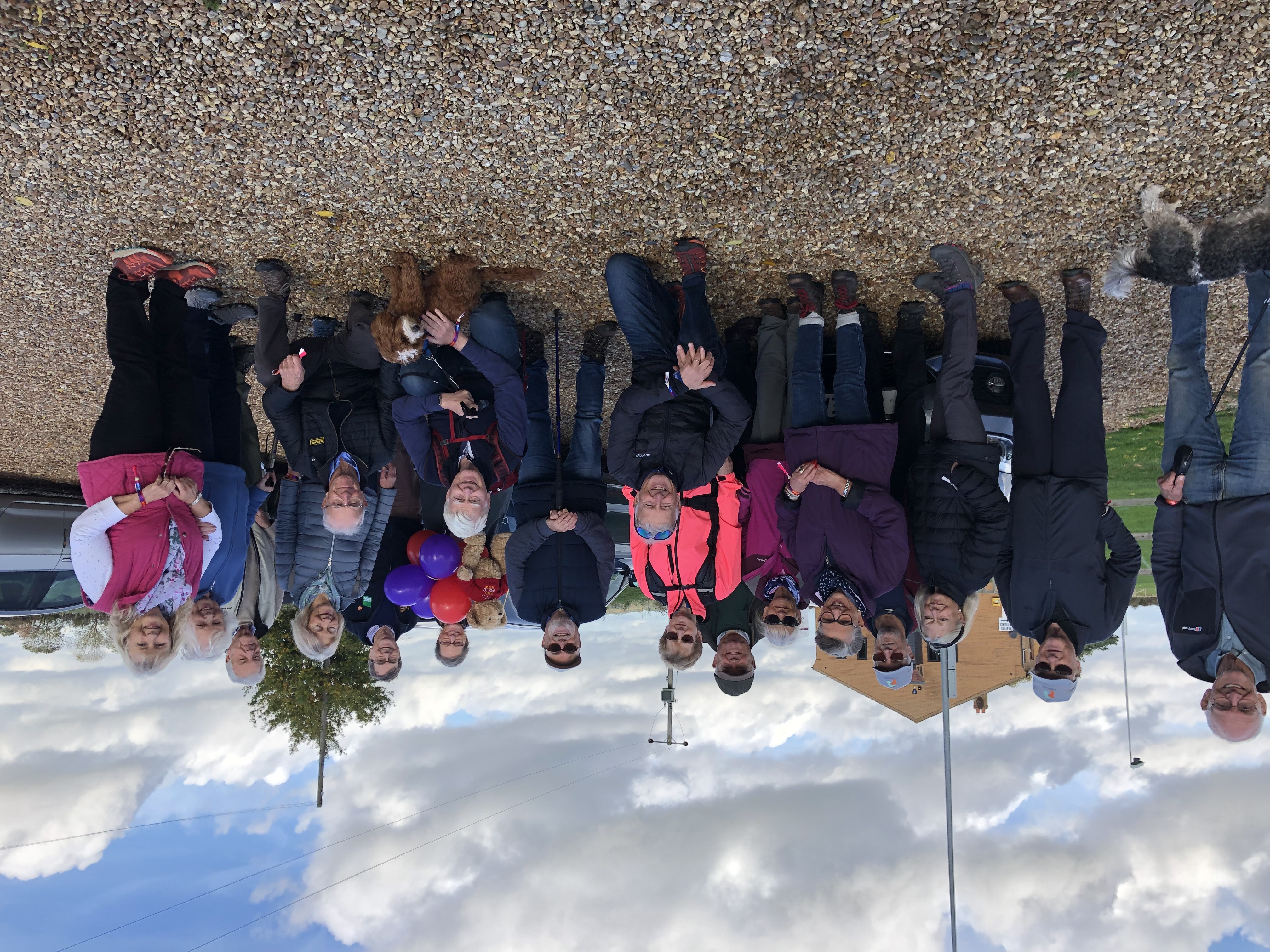 Priory Rotary Harvest Lunch – Saturday October 22nd .
After a two year absence due to covid, Lynn's Priory Rotary Club treated 80 elderly folk to a roast beef and apple pie Harvest Lunch at the William Burt Centre, a celebration event which the club has organised annually for over 30 years.
Catering was provided by Priory member Ann Pacini, and entertainment by Rotarian Peter Waddison, who sang many of the old favourites which the guests joined in with him. Other club members and partners served the meals and provided transport to and from the venue for those that needed it.
At the lunch, programmes were handed out for the Silver Mondays Cinema Club, a new Priory venture where over 70's are invited to the Corn Exchange Cinema for tea, coffee and biscuits followed by a selected film. The first film will be Matilda the Musical on November 28th, with refreshments from 9.30 before the film starting at 10.30. Tickets are only £3.00, and can be booked by emailing bharti.patel@west-norfolk.gov.uk or phoning her on 07375 375404.
Speaking at the lunch, club President Jonathan Holmes welcomed the guests, and gave a brief talk on the many charitable activities undertaken by Priory Rotary, with significant donations given to many local charities and other good causes.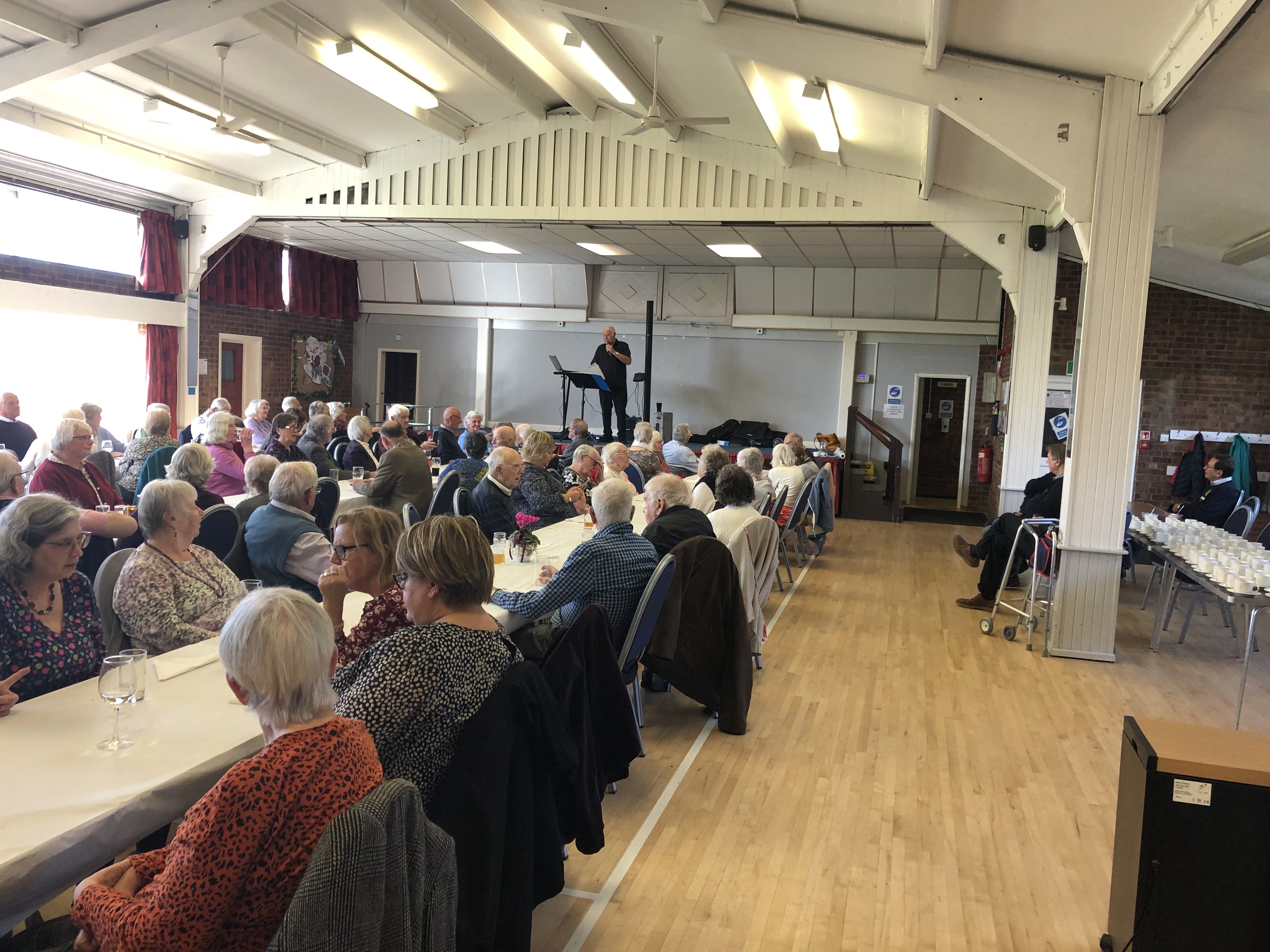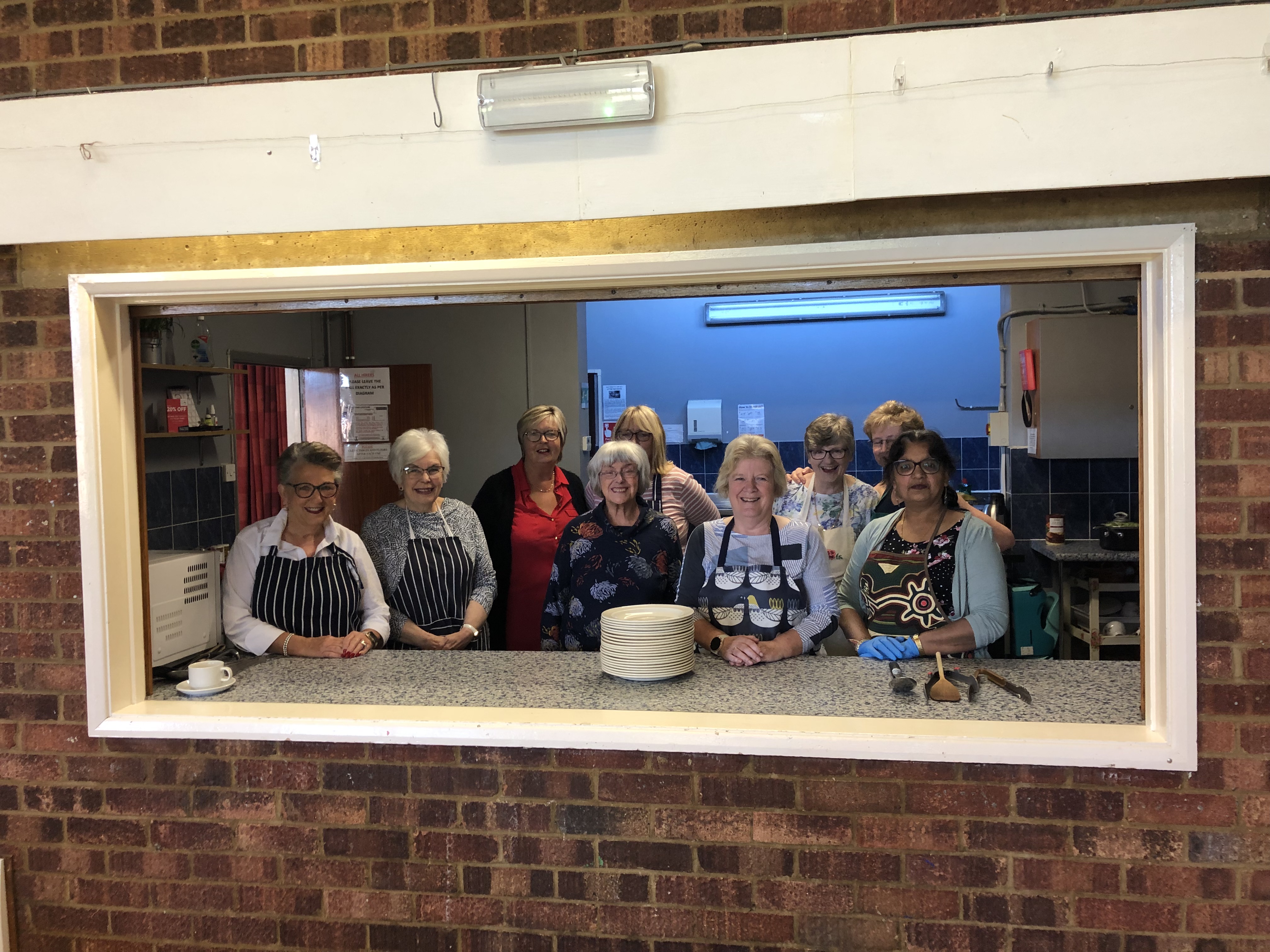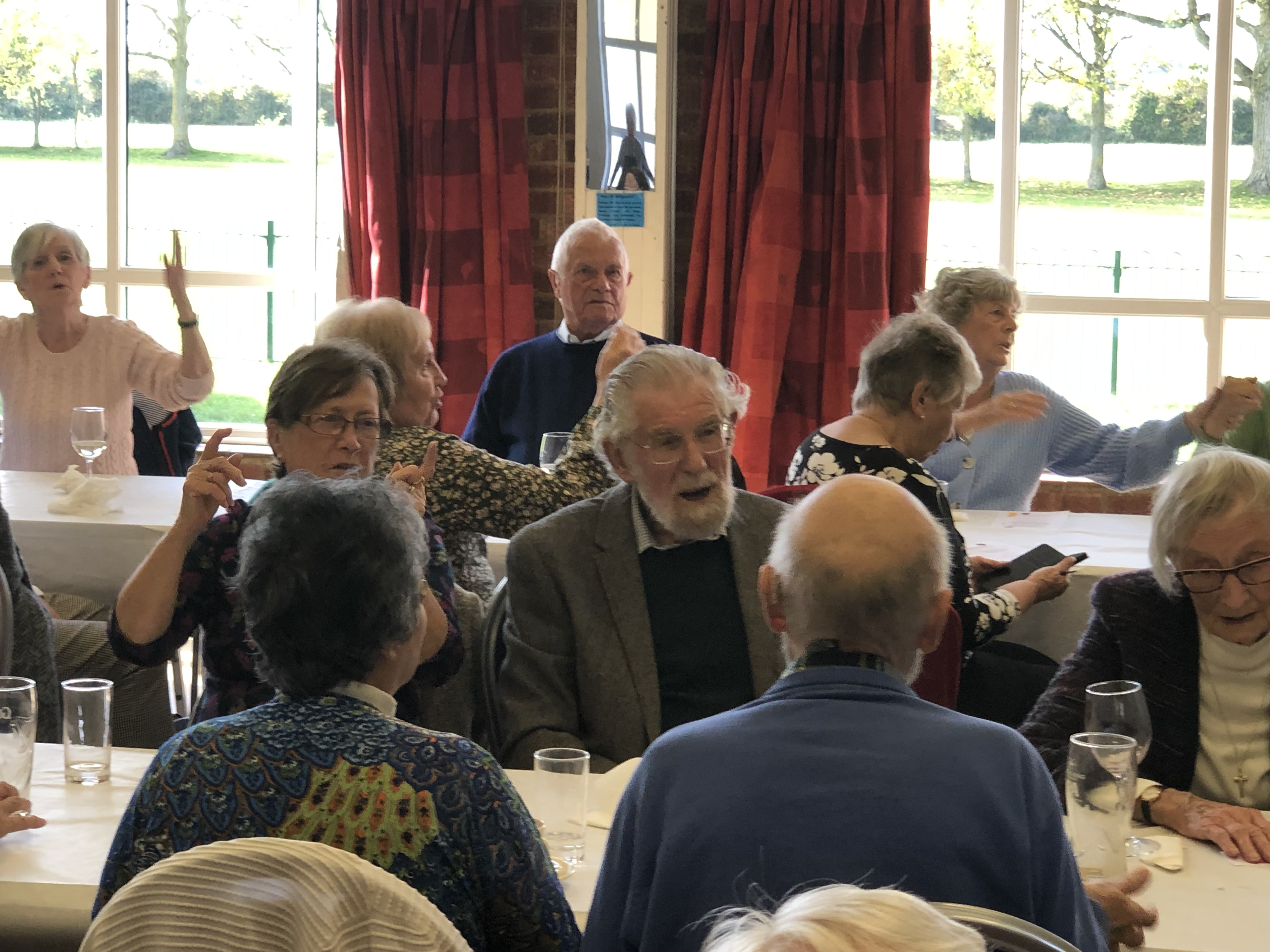 ---
Inspired by the incredible fundraising efforts of Scarlett's family, four local Rotary Clubs have banded
together to raise a further £3,300 for her cause, taking the current total to over £20,000, plus Gift
Aid.
Scarlett is a young West Norfolk girl with triplegic cerebral palsy, and she urgently needs a vital
operation on her spinal cord at Liverpool's Alder Hay children's hospital to relieve her muscle
stiffness and pain. Thanks to their amazing fundraising efforts, the family have raised the initial
£17,000 needed to cover the cost of this operation, which is not available on the NHS, and Scarlett's
operation has been scheduled for early January next year.
However, Scarlett will then need intensive physiotherapy, using specially adapted equipment, for the
next two years. To help with these costs, the Rotary Club of King's Lynn Priory have donated £2,000,
Downham Rotary have added £300 and King's Lynn and King's Lynn Trinity Rotaries have contributed
£250 each. In addition, the King's Lynn General Charities have responded to a request from Priory
Rotary and added a further £500.
Parents Leanne and Daniel, thanking the Rotary Clubs, said "we are so grateful for these donations,
which will enable us to set up equipment at home so Scarlett can have daily physio without the need
to travel. She is a very determined little girl and will work hard to get the best possible benefit from
her physio regime."
The fundraising efforts continue, to ensure Scarlett can continue to receive the physio she needs. To
donate, please go to https://www.justgiving.com/campaign/scarlettscpjourney
Picture shows Leanne Cole with Scarlett and her brother Archie in the front row, and back row from
left to right Jonathan Holmes – Priory Rotary, David Whitmore – King's Lynn General Charities, John
Taylor - Trinity Rotary, Scarlett's dad Daniel Cole, Derek Harvey - King's Lynn Rotary and Martin
Chilvers - Downham Rotary


Men's Shed receive Rotary donation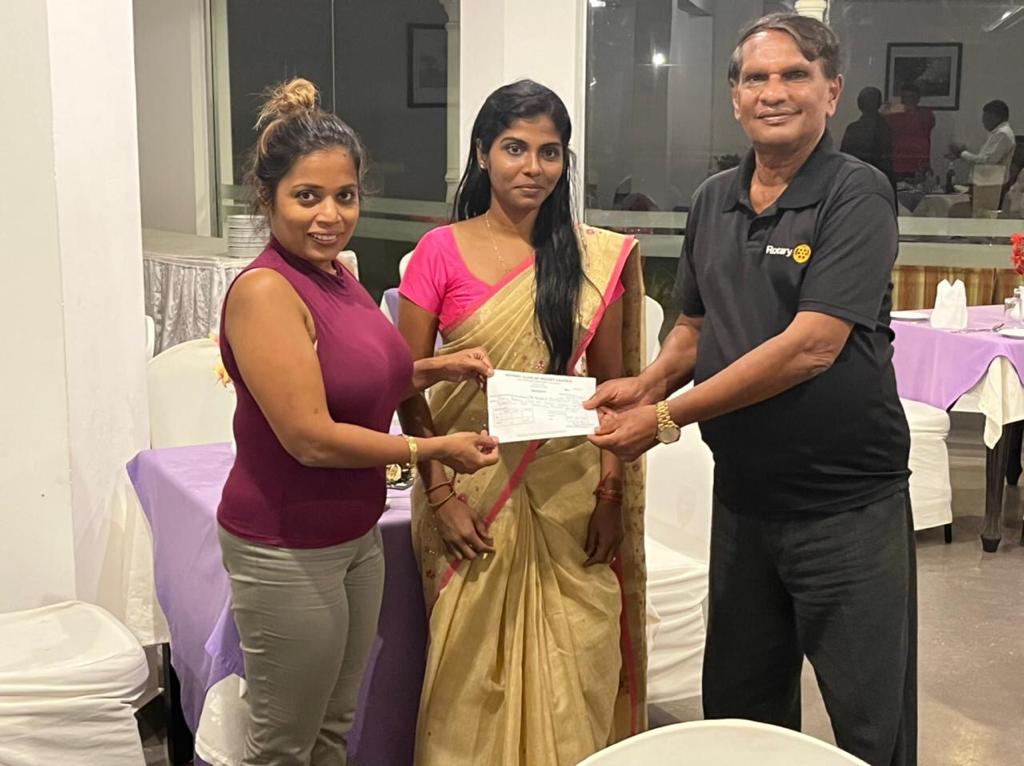 Treasurer and President of Mount Lavinia Rotary Club receiving Priory's donation to help their support for the distribution of food to people in need in Sri Lanka. Circumstances remain critical for much of Sri Lanka's population as the economy has all but collapsed through the effects of Covid on tourism and mismanagement by the previous Government. The new President has sought support from the IMF.
Priory's donation was very gratefully received and our help and support for the work of food distribution by Mount Lavinia Rotary Club is very much appreciated.
Mount Lavinia is near Colombo, the capital of Sri Lanka, and the cheque is for £250 from our general fundraising activities.
King's Lynn's Priory Rotary club are pleased to be supporting this year's trip to Pleasurewood Hills, organised by the West Norfolk Community Shop on the Fairstead. The Community shop, run by Emma Brock, does a tremendous job helping the local community, and one of the highlights is an annual coach trip for local children and their families.
This year, two coaches with around 50 children and 30 adults are setting off for a day out at Pleasurewood Hills in Great Yarmouth. The trip has been subsidised by a generous donation from King's Lynn Priory Rotary Club, from the proceeds of their Swimarathon back in March, with additional funding accessed from the Rotary partnership with national charity KidsOut.
Thanking the Rotary, Emma said "the kids have been eagerly looking forward to this day out, at a time when the cost of living is rising and times can be hard. Priory Rotary's contribution has made a significant difference, enabling the trip to go ahead".