The Rotary Club of March came into being in January 1956, and to this day, is still going strong.
Meetings are held every Monday, except Bank Holidays at the Conservative Club, Creek Road, from 7 pm. Members and Guests partake of a light meal prior to an invited Speaker presenting an informative and often very entertaining presentation on a wide variety of subjects, local and International.
Rotarians are active in a broad sphere of charitable works for the community. There is also a very active social side, from festive functions, and visit to places of interest both near and far. Membership is open to all. March Rotarians join with other Clubs from Wisbech, Chatteris, Whittlesea, for joint fund raising, and alongside the local Lions at town events. Perhaps not so in your face as other similar organisation, never the less, behind the scenes are many hours of dedication and physical effort.
The most public regular function for over 40 years continuous, are the monthly newspaper collections, held on the second Saturday morning, City Road Car Park. Come snow or shine six or eight Rotarian bundle up newspapers donated by the general public. Young and old bring a carrier bag full, or car boot load. Other arrives in bicycle baskets, shopping trollies, even wheel barrows.
All income from recycling these newspapers is used 100 % locally, including Kids Out. Between 30 and 40 local youngsters, from schools across the town are taken out for the day to a local venue. Transport is provided for both the children and helpers, admission fees, lunch and pocket money are all covered.
The Fenland Music Concert held annually in the month of March at St Peter's Church, is another function Rotary are pleased to promote. As many as 120 young musicians, students at the Fenland Music Academy, bring to the public at large, a demonstration of their virtuosity on instruments from the triangle to the trumpet. The musical tastes range includes Beethoven and the Beatles.
For more details contact;
Hon. Secretary Michael Calvert
President, Peter Beckwith
March is a Fe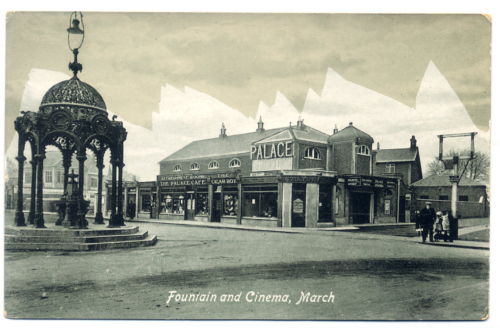 nland market town in the Isle of Ely area of Cambridgeshire, England.
March was the county town of the Isle of Ely, a separate administrative county between 1889 and 1965, and is now the administrative centre of Fenland District Council. It was an important railway centre, with a major junction station on the Great Eastern and Great Northern railways, 88 miles (142 km) from London by rail, 29 north from Cambridge, 14 north-west from Ely and 9 south from Wisbech. The town is situated on the banks of the River Nene, which is navigable, and is used by pleasure boats. Like many Fenland towns, March was once an island surrounded by marshes. It occupied the second largest "island" in the Great Level. As the land drained, the town grew and prospered as a trading and religious centre. It was also a minor port and, in more recent times, a market town and an administrative and railway centre.
Farming contributes significantly to the success of the local economy, supporting a large number of businesses involved in the production of food and rural tourism. However farming also makes a major contribution to protecting the environment and underpinning healthy and vibrant communities.
********
LOGON PROCESS
If you have forgotton your password, the reminder process has now changed and with increased security; the username/password will no longer be emailed to you, but you will be sent a link to a page where you can change the password.
What is Rotary?
Rotary members are enthusiastic, fun-loving and active volunteers who give their time and talents to serve communities both at home and overseas. These are dedicated people, men and women from business and professions, who share a common interest in helping others.
Rotary International in Great Britain and Ireland (RIBI) has over 55,000 members in 1,855 clubs. It is an integral part of Rotary International, the world's first service organisation.
Each member enjoys business as well as social networking opportunities, whilst giving something back to those less fortunate, learning new skills and having a huge amount of fun!
Rotary runs countless humanitarian projects both locally, nationally and internationally, and also partners with many charities worldwide. Read more about What We Do .

Members organise community projects that address many of today's most critical issues, such as violence, drug abuse, health, hunger, the environment, and illiteracy. Rotary clubs determine service projects based on local needs.
They work for and with young people to address challenges facing the youth of today. Interact and Rotaract are also part of the Rotary family, with a similar club structure specifically for young people aged 14-18 and 18-30 respectively.
Members are enthusiastically committed to the drive to wipe out polio from the world. Since Rotary became involved in polio eradication in 1985, the number of reported polio cases has fallen from 350,000 a year to 1,000; 125 endemic countries have been reduced to just 4 - Afghanistan, India, Nigeria and Pakistan; and two billion children have been protected from the disease.
March Battles Against Polio
The killer disease Polio, is now all but eradicated in the civilised world, but continues to afflict young and old in a few pockets across the globe, chiefly Afghanistan, India, Nigeria, and Pakistan. Not that long ago, Bill Gates of the mighty Microsoft Corporation set up a Foundation to 'Eradicate Polio Now' , with a huge cash donation. However, he was only joining an army that had been battling the disease for many years. In doing so, he gained 1.22 million foot soldiers.
Who are these soldiers?
Most likely, the man who lives next door, the chap in the car showroom, the professional who tends your personal and financial business. In March, they are Rotarians.
Rotary International has for more than 20 years led the private sector in the global effort to eradicate this crippling disease. The turning point came in 2009 when the Bill & Melinda Gates Foundation awarded US$225 million, in addition the US$300 raised so far. In turn, R.I. has committed to raise a further US$200 million by June 2012.
The Rotary Club of March, as are those across the U.K. little by little helping to achieve that goal. These funds in effect, go out of the community, but large sums are also ploughed back into local activates, a few pounds here, £150 there, and all raised by from public generosity. Every penny, there are no expenses.