We wish you a very warm welcome to Sudbury Rotary Club's website, where you will find lots of information about the Club (which is in Suffolk), its activities and its projects.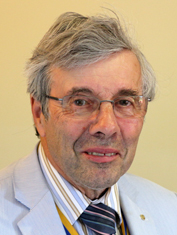 This year the President of the Club is Tony Platt and he is committed to the ideal of 'fellowship and fun' while promoting the well-being of our club, the community and the wider world through our various fund-raising efforts.
Our focus will remain :
> Community, Environment and Conservation
> Making a difference locally and worldwide
The club has both male and female members and we take pleasure in working and meeting together for activities, meals and talks as a group of people with similar (and sometimes very different!) interests and aspirations.
If you would like to become involved and contribute some effort to local causes, as well as have a good time, then please get in touch and come and meet us. Or, if you are new to the area, why not come along and make new acquaintances? We meet at Newton Green Golf Club, Newton Road, Sudbury CO10 0QN at lunchtime on the first three Mondays each month (12.00 for 12.30pm start), the fourth Monday being a 'Fellowship' event - check the webpage Calendar for details.