Rotary Links across the world - Matching Grant Project
THE REVEREND Ward Jones is Foundation Committee Chairman of the Rotary Club of Frome. His working life is spent leading the Methodist Church in the West of England, responsible for an area covering much of the old counties of Somerset, Gloucester- shire and Wiltshire, as well as the city of Bristol.
One of his wider responsibilities is to represent the National Methodist Church in
its links with Methodists in Korea, of whom there are more than 1.5 million.
This work was recently recognized when he visited Korea to be made an honorary bishop in the Methodist Church there.
While in Korea he was able to share in the ordination of a new Korean Methodist Minister, a fellow Rotarian, ChulHee Park.
As a memento of the ordination and of his visit, Ward Jones presented his friend with a banner from the Frome club.
Rotarian Park is a former District Governor in Korea and an enthusiastic promoter of Matching Grant projects.
He and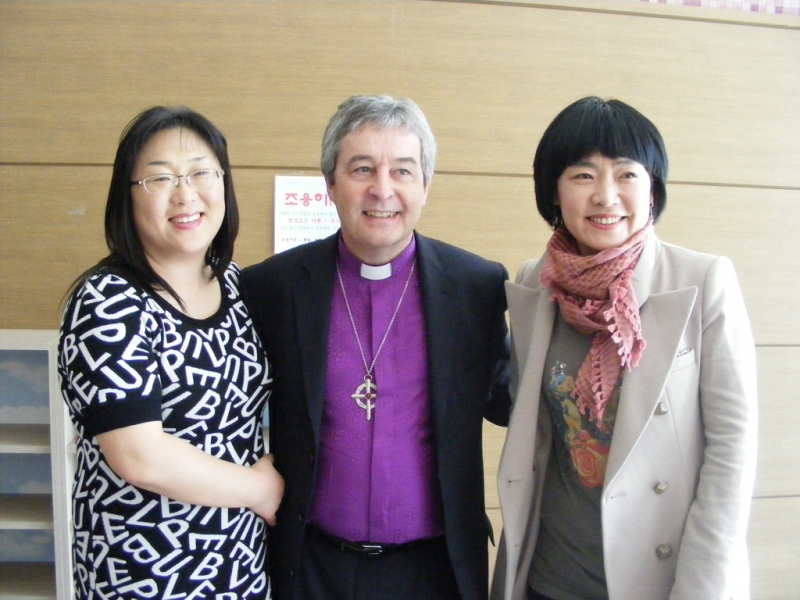 Ward have finalised the proposed matching grant project for 2010/11 and details can be found further in the article..
The Rotary links do not end there.To be at the ordination service and then to move on to his next engagement involved Ward a three-hour drive.Enjoying the company of the Jecheon-Moogoonghwa Club President, left, and another club member before a three hour drive.His driver was the President of the jecheon-Moogoonghwa Rotary Club (District 3740) who drove him to his next engagement and then had to drive home again after a long day.Talk about 'Service Above Self'
Matching Grant Project 2010/11
Frome Rotarian John Moxon tells me that our first Matching Grant was to do with St Helena, a British Protectorate, whose sole industry of cultivating hemp was destroyed at a blow when the GPO decided to use elastic bands for their post and not twine.
The culmination of many hours commitment by Rotarians Chul-Hee Park and Ward Jones resulted in the signing of the Matching Grant paperwork on Thursday 29th July at the Fox & Hounds at Tytherington.
This year we have committed ourselves to raising