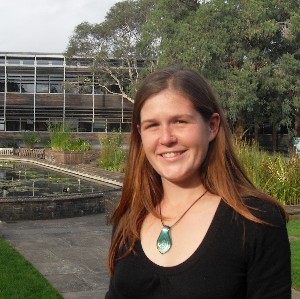 Jess Evans, recipient of the Rotary Club of Kew Gardens Vocational Award 2010.
Emma Fox, Principle of the School of Horticulture, said of Jess:-
Throughout the three years of her course, Jess has been the driving force behind many of the student run activities which have seen the continuation of sporting and social events such as the 'Round the Gardens Race' as well as the return of the 'Kew to Wisley Relay'. As well as this, Jess has always been very committed to supporting the various schools and families activities - she was a regular volunteer with the Children's Gardening Club at Kew as well as the very successful Midnight Ramblers project and many other community and family gardening events. As well her obvious passion for horticulture Jess is also very interested in nature and wildlife and she is regularly involved in fungal forays, badger watching and the recording and identification of moth and Lepidoptera species in the garden. For all of her community minded support we would like to thank her, and nominate her for the Rotary Club of Kew Gardens Prize.
Jess also received "The Worshipful Company of Gardeners' Prize" and the "Students Union Prize".