Notes on the meeting of 5th September

This was a very well attended meeting with only two apologies.

Unusually, there had been a Club Visit! Nick gave a brief account of his (& Joan's) 'exchange' visit to the Rotary Club of Pompeii, Naples.

The successful RYLA candidates treated us to a presentation: Helena and Catrin impressed us with their account of the Rotary Youth Leadership experience at Avon Tyrell. Confidence and character building.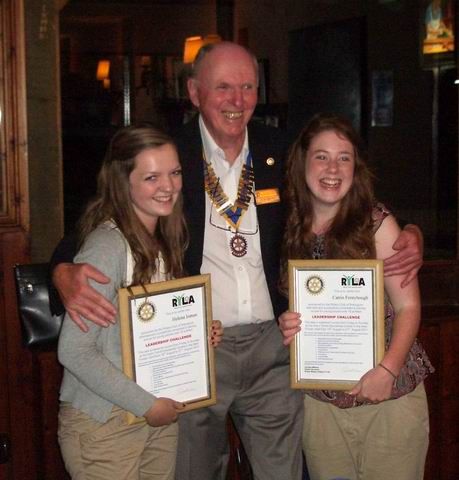 There was time for Nigel to show us the District's new DVD illustrating the Shoe Box initiative and it's wonderful effects upon the lives of underprivileged children in Tanzania, Romania and Croatia. Nigel also emphasised the need for help in loading and packing the Shoe Boxes. 5th, 6th, 12th & 13th November. Contact Nigel. (Nick Barrett of Southampton R.C.) These DVD's will be shown to schools to help promote the scheme.
Last year 30,000 boxes were collected and distributed!


AOB
Positive outcomes from Group 3 Meeting: a)Clubs to share equipment such as
display stands, Shelter Boxes for promotion of Rotary. b) Mary Pike is the new
DG Elect since Graham resigned. c) Jonathon attended inspirational Youth Committee
meeting, but unfortunately we don't have secondary school in our catchment. d) Details of our fund raising successes are invited for the Wessex Magazine. e) Allan, Bill, Mike & Ann had also attended Ringwood Rotary's Networking evening. Address given by Desmond Swayne.


Boules: Bransgore v. New Forest. Convincing win by the B team.


Goodwood Races. Coach leaves New Milton Community Centre 10 o'clock. Sat 10th
Sept. Dress code: Jacket & tie. Contact Les.


Lashings Cricket Match. Touring team with International players. Good money raiser for
HC Rotary.


District and National elections: Mike recommends Mike Jackson for DG. Past DG's qualify to select the next National President, so Reg Ling, Keith Millman and David Pike are in the frame.


Support for Beer Fest (23rd