Welcome to the New Rotary Year which began on 1st July 2022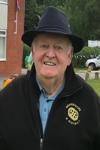 I would like to extend a big warm welcome to you all at the start of a new Rotary year. What has struck me most since my days as an AG then DGN/DGE is how time flies. We have been through extraordinary times dealing with COVID and even today it has not disappeared. Having returned to some face-to-face meetings like District Council on 25th June it was a delight to meet people and enjoy the personal interaction that is not present in ZOOM meetings.
Whether your club remains ZOOM only, returns to face-to-face meetings or mixes both, is a matter of choice. Without doubt, COVID restrictions propelled us into a new way of operating, forcing us to explore the wider use of social media and in turn discovering the exciting opportunities presented in holding joint meetings with Rotarians around the world. IT has given us some enormously powerful tools at our fingertips. In an instant we can use them to promote Rotary, influence our communities, and create international relationships that would have been near impossible a few years ago. We knew Rotary needed to change but we did not think for one minute that it would happen so fast. The change has created exciting opportunities that we should grab with both hands. Wise words from Socrates come to mind:
"The secret of change is to focus all our energy not on fighting the old, but on building the new"
Paul Steele our previous District Governor championed change and we both acknowledged that the tsunami of change was already happening even before the COVID era. At the forefront of everything that we do, is the need to recognise recruitment as a primary goal. Moreover, in our recruiting efforts we must employ measures to embrace the Rotary GB&I Policy of Diversity, Equity and Inclusion.
Currently our numbers have all but stabilised, but a minority of clubs are failing due to an aging population, a general inability to "get back in the saddle" after numerous lockdowns, coupled with a reduction in camaraderie due in part to a lack of face-to-face meetings. Where clubs are closing, we have been successful in retaining most Rotarians through club mergers and transfers to adjacent clubs.
Given that at the last Council, we ran a successful hybrid meeting, for the foreseeable future, District will operate with a mix of face-to-face (Council) and for other District business, ZOOM meetings will be employed. This is both effective and financially efficient.
The good news on fellowship is that we have booked the dates and venues for this year's 2 one day conferences in Bournemouth and Southampton on the 8thOctober and 5th November respectively. I hope as many of you as possible will attend at least one conference. For further details see – District 1110 Conference 22 - elsewhere on the web site.
You will all by now be familiar with the District Newsletter which has grown in content and popularity. It is a super way each month of telling each other what our clubs are up to. It is YOUR Newsletter, it is a free way of promoting your club, so you are encouraged to send in articles for publication – not more than 200 words - to the editor Mike Le Conte.
It is essential that the DG knows what is going on in the District. To that end, there are 11 Assistant Governors, each tasked with getting to know the clubs in their Groups, keeping the DG up-to-date and ensuring that the District Support Teams help clubs as required.
In my time as DGE and now DG, I have attended many Zoom meetings and club events, visiting over 20 clubs. Recently, I met members of our newest and nearly chartered Bournemouth, Christchurch, and Poole Rotaract club "Fresh Volunteering Group". All were brimming over with infectious enthusiasm leaving me with a confident feeling about the future of our wonderful organization. To those clubs that I have visited- a big thank you from Gill and me for some superb fellowship. I am already booked to visit many more clubs in the near future but I am sure that the number will increase as I settle into the job. My aim is to meet as many Rotarians in D1110 as possible in my DG year.
I wish you all every success in the year ahead.
Yours in Rotary,
Bill
Bill Casey District Governor 2022-2023
Adapt Attract Recruit Retain
….To fulfil the objectives of Rotary International at local, national, and international level, by growing Rotary and encouraging member retention.