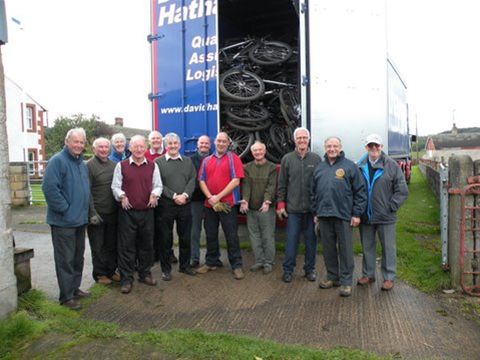 Penrith Rotary Club- Bikes to Africa
More than 300 bikes from Penrith have begun a 3000 mile journey to Africa thanks to a joint venture between Penrith Rotary Club and local holiday leisure centre, Center Parcs Whinfell. The company has a rolling programme of bike replacement to ensure a high quality fleet but the old stock is still serviceable. Subject to strict conditions they support their further use rather than destruction.
The sequel to this policy took place recently when a team of Rotarians led by Peter Markey worked with Center Parcs staff to fill a huge truck with layers of bikes.
Liaising through Jole Rider, an education organisation and registered charity who work with children and young people, Rotary organised the Penrith end of a project that will see the bikes refurbished in British prisons before export. Through Jole Rider's bikes4Africa programme they will eventually arrive in Gambia, a small impoverished country in West Africa. Their subsequent distribution will take place under the auspice of the charity's Gambia organisation working directly with schools in rural areas and the Gambian Ministry of Education.
Many Gambian children live in remote communities and without reliable, affordable, motorised transport the only way these children can get to school is to walk. The challenge of undertaking daily journeys on foot in a hot climate proves too much for many youngsters which mean they miss out on education. Using a bicycle makes a world of difference, for the children, their families and local communities too. Almost 8000 bikes have been exported so far.
Jole Rider Gambia monitors the bike fleets and assists the schools with the maintenance of the bikes. When a child graduates from school, their bike is re-allocated to another child. Local Field Engineers and selected school students receive training in bike maintenance and servicing.


Malcolm Boyd, President of Penrith Rotary Club said, 'We are delighted to be involved in this worthwhile project and I thank all those who have made it possible, particularly Ben Eggleston and the team at Center Parcs.'