Ryde Rotary Clubs Huruma well project update 11 2011
Sat 12th November 2011
Ryde Rotary Clubs Huruma Well Project was visited by Martin and Francoise Hadleys to follow up on the progress made since the installation of the well.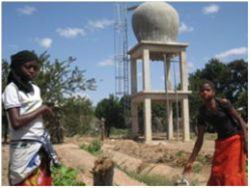 A visit was made by Martin and Francoise Hadley to Huruma Women Group to follow up on the progress made since the installation of the well, donated by Ryde Rotary Club and commissioned in May 2009. During our short stay in Dodoma, we visited Huruma and the chairwoman Caroline Kissinza on two occasions, the first on a Saturday to enjoy a recreational day when the orphans visit the project and the following Monday to learn something about events that
have taken place since the well was commissioned in May 2009.
Infrastucture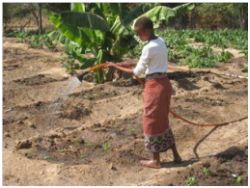 When I left at the end of May 2009 only 1.25 out of 3.5 acres of the plot was fenced and cultivated. This was due to the high costs of purchasing water from the municipal water authority. The well has now enabled nearly the whole plot to be cultivated and in addition the boundary fence has been extended around the entire perimeter.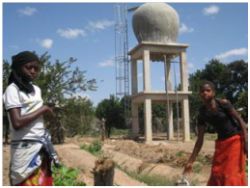 In order to facilitate watering the crops, the original single water point has now been increased to 5 taps positioned at strategic points across the plot, thus doing away with the problem of using long lengths of hosepipe.
Crops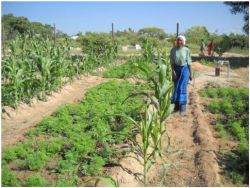 At the time of our visit during the dry season, the majority of the crops we saw were green leaf vegetables of various sorts such as mchicha (Tanzanian spinach), Chinese leaves, spinach (European) and lettuce. Because these grow fast, crop turnover is speeded up and hence cash comes in quickly and regularly, especially if the harvesting of crops is staggered. They can sell as much as they can grow due to high demand. Customers are mainly wholesale traders and caterers for institutions who visit Huruma as well as local private sales.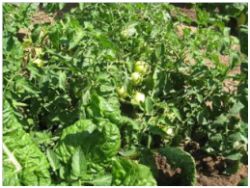 We also saw crops of aubergines, tomatoes, peppers, cucumber and potatoes. They have established fruit trees producing mango, banana, orange, lemon, papaya,
breadfruit and passion fruit (on vines).In the wet season when individual small holders can grow their own crops, Caroline extends the range of vegetables on offer to include for example onions and carrots. These would be taken to town to be sold in the marketplace.
Water Consumption
At the time of our visit during the dry season, water requirement is at its maximum since almost the entire plot is planted. The daily consumption is 40,000 litres i.e. the tank is emptied and refilled 4 times. The tank takes around one hour to refill. The monthly bill for 3-phase electricity for pumping is 70,000 Tanzanian shillings or £27 (£1 is approximately 2,550/- Tz).
Dodoma's location in a very arid part of Tanzania raises the issue of water sustainability, or putting it another way the well's capacity to provide this amount over long periods of time. The original survey has shown that Huruma's source of water is fed by an underground stream rather than tapping into a fixed size reservoir. The supply is therefore rainfall dependent but Huruma have been advised that it would take a sustained period of drought to deplete the supply.
With the increasing likelihood of this happening due to the increasing effects of climate change, the installation of a sprinkler system would make for a much more efficient system of irrigation, not only saving water but also economising on the power required to pump water from the borehole into the tower. There are low-tech relatively inexpensive drip kits available which are gravity fed and do not
need an electrical supply. The cost of this extra equipment could be recouped by savings made in consumption of water and power. Local availability of this type of equipment might be an issue, but alternatively a very simple homemade device could be constructed.
The Orphans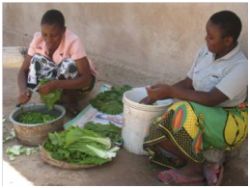 Huruma continues to take responsibility for the welfare of many orphans living in their district and 91 are presently registered, coming from 6 wards. The important day of the week is Saturdays when the orphans come to Huruma to enjoy recreation and to eat a nutritional meal. This typically consists of home-grown vegetables and rice supplemented occasionally by meat (beef or chicken) when this is available. On average about 70 orphans attend every Saturday. Additionally within the region Huruma has a further 225 orphans registered making a total of 316 who are being assisted by the organisation.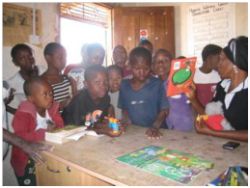 Although these orphans do not attend Huruma on a weekly basis they are helped with school fees (Primary a contribution; Secondary fees + tuition fees + exam fees); also uniforms (sweaters), shoes, school bags, stationery (pen + exercise books) and calculators for 6th form students. The Saturday attendees also receive these benefits and additionally medication when required (but not anti-retrovirals) and extra food as well as counselling for their care families. As it was on a Saturday that we visited Huruma we were able to meet the orphans and share a meal with them. We had brought some toys, books and games with us from the UK plus pruning clippers and seeds for Caroline. These items were all well recieved with great excitement and ceremony as can be seen!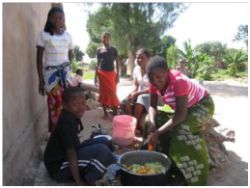 Partners
Huruma continues to be supported by loyal local NGO's, which include Social Action Trust Fund (SATF; financed by USAID), GTZ (implementing agency for Swiss Agency for Development and Cooperation), Sharing Worlds Tanzania (Dutch - Tanzanian partnership), and the Regional Commissioner's office of the Municipality. Recently they received funding of 22,516,000/- (approx. £9,000) from SATF to sponsor the funding of an educational programme for all the orphans registered.
Chicken Rearing and Other Projects
In 2009 Huruma had around 540 chickens producing some 240 eggs per day. However during 2010 the chickens were sold off and the funds reinvested in increasing output from the horticultural project. It is their intention to re-start chicken rearing should funding be forthcoming. They have proved it is a profitable business in which Huruma staff had gained considerable experience. The infrastructure is there with the capacity to raise up to 800 chickens in existing hen houses.
One problem remains Huruma's capacity to take on and manage extra projects. The horticulture currently requires hiring 2 men @ 50,000/- Tz, 2 men @ 40,000/- Tz, and 4 women @ 40,000/- Tz; an approximate wage bill of £135 per month. Anyadditional form of income therefore needs to be evaluated carefully in terms of additional labour requirements to run and maintain it. Indeed the issue of staff capacity is also the main problem preventing the re-starting of the sewing project. Huruma has 15 sewing machines that are housed in a small workshop on site and in the past they have undertaken contracts to produce school uniforms, which provided income as well as the opportunity for orphans to learn sewing skills.
The Future
Despite the problem of capacity Huruma has ambitious plans for future development to increase its income generation and to further its outreach into the community, when investment funds have accrued.
Infrastructure
The most urgent requirement is the need for flushing toilets. They also need an additional office for staff, a room for machinery (e.g. sewing machines) and a dining room for Saturday meals when it rains. The brick foundations for these facilities already exist. When flushing toilets have been installed, there are plans for two additional rooms to be added for renting out.In the longer term there is room on the site to build a welfare hall for rental to outside groups for holding workshops, seminars and social functions such as wedding receptions. Caroline says that there is the potential to rent a facility such as this for up to 2-3 events per week.
Outreach
Caroline would like to start a community programme of sensitisation in human rights for children, with the particular focus of protecting the rights of an orphan of HIV/AIDS. The most important 'right' to protect is to ensure that a family who has care of an orphan does not turn him/her out on to the street because of poverty.This sensitisation could be achieved by workshops or even themed concerts which would provoke discussions, not only reaching the carer families but also the children themselves to inform them of their rights. These activities are sought after by schools and there are organisations that are keen to fund them.
Caroline would like to increase the distribution of supplementary meals to orphans at home. Poverty within care families often means that an orphan receives only one meal a day which is unlikely to be very nutritional. At present they receive two supplementary meals a month from Huruma but the plan is to increase this.There are plans to build a website to keep Huruma's supporters and donors
informed of events and progress. They have recently obtained funding of £942 from the Rebecca Hussey Trust to produce a regular newsletter.
Challenges
At the conclusion of my report in 2009 I said that one of Huruma's main challenges was to increase its organisational capacity if they wished to expand their infrastructure and outreach. This still remains a key problem. However, finding and hiring trustworthy personnel with the right skills and management experience is costly.They are fortunate in having the services of an ex-VSO volunteer and qualified businessman, Kenyan born Martin Mucuthi, who now lives in Dodoma and takes a close interest in Huruma. He is able to offer them advice and guidance.
Conclusion
We have witnessed much progress at Huruma Women Group since I left in 2009, which is encouraging and gratifying. A reliable water source made possible by Ryde Rotary Club and the dedication of Caroline and her team ensure HWG are one of the leading organisations in the region caring for orphans, assisting PLWHA (people living with HIV/AIDS) and fighting the ongoing battle against the spread of the disease.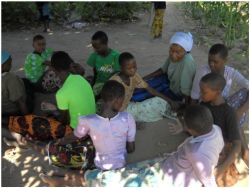 'Huruma' is the Kiswahili word for 'compassion' and this is the overwhelming message one gets on a visit to Caroline and her small team. A particular example of this took place while we were in the office with Caroline. An orphaned girl appeared at the door looking distressed. Apparently her 'auntie' (adopted Mum) had just died that morning. She had not wanted to go to school but had come to seek comfort from Caroline and Huruma, the only bit of security she felt she had. Considering her plight she maintained an amazing composure and dignity for such a small child. This sort of heat-rending story is unfortunately not uncommon within communities that have fallen victim to the scourge of HIV / Aids.
Photo credits: Martin Hadley and Pierre Casemajor