The Rotary Foundation is organized as a public charity operated exclusively for charitable purposes and governed by a Board of Trustees.
Our Mission
The mission of The Rotary Foundation is to enable Rotary members to advance world understanding, goodwill, and peace through the improvement of health, the support of education, and the alleviation of poverty.
The Foundation is a not-for-profit corporation supported solely by voluntary contributions from Rotary members and friends of the Foundation who share its vision of creating a better world. This support is essential to make possible projects, funded with Foundation grants, that bring sustainable improvement to communities in need.
Projects focus on six key areas
The work of Rotary begins in the community, and every community has its own unique needs and concerns. While we serve in countless ways, we've focused our efforts in six key areas to maximise our impact. These areas encompass some of the world's most critical and widespread humanitarian needs, and we have a proven record of success in addressing them.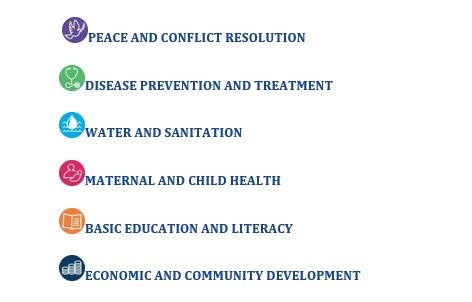 Projects are funded by a grant system operated between Rotary clubs and The Rotary Foundation. This gives Verwood Rotary club the opportunity to apply for grants for projects which matter to us.
Verwood Rotary members continue their donations via a voluntary contribution to The Rotary Foundation so that all our members remain sustaining members.