The International Committee is concerned with the club's involvement in humanitarian work and Rotary fellowship around the world and to promote world understanding and peace.
The International Committee organises a number of events each year, mainly of a fundraising nature.
November 2022
The Club's membership this month approved the distribution of £600 raised through the committee's events over the past year or so. Three hundred pounds will be sent to each of two overseas projects:
The funds are combined with other donations and there divided into a number of loans to small businesses in less developed countries. The loans are interest free but have a repayment deadline. Once returned to Lend With Care, the funds are made available fro a fresh round of loans.
https://lifetime-projects.com/en/
Laetitia Craig, founder of Lifetime Projects, an organisation that we have previously provided funds for, has advised that on this occasion our donation will be put towards two projects that they are currently working on.
- the drilling of a drinking water well in an orphanage in Cameroon, as well as toilets and showers.
- the construction of an environmental secondary school in a rural area in Tanzania.
The Club's International Committee would like to thank members and friends who attended three fundraising events during 2022. A Skittles and Supper Night, the Fal River Boat Trip and the Summer Barbeque at Nick farmhouse. Similar events are being planned for 2023.
Rotary Goodwill Ambassadorial Scholarships
Rotary International provides financial support for study abroad with support from the Rotary branch network. Since the programs inception in 1947, over 41,000 men and women from more than 100 nations have received scholarships.
The Rotary Group Study Exchange programme (GSE) is a unique cultural and vocational exchange opportunity for business people and professionals between the ages of 25 and 40 who are in the early stages of their careers. In 2012 a group of six people from India visited West Cornwall where they were hosted by Rotarians from the Mounts Bay and Penzance Clubs.
Bikes to Bansang Hospital in Gambia - 2017
Penzance Rotarian Lutz Eiser and his good friend Fred Buckingham flew the flag for Rotary when they undertook a privately organised mission to acquire, ride and donate two motor scooters to Bansang Hospital where they provide invaluable access to villages for medical workers.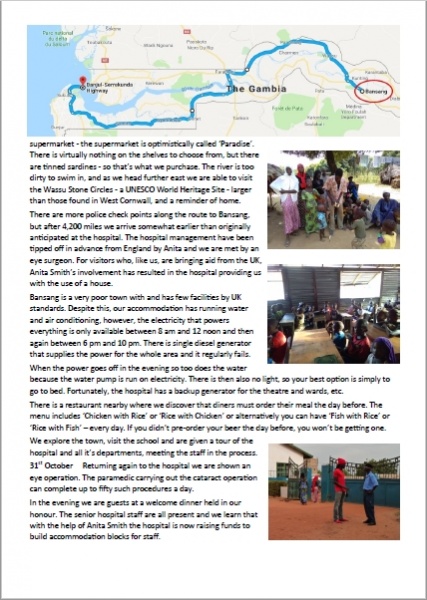 Click on the publication to read about the journey.

Water Project Ecuador The 10 Mile Pipeline

In partnership with the Rotary Clubs of St.Ives and Mounts Bay, a local Rotary Club and the water company. This ambitious project was for the provision of clean water to the mountain community of Pilahuin (12,000 people). Total project value 90,000. (Rotary contribution 25,000). Completed 2009.
For the latest news on any of tthe following click here to see Club Events
Allocation of Funds
The funds raised by the International Committee are distributed abroad. In the past the following Rotary and other charities have benefited from our help.
The ShelterBox Trust is a registered UK charity that provides emergency aid for victims of natural and other disasters anywhere in the world.
Penzance Rotary has raised funds from the people of West Penwith and helped to fund over 70 shelterboxes. Since operations began in January 2001, Shelterbox has helped many hundreds of thousands of people and worked in dozens of different countries responding to earthquakes, floods, hurricanes, tsunamis, wars, volcanoes etc. Shelterbox is currently operational in The Phillipines following the disastrous typhoon.
ShelterBox was set up by the Rotary Club of Helston-Lizard and all aid is distributed from our base in Cornwall.