Rotary is keen to support worthwhile youth activities and projects here in West Penwith. The Rotary Club of Penzance undertakes a number of initiatives with local schools, each designed to assist with students personal development.
Recent initiatives have included 'Mock Interviews', conducted by Rotarians, these enable Year 10 and 11 students to partake in a realistic job interview experience.
The Rotary Club of Penzance presents an annual concert of School Music featuring music performed by pupils of local First, Middle and Secondary schools. The first Bernard Williams Memorial Concert was held in 1997.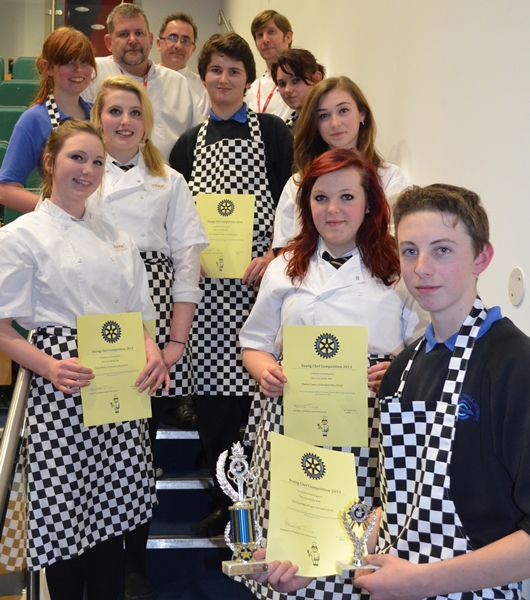 Young Chef Competition
Students from Cape Cornwall and Humphry Davy schools came together at Penwith College in Penzance to compete in the Penzance Rotary Young Chef of the Year contest.
Organised by Rtn. Di Hickman and Emma Kelly at Penwith College, the event pitted the culinary skills of four students from each of the two schools against each other, with their achievements being judged by local chefs Stewart Eddy (Victoria Inn, Perranuthnoe), Kevin Montague (The Beach, Sennen) and Bruce Rennie (Gurnards Head).
In the foreground is winner Jack Etheridge (16) cooked Thai Massaman Curry and went on to success in the District Final, winning a place in the Regional 5 Final .
Rotary encourages all family members to take part in activities and programmes, and specifically offers the chance for young people to develop personal skills and a better awareness of problems that face the world today. This is an opportunity to meet, work and have a great time with like-minded young people, guided and supported by Rotarians.
Rotary and the 2012 Olympics
Penzance Rotary Club is proud to have provided financial support to Olympic Gold Medal rower Helen Glover from Humphry Davy School. Helen needed funding in 2009 prior to receiving the Lottery funding that enabled her to give up her teaching post in Bath.
In the past our Club has supported local young athletes in conjunction with Sports Aid and will do so again when suitable requests are received.
Cape Cornwall School DofE Awards project receives a boost from the Rotary Club of Penzance.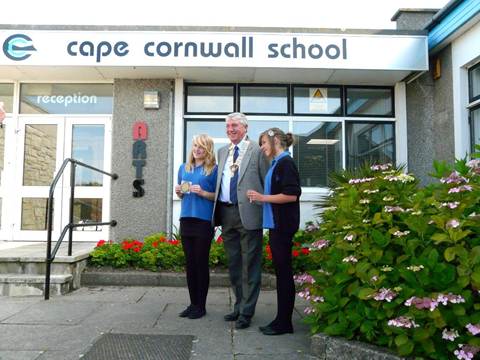 Pupils Amy Glenville and Laura Ellis met the Rotary Club of Penzance President Bob Kirkup one Monday when he presented a cheque for £285 to Cape Cornwall School's 'Cape Outdoors' project. The project's aim is to develop the school's involvement with the DofE Award Scheme which they started last year. The scheme was re-introduced at the school by teachers Dani Long and Paul Kellas for pupils in Years 9, 10 & 11, the first Bronze awards will be made shortly to successful pupils from Year 11 who will this year have completed the programme.

A Bronze DofE programme has 4 sections, Volunteering, Physical, Skills and Expedition. You must do a minimum of three months of activities for each of the Volunteering, Physical and Skills sections, and plan, train for and do a 2 day (1 night) Expedition.

When the Rotary Club of Penzance were contacted by Cape Cornwall School with a request for assistance, they were quick to recognise that this was a project that would help to develop local youngsters and therefore one that they would try to help.

Rotarians provide both their time and their fundraising experience to assist projects across the world. As well as raising funds for international causes like victims of the tsunami, the End Polio Now campaign and via Shelterbox - the victims of recent hurricanes, Rotary has a strong involvement with local community projects for the young and for the disadvantaged within the community.
The Rotary Youth Leadership Awards (RYLA) is one of the most successful Rotary programmes run by Rotary clubs around the world.
The fun and intensive training programme for 14 to 30 year olds offers the leaders of the future a chance to get a head start at an early age.
Talented young people attend a seminar, camp, or workshop - generally three to ten days in length - organised by Rotary club members
The RYLA programme gives young people and young adults the chance to improve leadership and communication skills, learn about businesses and institutions, explore career paths, share ideas and experiences, learn how to coordinate youth activities and community service projects in the community, and discuss creative approaches for resolving family, social, and professional conflicts.
Whether you are a secondary school student, university student, or young professional, RYLA provides a unique opportunity to learn, grow, have fun, and make new friends.
Other Rotary Initiatives run throughout the UK include:

Rotary Youth Speaks
This is a competition organised by Rotary GB&I, which encourages the art of Public Speaking.
Rotary Technology Tournament
This encourages young people to design and build projects. With the help of local sponsors, the average cost to Clubs is about 450. In our area this competition is organised by the Rotary Club of Hayle.
Young Musician
The Young Musician competition takes place annually and all Rotary Clubs are invited to submit entries, preferably following local heats.
Chess
The Rotary Club of Penzance encourages chess in Junior Schools in the whole District 1290 and especially in the Penwith area. Chess clubs have been established in four schools.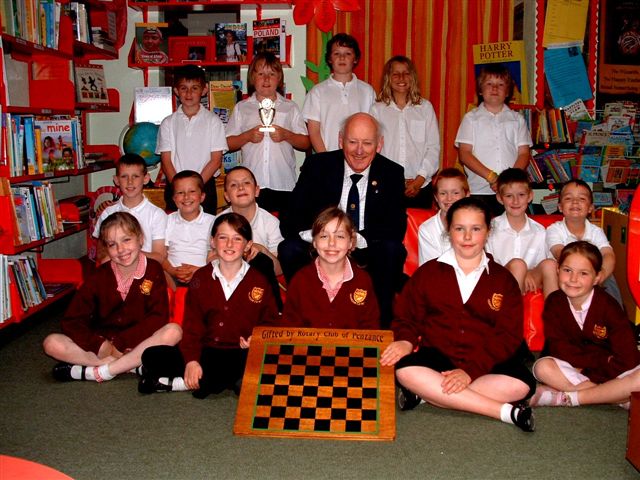 Assistance with helping to run and coach the chess clubs in five schools has greatly improved standards of play. An after school club for both junior and senior children who wish to receive serious training has been set up in Humphry Davy School.
School Awards
The Rotary Club of Penzance awards annually a cash prize to all the secondary schools in our area for the pupil who has done most for the community.
Donations to Youth
Donations have been given to Penhaligon Friends, Beaver Scouts, Sea Cadets and the Penzance Gym Club, Penzance Youth Band and Penlee Judo Club amongst others.
Kids Out
This is the name given to an outing that 'provides fun and happiness to deprived children'. There is no set pattern. Each Club or group of Clubs will decide after consultation with the schools where to go and what to do.
This year the Rotary Club of Penzance supported to the Rotary Club of Mounts Bay who organised the outing for handicapped children.