Borderland Rotary is a firm supporter of The Rotary Foundation to which regular contributions are made. Since this is Rotary's own charity, most of the money is raised from the members themselves.
The Committee organises a monthly competition (or swindle!) amongst members, who make a donation to Foundation in order to take part (compulsory!).
Each year the Rhydycroesau Pantomime Group focus their unique talents in the production of a pantomime 'like no other'! Borderland is fortunate in being allowed access to the opening night, the proceeds being raised for Rotary Foundation. We are most grateful to the pantomime group for their generosity.
Purple for Polio

From this and other events, substantial donations have been made to "Purple for Polio" - the Rotary International programme to eradicate polio worldwide. For over 30 years their success has been outstanding, and many others are now involved. Borderland work with other Rotary Clubs and have planted many purple crocuses to mark the programme.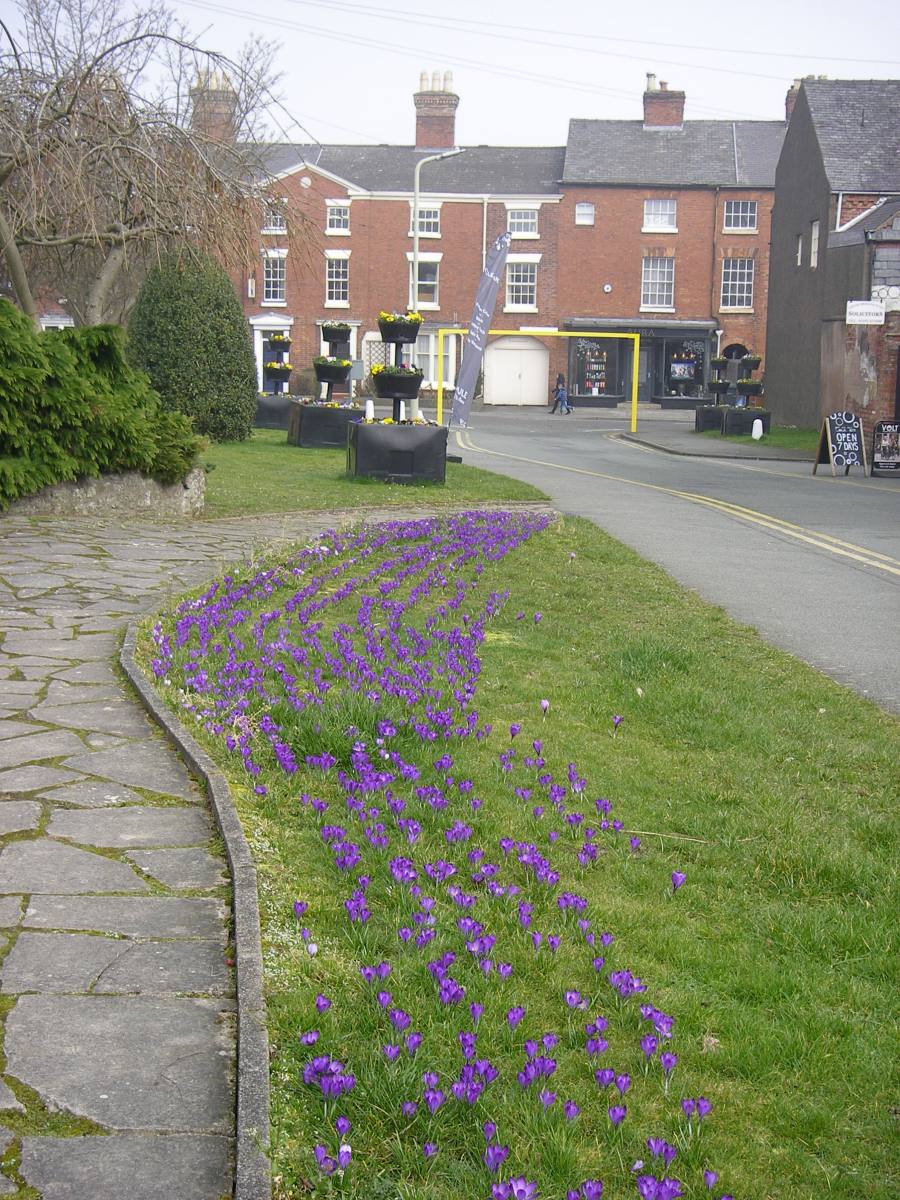 Planted crocuses - Oswestry Central Car Park entrance
Paul Harris Fellowships
Paul Harris Fellowships are awarded as recognition for distinguished service and are the highest accolades that Rotary can bestow. Borderland is delighted to record that several Paul Harris Fellows are counted amongst their number.
Fellowships have been awarded to Rtn Brian Bristoll and Judy Bristoll; Rtn Paul Crosby, Rtn Brian Gray, Rtn Eric Evans, Rtn Roy Kempster, Rtn Harry Richardson, Mr George Miah, Rtn Jonathan Jones, Rtn John Cranwell, Rtn Linda Butler, Rtn Martin Davies, Rtn Peter Martin, Rtn Ronan O'Brien, Rtn Alan Poole, and Rtn Paul Evison.
Awards were also made to Gwyn and Mary Evans in recognition of their voluntary contributions to medical provision in India and Malawi.
Honorary Rotarian Chris Bushnell was awarded a sapphire to his Paul Harris Award in recognition of his continuing contribution to RYLA.