ROTARY PROJECTS IN BANGLADESH
The Rotary club supports several projects in Bangladesh, some of which have received grants from the Rotary Foundation. The club is fortunate that one of its members, Dr Graham Arthurs, regularly visits Bangladesh and he has been able to establish contact with other Rotarians in that country and so we are able to receive first hand reports on the various projects.
1. Support for Moanoghar School at Rangamati
2. University students in Dhaka
3. Palliative care in Dhaka
4. ITU Nurse training in Dhaka (see separate action group page)
5. Basti School in Dhaka
1. Support for Moanoghar School at Rangamati (Established 1980)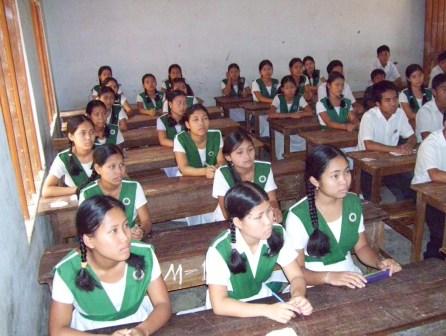 This project supports secondary level education of about 50 tribal school students. These children are from the indigenous tribal communities of Tibetan, Mongoloid stock. They are the original inhabitants of the hill districts in southeast Bangladesh. In 2004 a peace was agreed after many years of persecution and armed struggle, which many would call land-grabs and ethnic cleansing. These years have left many people without land and children with a single parent or orphaned. The school takes about 650 children from a wide area of the hill tracts.
In 2001 we started to sponsor 8 children but due to travel restriction they were never visited. In 2007 it was considered safe to travel and a permit to visit Rangamati and the school was obtained. 56 children, equal numbers of boys and girls, were identified who needed financial help. The Dhaka Kawran Bazar Club has joined us in a successful application for a matching grant to sponsor 50 children with about 120 each per year for 3 years. This will cover the cost of tuition, accommodation books and stationary, clothes and basic health. Also included is a request for 1,500 of library books. This is a rolling program with children being taken on at different levels of their education.
The total value of the grant is $49,768 with $21,314 from RI Foundation, $14,177 from District 1180 SHARE DDF Fund, $14,177 from Wrexham Erddig and $100 from Kawran Bazar. We are particularly grateful to Rtn. Ahmed Farooque, who has visited the school and all the members of the Kawran Bazar club who are 100% behind this project.
Alongside this application we are working to help the school to develop a more healthy diet and some income generation. We are providing some 2,000 capital to develop the land that they have. So far they have a farmer, a well, 4 cows with calves, a chicken shed with some 1000 chickens. Plans are in hand for goats, and tree planting of bananas, coconuts (palms) oranges etc.; also ways of bringing the small lakes into fish production.
We are am hopeful that we can help the Kawran Bazar club to support an adult literacy education for the tribal people. We are also in discussion with Dr Barua of the Chittagong Midtown Rotary club to see if we can provide sewing machines, computers, better toilets and a constant power supply. They are already looking seriously at the water and sanitation issues.
2. University students in Dhaka
We are now helping to sponsor 17 students in Dhaka with their education fees. Each one has a story to tell but they have all proven themselves to be able and as the number grows with each visit I notice that each new student is accepted as if into a family, often replacing the one they have lost.
3. Palliative care
The matching grant application for the home care project has proved to be more complicated. However Dr Nezam has now been given an outpatient room in the main teaching hospital (BSSMU) in order to follow up patients for palliative care. He also has two trainee doctors attached fulltime. We paid the expenses of sending 3 doctors and 5 nurses on the 6 week course to the WHO sponsored centre in Calicut, Kerala (S. India) to learn about palliative care. Since returning the outpatient clinic is fully active and they have four beds designated for palliative care in a hospital ward.
4. ITU Nurse training
The ITU nurse training project continues and details are to be found on a separate action group page of this website.
5. Basti School in Dhaka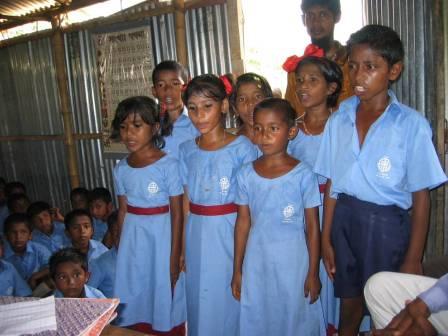 In 2002 the Afzalunnessa Foundation was set up as a charity in Bangladesh to raise money locally to help poor children. With our club's help they started the Basti School for some 60 children. The children come from families who have no permanent home and squat on any free land. The children will otherwise roam around while the parents try to make a living. At the school they are given basic primary education. The numbers have since increased to over 150 and a second school is being set up on another site.