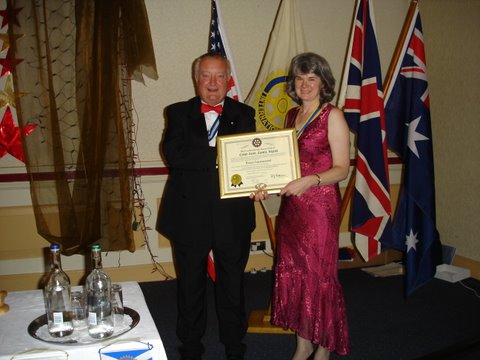 Carlisle Castle became a Rotary Club in June 2008 having been meeting for over a year before then. In that time we held fundraising and social activities and supported other clubs in the area.
It all began though in 2005 when an interest meeting was held attended by two of our founder members. Click on 'Where it all began' or see the report on the left menu.
The Charter document was presented to us in September 2008 by Immediate Past District Governor David Bennett and Rotary GB&I Vice President Elect Jim Moulson. This celebration was less formal than some Charter evenings and included a Rotary Odd- yssey. This was a light hearted look at Rotary past, present and future. The evening was brought to a close by the entire membership singing the club song. Singing ability wasn't essential for this.
The photo above is David Bennet presenting the Charter to the Founder President Wendy Aldred. Wendy said "We wanted to join Rotary to put something back into our local and international communities, to become part of the Rotary movement and to have fun".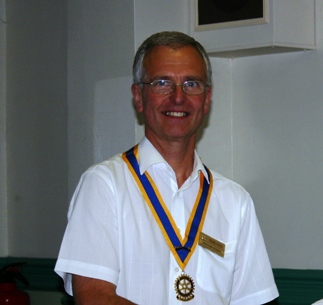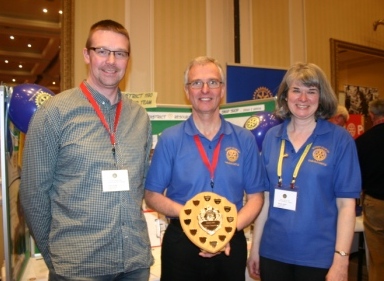 Our 2nd President is Graham Ogden.
In March 2010 we were presented with the District Award for the Best Club Website in the District (Cumbria and Lancashire).
See the Group reports at the left of this page for photos of out 1st and 2nd Charter events.
See this Briefing for further details and photos of our 1st Charter event. Carlisle_Castle_Rotary_Briefing_230908.pdf
Carlisle Castle are a group of 17 dedicated professional and business people of all ages and different walks of life.