END POLIO NOW PROJECTS
We are involved with Rotary's push to rid India, Pakistan, Afghanistan and Nigeria of polio and hence ensure our children, and their children, will never know the crippling affects of this disease.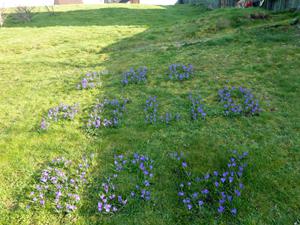 Show related pages
You can see in these pages how our Rotary Club is getting involved in this campaign to end polio now.
You can also find out more from the " Thanks For Life - End Polio Now" website at http://www.ribi.org/thanks-for-life and the latest news as of January 2013 http://www.ribi.org/news/ribi-news/help-rotary-end-polio-now
You can also see a clip from the BBC regarding the news from February 2012 on eradication of polio in India http://www.youtube.com/watch?v=5v77c0QSSNc&feature=share
This photo was taken on March 25th 2011 - our hard work in October 2010 planting crocuses in Knighton, Norton and Presteigne paid off ......so lets END POLIO NOW
!