The Rotary Club of Bodmin - ( A short history )
The Bodmin Rotary Club was formed in 1951 by a group of local business men guided and supported by the existing, well established, Rotary Club of St. Austell.
The club has always flourished, been respected by the local community and represents many local businesses and professions. Founder members included "Owie"Jewell (EH Jewell - Radio, TV, Electrical retailer), Dickie Dawe (Shoe Retailer) , Tommy Hicks ( Manager SWEB) , Reg Jago (Optician), Phil Polkinghorne (Premier Garage Proprietor), Charlie Dean (Local & National News Reporter), Hubert Dingle (Dental Surgeon), Joe Lewis (Pub Landlord)
The first president was Fred Zimber a well know & respected Jeweller in the town. The last surviving founder member was Alan Harvey a local solicitor who died in June 2010 age 94.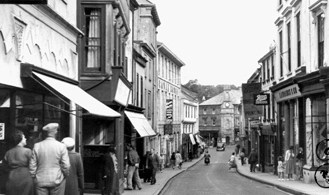 The Club Charter Night was in 1951 held in the Foster Hall Bodmin. The first club meetings were held in the Royal Hotel Bodmin, a landmark coaching house throughout the days of horse drawn traffic.(Large building Left / Centre) and in Richard & Dyers Restaurant, further down Fore St. on the left. (see photo) The Royal Hotel was demolished in 1968 and re developed into a number of shops and flats in the centre of Fore Street.
The club meeting place has moved several times since 1951 to The Westberry Hotel, The Sir John Moore Hotel, Hotel Vista Allegro, The Honey Bee Hotel, finally back to The Westberry Hotel in 1989.
The Bodmin club has always been very active in supporting the local community and all other charities and projects within the world of Rotary .
Currently has 35 members and actively looking into the possibility of forming Rotary linked clubs for young people - Rotaract & Interact Clubs.
Bodmin Club was also instrumental in helping to form other local clubs - In 1959 the Rotary Club of Wadebridge was formed and in 1977 the Rotary Club of Lostwithiel was formed. Both clubs have developed and become very active and successful.
wm 30/6/10
In 1960 Bodmin Rotary Club Purchased a house for rental to refugees, a Polish family called Micek - this was at No7 Gorden Terrace, Bodmin ( Robarts Road ) The house was maintained for a number of years then sold. Purchased for £1000.00 with a mortgage from BTC. Photo below. (White House)