Foundation
The Rotary Foundation is Rotary's own charity
The Rotary Foundation is a Rotary's own charity. It is supported by contributions from Rotarians and through fundraising activities for particular initiatives.
The Foundation has a number of key aims, and in particular to advance world understanding, goodwill, and peace through the improvement of health, the support of education, and the alleviation of poverty.
It does this by supporting a range of programmes and providing grants to support specific projects in line with the aims described above.
One of the great successes of the Rotary Foundation has been it's role in eradicating Polio, through the campaign "End Polio Now". As well as raising many millions of pounds over the years, many rotarians have also provided their time to assist in the polio innoculation programmes held in countries where the disease has continued to be a problem.
The Northallerton Mowbray Rotary Club has been very active over a number of years in raising money for this campaign, and thanks go to the many people in the area who have willingly given money to this worthwhile cause.In 2019-20 we donated £608 to this campaign, including part of the monies raised at our Bannocks and Blood Murder Mystery Afternoon Tea.
In 2013 we tried something a little different to the usual bucket collection - and we hope that those who were in the Town Hall Square in Northallerton on Saturday 14th September enjoyed the "Flash Mob" dancing Bollywood style. It was great fun and raised lots of money for this worthwhile cause.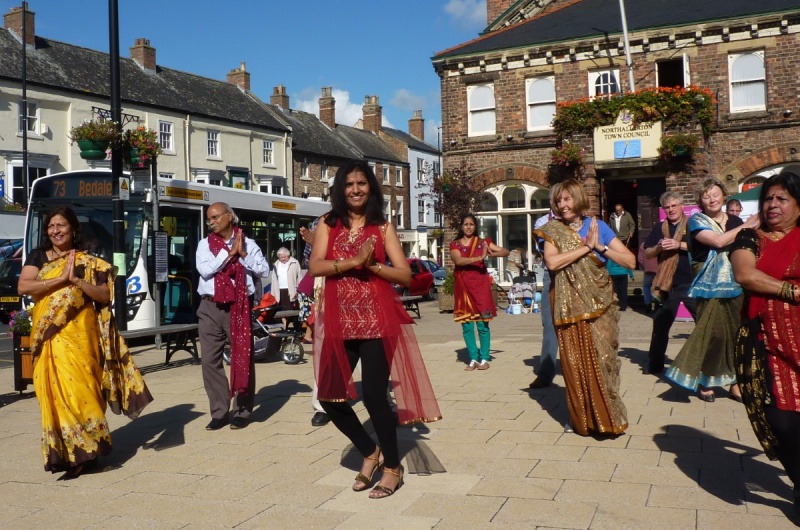 The Club also raises funds for Rotary Foundation more generally. This Charity - supported by Rotarians worldwide- aims to provide funding for a wide range of humanitarian and service projects. In 2019-20 the Club was able to send £533 to Foundation.