Club Archives/ Ryde Rotary Club Walk the Wight 2012
Ryde Rotary Club Walk the Wight 2012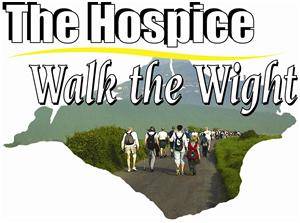 Walk the Wight 2012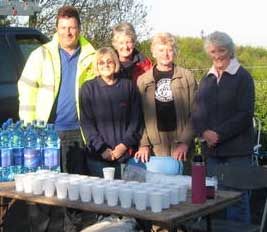 Every year Ryde Rotary Club members Marshall around 8 mile of the main Walk the Wight from Bembridge to Langbridge. This year following a request for additional support from the Hospice some of the Club members wives and friends assisted Ryde Rotary Club by running the busy watering point on Mersley down. The ladies said that "They really enjoyed it and they would be back next year" (I hope its not raining !)
Apart from Ryde Rotary Club financially supporting the Hospice, Club Mike Jukes decided to Walk the Wight as did two Club members wives, children and even a Club members dog took part in the main walk, raising money for the Hospice.
Mike kindly wrote his "Virgin Walkers Tale" after the event:
My biggest mistake, after completing the 14 mile Carisbrooke to Alum Bay walk in 2011, was to suggest that in 2012 the Grove House Surgery team should attempt the whole 26.5 walk from Bembridge Airport to Alum Bay in 2012.
In 2011 eight team members, yours truly included, finished the allotted section in various times and states of discomfort, so it was not surprising that as the months rolled on, that a lot would drop out and not sign up for of the 2012 walk.
Training turned into the loneliness of the long distance walker as Carol was sidelined with her ear operation leaving me to pound out the beach miles in isolated seclusion. I started training before our 35th Wedding Anniversary cruise in March with increased weekend walking supplementing my regular weekly gym work. Fortunately, on the two week cruise there was plenty of opportunity to go to the gym and good walking in lovely warm weather on trips around the Caribbean islands.
After our return from holiday on 17th March, training gradually increased with more hours of walking crammed into the weekends and more games of golf on Fridays. For the last four weeks leading up to the walk, I was exceeding 4 hours brisk walking per week plus more golf, gym work and stretching exercises.
The day before the walk was a very relaxed affair. About 20 minutes of stretching spread throughout the day and a quick mow of the lawn. I decided that the weather forecast for Sunday was sufficiently set fair not to need waterproofs so it was a case of what to pack in my man bag. Fuel wise I opted for 2 half litre bottles of water (to supplement the 5 drinks stations on route), 2 bananas and a bag of mixed almond and hazelnuts. The emergency repair kit consisted of some plasters, a spare pair of socks, shades and a fully charged mobile phone. I started off wearing a sweat shirt, over my Rotary top, to protect against the early morning chill and plastered on lots of sun block for when the temperature started to rise, and vaseline to stop the delicate bits chaffing.
I woke at 5.00 am on the morning of the walk and Carol dropped me at the start to register and be ready to go by about 6.20. Unfortunately, the organisers wanted a funnel start a bit like the London marathon with a claxon sounding to set things off, so all 1800 of us had to wait around nervously doing last minute stretching and trying to relax. Finally, adrenalin pumping, we were off and I crossed the start line at 6.35.
The plan was to make steady progress to Carisbrooke, 12.5 miles away and, if still in good shape, push on from there. My first goal was to finish and my second was to break 9 hours.
The first few miles were a pleasant stroll in almost perfect weather with lots of support from fellow Ryde Rotarians manning the marshalling points from the start to Knighton Chute. Some tracks were very muddy with all the past rain and in two places down to single file slowing everyone's progress.
Mark Pidgeon at the Duck Pond - Remind me on Tuesday to sponsor you, good luck. Thanks Mark.
John Scotney at Sandy Lane - Oh hello. Obviously didnt know I was walking.
Bryan Mudge half way up Culver - Morning Bryan. Good luck.
Alan Truckel at the bottom of Culver - Have a good one Mike. Thanks and you have a good cruise.
Mike Coeshott at the Yar crossing- Would you sort out that bottleneck up ahead.
Ron Gould coming into Brading - Good luck and a comforting handshake.
John Busby seated at the Bugle Brading - Oh hello are you doing the whole lot?
Paul Ferguson in Brading High Street - The finish is just around that corner. I only came out for a newspaper but the shop is still shut!
Pauline Faudry at the Mall Brading - Hello Pauline. Vague recognition, might be one of those nice Rotarians.
Peter Wellington on the Downs Road - How's it going? Not too bad.
Mike Turner and Phil Hancock at Downs Road traffic lights. Handshake from Mike -Good luck. Wheres your Saints shirt? Phil yelled Only another 21 miles to go! Thanks Phil just what I needed to know!
At the Mersley Down drinks stop I was greeted by Neil Gurney with a handshake and the Rotary WAGs (Sue Wellington, Trish Minns, Margaret Truckel and Carole Hamilton) with cheers and applause. Carole took the photo that would later appear on the Ryde Rotary website. Seconds are vital in this game so time to press on. Have I just been overtaken by two young dolly birds dressed as smurfs Yes. Ken Marriott was so busy taking their picture at Knighton he didn't see me pass.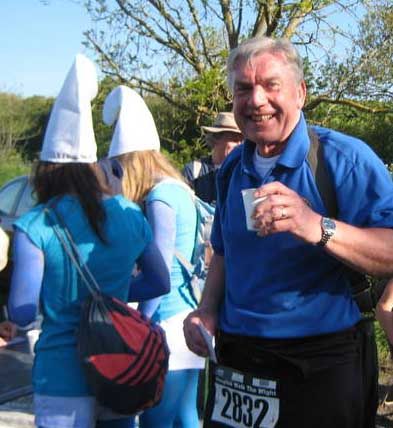 Ken, Ken, Ken, Ken, Ken, Ken, Ken! Oh forget it!
Knighton Chute and Dick Minns with a final Ryde Rotarian handshake and farewell -I think I'm the last one you will see, good luck. Thanks Dick and off into the distance with no more friendly banter just focus and hard slog. No looking back.
Although I had no immediate company, other than the odd passing word, it was good to view the other walkers and gauge who was going well and who not so well, and feel sorry for those really starting to suffer. Mersley Down by 8.15, Arreton Barns by 9.11 and then Carisbrooke Castle by 10.12 in well under 4 hours and still feeling good. Just time to have my card signed. Going straight through Sir I can sign your card? Well done 1 hour from Arreton, keep it up. Just time to grab some water, text Carol and push on. No planned stops (I might not get going again) and certainly not a lunch break as many of the walkers were taking, on the grass by Carisbrooke Castle in the sunshine.
I arrived at Mottistone Down car park drinks station at 12.05 exactly five and a half hours after starting out. Wow that's far quicker than I thought and 18.5 miles gone with only 8 miles left! At this rate would I finish in 8 hours?
Then on leaving the drinks station I hit the wall, the steep climb up from the car park, and a big dose of reality kicked in. Legs started to ache, feet started to feel a bit sore and I was conscious of making much slower progress than before. Now it was more a case of would I be able to finish rather than thinking of an unrealistic dream time.
The struggle to the top of Mottistone Down seemed endless but eventually there was some respite with undulating progress on nice spongy grass. However, this was followed by a steep downhill section on a rough stony track that was probably worse than some of the uphill bits. Going downhill put great pressure on tired leg muscles, twinges were becoming more regular and toes were taking a pounding hitting the front of my walking boots as the brakes went on. Some more relief on the grassy path through Freshwater Golf Course and then down into the town along the short roadside stretch to the final drinks station, signing in at 1.47 pm. Now only 3.7 miles to the finish but the next bit was the notoriously steep, lung bursting climb up to Tennyson Down.
The wind was much stronger and colder on Tennyson, and hard in our faces, so my progress continued at a moderate to slow pace. Eventually I reached the monument and, with less than 2 miles to go, I felt quite emotional as for the first time I knew that I was going to reach the finishing line, even if I had to crawl the rest of the way. Up past Kieron Cooney encouraging us along with his bagpipes, around the most westerly tip of the island above the Needles Battery, and just the road down to Alum Bay theme park left to go.
The end of the road, filter around the car park, down past the Isle of Wight Radio stand, shades off, chest out and manfully stride to the finish line with just a suspicion of a limp. Signed in at 3.10 pm, collected a medal and texted Carol:
I've only bloody gone and done it!
The picture Carol took of me on the way back to the car park summed it up. My expression was half grimace, half smile reflecting the pain of blisters, aching legs and the acceptance of the loss of at least one big toenail, and the pride and satisfaction of having finished the walk in the very respectable time of 8 hours 35 minutes.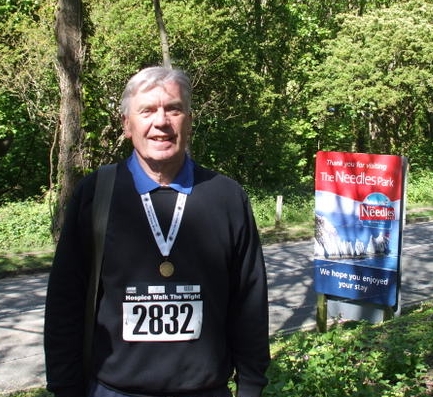 At 63 years and 6 months I was no longer a Walk the Wight virgin!