Tue 18th September 2012 at 12.00 am - Thu 21st June 2012 - 12.00 am
Visit by our contact club to celibrate our 90th Charter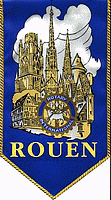 Show related pages
The Normans Are Coming
Again!

The Rotary Club of Rouen has accepted our invitation to visit us on the occasion of our Charter celebrations. A party of seven will arrive Tuesday 18 September and depart Thursday 20 September. International Committee chairman Ray Dixon will oversee the arrangements for the visit with his international committee and a sub-committee involving the members of our club that were recipients of recent Rouen hospitality has met and are developing the following programme.
Provisional programme:
Tuesday, September 18
Meet at Bannaynes and taken home by host families
Evening -Dinner at home of Rotarians
Wednesday, September 19
Morning - visit and tour of the old town
Lunch at the Jerwood Art Gallery
Afternoon - tour of the gallery with staff Jerwood
Evening - Club 90th anniversary of Charter celebration. Please note that this is a formal dinner. Dress code "black tie".
Thursday, 20 September
Morning - Brunch at the home of Ray Dixon.
Party of Rouen leave at 11:30 hours.
It is good that Rouen have responded so positively not only to fostering our contact club links but also to support us in raising funds for Hope and Homes our current international charity. They are co-ordinating a joint response with their other four contact clubs with the potential of raising sufficient funds to build one Small family Home.
rd 27/7/12