Arena & Attractions 2021.
DUCK RACE 2021:

Our thanks to all the Firms who sponsored the corporate ducks, and the folks who backed them on the day; all were sold out! Great effort, great fun!

Winner: Verplas Verwood's leading employer.

Runner up: Three X Twinning group.

Third: Fayrewood Frames 7 Gallery.

And! particular thanks to the retriever who gallantly fetched back the ducks that escaped the final net, and made a bid for freedom

An RAF Fly-Past is very much the luck of the draw, and this year the draw has favoured us with one by the Battle of Britain Memorial Flight's "SPITFIRE" all we need is cloud-free skies!
**Talking of cloud-free skies, if we stay dry a stunning display of drumming from Japan (well actually Devon) will get the Rustic Fayre rocking!! "TANO TAIKO" will be entertaining you. Decidedly different, you'll be amazed!

The DUCK RACE, goes again this year with the added opportunity for the public to back their corporate favourite. Look in at the Rotary Contol tent to pick your favourite.
Arena Events







"CAR-BOOT SALE" regrettably we are unable to operate car-boot this year. really sorry about that - - - conditions simply don't allow. We hope to resume in 2022.
"CIRCUS WHIZ". this very popular feature returns this year; they invite you to try your hand at various traditional skills; juggling, stilt-walking, ribbons, & plate-spinning. Mostly for the youngsters, but all are invited! Mr. PUNCH will also be discussing matters again with JUDY - - - Oh yes he will!!
FUN PET SHOW.
As the Rustic is a very pet friendly event I'm delig
hted to announce that this year's Pet Show is being run by our friends at the

"LYNWOOD VETERINARIAN GROUP"

Bring your furry/fluffy friends to their tent and see if they can earn a rosette. Rotary's Thanks to Tracy and the "LYNWOOD" team.
Once again "TERRIER JOHN" and his team will entertain us with this hugely popular attraction. Will your hound be a contender in 2021???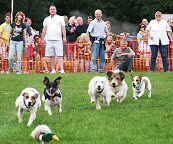 Although terrier by name, Terrier John and his team will also be looking for dogs of all shapes and sizes to take part in an all-comers race - - that's when the fun really starts!
2019: AND THIS WINNER WAS - - - "PICKLE" a Jack Russell terrier takes the "MAX" Trophy. From 29 entrants, over four heats, well done Pickle. All proceeds will go to the "Stray Dog's Sanctuary"