Attractions and activities for the day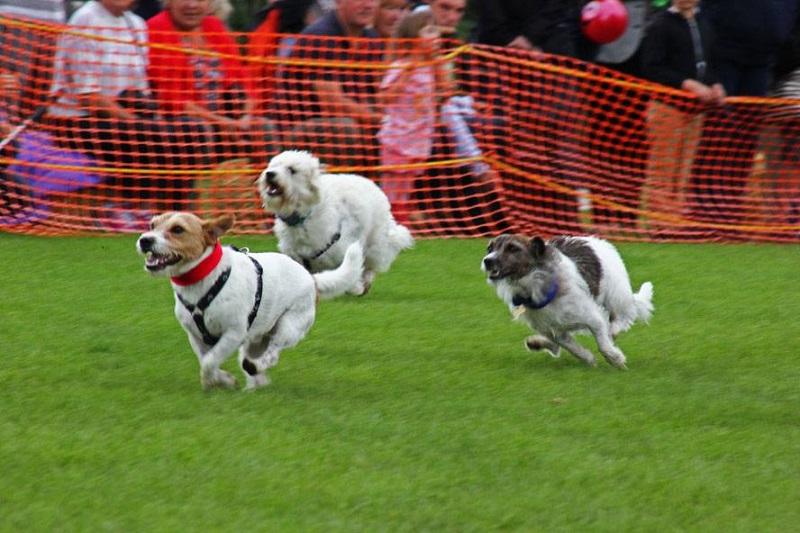 Arena & Attractions 2019.
An
RAF Fly-Past

is very much the luck of the draw, and this year the draw has favoured us with one by the Battle of Britain Memorial Flight's "DC3 DAKOTA" This aircraft is liveried in the colours & markings used when ferrying men and equipment to France in support of the D-Day landings in 1944.
This becomes particularly relevent as 2019 marks the 75th anniversary, and there will be many events marking the "big turn-around" this June. Fingers crossed for clear skies!
And there's more!!! - - - - -
For the first time the
BOURNE RIVER MORRIS MEN

will be giving the Rustic an extra traditional feel as they mingle and dance there way around the park.
The DUCK RACE,

goes again this year with the added opportunity for the public to back their corporate favourite.
Arena Events
The Arena Programme for 2019: Many favourites will return, Egg Catching, Terrier Racing? etc; and we again welcome the team at "3X Dog Agility" who entertain us so well with their canine capers. Our main attraction is "DOG & DUCK" not the pub, but a display of herding. Also Joanna of "Country Corner" will be inviting youngsters to lead her Mini-Horses around a special Arena course.
Classic Vehicle Display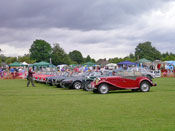 One of the major attractions of the "ristic" each year is the huge "CLASSIC VEHICLES DISPLAY". Over 200 cars, motor cycles, military and commercial vehicles make a fascinationg show of the way our roads would have looked some thirty plys years ago - all the entries have to be pre 1985. Already in 2019 we have again been overwhelmed with entries and will soon have to close the books, so if you're thinking of showing your pride and joy you will need to get to it!
A small exhibition of static steam engines will also be on show.
Rose & Mike Westrop of 3CVCCC, "Three Counties Vintage & Classic Car Club", do a great job in organising the display on our behalf; To apply or for further info, their contacts are:-
mikeandrose@hotmail.co.uk
Phone: 07946-854314.
"CAR-BOOT SALE" Many of you missed the car-boot in 2018, so it's pleasing to report that 2019 sees its return. As ever it will be first come first served as space is limited, it should also be noted that there will be no access before 8am, and be aware that vehicular movement on site is restricted until 4.30pm due to H&S regulations.
Entry is set at £10 to include 2 people. Effectively you get everything at the Fayre thrown in!!
Children's Entertainment
"CIRCUS WHIZ". this very popular feature returns this year; they invite you to try your hand at various traditional skills; juggling, stilt-walking, ribbons, & plate-spinning. Mostly for the youngsters, but all are invited! Mr. PUNCH will also be discussing matters again with JUDY - - - Oh yes he will!!
Once again "TERRIER JOHN" and his team entertained us with this hugely popular attraction. An exceptionally hot Bank Holiday Monday in 2017 inhibited many owners from entering their pets in this fun event, but never the less three heats and a grand final were held. The overall champion, and winner of the MAX TROPHY was a terrier callled "PIP", well done to him and his owner. Will your hound be a contender in 2019???
Terrier Races will be held in the Arena.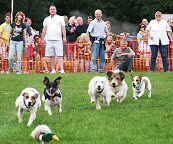 Although terrier by name, Terrier John and his team will also be looking for dogs of all shapes and sizes to take part in an all-comers race - - that's when the fun really starts!
2018: AND THIS WINNER WAS - - - "PICKLE" a Jack Russell terrier takes the "MAX" Trophy. From 29 entrants, over four heats, well done Pickle. All proceeds will go to the "Stray Dogs Sanctury"
FUN PET SHOW.
As the Rustic is very much a pet friendly event I'm delighted to announce that this year's Pet Show is being run by our friends at the "LYNWOOD VETERINARIAN GROUP" Bring your furry/fluffy friends to their tent and see if they can earn a rosette. Rotary's Thanks to Tracy and the "LYNWOOD" team.