Fri 7th December 2012 at 12.00 am - Sat 8th December 2012 - 12.00 am
Tin collection at TESCO Barrow in Furness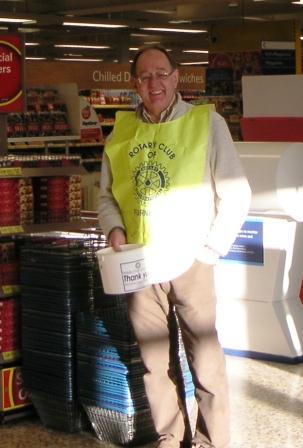 What a treat, this year on signing in all wrapped up in several layers of clothing, we were told to set our trollies up INSIDE the main entrance, in the warmth of the store !!!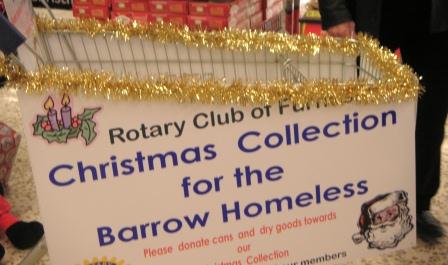 Our trollies, this year well logo-ed thanks to a lot of work by Geoff James who had designed the set up on his laptop whilst enduring some unseasonal WET weather whilst on holiday in his caravan in Biaritz ! He had then e.mailed the designs to his son who arranged for them to be printed in full colour on some special plastic stuff. Meanwhile Geoff had got Peter Garwood to measure up the large and small trollies at Tesco prior to him cutting out the boards which to day we fixed onto the trollies before sallying forth ! PG had got a few strange looks when he completed his site measurements and it took him quite a while to convince security that he was legit !
On setting up, the lady in charge of security heaved two big boxes of tins etc, the remains of the national collection they had been making a few days prior to our visit. She said they were for us to use, so that gave us a very good start. When IPP Dave Salt arrived on site he was despatched with them to Bath Street Homeless Centre.
Soon the generous public of the area started to contribute not only goods but cash as well. Some it was loose change, others