Michele Rawlings - Notional Chair of R K & V

With effect from Ist July, Michele will guide the club - managing the members and their events.

For more information on Kelvedon Hatch & Villages programme, please email Michele

@ michele.rawlings@yahoo.co.uk


---
--------------------
We have launched a Satellite Rotary Club in Kelvedon Hatch & Villages to appeal to the interests, lifestyles and timetables of a new generation of Rotary members interested in community service, charitable pursuits, professional and social networking with fellow members.
Ask questions, contribute ideas and consider joining us.
We are looking for members who are interested in working together to be leaders in the community by volunteering their time and talent to social issues such as community development, literacy or childrens health.
As a Satellite Club, the new members can find interesting and creative ways to meet and develop the professional and social fellowship that has always been one of the most personal benefits of Rotary membership.
The Satellite Club has a business meeting every second Wednesday and a social meeting once every three Fridays. Business meetings are held at Ashwells Sports & Country Club, Bentley, Brentwood CM15 9SE.
The club looks for community service opportunities that allow members to contribute their time and know-how to help local initiatives in addition to the social and business networking that is Rotary.
If you think you would be interested in Rotary feel free to join with us on at any of our meetings.


---
Kelvedon Hatch & Villages members meet on the 2nd (Business) and 4th (Social) Wednesday in the month at
7:30 for 8:00 pm. Venue : Zinc in Ongar For attendance at meetings, please contact Michele Tel: 07798 500443
---
LATEST NEWS & EVENTS

ALAN JAMES BUCKLEY
22nd April 1946 - 8th August 2018

Sadly Alan died on 8th August after a long illness.

The Celebration of his Life took place on Wednesday 29th August 2018
at St.Christopher's Church, Willingale.

Several Rotarians and friends attended the service.










The 20th October saw the 6th running of RKHV'S "Who's Wine is it Anyway?" Some 60 plus souls gathered at Mountnessing Village Hall on the pretext of giving their considered opinion on 6 selected wines. Thanks to their support some £700 was raised for Rotary Charities.

This year the panel comprised Andrew Clarkson, resplendent in top hat and tails, of a flamboyant hue; Nigel Hawkins who managed to find a suitable curry from his favourite Indian Take Away to complement each wine and Christine Blackie who brought balance and charm to proceedings on stage.

RKHV were supported magnificently by the ladies of Ingatestone who provided nourishment and helped with the setting up. An M&S prize raffle, donated by Mark Allen and a well run, low cost bar added to the evening's entertainment and everybody went home happy, if a little the worse for wear.




Wednesday June 22nd - An Evening at Ashwells




After an excellent buffet and a drink outside, Chair of RKHV, Chris Blackie, introduced the charities chosen to receive a cheque in 2016.
About £6,000 was distributed to the following charities, who each spoke
briefly about their plans & successes. Also attending was DG Alan Clarke,
who accepted a cheque on behalf of Shelterbox.




Charities receiving cheques:-




Headway Essex




Barrow Farm [Riding for the Disabled]




Bentley Handbell Ringers




Cameo Bereavement Group




Changing Pathways




Jays' Hospice




Kelvedon Hatch Football Club




Motor Neurone Disease




Multiple Sclerosis




Reach




Roland House




St. Clare's Hospice




Zinc Arts, Ongar




Shelterbox

"Whose Wine is it Anyway" - Fri 20th November 2015
Toothill Show 2015 - our best yet
Kids Day Out - June 2015


On Saturday 20th June 2015, the Rotarians of Kelvedon Hatch & Villages a satellite club of Ingatestone Rotary Club took nearly 30 children and their mums from the Basildon Women's Aid Refuge to Old Macdonalds Farm at South Weald Brentwood. They saw all the animals from the one day old Alpaca to the pigs, goats, sheep, rabbits, guinea pigs, Shetland ponies, owls and everyone's favourite the meerkats. From the animals they progressed to the rides and everyone had a really good time especially the two children whose birthdays were celebrated.This the third year KH & V have organised a Kids Day Out and it has always been a great event.

Chris Blackie

Chairperson

Rotarians of Kelvedon Hatch & Villages



---
Js Hospice Marathon Sunday 19th October 2014
Kelvedon Hatch and Villages were privileged to help as marshals at Js Hospice first marathon around Chelmsford.
We marshalled in Hylands Park (alongside the house) and although the day started with rain by the time the first runners came though there was glorious sunshine.
It was a long day having to be there at 8.00 in the morning to get our instructions and by the time we left at about 4.00 we were as tired as the runners.
We understand there were in excess of 1700 runners and the event made about 80k. Not bad for their first Marathon
| | |
| --- | --- |
| | |
| Edna on duty as marshall | Two runners |
---
Pamper Evening at Mars & Venus, Brentwood - 22/05/14

We raised 155.82 on the Pamper Evening which will be going to the Renal Patients Charity.
Thanks for all those who attended and thanks to Jane for organising.
- - - - -- - - - - - -
With all the float collections over, it is time to reflect on our year.
I think it has been very successful for Kelvedon Hatch and Villages.
Our collection recently at Tescos for MS raised just over 700.00 (with the help of MS and our Happy Collectors)
and the collection at Budgens (with Santa) raised just under 400.00.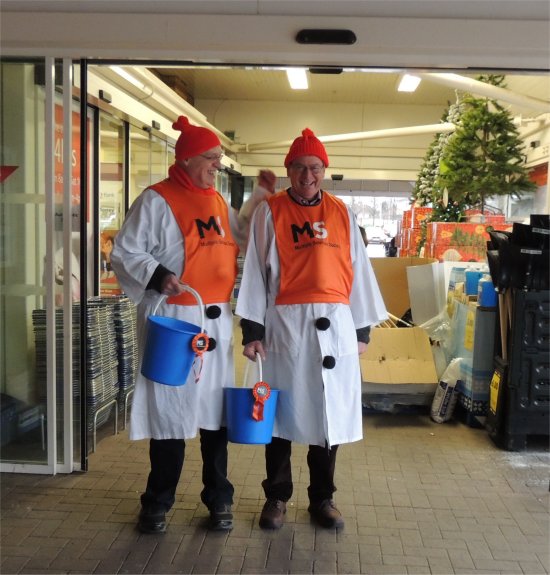 Earlier in the year the District Governor inducted 2 new members and our little satellite club in this year of Rotary has so far made donations of over 7,000.00.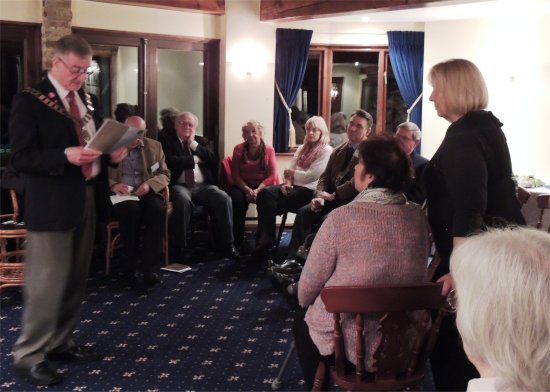 Hopefully 2014 will bring us some new members and we are working hard on this front.
Ian Churley