6:00pm Dinner - QUEGS Young Enterprise Team
Mon, Apr 8th 2013 at 12:00 am - 2:00 am
QUEGS Young Enterprise Team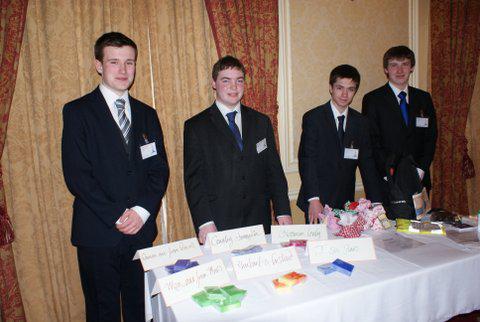 As part of Rotary's support for Young Enterprise, members hosted four Board
Members from the company Ascential at their Monday meeting. As students of
Queen Elizabeth Grammar School they formed the company to sell safety
equipped rucksacks for tourists and those not used to the rigours of
mountain walking. To provide cash flow for their venture they also launched
a home manufactured soap range. Here they are, selling their product range
at the George Hotel after outlining their business arrangements to members.
In thanking them, Rotarian Syd Monk explained that they had recently been
competing in an area competition at Carlisle's Crown and Mitre Hotel where
they had acquitted themselves with great distinction. Pictured, MCallum
Herbert. MD, Harry Wharam. Operations Director, Michael Holiday. Quality
Control and Photography Director, James Robson. IT Director. Also shown is
Rotarian Syd Monk.