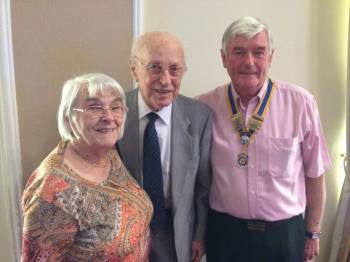 ROTARIAN JOE NOVAK -
Jo recently celebrated his 90th Birthday & still atending on a regular basis.
Joe Novak was born Josef Novak on the 11th March 1923 in a small town called Tesin in Silesia in what we now know to be the Czech Repulic. On leaving school he became an apprentice tailor. When he was l6 years old Germany invaded his country. He was taken as forced labour and made to work in a dry cleaning factory. When he was l8 years old he was conscripted into the German army and sent to a labour camp to look after sick and wounded horses.
He was sent to France and then the Ukraine where he was lost in a blizzard for six or seven days. During this time he got frostbite in one of his legs and was hospitalised, later returning to France still a captive, to join his unit and on to Normandy for D Day. From there he made his escape to rejoin the Allied Forces, where he fought against the Germans.
For his valour under fire he was awarded the British Military Medal by King George V1. He was awarded the Czechoslovak War Cross and two Czechoslovak Medals for Bravery. He is a still a member of Ceskoslovenska Obec Legionarska v zahranici.He has been given the honorary rank of Colonel by the Czech Government.
After the war he returned to Czechoslovakia but following the Communist coup in 1948 he was sentenced to 16 years imprisonment by the Communist regime for being a traitor. His brother who was a policeman tipped him off before he could be arrested and he escaped to England.
As an immigrant into the UK he had to work for a year and he did this as a weaver where he was paid 2.10. a week. He then went into tailoring and eventually started his own business. His wife Sheila was his 26th customer and they got married in January 1953. Joe expanded his business and eventually had five shops in Ramsbottom, Great Harwood, Nelson, Horwich and Rawtenstall.
Joe joined Ramsbottom Rotary in 1969 and was club president in 1975. He still enjoys regular attendance at the club and is currently the longest serving member.
Joes attendance and lifetime work for the good causes Rotary support has been and still is exemplary
Throughout, Joe has been supported by his devoted wife Sheila and their three children; Lindsay who lives is Switzerland, Tony who lives in the Czech Republic and Peter who lives in Rawtenstall.