The Rotary Club of Thurso Community Fund 250 Club
Prize Draw Results for February 2020
:
2. £300 117 Mrs Agnes Andrews, Royal Terrace, Thurso
1. £50 095 Mrs Shirley Lobban, Trostan Road, Thurso
3. £50 118 Miss Katrina Sott, St Olaf Road, Thurso
4. £50 138 Mr Richard Armitage, Dunnet, Caithness
5. £50 093 Mrs Debbie Murray, Dwarick Court, Thurso
6. £25 225 Mrs V Souter, Primrose Avenue, Thurso
7. £25 006 Mr C Hume, Attenborough, Nottingham



In 2001, the Club entered into a new venture to raise funds for charities; the 250 Club. The concept is extremely simple and operates very much like a lottery. Anyone who joins pays in 1 a week, generally by Direct Debit, and for this they are entered in a monthly prize draw.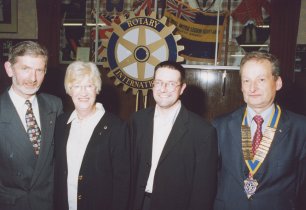 The Club's first 1000 winner was Calum McKenzie (second right) seen here with Donald Sinclair, Freda Sutherland (another winner in the draw) and 2002-2003 Rotary President Ian Manson.
This venture is expected to raise approximately 5500 in a year which is kept in a separate Community Fund so that every penny collected is re-invested in the local community. A minimum of 250 people need to support the 250 club to enable reasonable prizes to be offered, and currently we have a few places available for new members.
The 250 Club is run by Donald Sinclair 33 Trail Street in Thurso. For further information on this fund, please contact Donald or any Thurso Rotarian.
A Community Membership form can be saved or copied from the sub-page under this Community Fund Page. Alternatively a copy of the form and information can be received from Donald Sinclair 33 Traill Street or any other Rotarian.